15 Top-Rated Things to Do in Rockport, TX
Rockport is located about three hours south of Houston and 2.5 hours east of San Antonio. The town is a quintessential coastal getaway that is big on outdoor recreation like kayaking; fishing; golfing; birding; hiking; and swimming at Rockport Beach, the first Blue Wave designated beach in Texas.
Tours and excursions are a great way to take advantage of this pristine natural area, like the Glow Row nighttime kayak eco-tours and the Skimmer Whooping Crane Tour, which takes you into the habitats of some of the most unique wildlife in the region.
You will often hear the neighboring communities of Rockport and Fulton referred to together as the Rockport-Fulton area, as you will likely pass between the two regularly during your visit. As you plan your visit, see our list of the top things to do in Rockport.
1. Rockport Beach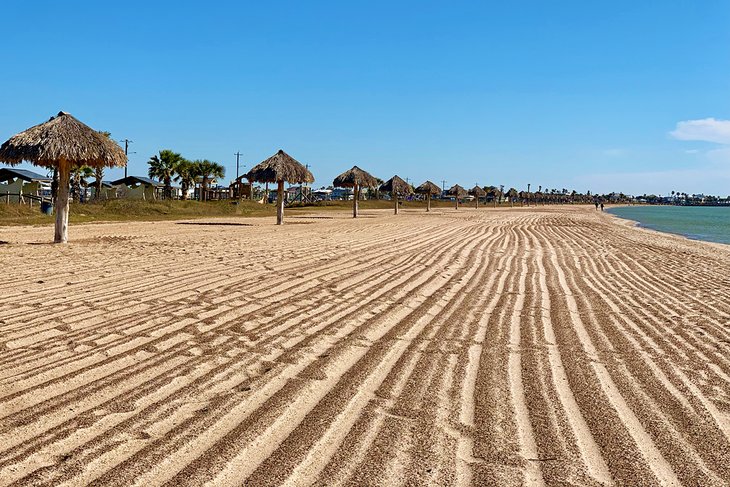 Rockport Beach is hands-down one of the most stunning beaches in Texas. Though it is only a one-mile-long beach, it is Texas' first certified Blue Wave Beach, a distinction given to beaches that are carefully managed to meet environmental quality standards.
The beach is cleaned every day, and the soft powdery sands are manicured to perfection. There are many picnic pavilions and cabanas for shade all along the beach. A day-use fee is required to use the beach and beach park. This gives you access to other activities like children's play areas, an outdoor pavilion, a saltwater swimming lagoon, exercise stations, and walking paths. It also provides access to showers and restrooms.
If you are only stopping for a short visit, you can access a separate and free section of Rockport Beach located in front of the Bay Education Center.
Address: 210 Seabreeze Drive, Rockport, Texas
Official site: http://www.rockportbeach-texas.com/
2. The Big Tree and Goose Island State Park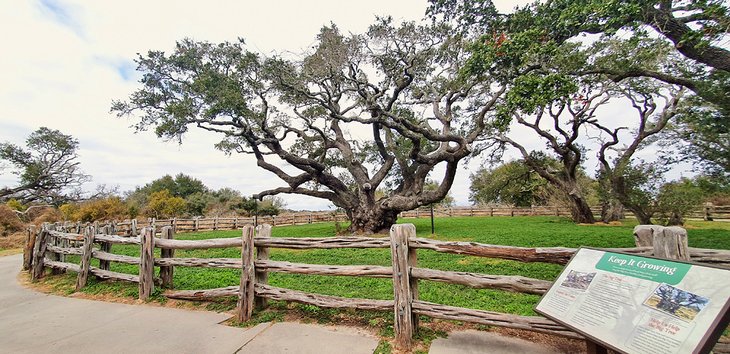 Every visitor to Rockport should see The Big Tree, one of the largest and oldest oak trees in Texas, estimated to be upwards of 1,000 years old. The Big Tree is a fascinating sight with a trunk that is more than 35 feet in circumference and a crown of branches that spans 89 feet.
The tree is located within Goose Island State Park, so you can plan a day in nature hiking on trails, birding, fishing and biking. Round out your activities with a picnic lunch beneath the shade of one of the largest living oak trees in the United States.
Goose Island State Park was the first coastal state park in Texas. It sits on the southern end of the Lamar Peninsula, giving it a variety of landscapes that range from prairies to marshland. It provides habitat for some of the region's most prized wildlife, like the rare whooping crane.
Address: 202 S. Palmetto Street, Rockport, Texas
Official site: https://tpwd.texas.gov/state-parks/goose-island
3. Fulton Mansion State Historical Site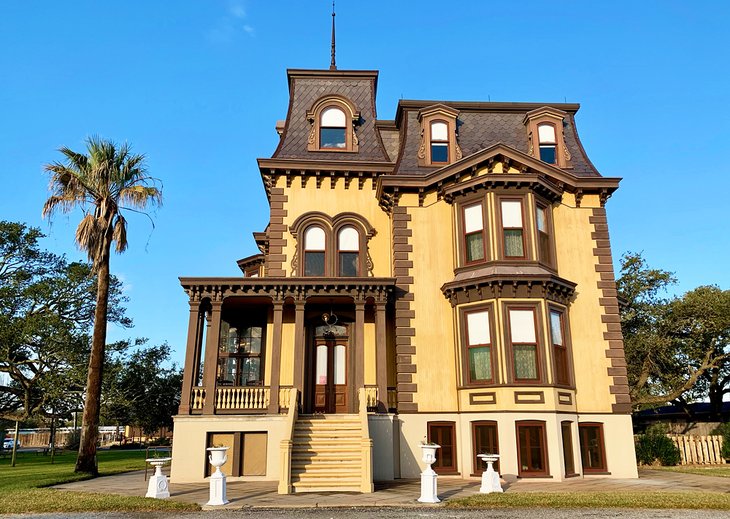 One of the most beautiful buildings and treasured historic landmarks in Rockport is the Fulton Mansion State Historical Site. The 1870s home is noted for its ahead-of-its-time conveniences when it was built, including flush toilets, central heating, and gas lighting.
The mansion is an example of 19th-century affluence that has been preserved for visitors to enjoy and appreciate. Plan a few hours to take a self-guided tour through the home and gardens, where you will learn about the advanced architecture and engineering that went into building it.
There is an Education and History Center located behind the home, which has a museum store and additional exhibits on display.
Address: 317 S. Fulton Beach Road, Rockport, Texas
Official site: https://www.thc.texas.gov/historic-sites/fulton-mansion-state-historic-site
4. Whooping Crane Boat Tour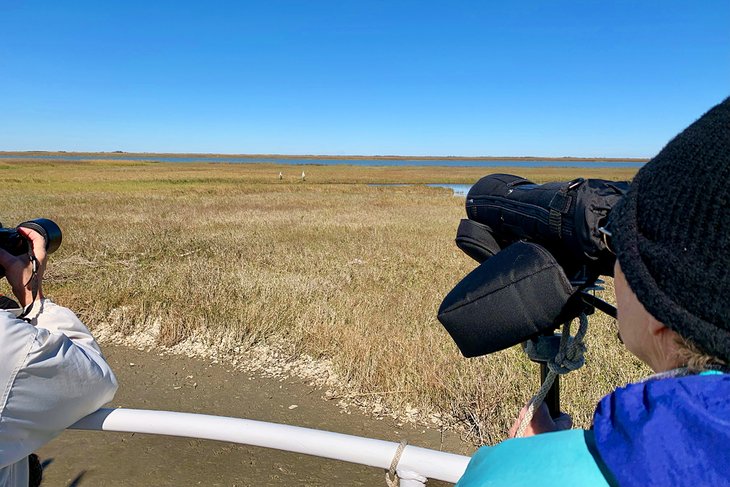 One of the top experiences you can have in Rockport takes place on board the Skimmer whooping crane boat tour, which is led by a marine biologist from Rockport Birding and Kayak Adventures. From November through April, the tour focuses on the rare whooping crane that nests in the region.
Bring your binoculars (or borrow them onboard) and your camera as you boat past the shores of the Aransas National Wildlife Refuge for an opportunity to see this magnificent species in its natural habitat that few people get the chance to see.
From April through June, the tour highlights Colonial Rookeries, and there is always a chance to spot some of the 60 different species of other birds and wildlife that live in the area.
All the tours provide insight into the biology and ecology of the region and the wildlife that depend on it. There are additional types of tours available, including sunset cruises and dolphin watching trips.
Address: Fulton Harbor, Rockport, Texas
Official site: https://www.whoopingcranetour.com/
5. Glow Row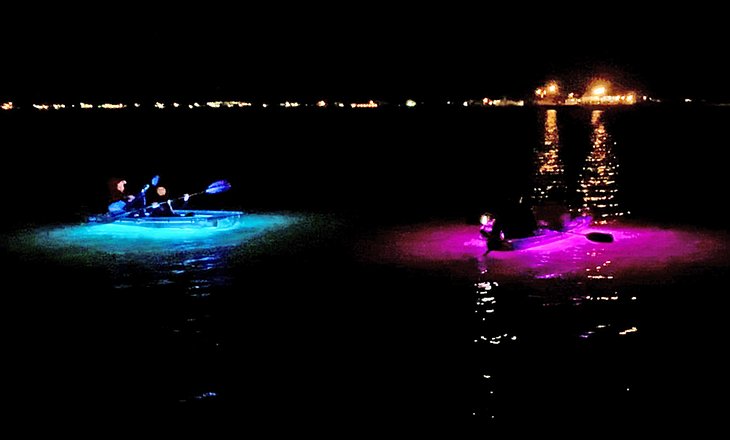 A unique way to see the natural side of Rockport is by doing a Glow Row night kayaking eco-tour. The 1.5-hour guided tour takes you through shallow water as you paddle in clear two-person kayaks that glow with colorful LED lights that illuminate the below-water ecosystems.
Rockport has two departure locations for the tours. You can leave out of Little Bay, where you will kayak over man-made oyster reefs and see the fish that feed there, or from Paradise Key, where you kayak through a cove that is 1.5-feet deep to see black drum, redfish, stingrays, and other gamefish.
Glow Row trips operate from March through November and are contingent on safe weather conditions. Reservations are required.
Address: 1522 E. Laurel Street, Rockport, Texas
Official site: www.glowrow.com/rockport
6. Aransas National Wildlife Refuge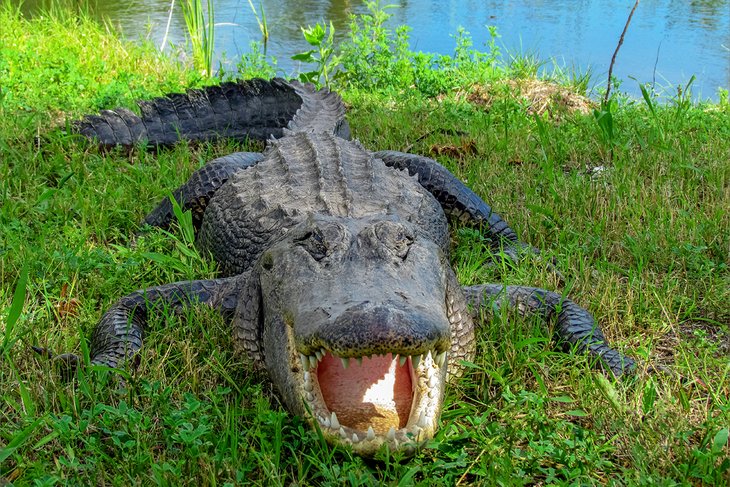 If there was ever a place to use your binoculars, the Aransas National Wildlife Refuge, is it. This is one of the most stunning and well-designed wildlife viewing areas in Texas, where you can see rare species like whooping cranes and other migrating birds in their natural habitats.
The Aransas National Wildlife Refuge has more than 400 species of birds and a wide variety of wildlife. The whooping cranes that arrive in late October through April are part of the only naturally migrating flock in North America, which stops in the area during the 2,500-mile journey north to Canada.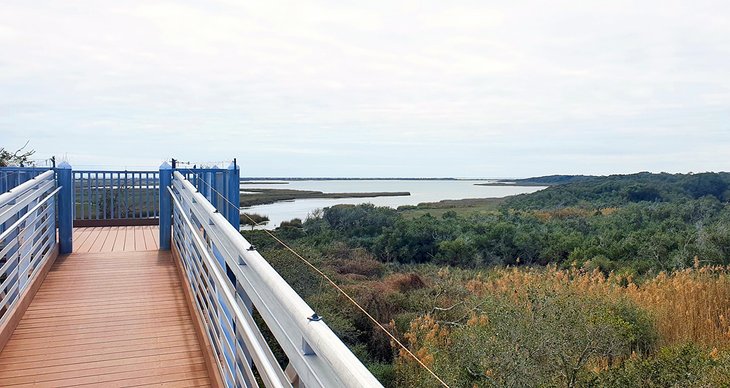 There are many nature trails to walk in varying lengths where you will observe freshwater marshes, an oak sanctuary with 500-year-old trees, and wildlife like alligators and armadillos. One of the best views of the landscape in the refuge is from the large observation tower. Pick up a wildlife checklist from the park's entrance, so you know what to look for during your visit. A day-use fee is required.
Address: 1 Wildlife Circle, Austwell, Texas
Official site: https://www.fws.gov/refuge/Aransas/
7. Texas Maritime Museum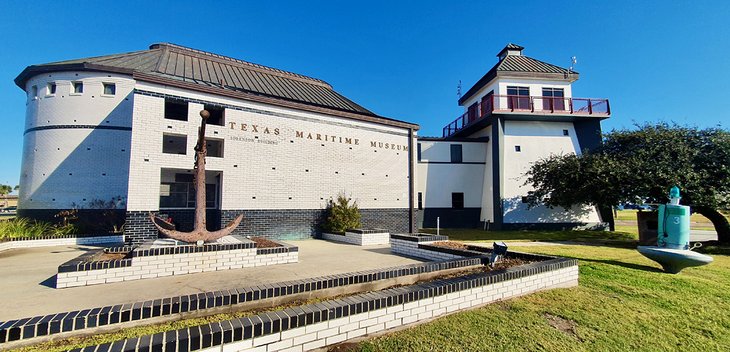 The Texas Coast is rich with maritime history, and the Texas Maritime Museum has preserved quite a bit of it from the area. What started as a public display of maritime artifacts and collections by hobbyists in the 1970s evolved into a permanent display and museum.
The Texas Maritime Museum holds several nice collections of artifacts and literature that document the maritime history of the coast, which is rooted in steamboat and sailboat transportation. One of the gems of the museum is the extensive research library that is available for the public to view on-site.
Address: 1202 Navigation Circle, Rockport, Texas
Official site: www.texasmaritimemuseum.org
8. Bay Education Center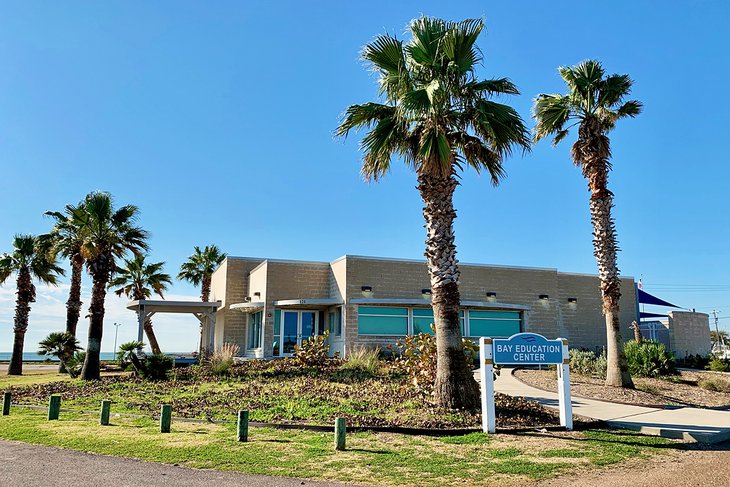 A free educational and worthwhile stop in Rockport is the Bay Education Center. It houses interactive exhibits related to science and the plant and animal life that live in the local habitats.
The center, operated by the National Estuarine Research Reserve, is a research and education facility that protects and preserves the local ecosystem. One of the must-see exhibits in the center is the Science on a Sphere experience, which explores the science of land, air, ocean, and space in an interactive way.
The large digital globe helps visitors ask questions about their natural world and observe how all the elements work together to create the habitats in which we live. The center has limited hours, so plan ahead for your visit.

Address: 21 Seabreeze Drive, Rockport, Texas
Official site: https://utmsi.utexas.edu/visit/public-programs/bay-education-center
9. The History Center for Aransas County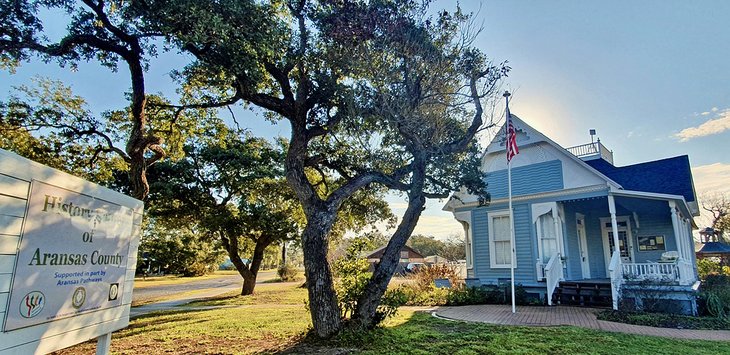 The History Center for Aransas County is tucked within a residential neighborhood in Rockport. The beautifully restored home chronicles much of the history of the area, with relics outside that give insight into how the city got its name.
The history center is located inside the Bruhl-Paul-Johnson House. Ownership of the home changed hands several times throughout the centuries and included notable figures like Albert Lewis Bruhl, who was one of the original owners in the 1800s and a respected local doctor.
After touring the home, take a walk through the gardens, where there are additional historic relics on display. The best time to visit the center is during one of the regularly scheduled public events and history talks.
Address: 801 E. Cedar Street, Rockport, Texas
Official site: https://www.thehistorycenterforaransascounty.org/
10. Rockport Center for the Arts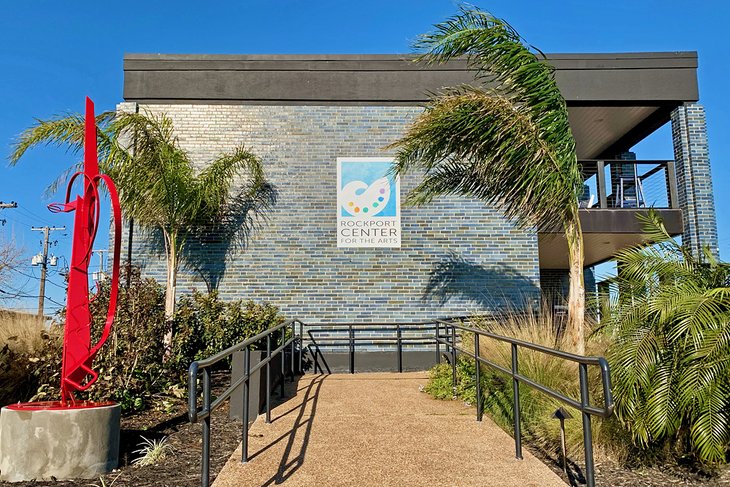 A great place to visit to get your fill of visual arts is the Rockport Center for the Arts. The center is located in the heart of the arts district in downtown Rockport and features the artwork of various genres like wood, glass, and paintings from local, national, and international artists.
There are always activities, classes, fairs, and festivals happening at the Rockport Center for the Arts, so you can plan ahead to take a class or make a stop to find unique locally designed art souvenirs.

Address: 401 South Austin Street, Suite B, Rockport, Texas
Official site: www.rockportartcenter.com
11. Night Fishing at Fulton Pier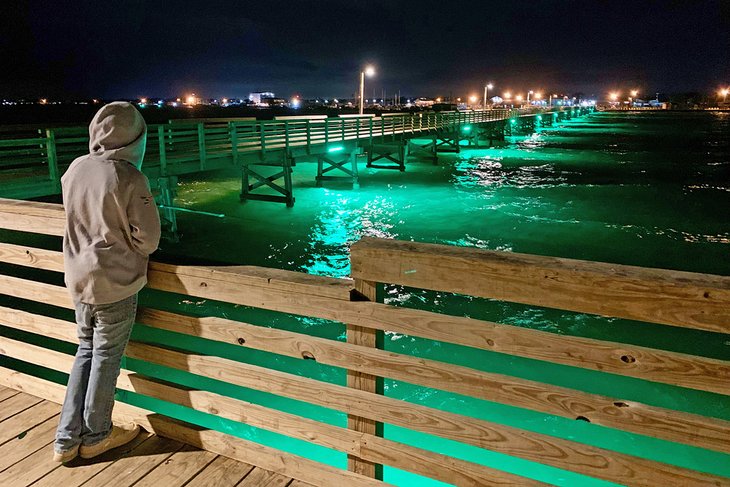 Fishing is important to the Rockport community, and one of the most spectacular things to do while visiting is fishing from the Fulton Pier at night. This is when it comes alive with glowing green lights that attract fish.
Anglers catch a variety of fish, from redfish and speckled trout to large drum. While nighttime has a special appeal, you can fish from the pier during the daytime and have spectacular views of the bay and harbor.
The round-trip walk on the pier is a half mile and worth visiting even if you do not plan to fish. It is free to walk on the boardwalk, but fishing requires a per-rod fee.
A few other fishing locations to try in Rockport are the Rockport Beach Park Pier, the South Jetty Pier, and the Copano Causeway launch. No matter where you decide to drop a line, be sure to obtain a valid Texas fishing license.
Address: 301-102 Deforest Loop, Fulton, Texas
12. Bird-Watching in Rockport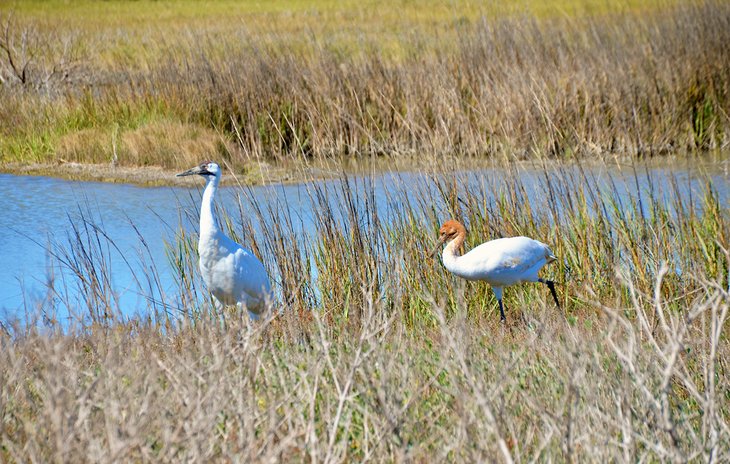 There is a reason that avid birders come to Rockport. It is one of the best birding destinations along the Texas Gulf Coast, with many species of migrating birds that stop here, namely the rare whooping crane, which is a bucket-list bird to see for many people.
There are several locations in Rockport that are ideal for bird-watching, as the Great Texas Coastal Birding Trail runs right through the area. It is possible to see hundreds of different bird species in a day. Some of the best locations for birding in Rockport are the Aransas National Wildlife Refuge, Rockport Beach, Goose Island State Park, and Aransas Woods.
Some of the great species you might see include the snowy egret, blue heron, mottled duck, and more. If you visit in September, you can witness the hummingbird migration, as the ruby-throated hummingbirds make their way through here on the way to South America.
13. Rockport Cultural Arts District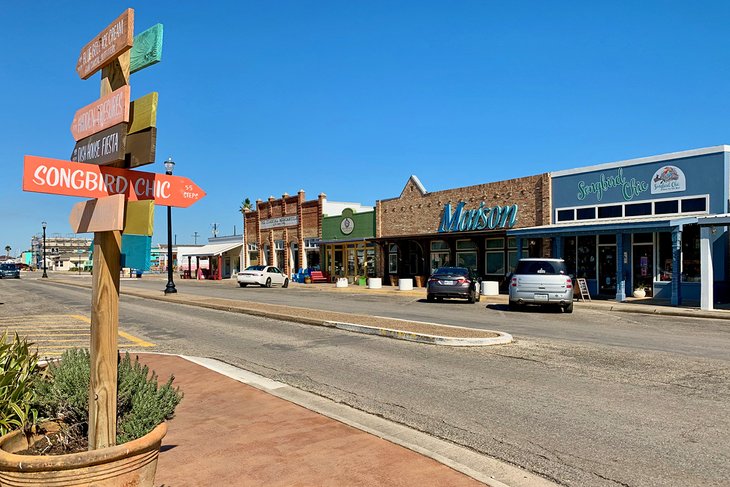 The Rockport Cultural Arts District is a whimsical and walkable district in downtown Rockport, filled with all kinds of artistic treasures. The Arts District has dozens of small independent art stores featuring everything from local decorative and functional art to photography studios and works created from salvaged and re-purposed nautical materials.
There are also quirky stores like the Busted Junk Pot Museum, which is eye-catching from the road and has everything from antiques and unusual signs to statues and a lot of miscellaneous items.
Besides the great shopping, the Arts District has performance venues and other historic points of interest that you will see by walking around the area.
Official site: www.rockportculturalartsdistrict.com
14. Biking in Rockport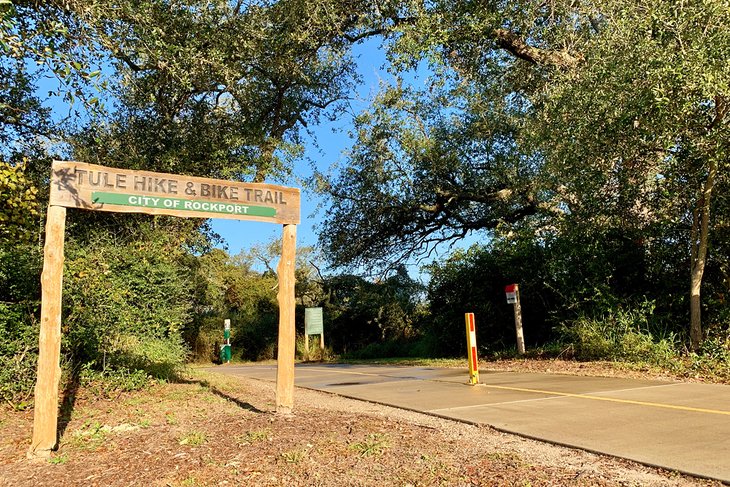 A great way to get around Rockport is by bike, whether you choose to use it for transportation to see local tourist attractions or take advantage of the great bike trails in the city. There are bike trails that cater to all skill levels, and many of them are connected.
Tule Creek Hike and Bike Trail is a popular paved wide trail that winds through a forest and alongside a creek. The Southern Trail that starts at the Connie Hagar Cottage Sanctuary is one of the newest in Rockport and is a 1.7-mile paved bike trail that connects to other trails in the city.
The Memorial Park bike trail is 1.65 miles that takes you through one of the biggest nature and recreation parks in the area.
15. Geocaching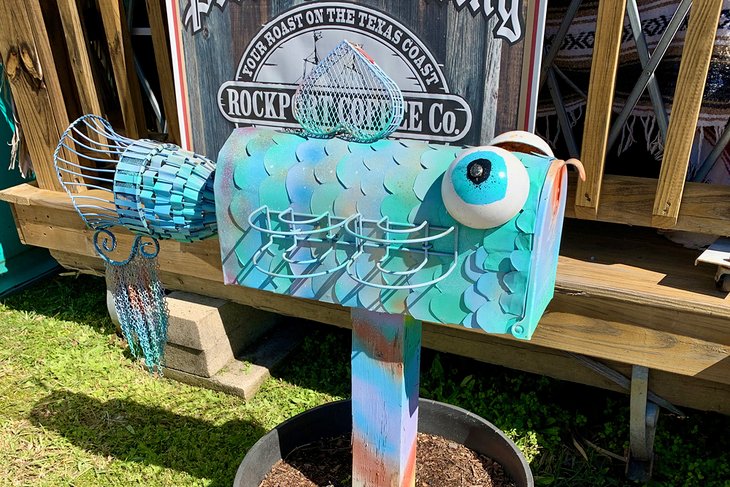 Geocaching is a fun activity to do anywhere, but going on the scavenger hunt in Rockport is a fun way to explore the town and find some unique spots along the way. You will find creative geocaching sites at places like the Fulton Mansion and even the small Fulton Harbor coffee shop, with a geocache tucked inside a unique and artsy box.
This is an interactive way to see many places in the town through adventure, especially for kids who are visiting the area. Given the arts edge of Rockport, the geocaching sites throughout the town are unique.
Map of Things to Do in Rockport, TX
Rockport, TX - Climate Chart
Average minimum and maximum temperatures for Rockport, TX in °C
J
F
M
A
M
J
J
A
S
O
N
D

17

7

19

9

22

13

25

17

28

22

31

24

32

25

32

25

31

23

28

18

23

13

19

8

PlanetWare.com
Average monthly precipitation totals for Rockport, TX in mm.

61

55

60

53

93

89

62

80

141

107

65

49