17 Top-Rated Things to Do on South Padre Island, TX
We may earn a commission from affiliate links ()
Slather on the SPF, head to SPI, and launch your SUP! Translation: Stay safe in the sun as you make your way to South Padre Island to splash in the surf with your stand up paddleboard.
Let's face it, "South - Padre - Island" is a mouthful. There's so much to do here – including the relax portion of your stay – that you'll start saying SPI and sound like one of the 2,800 full-time islanders in no time. But first you need to cross Laguna Madre Bay on the scenic 2.5-mile Queen Isabella Causeway that ends at the southern tip of South Padre Island.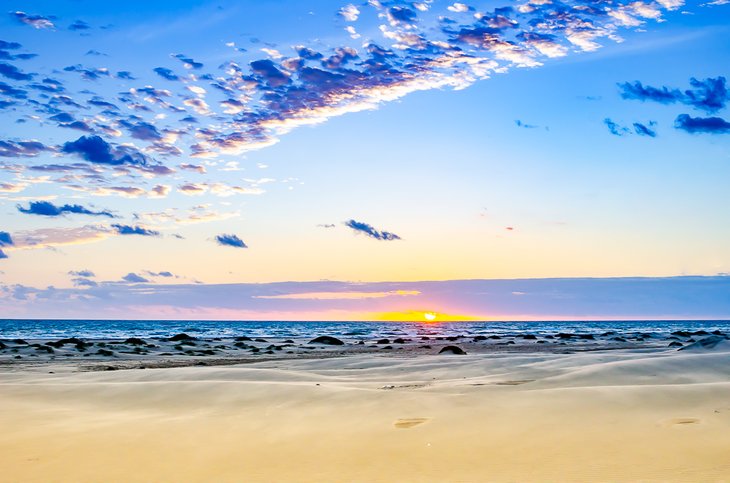 Place names are often a good tipoff to travelers about where they are headed for their next adventure. Padre Island and Laguna Madre (father island and mother lake) make it sound like the perfect place for families or a second honeymoon for parents. Each year, this part of the "Texas Riviera" attracts almost 4.5 million tourists, including families on summer vacation, migrating snowbirds (aka Winter Texans), and restless college students during spring break. Be forewarned that causeway access to the island will feel more like a long parking lot during peak times of traveling tourists.
The 113-mile Padre Island is the second-longest island in the contiguous United States, but here's a travel advisory to SPI newbies: Port Mansfield Channel divides South Padre Island from the northern section known as the Padre Island National Seashore. Set GPS coordinates to "South Padre Island," and enjoy a smooth ride.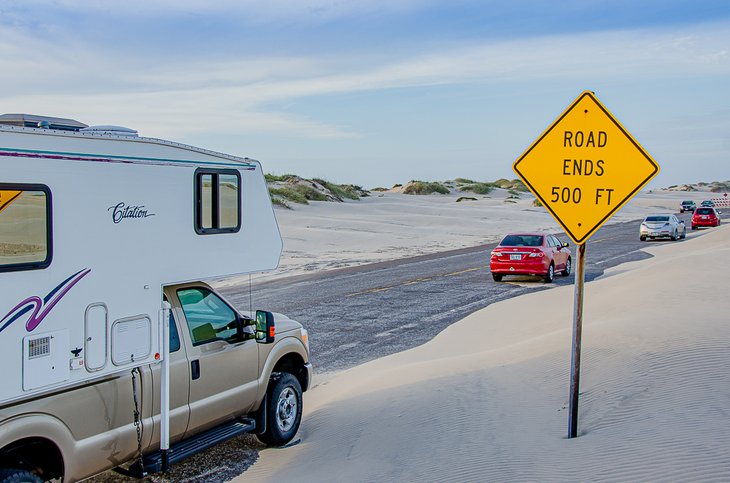 When landing in a new destination, you always wonder where you should go first. SPI makes this a simple decision because it's a destination best known for its beach – miles and miles of fine, white sandy beach as far as the eye can see. And when you think you've got to the end of the horizon, there's more . . . you guessed it . . . BEACH!
As amazing as unlimited sand and surf sound, our list of best attractions and things to do will convince you that life on South Padre Island is a beach with considerable benefits.
1. Drive on the Beach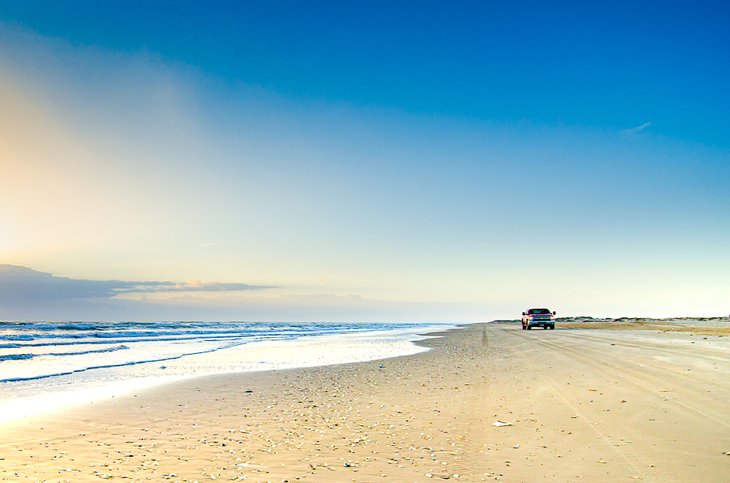 Your drive to South Padre Island will be pleasant, but driving your own car on the SPI beach is a thrill of a lifetime. Driving on the sand alongside crashing surf gives you a sense of freedom. There are many points of legal access to bring your personal vehicle onto the beach from the road. To avoid getting stuck, and the cost of a tow truck to extract you from the sand, you may prefer to remain on the road instead of taking the beach route.
One of the first things to do once you cross Queen Isabella Causeway is drive north for 10 miles until the road dead-ends. For more than half of this straightaway, you'll experience the feeling of driving through sand dunes without ever leaving the pavement. From here, you can continue on the beach by foot or bike for hours because SPI is 34 miles long. Winter Texans from the wintry north feel nostalgic when they see earthmovers clearing snow-white sand drifts from the shoulders of the road.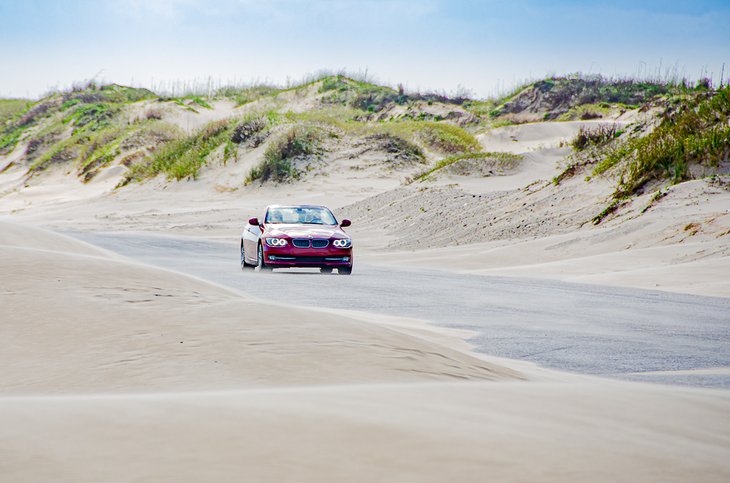 Want a different set of wheels (or hooves) to explore the beach? Rent a fat tire bike from one of many gear-rental shops or join a posse on horseback with The Stables at the SPI Equestrian and Events Centre.
Wherever you roam on the beach, here are a few tips:
Rules for driving on the beach are the same as rules on the road: Only licensed road vehicles are allowed (no OHVs or ATVs).
Observe speed limits (10 to 15 miles per hour).
If you plan to drive a long distance, make sure you go with a companion vehicle. If there's a breakdown, it could be a long walk back to civilization.
Watch out for sea turtles while driving on the beach, especially during nesting season between April and August.
Tempted by a sudden jolt of Mad Max madness to drive on the dunes? Don't! Dunes and the vegetation that grows on them serve as a natural barrier to protect SPI from seasonal hurricanes. Avoid the expense of a violation ticket, and stick to the road or beach.
2. Enjoy Birding and Wildlife Photography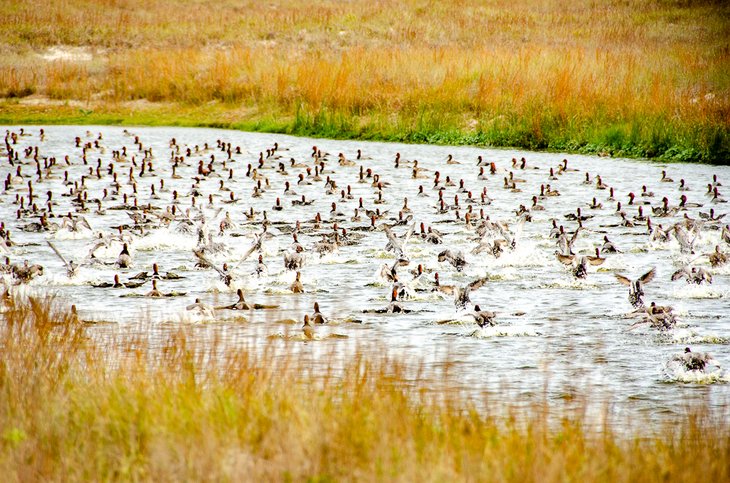 Research and nature centers – along with a thriving flotilla of tour operators – provide ample opportunities for safe, comfortable, and exciting encounters with SPI's wildlife. Like you, nature and its creatures schedule their arrival on South Padre Island. If you're flexible, follow the annual migration of your favorite birds to SPI. Their digs are not far from where you'll be staying and dining out.
Laguna Atascosa National Wildlife Refuge across the water on the mainland is an immense nature preserve of almost 40,000 hectares. That's the size of almost seven Manhattan islands strung together. SPI's backyard is a favorite place for resident birds and their snowbird cousins, fish, mammals, amphibians, and countless insects.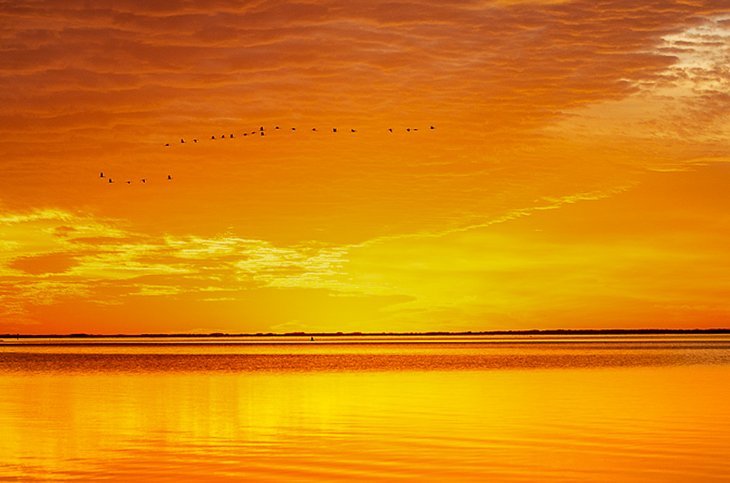 Whether you are a birder, wildlife photographer, paddler, or nature lover, you'll enjoy endless opportunities to appreciate the natural bounty that the Rio Grande Valley and SPI have in store for you: Herons, pelicans, Mexican eagles (aka crested caracara), and flamboyant roseate spoonbills are among the more than 300 species that frequent this area. This is the only place north of the Mexican border where you can admire the impressive plumage of green jays in the wild.
3. Befriend Wildlife at South Padre Island Birding, Nature Center & Alligator Sanctuary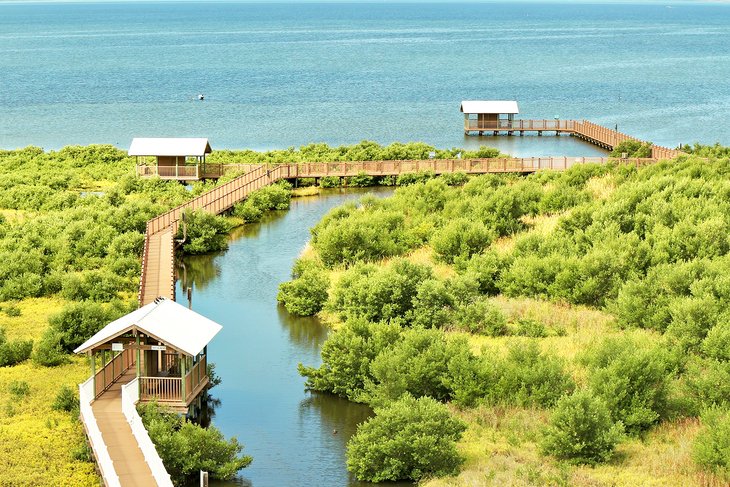 Surrounded by water, island residents treasure and protect the ecological chain of diversity that attracts and feeds birds, reptiles, and marine mammals. Want to strengthen the chain and get a closer look? Grab your binoculars, camera, and water bottle, and stop by South Padre Island Birding, Nature Center & Alligator Sanctuary. Be sure to register for one of the highly rated birding tours with a naturalist educator.
Home to a five-story viewing tower and more than half a mile of raised boardwalks and bird blinds, this center is your ticket to experience 50 acres of protected wetlands and the critters that live here. Not only will you see the vibrant colors and varying sizes of tropical birds, you can also check out alligators, tortoises, and other reptiles.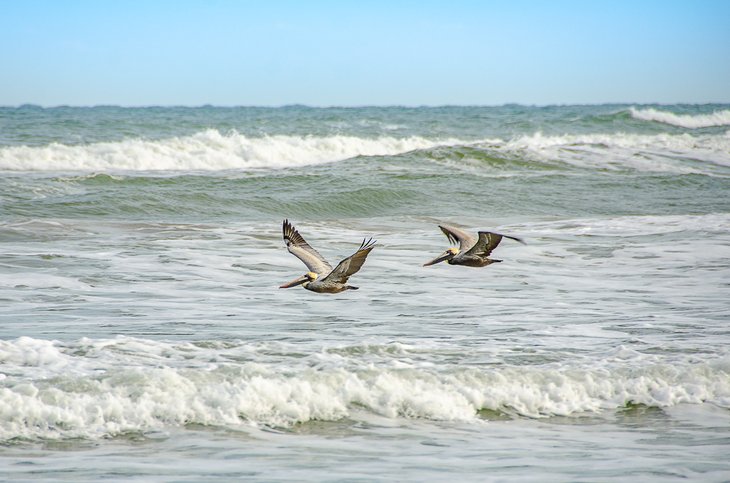 Near the center is the popular mile-long public boardwalk loop, the Laguna Madre Nature Trail. Research, conservation, and public awareness are priorities here, including the protection of an endangered species you'll see in the butterfly garden: the monarch.
Official site: spibirding.com
4. Learn about Dolphins at South Padre Island Nature Center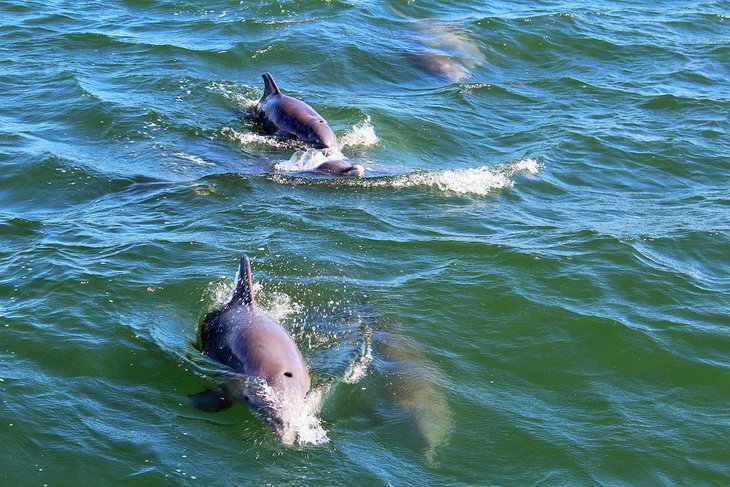 Cool fact: Bottlenose dolphins can sleep with one side of their brain while the other side is wide awake and keeping an eye out for sharks (and tourists!)
You can find dolphins the world over, and SPI is a great destination to improve your chances of spotting a pod of them. Some of these smart, curious, and vocal swimmers are permanent inshore residents in the Laguna Madre. Because dolphins are highly sensitive to human marine traffic, it's best to learn more about them if you're heading out on the water.
Education is key to how the South Padre Island Dolphin Research & Sealife Nature Center introduces you to the local "tribe" of bottlenose dolphins. Before setting out on a tour by boat, your ticket to ride includes a visit to its nature center beside the Port Isabel Lighthouse. Center staff provide information, and let you connect physically with sea life in touch tanks.
Fin to Feathers is another popular eco-friendly tour operator. Focused on the conservation of dolphins and specializing in dolphin and birding tours, Fin to Feathers tours depart from South Point Marina in Port Isabel.
Official site: spinaturecenter.com
5. Get Up to Speed with Turtles at Sea Turtle, Inc.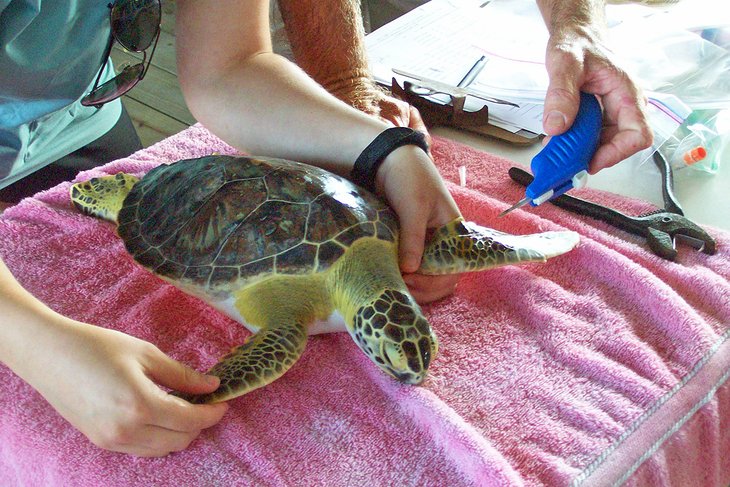 The plight of sea turtles and their recovery may tug at your heart strings. Sea Turtle, Inc. helps visitors like you turn these emotions into action with its year-round visitor and rehabilitation center for rescued sea turtles, most commonly the endangered Kemp's Ridley species. In addition to helping patients recover before release, it provides a home for resident turtles that will never be placed back into the wild.
One such resident is Allison – a turtle fitted with a prosthesis that enables her to swim with the assistance of human lifeguards and entertain visiting admirers from the comforts of her own tank. Her story may inspire you to return to Sea Turtle, Inc. as a valued member of its team of volunteers. With a focus on conservation, rehabilitation, and public education, the center – located four miles north of the Queen Isabella Causeway – provides an informative self-guided waterfront experience with hourly "Turtle Talks."
Official site: seaturtleinc.org
6. Find Your Beacon of Hope at Port Isabel Lighthouse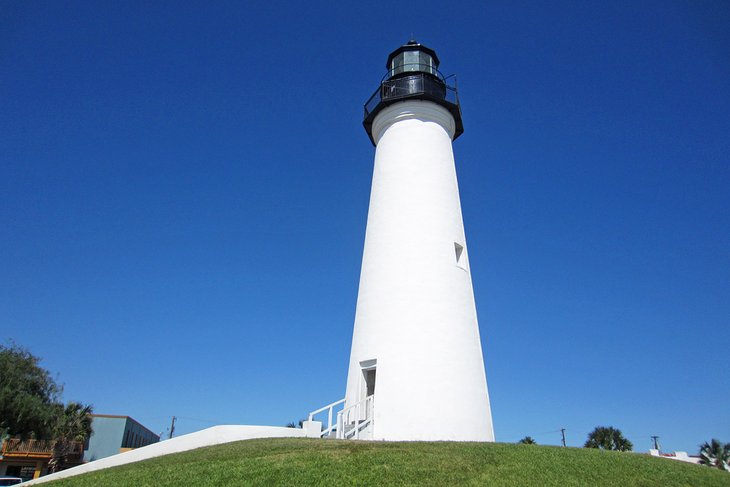 Where there is open water along a coastline populated with ocean-going vessels, you are sure to find a lighthouse that helps direct sailors on their journey. For this reason, lighthouses are often considered beacons of hope. Built as a navigational aid in 1852, the 72-foot-high Port Isabel Lighthouse has guided mariners of commercial and fishing boats to safe harbor.
Today, it stands as a symbol – not only of hope – but also of SPI's rich maritime history. This state historic site is the only lighthouse in Texas that is open to the public, along with its museum and reconstructed lighthouse keeper's cottage below the tower.
Official site: portisabellighthouse.com/lighthouse
7. Zip along and Saddle Up at South Padre Island Adventure Park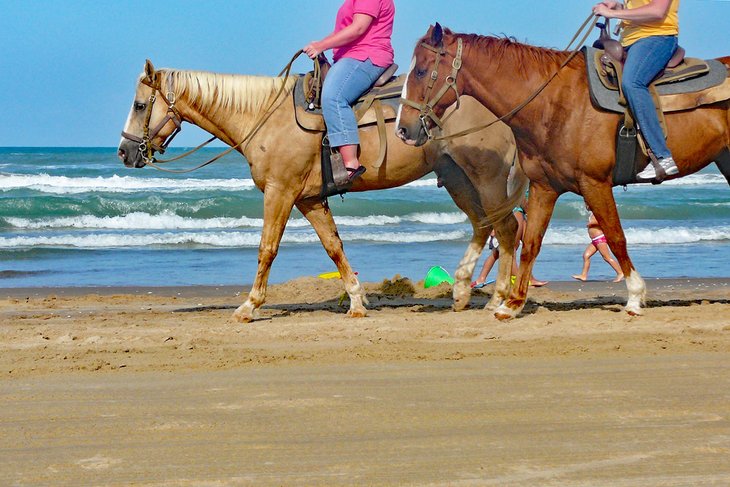 If your idea of leisure is being active, you will want to visit South Padre Island Adventure Park, where Park Road 100 ends and the fun begins. On 40 acres with access to the beach, the Island Adventure Park is a permanent home for rescue animals and tourists looking for a temporary escape from the rat race.
For one price, you can zipline non-stop for 45 minutes, ride horseback on the beach in an ocean wilderness for an hour, and hang out at the petting zoo. The same family-owned company operates the Island Fun Park in town, where you can get behind the wheel of a go-kart or play a round of mini-golf.
Official site: southpadreislandadventures.com
8. Pamper Yourself at Sapphire Spa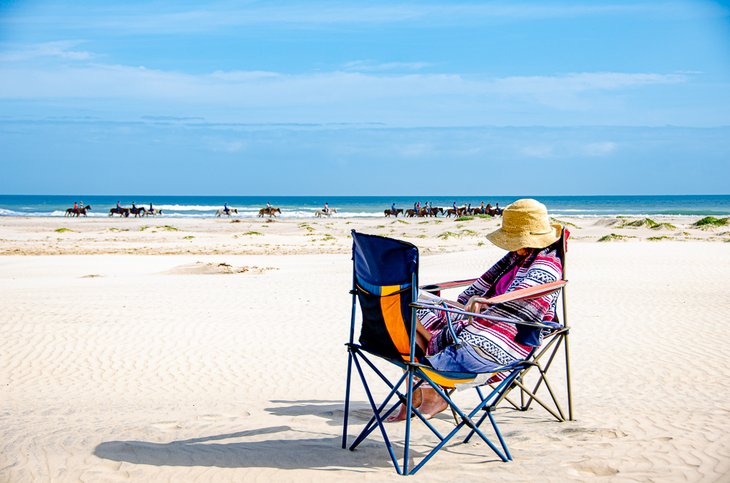 Relaxation can be deep and soothing, as well as revitalizing. With a self-guided SPI spa treatment, you start by untethering yourself from electronic devices, eating healthy and fresh food, taking long barefoot walks on the beach, and lazing under a sun umbrella with long-awaited pleasure reads.
Revel in this self-indulgence and go one step further: Book a Sapphire Spa massage at the Pearl South Padre Resort. Select from an extensive menu of massage and body treatments, which can be booked online to reserve a spot with your preferred therapist.
Official site: pearlsouthpadre.com/sapphire-spa
9. Cool Off at Beach Park at Isla Blanca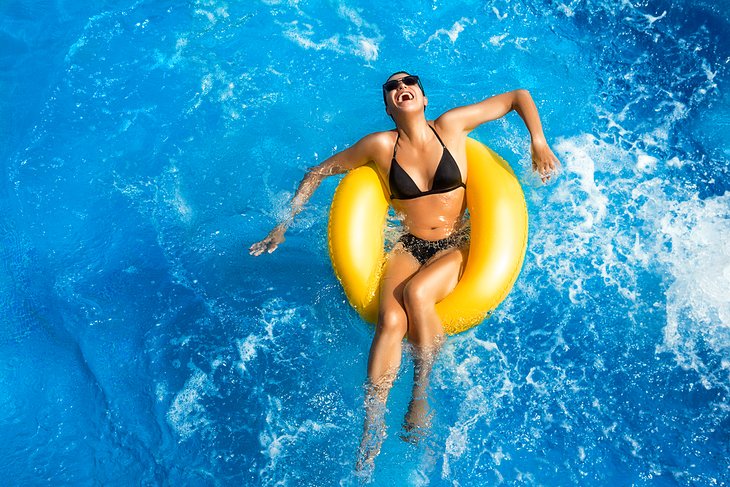 Children, youth, and the young at heart can easily spend most of the day soaking in active water play at Beach Park at Isla Blanca. In cooler weather, Beach Park has an indoor water park to extend summertime fun every month of the year.
What kind of water excitement appeals to you? Thrill seekers head with boogie boards to the Surf Rider. Atmospheric adventurers track the Storm Chaser. Swimmers – who like to go with the flow – float down the chute at Aqua Blanca.
Official site: beachparktx.com
10. Take a Front-Row Seat for a SpaceX Starship Launch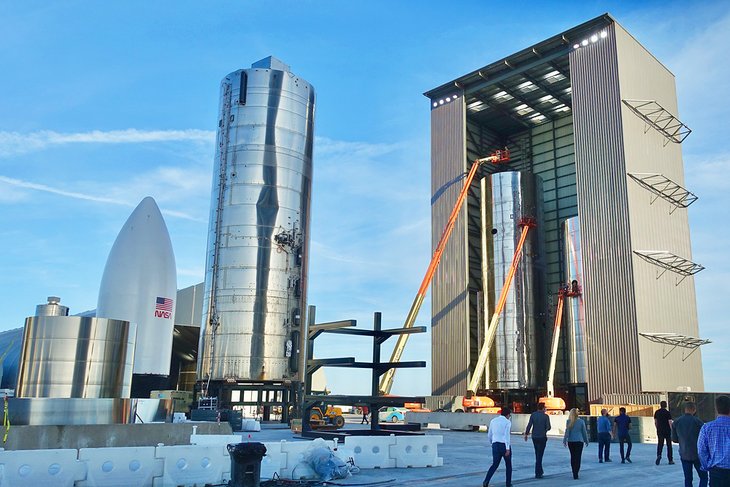 South of SPI is Starbase, the Boca Chica launch facility and landing pad for the SpaceX Starship. Experience the history of spaceflight in real time by setting up your beach chair in the best location to capture rocket launches and landings. Take a drive out to Boca Chica Village to see the area that might become the futuristic community of Starbase.
Official site: spacex.com/vehicles/starship
11. Defy Gravity at Gravity Park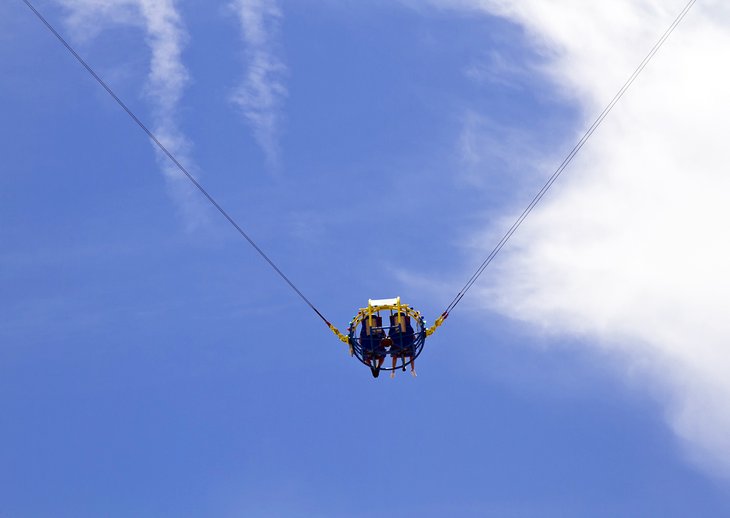 Look no further than Gravity Park for outside evening entertainment. While mini-golf and the arcade are fun, take control of a go-kart to pick up the pace. While a 60-foot Ferris wheel goes round and round, you can really get into the swing of things on the Skycoaster.
The Rocket is the tallest reverse-bungee in the world that flings you into the sky and lets gravity bring you back to Earth. While this ride won't take you as far as a SpaceX projectile, you are slung into orbit within seconds. Ready, set, go . . . SCREAM!!
Official site: gravitypark.squarespace.com
12. See America's Largest Outdoor Sandcastle and take Sandcastle Lessons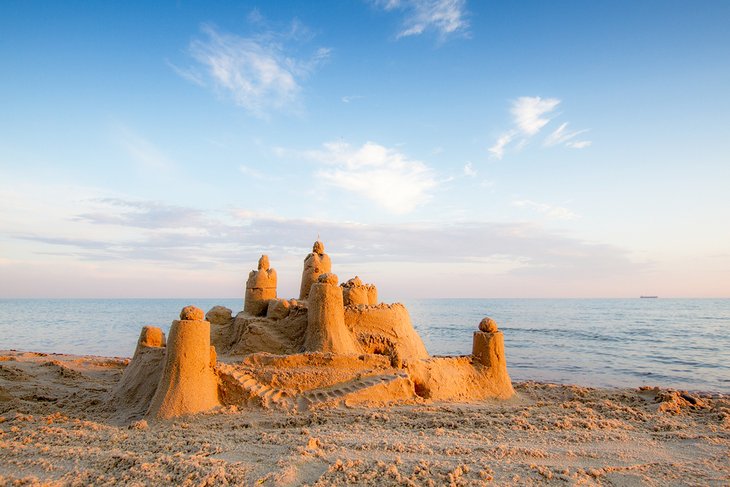 South Padre Island elevates the fun of making sandcastles in the sun to an art college level. Follow the self-guided hike along the South Padre Island Sandcastle Trail of 30 castles to the "largest outdoor sandcastle in the USA" beside the Tourist Information Center.
Inspired by this monument of sand, you'll be ready to sign up to become a sandcastle pro. Head over to Sandcastle Lessons, where you can learn and apprentice with a master. By the time you're a graduate, you'll have a castle to call your own.
Official site: sandcastlelessons.com
13. Go Boarding at South Padre Island Company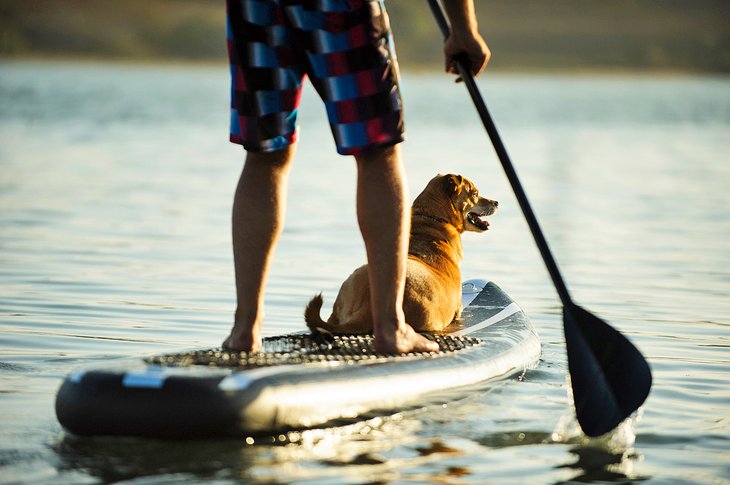 If lying on the beach and swimming bore you, it's time to jump on board: Surfboarding, boogie boarding, wakeboarding, sailboarding, kiteboarding, flyboarding, and stand up paddleboarding. A kayak or Jet Ski rental may also float your boat.
With so many options to get you on the water, you might need a guide to get started. In addition to gear rentals and surf shops, you'll find certified and experienced instructors to make your water adventures safe and satisfying. If you've always longed to catch a wave on a surfboard, link up with an entire family of surfers: South Padre Surf Company on the southern tip of SPI in Isla Blanca Beach Park.
Official site: southpadresurfcompany.com
14. Dive Below the Surface with American Diving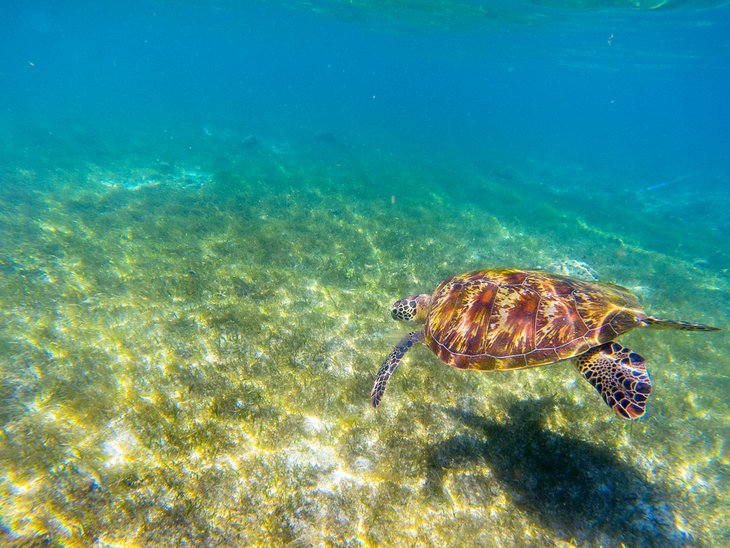 Beauty might be only skin deep – unless you're a skin diver. If you dip below the surface of the waters surrounding South Padre Island, you enter a world that feels like it's yet to be discovered. Like the human body, most of what SPI has to offer is comprised of water.
The protective intertidal zone of the Laguna Madre is where sea life gets its start in water that is only three to six feet deep. Snorkeling in the shallows and seagrass allows you to see an abundance of fish such as catfish, spotted seatrout, black drum, and redfish. You might also see hermit crabs and the occasional sea turtle. Contact a local tour operator for conditions on water visibility and a guide to bring you to the best places to visit for snorkeling.
If you are certified for deep sea adventures or want to pursue scuba diving certification, SPI-based American Diving can help you aboard and serve as your guide to offshore artificial reefs.
Official site: divesouthpadre.com
15. Cast into the Surf or Go Deep Sea Fishing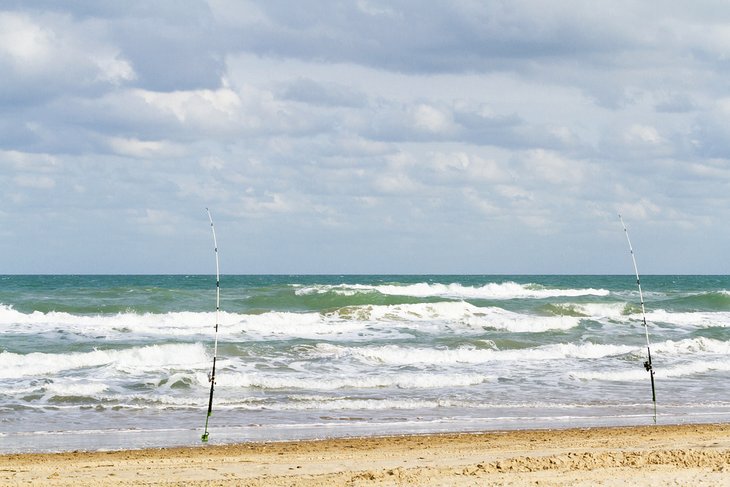 The hook for many visitors to South Padre Island is a day out in the sun with a fishing rod and a bucket of bait. Shore casting from the Jetties at Isla Blanca Park is sure to snag something for dinner. Queen Isabella State Fishing Pier next to the causeway is another favorite location for this popular pastime.
Not another fishy story: SPI is one of the top areas in Texas for deep sea fishing.
16. Swing from Gulf to Golf at South Padre Island Golf Club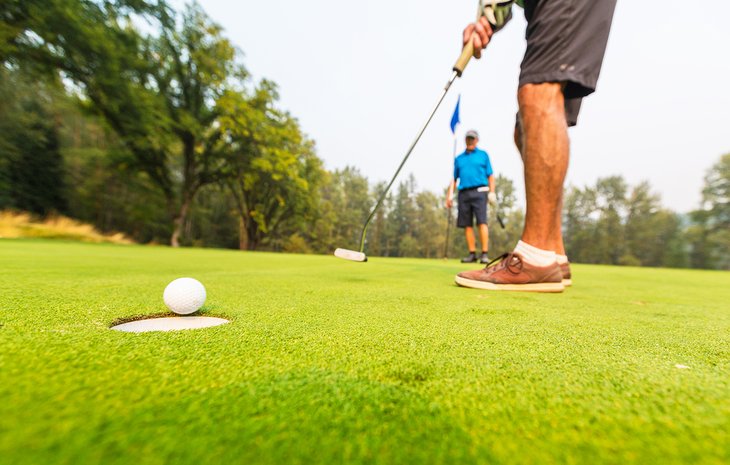 Aside from a few putts of mini-golf, there's no golf course on SPI. Within sight of the island, however, is South Padre Island Golf Club on the other side of Laguna Madre in nearby Port Isabel. With almost 7,000 yards from the first tee to the 18th hole, this course will help enhance your level of play with its sumptuous surroundings and onshore breezes.
Official site: www.spigolf.com
17. Play with Your Dog on the Beach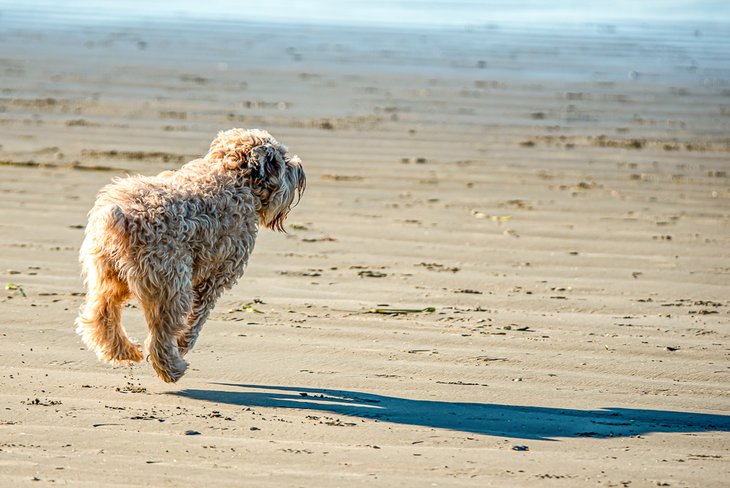 Bailey, Bella, and Buddy are all welcome to join you on your SPI holiday. This community also offers top activities and adventures for your favorite pet. When you sign up for a stand up paddleboard or surf lesson, make sure you arrange lessons for your dog at the same time. Eh Brah SUP and South Padre Surf Company offer guides to teach your dog how to mount a board, get a grip, and hang 10 on the next wave.