14 Best Beaches on South Padre Island, TX
South Padre Island has 34 miles of beaches, with windswept sand dunes and some of the best sand, sun, and shells along the Texas Gulf Coast.
There are two main beaches on South Padre Island that are split into sections: the city beach and county beach. The city beach stretches for about six miles along the coast before turning into the county beach, which extends the rest of the way, ending in a full sand dune landscape on the north end of the island. The main difference between the two beaches is that you can drive on the county beach, whereas driving on the city beach is prohibited.
The most important thing to know about beaches on South Padre Island is the public access points that all offer something different. The city beach has 25 public access points along Gulf Boulevard. Some are basic walking paths to the beach, some have restrooms and bike racks, and others are close to restaurants where you can step in for a bite to eat.
You can enjoy lots of small local eateries near the beaches, like Yummies Bistro, which serves unique eats like grapefruit pie that is only made two months out of the year. You can get around the island by car or golf cart, or take the free Island Metro that runs from the Convention Center to Isla Blanca beach.
As you pack your beach bag and plan your Texas Gulf Coast vacation, read our list of the top beaches and beach access points on South Padre Island to see what fits your beach mood.
1. Isla Blanca Beach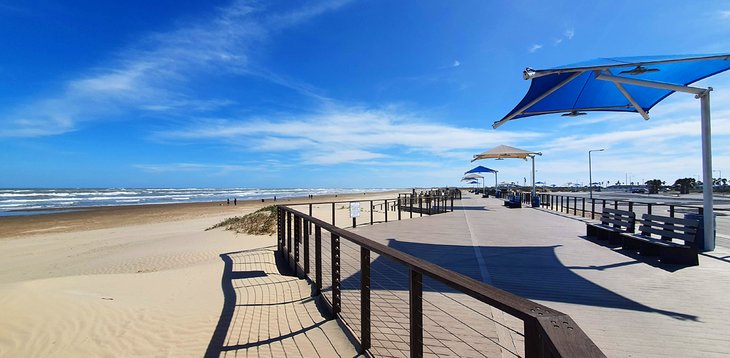 Isla Blanca Beach is one of the island's main beaches and where you will find some of the best beach activities on the island. It is one of the most beautiful sections of beach on South Padre Island, located on the south end. It is a fun and spacious beach that can accommodate every kind of activity, from surfing and biking to kite flying.
This beach also gets high marks for its comforts, like paved picnic pavilions, benches, ample parking, grills available for public use, restrooms, and showers.
There is a wide boardwalk that parallels the beach with access to the sand, so you can easily find your perfect spot or just people-watch from a higher elevation. Located on the northern part of the city beach is Clayton's Beach Grill, which is a beachfront staple for food.
On the south end of the beach is a rock jetty, where you will find fishermen, and you can watch the boats coming in and out of the shipping channel.
If you want to enjoy Isla Blanca Beach for more than the day, there is an RV park next to the beach for camping. There is a day fee to use the beach, and the Island Metro has a drop off at the entrance to Isla Blanca Beach Park.
Address: 33174 State Park Road 100, South Padre Island, Texas
2. Edwin King Atwood County Park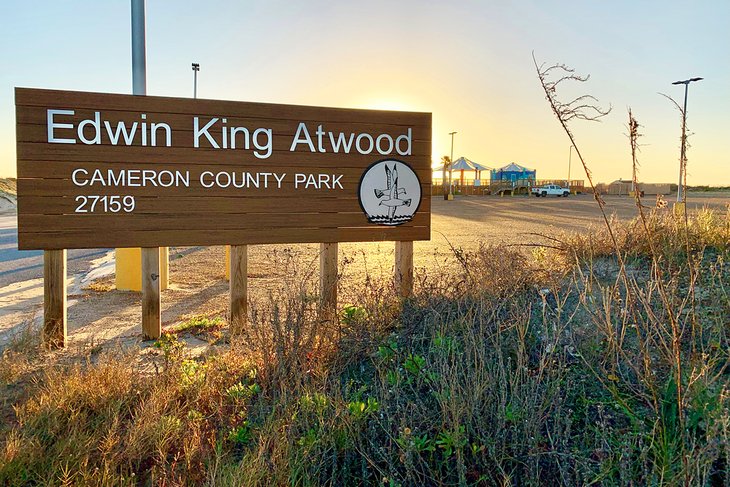 The Edwin King Atwood County Park on the north end is one of the best places to access the county beach on South Padre Island. This section of county beach is nice, especially for families that want to spend a full beach day and have quick access to paved parking, shaded picnic areas, and restrooms.
You can get to E.K. Atwood Park from beach access #5 and get to the beach from the boardwalk. This beach has great swimming in the Gulf and plenty of room to set up umbrellas or a beach shade canopy. It is quite scenic also, with steep sand dunes on the edge of the beach.
The beach park requires a day fee, but the beach is available every day of the week. You can drive onto this section of beach with a suitable vehicle.
Address: 27159 Park Road 100, South Padre Island, Texas
Official site: https://www.cameroncountytx.gov/parks-coastal-parks/parks-edwin-king-atwood/
3. Andy Bowie County Park Beach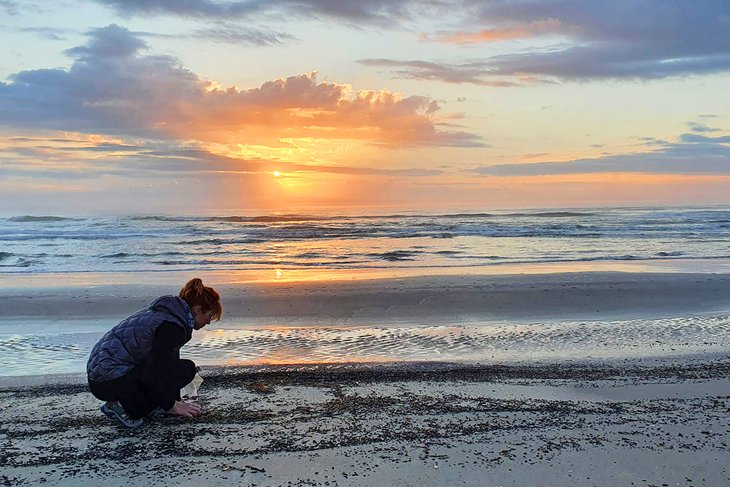 If you want to enjoy the county beach on the north side of South Padre Island, one of the most comfortable access points is from Andy Bowie County Park. There is a day fee to access the park, but you will find everything you need for the day, like paved parking, restrooms, pavilions, and picnic areas.
This is a good beach for swimming in the waves, fishing, and relaxing in the sand. Beach chair and umbrella rentals are available, and food concessions are located nearby. The Andy Bowie Park and beach are located directly across from the South Padre Island Convention Center with many restaurants within walking distance. There are RV sites at the park for those who plan to camp.
The beach is also close to the South Padre Island Birding and Nature Center, where you can enjoy more of the outdoors by walking along the Laguna Madre Nature Trail to see some of the bird species that inhabit the area.
Address: 7300 Park Road 100 N, South Padre Island, Texas
Official site: https://www.cameroncountytx.gov/parks-coastal-parks/parks-andy-bowie/
4. Harbor Beach (Beach Access #1)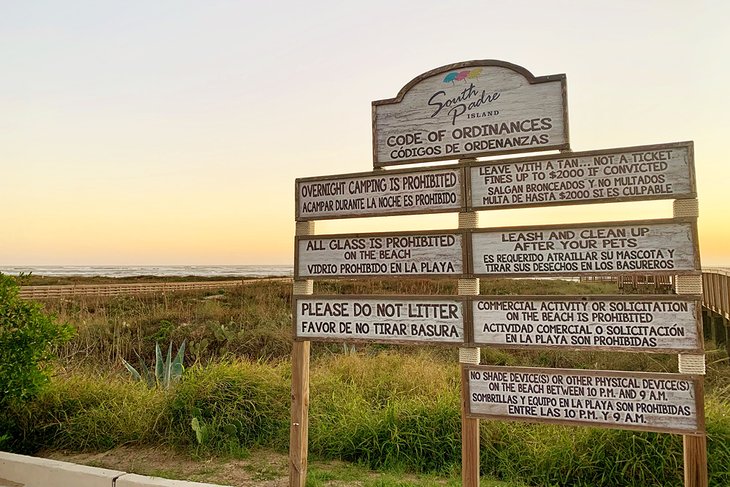 If you do not want to use the beach parks, the Harbor Beach access point is a good place to start your South Padre Island Beach experience. This is the first access point for the public beach, located along Gulf Boulevard.
Access point one is a convenient spot because there is a paved parking lot with a foot access path to the beach. There is a bike rack for securing bicycles and a short walkway to the sand. This access point is located next to Rocotto Grill, where you can stop in for lunch or a snack.
5. Sea Island Circle (Beach Access #5)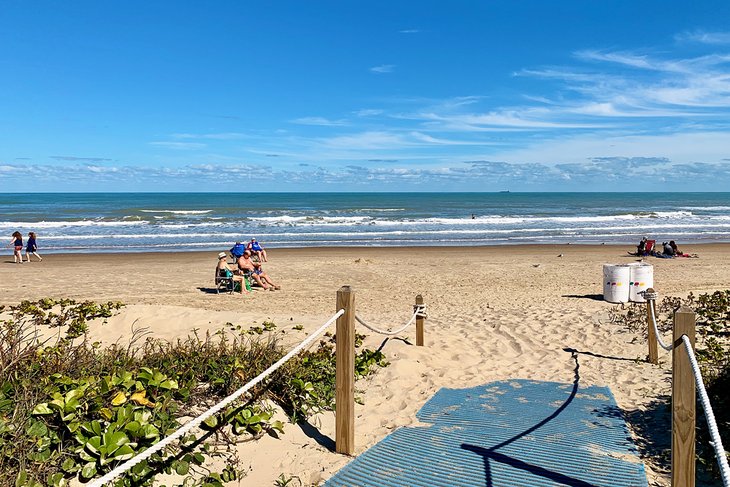 The Sea Island Circle public beach access point #5 is located off Gulf Boulevard. This is a basic access point with a walking path to the beach, but it has portable restrooms, whereas some other access points do not.
You will want to pack what you need for the day and take it with you, as there are no restaurants close to this spot. There are a few cafés within walking distance on Gulf Boulevard.
6. Thrive Beach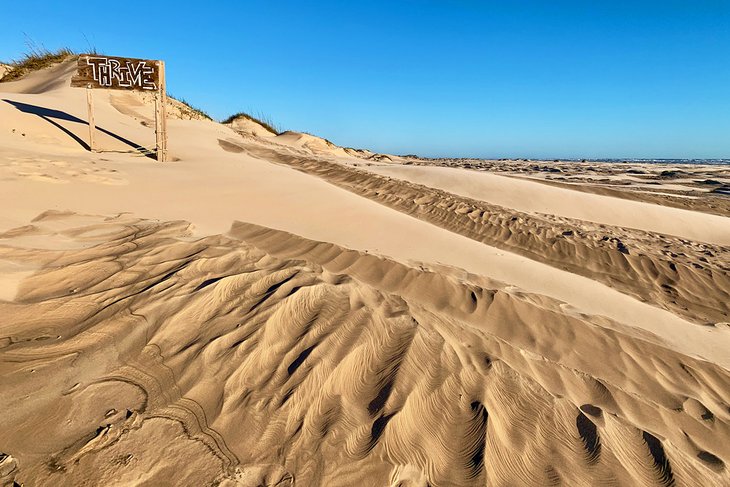 Thrive Beach is a stunning beach located on the north end of South Padre Island at the very end of Padre Boulevard Road. The road completely ends, but you can park on the road and walk through the sand dunes to the beach. You can also drive down to this beach from the oceanfront with a proper vehicle. Be advised that it is quite windy in this location, and the sand dunes are deep.
This is quite a unique space and a great beach to access if you are looking for a little bit of added adventure. The landscape is picturesque. This is a more peaceful and less crowded beach than the main beach parks and access points. Swimming is popular and so is shell hunting, as large finds wash up on this section of beach.
There are no restrooms, food, or other amenities, so this is a good option if you just want to spend a few hours in a more tranquil and scenic beach setting. Due to the blowing sand, it is advised that you wear sunglasses and take water and sunscreen with you.
7. Treasure Island Circle (Beach Access #11)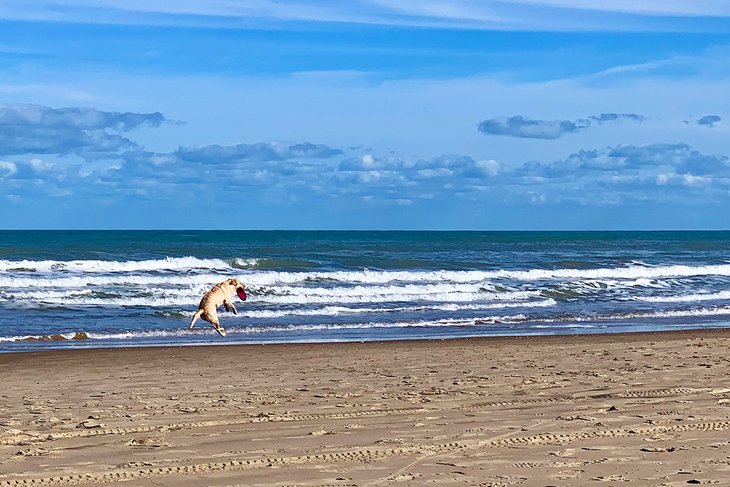 Treasure Island Circle is one of the best public beach access points to the South Padre Island city beach. Access point #11 has a paved parking lot and small shade pavilion.
The beach access walkway is just steps from the sand, so this is a nice spot for morning beach walks. This access point has public bathrooms, a water fountain, and beach showers. The Palms Café is nearby, so you can grab a bite to eat after your day at the beach or use the picnic tables.
8. Gulf Circle (Access #3)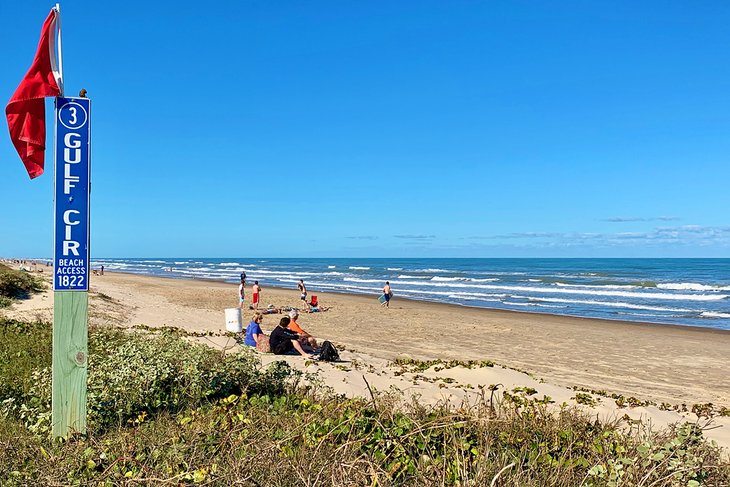 The Gulf Circle beach access has several conveniences for public use. It is public access point #3 off Gulf Boulevard. This free beach access point is nice because it has paved parking and a sidewalk to the beach, so you can haul a beach cart or canopies easily to the oceanfront. This location has restrooms and beach showers to rinse off after a day in the sand.
9. UFO Beach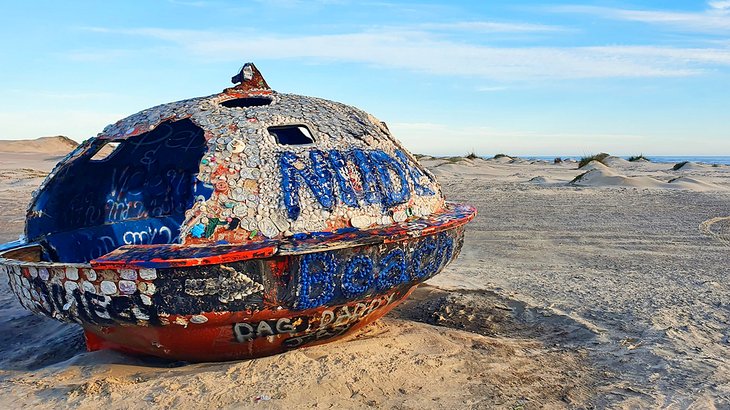 One of the most unique and fun beaches near South Padre Island is UFO Beach, and it's advised for those looking for a little adventure and exercise along with their day in the sand.
The benchmark for arrival is a wild-looking buoy that locals believe washed ashore after a hurricane many years ago. Over time it has become a destination for those who want to see an otherworldly-looking landmark in the sand that has been adorned over the years with graffiti, toys, and other mementoes from visitors.
The beach here is also fantastic. Since this is a remote area on the north end of South Padre Island, there are fewer beachgoers. The shells that wash up on this section are remarkable in size, variety, and numbers.
UFO Beach can only be accessed by 4WD vehicles from the beachfront or on foot with a 3.5-mile trek from the dead end of Padre Boulevard. This is a remote beach with no restrooms, so you will want to take everything you need with you, like sunscreen, snacks, and water, especially if you plan to walk the seven-mile round trip and spend some time on the beach.
10. Neptune Circle (Access #16)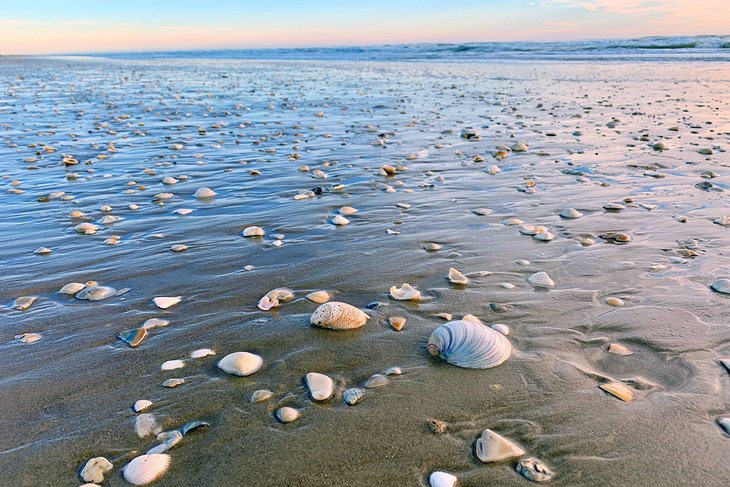 Neptune Circle city beach access has public parking but not many other amenities. There are no restrooms in this location, and there are no restaurants nearby, so you will want to pack snacks. This is a good section of beach to use if you just want quick access and only plan to spend a few hours.
It has easier parking than some of the other more populated access points. There is a walkover to the beach from the parking area. Another nice feature about this access point is that it sits next to a butterfly garden along Gulf Boulevard.
11. Gay Dawn Circle (Access #20)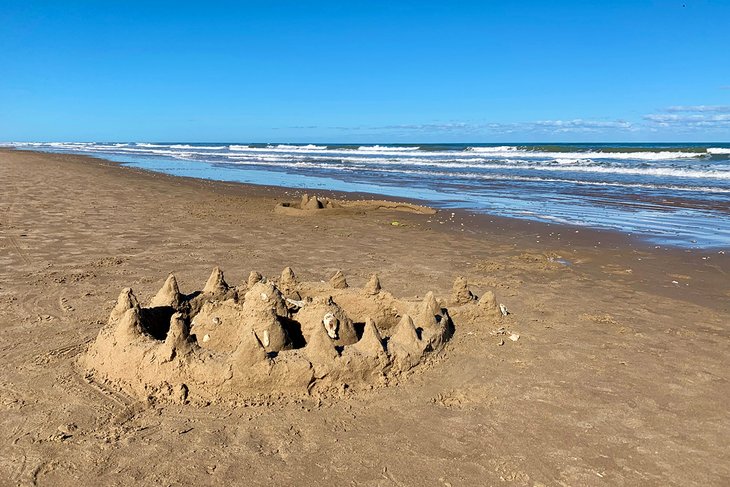 The Gay Dawn Circle public access point #20 is located at the far end of the city beach. This is a good access point if you want to walk from the city beach sands to the county beach sands along the oceanfront. This area has paved public parking that leads to a beach walkover and sidewalk. There are showers at this access point but no restrooms or nearby restaurants.
12. Good Hope Circle (Access #21)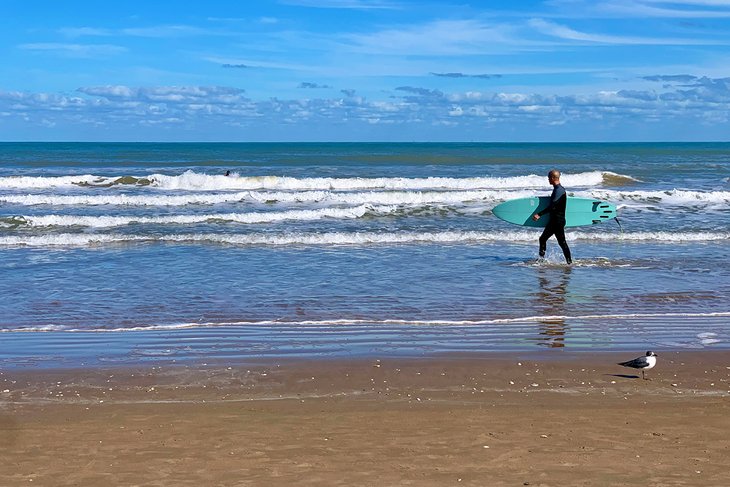 The Good Hope Circle is access point #21 to the city beach. There is a paved parking lot that leads to the beach assess walkover on the northern end of Gulf Boulevard. This access point does not have public restrooms, but showers are available. It has all the great swimming and beach activities as other sections of the public beach, and it is a quick access spot if you only plan to spend a short time at the beach.
13. Aquarius Circle (Access #18)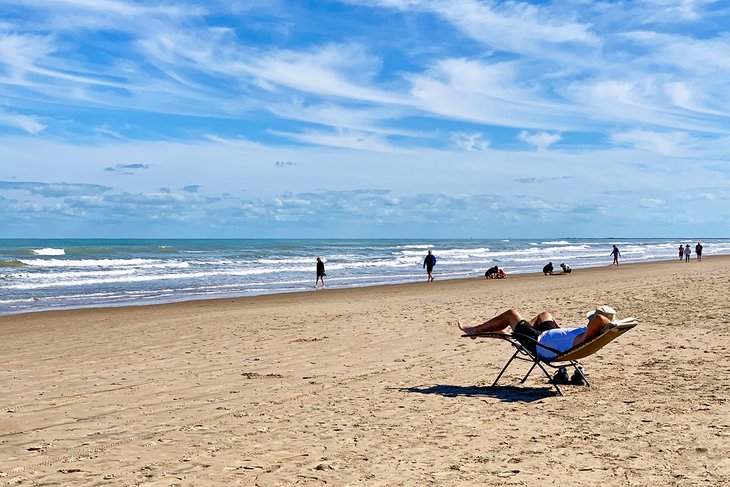 The Aquarius Circle public beach access #18 has the basics for quick access to the beach. There is paved parking that leads to the beach walkover. Showers are available at this location, but there are no public restrooms. You are within walking distance to the Wanna Wanna Grill, located near the parking lot on Gulf Boulevard, where you can grab lunch.
14. Beach Circle (Access #4)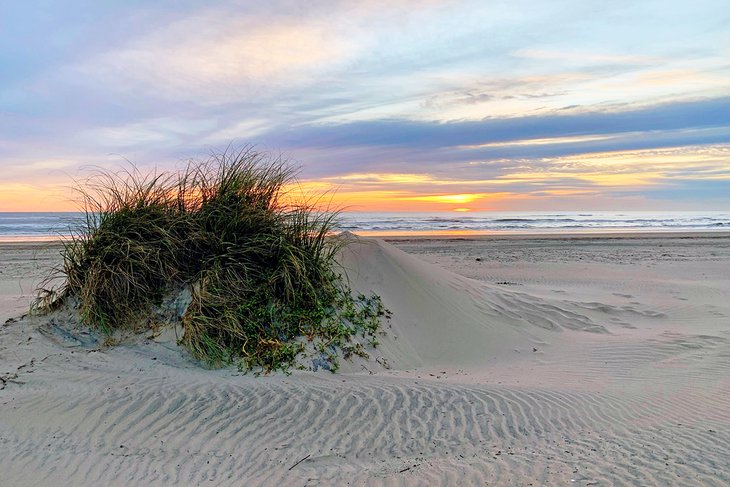 Beach Circle is public access point #4 off Gulf Boulevard. There is a small, paved parking lot leading to a beach walkover and sidewalk. If you stay near this access point on the beachside, you should be aware that there are no restrooms at this location. There are some public restrooms located just a short walk south at access point #3.
Where to Stay When Visiting Beaches on South Padre Island
There are lots of options for lodging on South Padre Island, from full-service oceanfront resorts to more budget-friendly hotels and motels that still offer easy access to the beach. Here are a few South Padre Island hotels to consider:
Luxury Hotels:
The Beach Resort at South Padre

Island

is one of five full-service resorts on South Padre Island. It is located on the oceanfront, with direct access to the beach, and has three pools for guests, with restaurants located on the property.
Another beachfront resort, Pearl South

Padre

has luxury rooms and condos with ocean views. There is a resort spa and restaurants on-site, as well as access to recreational activities, from private sandcastle lessons to horseback riding and golf.
Mid-Range Hotels:
Budget Hotels:
A budget-friendly motel that offers kitchenettes and free breakfast and is close to the beaches and attractions is the Super 8 by

Wyndham

.
Another option is the Ramada by Wyndham &

Suites

that has easy beach access, free breakfast, and is pet friendly.
Best Time to Go to the Beach in South Padre Island, TX - Historical Climate Averages
Average minimum and maximum temperatures for South Padre Island, TX in °C
J
F
M
A
M
J
J
A
S
O
N
D

19

11

21

13

24

17

26

19

29

23

31

25

32

25

32

25

31

24

28

21

24

17

21

12

PlanetWare.com
Average monthly precipitation totals for South Padre Island, TX in mm.

49

44

31

46

61

50

44

54

155

95

55

41