17 Best Beaches in Galveston, TX
Galveston beaches are stunning for so many reasons, which is why this Gulf Coast location is desired by vacationers. The 32 miles of beaches with semi-hard sand makes them great for walking, relaxing, and hunting for seashells.
Galveston has a range of beaches like East Beach, which is one of the most popular, and Stewart Beach, which is especially inviting for families. You can find quieter beaches on the east and west ends of the island, which are great for birding and beachcombing, and on the Bolivar Peninsula, which can be accessed by the ferry.
All the beaches in Galveston are open to the public. Some have easier access points than others, but they all have something unique to offer. You can take a guided beachcombing tour or birding tour if you want more formal guidance on how to make the most of your beach experience.
While Galveston is becoming a year-round destination, the most desirable time of the year for perfect beach weather is springtime through October.

If you do not know where to start to find the perfect beach, you can begin where most of the action takes place, at the Pleasure Pier, and work your way from here. See which ones fit your vacation vibe with our list of the best beaches in Galveston.
1. East Beach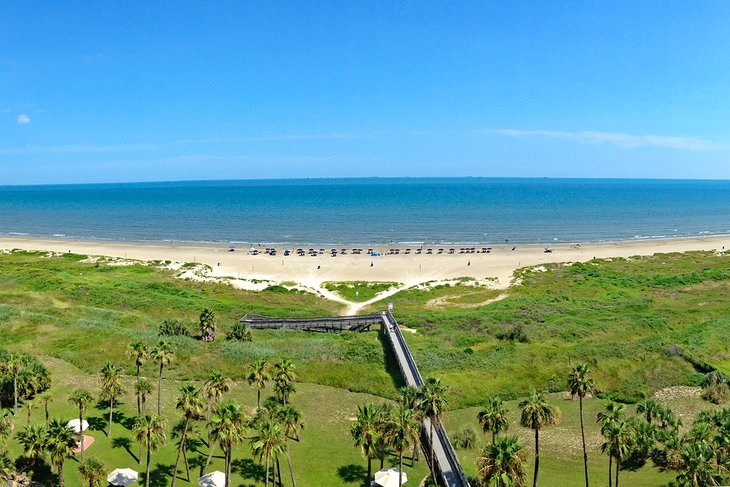 Galveston's East Beach is notably the biggest beach and one of the most popular on the island. It is located at R.A. Apffel Beach Park on the east end of the island and caters to the seasonal vacationer. The 80-acre beach park has all the amenities that beachgoers need for the day, from restaurants and picnic tables to volleyball courts and an entertainment pavilion.
Swimming and enjoying the relaxed summer beach scene is why people drive to East Beach as opposed to others on the island. East Beach has chairs, cabanas, and umbrellas available to rent, and there is always an event or festival happening to enhance the atmosphere, like sandcastle building competitions and concerts.
There are several entrances to East Beach. Both take you to beach parking, but entrance 2 also gives you access to the East End Lagoon Nature Preserve. This is a nearly 700-acre parcel of land with brackish water that is home to native birds and wildlife and has a hiking trail, fishing, and kayaking available.
Address: 1923 Boddeker Road, Gavleston, Texas
2. Stewart Beach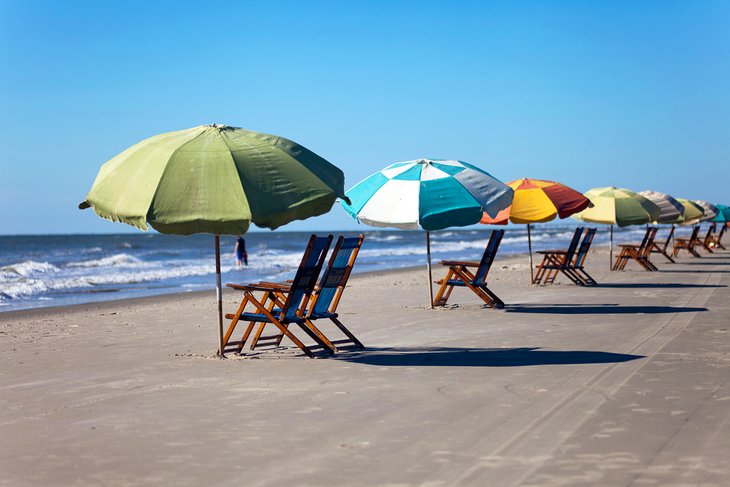 One of the most family-friendly beaches in Galveston is Stewart Beach. It is a popular beach in part because of its location near food, restrooms, activities, and the main seawall promenade.
It is easy to rent a cabana or beach umbrella for the day, and there is plenty of space on the sand where volleyball games get underway in the summer. There is a nice playground available for children close to the beach.
The beach season runs from March to October, and that is when you will find concessions open and lifeguards on duty. There is a fee to park at Stewart Beach.
Address: 201 Seawall Blvd, Galveston, Texas
3. Crystal Beach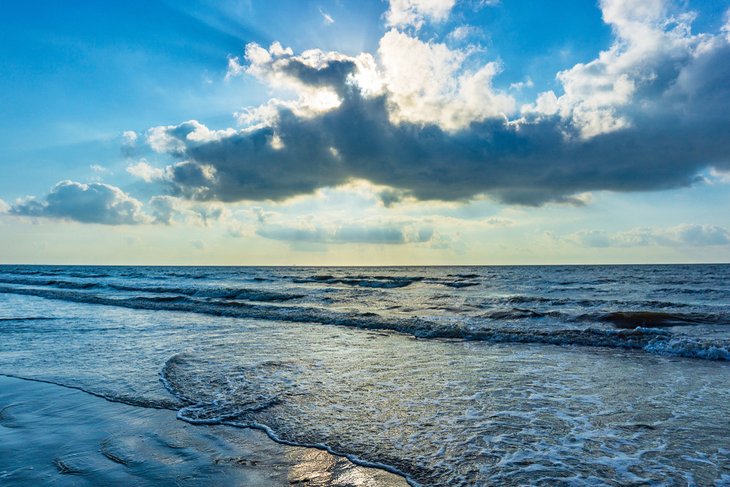 Crystal Beach, which sits on the Bolivar Peninsula, is one of Galveston's top beaches, in part because of the ferry ride it requires to get here. You can make a full day out of going to Crystal Beach and relaxing next to the blue Gulf of Mexico waters.
Take the free Bolivar Ferry to the peninsula, which is only about a 15-minute ride from the east end of Galveston Island. Drive your car directly onto the ferry and keep your eyes open during the ride for pods of dolphins that like to escort the boat across the bay. The ferry runs regularly throughout the day even in the off-season.
Once you get to Crystal Beach, you will find its long stretch of sand relaxing. Cars, RVs, and golf carts are allowed onto the beach, and you will see a number of them as people set up for the day. There are hotels and vacation home rentals near Crystal Beach and for the outdoorsy types, you can pitch a tent to spend the night with the sounds of waves crashing onto the shore.
Crystal Beach is pet-friendly, and the semi-hard sand is nice for jogging or morning walks. For a bite to eat, stop by the Stingaree Restaurant, which has panoramic views of the water.
Address: Bolivar Peninsula, Galveston, Texas
4. Seawall Beach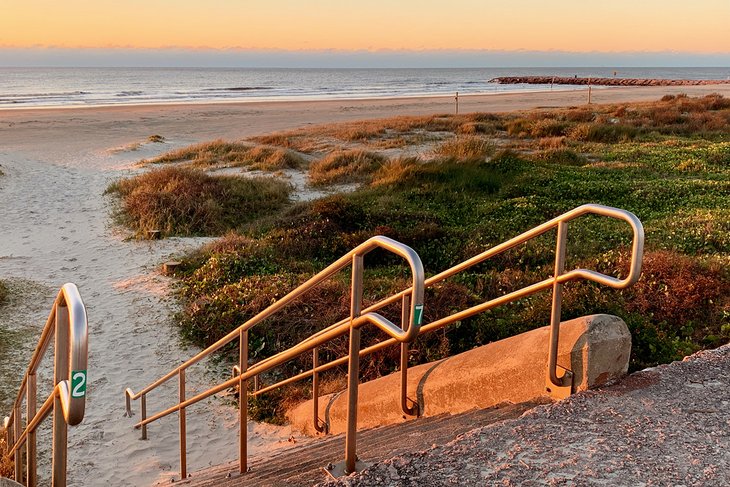 The best known beach in Galveston is probably Seawall Beach because it is the most centrally located on the island. The beach follows the famous seawall that runs for 10 miles and is the longest continuous sidewalk in the country.
Seawall Boulevard above the beach runs from 39th Street to 53rd Street and is a popular place for joggers and beachgoers. You will find many picnic benches, statues, historical markers, and shaded pavilions along the sidewalk.
There are many swimming areas available and plenty of space on the beach. Cabanas, beach umbrellas, and chairs are available for daily rentals. There are no restrooms located on Seawall Beach, but you can easily walk across the street to access many restaurants and convenience stores.

Address: Seawall Boulevard, Galveston, Texas
5. Galveston Island State Park Beach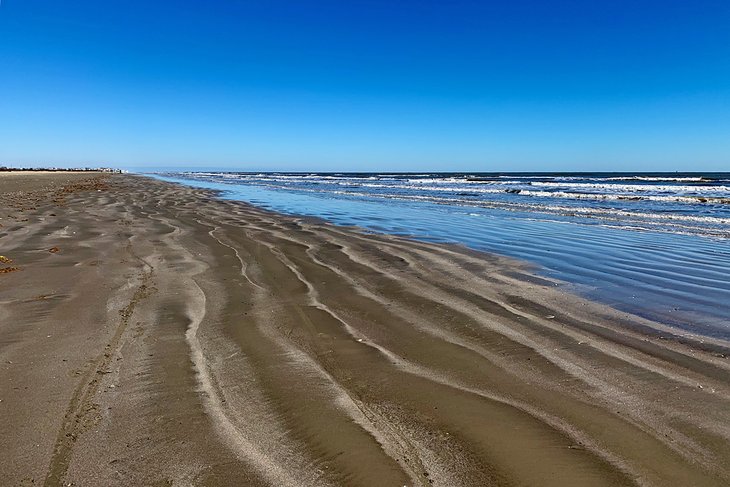 Galveston Island State Park is a must visit on your vacation for the natural experience of the island, but the new stretch of public beach is another reason to visit. The beach has a wide sand base and plenty of room to spread out. The swimming area is family-friendly.
If you want to make a full day out of it beyond time on the sand, you can plan a hike on one of the state park trails, like the Clapper Rail Trail, which takes you through the brackish marshes where you will see Galveston's unique ecosystems.
You can also spend a half day kayaking on the paddling trails with easy launch points. The park has picnic tables and campsites available.

Address:14901 FM3005, Galveston, Texas
6. Jamaica Beach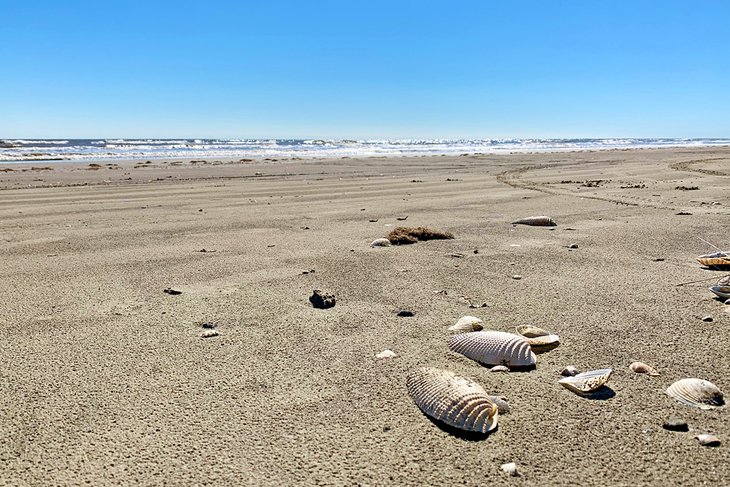 The beautiful Jamaica Beach is located within the small municipality of Jamaica Beach, located within Galveston. Jamaica Beach is a beach located on the Gulf of Mexico side of the island, which is easy to get to from public access point 17.

The calm water at Jamaica Beach and soft sand make it a perfect beach for families. It is located on the west end of Galveston Island in a quieter area than near the seawall. It is a great beach for playing in the sand, swimming, and beachcombing.
You will find a nice variety of shells along Jamaica Beach when the tide changes, making for an ideal morning spot to search for sand dollars when they wash onshore. There is an RV park across the street from the beach if you are looking for a camping space with walkable access to the ocean.
Address: 16607 Jamaica Beach Road, Jamaica Beach, Texas
7. Bolivar Beach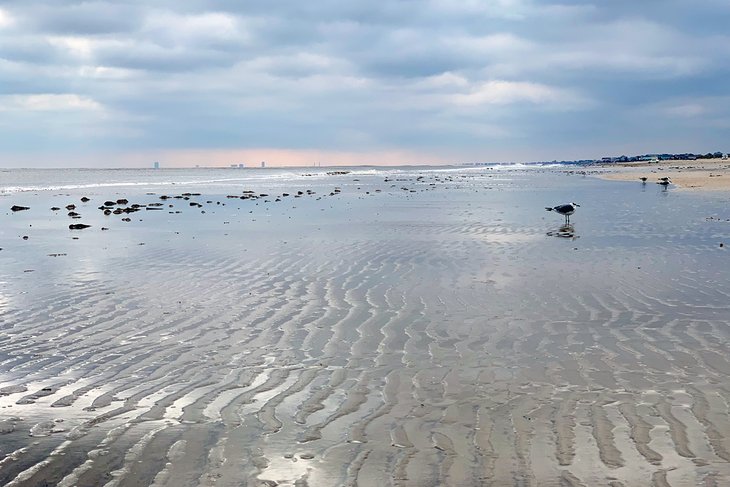 Bolivar Beach, located on the Bolivar Peninsula, is one of two popular beaches on the far east edge of Galveston. It is a wide beach with lots of semi-hard sand suitable for long walks on the coastline and pitching a beach umbrella. You can even drive your car right onto the beach.
Access Bolivar Beach from Galveston on the Bolivar Ferry, which is free and runs throughout the day, even in the tourist off-season. The ferry is a 15-minute ride that might just become the best part of your beach day. You will likely see flocks of seagulls and pelicans following the ferry during the journey.
Address: 398 Atkinson Street, Crystal Beach, Texas
8. Sunny Beach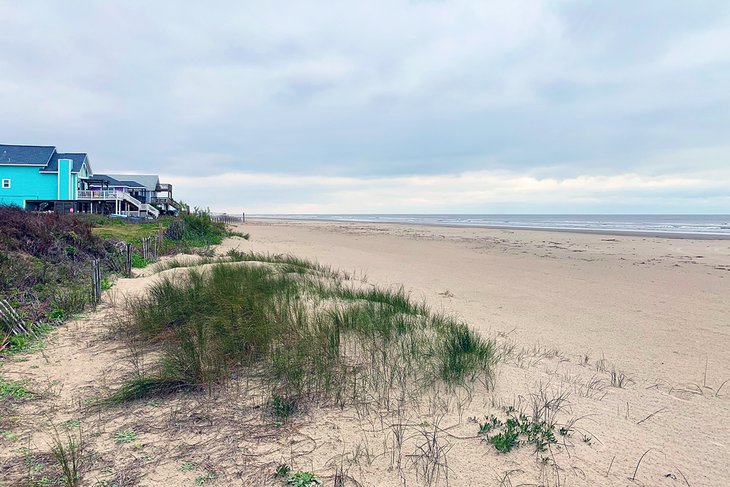 Galveston's Sunny Beach is a small beach section located on the west side of the island. You can reach it from public beach access point 7 from the San Luis Pass Road. This is a quiet dog-friendly beach with sand dunes and a comfortable space to picnic and relax by the water. You will find many shells on Sunny Beach. There are no restrooms, so you will likely only spend a few hours here to walk or drive on the sand along the coastline.
Address: 2704 8 Mile Road, Galveston, Texas
9. Bermuda Beach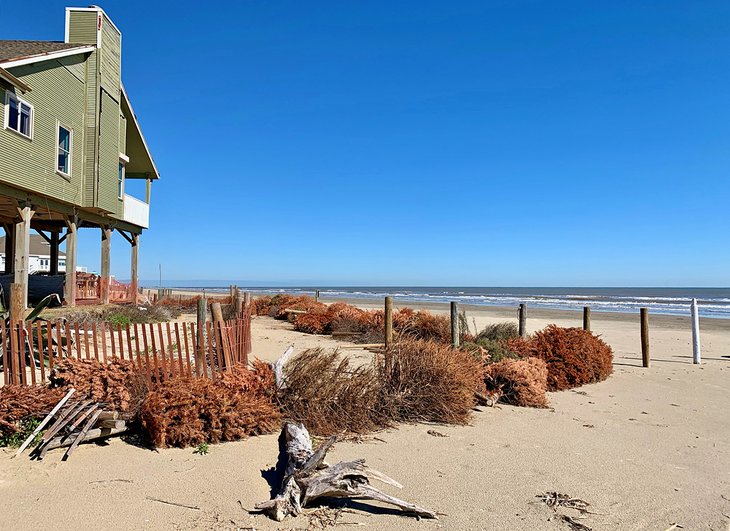 If you are looking for a quiet beach away from the busier central Galveston beaches, then Bermuda Beach on the island's west end is one to consider. Bermuda Beach is known for washing up lots of seashells and sand dollars.
There are no public restrooms on this beach, but it is perfect for a morning walk or for catching a sunset. You can reach Bermuda Beach from public access point 12 along the San Luis Pass roadway.
10. San Luis Pass Beach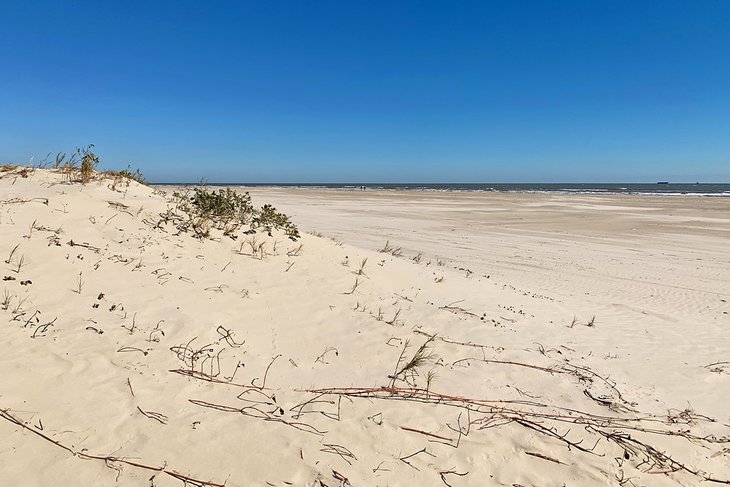 One of the most scenic beaches on Galveston Island is San Luis Pass Beach on the far west end. This beach is not recommended for swimming because of dangerous currents that are present in the water at this location, but it is a great beach for enjoying the ocean scenery and taking in the natural surroundings.
The tall sand dunes are stunning, and it is a great place for bird-watching for the many types of shorebirds that frequent the area. This is an expansive and quiet beach that is also great for fishing. You can drive directly onto the beach with the proper vehicle and get to it from public access point 41.
Address: San Luis Pass Road, Galveston, Texas
11. Shell Beach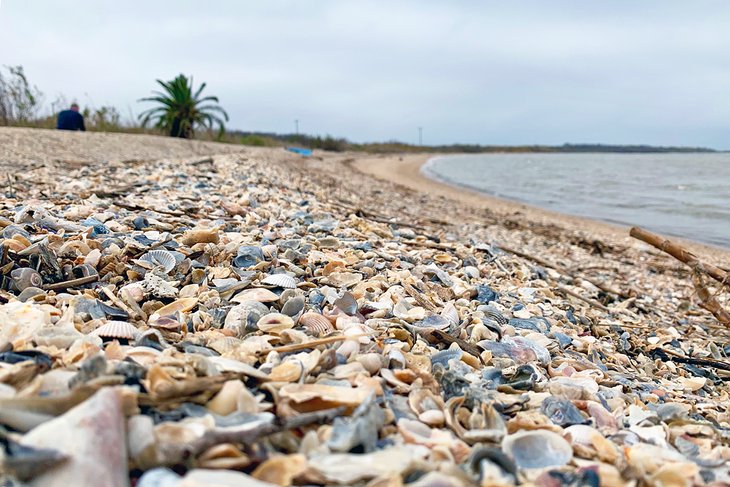 One of the smallest and most unique beaches in Galveston is Shell Beach, located on Pelican Island next to Seawolf Park. As its name indicates, Shell Beach is made up entirely of tiny shells that span the semi-circle-shaped beach.
There is no designated parking, so it is best to park at Seawolf Park and walk across the grass to the beach. This is not a sandy swimming beach but rather a fantastic place to spend some time exploring the millions of small shells decorating the ground in every shape, size, and color.
You can plan a full day on Pelican Island visiting Shell Beach then going to Seawolf Park to enjoy the wide space that is used for fishing and picnics. There is a large playground for children, a basketball court, and benches for sitting by the water.
Also in this spot is the Galveston Naval Museum, which has two U.S. military vessels, including a WWII submarine that you can board.
Address 100 Seawolf Park Blvd, Galveston, Texas
12. Babe's Beach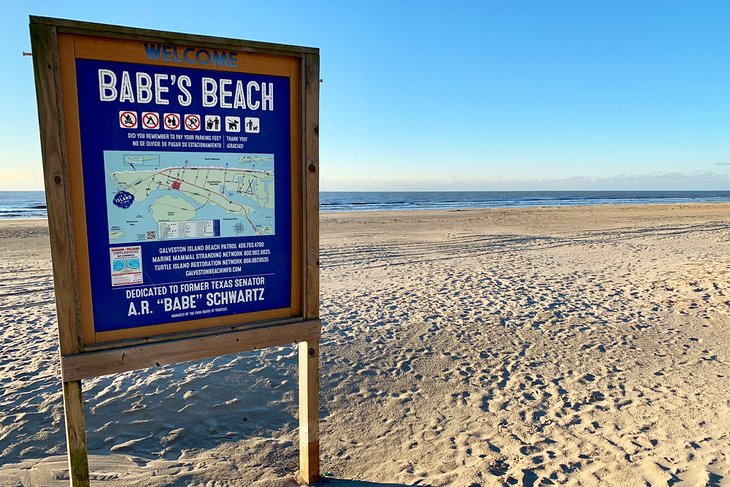 Babe's Beach is one of the most popular beaches in Galveston, known for its stunning water and easy access. This is a happening place along the central part of Galveston, with easy access to restaurants and social activities.
You are not far from Galveston's 61st Street Pier, so if you are looking to combine visits to multiple things in central Galveston then Babe's Beach is a good option. The one-mile stretch of beach is named for Babe Schwartz, a Texas state senator who founded the park board.
Babe's Beach has great swimming waters, and there are always activities taking place on the sand. The seawall runs behind Babe's Beach which has historical markers about Galveston to read if you take a walk. There are many restaurants and beach shops just across the street.
Address: 6477 Seawall Blvd, Galveston, Texas
13. Porretto Beach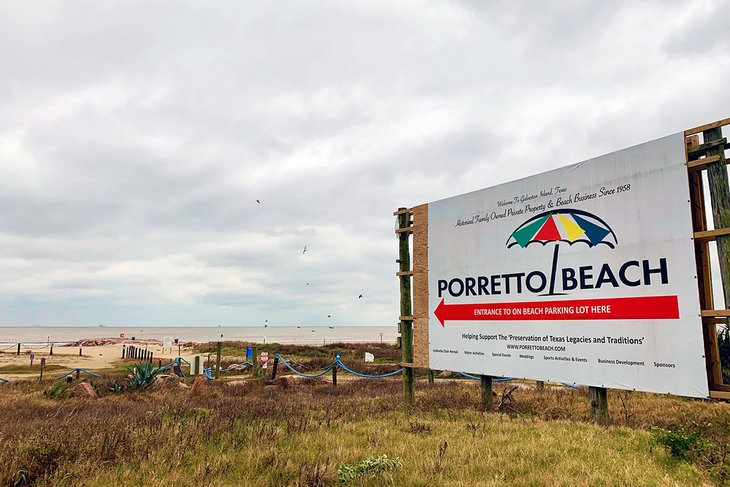 A unique beach option is Porretto Beach because it is the only privately owned beach in Galveston. It is centrally located on the island and separated from other beach areas with a designated entrance. Porretto Beach has been family owned since 1958 and is a popular option for tourists visiting the city.
This is a wonderful beach for families since it has a large park setting, clean and shallow water, and conveniently located restrooms. There is a lot to do at this beach park, from building sandcastles and swimming to water sports like kayaking, paddleboarding, and canoeing.
You can rent beach chairs and umbrellas, and since it is located along the seawall, you are close to local restaurants. Porretto Beach is pet friendly.
Address: 10th & Seawall Blvd, Galveston, Texas
14. Beach Pocket Park 1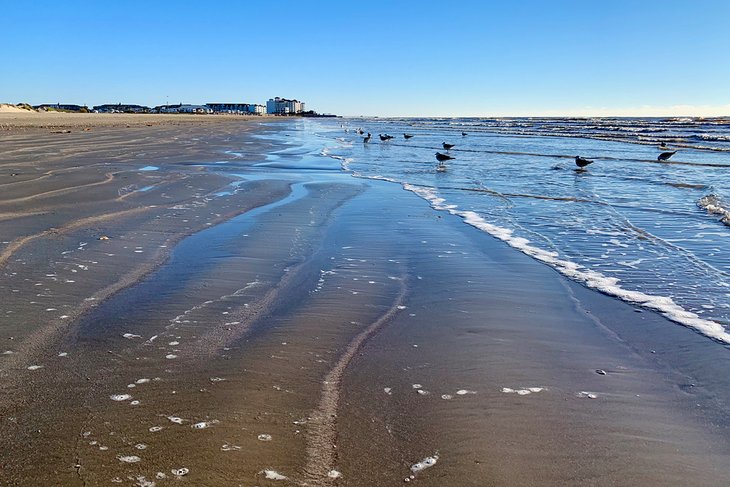 Beach Pocket Park 1 is a quiet beach located on Galveston's west end that enables you to drive directly onto the beach. This is a quiet beach and a nice option for families, as it is away from the crowds. You can get to Beach pocket Park 1 from public access point 7.
The 7.5-mile shoreline is well-maintained. You can look for shells during the tide change or just sit and relax in a beach chair and listen to the breeze blow in off the ocean. There are no restrooms or rental amenities on this beach, so you will need to bring everything with you for your visit and head into the central part of the island to find restaurants and restrooms.
Address: 3544 7 1/2 Mile Road, Galveston, Texas
15. Beach Pocket Park 2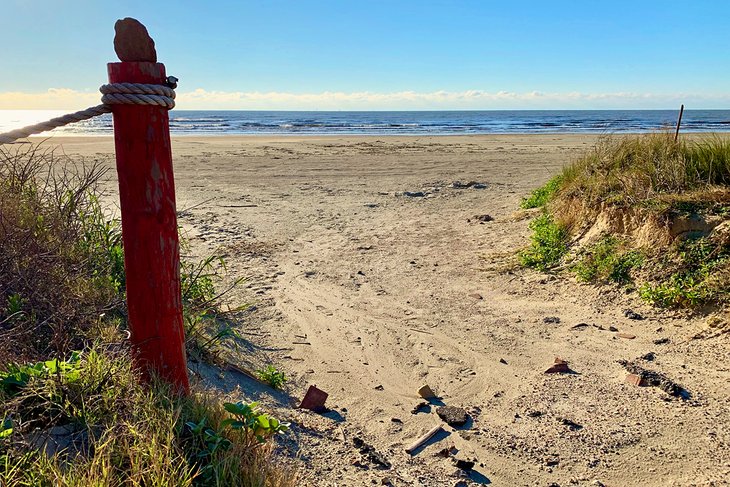 Beach Pocket Park 2 is a great beach if you are looking for a sandy spot away from the crowds but with paved parking and some easily accessible amenities. The soft sand is a big draw for this beach, and it's still a quiet place to relax for a day on the west side of the island.
There are shower and restroom facilities available on the beach, and the Tipsy Turtle Grille has food and changing rooms for beachgoers. You can get to Beach Pocket Park 2 from public access point 9 off San Luis Pass Road.
Address: 11102 FM-3003, Galveston, Texas
16. Beachtown Beach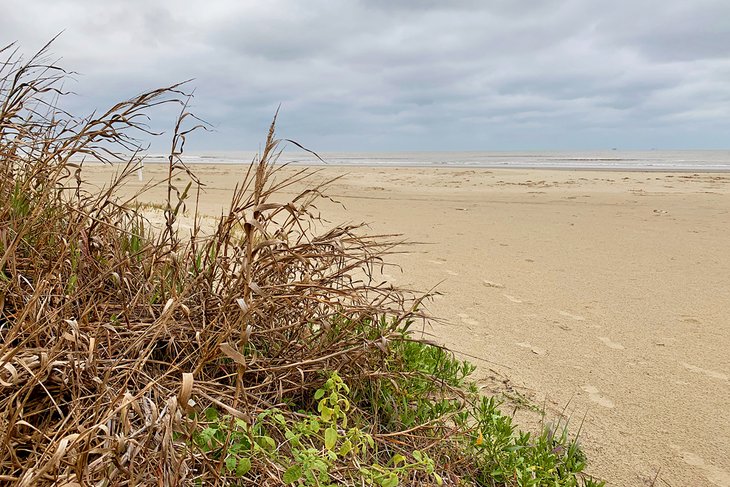 While Beachtown Beach is not far from Galveston's East Beach there is a vast difference in the number of crowds that you will experience. Beachtown Beach is located within a residential community on the island's east end, but you can easily reach it from public access point 1A.
This beach has large sweeping sand dunes, and you are close to the natural backdrop that the east end is known for but without the crowds that go to East Beach, located just down the road.
Address: Beachtown, Galveston, Texas
17. Texas City Dike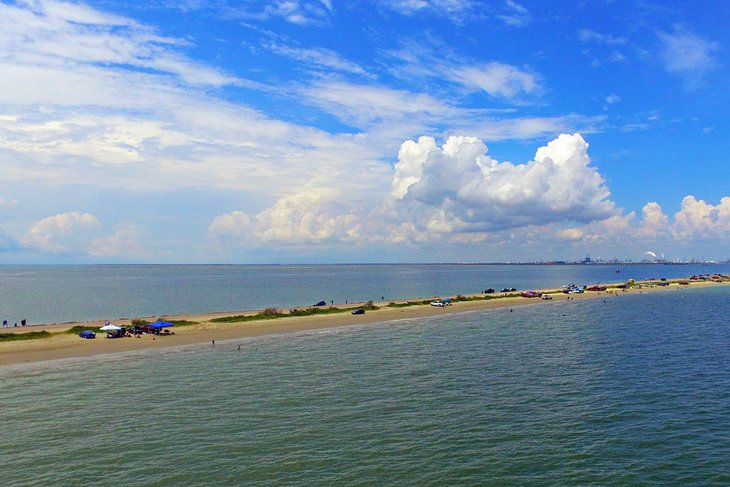 The Texas City Dike is more of a recreational beach opportunity as opposed to swimming, but it is very popular, especially for fishing. It is considered the longest fishing pier in the world, and it is a great place to watch the locals that also enjoy coming here. You can access the Texas City Dike across the bridge from Galveston in Texas City.

If you are looking for a section of sandy beach, you will find one just past the Noah Welch boat ramp where there is also parking available. It is quite windy on the Texas City Dike, so it is best suited as a beach to use for a picnic or just sitting by the water to soak in some of the ocean breezes.
The Texas City Dike has been around for more than 100 years and stretches for 5.3 miles. You can find many portable restrooms along the dike and areas for launching boats or stopping for a picnic. There is a vehicle entry fee on weekends during the busy summer months.

Address: Dike Road, Texas City, Texas