14 Top-Rated Things to Do in Conroe, TX
Nowhere in Texas is the state flag flying so prominently as it is in its birthplace: the city of Conroe in Montgomery County. Conroe is located just 40 miles north of Houston. It is a city with deep Texas heritage, as evidenced by its historic downtown and the symbolism displayed as you explore the attractions and things to do during your stay. Throughout the city, you will find historical information markers and memorial tributes and statues.
Conroe is one of the fastest growing cities in the state, but it also has an abundance of outdoor recreation and nature just on its borders. It is surrounded by the Sam Houston National Forest, W.G. Jones State Forest, and the 22,000-acre Lake Conroe.
Conroe's history lies in the lumber mill industry. A Civil War Illinois Calvary captain named Isaac Conroe arrived in Montgomery County in 1881 from Houston to establish a sawmill. In order to move his lumber products from town-to-town, Conroe needed transport, so he built a tram system of wooden rails to move his lumber on the I&GN Railroad.
As you explore downtown and the outskirts of Conroe, you will find some of the most prominent aspects of Texas culture that have roots in the town. Conroe is a fun town to explore, without having the pressure of bigger city parking limitations and an abundance of people.
Conroe is a great city to enjoy the Texas culture, from finding authentic western boots and custom-made cowboy hats to delicious food, like all-day-smoked barbecue at Pacific Yard House and homemade chocolate pecan pie with coffee on the patio at Pie in the Sky Café.
As you plot your visit, review our list of the best things to do in Conroe, TX
1. Catch a Performance at the Crighton Theatre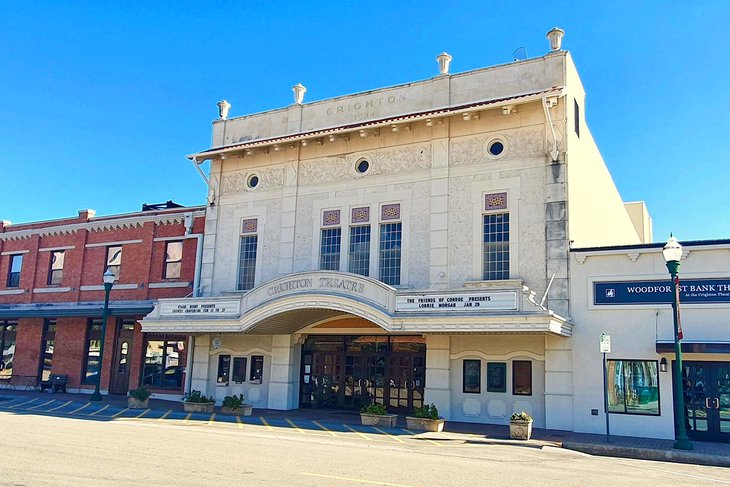 The Crighton Theatre is one of the most impressive buildings in Historic Downtown Conroe. It is the home of performances offered by several of Conroe's performing arts groups, including the Sounds of Texas Music Series; the resident theater company, Stage-Right Productions; and the Christian Youth Theatre.
The ornate building was built in 1934 and flourished as a theater until the mid-1960s, when audiences gravitated towards wider screen venues like drive-in theaters. The Crighton Theatre was eventually restored, along with other historic downtown buildings. Today, it is a centerpiece of downtown Conroe and an intimate venue in which to catch a performance during your visit.
Address: 234 N. Main Street, Conroe, Texas
Official site: https://www.crightontheatre.org/
2. Heritage Museum of Montgomery County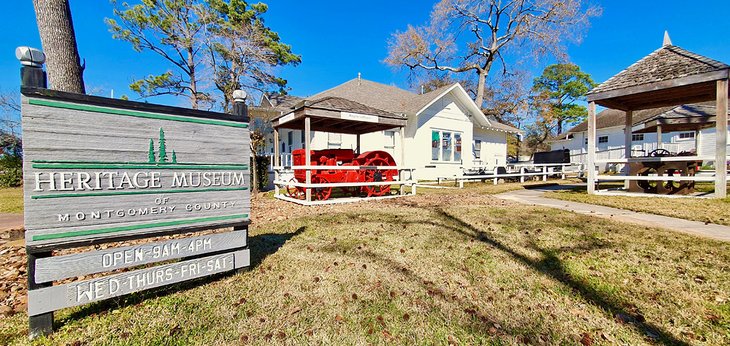 As far as heritage museums go, you will not find many that offer more "wow" moments than the Heritage Museum of Montgomery County. You do not have to be from Texas to connect with the many artifacts and exhibits that are explained at this small museum. As you walk around outside, you can see iconic items, like an old Pegasus gas station sign that was displayed in the 1930s at a Mobil gas station and a 1903 printing press.
The Heritage Museum brings history to life. While it traces the county's roots, it also has exhibits that provide context to what visitors might experience in the state, like the state flag flying high at buildings. One of the most prominent exhibits tells the history of Dr. C.B Stewart, who designed what became the first flag of Texas.
The museum has a number of exhibits dedicated to the county's lumber and oil industries and the role they played in the economy of Montgomery County and on people's daily lives. The museum building is inside a home built in 1924. There is a park that sits adjacent to the museum where you can walk or just have a picnic outside.
Address: 1506 I-45 North Feeder, Conroe, Texas
Official site: https://www.heritagemuseum.us/
3. Birding in William Goodrich Jones State Forest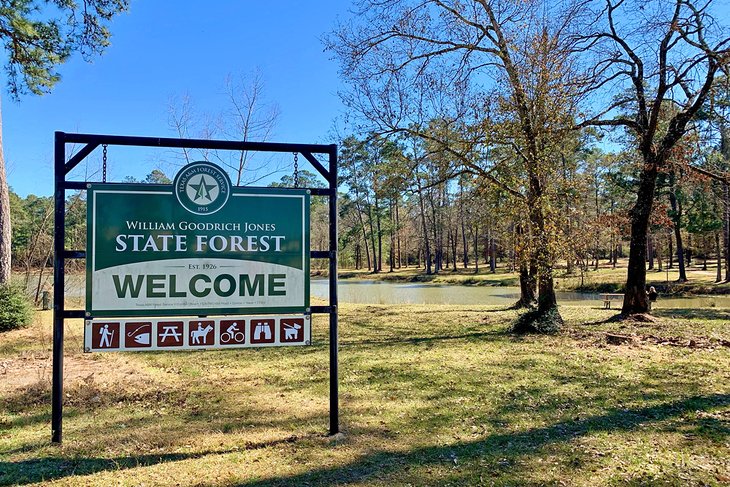 Conroe has such magnificent natural landscapes surrounding it, including the William Goodrich Jones State Forest, which is a prime location for birding. The pine forest stretches for more than 1,700 acres, with prime habitat for wildlife and birds. The forest is home to more than 250 bird species, many that are specific to southern states.
Pack your binoculars and camera to look for the pine warbler and the brown-headed nuthatches, which are both found in the pine forests of the south. Even if you do not see the birds, you will probably hear them singing as you walk the trails.
Many birders come to the W.G. Jones State Forest for a chance to see the endangered red-cockaded woodpecker. Efforts are underway to protect this, and other species, and the Texas Forest Service often uses this forest to continue developing better ways to protect its natural environment. Springtime brings migrating birds like warblers.
There are many other bird species to check off your list in this forest, including the eastern kingbird, loggerhead shrike, northern mockingbird, eastern wood-pewee and the scissor-tailed flycatcher.
The forest has 14 miles of dirt roads that run through it, but visitors can access a mile-long nature trail from the main parking lot off Farm-to-Market Road.
Address: 1328 Farm to Market Road, Conroe, Texas
Official site: https://www.stateparks.com/w_g_jones_state_forest_in_texas.html
4. Golfing in Conroe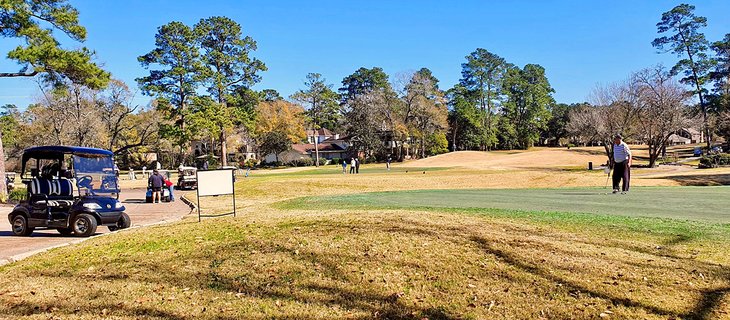 For visitors to Conroe who are looking for a round of golf, you will have no problem finding a public or municipal course. There are several public courses in Conroe, a miniature golf course, and a number of others just outside the city.
One of the oldest courses in Conroe is the Conroe Country Club, which is a nine-hole course designed by John Bredimus. It opened in 1939 and is still a local favorite today.
The River Plantation Gold Club designed by Jay Riviere is an 18-hole golf course that is open seven days a week to the public. Besides a round of golf surrounded by 100-year-old oak trees, you can book instruction led by PGA and LGA professionals, and stay for lunch at the scenic grill that looks out over the course.
The Panorama Golf Club has three separate nine-hole loops that you can play. You can book a lesson for golf instruction. They also have full clubhouse facilities with a restaurant and a pro shop.
5. Lake Conroe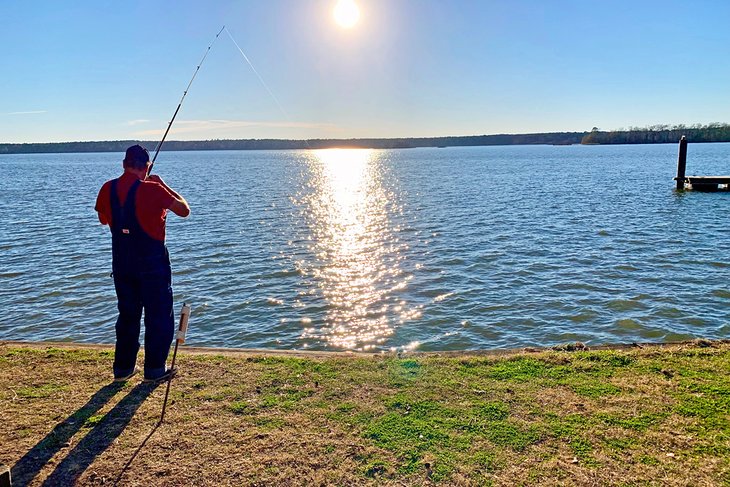 One of the experiences in Conroe that should top your list is a visit to Lake Conroe. The 22,000-acre lake is hands-down the best spot for outdoor recreation and water sports in the entire region. Spend a day swimming from one of two public access areas, with beaches and amenities like picnic areas, barbecue pits, and restrooms.
Lake Conroe Park is one of the most popular places to visit because it sits on 13 acres of land, with a fishing pier and volleyball courts in addition to a swimming area. There is a day-use fee for the park.
The other swimming area is Scott's Ridge Swim Area located on the northwest side of the lake. This is a scenic spot because it is in the Sam Houston National Forest. There are picnic tables and restrooms nearby.
With 157 miles of shoreline, Lake Conroe is the place for fishing, and anglers often come from Houston just to drop a line in the water. Lake Conroe has large size bass, crappie, hybrid stripers, and catfish.
Water sports like kayaking and paddleboarding are big on Lake Conroe. There are several companies around the lake, like some at Stow-A-Way Marina, that offer rentals, so it is easy to access equipment for a day while you are traveling.

Official site: https://www.lakeconroe.com
6. Stroll through Historic Downtown Conroe

Historic Downtown Conroe is a nice place to take an afternoon stroll. There are many small finds around every corner that provide historical insight into the town and complete your visit with the context of how the city evolved and the prominent people who were from here.
From art galleries, restaurants, and antique stores to the seasonal farmers market and historic theaters, the streets that run alongside the railroad tracks are filled with places to visit. The Conroe Founders Plaza is one of the first places to see if there is a downtown event happening or a performance on the entertainment stage.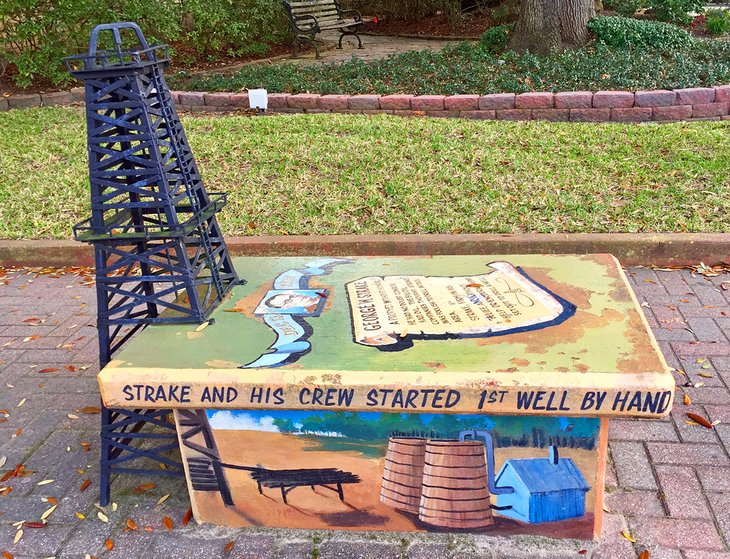 As you make your way through Historic Downtown Conroe, look for the artistic benches located along the sideways that each depict a significant part of the city's past. You can take a self-guided tour to locate all 13 benches. You will see benches with different themes, including tributes to Dr. Charles Stewart, who designed the Texas flag; Lake Conroe; and Conroe's oil history; all designed by different artists.

The benches are designed to be admired and used. Sit with a cup of coffee on the Boogie Bench, which pays homage to Conroe's musical history. The benches inspire reflection and conversation about elements of Conroe's history that have had a greater impact on American history.
Look for the murals of Conroe legends on the side of one of the buildings to see some of the local residents who have made an international impact in the arts and entertainment industries. See the likeness of Mary McCoy, Texas Radio Hall of Fame inductee; Roy Harris, "The Backwoods Battler," who was one of the top five world fighters in 1958; Colin Edwards, the "Texas Tornado" motorcyclist; and Annette Gordon Reed, the Pulitzer Prize-winning author of The Hemingses of Monticello.
7. Cagle Recreational Area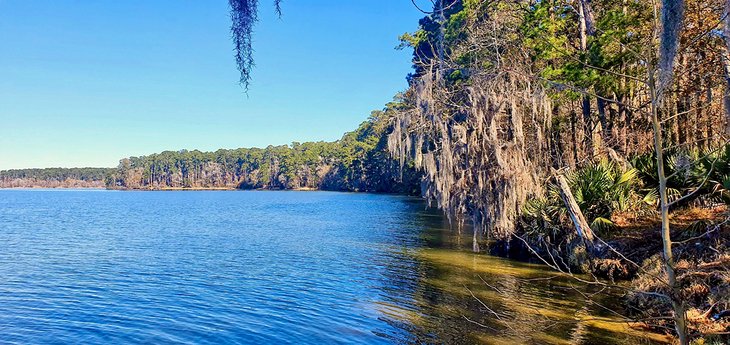 Just on the edge of Conroe, the Cagle Recreation Area inside the Sam Houston National Forest is a natural treasure in the area. It sits on the edge of Lake Conroe, defined by a dense forest of tall pines. It is a popular place to fish for catfish, bass, and crappie.
The area is great for picnics, boating, and hiking along the trails. Avid hikers can visit and tackle a part of the 128-mile-long Lone Star Hiking Trail that goes through the forest. You can find trail marker signs indicating access points.
This is a peaceful spot for birding and an easy access spot for launching boats and kayaks. Camping is popular in the Cagle Recreation Area. There are 47 full-service RV sites and two camping loops with comfortable space.
Address: 394 FM 1375 West, New Waverly, Texas
Official site: https://www.fs.usda.gov/recarea/texas/recreation/hiking/recarea/?recid=30284&actid=50
8. Montgomery County Veterans Memorial Park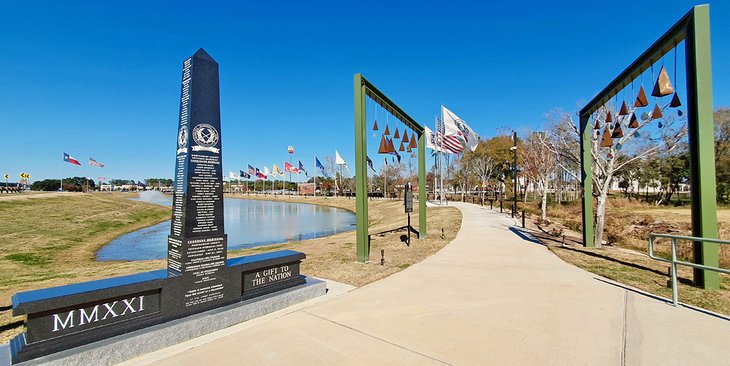 A small but impressionable park that is worth a stop while you are in Conroe is the Montgomery County Veterans Memorial Park. You can see the large flags flying along Victory Row from the freeway. The park is beautifully laid out and peaceful, as it was designed to honor the citizens of Conroe and the men and women in the service of Montgomery County.
The park has a wide walkway and is sectioned into several areas paying tribute to various service members. The POW/MIA memorial walk is the main path through the park and around the pond. At the welcome entrance, the Sgt. Luther James Dorsey bridge and the flags flying all offer specific tributes.
One of the most impressive features of the park is the Remembered Whispers collection of wind chimes, which honors the 1,102 women who served as Women Air Force Pilots (WASP) during WWII. The park does not take much time to visit, but it is a worthwhile stop even just to sit on one of the lakeside benches and listen to the breeze and wind chimes.
Located next to the Veterans Memorial Park is The Lone Star Monument and Historical Flag Park. It is a small tribute to Montgomery County's designation as the birthplace of the Lone Star Flag. A bronze statue called "The Texian" stands tall in the center of Texas battle flags.
Address: 1 Freedom Blvd., Conroe, Texas
Official site: https://mcvetmemorialpark.org/
9. Owen Theatre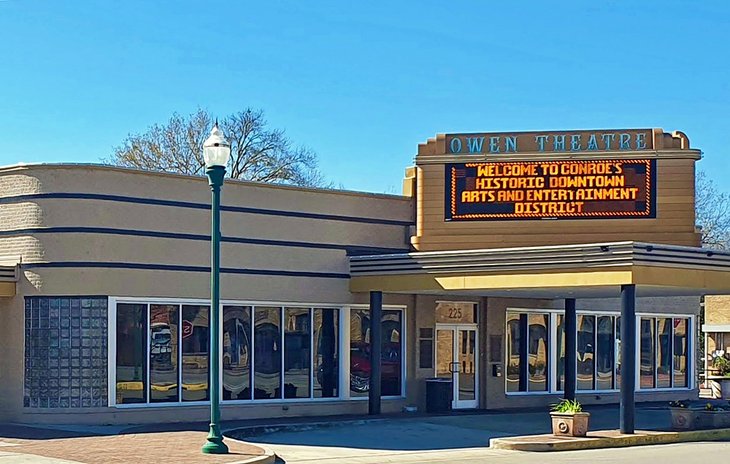 While not as prominent as the Crighton Theatre in Conroe, the Owen Theatre is a lovely performance venue with a full event calendar of shows. It is nicknamed "The Little Theatre of Conroe" because of its intimate atmosphere. The 250-seat venue is perfect for a low-key evening out to see a performance.
The Owen Theatre is home to the Players Theatre Company, which has regular live performances. The community theater company got its start in 1967 and is still an important part of the arts scene in Conroe.
Address: 225 Metcalf Street, Conroe, Texas
Official site: https://owentheatre.com/
10. Become a True Texan at Cavender's Boot City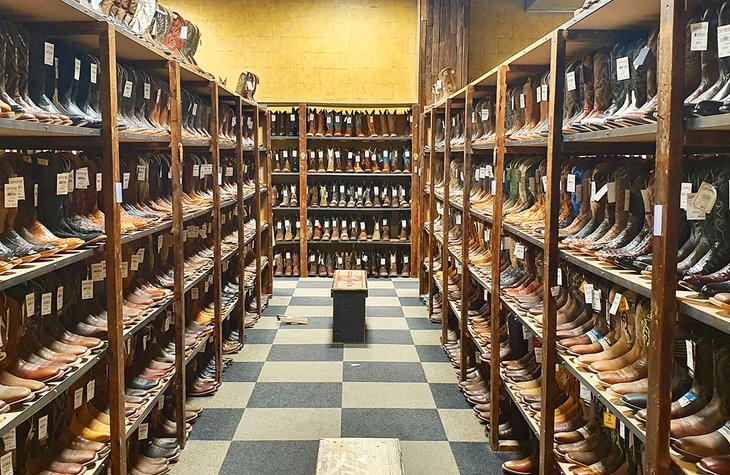 You do not have to be in Texas long to feel the need to fit in with a little western apparel, and one of the best ways to find authentic cowboy hats and boots is at Cavender's Boot City in Conroe. The store is Texas-sized with a sensory overload of leather products, western wear, and rows and rows of boots.
Tall boots, short boots, embroidered boots, rugged/distressed boots, and boots with bling to reflect the sun's rays when you walk out the door are all here. Cavender's has been around since 1965 in Texas, and specializes in boots, shoes, and apparel for locals and visitors who want to look the part but not look ridiculous.
Even newbies to western wear can walk in and get help finding the right style of boots and a custom-shaped hat designed specifically for the crown of your head by one of the hat masters, who steam every crease and bend it into shape.
Even if you do not plan to buy anything, Cavender's is worth a stop just to look around and learn what goes into the customization of true western apparel. Chances are you will likely leave with a pair of fitted boots that accentuate your personal style.
Address: 2557 I45 North, Conroe, Texas
Official site: https://www.cavenders.com/storedetails?StoreID=52
11. Conroe Art League Madeley Gallery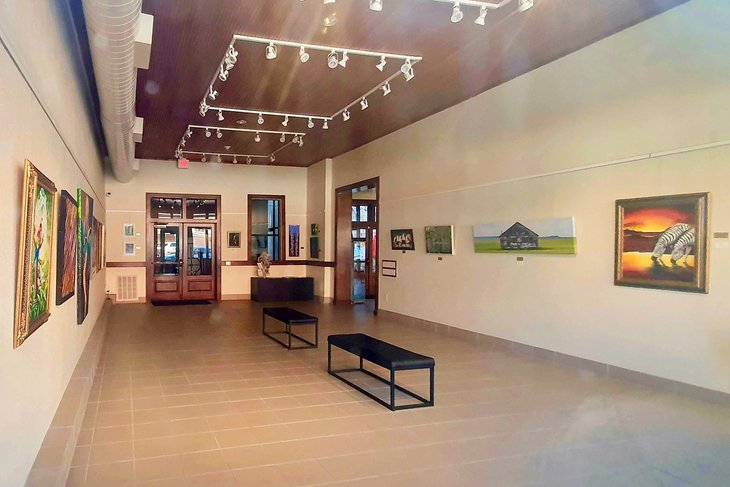 The Conroe Art League Madeley Gallery in Historic Downtown Conroe is a visual arts space that showcases rotating exhibitions, including work by local artists. Many of the art pieces on display are for sale in the gallery.
The Madeley Gallery also hosts workshops and classes, ranging from quilling paper to painting with watercolors. Many of the workshops are day-long classes that you can register for ahead of your visit to Conroe, and go home with new artistic skills.
Address: 127 Simonton, Conroe, Texas
Official site: https://conroeartleague.com/
12. Antiquing in Conroe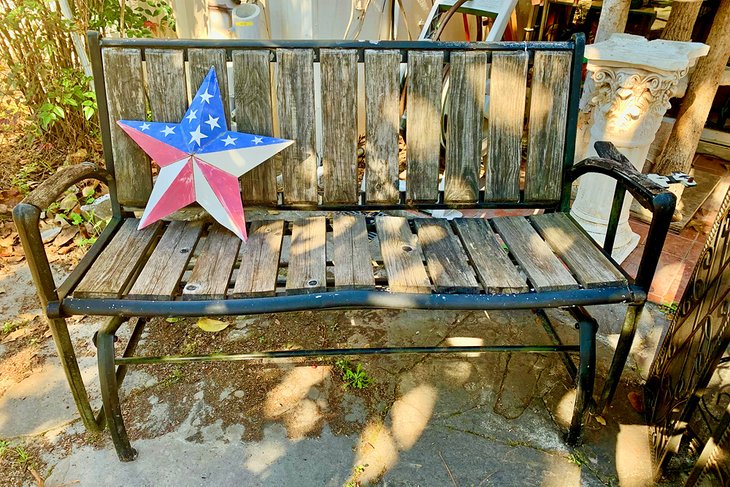 Given the historical significance of Conroe, you can expect to find some treasures at the city's local antique stores. There are several located on the streets of the historic downtown area. There is also an antique mall featuring goods from multiple vendors.
One of the most eye-catching antique stores downtown is the Conroe Central Market, which has large storefront windows featuring vintage Coca-Cola items, furniture, and clothing. There are new antiques added to the store daily, which makes visiting there fun even if you go several times during your stay.
You also find independently owned antique stores around Conroe as you drive through some of the streets on the outskirts of town.
13. Isaac Conroe Homestead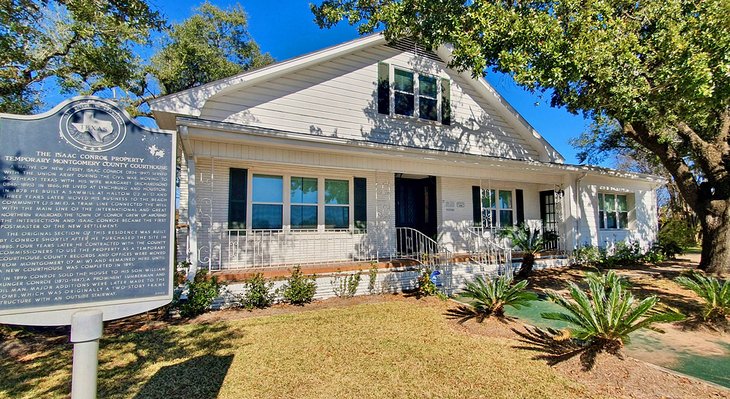 The man for which the city of Conroe is named still has his standing homestead, purchased in 1885, preserved in downtown. Sitting on the other side of the railroad tracks from the rest of Historic Downtown Conroe, the Isaac Conroe Homestead is beautifully restored. This is where it all began for the city, when Isaac Conroe arrived in town in 1878 and built a sawmill.
Just four years after Conroe bought the residence, he commissioned it to the city to be used as a temporary courthouse. The original two-story frame home had an outdoor stairway and some additions over the years. You can book a tour of the home by appointment.
Address: 202 Avenue A, Conroe, Texas
14. Isaac Conroe Farmers Market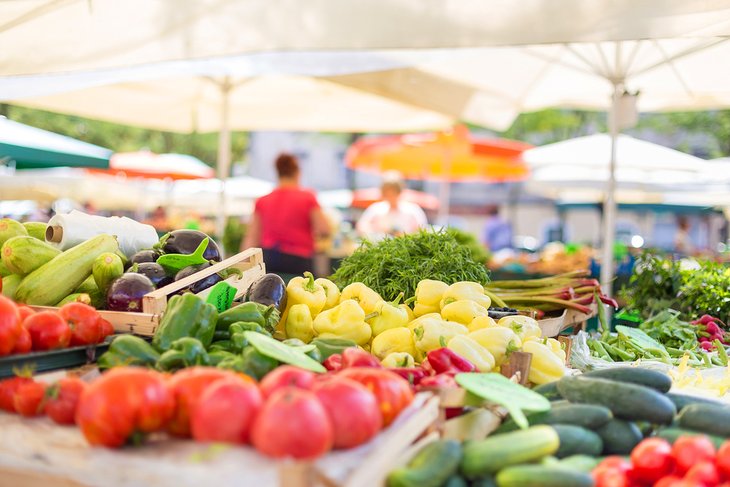 One of the most enjoyable activities in Historic Downtown Conroe is the Isaac Conroe Farmers Market. It is held near Founder's Plaza on the first Thursday of the month. The farmers market is a Conroe tradition that was started by a group of citizens in 2015 and remains an important part of the community today.
The market vendors feature fruits and vegetables in season along with items like local honey, flowers, jams, and homemade salsa. Visiting the Isaac Conroe Farmers Market is one of the best ways to get a sense of the community. If you are planning out your trip with a full itinerary, you may want to plan walking through the downtown area with a farmers market day to consolidate and enhance your visit to this historic section of the city.
Address: 205 Metcalf Street, Conroe, Texas
Conroe, TX - Climate Chart
Average minimum and maximum temperatures for Conroe, TX in °C
J
F
M
A
M
J
J
A
S
O
N
D

16

4

18

6

22

11

26

14

29

18

33

22

34

23

34

22

32

20

27

14

22

9

17

6

PlanetWare.com
Average monthly precipitation totals for Conroe, TX in mm.

107

75

75

98

140

116

82

95

113

119

122

111

Average monthly snowfall totals for Conroe, TX in cm.

1

0

0

0

0

0

0

0

0

0

0

0
Average minimum and maximum temperatures for Conroe, TX in °F
J
F
M
A
M
J
J
A
S
O
N
D

60

40

65

43

72

51

78

57

85

65

91

71

94

73

94

72

89

68

81

58

71

49

63

42

PlanetWare.com
Average monthly precipitation totals for Conroe, TX in inches.

4.2

3.0

2.9

3.9

5.5

4.6

3.2

3.7

4.5

4.7

4.8

4.4

Average monthly snowfall totals for Conroe, TX in inches.

0.2

0.1

0

0

0

0

0

0

0

0

0

0