15 Best Beaches near Houston
Author Anietra Hamper has traveled throughout Texas exploring the best attractions and beaches.
It is easy to find many great beach options from Houston that are all within 30 to 90 minutes of the city. Popular tourist spots, like Seawall Beach and East Beach on Galveston Island, allow you to enjoy the social scene and find rentals for things like cabanas, umbrellas, and beach chairs. You will be closer to amenities like restaurants and restrooms.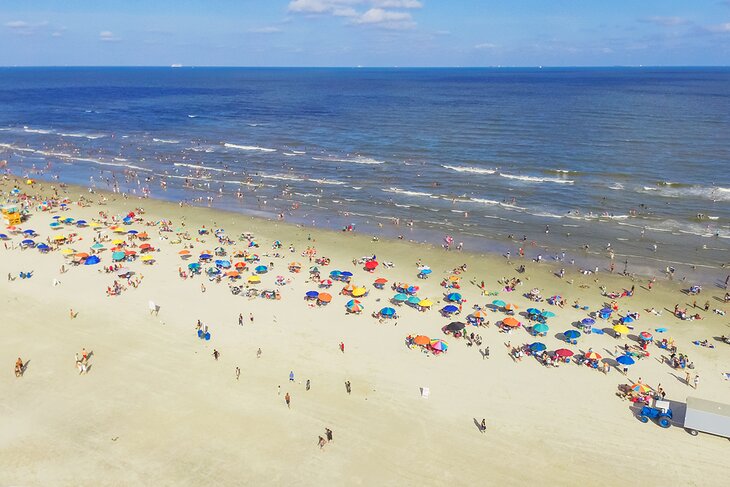 The more secluded beaches near Houston are ideal for those looking for quieter, less crowded options, especially during the high tourist season. While the beaches in central Galveston are some of the most popular near Houston, there are others to consider.
From the east side of Houston, the closest beaches are Crystal Beach and Bolivar Beach, which are located on the Bolivar Peninsula. From the west side of Houston, you might consider driving to Surfside Beach, Seahorse Beach, and Quintana Beach, which are located along the Bluewater Highway.
Pack your beach bag as you review our list of the top beaches near Houston.
1. Seawall Beach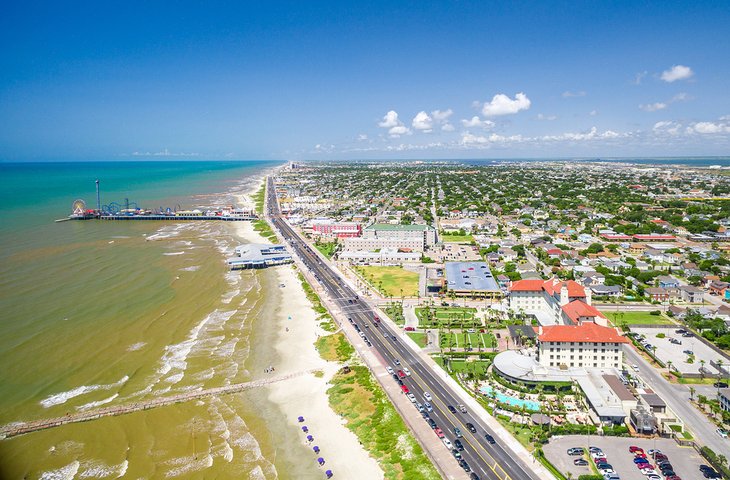 Highlights: The heart of the beach scene in Galveston and the pedestrian promenade along the oceanfront
One of the most popular beach destinations from Houston is Galveston's Historic Seawall Beach, which you can get to in under an hour. This is the center of the social scene in Galveston and one of the best beaches to visit in Texas.
The wide sandy beach has plenty of room to relax and enjoy the sun or swim in the water. Beach umbrellas, cabanas, and chairs are available for rent. You are within walking distance to many restaurants located just across the street.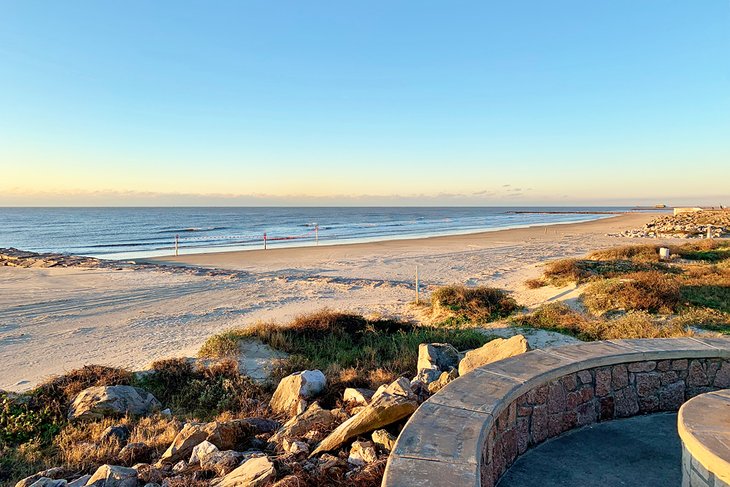 When you are not spending time swimming in the water, you can take a walk along the 10-mile-long seawall by the beach. The promenade has many picnic tables, pavilions, statues, historical markers, and more points of interest in the center of Galveston.
2. Sylvan Beach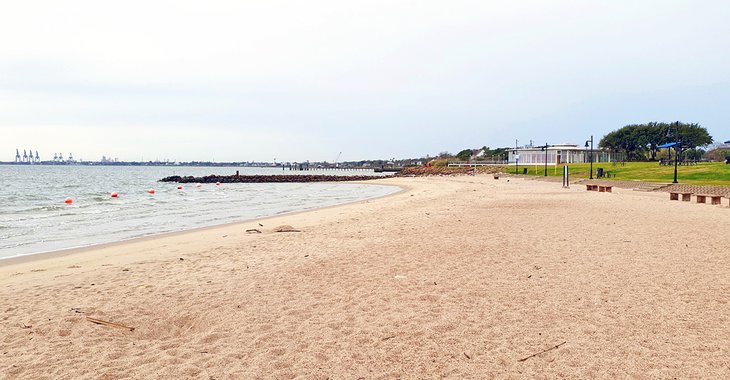 Highlights: Family-friendly swimming with light waves and a playground for children
Sylvan Beach is one of the closest beaches to Houston — you can get here in about 30 minutes. Besides swimming in the mild waves at the beach, there is a beach park with activities like a playground for children, sand volleyball nets, and a skate park.
There are two sections of beaches with swimming areas and soft sand located on either side of the pier. The Sylvan Beach park has an abundance of picnic tables and conveniences like showers and restrooms, making it easy to stay for the day. There is also a dog park if you want to bring your pet for the day.
No beach day is complete without proper tunes, and Sylvan Beach has an app available to download a selection of music to enhance your beach mood.

Address: 8121 Bay Shore Drive, La Porte, Texas
3. East Beach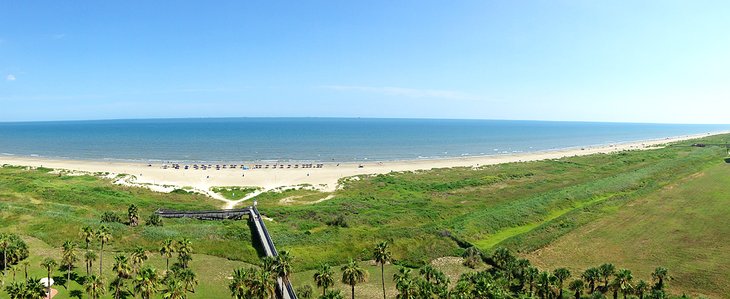 Highlights: Summer festivals and entertainment along the sprawling beachfront
A busy and social beach, located only 48 miles from Houston, is Galveston's East Beach on the east end of the island. It is especially popular during the summer months when there are regular concerts and festivals taking place.
East Beach is best for Houston visitors looking for beach activities like volleyball tournaments and sandcastle competitions. Besides swimming and sunbathing, you can rent Jet Skis or parasail over the blue water. Beach chairs, umbrellas and cabanas are also available for rent. For families, East Beach has a shaded pavilion and a playground.
The 80-acre R.A. Apffel Park at East Beach means there is plenty of space, with food, restrooms, and showers available. There are several entrances to the park, and a day-use fee applies. If you have time, be sure to check out the East End Lagoon Nature Preserve located right by the beach, where you can hike, watch for native birds, and kayak.
Address: 1923 Boddeker Road, Galveston, Texas
4. El Jardin Del Mar Beach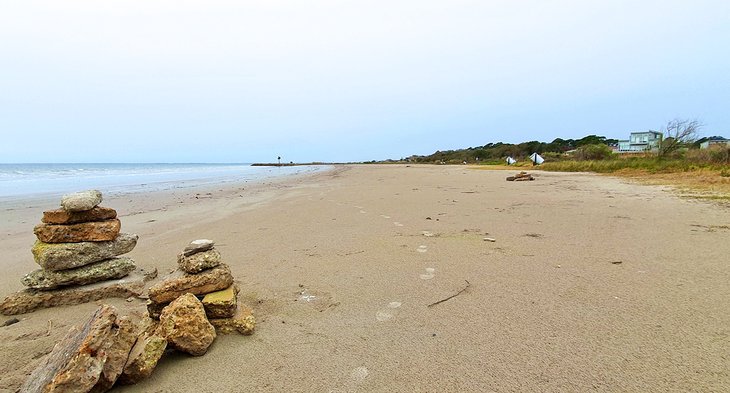 Highlights: A small beach close to Houston for a quick ocean fix or seaside stroll.
One of the closest beaches to Houston is El Jardin Del Mar Beach, which is just 33 miles from the city. Though it is a small beach, located in a residential neighborhood, it is a good option for a day trip from Houston if you are short on time. Spend the morning sightseeing in Houston and then head to the beach for the afternoon.
This is a nice, clean sandy beach and is generally used by locals, so it is not crowded. There is green space surrounding the beach, with picnic tables, barbecue pits, and recreational space. With two separate sections of beach to enjoy, you can set up space for lying out.
There are no amenities like restrooms or food, so you should bring everything with you that you need for the day. Public parking is available, with an access walkway that goes directly to the beachfront.

Address: 500 El Jardin Drive, Seabrook, Texas
5. Crystal Beach
Highlights: The trip on the Bolivar Ferry to get to the peninsula with dolphins following along
A beach that is worth the 90 minutes to access from Houston is beautiful and tranquil Crystal Beach, located on the Bolivar Peninsula. If you have the time, or if you plan to spend a few days with an RV or camping on the beach, this is a great option.
Crystal Beach is pristine. The white sand and deep blue Gulf waters combined with the opportunities to drive and camp right on the beach make it a fun getaway from the city. The beach is pet-friendly, and the scenery is stunning for walks on the sand, especially at sunset.
Part of the appeal of Crystal Beach is the journey to get here. You will need to take the Bolivar Ferry from Galveston Island, a 15-minute ride, that runs year-round. During the trip, you might even see pods of dolphins accompanying the ferry to the peninsula.
Address: Port Bolivar, Texas
6. Stewart Beach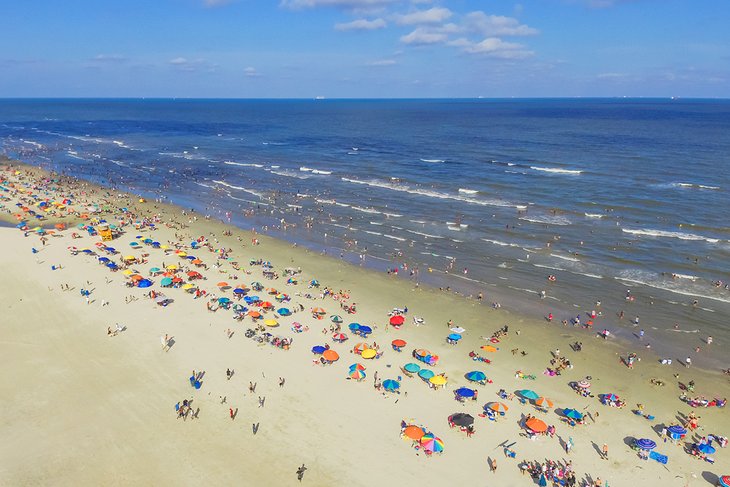 Highlights: Family-friendly beach with lots of activities like sandcastle competitions
This is a nice family beach close to Houston because it has everything that you need for the day, including concessions, showers, restrooms, chairs and umbrella rentals, and lifeguards on duty (during the March through October season). Stewart Beach is just steps away from the seawall walkway, so you are close to local restaurants and activities.
There is a children's playground close to the beach, and there are always activities taking place near the water, like sandcastle competitions that are popular during the summer. Stewart Beach requires a parking fee.
Address: 201 Seawall Blvd., Galveston, Texas
7. Surfside Beach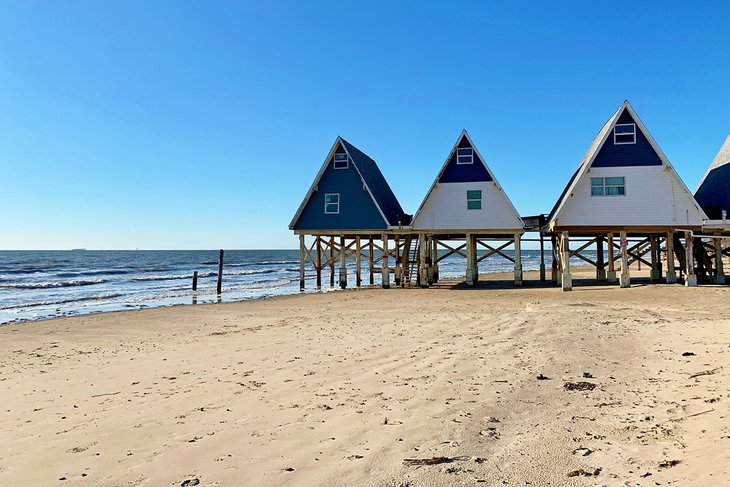 Highlights: Fun beach activities like horseback riding, bonfires, and shell hunting
A fantastic beach located about an hour from Houston and accessible from the south and west sides of the city is Surfside Beach. This beach is one of the most popular that is located along the Bluewater Highway, but it is not as crowded as other beaches near Houston.
Surfside Beach is perfect for swimming in the ocean and for beach activities like bonfires, looking for shells, and horseback riding. You can access Surfside Beach from several public access points. Vacation homes and RV parks are popular around the beach, so this is a great weekend getaway option from the city.
You can also access Surfside Beach from the Surfside Jetty County Park, which offers some conveniences like restrooms and a playground for children. The paved six-mile jetty is a popular spot for fishermen and for those who just want to sit quietly and watch oil tankers passing through the Gulf waters.
Address: 101 Parkview Road, Surfside Beach, Texas
8. Galveston Island State Park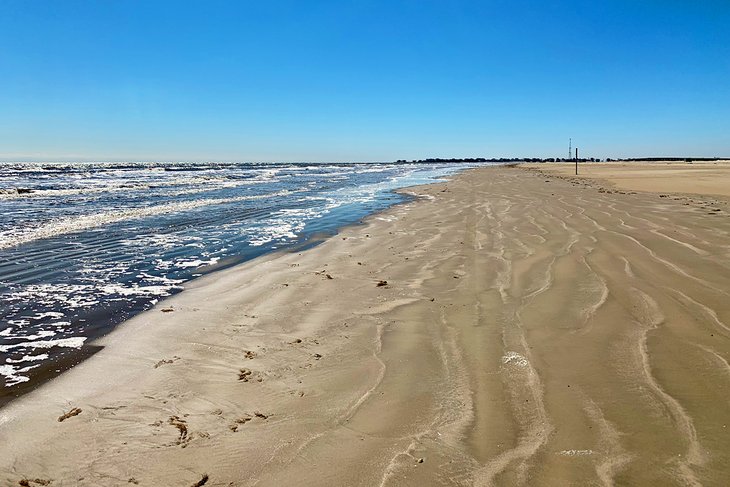 Highlights: Activities in the park beyond the beach including kayaking, hiking, and wildlife viewing
Galveston Island State Park is 58 miles from Houston and a nice beach option if you are looking for swimming and accessibility to other experiences, like hiking and nature and wildlife viewing.
The public beach is wide and has gentle waves, making it great for a day in the water. For a day-use fee, you can maximize your time by taking advantage of all the 2,000 acres of state park options, like fishing, kayaking, and walking on nature trails in addition to the oceanfront access.
This is a convenient option for anyone traveling from Houston because you can also access restrooms and picnic tables. If you want to make several days out of your visit, the state park has cabins, campsites, and RV sites available to rent.

Address: 14901 FM3005, Galveston, Texas
9. Seahorse Beach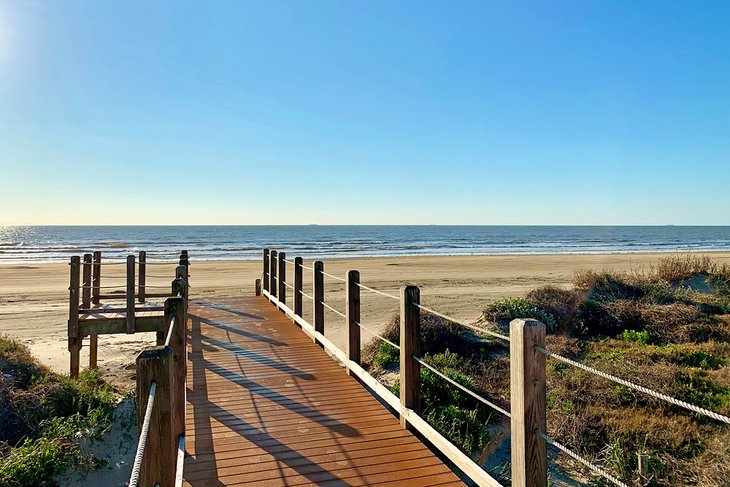 Highlights: Off-the-beaten-path, sand dunes, small beach, birdwatching
There are several beaches along the coastal Bluewater Highway that are beautiful getaways from Houston, and Seahorse Beach is one of the most stunning and peaceful. Located just 62 miles and a little over an hour's drive from Houston, Seahorse Beach is a quiet oceanfront getaway from the city noise.
The easiest way to find Seahorse Beach is from public access point number three, where you can find paved parking across the street from the public access boardwalk. Seahorse Beach is a small stretch of soft, sugary sand with beautiful dunes on Follett's Island.
The area is a peninsula known for its quiet beaches and wildlife, including dolphins and birds. Seahorse Beach is part of the Bluewater Loop of the Great Texas Coastal Birding Trail, which attracts many migrating species making their way through the Brazoria National Wildlife Refuge.
Address: 5226 Bluewater Hwy, Freeport, Texas
10. Bolivar Beach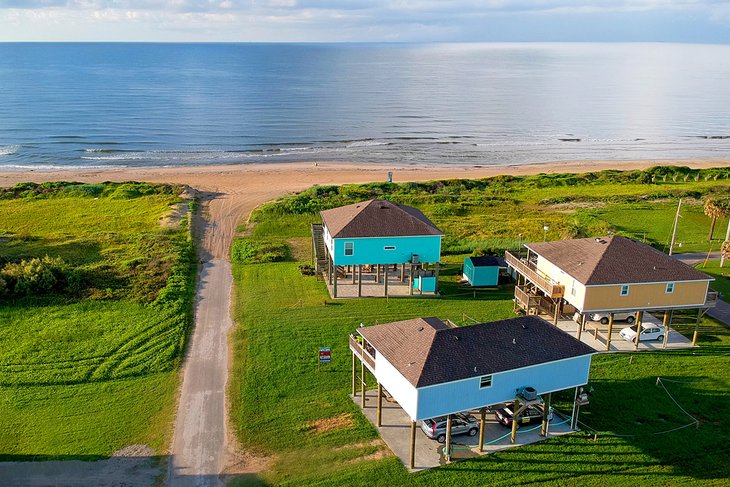 Highlights: The natural beauty of the peninsula surrounding the beach
Bolivar Beach is just over 90 miles from Houston but worth the trip, especially if you want to make a few days out of your visit. The pristine beach is located on the Bolivar Peninsula, so you will need to take a 15-minute car ferry to get there from the east end of Galveston Island.
Long walks along Bolivar Beach are a great way to experience the natural beauty of this peninsula and observe the many bird species in the area. This is a beach where you can set up your beach chair and umbrella, close your eyes, and enjoy the sounds of the gentle waves hitting the shoreline.
There are many RV parks on Bolivar Peninsula if you plan to spend a few days, and you can drive your car directly onto the beach. Getting to Bolivar Beach is easy and enjoyable, since you get the added excursion of the ferry ride that usually includes seeing pods of dolphins along the way.
Address: 398 Atkinson Street, Crystal Beach, Texas
11. Porretto Beach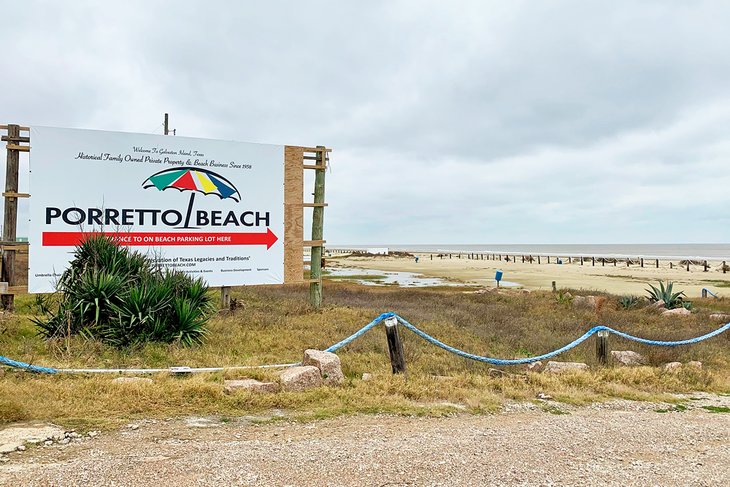 Highlights: The central location along the Galveston oceanfront, shopping and restaurants nearby
Beachgoers from Houston like Porretto Beach in Galveston because it has many amenities, making it an easy place to visit for a day. Porretto Beach is about 52 miles from Houston and caters to a wide range of visitors, from couples to families.
This is the only privately owned beach on Galveston Island, and it has been an oceanfront staple in the region since 1958. The designated entrance to Porretto Beach and its central location in Galveston make it easy to find. Rent a beach umbrella to just sit and enjoy the soft white sand, or go for a swim in the warm Gulf waters.
Porretto Beach is a great day-use beach because everything is located on-site in the beach park, including restrooms, and you are just steps away from the seawall promenade where you can find many local restaurants. This is a pet-friendly beach, with options for taking part in activities from sandcastle competitions to paddleboarding.
Address: 10th & Seawall Blvd, Galveston, Texas
12. Texas City Dike Beach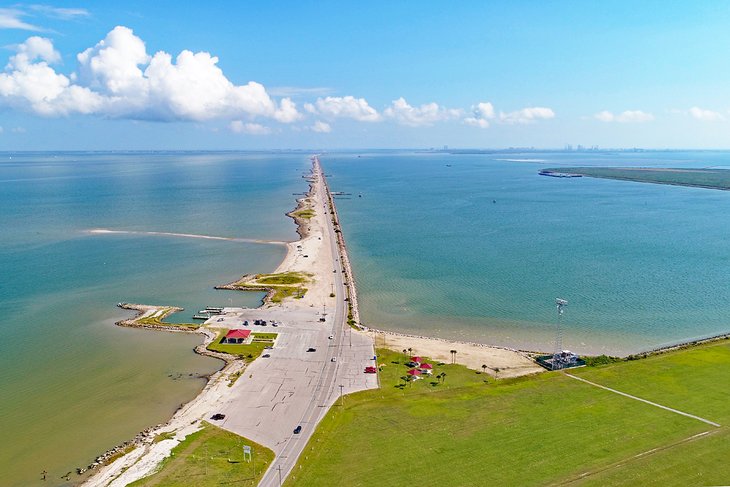 Highlight: The longest man-made fishing pier in the world.
If you are looking for a beach near Houston that is more suited for recreation than swimming, then the Texas City Dike Beach is a nice option. It is located about 42 miles from Houston and is especially popular for fishing, boating, and jet skiing.
At 5.3 miles long, the Texas City Dike is the longest man-made fishing pier in the world. There is plenty of space for anglers and several boat ramps available for boaters. While most people come here for recreation, you can find a nice stretch of sand and swim at Dike Beach. Portable restrooms and public parking spaces are located all along the dike.
A park located at the end of the Texas City Dike has walking and biking trails, bike rentals, and a children's playground. It is free to drive onto the dike, but there is a vehicle access fee on weekends from March through October.
Address: Dike Road, Texas City, Texas
13. Quintana Beach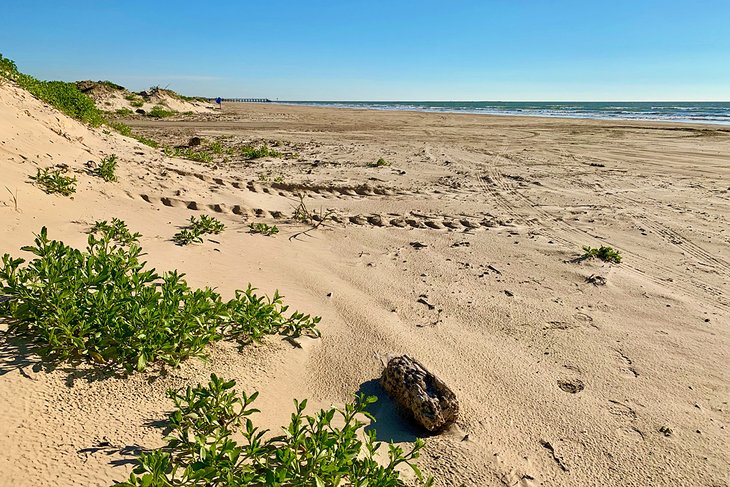 Highlights: Beachcombing for shells, bird watching, quiet section of beach, colorful sunsets
Quintana Beach, located about 69 miles from Houston, has six miles of natural beach access and is a worthwhile visit if you just want to spend a few hours at the ocean. This beach is a soft sandy beach located near Freeport that generally has a light breeze coming in from the coast.
This beach is nice for a quick jaunt away from the city to enjoy bird-watching, looking for shells, and walking along the coast. There are no restrooms or amenities on the beach, so you will need to plan accordingly or drive a few miles into Freeport where there are restaurants and gas stations. There is a nearby RV park that is popular for camping.
Address: 330 5th Street, Quintana, Texas
14. Bryan Beach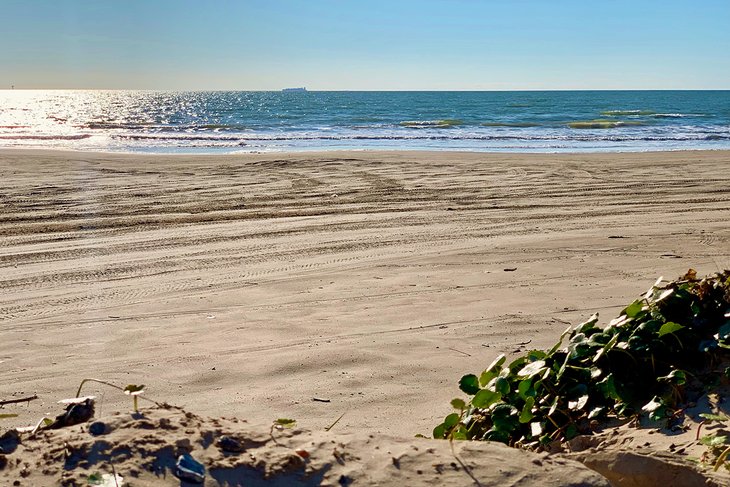 Highlights: A scenic beach with rustic natural surrounding away from the crowds
Another nice beach close to Freeport that is about 59 miles from Houston is Bryan Beach. It is a smaller, natural beach that is more suited for a scenic day at the ocean versus social beach activities.
Bryan Beach extends for three miles and is a perfect spot for walking in the sand, bird-watching, sunbathing, fishing, and camping, away from the other more crowded beach options. You can drive directly onto the beach and camp there.
Address: Country Road 241, Freeport, Texas
15. Jamaica Beach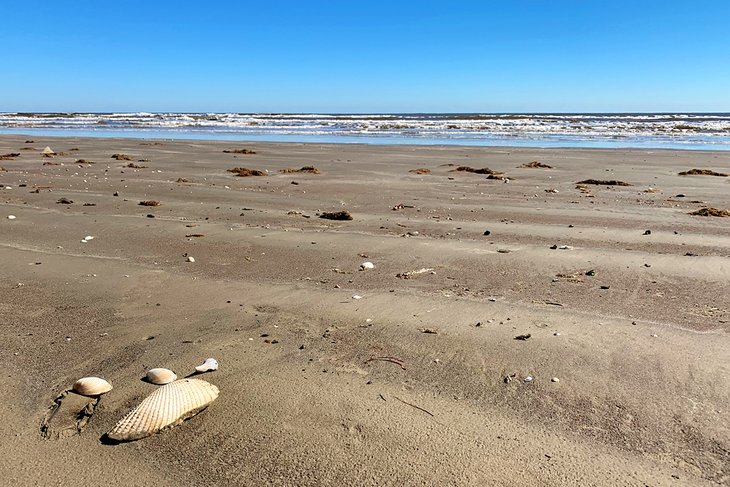 Highlights: Calm water, great for families, shelling with regular finds of sand dollars
Jamaica Beach is about an hour's drive from Houston and is located on the southeast end of Galveston Island. This is a nice beach for families looking for a day away from the city who do not want to be in the central scene of Galveston.
Public access point number 17 is where you can park and easily get to the beach. The calm, clean water makes it nice for families to swim, and the soft sand is ideal for building sandcastles and sunbathing.
This is a great beach for shelling, as you will find a variety of shells washing up, including sand dollars. There is an RV park nearby if you want to spend a few days, and there are a few restaurants within a short drive of the beach.

Address: 16607 Jamaica Beach Road, Jamaica Beach, Texas
Map of Beaches near Houston
Houston, TX - Climate Chart
Average minimum and maximum temperatures for Houston, TX in °C
J
F
M
A
M
J
J
A
S
O
N
D

17

7

19

9

23

13

26

16

30

20

33

23

34

24

34

24

32

22

28

17

23

12

18

8

PlanetWare.com
Average monthly precipitation totals for Houston, TX in mm.

108

77

81

88

130

174

111

115

143

134

115

96
Average minimum and maximum temperatures for Houston, TX in °F
J
F
M
A
M
J
J
A
S
O
N
D

63

45

67

48

74

55

79

61

86

68

91

74

94

75

93

75

89

72

82

62

73

53

65

47

PlanetWare.com
Average monthly precipitation totals for Houston, TX in inches.

4.3

3.0

3.2

3.5

5.1

6.8

4.4

4.5

5.6

5.3

4.5

3.8
While many of the beaches near Houston can be enjoyed year-round, some months offer advantages over others. The months of June, July, and August are the most popular in the heart of the peak summer season for visiting beaches, but they are also the hottest and most tropical.
June has daytime temperatures in the high 80s Fahrenheit and it is the wettest month, especially for the Gulf of Mexico beaches near Galveston. July and August are the hottest months with average daytime temperatures in the 90s. The summer months are great for cooling off in the water, and this is when tourist activities and beach festivals are in full swing.
If you want pleasant beach weather but not the sweltering temperatures of the summer months, then April and May or September and October are good options. April and May's daytime temperatures range from the 70s to mid-80s Fahrenheit, and water is usually warm enough for swimming by the end of March.
On the back end of the summer season, September and October are good beach months with temperatures still averaging in the 80s Fahrenheit during the day. Water temperatures are still warm enough for swimming, but there are fewer crowds sharing the sand this time of year.