14 Best Beaches in Port Aransas, TX
Author Anietra Hamper and photographer Ian Henderson spent time exploring the best beaches near Port Aransas and along the Texas coast.
Some of the most spectacular beaches in Texas are along the Gulf Coast in Port Aransas. With 18 miles of shoreline and many public access points, this is a great city for a beach vacation that offers lots of options when it comes to water activities and simple relaxation.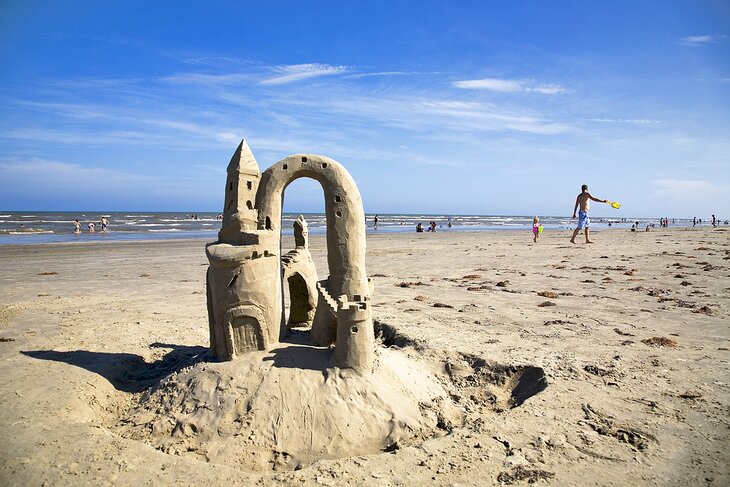 Getting around by beach buggy is a way of life in Port Aransas. Buggies are legal on town streets, and they make for easy transportation to and from the beach. Port Aransas Beach Buggies is just one spot to rent a buggy, and it's almost as much fun deciding on a design as it is to drive.
Spend a day swimming in the Gulf of Mexico surf, boogie boarding, parasailing, jet skiing, or stand up paddleboarding. There are several water sports outfitters in town where you can rent equipment and sign up for instruction.
Since the beach sand in Port Aransas is made of up tiny particles of silt and clay, it is a prime sandcastle-building location, and you can take a lesson if you want to perfect your craft.
Since Port Aransas is close to Corpus Christi and Rockport, you have the advantage in this location to also access other great nearby beaches like Mustang Island State Park and Rockport Beach, one of the best beaches in Texas.
The main beach season in Port Aransas runs from March through October. This is when day-use fees will be in place at some public beach access points and when lifeguards will be on duty at most beaches. Plan your day along the coast with our list of the best beaches in Port Aransas.
1. Port Aransas Beach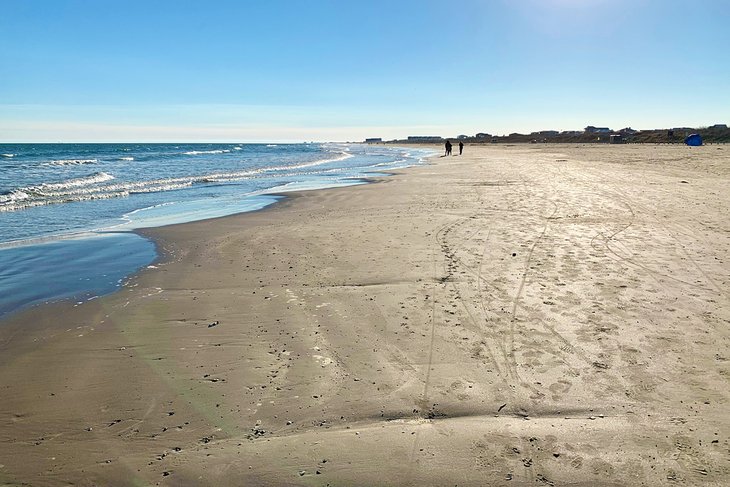 Highlights: Centrally located, ideal for families, convenient location
Port Aransas Beach is one of the most popular beaches in the city. This is an active public beach scene that is popular for swimming, bodyboarding, and enjoying the relaxing waves coming in off the Gulf of Mexico. This is a nice beach for families since it is so centrally located to local resorts and hotels and there are lifeguards on duty.
For those looking to camp on the beach, Port Aransas Beach is a good option since it is permitted, and the beach is so accessible. Small campfires are permitted on the beach, so nighttime is also a fun time to visit.
Address: Port Aransas Beach Road, Port Aransas, Texas
Read More: Things to Do in Port Aransas
2. Mustang Island State Park Beach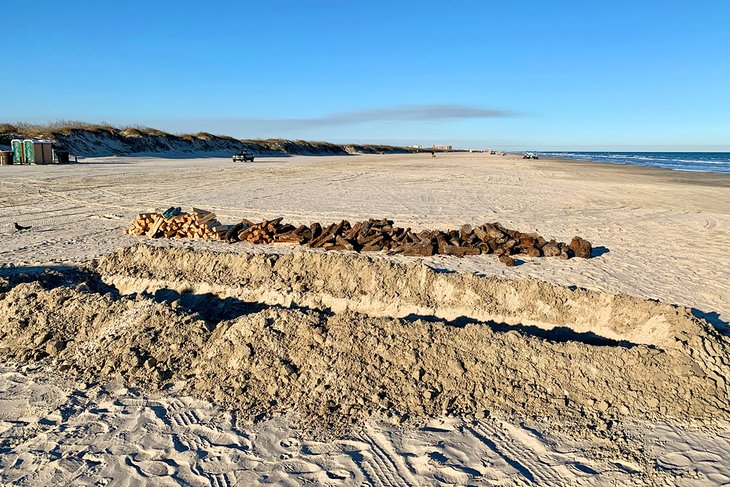 Highlights: Activities like kite flying and bird-watching, nearby restaurants, ideal swimming conditions
Mustang Island State Park is a great beach location for the day on Mustang Island. The five-mile stretch of beach is where you can enjoy some of the best beach activities, like swimming in the surf, flying kites, bird-watching, and relaxing in the sand with its dune-accented coastline.
The state park amenities make for a comfortable day by the water, with amenities like portable restrooms and picnic shelters. The beach is close to both Port Aransas and Corpus Christi, so you can easily find nearby restaurants. Mustang Island State Park Beach is a pet-friendly beach.
Address: 9394 State Hwy 361 Corpus Christi, Texas
3. Rockport Beach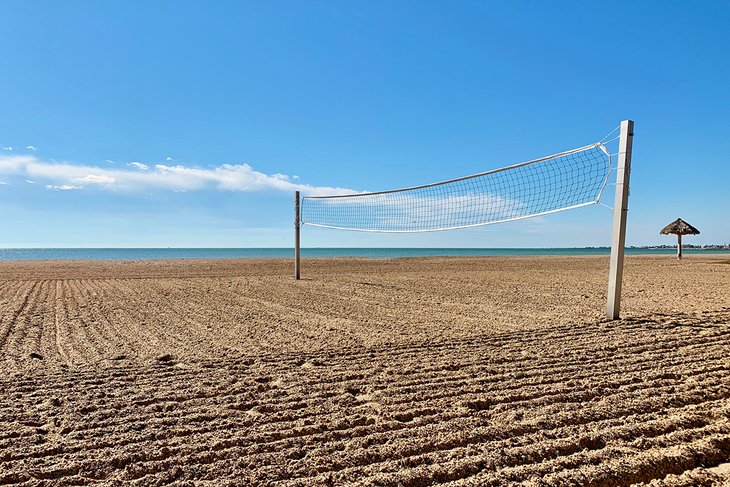 Highlights: One of the best and most beautiful beaches in Texas within a sprawling beach park
Rockport Beach is only a one-mile stretch of beach, but it is regularly ranked as one of the best beaches in Texas. This small but beautiful beach is just a short drive down the road from Port Aransas.
One of the things that makes Rockport Beach unique and worth the visit is that it is carefully maintained to meet environmental quality standards, which is what made it Texas' first certified Blue Wave Beach.
Rockport Beach is free to visit in a designated section near the Bay Education Center. It is worth paying the day fee to access the beach from the beach park, as you have access to shaded pavilions, cabanas, showers and restrooms, walking paths, volleyball pits, a saltwater swimming lagoon, and children's playgrounds.
Address: 210 Seabreeze Drive, Rockport, Texas
Read More: Top-Rated Things to Do in Rockport
4. San Jose Island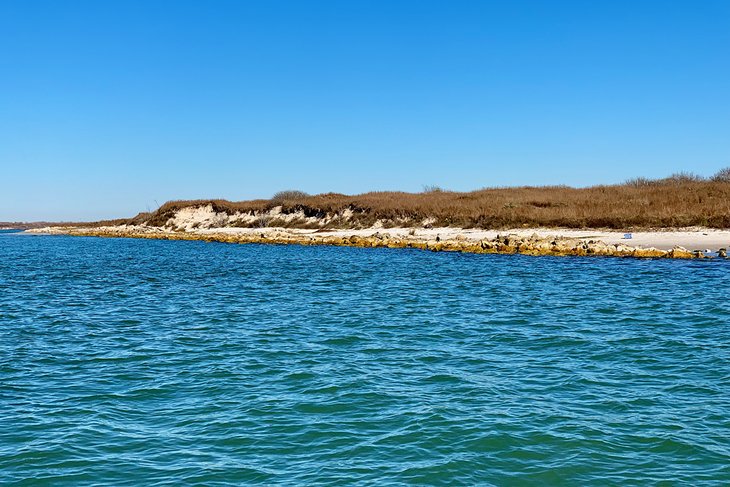 Highlights: Ferry ride to get to the secluded beach, a bounty of shells for hunting on the shoreline
For those looking for a unique beach experience in Port Aransas, you can take the short ferry ride to San Jose Island. This small island is privately owned, but the public can access the beaches. The undisturbed natural beach feels like a private getaway. It is also a hidden treasure when it comes to shell hunting.
You can catch the ferry to San Jose Island from Fisherman's Wharf and spend a day on the island exploring many miles of beaches. Since the natural element is the hallmark of this beach there are no facilities or restaurants on the island, so you should take everything with you that you will need for the day.
5. Padre Island National Seashore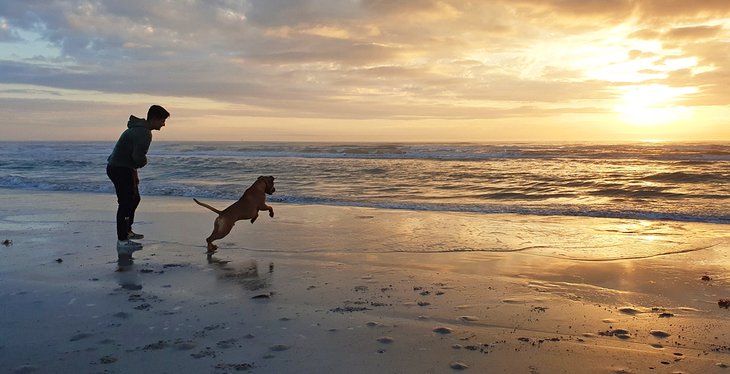 Highlights: Preserved nature and wildlife on this undeveloped barrier island
No visit to Port Aransas beaches is fulfilled without some time at the Padre Island National Seashore, which is the longest undeveloped barrier island in the world. The scenic national park protects the 66 miles of shoreline and the natural wildlife that inhabits it.
Swimming, picnicking, shell hunting, and relaxing on the beach are the top activities here but so is observing wildlife. There are more than 380 bird species that migrate through or call the Padre Island National Seashore home, and it is a nesting ground for the Kemp's ridley sea turtle.
A good place to base your beach visit here is near the Malaquite Visitor Center, where you can get information on the beach and local activities and find restrooms and shaded picnic areas.
Address: Park Rd. 22, Corpus Christi, Texas
6. Tony Amos City Beach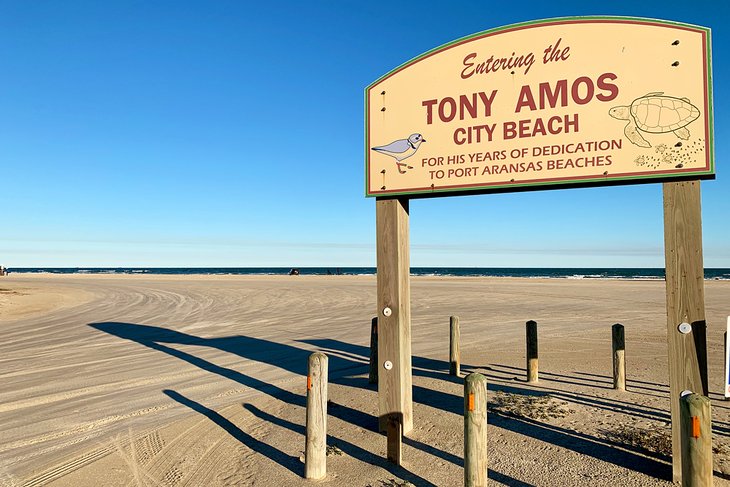 Highlights: Easy public access, wide space for beach games like volleyball
The Tony Amos city beach is a nice public beach with easy access. It is a wide, soft sandy beach on the Gulf Coast with gentle waves perfect for swimming. The beach has a large amount of space for coastal activities like flying kites and beach volleyball.
You will find portable restrooms and showers available for public use. While you can drive your car directly onto the beach, you will find that buggies are the most popular for beach transportation and a fun and easy way to see different parts of the coastline.
7. Mustang Island Beach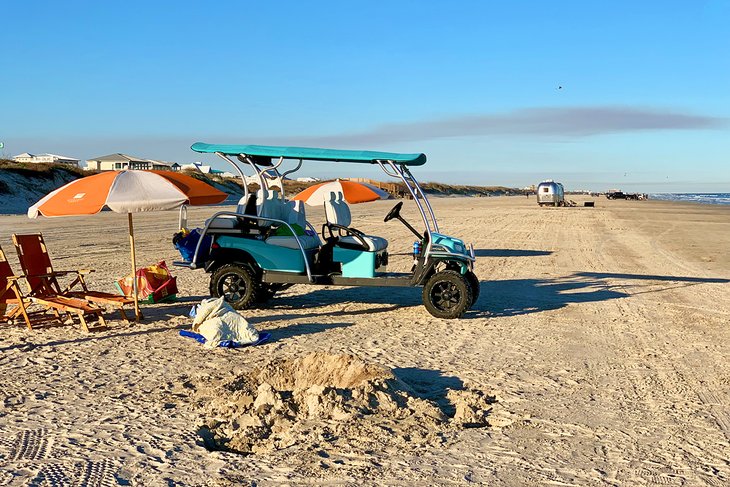 Highlight: A popular beach known for its history of wild horses roaming the shores
Mustang Island is known for its history of wild horses that used to freely roam the shores, and it remains one of the most popular beaches in the region. The island has 18 miles of beaches that stretch between Port Aransas and Corpus Christi. It offers the quintessential beach experience, with rolling waves that make for great swimming and soft sand that is inviting for long walks along the shoreline.
There are many public access points to Mustang Island where you can find parking and sandy pathways or boardwalks that go directly to the beach. You can also find picnic tables and restrooms along the beachfront, so it is easy to stay for a full day.
8. Whitecap Beach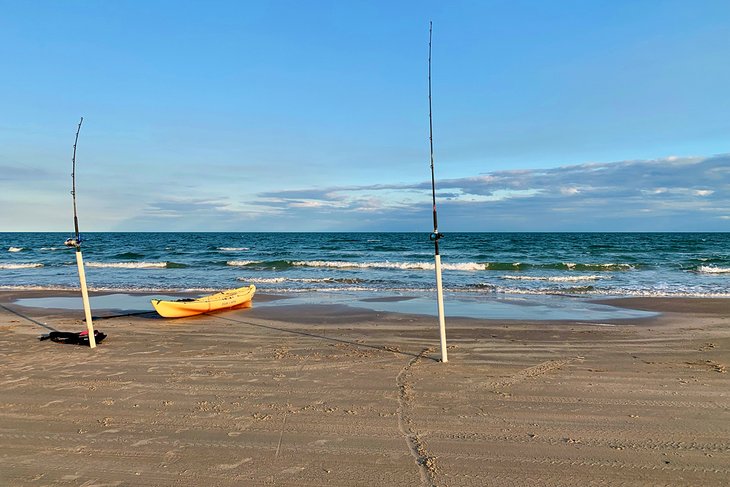 Highlights: Social beach popular for kiteboarding, surfing, camping, buggies, and bonfires
Whitecap Beach in nearby Corpus Christi is a fantastic water sports beach. It has white sand and a top beach in the area for surfing and surfing lessons. It is where you will find many locals taking advantage of the sun and surf with kiteboarding and evening bonfires.
One of the enjoyable activities that is great for visitors to Whitecap Beach is a sunset horseback ride by the water. Not only does it offer a memorable way to experience the beach scene in Port Aransas but it's a fun way to wind down the day with the ocean-view sunset.
You will notice a different social feel to Whitecap Beach, where there is a community vibe as people gather with buggies to hang out and relax by the water. Overnight camping is permitted at Whitecap Beach.
Address: Whitecap Blvd., Corpus Christi, Texas
Read More: Best Beaches in Corpus Christi, TX
9. I.B. Magee Beach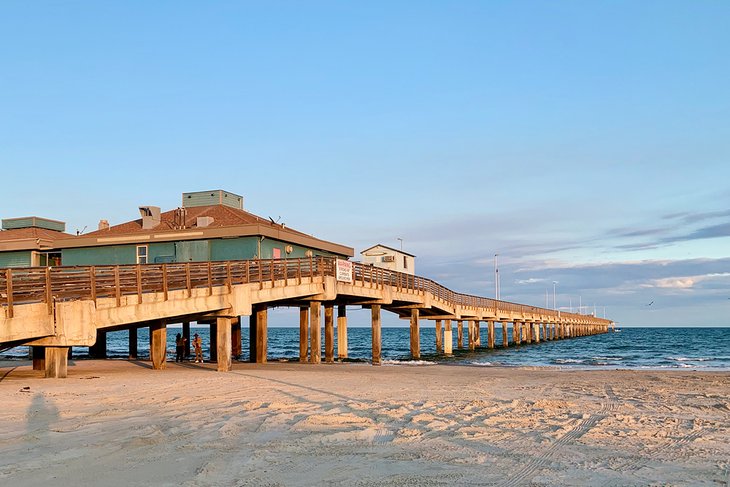 Highlights: Long pier on the beach, popular for fishing
I.B. Magee Beach is located next to the popular Horace Caldwell Pier in Port Aransas, making it a popular and fun beach to visit. You will often find people building sandcastles on the wide, sandy sections of beach or spending a full day relaxing by the water under a beach umbrella.
Located along the Port Aransas shipping channel, this is a great beach for families that want nearby conveniences and other things to do. You can take a stroll along the 1,200-foot-long pier and watch local fishermen bring in the catch of the day in one of the most popular angling locations in town.
Address: 321 N. on The Beach Port Aransas, Texas
10. JP Luby Beach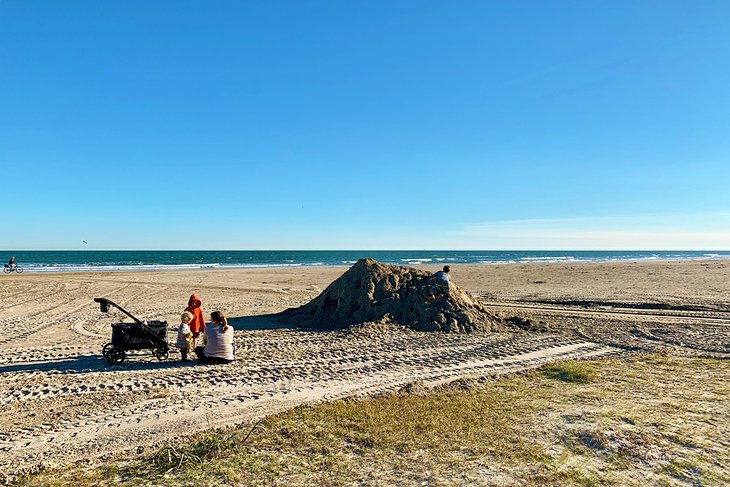 Highlight: Driving your car onto the beach between the sand dunes and the ocean
Just down the road near Corpus Christi is the JP Luby Beach. You can drive your car right onto the beach with a permit to take advantage of the ultra-wide sand. The scenery is idyllic for a beach getaway on Mustang Island with some of the tallest sand dunes in the region.
Mornings are the best times to experience JP Luby Beach, especially for hunting shells and watching the sunrise. Fishermen are out early on the jetties and in the surf on this beach. During the day, JP Luby Beach is great for soaking in the sun in a beach chair and swimming in the waves. Portable restrooms and trash receptacles are conveniently located along the beach, so you can pack a lunch and your beach bag and stay for the day.
Address: 101 N. Shoreline Blvd, Corpus Christi, Texas
11. Padre Balli Beach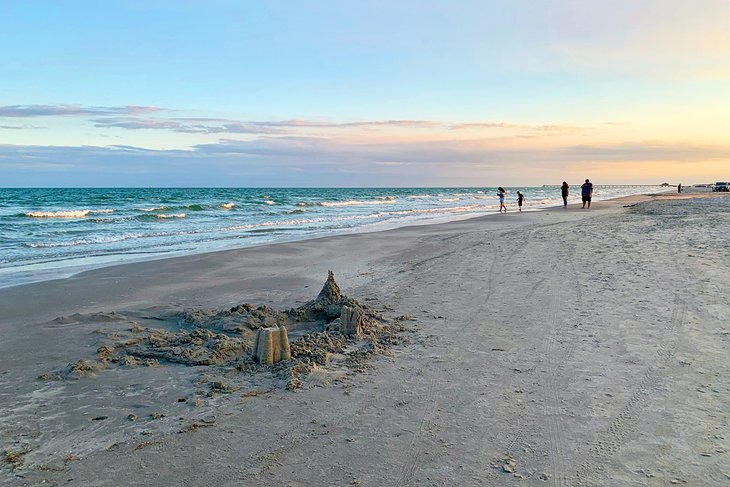 Highlights: RV camping right on the beach, social activities like evening bonfires
The beach at Padre Balli Park is easy to find and has a lot of conveniences and activities. It is located on the north side of Padre Island near Corpus Christi but is worth the short drive from Port Aransas to enjoy the 374-acre beach park and beachside camping.
This is a popular beach in the area, so you are likely to have plenty of company during the high tourist season, but it is also where you will find plenty of social activities like sandcastle building and evening bonfires by the water.
RVs are a common sight on the beach, as this is a nice place to park with a permit if you plan to camp for several days. The bathhouse located at the park with restrooms and showers is available for use for campers and the public.

Address: 15820 South Padre Island Drive, Corpus Christi, Texas
12. South Packery Channel Beach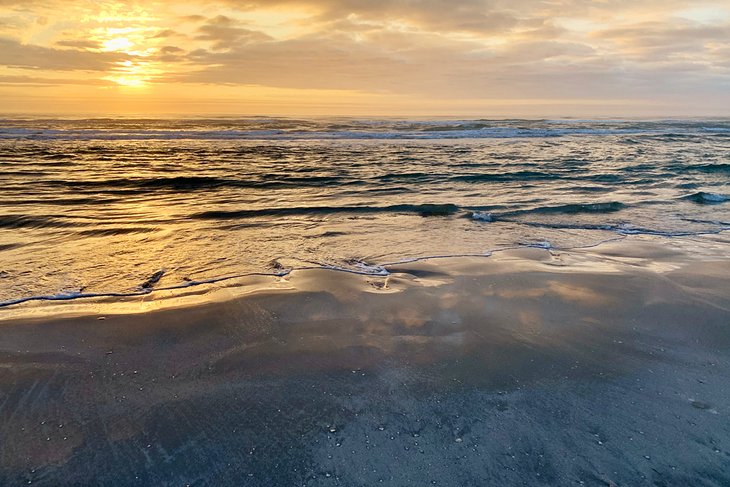 Highlight: Occasional sea turtles spotted in the morning and evenings on the beach
A nice beach with added scenery close to Port Aransas is the South Packery Channel Beach. It is not a highly populated beach, which makes it tops for a more laid-back day by the water. The soft sand and clean, calm water are nice for swimming, especially with children.
The beach is great for fishing, or watching local anglers bring in catches from the nearby jetty, where trout and grouper are common. If you go for a stroll here in the early morning or late evenings, you might spot some of the sea turtles that frequent the beach.
You can get to South Packery Channel Beach from Access Road 3A, and you can park right on the sand with a beach parking permit.
Address: 14802 Windward Drive, Corpus Christi, Texas
13. North Beach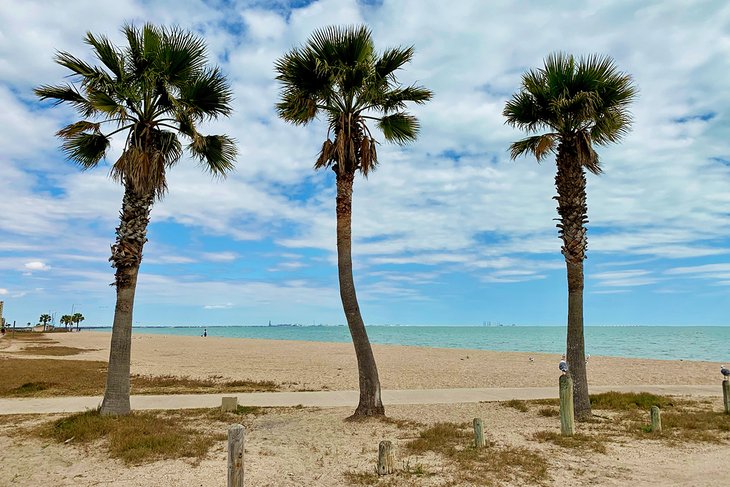 Highlights: Central location near downtown Corpus Christi, within walking distance of public amenities
If you want to spend a day beaching and seeing other notable sites near Port Aransas, you might want to consider a day excursion to nearby North Beach in Corpus Christi. This is a clean public beach located near downtown, with several other activities within walking distance to break up a day in the sun.
North Beach is easily accessed from Highway 35. There is plenty of public parking, restrooms, and several beach access points. This is a great swimming and picnic beach, with the historic USS Lexington aircraft carrier and museum located next to it. You can spend part of the day at the beach and plan a tour of the museum before heading back to Port Aransas.
North Beach is pet-friendly and has a paved walking and biking trail along the beachfront that goes to the Corpus Christi Beach Park, where you can also spend some time.
Address: 201 Surfside Blvd., Corpus Christi, Texas
14. Big Shell & Little Shell Beaches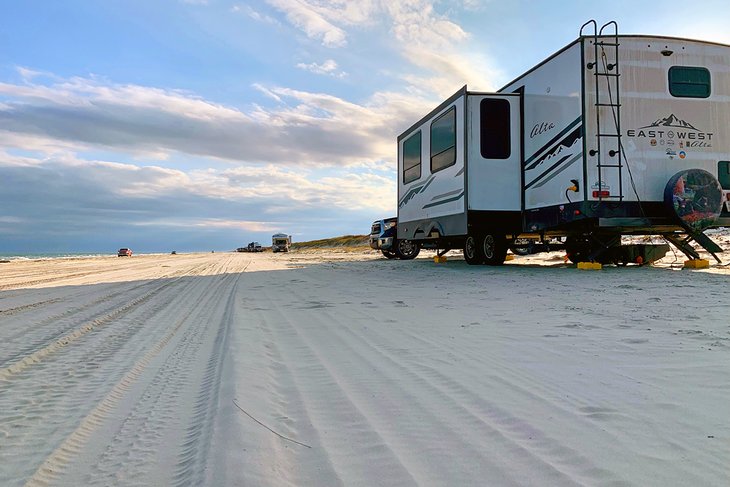 Highlight: The most remote sections of beach on the Padre Island National Seashore
For beachgoers who love to find remote beaches where the journey to get there is part of the joy then Big Shell and Little Shell beaches are worth the excursion from Port Aransas. These two beaches are located off Park Road 22 near Corpus Christi, where the road dead ends into beach-only access.
You will need a proper vehicle for driving along the sand, but the thrill of these beaches is worth it. Big Shell Beach is known for its large shells that wash up on this southern portion of the Padre Island National Seashore.
Little Shell Beach, located just beyond Big Shell Beach, experiences different currents that bring a wide variety of smaller shells to shore. Due to the remoteness of both beaches, you get to experience the stunning natural scenery on this end of the undisturbed barrier island. These two beaches are popular for RV camping right by the ocean.
Address: 20420 Park Road, 22 Corpus Christi, Texas
Map of Beaches in Port Aransas, TX
Port Aransas, TX - Climate Chart
Average minimum and maximum temperatures for Port Aransas, TX in °C
J
F
M
A
M
J
J
A
S
O
N
D

17

10

18

11

22

16

26

19

29

23

32

26

32

26

32

27

31

25

28

21

23

16

19

11

PlanetWare.com
Average monthly precipitation totals for Port Aransas, TX in mm.

46

72

70

54

77

65

26

58

137

105

50

42
Average minimum and maximum temperatures for Port Aransas, TX in °F
J
F
M
A
M
J
J
A
S
O
N
D

62

50

65

52

72

60

78

66

84

73

89

78

90

79

90

80

88

77

82

70

74

61

66

52

PlanetWare.com
Average monthly precipitation totals for Port Aransas, TX in inches.

1.8

2.8

2.7

2.1

3.0

2.6

1.0

2.3

5.4

4.2

2.0

1.7
The best time to visit Port Aransas for beach weather and swimming is during the months of June, July, August, September, and October. Beach season officially starts in March when public use facilities and parks open to visitors, but most beachgoers arrive in the summer months.
To narrow down your best month to visit even more, you will want to consider if hot Texas temperatures and muggy weather are a plus or minus for you when it comes to being on the beach. High humidity starts to rise in Port Aransas by late May and does not lessen until early October.
The months of June and July have average daily high temperatures in the mid-80s Fahrenheit, and summer beach activities like sandcastle competitions are on full display. July has the longest days of the year, so if you are looking to bank long hours at the beach, this is the best month to visit. August is the hottest month, with regular temperatures in the 90s.
September is the rainiest month in Port Aransas, so you will want to plan some backup activities in case beach days get rained out. The month of September has average daytime temperatures in the mid-80s Fahrenheit, with warm ocean water that is still great for swimming.
By the time October rolls around, Port Aransas temperatures are still in the 80s, so you can enjoy the beaches into early fall. October is also a nice month to visit if you plan to take in some of the other local attractions, as it is not as hot and there are fewer crowds.