15 Top-Rated Things to Do in McAllen, TX
The city of McAllen is a border town in southern Texas with a binational representation of culture, history, food, and shopping. This is a city that lets you experience and appreciate the blend of Hispanic and American cultures in a fun, eclectic, and unique way.
This southern Texas city has roots in the railroad industry and a rich history of producing citrus and other agriculture, tortillas, and wood-working products. You will find many historic buildings throughout McAllen that have been revived for modern use but that still showcase their original architecture and character.
There are many things to do in McAllen, from entertainment and enjoying the outdoors to exploring eateries that cover the spectrum of casual to fine dining. Independently owned food trucks at the McAllen Food Park, and small local eateries like Salt and Salome on Main Street are just a few options that are McAllen staples and top recommendations.
You will be gripped by the beauty of historic sites like the Quinta Mazatlan mansion and estate, which remains one of the most productive birding locations in the United States. The artistic side of the city can be found at performance venues like the McAllen Performing Arts Center; the Arts District; and in the vendor stalls in the Mercado District, with artists selling original goods like leather and jewelry.
To make the most of your visit to this great Texas border city, review our list of the top things to do in McAllen.
1. Quinta Mazatlan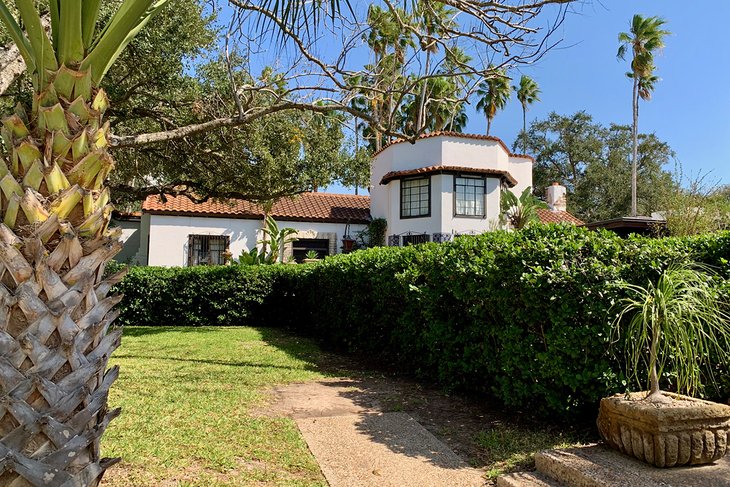 The Quinta Mazatlan is a must-see in McAllen and should top your list of things to do. This historic Adobe property in McAllen is located on a stunning estate that also serves as a birding and nature center. The 1930s mansion has beautiful architecture and manicured gardens around the estate. Plan a few hours to visit and take a tour to experience the art and history that make this such a standout landmark in south Texas.
The entrance to the Quinta Mazatlan is a pathway lined with palm trees escorting you to the grounds, with features like cactus gardens, sculptures, and informational signs about the property. It is also an internationally known birding center. The habitat around the mansion is a sanctuary for hundreds of species of birds.
Address: 600 Sunset Drive, McAllen, Texas
2. Visit the McAllen Public Library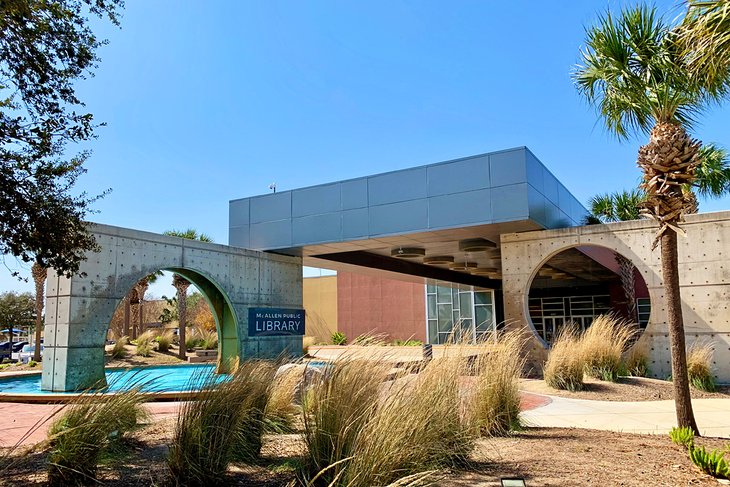 While you might not think of the public library as a place to spend time on vacation, the award-winning McAllen Public Library is worth a visit, especially for bookworms. With 123,000 square feet of space the facility staff estimates that it is possibly the largest single-floor library in the United States.
While the book collections are spectacular and serve the diverse community that makes up McAllen, the library has a wide range of events that might be good options for something to do, especially if inclement weather steps in on your vacation.
You can review the calendar of events to see what strikes your interest, from regularly scheduled story times for children to adult classes.
Address: 4001 N 23rd, Mcallen, Texas
Official site: https://www.mcallenlibrary.net/
3. Oval Park and the McAllen Convention Center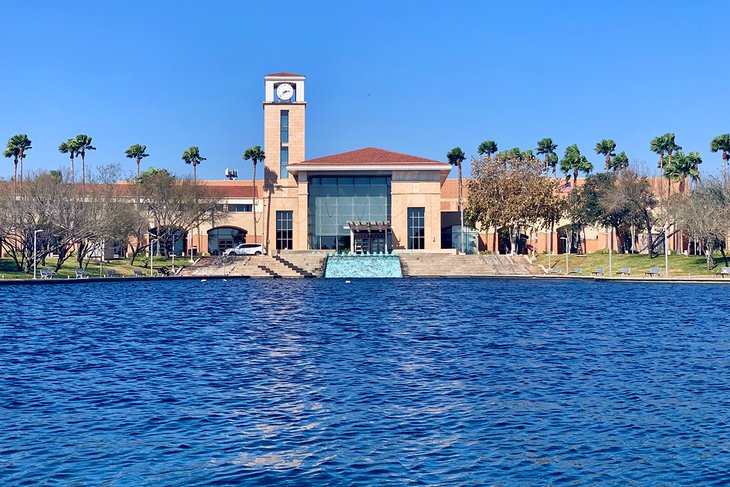 There are always events happening at the McAllen Convention Center, from shows and performances to sports and expos. This is a popular venue in the city, with more than 500 scheduled events each year. Located in the Convention Center District, it is a nice complex, with several entertainment venues and Oval Park.
The 2.4-acre Oval Park is in front of the convention center and is a quiet place to sit and enjoy a warm Texas day next to the decorative fountains. The public green space has many benches by the water, as well as gardens, shade trees, and an outdoor amphitheater for live concerts. It's a great place to go before or after an event at the performing arts center or the convention center.
Address: 700 Convention Center Blvd, McAllen, Texas
4. Shopping at La Plaza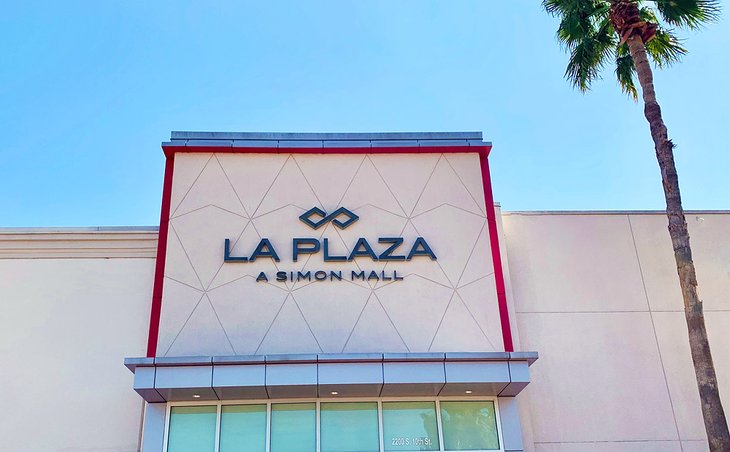 One of the best places for shopping in McAllen is at La Plaza, a retail complex with upscale stores. Shoppers come from all around the Rio Grande Valley to La Plaza Mall for retail therapy because there is over one million square feet of retail stores.
In addition to mainstream stores for clothing and home décor, you can find more than 150 specialty retailers. Plan on spending part of a day shopping and enjoying the large complex. There are quite a few restaurants, so you can grab lunch or dinner while you are here.
Address: 2200 S 10th Street, McAllen, Texas
Official site: https://www.simon.com/mall/la-plaza-mall
5. International Museum of Art & Science (IMAS)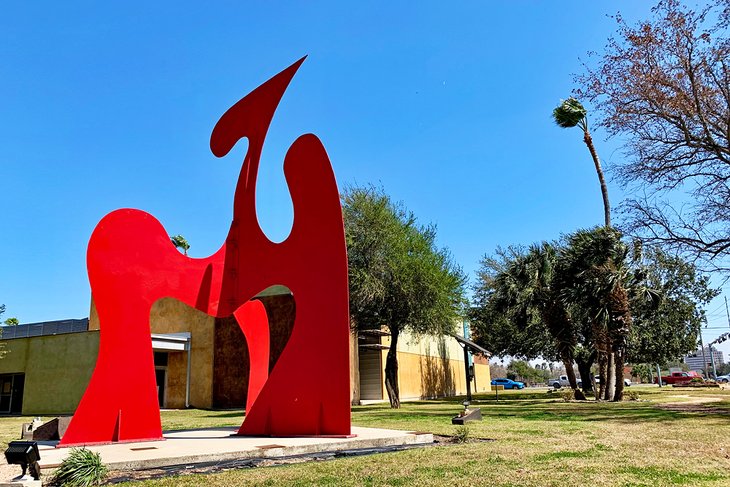 The International Museum of Art & Science (IMAS) combines elements of science, arts, and culture through its exhibits and public events. The museum is a Smithsonian Affiliate that features exhibits that encourage hands-on exploration and innovation, along with art.
Find more than 1,500 works of art from around the world that teach visitors about the history of various cultures. There are thousands of geological specimens on display highlighting the wonder of natural history and thousands more examples of culturally inspired textiles. The museum galleries show how art and science can come together in creative ways.

Address: 1900 W Nolana Ave., McAllen, Texas
Official site: https://theimasonline.org/
6. McAllen Nature Center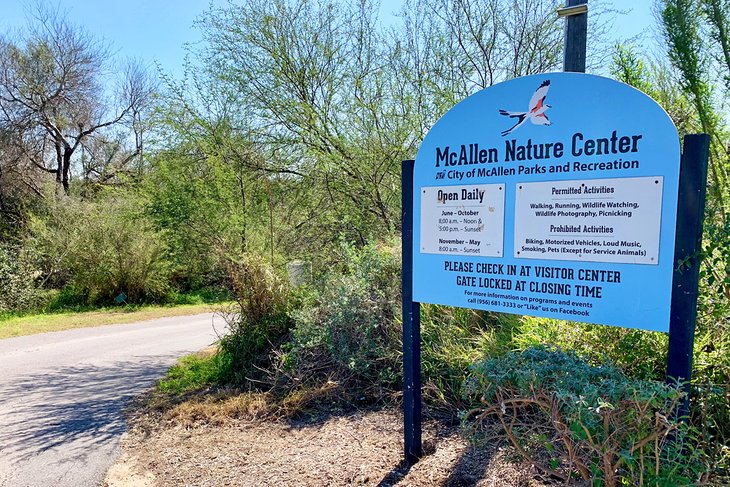 The McAllen nature center is a park setting where you can step away from the city and experience the more natural side of the Rio Grande Valley. Within the park there are more than 20 acres of native thorn scrub forest, 200 species of plants, and more than 300 species of animals.
This is nice for a quick stop for a picnic lunch or a place to visit in between other activities.
Stroll along the paths, which range from a quarter mile to a half mile, to enjoy the streams, cactus, nature trails, and birding. You will see information throughout the park describing the various kinds of habitats that exist here for plants and animals of the McAllen region. A highlight is the cactus garden in the middle of the landscape showcasing different types of cacti from the area.
Address: 4101 West Business 83, McAllen, Texas
7. Earth Born Market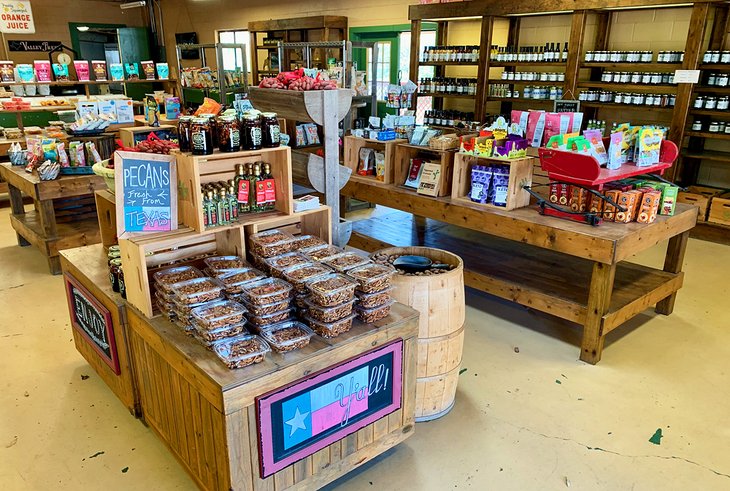 The Earth Born Market is a small local market that was known as Klement's Grove for many decades in McAllen. The current market sells fresh squeezed orange juices and organic products. All the citrus in the market comes directly from the owners' crops in the Rio Grande Valley.
This is one of the best places to find Texas grown products like pecans and unique culinary creations like pecan pie in a jar. You can buy fresh oranges and grapefruit freshly picked from the vine. Other organic products for sale include honey, granola, and natural snacks.
Address: 4508 N Taylor Road, McAllen, Texas
Official site: https://www.earthbornmkt.com/
8. Bike around McAllen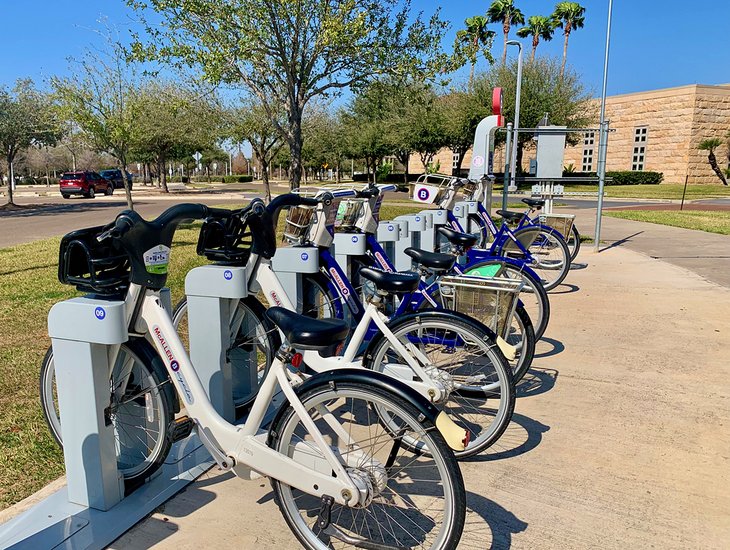 McAllen is a bike-friendly city that you can easily explore on two wheels. You can rent a bicycle from one of the many BCycle rental stations around McAllen. There are maps located at the bicycle rental stations that show you routes to get to the Convention Center, Main Street, bus stops, Fireman's Park, Archer park, and other locations.
Cycling is a great way to explore downtown McAllen and get around without having to drive a car, as there are marked bike paths throughout the city. If you are just looking for some exercise, the 2nd Street Hike and Bike Trail is a nice paved multi-use trail.
Official site: https://mcallen.bcycle.com/
9. McAllen Performing Arts Center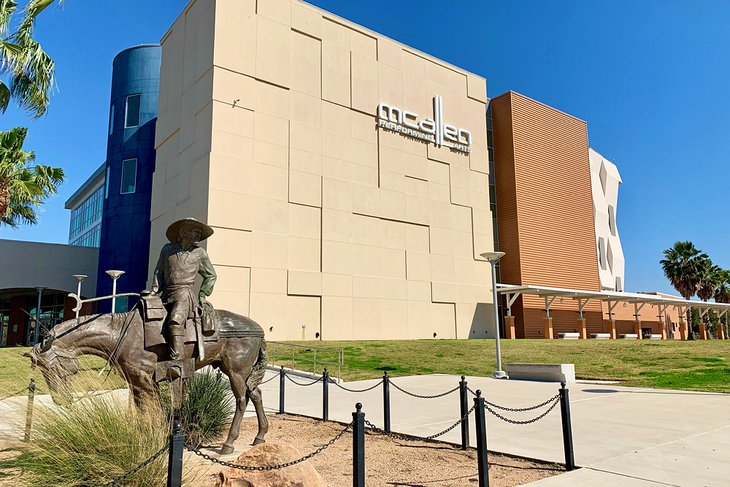 The McAllen Performing Arts Center is one of the most prized venues in McAllen, offering world-class performances to the community and visitors. Catch an evening performance or concert at the center, which has a full roster of shows and events throughout the year.
The architecture of the building is as artistic as the live performances inside. This is a cultural hub of the community and the Rio Grande region that supports the arts, and it is a great way to enjoy some of the impressive acts that come through McAllen. Before or after your show, you can take a walk around Oval Park to enjoy the broader views of the complex where the Performing Arts Center is located.
Address: 801 Convention Center Blvd, McAllen, Texas
10. Town Lake at Firemen's Park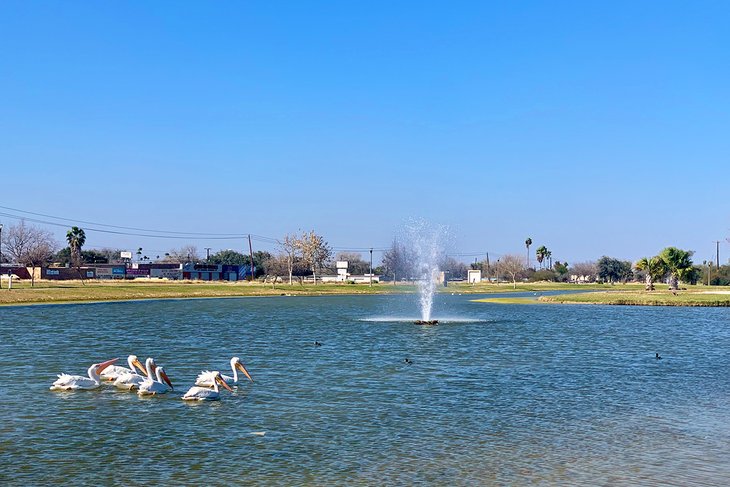 The community space at Firemen's Park is a great place to visit for part of an afternoon. The centerpiece is the Town Lake, located in the middle of the park, which is nice for paddleboarding. You can take a stroll around the perimeter of the park and the lake on a meandering paved walkway that has several designated viewing spots.
Keep your eyes open for resident pelicans and ducks. This is a comfortable park for families, as it has a large children's play area, benches, and restrooms. If you are biking your way around the city, this is a good spot to mark for a rest stop or ending point as there is a bike rental station next to the lake. Fireman's Park has paved parking, sand volleyball pits, and concessions.
Address: 201 N. 1st. St. McAllen, Texas
11. McAllen Heritage Center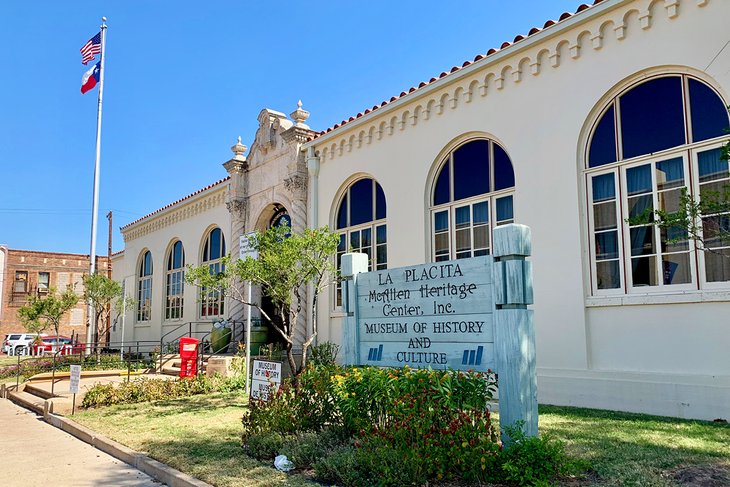 If you want to learn about the history and heritage of McAllen, the McAllen Heritage Center should be on your to-do list. The small museum is a great way to understand the evolution of McAllen, from the early 1900s to the present day. There are always new exhibits to see at the center, along with works of art created by local artists.
La Tiendita gift shop at the Heritage Center is one of the best places in the city to pick up a unique McAllen souvenir.
Address: 301 S. Main Street, McAllen, Texas
Official site: https://www.mcallenheritagecenter.com/index.asp
12. Veterans War Memorial of Texas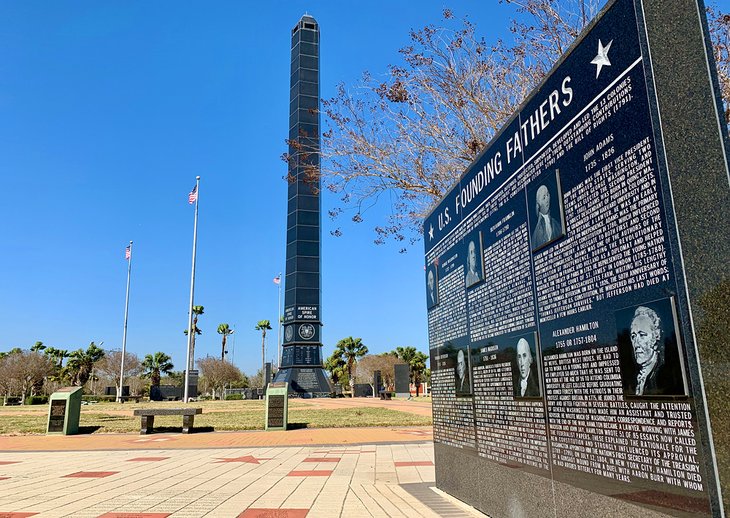 The Veterans War Memorial of Texas is more than just a tribute to war veterans. This beautiful park in McAllen is surrounded by flags honoring servicemen and women from various wars. The center point of this peaceful park is the American spire of honor. The 105-foot-high black granite tower stands tall in the center of the memorial plaza. It is designed to be a symbol of the greatness, courage, and spirit of the American people who fought and died to defend the dream of liberty.
Granite benches are located around the five-acre park, with brick walkways that create paths to the various sections and statues honoring veterans of the Vietnam war, Korean war, the 9/11 terrorist attacks, and other military conflicts.
Address: 29th Street and Galveston Ave., McAllen, Texas
Official site: https://www.exploremcallen.com/things-to-do/museums-history/veterans-war-memorial-texas/
13. Mercado District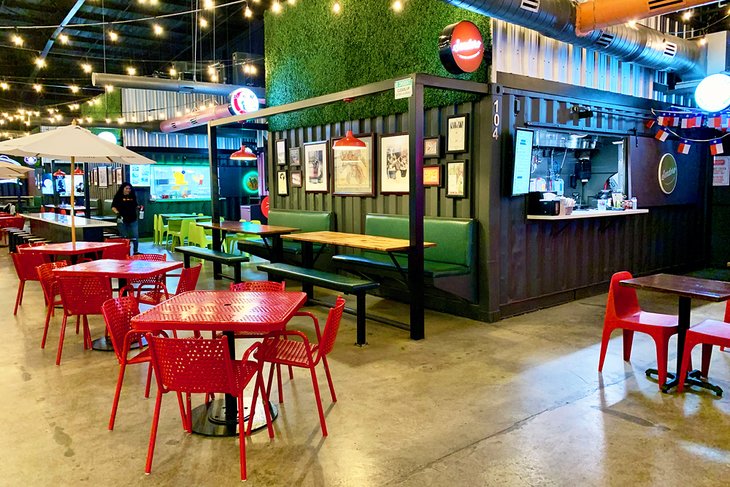 There are several developing districts in McAllen to explore that can immerse you into the local scene, and the Mercado District is one of the best. The modern food hall has nine unique food stalls representing different ethnicities, where you can sample your way through some of the top local fare in the city.
Vendor stalls are operated by local artists and merchants where you can buy everything from gemstones and authentic ceviche to homemade salsa, arts and crafts, and other souvenirs. The Mercado District is a great place to go to enjoy live entertainment on Fridays and Saturdays.
Address: 4400 N 23rd Street, McAllen, Texas
Official site: https://www.themercadodistrict.com/
14. Find Western Antiques at Neuvo Santender Gallery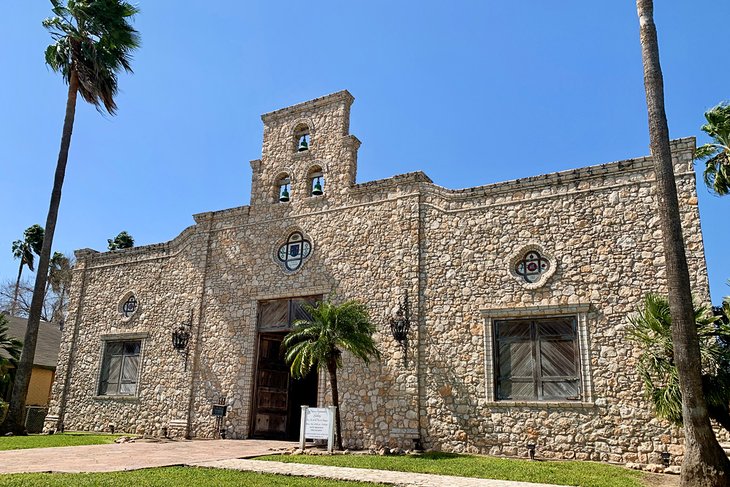 While McAllen has a thriving modern arts scene, it is also a place to find rare and unique collectibles at the Neuvo Santender Gallery. This is a fixture in the community, known for selling museum-quality pieces, including original paintings, 1700s artifacts, Mexican antiques and collectibles, and other historical items.
The Spanish-mission inspired building accentuates the mystery of the finds inside. Even if you are not in the market to purchase centuries-old artifacts, it is a worthwhile visit just to see some of the rare items for sale inside.
Address: 717 N. Main Street, McAllen, Texas
Official site: https://www.nuevosantander.com/
15. Buy Fresh Produce at the McAllen Farmers Market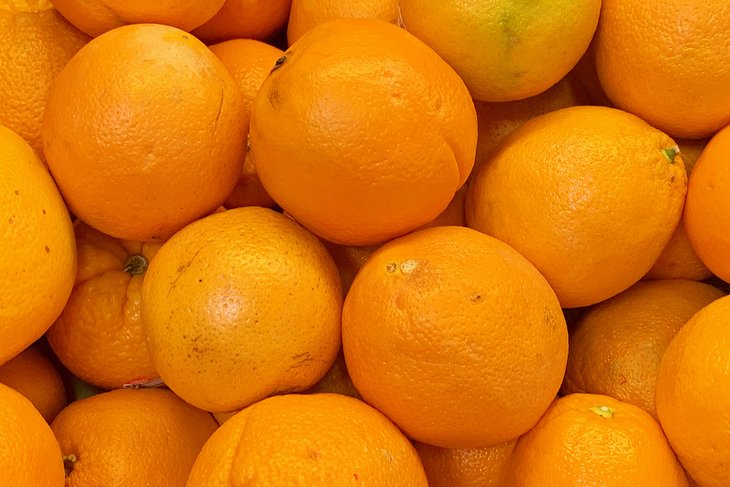 McAllen is one of the Rio Grande Valley's prized agricultural regions producing fresh citrus, and you can find some of the best every Saturday at the McAllen Farmers Market. Not only can you pick up locally grown oranges and pecans, but you will get a lesson in McAllen's important agricultural history. Talk to growers about their products and processes, and take home some of the locally sourced jams and produce.
Address: 4001 N. 23rd Street, McAllen, Texas
Official site: https://mcallenfarmersmarket.com/
Map of Things to Do in McAllen, TX
McAllen, TX - Climate Chart
Average minimum and maximum temperatures for McAllen, TX in °C
J
F
M
A
M
J
J
A
S
O
N
D

21

9

23

11

27

14

29

18

32

21

34

23

35

24

36

24

33

22

30

18

26

14

22

10

PlanetWare.com
Average monthly precipitation totals for McAllen, TX in mm.

31

35

24

35

64

63

43

59

102

70

24

26