14 Best Things to Do in Katy, TX
The city of Katy, Texas is a small city, just 30 minutes outside Houston, but it has an abundance of museums, parks, and shopping areas. Katy was a railroad town in the late 19th century. The Missouri-Kansas-Texas (MKT) Railroad line ran through Katy, connecting to Houston, so much of the town's character is centered around the historic railroad influence on its economy and its people. There are many great attractions and things to do in Katy, especially for families.
The other notable element in Katy are the old rice silos that sit next to the railroad tracks. Katy had a significant rice farming industry because of its location on the Buffalo Bayou floodplain, making the tributaries near the town fertile ground for crops.
Many of Katy's tourist attractions are near each other, so you can park your car and walk to several of them in one day. The Mary Jo Peckham Park and the Central Green are large urban green spaces with walking paths and resident ducks to welcome your visit.
While Katy has a wealth of things to do that reflect Texas heritage, the city is also known for its abundance of shopping. The Katy Mills Outlet Mall and LaCenterra boutique outdoor shopping complex are the two most popular areas, but there are many antique stores in town with unique vintage treasures to see, even if you are just window-shopping. Design your own itinerary with our list of the top things to do in Katy, Texas.
1. Mary Jo Peckham Park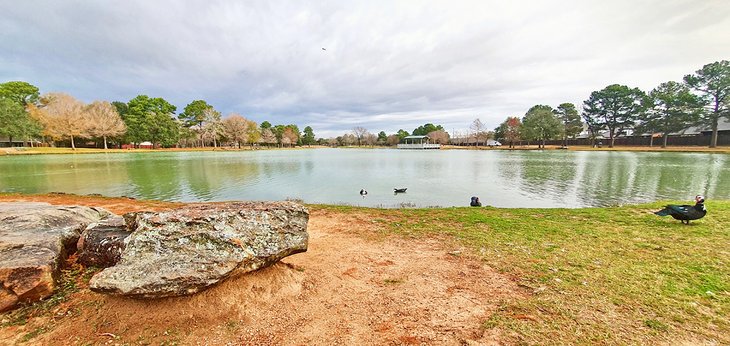 One of the best parks to visit in Katy is Mary Jo Peckham Park. It is a large public park in historic Old Katy, with lots of green space, multiple playgrounds for children, walking paths, and picnic tables. It is a great first stop for families and a space where you can spend a day in the outdoors.
One of the unique features of Mary Jo Peckham Park is a large fishing lake and fountain frequented by resident ducks and anglers. The lake is part of the Neighborhood Fishin' Program for the state of Texas and is designed as an urban space where families can fish. The lake is stocked every two weeks with channel catfish, rainbow trout, and bass.
The walking and running path that goes through the park is 0.77 miles, with designated exercise stations along the route. The park has a peaceful gazebo and large shade trees around the lake and the disc golf course.
Address: 5597 Gardenia Lane, Katy, Texas
2. Indoor/Outdoor Shopping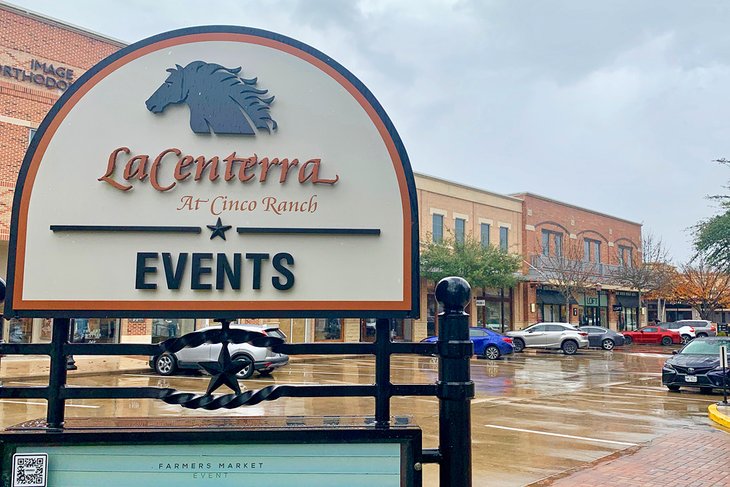 There is no shortage of shopping in Katy, with two large and popular shopping districts in the city. LaCenterra at Cinco Ranch is a boutique-style outdoor shopping complex designed to be a day destination. The shopping areas are laid out like historic Main Streets, with outdoor-facing storefronts and sitting areas.
LaCenterra is an upscale shopping and dining complex, so you can stop for lunch or dinner in between at any of the more than two dozen restaurants with offerings from coffee and pastries to fine dining.
The other large shopping complex in Katy is the Katy Mills Outlet Mall. This complex offers indoor shopping at over 175 stores. Top retail names like Cole Hahn, Neiman Marcus, and XXI Forever. Katy Mills has an assortment of restaurants and a movie theater along with other entertainment venues. There is comfortable seating throughout the mall and even a play zone for children for those who need to take a break from shopping.
3. Walk Back in Time in the Katy Heritage Park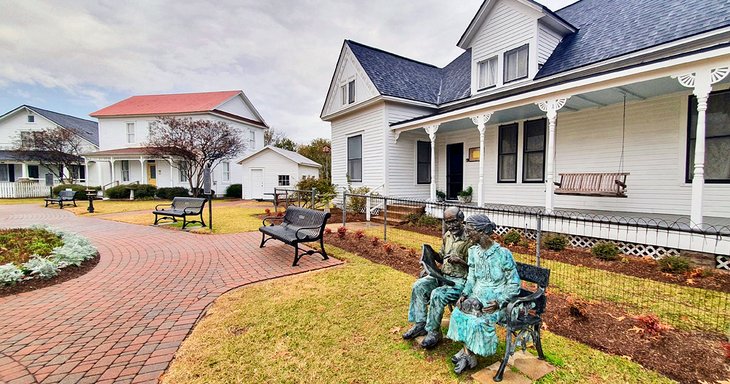 The Katy Heritage Park is set up like an old village, with multiple buildings for guests to visit, like a historic post office and the mess hall from the Humble Oil Recycling Plant, which was known as part of the Katy Gas Field, in operation in 1943 during World War II.
You can see how the historic village looked in its original form as a railroad town in the 1800s. This is an especially nice place to visit with kids to experience the early years of Katy. There is also a park that surrounds the buildings where you can sit on benches and have a picnic.
The buildings in the Heritage Park were acquired by the Katy Heritage Society and the city of Katy, then preserved and restored for visitors to enjoy. The Heritage Park and the restored buildings that were part of the city provide insight into how the town operated as part of the railroad system and oil industries.
The Heritage Park is free to visit, and sightseeing tours are offered the first weekend of every month. There are often heritage-focused activities that take place here throughout the year.
Address: 5990 George Bush Drive, Katy, Texas
4. Katy Veterans Memorial Museum & Park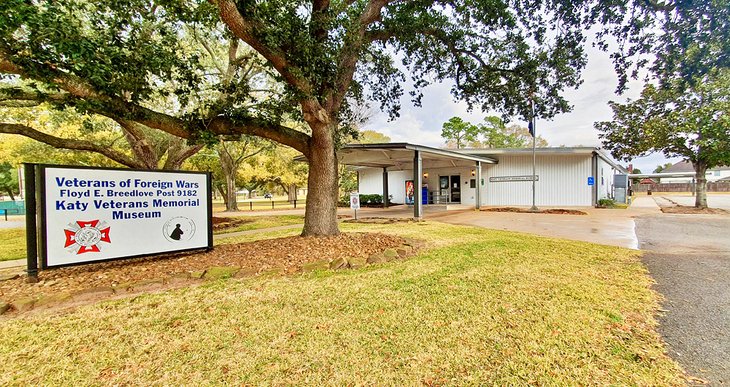 You can combine a visit to the Katy Veterans Memorial Museum with the park next door for a few hours in Old Katy. The museum has exhibits that showcase every foreign conflict in which the United States played a role.
Some of the historical artifacts range from war medals and war maps to uniforms that date back to WWI. There are also many photographs and military history items related to Katy veterans of war.
The museum is free to visit, and there are sometimes community events held there throughout the year that are open to the public. The park next door to the museum is a nice place to stay for a while and take a walk, or enjoy a picnic under the shade trees. There is open green space and play areas for kids.
Address: 6206 George Bush Drive, Katy, Texas
5. MKT Railroad Depot & Park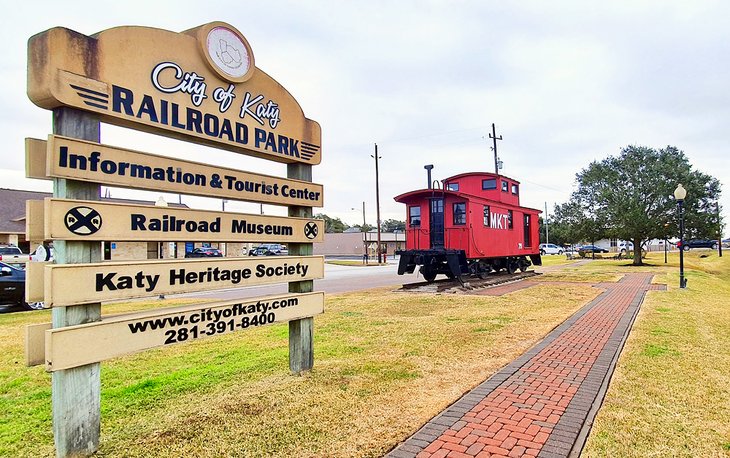 The City of Katy MKT Railroad Depot & Park is an easy and worthwhile stop. The Missouri — Kansas - Texas Railroad Company (MKT) was also known as the "Katy Railroad" and operated in town in 1894. The city was the water stop for the steam engines of the late 1800s making their way to Houston. Transport and passenger service operated out of the depot until 1957.

The Katy Heritage Society Railroad Museum is a small museum and depot located next to the railroad tracks and now also serves as the Katy Visitor Center, so it is a good first place to visit when you arrive. The museum preserves many original artifacts and displays how the deport operated when Katy was an active stop on the rail line.
The MKT caboose sitting out front is one of the most popular and iconic symbols of the city given its history and significance to Katy's railroad history.

Address: 5615 First Street, Katy, Texas
6. Great Southwest Equestrian Center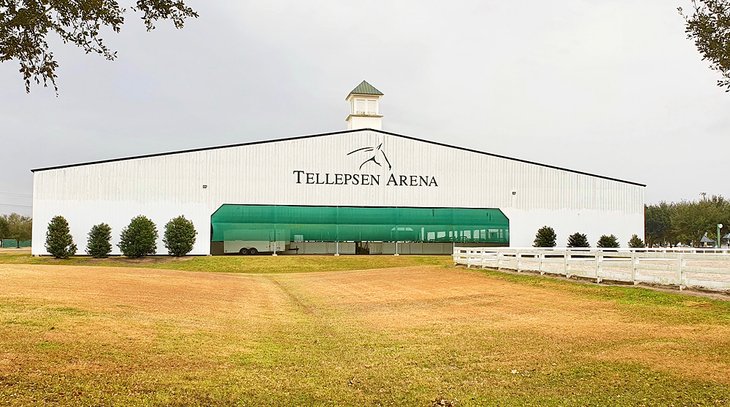 For an exciting and free equestrian experience when you are in town look into the events and competitions taking place at the Great Southwest Equestrian Center. It is home to some of the most prestigious equestrian shows in the United States.
There is a full roster of events throughout the year, every month except July. Visitors are invited to attend competitions that include breeds and disciplines like American quarter horses, miniature horses, American saddlebacks, Arabians, and hunters/jumpers.

Address: 2501 S Mason Road, Suite 100, Katy, Texas
Official site: https://www.gswec.com/
7. The Johnny Nelson Katy Heritage Museum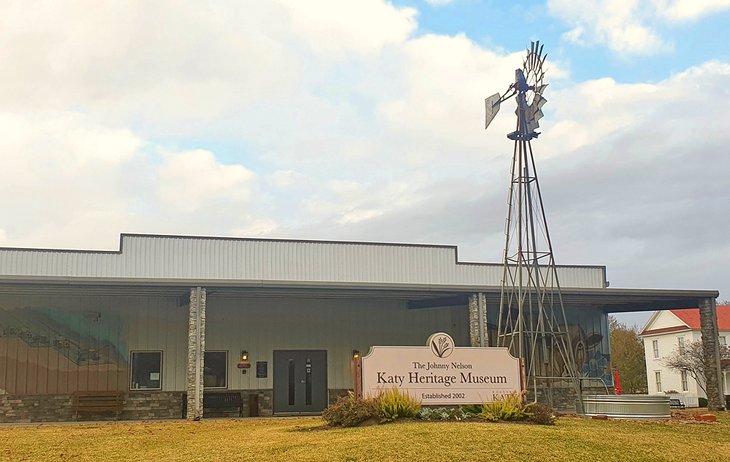 For history buffs, the first museum stop in Katy should be The Johnny Nelson Katy Heritage Museum to gain a sense of the city's agricultural background. As a city with a history of rice production, you will see a nice collection of vintage farming equipment on display at the museum.

Old tractors from the early 1900s and signage from agricultural products related to farming are on display. You will also find an array of antiques from Katy's pioneer and settlement days, and photographs of what Old Katy looked like as a growing railroad town.
The museum is free to visit, and you can go through at your own pace to see old photographs and artifacts.
Address: 6002 George Bush Drive, Katy, Texas
8. Find Antique Treasures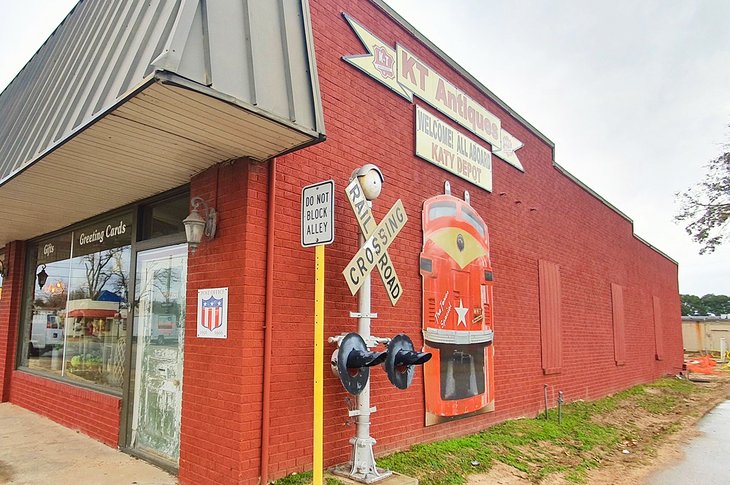 Historic towns like Katy are always full of surprises, which is why stopping into local antique shops should be on your list of things to do. You will find clusters of antique stores in Katy, so you can plan a day just perusing the antique malls and small independent stores that feature everything from collectibles and artwork to vintage furniture.
A nice grouping of sizable antique stores is located around the village square near City Hall.
If you want to combine several activities into one outing, you can plan your antique excursion around Katy's monthly market day, which takes place in the same area as some of the top antique shops.
9. Katy Market Day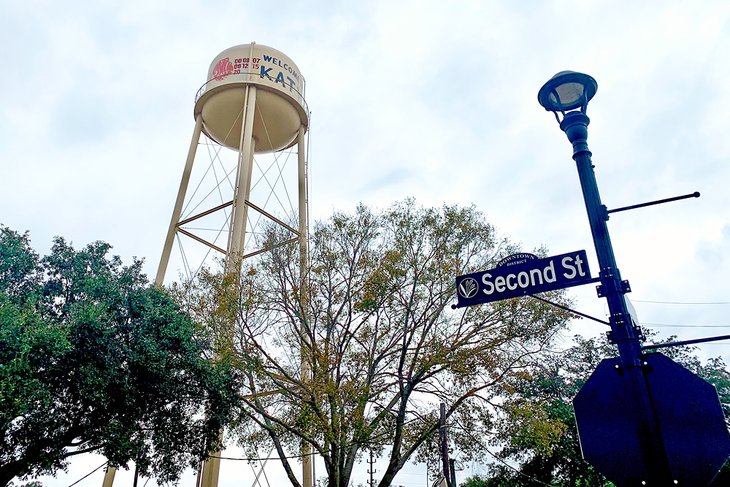 A free outdoor market is held every third Saturday in downtown Katy by the water tower. The monthly market, which takes place from March through November, has more than 100 vendors selling goods, from fresh produce to homemade bath products, jewelry, and other items.
Food trucks line the town Square. Market day is also a perfect time to explore the small antique and art shops located on the perimeter of the market area.
Address: 5717 Second Street, Katy, Texas
Official site: https://katymarketday.com/
10. Relax at Central Green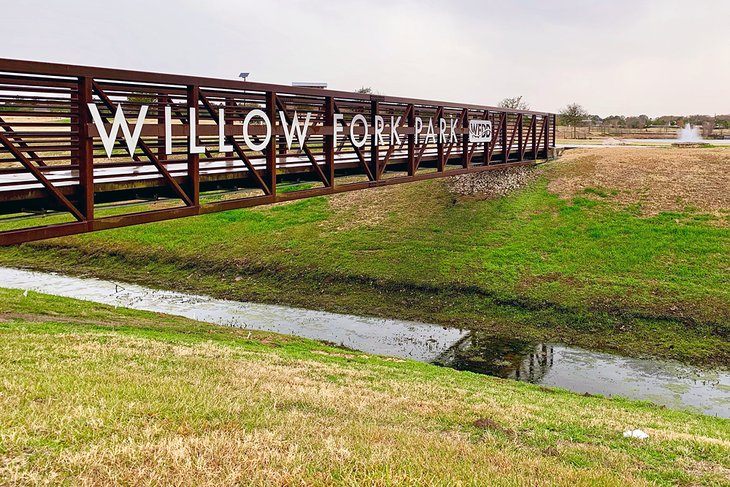 Central Green is a terrific half-acre green space that is part of the Willow Fork Drainage District (WFDD). You can go here to relax in a comfortable outdoor environment, whether you are having a cup of coffee, looking for a place to take a walk, or want an outdoor entertainment option while visiting.
The park is designed for relaxing in the outdoor space, with specially built natural stone seating around the park and lawn seating for family movie nights.
Central Green is located within walking distance of shopping and dining options at LaCenterra at Cinco Ranch. Take a look at the events calendar for Central Green, and plan to take part in one of the free public events, like tai chi or yoga on the lawn.
Address: 23501 Cinco Ranch Blvd., Katy, Texas
Official site: https://www.centralgreenpark.com/
11. Art Museum TX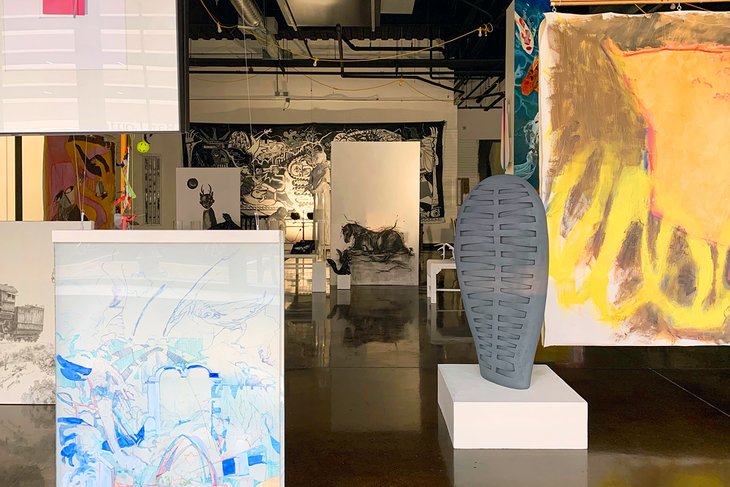 The Art Museum TX is a museum and gallery featuring local artists. The exhibits display works in a variety of mediums, including paintings, mixed media, glass, and statues. The museum is a non-profit entity operating with a commitment to showcasing contemporary art from the region.
The visual arts gallery displays various types of artworks that inspire new artistic avenues and open conversations about art in the Katy community.
Art Museum TX is located inside LaCenterra outdoor shopping complex, so it is easy to find and visit.
Address: 2717 Commercial Center Blvd, Suite D150, Katy, Texas
Official site: https://artmuseumtx.org/
12. World Theater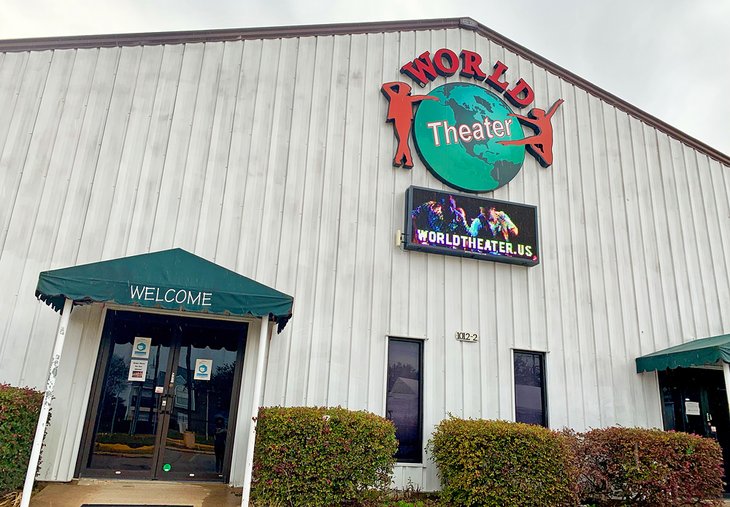 World Theater is a unique performing arts venue in Katy committed to multicultural productions and community events. Theatrical performances include titles that cover genres from musicals and comedy to drama. There are also Children's Theater performances each season.
The World Theater operates on a higher mission to expose visitors and members of the community to international performance and fine arts, believing that introducing these performances to new audiences will enhance a global understanding about different cultures and people. This is a unique performance company and worth a look while you are in Katy.
Address: 1012 South Mason Road, Katy, Texas
Official site: http://www.worldtheater.us/world-theater.html
13. Photograph Historic Katy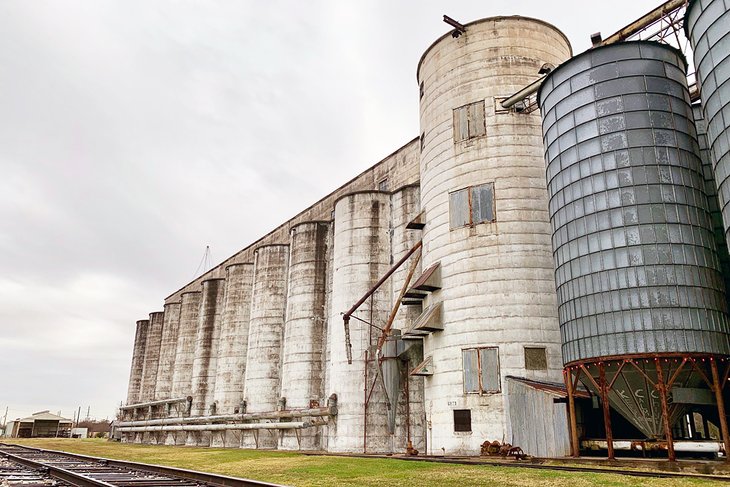 In the age of Instagram, everyone is looking for photo-worthy places to visit. While Katy, Texas is small in size, its photo opportunities are grand. From the old rice silos that you see as you drive into town to the MKT caboose at the MKT Railroad Depot, there are unique photo opportunities, whether you are a serious photographer or just want fun shots for a selfie.
Some of the other spots that make for a great photo backdrop are Mary Jo Peckham Park with green space and wildlife, the Greenhouse at Cane Island, the heritage homes located in the Katy Heritage Park, the bronze stallion statues at LaCenterra central courtyard, and the "You'll Love Katy" mural near City Hall.
14. Take a Day Trip to Houston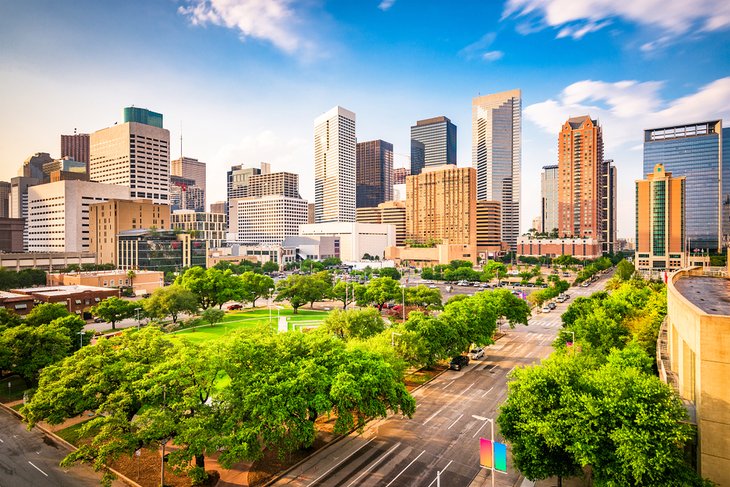 There are so many fun attractions in Houston, located just 30 minutes outside Katy, that you should schedule a day trip here during your stop in Katy. Houston has fantastic museums, and you can buy a one-day museum pass for entry to many of them. The city's museum district encompasses the Houston Zoo, Houston Museum of Natural Resources, and the Children's Museum.
There are many free things to do in Houston, like the Miller Outdoor Theater, which you can visit for outdoor music, theater, or dance performances from March through November. The Discovery Green multi-use park located downtown is a central spot for markets in the summer and ice-skating in the winter. You can also take a free 90-minute Port Houston Boat Tour along the Houston Ship Channel, which is a great way to see Houston during a day trip.
Katy, TX - Climate Chart
Average minimum and maximum temperatures for Katy, TX in °C
J
F
M
A
M
J
J
A
S
O
N
D

17

6

19

7

22

11

26

14

30

19

33

22

34

23

34

23

32

21

28

16

22

11

18

6

PlanetWare.com
Average monthly precipitation totals for Katy, TX in mm.

103

76

82

88

119

140

84

109

148

102

116

85