12 Top-Rated Day Trips from Austin, TX
Author Brad Lane has enjoyed a few reporting trips to Texas for PlanetWare and always bases his travels out of Austin.
Austin has it all. That doesn't mean it's not fun to get away every now and then. Part of the appeal of the capital city is its proximity to many other beautiful places to visit. Perhaps most notable is the Texas Hill Country, easily accessible from Austin, and many other day trip destinations where you can enjoy the rolling scenery and rich German heritage.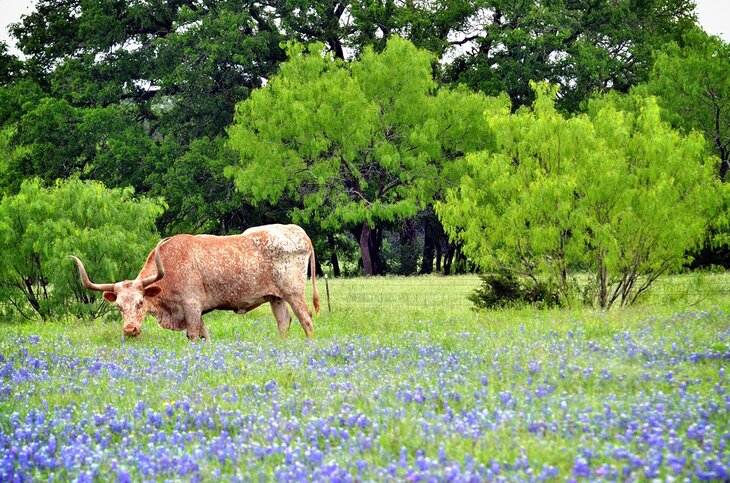 Many of the best day trips from Austin also lend access to nearby outdoor attractions. Hiking trails at Hamilton Pool in Dripping Springs or Pedernales Falls in Johnson City, are worth the short drives all on their own. And, thanks to Austin's winter-less climate, these outdoor destinations are hot spots throughout the year.
For another big city to explore outside of Austin, San Antonio is an 80-mile drive. Close enough to cover in a day, a few top attractions in San Antonio include the San Antonio Riverwalk and The Alamo.
Plan your sightseeing adventures with our list of the best day trips from Austin.
1. New Braunfels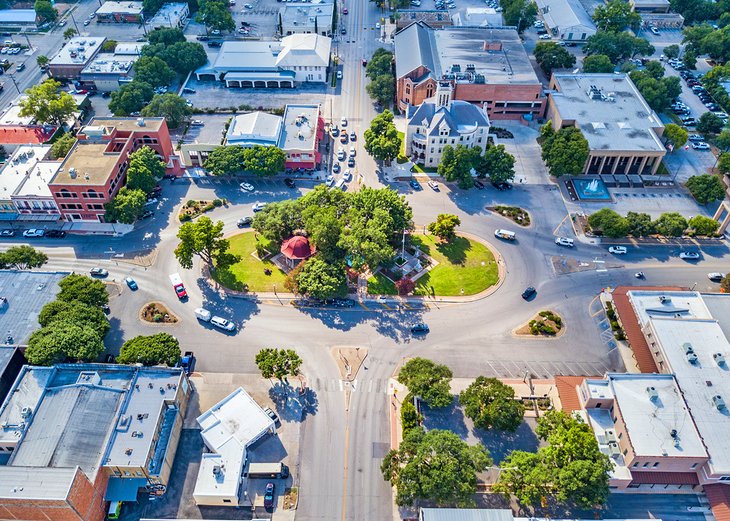 New Braunfels is approximately an hour southwest of Austin in the Texas Hill Country, and a top spot to get away from the city. The town retains its German heritage, dating to its founding in 1845, with cultural celebrations and authentic storefronts. And, exploring this culture is easy on the pedestrian-friendly, shaded sidewalks of the central business district.
The stunning Texas Hill Country surrounding New Braunfels also offers several ways to get outside. Visitors have easy access to the Comal River, which runs through the city, as well as the Guadalupe River nearby. Tubing, fishing, and wandering the banks are popular ways to spend the day.
Schlitterbahn Waterpark offers another popular aquatic attraction in New Braunfels. This massive water park features sections fueled by the spring-fed water of the Comal River nearby.
For an authentic taste of New Braunfels, Naegelin's Bakery, in the heart of the city, is the oldest bakery in Texas. Naegelin's features traditional fares and German-inspired items like pretzels and strudels. Further north, The Gruene Historic District in New Braunfels is the place to head for artisan crafts and antiques.
2. Georgetown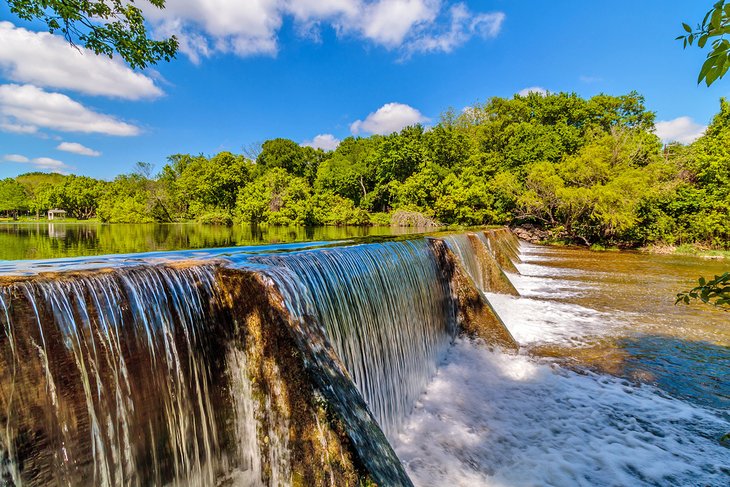 The charming city of Georgetown is 30-minutes north of Austin and home to one of the most beautiful town squares in Texas. Local shops and restaurants comprise the historic facades of downtown Georgetown and sell everything from baked goods to antique collectibles.
This picture-perfect town square hosts several cultural events, including First Fridays in Downtown. These community block parties include the entire district enjoying art shows and the beautiful weather outside.
Surrounded by the beautiful Texas Hill Country, Georgetown is also a gateway to exploring outdoors. Blue Hole Park is one of the most popular places to visit on summer days in Georgetown. This lagoon and public space is five blocks north of the historic district and features swimming areas and waterfalls.
Another popular natural feature in Georgetown is one of the best caverns in Texas. The Texas Highway Department discovered Inner Space Cavern while constructing Interstate 35 in 1963. The cave has provided guided tours nearly ever since. These underground tours don't involve any crawling and take place on gravel walkways through lighted passageways.
3. Fredericksburg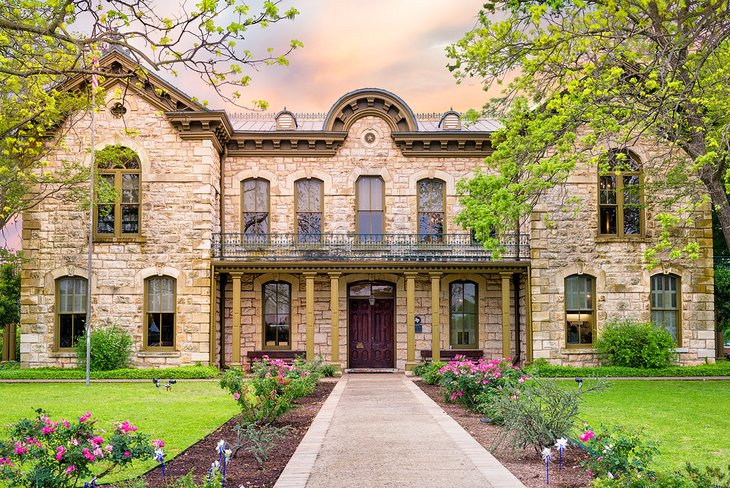 The German village of Fredericksburg offers some of the best scenery the Texas Hill County has to offer, less than two hours west of Austin. This photogenic small town displays its German heritage on the streets. It's a lovely spot to walk through on a sunny day, and this part of Texas receives over 300 days of sunshine every year.
Local shops and restaurants line Main Street in Fredericksburg, as well as colorful storefronts that ring with history. Walking this Main Street corridor is often a memorable part of any Fredericksburg visit.
Off Main Street, the National Museum of the Pacific War features artifacts, exhibits, and airplanes dedicated to the Asia- Pacific War.
One of the best ways to get outside in Fredericksburg is by visiting the nearby Enchanted Rock State Natural Area. Visitors see the massive pink dome from miles on the horizon, and it's less than a 30-minute drive from Fredericksburg to reach the monolith. Enchanted Rock is one of the best state parks in Texas and features campgrounds and a summit hiking trail, and is worth a day trip on its own.
4. San Antonio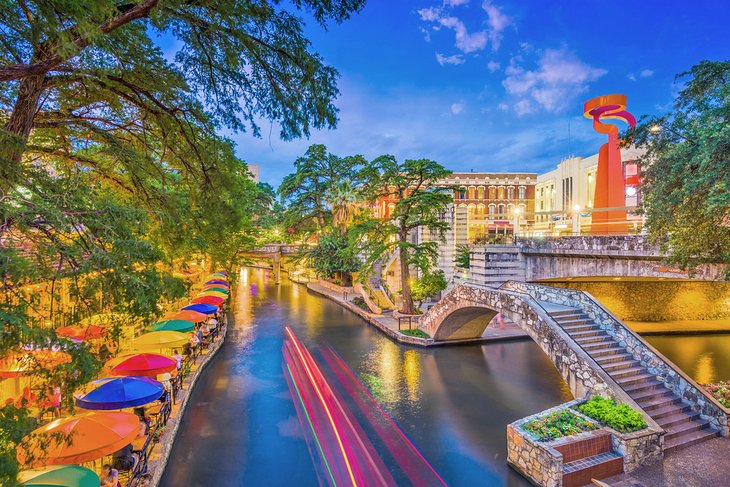 San Antonio, the second largest city in Texas, beckons for day trips from Austin. About a 1.5-hour drive away, its vibrant streets are fun to explore and full of things to do.
The centerpiece of many visits is the San Antonio Riverwalk, featuring stone walkways and many restaurants on the water. Visitors can hop on a boat and tour the San Antonio River to take in this cultural epicenter of the city.
The Alamo is also nearby for those interested in the history of the city. And spread throughout the urban environment are other significant cultural landmarks, including San Antonio Missions National Historical Park. The San Fernando Cathedral, in the heart of the city, also entices some historical intrigue.
Art and culture are vibrant in San Antonio. The Pearl District offers perhaps the most concentrated taste of this creativity. With several historic buildings, the trendy Pearl District neighborhood is also known for some of the best restaurants in the city.
Where to Stay: San Antonio offers several places to stay for weekend visits, with some of the most luxurious options close to the Riverwalk.
5. Hamilton Pool Preserve, Dripping Springs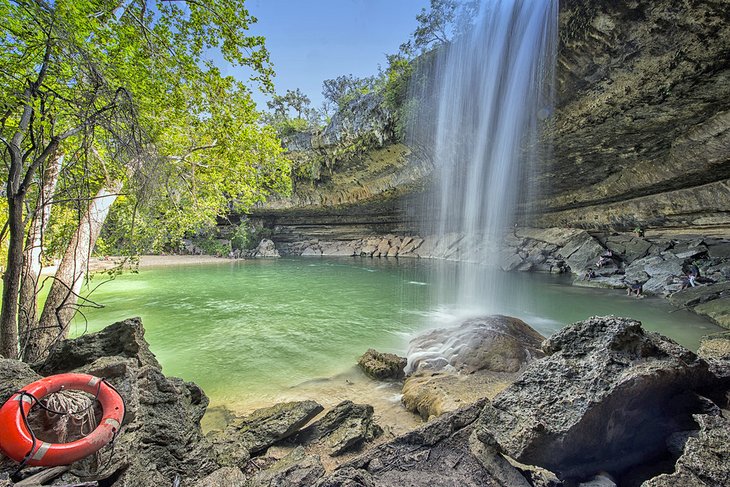 Hamilton Pool offers one of the coolest places to visit for a day trip from Austin. This coveted grotto is home to one of the best waterfalls in Texas and a great swimming hole to beat the summer heat. Hamilton Creek cascades into a narrow canyon to create this Texas Hill Country attraction. Visitors from Austin can reach the preserve within a 45-minute drive.
Thanks to its photogenic charm and surreal nature, Hamilton Pool is a very popular hiking destination near Austin, especially on the weekends. The preserve requires guests to make reservations before visiting to prevent overcrowding. Only one vehicle is allowed per reservation, and reservations are available for morning and afternoon time slots.
Hamilton Pool Preserve and the surrounding grotto are well worth the day trip on their own. The encompassing town of Dripping Springs, however, gives even more reason to visit. Live music is easy to find in Dripping Springs on the weekends, and several unique eateries and local shops line the historic city streets.
6. Palmetto State Park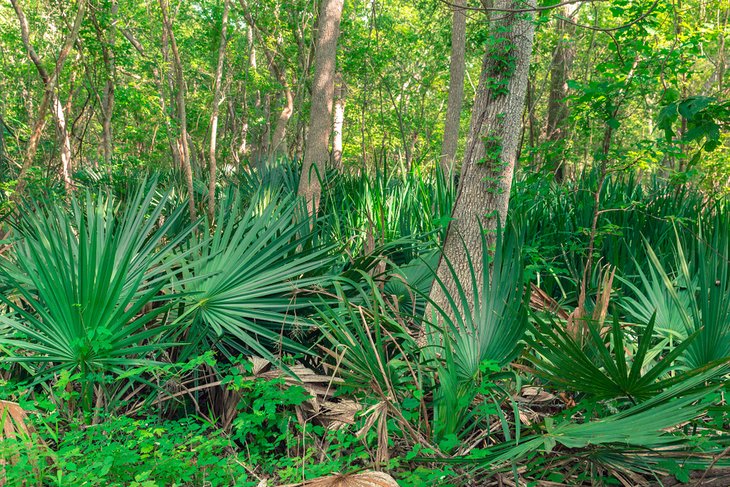 For a refreshing escape into a tropical landscape, the uniquely forested acres of Palmetto State Park are an hour's drive southeast of Austin. Dwarf palmetto plants give this state park its name and vibrant atmosphere, and it's the San Marcos River that allows such abundant growth. Swiftly moving throughout the heart of the park, the San Marcos River is also the reason for many day trips.
Visitors swim and fish in the San Marcos River within the park, and canoeing and tubing are just as popular. The state park also rents stand up paddleboards and tandem kayaks. The park is also home to an oxbow lake that features a fishing pier. For land-based things to do, hiking trails like the Palmetto Interpretive Trail offer the best view of the park's namesake flora.
Palmetto State Park does offer campgrounds for those interested in spending the night. Otherwise, the natural landscape is only an hour outside of the city, which makes for easy day trips. The park also offers daily bike rentals for children and adults.
Address: 78 Park Road 11 S, Gonzales, Texas
Read More: Best State Parks in Texas
7. Inks Lake State Park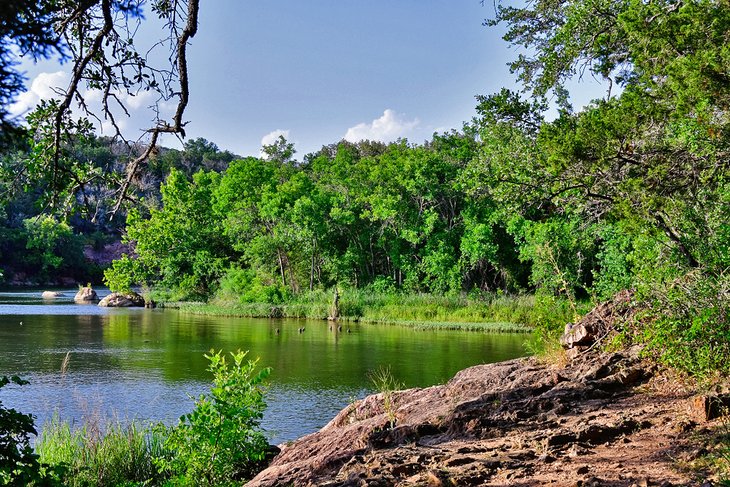 Several great state parks are accessible for day trips from Austin. Approximately 50 miles northwest of downtown, Inks Lake State Park is one such popular day-use and overnight destination.
The 830-acre lake is a reservoir on the Colorado River and part of the Central Texas Highland Lakes that stretch towards Austin. In downtown Austin, Lady Bird Lake is also one of these Highland Lakes on the Colorado River.
The state park is one of the best lakes in Texas and is popular with boating, fishing, and water skiing. The state park features two fishing piers, fish cleaning stations, and gear to borrow. Surrounding the shores are hiking trails and over 200 campsites to spend the night. The 1.8-mile Pecan Flats Trail provides the best views within the park.
The nearby Longhorn Cavern State Park offers another reason to visit the region. Developed by the Civilian Conservation Corps in the 1930s, Longhorn Cavern remains today a popular cave to explore. The park offers guided tours every day of the week, which is the only way to see the inside of the cave.
8. Wimberley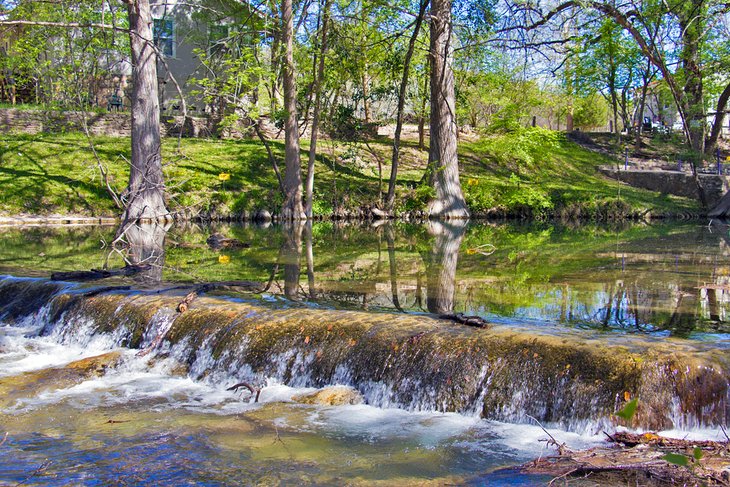 Wimberley is a quaint city in the Texas Hill Country, surrounded by beautiful landscapes and inviting bodies of water. The city has everything for a perfect Austin day trip. Local places to eat and colorful storefronts inhabit Wimberley Square, the main thoroughfare of the town. Modern ranch décor, first-class cookware, and chic boutiques line this charming shopping district.
Wimberley's Market Days offer an excellent reason to visit on Saturdays between March and December. Featuring over 475 booths, Market Days is the largest open-air market in Texas. Fares for sale range from local produce to artisan crafts and include pet items, yard art, and holistic remedies. Market Days is as much a cultural celebration as it is a shopping experience often accompanied by various live music performances.
The great outdoors is also accessible in Wimberley. One of the most popular spots to go is Blue Hole Regional Park on the outskirts of the city (not to be confused with Blue Hole Park in Georgetown). This eye-catching natural space features a spring-fed swimming pool shaded by giant cypress trees. The park also features campgrounds and 3.5-miles of hiking trails.
9. Johnson City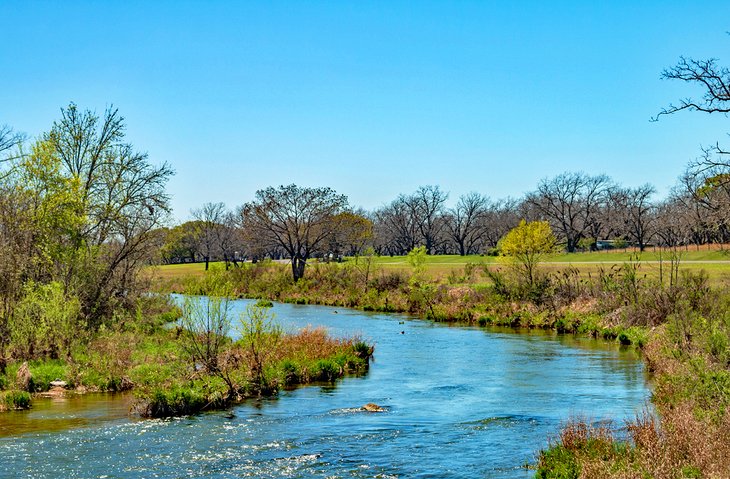 Johnson City, an hour west of Austin in the Texas Hill Country, is best known as the birthplace of the 36th President of the United States, Lyndon Baines Johnson. Johnson city is also the final resting place of the former president. Visitors explore this legacy and more with a mix of state and national parks in Johnson City.
Lyndon B. Johnson National Park is home to Johnson's birthplace; his boyhood home; and the LBJ Ranch, including the "Texas White House." The Lyndon B. Johnson State Park and Historic Site shares the same space with the Sauer-Beckmann Living History Farm. It's not all LBJ in Johnson City, however — the charming community is also lined with art and opportunity to explore outdoors.
Pedernales Falls is just outside Johnson City and on the way from Austin. Pedernales Falls State Park encompasses this series of limestone waterfalls, which features hiking trails, campgrounds, and swimming spots. To fuel up after an adventure in Johnson City, Main Street, also known as Highway 290, has a selection of community flavors, including local restaurants.
10. La Grange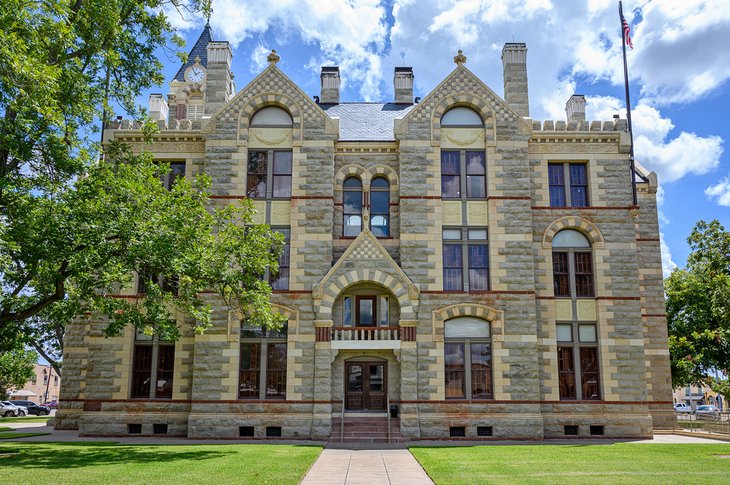 La Grange offers a slice of small-town paradise an hour east of Austin. Nestled in the foothills of Hill Country, this quaint and somewhat infamous town is also adjacent to the Colorado River. La Grange has received notoriety in the past from music legends like Dolly Parton and ZZ Top. It remains popular today as a day trip from both Austin and Houston.
Upon arrival, this small Texas town feels like it's hundreds of miles away from any big city. The Colorado River offers the central source of recreation in La Grange. It's the same river that passes through Austin but with noticeably fewer crowds.
Another popular way to spend time outside in La Grange is walking up Monument Hill. This state historic site commemorates long-lost Texans and offers a great view of the Colorado River. Monument Hill puts on a particularly good show during sunset.
The centerpiece architectural attraction in downtown La Grange is the Fayette County Courthouse. This stately and century-old building has several local eateries within walking distance. Art galleries that tend to catch the eye are also in proximity to the county courthouse. For those interested in spinning a yarn, the Texas Quilt Museum is kitty-corner to the courthouse.
11. Round Rock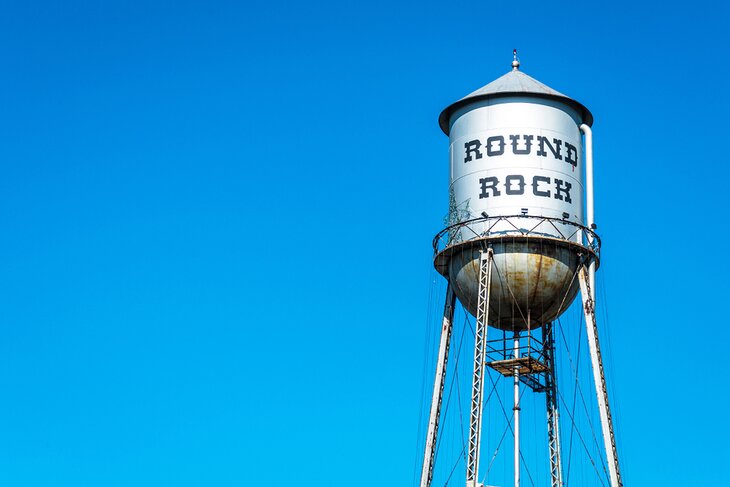 Round Rock is a quickly growing community just north of Austin, reachable from downtown with a 25-minute drive. Several large employers have attracted families to the area, resulting in many family-friendly tourist attractions. The city also earns its nickname as the Sports Capital of Texas, hosting some of the country's largest youth and recreation sports tournaments.
Visitors often encounter Round Rock by attending one of these sporting events, such as a baseball game at Dell Diamond — home to the Texas Rangers AAA affiliate, the Round Rock Express. But it's usually the city's other things to do that lead to repeat visits.
Old Settlers Park and a charming downtown district lined with local shops comprise some of the other attractions in Round Rock. Round Rock is also home to one of the largest indoor water parks at Kalahari Resorts. This massive indoor water park encompasses over 200,000 square feet of aquatic fun.
12. Colorado Bend State Park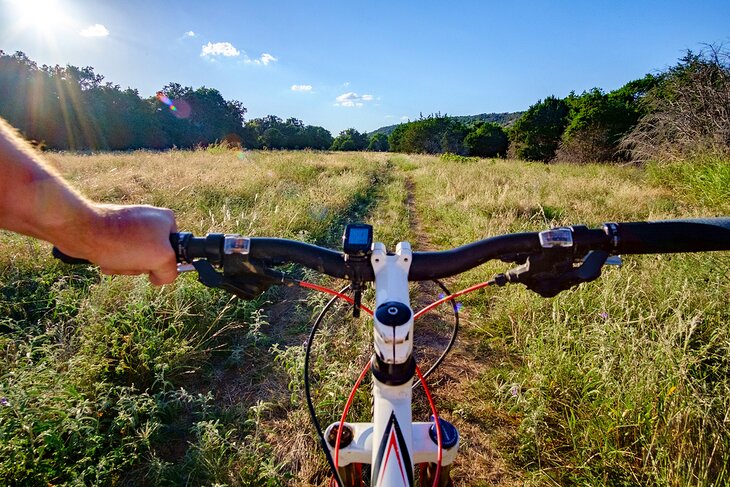 Colorado Bend State Park is an adventure-filled state park accessible with less than a two-hour drive north of Austin. It encompasses over 5,000 acres and offers varied landscapes to explore. Perhaps most notable is the six miles of the Colorado River Shoreline, including more than one gorgeous waterfall.
Trail exploring is popular at Colorado Bend and is worth the two-hour drive. Hikers, mountain bikers, and horse riders all find their own trails. The Gorman Falls Hike is undoubtedly the most popular in the park, achievable with a three-mile round trip.
Colorado Bend State Park is also one of the best places to go camping in Texas, and if you're up for subterranean exploration, be sure to tour its popular caverns.
More Related Articles on PlanetWare.com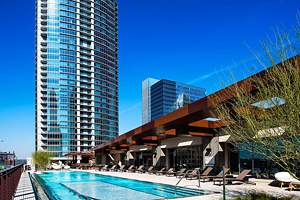 Exploring Austin: Before taking too many day trips, check out our visitor's guide to downtown Austin for all the entertainment and attractions within the city. For outdoor lovers who want to take advantage of the beautiful Texas weather, the best hikes in Austin feature easy escapes from the city.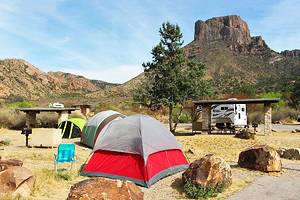 Camping in Texas: The state of Texas encompasses many unique landscapes. Sometimes the best way to see them is to set up on location. For a place to pitch a tent beneath the stars, or park an RV next to a river, our guide to the top places to camp in Texas will send you in the right direction.