17 Best State Parks in Texas
Author Brad Lane enjoyed a lengthy reporting trip throughout Texas, camping his way throughout much of his stay.
State parks in Texas highlight the full diversity of landscapes in the Lone Star State. From high mountains in West Texas to the piney woods and prairies to the east, Texas State Parks cover it all. Hiking, mountain biking, and horse riding are all popular ways to explore the varied environments of Texas state parks. Many of the state parks are also popular for stargazing, thanks to incredible night skies.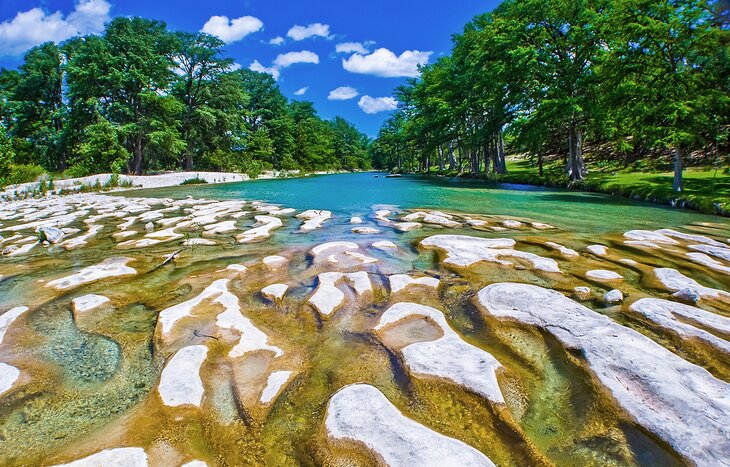 Waterfalls, enchanted rocks, and deep underground caverns are a few centerpiece attractions. Some state parks are enormous, like Big Bend Ranch State Park, covering over 300,000 acres. For these big state parks, camping is the best way to experience the breadth of nature throughout.
The best state parks for camping in Texas include sites for tents, RVs, and those willing to hike in their supplies. Check with the state parks for availability and to make reservations.
Each state park in Texas offers a unique experience to enjoy. From canyons in the Texas Panhandle to churning waves on the Southern Coast, the state is as varied as it is large. Several state parks are easy to reach from big cities in Texas, including Houston, Dallas, and Austin. These accessible state parks make escaping the city an easy thing to do.
For more ideas, read our list of the best state parks in Texas.
1. Big Bend Ranch State Park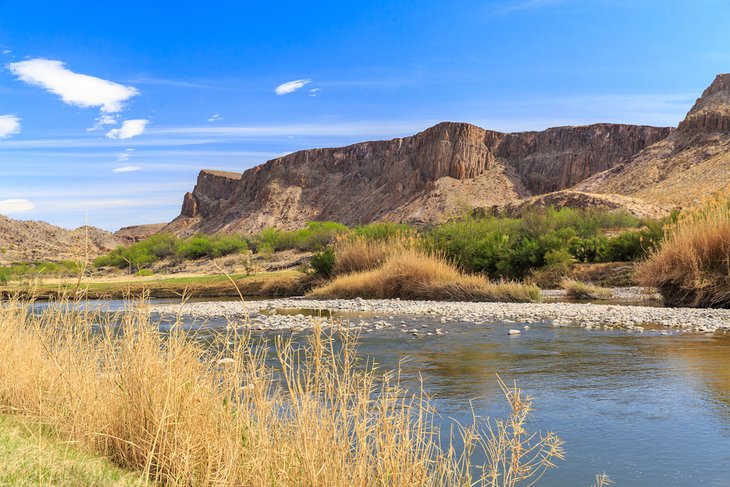 Big Bend Ranch is the largest state park in Texas. It's on the U.S./Mexico border in West Texas and encompasses over 300,000 acres of high-desert terrain, providing endless exploration opportunities. Popular things to do at the state park include hiking, mountain biking, horse riding, and finding solitude in nature.
The Rio Grande is accessible in Big Bend Ranch State Park, which makes activities like boating and fishing fun things to do. Camping is available in a variety of forms at Big Bend Ranch, including basic bedding options at the Sauceda Bunkhouse. Big Bend Ranch is also a designated International Dark Sky Park. This interstellar designation lends to spectacular stargazing following blazing sunsets.
Big Bend Ranch State Park incorporates a wide range of elevations. Summers are scorching at Big Bend, and winters provide milder temperatures with chilly conditions at night. For even more to explore, Big Bend Ranch State Park is adjacent to the more massive Big Bend National Park.
Address: 1900 South Saucedo, Presidio, Texas
Read More: Top-Rated Things to Do in Big Bend Ranch State Park
2. Palo Duro Canyon State Park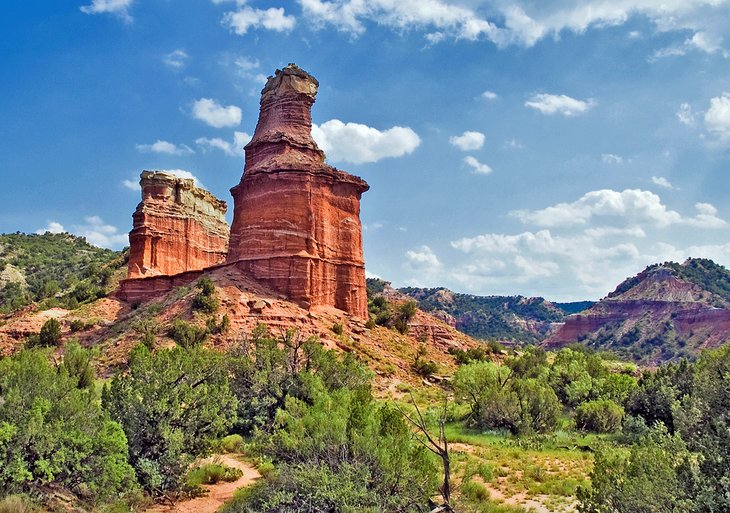 Near Amarillo in the Texas Panhandle, Palo Duro Canyon is also known as the Grand Canyon of Texas. A park road, built by the Civilian Conservation Corps, descends into the canyon and connects several campgrounds, hiking trails, and day-use areas. Hiking, mountain biking, and horse riding are all popular ways to explore the park. The canyon views at the state park offer one of the most stunning Texas landscapes.
The unique TEXAS Outdoor Musical occurs at the Pioneer Amphitheater at the park throughout the summer. This musical performance features singing, dancing, and fireworks that highlight the struggles and triumphs of Texas pioneers. Photographers also flock to Palo Duro Canyon to capture the blending colors of the canyon walls.
Address: 11450 State Highway Park Road 5, Canyon, Texas
3. Colorado Bend State Park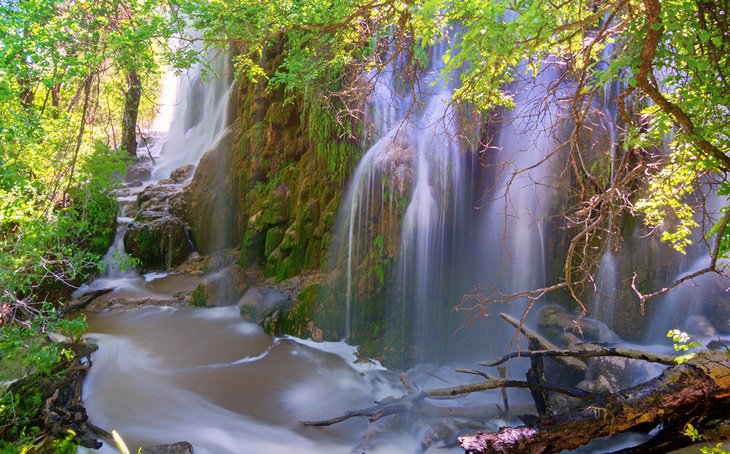 Colorado Bend State Park is a choose-your-own-adventure destination. It's less than two hours north of Austin and encompasses over 5,000 acres, including six miles of Colorado River shoreline. Activities at Colorado Bend take place on land, water, and underground. The state park is also a prime spot to spend the night, with a variety of camping options.
The best and only way to explore the caves at Colorado Bend is through a guided tour. Above the caverns, Colorado Bend State Park features over 30 miles of hiking and mountain biking trails. The most popular trail at the park, Gorman Falls, leads hikers to one of the best waterfalls in Texas. This approximately three-mile hike is strenuous at times, but the 70-foot spring-fed waterfall is well worth the effort.
Address: 2236 Park Hill Drive, Bend, Texas
4. Franklin Mountains State Park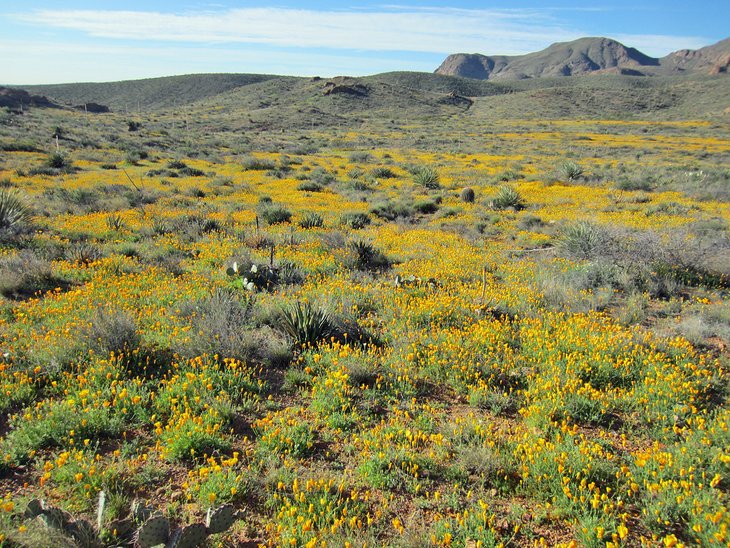 Near the city of El Paso in West Texas, Franklin Mountains State Park offers over 27,000 acres of elevated landscapes to explore. Popular activities at the state park include camping, rock climbing, and exploring the over 100 miles of trails that traverse the area. A rugged landscape defines the Franklin Mountains, and visitors should prepare for the wild environment.
The Tom Mays Unit is on the northern edge of El Paso and is the most accessible area of the park. The Tom Mays Unit contains the densest collection of developed campsites. Visitors from El Paso can reach the various entrances of the Tom Mays Unit by car in 15 minutes. Several hiking trails stretch from the Tom Mays Unit, including extensive Upper and Lower Foothills loops.
Address: Tom Mays Park Access Road, El Paso, Texas
5. Guadalupe River State Park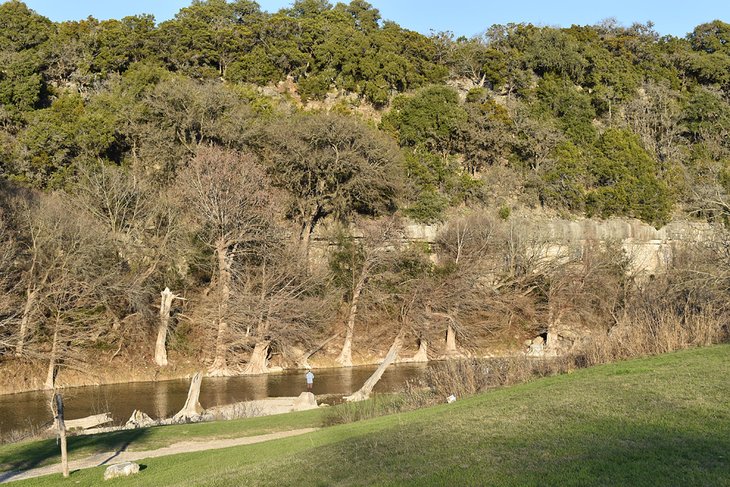 This picturesque state park is 30 miles north of San Antonio, on the banks of the Guadalupe River. The river environment provides ample recreation options, including fishing, swimming, and tubing.
Other popular things to do at Guadalupe River State Park include camping, hiking, and spotting wildlife. Keep your eyes out for armadillos when visiting. Sunsets at Guadalupe River State Park provide a beautiful moment among others to snap some pictures.
The park also features an interactive Discovery Center. This educational space enables children to engage with the natural environment. Eighty campsites at Guadalupe River State Park range from full hook-up RV spots to primitive sites to pitch a tent. A recommended trail to check out is the half-mile Bald Cypress Trail, which follows a significant portion of the Guadalupe River.
Address: 3350 Park Road 31, Spring Branch, Texas
6. Longhorn Cavern State Park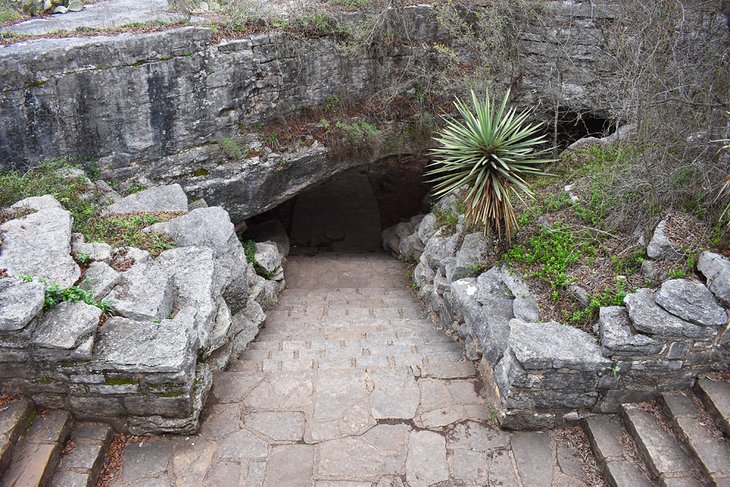 Home to one of the best caverns in Texas, Longhorn Cavern State Park presents an interesting history both above and below ground. Under the surface, guided tours of Longhorn Cavern shine a light on the geologic and cultural history of the cave. Professional guides dive deep into this history that spans ancient seas and subterranean dance halls.
The Civilian Conservation Corps (CCC) added significant development to the park in the 1930s. Many of these structures remain at the park, like the stone steps leading down to the cave. Also on display are nature-inspired structures, including a stone Observation Tower. The view from the Observation Tower offers a great look at the surrounding Texas Hill Country.
Longhorn Caverns is a day-use only park. For those looking to spend the night, the nearby Inks Lake State Park features over 200 places to stay, including campsites and cabins.
Address: 6211 Park Road 4 S, Burnet, Texas
7. Pedernales Falls State Park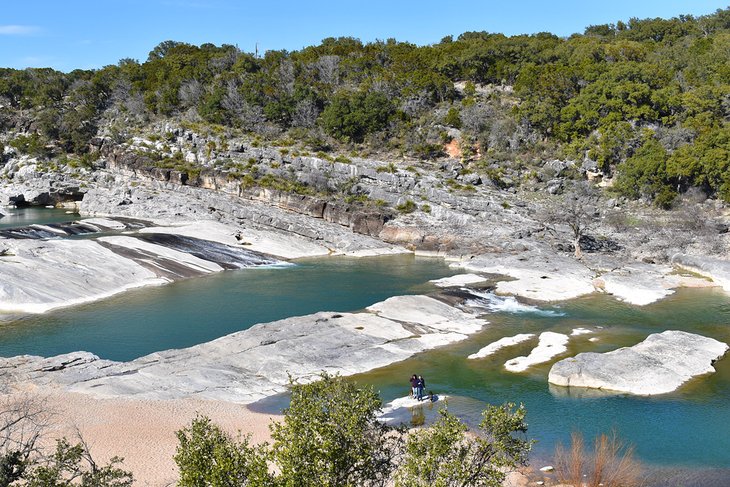 The Pedernales River carves through a series of ancient limestone steps at the north end of this popular state park. This twisting and turning display of gravity creates the park's namesake feature and a fantastic place to spend a sunny afternoon.
Due to the turbulent nature of the river, swimming is not allowed at Pedernales Falls. Rock-hopping around to see the impressive falls, however, is time well spent.
Pedernales Falls State Park is under an hour's drive west of Austin. Swimming is allowed in other areas of the park, and the river provides a refreshing place to cool off during a Texas summer.
Camping is also enjoyed at Pedernales Falls, as is hiking on a variety of trails. The park's longest hiking trail, the 10-mile Juniper Ridge Trail, is as standard for mountain bikers as it is for hikers. The park also has equestrian-exclusive trails.
Visitors need to be aware that the Pedernales River is subject to flash flooding, even if it's not raining at the park. Adhere to park signs and warnings when visiting.
Address: 2585 Park Road 6026, Johnson City, Texas
8. Brazos Bend State Park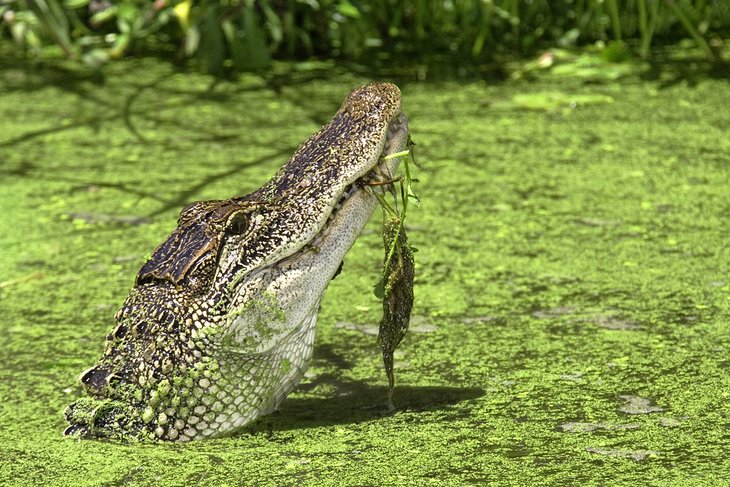 Brazos Bend State Park offers a wild and natural place under an hour south of Houston. The park encompasses over 5,000 acres of vibrant wetlands and a diverse mix of forest and tallgrass prairie.
Among the many species of wildlife at Brazos Bend, the American alligator is perhaps the most exciting to see. Visitors need to keep their distance when viewing alligators. The park provides ample information about staying safe near these reptiles.
The half-mile Creekfield Nature Trail is an excellent first place to start exploring Brazos Bend. Information about the area lines this interpretive path alongside several wildlife viewing opportunities. Other trails, like the 40 Acre Lake Trail, offer the best chance to spot alligators. Electric campsites, screened shelters, and cabins are available at Brazos Bend State Park.
Address: 21901 FM 762 Road, Needville, Texas
9. Enchanted Rock State Natural Area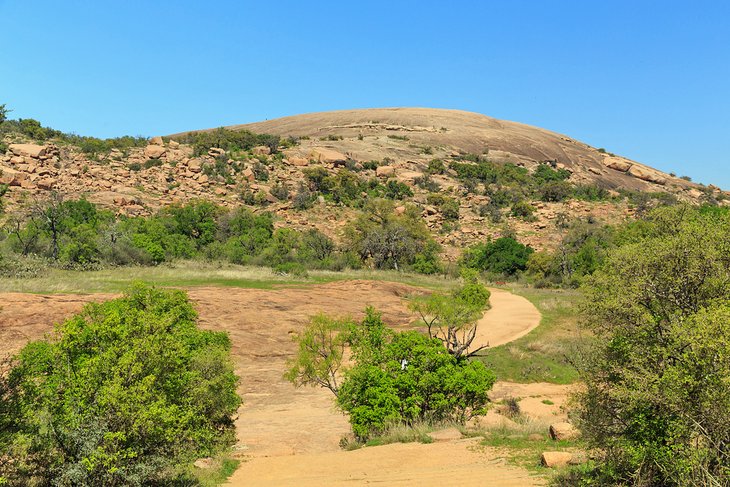 Within the Texas State Park system, Enchanted Rock State Natural Area is a special place in the Texas Hill Country. This unique natural area is near the German town of Fredericksburg and encompasses a massive granite dome. This pink landmark is visible from miles on the horizon and has attracted visitors for thousands of years.
Visitors to this state natural area today can enjoy the landscape by climbing to the top of the rock via a steep hiking trail. It's less than a mile to the top of Enchanted Rock, where unique vernal pools filled with rainwater are teeming with life. Other popular activities at Enchanted Rock include rock climbing, camping, and stargazing in the incredible night sky.
Address: 16710 Ranch Rd 965, Fredericksburg, Texas
10. Hueco Tanks State Park & Historic Area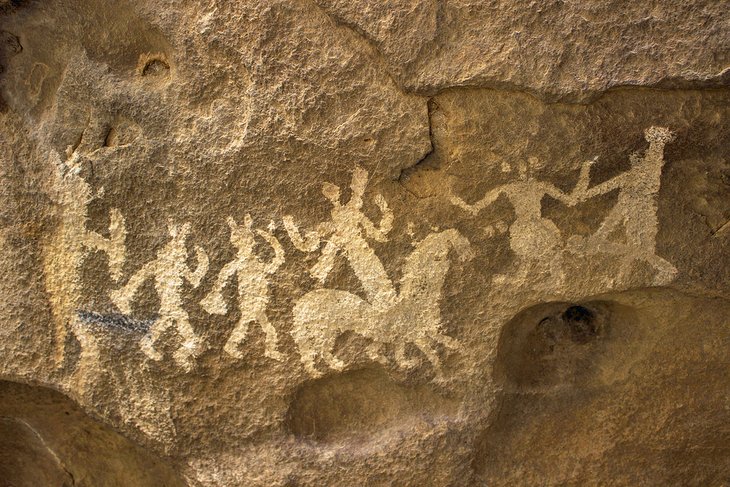 Forty miles east of El Paso in West Texas, Hueco Tanks offers a beautiful landscape and bountiful history. Native cultures flocked to this natural area for thousands of years to use the park's namesake natural rainwater deposits. Many cultures left their mark at Hueco Tanks in the form of pictographs and petroglyphs.
Due to the fragile nature of these ancient markings, park visits are limited each day by permitted self-guided and guided tours. It's advised to call ahead before a visit, especially for the busy season between November and March. Rock climbing is another popular activity at the park, and permits are also required to scale the impressive rock features at Hueco Tanks.
Address: 6900 Hueco Tanks Road No. 1, El Paso, Texas
11. Caddo Lake State Park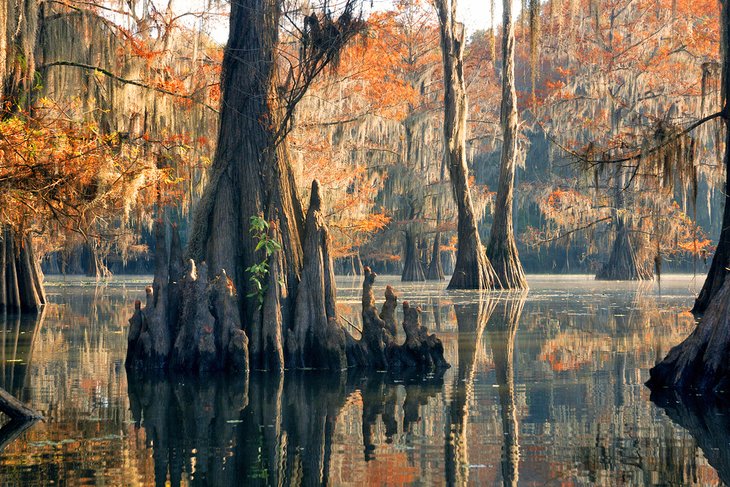 Thirty miles west of Shreveport, Louisiana, near the state border, Caddo Lake State Park offers a unique Texas landscape. Cypress swamps, alligators, and Spanish moss define many of the views at Caddo Lake State Park. The Civilian Conservation Corps also left their mark here, with several historic stone structures. While hiking trails meander throughout this diverse area, the best way to explore Caddo Lake is by kayak or canoe.
Visitors can bring their own canoe to Caddo Lake, and the state park also provides rentals by the hour. Big Cypress Bayou connects the state park to Caddo Lake, where over 50 miles of paddling trails encourage exploration. Fishing is also popular at Caddo Lake, and the state park provides a convenient fishing pier to cast a line.
Address: 245 Park Road 2, Karnack, Texas
12. Davis Mountains State Park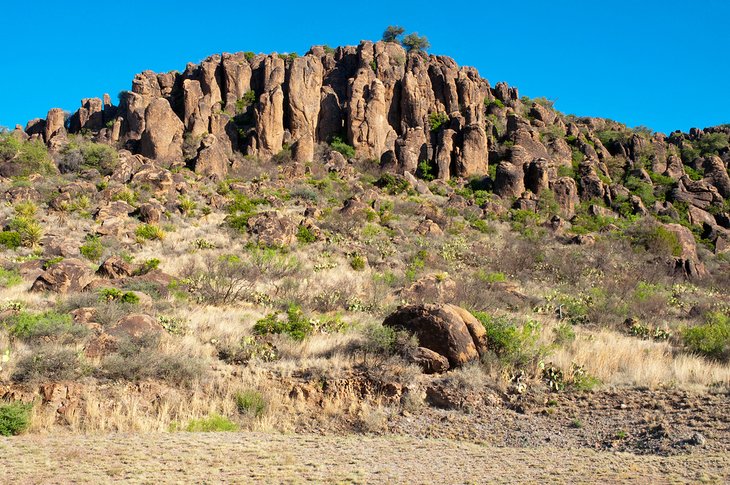 One hundred miles north of Big Bend National Park, Davis Mountains State Park offers more elevated landscapes to explore. The state park represents some of the earliest work of the Civilian Conservation Corps (CCC) in the state. Many of the CCC projects, like the 39-room Indian Lodge, still operate today inside the park. The Indian Lodge is at the heart of the park and continues to provide a welcoming oasis from the Texas summer sun.
Hiking is one of the most popular activities at Davis Mountain State Park. The 4.5-mile Skyline Drive Trail offers some of the best views of the mountainous environment. A hiking trail at Davis Mountain connects to the nearby Fort Davis National Historic Site. For a great way to cool off, the nearby Balmorhea State Park features one of the largest spring-fed swimming pools in the world.
Davis Mountain State Park is also well regarded for its popular bird blind.
Address: TX-118, Fort Davis, Texas
13. Lost Maples State Natural Area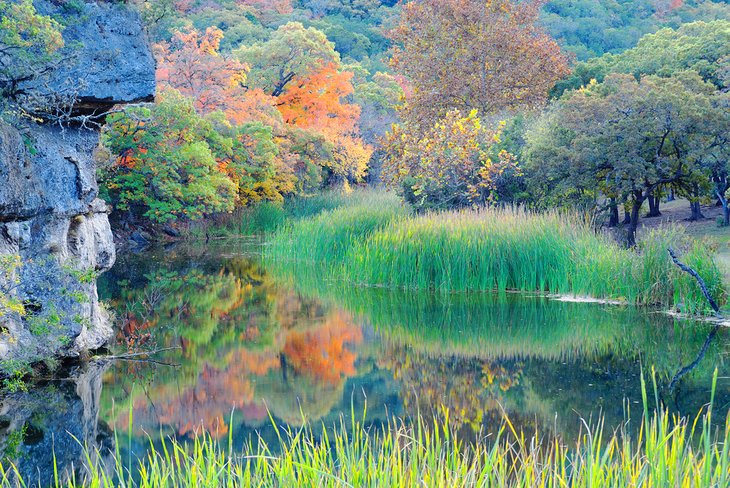 While any time of the year is pleasant to visit this state natural area in the Texas Hill Country, the park displays its best color come fall.
A sprawling trail system opens views of the expansive foliage at Lost Maples State Natural Area. The trail system is a day hiker's dream come true, including a steep path that leads to the top of a 2,200-foot cliff. Explorers can also spend the night at one of the park's 30 electric campsites.
Other popular activities at Lost Maples include fishing, photography, and stargazing. The park's centerpiece natural feature is the bigtooth maple, which is unique in the state. These maples add to the vibrant color of Lost Maples State Natural Area in the fall.
For more trails to explore, the expansive Garner State Park is 30 miles southeast of Lost Maples.
Address: 37221 FM 187, Vanderpool, Texas
14. Caprock Canyons State Park & Trailway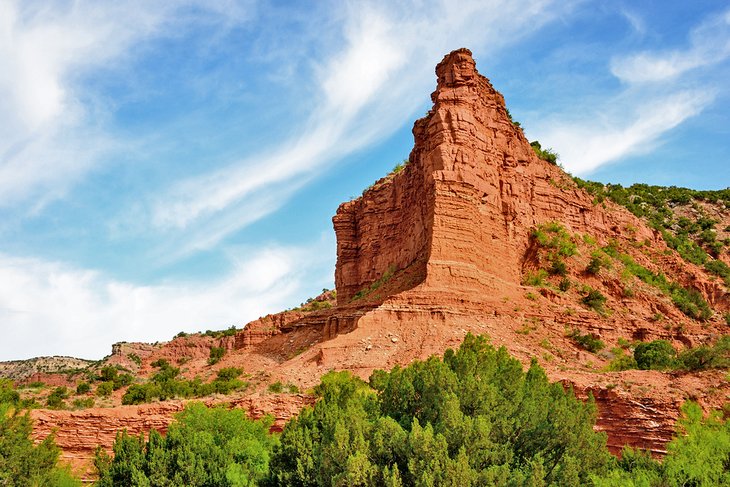 Fifty miles southeast of Palo Duro Canyon State Park, Caprock Canyons is home to magnificent bluffs, roaming bison, and miles of multi-use trails. The rugged landscapes of the state park host activities like mountain biking, hiking, and rock climbing. Water sports are also popular on the 120-acre Lake Theo.
Caprock Canyon is a great state park for tent camping with over 80 walk-in primitive campsites available.
The state park also lends access to the unique Caprock Canyons Trailway. This 64-mile-long converted railway offers a rugged path to hike, bike, or ride a horse. Camping is allowed along the trail for multi-day pursuits.
The trailway is broken up into sections, and the Clarity Tunnel is one of the most popular areas to explore, home to a nesting colony of Mexican free-tailed bats. Visitors need to exercise caution when exploring this deserted railroad tunnel.
Address: 850 Caprock Canyon Park Road, Quitaque, Texas
15. Monahans Sandhills State Park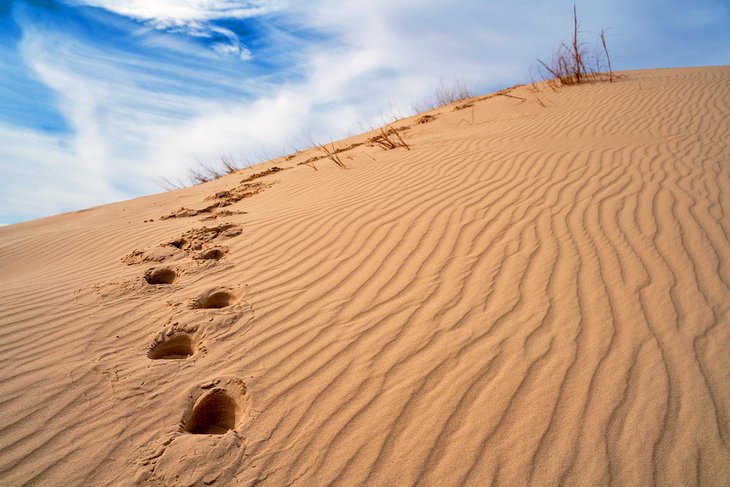 This state park in West Texas offers a unique landscape filled with many active sand dunes. These shifting landscapes can dramatically change overnight. The park doesn't maintain any trails for this reason, and visitors are free to explore in any direction they choose. Dunes at the park reach up to 50 feet in height.
One of the fun activities at Monahans Sandhills State Park is surfing down the dunes. The state park rents out sand discs for interested visitors. Packing along extra water and supplies is essential when visiting Monahans Sandhills. Summers are blazing at the state park. Twenty-six campsites with electricity are at the state park, and each have shade structures and fire rings.
Address: 2500 E Interstate 20 Exit 86, Monahans, Texas
Read More: Top-Rated Things to Do in Midland, TX
16. Garner State Park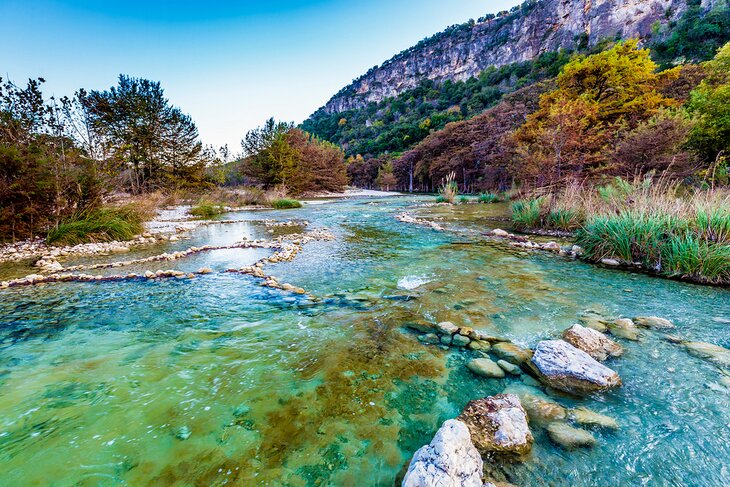 Several adventure attributes bring visitors to Garner State Park, approximately 90 miles west of San Antonio—but it's the Frio River that draws the biggest crowds. Nearly three miles of this spring-fed and icy-cold river wind throughout the park, encouraging activities like tubing, canoeing, and kayaking. Visitors enter this wild waterway at their own risk.
Other eye-catching reasons to visit Garner State Park include 16 miles of woodland trails and unbeatable Hill Country landscapes. The park also has a bountiful collection of campsites to spread out the travel, including full hookup RV sites and primitive tent sites.
17. Dinosaur Valley State Park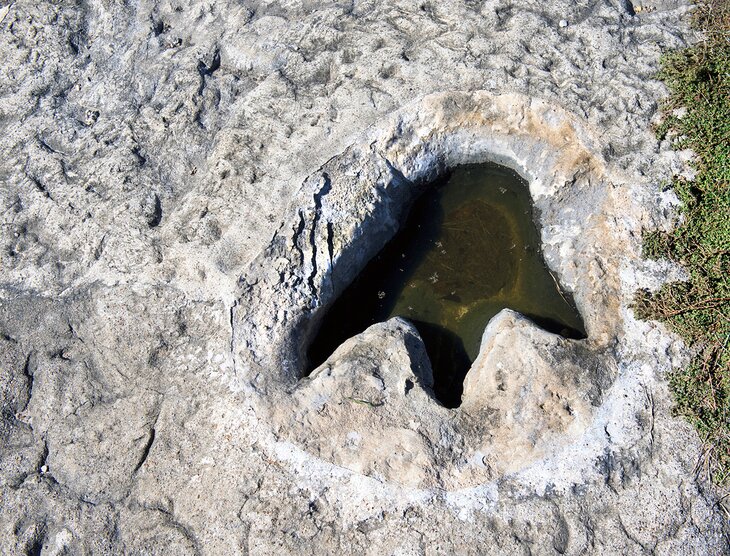 Step back into history at Dinosaur Valley State Park, approximately 60 miles southwest of Fort Worth. The main focal point of this state park is found along the banks of the Paluxy River. Here, over 100 million years ago, a relative of the Tyrannosaurus Rex left its footprint behind in the riverbed. Today, when river levels are low, visitors flock to see this left-behind footprint and unique display of the state's geologic history.
There's much more to see and do at Dinosaur Valley State Park outside of the dino tracks. The unique terrain of the park, comprising a hilly limestone landscape and a rich riparian corridor, is also well spent exploring. Popular activities include horseback riding, mountain biking, hiking, and camping at one of the park's 44 campsites.
More Related Articles on PlanetWare.com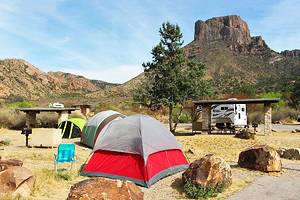 Other Outdoor Attractions in Texas: Many of the top places to camp in Texas are in the best state parks. The best waterfalls in the state also find homes in state parks, as well as other natural areas across Texas. For some underground exploring, our guide to the best caverns in Texas dive deep into the Earth for a unique adventure to be had.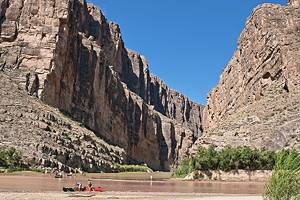 Exploring Big Bend National Park: Encompassing over 800,000 acres, Big Bend National Park is one of the largest national parks in the country. It takes time to explore this massive public space in West Texas, and the top campgrounds at Big Bend National Park enable overnight adventures. For some daytime explorations, our guide to hiking trails in Big Bend National Park will lead you down some memorable paths.