16 Top-Rated Things to Do in Big Bend Ranch State Park, TX
Big Bend Ranch State Park is the largest of 80 state parks in Texas and, in keeping with the reputation of the Lone Star State, there's an oversized list of things to do. From adventurous activities such as river rafting and mountain biking to camping beneath falling stars, the state park serves up a smorgasbord that appeals to every appetite and taste.
In this park, you can feel like you're pushing up against the last frontier and nobody is going to get in your way while out hiking. You can be all alone with your camera or canvas, feeling like you are the first and last person to interpret yet another scene of Big Bend glory.
Best of all, because Big Bend National Park is located right next door and each year attracts eight times as many people, visitors to the state park find themselves with lots of elbow room to explore the many facets of this 300,000-acre gem in the Chihuahuan Desert.
If you've only got an hour and no time to stop, the best thing you can do is drive. Get in your car, your RV, or hop aboard your motorcycle, and drive FM-170 highway - also known as the River Road. Once you've soaked up the stunningly rugged landscape along the FM-170 River Road, you'll be itching to buy yourself a park permit, and discover even more of the best things to do in Big Bend Ranch State Park.
1. Sightsee along the FM-170 River Road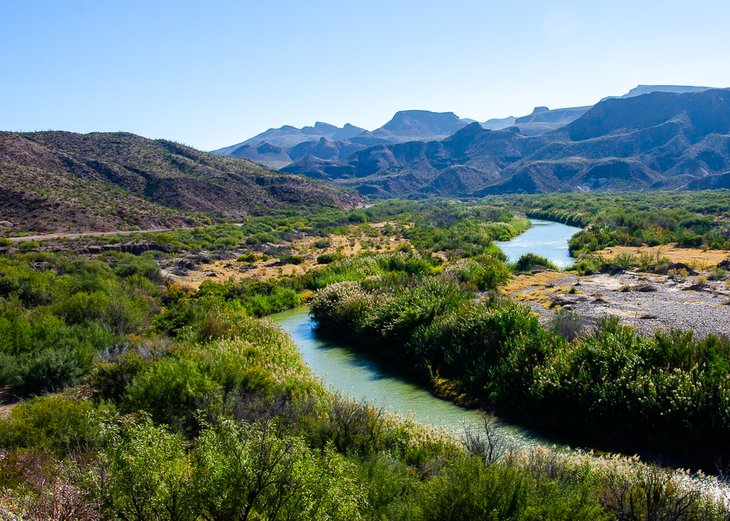 The iconic FM-170 River Road is the ultimate attraction in the park and, some say, one of the most beautiful byways in all of America. The highway runs 50 miles from Presidio at the west end to Lajitas on the east. Aside from the cost of gas, the ride is free to tourists like you, and the views are priceless. This is the only stretch of pavement in the park, and it runs parallel to the Rio Grande River, the equally famous waterway that is the international boundary between the United States and Mexico.
Anyone who ventures down FM-170 River Road will see The Big Three: The river, canyons, and desert. Forged over three million years, the Rio Grande pulls you past tranquil places to picnic, snap photos, and scan the colorful sweep of roadside Texas bluebonnets in springtime.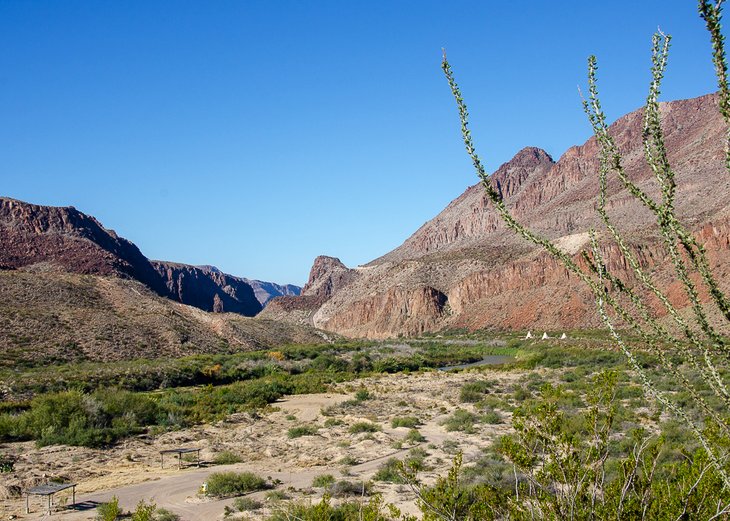 Canyons with rock walls that reach way overhead are accessed by hiking trails that start from the highway. You'll experience the majesty of Colorado Canyon. The FM-170 River Road lifts you up and over La Cuesta (aka Big Hill). You will feel like you're riding a thrilling roller coaster through the canyon.
You are in desert country, so expect to see blooming cactus and other plants and trees native to the Chihuahuan Desert. Dotting the landscape are features such as hoodoos that look like freaks of nature and western movie sets that are not natural at all. Darting roadrunners are always an amusing sight, while soaring turkey vultures suggest that not everything in the desert is in the land of the living.
2. Enjoy a Desert Picnic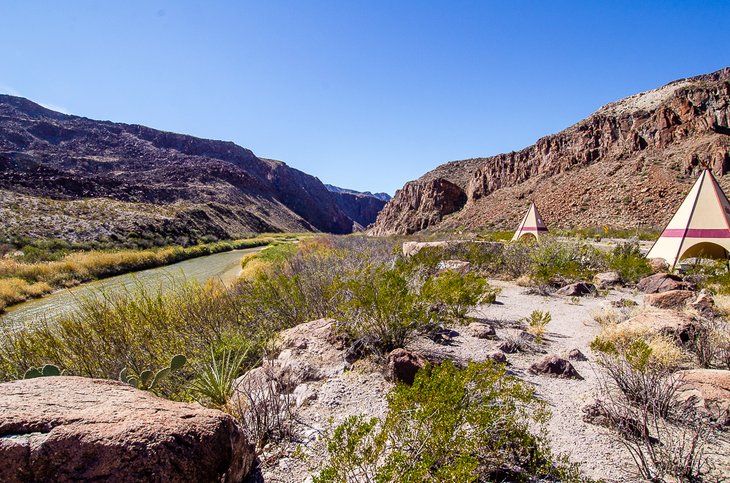 You've just navigated the Big Hill if you are headed east to Lajitas, or you're bracing for the Big Hill on your way west to Presidio. So far, everything large on the landscape is a mountain or canyon. Now something completely different: It's a trio of tall teepees looking like a scene out of Route 66.
Located halfway through the park in super-scenic Madera Canyon, the teepees offer rare shade in a designated picnic site. Pick a good day, preferably not in the summer, when temperatures can be 100 degrees Fahrenheit by late morning and as much as 130 degrees by afternoon.
A good picnic depends not just on weather but location. Apart from the teepees, the Contrabando Movie Set is another fun setting. If you need to sit down and set up at a picnic table, head for the hoodoos and park near the trailhead. As you mosey into the park from the east, Fort Leaton State Historic Site provides a relaxing place with shaded picnic tables and drinking water.
At the east entrance to the park is Barton Warnock Visitor Center with a hilltop viewing ramada that makes a panoramic pitstop for a self-catered lunch. As they say on the other side of the Rio Grande, "buen provecho!" (That's Spanish for "bon appétit.")
3. Camp under Blue Skies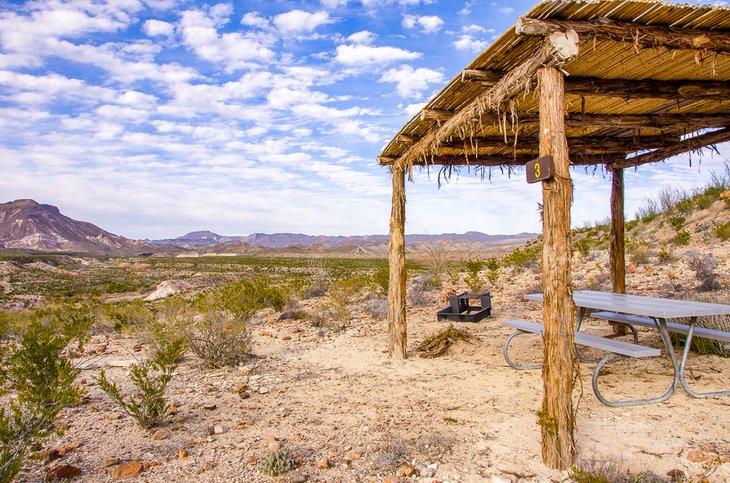 Blue skies and starry nights make for memorable campouts in Big Bend Ranch State Park. Regardless of whether camping in your car or beside your motorbike, luxuriating in your motorhome, or tenting in the backcountry, campsites are primitive wherever they exist. There is no accommodation for tourists except for a bunkhouse at the wilderness hub of Sauceda Ranger Station in the interior of the park.
For visitors who wish for a simple no-frills camping experience, the absence of a hotel or motel is a bonus for keeping things simple and close to the rustic experience of being in nature. Because camping is your only option, if you want luxury and pampering, you must provide it yourself through the comforts of your RV.
The main campgrounds off the FM-170 River Road are: Grassy Banks, Madera, Contrabando West, and La Cuesta. Campsites feature picnic tables and fire rings. Pit toilets are provided, but don't expect water to drink or wash up. Look elsewhere for waterfront sites, Wi-Fi or cell service, electrical hookups, and a dump station. There's a dump site at Barton Warnock Visitor Center, or pay for amenities at the national park or an RV park.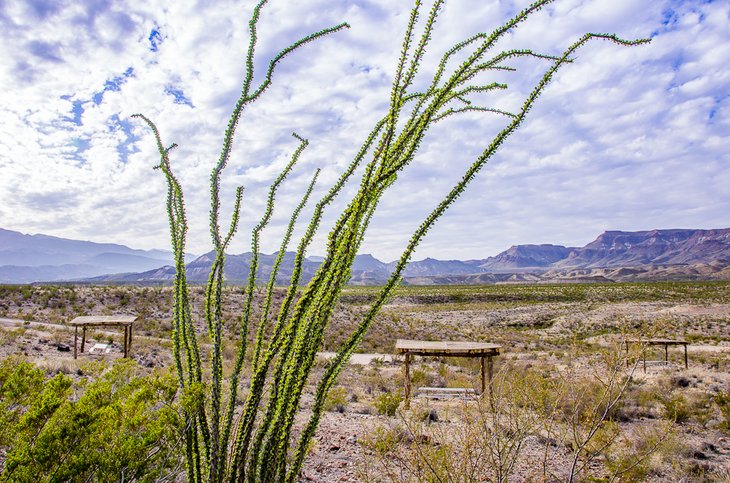 RVs should not attempt the rough gravel road to Sauceda that takes about an hour of slow driving from Presidio. Backcountry wilderness campers must reserve designated campsites and pack out not only trash but also human waste. Guale campsite #2, although remote, is considered the most scenic place to camp in the park. This site is located on Guale Mesa near the rugged Rancherias West Trail that links up with Colorado Canyon on the Rio Grande River.
Visitors with a reserved bed in the Sauceda Bunkhouse will be pleased to know that showers and restrooms are available.
For information and updates about the Sauceda Bunkhouse, call the park. This lodging accommodates up to 30 people, with men and women assigned to separate halves of the former hunting lodge. The bunkhouse is located across from the Sauceda Ranch Big House and ranger station.
4. Hike the Trails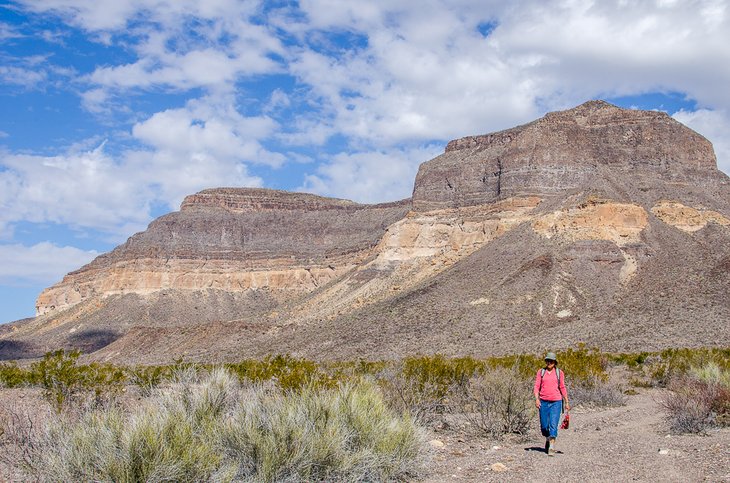 Looking for a desert hiking experience that feels like The Other Side of Nowhere? Hikers return to Big Bend Ranch State Park because nowhere is some place special. From more than 200 miles of multi-use trails, choose a level that reflects your expertise: easy, moderate, or strenuous. If time is short, zero in on two hikes that are easy to find and located within close proximity of each other.
Head first for the whimsical rock formations known as hoodoos, which you'll recognize from the road, even if you've never seen one. Park at the trailhead, enjoy a snack at the picnic table, and set out with your camera on this easy mile-long stroll. Past the hoodoos, the trail drops to the river's edge and takes you east along the bank until it loops back to the historic stretch known as Muerto del Burro (death of the donkey). This pack trail was part of a route that predated the FM-170 River Road.
Driving east along FM-170 River Road, you'll see signage for the Closed Canyon Trail. This short moderate trail, less than 1.5 miles out and back, delivers you promptly to the most accessible slot canyon in the park. At points along the walk, stretch your arms out wide and touch both sides of the canyon walls while looking straight up to a sliver of bright blue - the fabled Big Bend sky.
Dogs on short leashes are permitted on the Hoodoos and Closed Canyon Trails. Elsewhere no dogs are permitted on trails, so be sure your four-legged friends are safe and comfortable when you're away.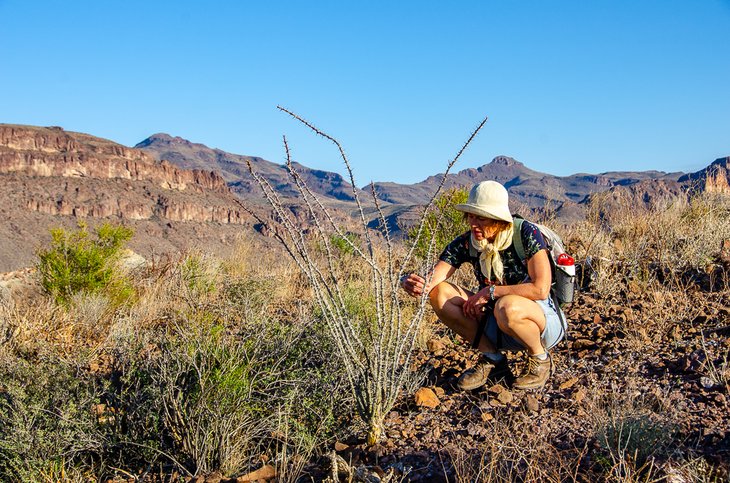 At the east end of the FM-170 River Road, the 6.5-mile, out-and-back Fresno Divide Trail is easily accessible by vehicle. Geographically situated between two creeks (Fresno and Contrabando), this moderate to difficult trail features divine views of the Fresno Divide. From the trailhead, gradually ascend three miles to an overlook. This trail connects with others in the popular Contrabando Multi-Use Trail System, so don't be surprised to see mountain bikers and horseback riders.
If you make the long, rough, and dusty trek to Sauceda Ranger Station, your legs will be ready for a rejuvenating stretch. Watch for Cinco Tinajas Trailhead, located 1.3 miles before you arrive at HQ. One of the most remarkable features of any desert is an oasis - exactly the special feature that makes this easy walk so unusual. Five pools fed by natural springs, located a short distance from the trailhead, give life to bountiful plants, birds, and wildlife.
The Sauceda Nature Trail, a one-mile loop only steps away from the ranger station, provides the sense of solitude for which Sauceda is renowned.
The popular multi-use Horsetrap Bike and Hiking Trail begins at the ranger station and loops back following a 4.3-mile route over easy rolling terrain.
5. Photograph and Paint the Landscapes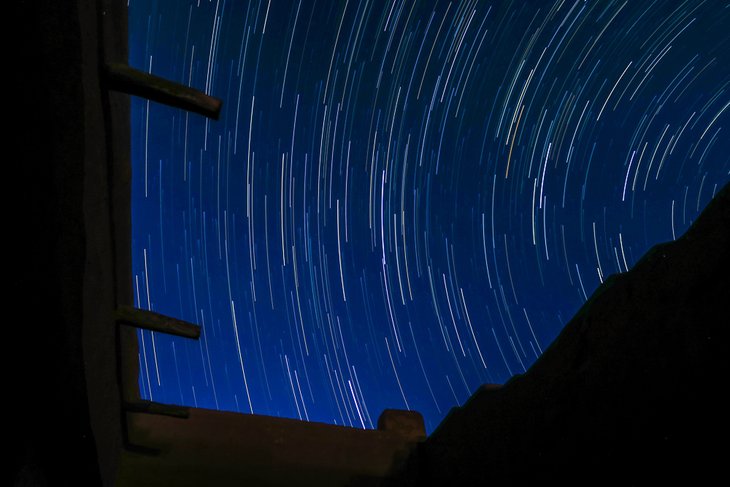 Get creative with your camera day or night, keeping in mind that Big Bend Ranch State Park is an International Dark Sky Park. Capture the stars against the park's interesting structures. Take a video of activities happening on the Rio Grande River that flow like the river throughout the day and into the night. Set up your easel and capture an artist's interpretation of one of the best state parks in Texas.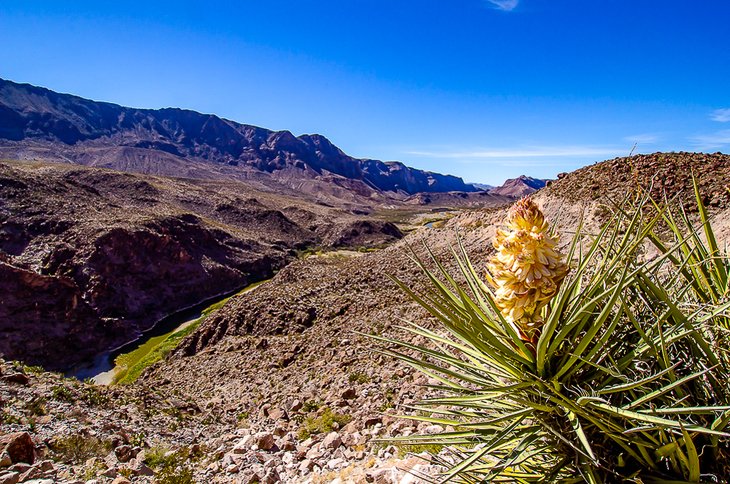 Connect with your inner Ansel Adams or simply whip out your phone for a selfie. This park offers some of the most dazzling backdrops - no photoshopping required. But where to go for the best photography spots? You will harness the softest light for your photos in the morning and late afternoon in places like the Contrabando Movie Set and nearby Contrabando West Trailhead, atop the "Big Hill" at La Cuesta (Colorado Canyon), the Hoodoos Trailhead, and Guale #2 campsite.
No matter what medium you use to document it, no matter where you go, the landscape is breathtakingly beautiful, and being there can be a transforming experience.
6. Go Birding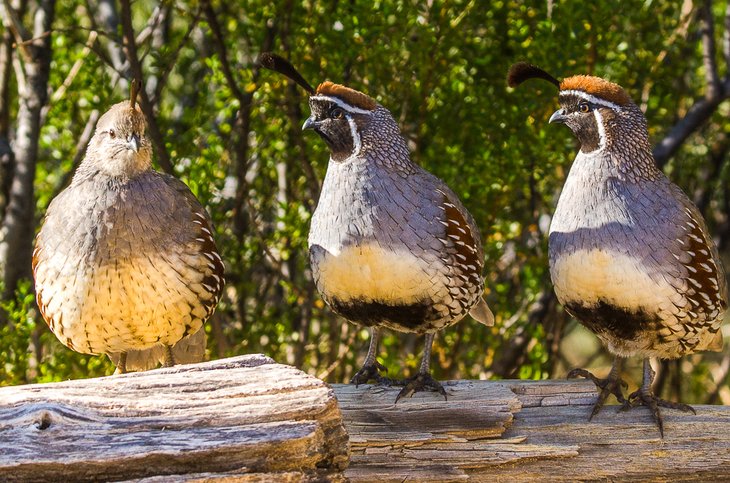 Think about what birds need, and you'll easily understand why there are more than 300 species that flock to the state park. Like tourists, they love the climate (although everyone needs to beware of scorching temperatures in mid-summer). The Rio Grande River, streams, and springs are also a big draw for birds and birders, amateur and professional.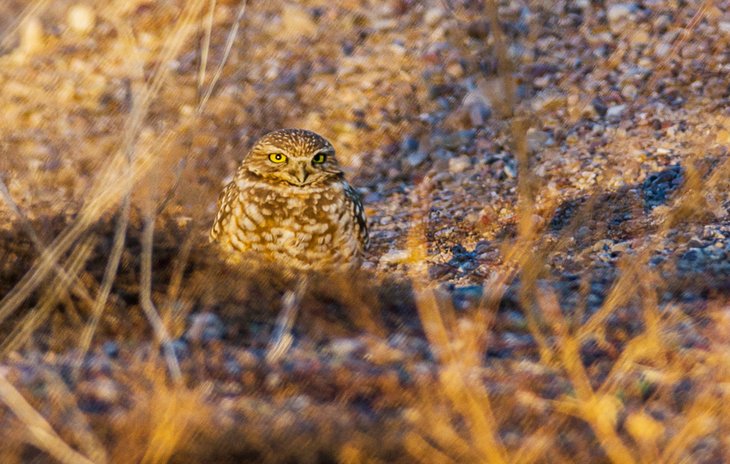 Take your binoculars to our top Hoodoos Trail or the Ojito Adentro Trail and Papalote Escondido birding and wildlife viewing area (in the interior), and see what's awaiting you on the wing.
Be prepared for a surprise. A pair of burrowing owls might suddenly emerge from what looked like a patch of dry earth. A roadrunner might dash out of an arroyo (ditch) or cross a parking lot. Maybe you're captivated by a flash of color that makes you question whether you really saw such a gorgeous streak of red. Yes, it was a vermilion flycatcher - or wait, maybe it was a pyrrhuloxia, the desert cardinal.
7. Watch the Wildlife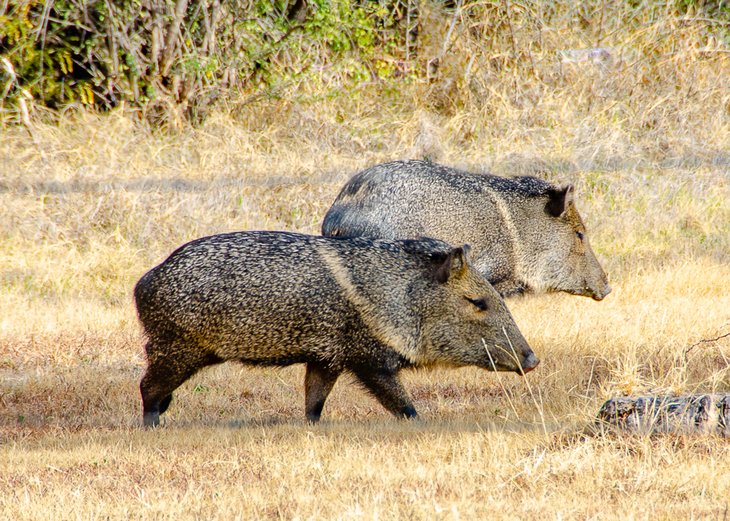 In addition to more than 300 species of birds, there are about 50 species of mostly resident mammals in Big Bend Ranch State Park, one of which you might not have seen. The collared peccary or javelina, often mistakenly identified as a member of the pig family, is among the most charming, especially when there's a procession of babies.
Other mammals include mountain lions, black bears, bobcats, foxes, bighorn sheep, mule deer, pronghorns, coyotes, jackrabbits, and kangaroo rats.
There's a designated wildlife viewing station at Papalote Escondido birding and wildlife viewing area, near the Sauceda Ranger Station. For the best chance of seeing wildlife, visit the park in the autumn.
8. Visit Barton Warnock Visitor Center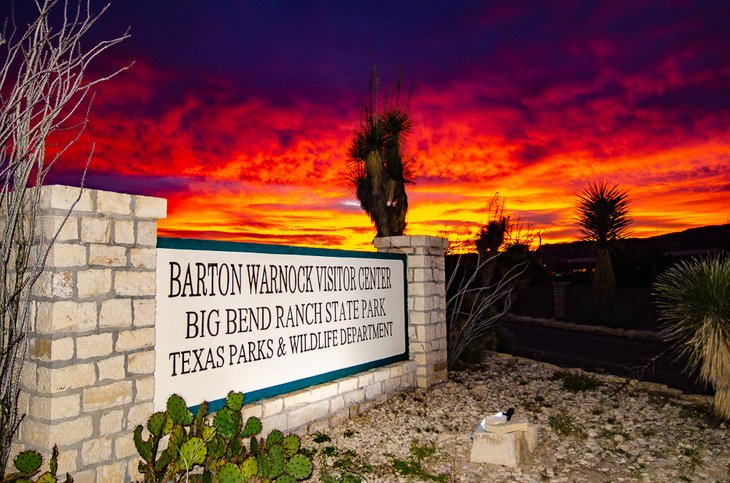 At the east end of the park near Lajitas, head to Barton Warnock Visitor Center for a one-stop opportunity to sign up for activities, explore, learn, and shop. Named for renowned Texas botanist Barton Warnock, the VC showcases an interpretative exhibit, desert garden, gift shop, and bookstore.
The Interpretive Center, called Una Tierra (One Land), resulted from a collaboration between national and state experts in Texas with their counterparts in Coahuila and Chihuahua - two states in northern Mexico. Here's where you can explore exhibits that tell you everything you want to know about the history, geology, and culture of the state park. Wondering about the plant that produces wax (candelilla)? Curious to know about the original people of the area? Seeking information about dangerous wildlife? This is your resource.
For information you can take away, buy a book from the gift shop and invest in a topo map. Adopt a stuffie of your favorite critter in the Chihuahuan Desert, or purchase a T-shirt that proves you made the scene.
At the visitor center, staff can answer your questions about the best places to visit, and sell you whatever you need to get around: day passes and permits for camping and river activities. Campers will find a dumpsite and access to drinking water on the west side of the ample parking lot.
Official site: https://tpwd.texas.gov/state-parks/barton-warnock
9. Mountain Bike along the Multi-Use Trails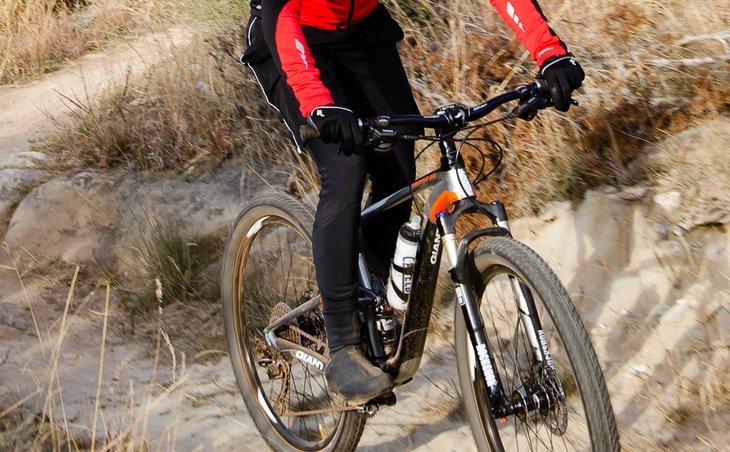 The Contrabando Multi-Use Trail System rolls out fun yet challenging single and double track. It also elevates you to stunning outlooks, and traverses scattered ruins from the bygone era of cinnabar mining and candelilla wax factories. The entire park features more than 200 miles of multi-use trails for mountain biking, hiking, 4x4s, and horseback riding.
To start pedaling as soon as you enter the park, your best bet is to access the Contrabando system just off the FM-170 River Road. From West Contrabando Trailhead, the Fresno Divide Loop delivers more than nine miles of exhilarating intermediate to difficult terrain. If you're up for more, the Contrabando system links to rides in various directions, including the East Main Trail that takes you to Lajitas and nearby Barton Warnock Visitor Center.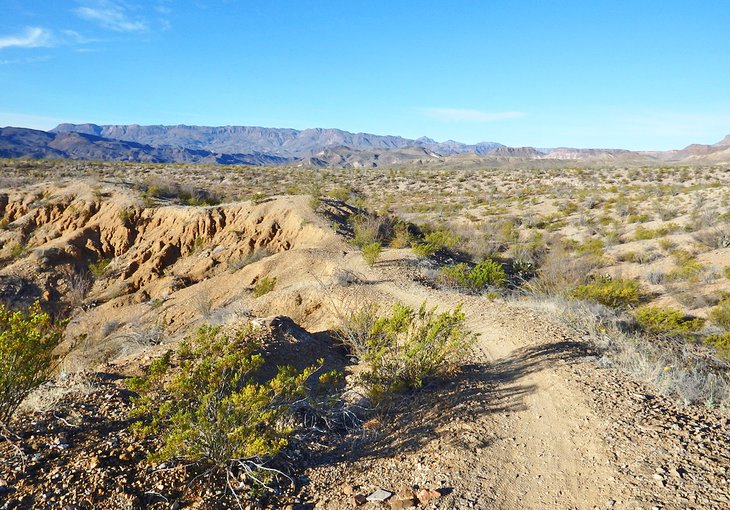 From Sauceda Ranger Station, seasoned bikers can spend a day on the 50-mile, out-and-back trail that takes you to the "Other Side of Nowhere" (actual words on a park sign) and back. Along the way, you'll skirt around El Solitario, the volcanic dome that at 4,619 feet is the highest geological feature in the park.
From Sauceda, look for signposts to La Posta and Pila Montoya before getting on the Outer Solitario Loop Trail. Due to its remote location and intermittent use, an MTB Project mobile app could prove useful finding your way on this trail, rated difficult.
The Fresno-Sauceda Loop is rated an intermediate/difficult EPIC trail by the International Mountain Bicycling Association (IMBA). It is a four-day loop ride that is more than 100 miles round trip.
Shorter trails out of Sauceda, all rated intermediate include: Encino Loop, llano Loop, Horsetrap Trail, and Guale Mesa Road.
Consult a ranger about timing, routing, conditions, and sources of water. It's generally wise to undertake such strenuous activity from fall through spring due to extreme heat in the summer.
If you need a bike or gear for your expedition, or local knowledge on the best rides, mountain biking experts are on staff at Desert Sports in nearby Terlingua.
10. Raft, Paddle, or Float on the Rio Grande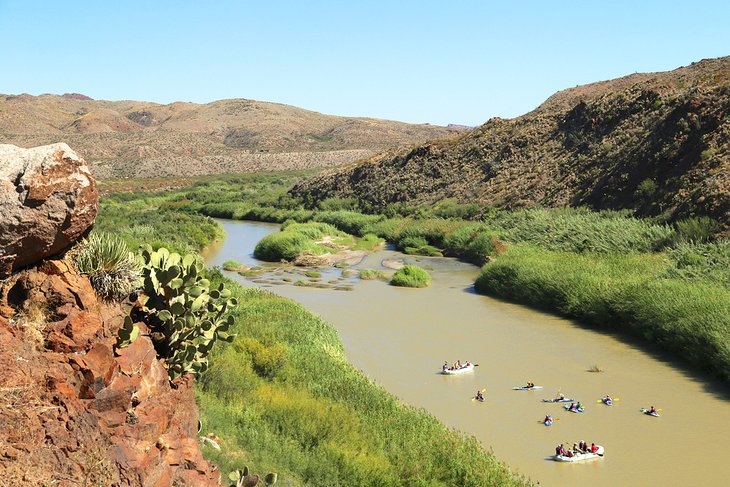 There's an old tune about rowing your boat that captures the carefree feeling of going down the river, whether you're on a raft, paddling a canoe, or floating along like a piece of driftwood. If you don't have your own gear to merrily make your dream happen on the Rio Grande River, there are plenty of local outfitters: Angell Expeditions out of Redford, or the following based in Terlingua: Big Bend Boating & Hiking Company, Big Bend River Tours, Desert Sports, and Far Flung Outdoor Center. Book full- or half-day excursions, or consider an overnight expedition if it's available.
Where to float your boat? There are several places to launch your raft, kayak, or canoe along the River Road. Depending on the time of year and water flow, class II and III rapids can be safely forged in the Colorado Canyon section of the river.
You don't need to have experience to do this activity. Families can enjoy river activities as long as children are a reasonable age.
11. Horseback Ride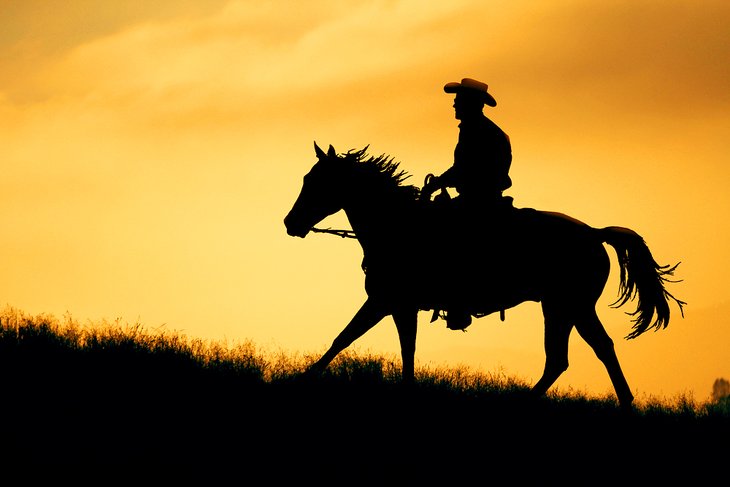 The Wild West is still wild, a place where the wind playfully tosses tumbleweeds through the dusty desert air. Western movies capture the spirt of the west. In real life, you recreate the same feeling by pulling on cowboy boots and hopping into the saddle. Horseback riding is not just an activity, but a state of mind that transports the rider through time and space.
You want a ticket to ride, but where? Here are a few places in the interior that are sure to generate a "high lonesome" experience: Agua Adentro Cattle Pens, Horse Trap Trail, Leyva Canyon, Rancho Viejo Loop, Oso Loop, Puerta Chilicote Trail, and Pila Montoya Trail.
The Contrabando Multi-Use Trail System includes horseback riding. Lajitas Stables is one outfitter that provides a full-service equestrian experience for rides of one to five hours or overnight expeditions of one to five days.
12. Meander through Fort Leaton State Historic Site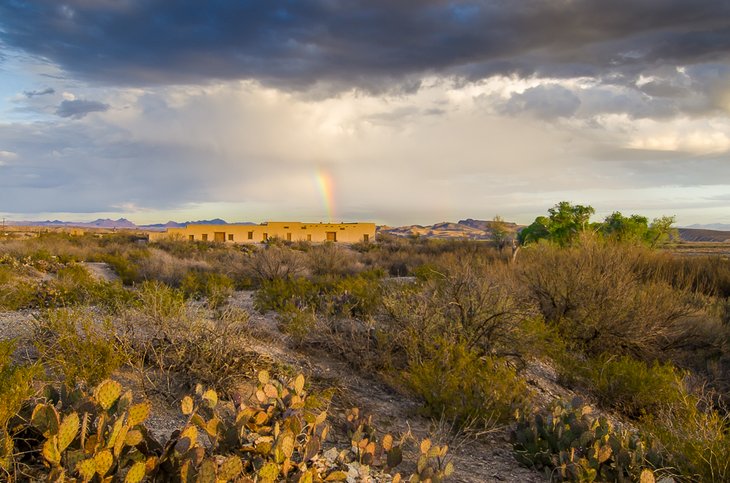 Imagine 800 years of continuous farming, punctuated by raids and rampages, while dust from the old adobe fort settled into its location near Presidio (Spanish for "fort"). Now whittle down those centuries to a couple hours. That's all the time you, as the modern explorer, need to navigate through the displays and get a sense of what it must have been like when the fort was an outpost on the Rio Grande River.
Past the first massive wooden gate of entry, pay a nominal park entrance fee to meander through the restored courtyards, living spaces, and a jail sealed behind 18-inch thick walls. Extensive interpretation in many of the rooms ensures an informative self-guided tour. You can also ask the ranger if a costumed student docent can escort you through the fort and explain about its infamous inhabitants and visitors. There is a museum and gift shop with Wi-Fi.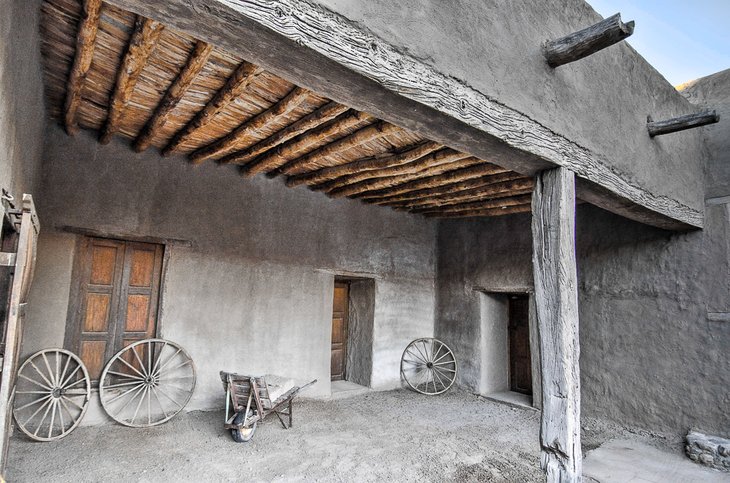 Leaving the dark interior of the fort and re-emerging into surreal sunshine, discover a network of short nature trails. You'll find a small cemetery; desert plants; and especially exciting at sunset, a high-rise condo for bats built to keep them from making home in the fort. Next to a large parking lot, there's a peaceful picnic area with ramada-covered picnic tables and several taps for drinking water.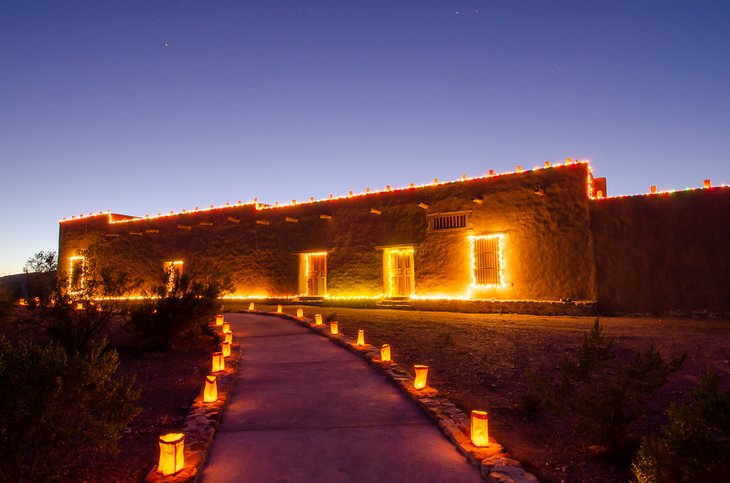 If you happen to visit Fort Leaton in mid-December, ask about the annual Christmas posada hosted by Texas Parks and Wildlife and the Mexican Consulate in Presidio. The posada re-enacts the story of Mary and Joseph seeking shelter, complete with a live donkey. Luminarias light up the fort. There's live music, a piñata for the kids, and a delicious Mexican feast for everybody.
Official site: https://tpwd.texas.gov/state-parks/fort-leaton
13. Explore History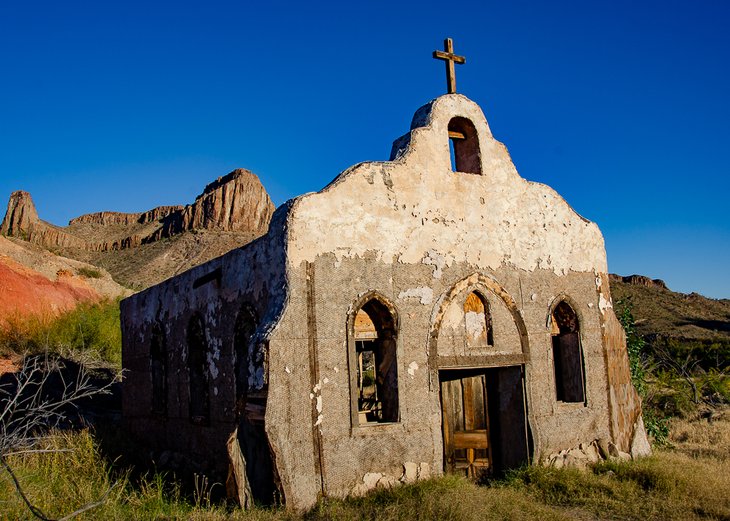 Fort Leaton State Historic Site, old homesteads, Hollywood movie sets, cinnabar mining, the 1908 Sauceda Ranch Big House, and remains of a wax factory that depended on a desert plant known as candelilla - these are a few places that history buffs can explore in Big Bend Ranch State Park. As the saying goes, "There's a lot of history in them thar hills," and longstanding conflicts about how best to use the land and river continue to this day.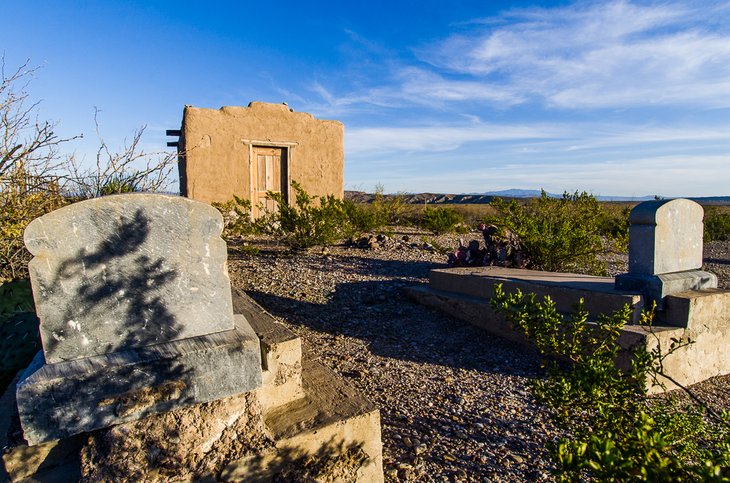 History is depicted in ancient pictographs. It's written in roads and trails, bridges and rock piles. Beginning with Indigenous people, farmers grew and traded squash, beans, and corn. Eventually this paradise was discovered and invaded by European colonizers. Ownership changed hands, land and water rights were disputed, and boundaries were withdrawn in new chapters of history. As a tourist and history buff, you, too, have a role in the never-ending story of the park's history.
14. Visit Sauceda Ranger Station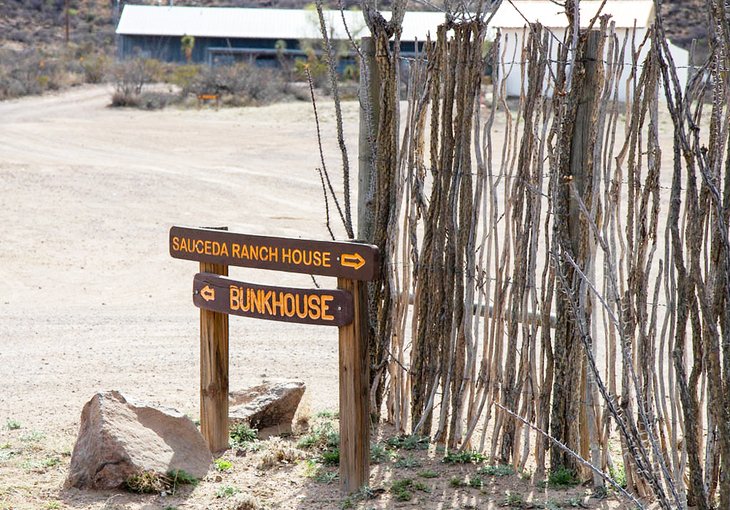 Sauceda Ranger Station is the least visited part of the park and for this reason, it has its own rewards in terms of peace and quiet. This is the jumping-off point for all kinds of activities including mountain biking, tent camping, hiking, and horseback riding.
From Sauceda, you can visit Las Cuevas (the yellow caves). East of Sauceda about 17 miles is El Solitario, a volcanic dome that rises to 4,619 feet above sea level. El Solitario means the lonely one or the hermit.
Travel to Sauceda - a former ranch and hunting lodge - located in the interior of the park, takes time and a measure of true grit. The road isn't paved, so don't even think about it if the thought of riding on washboard sets your back or teeth on edge. The only access in and out is the long, lonely drive of 27 miles, and it takes more than an hour to reach HQ. Talk to a ranger about access to accommodations at the Sauceda Bunkhouse.
Official site: https://tpwd.texas.gov/state-parks/big-bend-ranch
15. Tackle a 4WD Adventure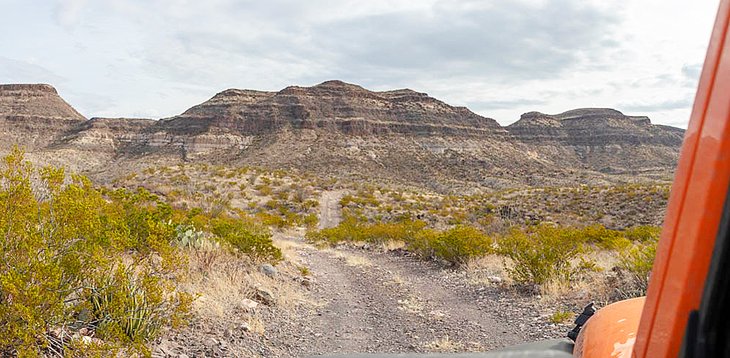 If driving high-clearance jeeps along 70 miles of "roads" that have seen better days kicks you into low gear, there's plenty of space to roam in Big Bend Ranch State Park. Except for the FM 170 River Road, all roads that pass within the park are gravel, and most are just plain dirt.
Before rolling out into the wild, speak to a ranger for a roadmap and information to navigate your ride within an extensive network of unmaintained dirt roads. These back-of-the-beyond byways are guaranteed to make your four-wheelers spin. Yeehaw!
Check out Roads to Nowhere, a guide to unmaintained 4X4 high-clearance roads in BBRSP for some more detailed information.
16. Go Fishing
Surprise, surprise, you can actually go fishing in a desert park. That's because a river runs through it. From small creatures the size of minnows to catfish, there are no less than 40 species that inhabit the Rio Grande River and its creeks. You're not likely to catch a whopper, but that doesn't take away from the lazy, hazy days-of-summer feeling that comes with launching a lure. Cast away and reel in your dream fish - hook, line, and sinker!
Map of Things to Do in Big Bend Ranch State Park, TX