16 Top-Rated Fishing Lakes in Texas
Author Anietra Hamper fished the inland lakes of Texas and the Gulf Coast for some of the top species in the Lone Star state.
Everything is bigger in Texas, and that includes the fish that come out of the state's more than 1,100 public lakes, each with unique characteristics that create ideal habitats for a wide range of species, from largemouth bass and catfish to crappie and alligator gar. Largemouth bass are the most popular sportfish for anglers in Texas because they are caught year-round.

The state's second most popular species is catfish. They can be caught in lakes, rivers, ponds, and reservoirs throughout the state. Texans target channel catfish for food and blue and flathead catfish for the trophy sizes that grow in many of the southern state's waters.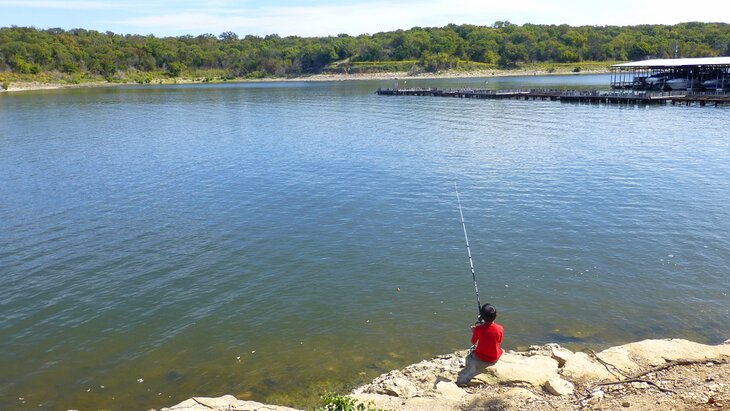 There are also numerous Neighborhood Fishin' community lakes and ponds in urban areas throughout the state that are stocked with channel catfish and rainbow trout. These fisheries are designed to offer convenient fishing opportunities and a way to introduce kids to the sport, with free fishing close to home.
Before you head out onto the water for some exciting lake fishing in Texas be sure to visit the Texas Parks and Wildlife Department website to review statewide fishing regulations and obtain a proper license. Find the top spots to cast your line with our list of the best fishing lakes in Texas.
1. Lake Conroe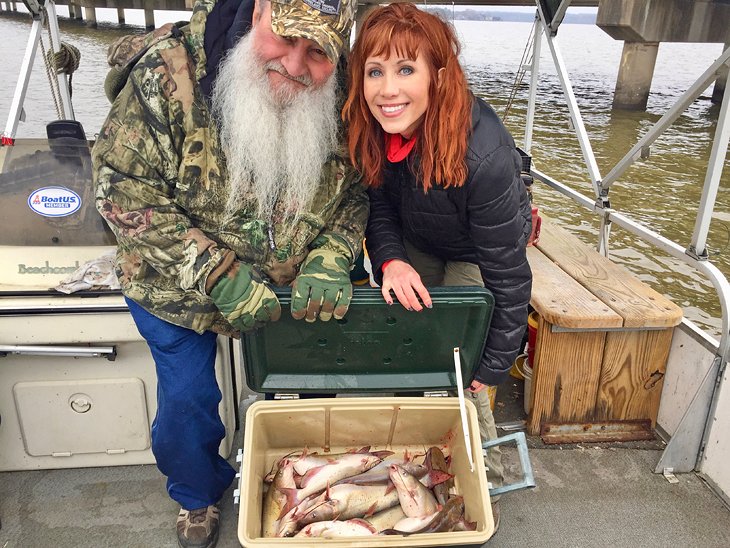 Lake Conroe is less than an hour's drive from Houston, and it is known for its catfish. Anglers come to target either large numbers of channel catfish for eating or trophy-size blue catfish for bragging rights. My guide, Darrell Taylor of Catfish Killer Professional Guide Services, a nickname he earned from his nearly 40 years guiding for catfish on the lake, takes clients out for both. We are targeting eating-size channel and blue catfish on this trip because that is why most clients come to Lake Conroe.

"The bottom of the lake is carpeted with catfish," Taylor says, referring to the sheer volume of catfish that live in the 22,000-acre lake. "They are the best-tasting catfish you can get because it is a clean lake. That is why so many people come to catch them."

Taylor sets me up with a casting rod and reel and a tub of his indulgently scented secret recipe Catfish Killer Cheese Bait. It applies like dough bait to the treble hook. Taylor tells me that his secret to pulling in the cats from this lake is positioning the bait in what he calls the "strike zone." It is two to three inches off the bottom. Any higher or lower than the strike zone, and the catfish keep going.

Our depth is 27 feet, which is a bit deeper than the average 20 feet in most areas of the lake. Some locations on Lake Conroe get to 70 feet deep. We pull in 15 channel catfish in the three- to five-pound range, which is excellent considering the slow bite caused by the cold front pushing through. Taylor says it is not uncommon for a full boat of clients to pull in over 100 catfish on a four-hour trip.
Anglers also target Lake Conroe for trophy-sized catfish, which requires trolling with fresh bait and much larger tackle. A local man recently caught a 67-pound blue catfish near the bridge where we are fishing. Most anglers catch and release the trophy-size catfish while keeping the smaller channel catfish to eat. We donate our catch to a local family for food.
An easy way to fish at Lake Conroe is to set up a home base at a hotel like SpringHill Suites Houston The Woodlands, so you are close to amenities to pick up snacks and drinks to take on your fishing trip and hire a local guide to meet you at the marina.
While we are specifically fishing for catfish from the boat, there are 157 miles of shoreline on the lake, so there is plenty of bank fishing available. Besides catfish, Lake Conroe has great fishing for black bass, hybrid stripers, white bass, and crappie.
After a long day on the water fishing, grab some barbecue at the Pacific Yard House in historic downtown Conroe, which is located inside a restored 1907 ice warehouse.
Best Time to Fish Lake Conroe: Catfish fishing in Lake Conroe is great year-round. If you are targeting crappie, the spring and early fall are the most productive times to catch them in decent numbers. Largemouth bass are best to target in the early spring and mid-to-late fall in shallower water around the boat docks and marinas.
2. Lake Fork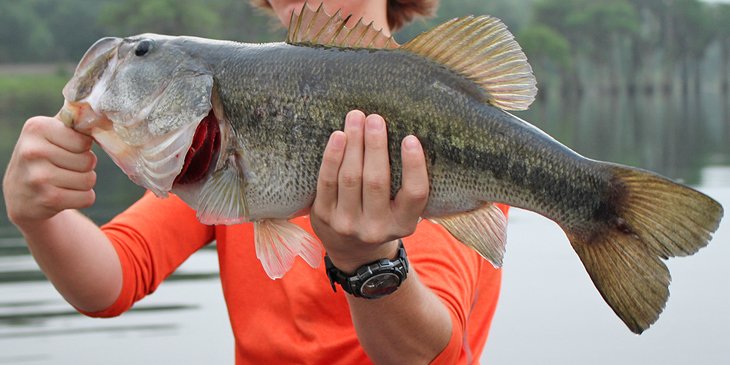 If you are on the hunt for trophy-sized largemouth bass then Lake Fork, located in east Texas, is where you need to throw your line. Lake Fork is one of the top bass reservoirs in the United States and a popular lake for serious bass anglers.
Here's why: the lake has produced 65 percent of the top 50 largest bass in the state of Texas. The restricted harvest regulations, ideal natural habitat, and the state's stocking program are factors that make this a prime location for targeting largemouth bass.

Other species that are great to target on this lake are crappie, white bass, and channel catfish. Many anglers fish the lake by boat but it is abundant with docks and bank access close to partially submerged trees and brush piles that are hot spots for bass.
Best Time to Fish Lake Fork: You can fish year-round on Lake Fork, but if you are targeting largemouth bass, you will have the most success in the winter, spring, and fall months. Crappies are good to target in the late spring and early fall near the bridges and in the deep water by the dam in the winter months.
3. Lake Buchanan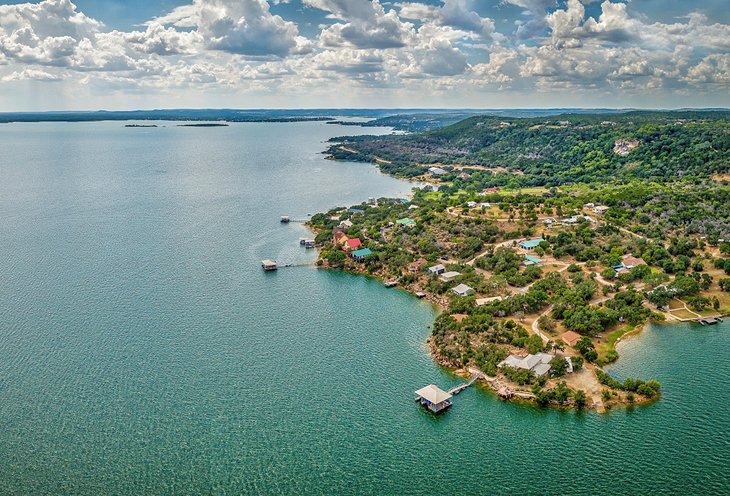 Lake Buchanan is popular among anglers looking for striped bass and white bass. Largemouth bass are also caught in the lake, but the stocked striped bass are what most come here for as they get quite large. The record striped bass for Lake Buchanan is 27.8 pounds.
Lake Buchanan gets to depths of 132 feet, so it also has terrific holes for blue, flathead, and channel catfish. It is located on the Colorado River in the town of Burnet.
There are a number of public access spots around the lake, with parking, restrooms, and bank fishing available. Anglers who want to wade during the spring spawning run can find access points within the Colorado Bend State Park.
Best Time to Fish Lake Buchanan: Beginning in February, the striped and white bass do an annual spawning run up the Colorado River, and this is one of the best times to try for them. Largemouth bass are best to target during the spring and fall months.
4. O.H. Ivie Lake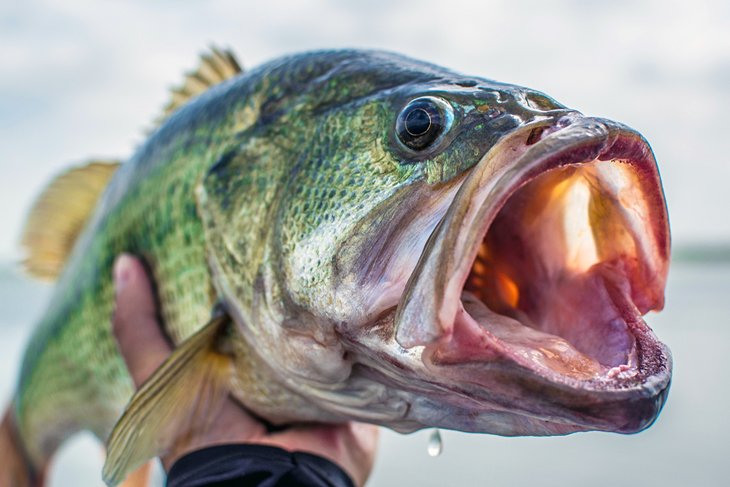 The O.H. Ivie Lake in west Texas is known for its largemouth bass. The reservoir's deepest area is 119 feet, but there are many bumpy drop-offs that enable anglers to reel in some trophy-sized fish. Besides largemouth bass, you can target catfish, white bass, and crappie.
There are three public access areas that have restrooms, parking, and boat ramps. You can fish by boat or from the banks as there are lots of structures and fallen timber around the reservoir that provide comfortable habitats for fish.
Best Time to Fish O.H. Ivie Lake: While you can fish O.H. Ivie Lake year-round, it is important to keep in mind the movement of bass as the water temperatures rise and the depth changes. In the summer months, bass move to cooler, deeper water, whereas at other times of the year, you can target them in the deeper pools, near brush piles and in the channels.
5. Lake Palestine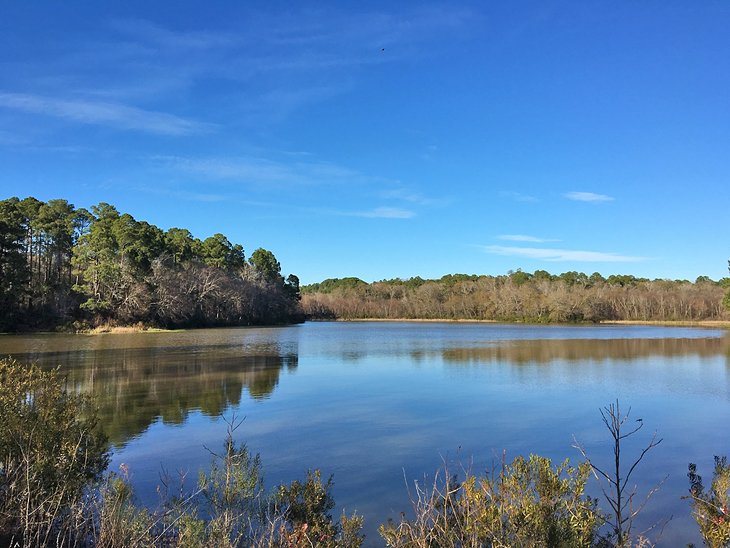 Catfish anglers know Lake Palestine in east Texas for producing some super-sized species. The state record flathead catfish, at 98.5 pounds, was caught in Lake Palestine. A 47-pound blue catfish, 25-pound carp, and a 58-pound smallmouth buffalo have also been pulled out of the lake by anglers.
The lake is a popular fishing spot for largemouth bass, spotted bass, white bass, and crappie. There is plenty of public access to Lake Palestine, including five boat ramps and a number of marinas in the area with parking, restrooms, and picnic areas.
Best Time to Fish Lake Palestine: Catfish can be caught year-round at the lake, whereas crappie are best targeted in the spring months. White bass and hybrid stripers are most active during the winter months and into the spring.
6. Falcon International Reservoir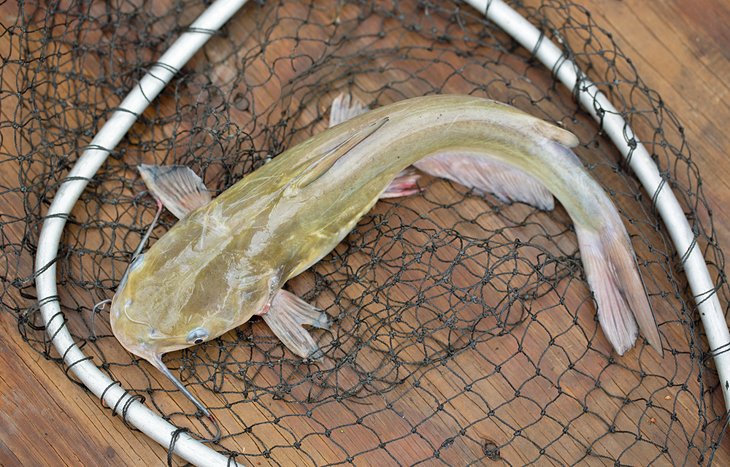 Deep in south Texas, located about 40 miles east of Laredo, is the Falcon International Reservoir. It is a great fishing location for anglers targeting a variety of species because of the diversity in the fishing options.
This is the main reservoir on the Rio Grande River. There are channels for bank fishing, a dam with a water depth of 110 feet, and healthy aquatic vegetation. Many anglers target largemouth bass, as the reservoir is considered one of the best lakes in the state for this species.
You can also catch an abundance of channel catfish, which are popular for eating. There are many public access areas, but one of your best will be at the Falcon State Park, which has public amenities, boat ramps, camping, and a picnic area.
Best Time to Fish Falcon International Reservoir: Generally the best times to fish the reservoir are in the spring, fall, and winter months, especially for largemouth bass. Summer months are the least productive due to the Texas heat, but catfish can usually be caught year-round.
7. Lake Texoma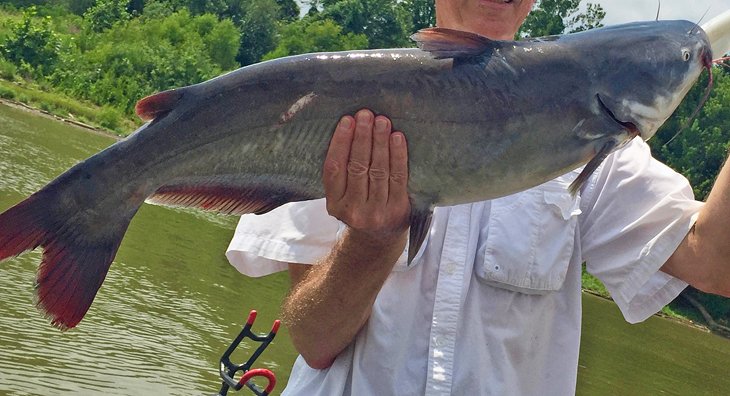 As one of the largest reservoirs in the United States, Lake Texoma is one of the most popular fishing lakes in Texas. It is located in north Texas on the border of Oklahoma. Anglers come here primarily because it is known as a world-class striped bass fishery. The second most targeted species are black bass followed by catfish.
Catfish anglers like Lake Texoma because of its trophy-sized blue catfish and channel catfish populations. The state-record blue catfish was caught in Lake Texoma, tipping the scales at 121.5 pounds.
You will find smallmouth bass, largemouth bass, white bass, striped bass, spotted bass, crappie, and bluegill in good numbers. Since two-thirds of Lake Texoma is in Oklahoma, you can only fish in the Texas section with a Texas fishing license.
Your best bet is to purchase a Lake Texoma license, then you can fish the entire lake. There are five public parks around the lake on the Texas side and plenty of public fishing assess and amenities at Eisenhower State Park.
Best Time to Fish Lake Texoma: To get in on the striper action, your best months are March through May, as the water temperatures begin to rise and the fish are schooling to feed.
8. Alan Henry Reservoir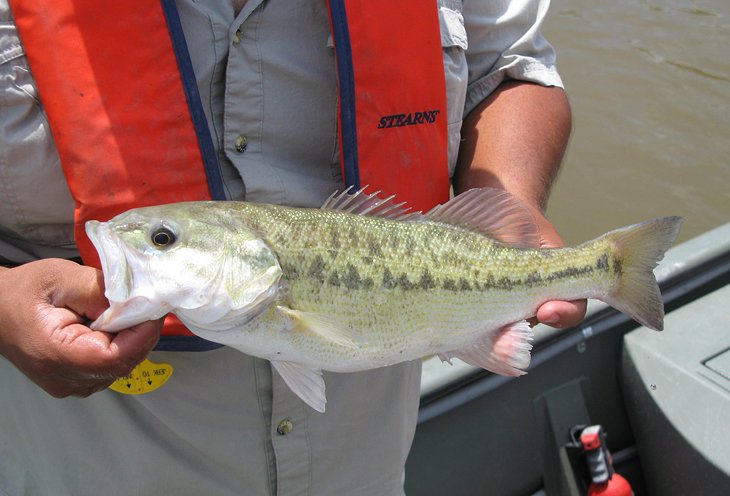 Largemouth bass are the most popular species to target in the Alan Henry Reservoir, but if you are looking for a unique day of fishing, hit this waterway for the Alabama bass species. They are the newest species of the black bass family.
The Alan Henry Reservoir is the only lake in Texas where Alabama bass are found. Other species that are popular in this lake are spotted bass, channel catfish, flathead catfish, and white crappie. There are some specific regulations on size limits for this reservoir, so you will want to research that for the species you are targeting before you go.
Alan Henry Reservoir is located 45 miles south of Lubbock near Justiceburg. The best public access is at the Sam Wahl Recreation Area. There is excellent parking, restrooms, and shoreline access for anglers. There are even docks and a public fishing pier available.
Best Time to Fish Alan Henry Reservoir: Spring is the best time to target bass on Alan Henry Reservoir, as the water temperature begins to rise. The spring and fall are ideal months to target crappie, which hold up around submerged timber and the fishing pier.
9. Granger Lake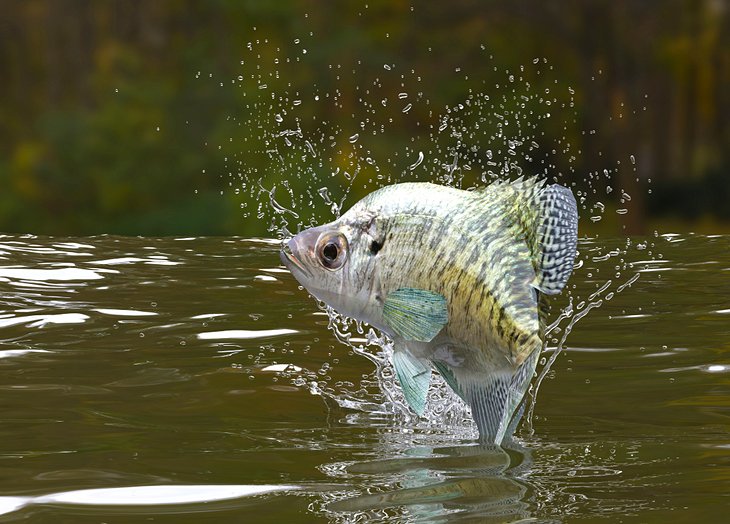 Anglers hit Granger Lake, located in Granger, just northeast of Austin, for crappie. They are not only found in large numbers here but also in large sizes. This lake has plenty of creek channels, which provide great cover, structure, and habitat to maintain healthy crappie populations.

Blue, flathead, and channel catfish are also good throughout the reservoir. The lake is shallow in comparison to some of the others in the state, with a maximum depth of 50 feet. There are nice public access areas with four parks operated by the U.S. Army Corps of Engineers around the lake. They each have shoreline access for fishing, parking, restrooms, and docks.
Best Time to Fish Granger Lake: The best time of year for crappie fishing at Granger Lake is in the spring, when they are most active. White bass fishing is also good in this lake in spring, in the San Gabriel River and the Willis Creek sections. You can usually find the white bass running in schools.
10. Meredith Reservoir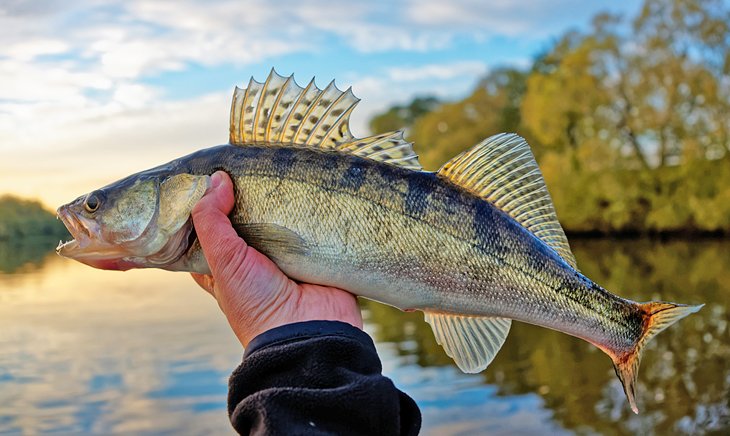 The Meredith Reservoir is located about 45 miles northeast of Amarillo on the Canadian River. It is different from many of the other lakes in Texas because its terrain is steep, with rocky banks, ledges, and drop-offs, as well as rock piles that can be difficult to navigate.
The National Park Service manages Meredith Reservoir's incredibly diverse ecosystem, which makes it a prime habitat for a range of species that prefer a rocky environment. The top species to target in Meredith Reservoir is walleye, but smallmouth bass can be caught in the four-pound range.
There are smaller populations of largemouth bass, crappie, white bass, channel catfish, and flathead catfish. There is ample public access, with 13 developed areas around the lake with parking and restrooms, but shoreline fishing access is limited. There are five boat ramps and many picnic areas.
Best Time to Fish Meredith Reservoir: The best time to target walleye in the reservoir is from April through June, when they are the most active. Spring is also the best time for targeting smallmouth bass, when you can find them hanging near the drop-offs and shorelines.
11. Choke Canyon Reservoir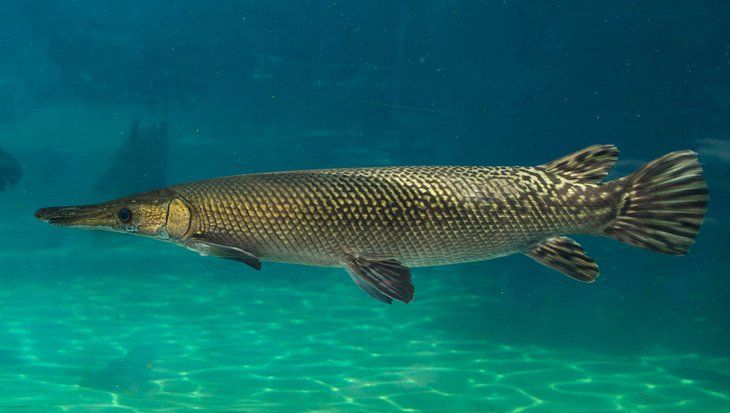 The Choke Canyon Reservoir is most popular for largemouth bass, which is the lake's top species to target in the spring, fall, and winter. The reservoir is located on the Frio River watershed near Corpus Christi. Anglers also come here for alligator gar. While they are not found in abundance, they are here, and this is one of the top lakes to try for them.

Anglers also target blue catfish throughout the reservoir and white bass in the Frio River channel during the cooler months. The lake has varied habitats, from steep rocky banks to channels and aquatic vegetation like Hydrilla. There is a public park with access to parking, picnic areas, and shoreline fishing.
Best Time to Fish Choke Canyon Reservoir: Largemouth bass are best targeted in the spring, fall, and winter before warm summer temperatures drive them to deeper water and cover. White bass are best targeted in the winter months, from December through February, near the Frio River channel where they school before heading upstream to spawn.
12. Sam Rayburn Reservoir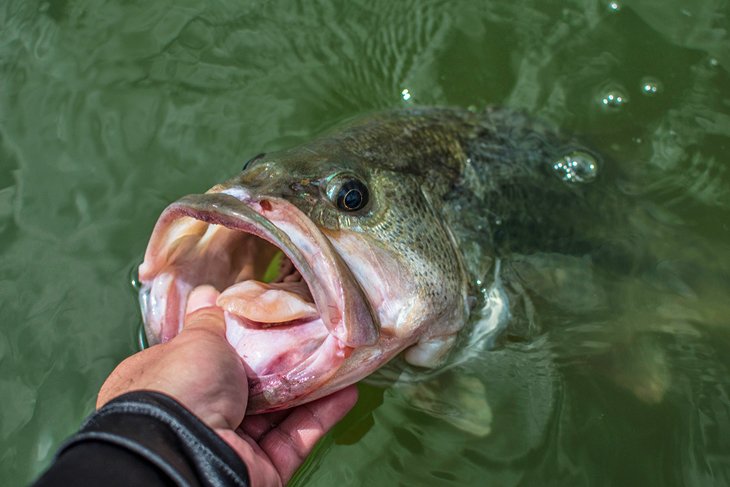 The Sam Rayburn Reservoir in east Texas near Jasper has healthy populations of largemouth bass, crappie, and catfish. There are also large numbers of bluegill. The lake goes to 80 feet in depth and produces some sizable catches.

The lake's record largemouth bass is 16.8 pounds, and the record flathead catfish out of Sam Rayburn Reservoir is 74 pounds. There is a lot of vegetation like hydrilla that provides healthy fish habitat. One of the reasons the Sam Rayburn Reservoir is popular, besides the ample fishing opportunities, is the convenience of public access areas. There are more than a dozen parks around the reservoir, multiple boat ramps, and nearby concessions.
Best Time to Fish Sam Rayburn Reservoir: This is a great year-round fishery, as you can target largemouth bass, crappie and catfish at almost anytime. The fish are going to be most active for longer periods of time in the day in the fall, winter, and spring.
13. Caddo Lake
Besides the exciting fish action, the appeal of Caddo Lake is its stunning beauty as one of Texas' only natural lakes. The flooded cypress forest, located on the Texas-Louisiana state line, has a pristine landscape with shallow water that provides ideal habitat for several species of fish, including largemouth, white, and spotted bass.
Caddo Lake is most popular for its largemouth bass. It is not uncommon to catch trophy-sized bass weighing in at over eight pounds. The lake also has healthy populations of crappie, sunfish, white bass, channel catfish, blue catfish, flathead catfish, and chain pickerel. Aquatic vegetation that covers about 95 percent of the lake gives cover-seeking species plenty of places to hide.
Best Time to Fish Caddo Lake: The spring months, namely March, are best for going after trophy bass. Winter and early spring are ideal for crappie, white bass, and chain pickerel. Late spring and early summer are great for catfish and sunfish.
14. Lake Amistad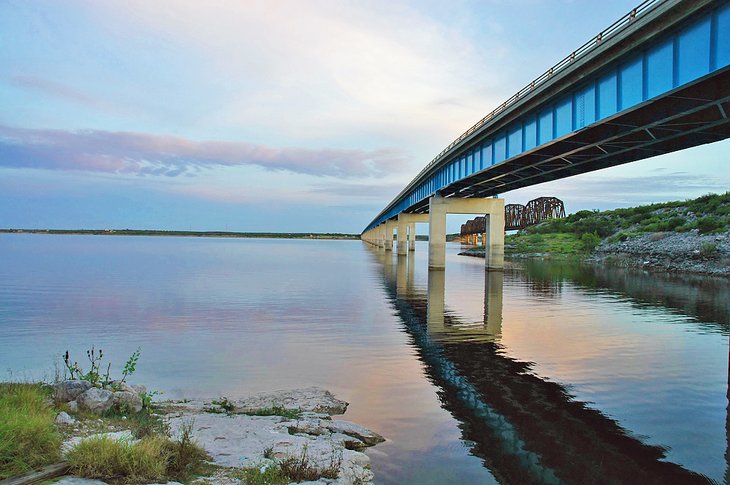 Lake Amistad (Amistad Reservoir) is one of the top bass fishing lakes in Texas for both numbers and size. The reservoir has rocky shorelines and rock ledges and drop-offs throughout, providing great structure for fish. Anglers gravitate to this lake for the largemouth bass, but the channel and blue catfish are also abundant. Flathead catfish are increasing in numbers.
Other species to catch in Lake Amistad are white, and smallmouth bass. Striped bass are notable here because they can be caught in trophy sizes.
Best Time to Fish Lake Amistad: The fall, winter, and spring months are best for targeting largemouth bass. January through March are best for white bass during the spawning runs.
15. Toledo Bend Reservoir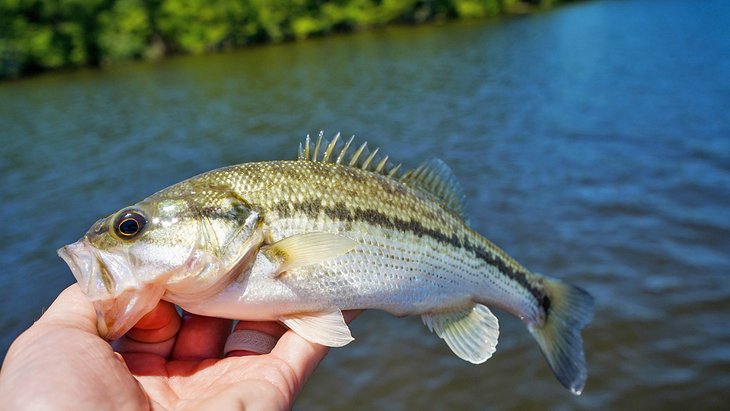 The Toledo Bend Reservoir runs along the Texas-Louisiana state line and offers anglers excellent year-round fishing for largemouth bass and crappie. Other species in Toledo Bend Reservoir included catfish, bluegill, and redear sunfish.
The reservoir's gamefish tend to hover around its abundant aquatic vegetation and standing timber, especially in the creek channels. Throughout the reservoir, there are terrestrial bushes that offer excellent fish cover, especially in higher water conditions.
Best Time to Fish Toledo Bend Reservoir: The fall, winter, and spring months are productive for largemouth bass, which gravitate to the cooler, shallower water. White bass are most prevalent in the spring during the spawning run, and crappie are caught year-round. Channel, blue, and flathead catfish are also caught year-round throughout the reservoir.
16. Lake O' The Pines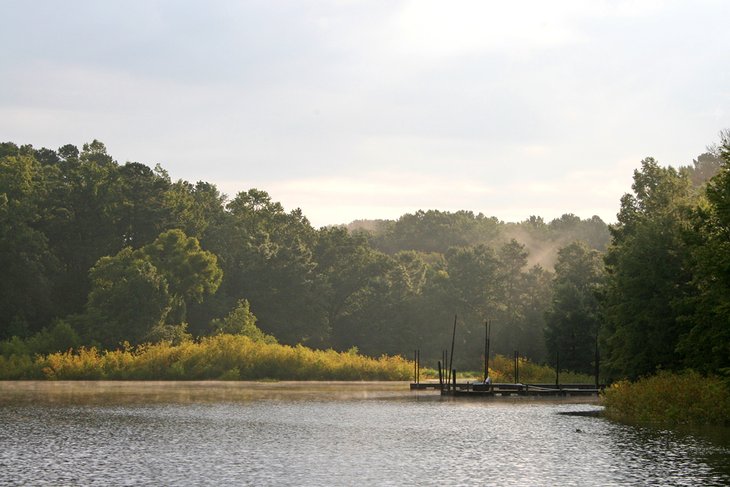 There are diverse species throughout the Lake O' The Pines, which is nice for anglers who like to go after a variety of fish. The lake has nice populations of largemouth bass, sunfish, and catfish. Anglers can often fish large sizes of black and white crappie throughout the lake. There are also abundant populations of largemouth bass, as well as channel, blue, and flathead catfish.
Best Time to Fish Lake O' The Pines: This is a fantastic lake for year-round fishing for a variety of species. In October, when the lake temperature starts to drop, the fish start moving into the creek channels and drop-offs. Once December arrives, crappie are in the deeper water, where they will remain until the water starts to warm in the spring.
Map of Fishing Lakes in Texas
More Related Articles on PlanetWare.com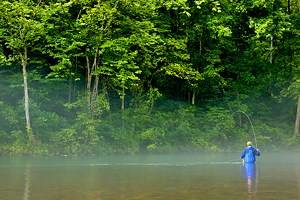 Fishing Destinations: Anglers looking to explore other states should see our articles on Trout Fishing in North Carolina, Trout Fishing Lakes and Rivers in Missouri, Trout Fishing in Oklahoma, and Fly Fishing Destinations in Tennessee.