10 Top-Rated Tourist Attractions in Roswell, New Mexico
Located in southeastern New Mexico, Roswell is most famous for the 1947 "Roswell Incident": a purported UFO crash that some suspect was covered up by the military. The town and many of the local businesses take advantage of the UFO theme by plastering quirky images of aliens on storefronts and lampposts. But the small town has a deeper history to discover.
Established in 1870, Roswell now has five museums that include UFO exhibits, armament displays, antiques, and artifacts. There are also a number of outdoor attractions with state parks and plenty of things to do nearby. Find out more about the best places to visit with our list of the top attractions in Roswell, New Mexico.
1. Discover if the Truth is Out There at the International UFO Museum and Research Center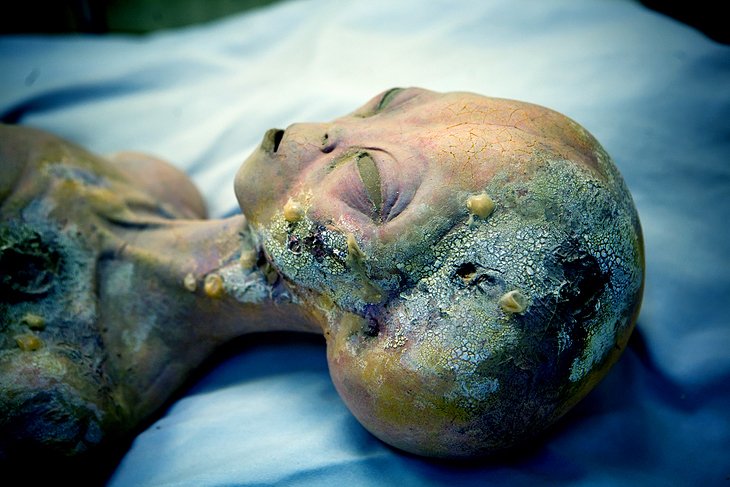 When the International UFO Museum and Research Center opened in 1992, few imagined that it would become such an international attraction for tourists and UFO fanatics. One of the most powerful parts of the museum is how it is organized. With no attempt to sway the visitor one way or another, the museum encourages people to question, doubt, research, and learn on their own. Exhibits and information are not limited to the "Roswell Incident," and the museum also presents information about alleged abductions, crop circles, and the infamous Blue Book.
If you want a unique sightseeing experience, take one of the many Roswell UFO tours led by various groups in the area, which typically visit notorious sites like Building 84 at the Roswell Army Air Field, the site that many believe once held the remains of the downed UFO and its occupants.
Address: 114 N Main Street, Roswell, New Mexico
Official site: www.roswellufomuseum.com
2. Visit the Roswell Museum and Art Center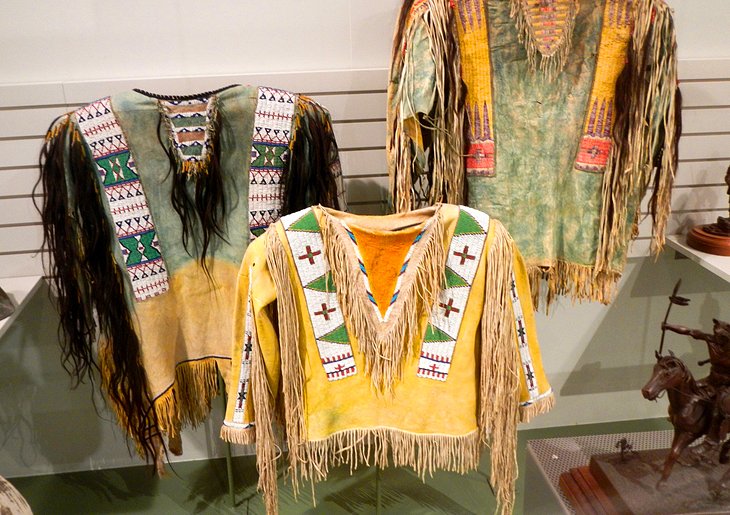 Featuring exhibits on the history and art traditions of the American Southwest, the Roswell Museum and Art Center hosts a fine array of sculptures, artifacts, prints, painting, and photographs. Originally a product of the New Deal Work Projects Administration (WPA), the museum's collection includes works from early modernists, the Taos and Santa Fe art colonies, Native American arts, WPA art, and Spanish colonial works.
The museum is also home to interesting historical collections, including artifacts and exhibits that explore the history of the American West, as well as an extensive area dedicated to Dr. Robert Goddard's work on liquid-propelled rockets. The 120-seat Robert H Goddard Planetarium is an adjoining wing to the Roswell Museum and Art Center. The Planetarium presents star shows and multimedia programs, including UFO exhibitions and science programs for children.
Address: 100 W 11th Street, Roswell, New Mexico
Official site: www.roswellmuseum.org
3. Spend a Day at Bottomless Lakes State Park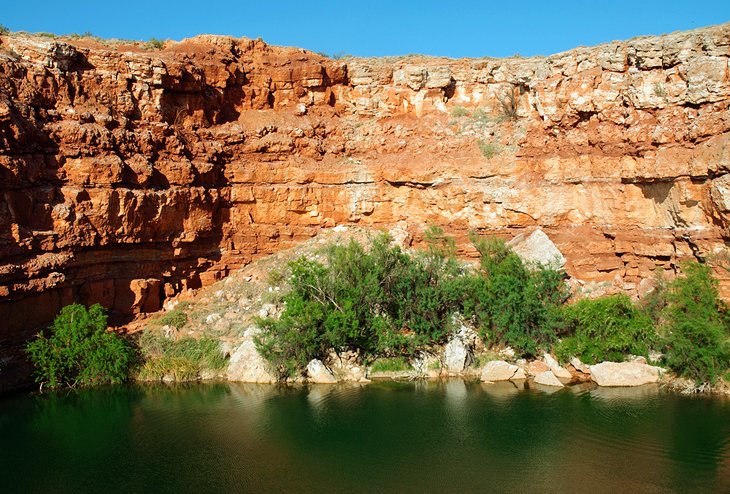 A state park located along the Pecos River about 15 miles southeast of Roswell, Bottomless Lakes is made up of a series of nine small and very deep lakes. Carved from limestone by the river and aquifer, the lakes are actually ancient caves that have collapsed. Technically they are known as cenotes, and are fed by underwater seeps.
New Mexico is hot in the summer, and the lakes are the perfect place to visit for a swim and a picnic on a scorching day. Other things to do in the park include fishing, non-motorized boating, SCUBA diving, a 3.3-mile-long mountain bike trail, and extensive bird-watching opportunities. The park also has a good campground with a mixture of 42 serviced and unserviced sites.
Address: 545 Bottomless Lakes Road, Roswell, New Mexico
Official site: http://www.emnrd.state.nm.us/SPD/bottomlesslakesstatepark.html
4. Tour the Anderson Museum of Contemporary Art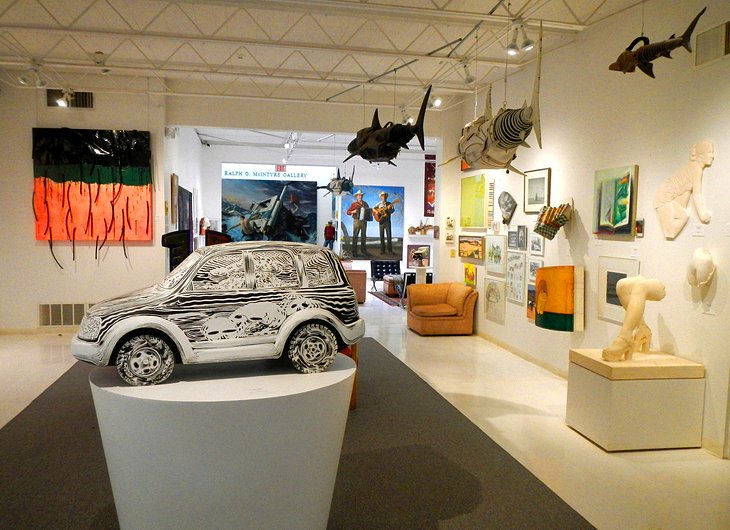 With more than 200 pieces of art spread over nine galleries, the Anderson Museum of Contemporary Art features the work of participants from the Roswell Artist-in-Residence Program, which began in 1967. The museum's collection has over 500 pieces and is a diverse and eclectic one, featuring photographs, drawings, prints, paintings, and sculpture. It offers an excellent opportunity to see the evolution of contemporary art over the last 45 years.
Works of art in various mediums are spread out over 12 galleries in 22,000 square feet of exhibition space.
Address: 409 E. College Blvd, Roswell, New Mexico
Official site: roswellamoca.org
5. Walk the Trails or Drive through Bitter Lake National Wildlife Refuge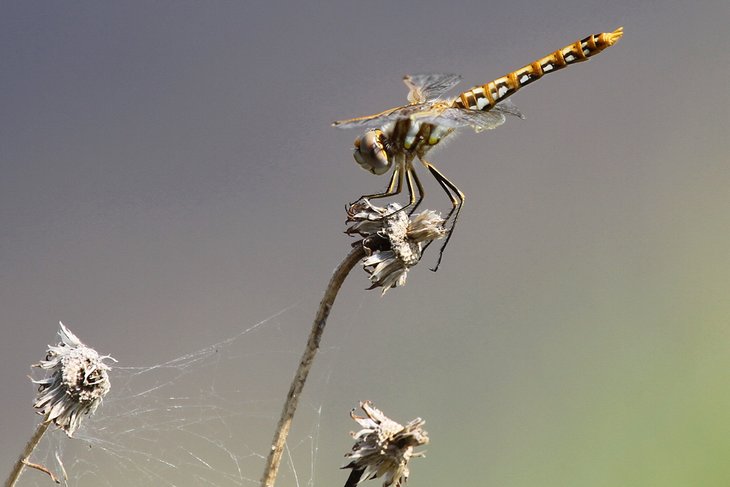 Just outside Roswell lies one of New Mexico's most unique and rare ecosystems. A mash-up of the Chihuahua desert, shortgrass prairie, and the Pecos River combine to provide a year-round supply of water that attracts a diverse array of animals.
Over 350 species of birds call the Bitter Lake area their home, and it's this incredible fact that draws birders from across the country and around the world. It's not all about birds; the refuge is also a hot spot for the more than 100 species of dragonflies and damselflies, also known specifically as odonates.
The area away from Bitter Lake is a fascinating topography of sinkholes, sand dunes, plateaus, and marshy areas. Throughout the refuge, you'll also find 59 species of mammals, 20 duck species, and 24 different kinds of fish. Keep an eye out for one of the 50 species of reptiles and amphibians sunning themselves on a log or rock.
The best way to experience the refuge is to take one of the three walking trails or one of the two longer hiking trails. Most of the trails leave from the scenic eight-mile-long Wildlife Drive that leaves from the main visitor center.
Official site: https://www.fws.gov/refuge/Bitter_Lake/
6. General Douglas L. McBride Military Museum
The General Douglas L. McBride Museum includes exhibits about military history and the history of the New Mexico Military Institute (NMMI) and is also home to the NMMI Hall of Fame, which recognizes the institution's most accomplished alumni.
Collections include examples of firearms, uniforms, insignia, decorations, and other historic items, as well as exhibits that further explain relevant topics. The museum is located in Luna Hall on the NMMI campus and is open to the public at no charge.
Address: 101 W College Blvd, Roswell, New Mexico
7. Historical Center for Southeast New Mexico
This institution is located in the century-old home of Mr and Mrs James Phelps White, one of the most important families in the history of southwestern New Mexico. The house has been restored to its original condition and is on the National Register of Historical places. It's one of Roswell's best museums and a valuable insight into life on the southern prairies in days gone by.
A new building, located right next door to the museum, hosts a priceless collection of historical archives, including 11,000 photographs.
Address: 200 N Lea Ave, Roswell, New Mexico
Official site: www.roswellnmhistory.org
8. Take the Family to the Spring River Park and Zoo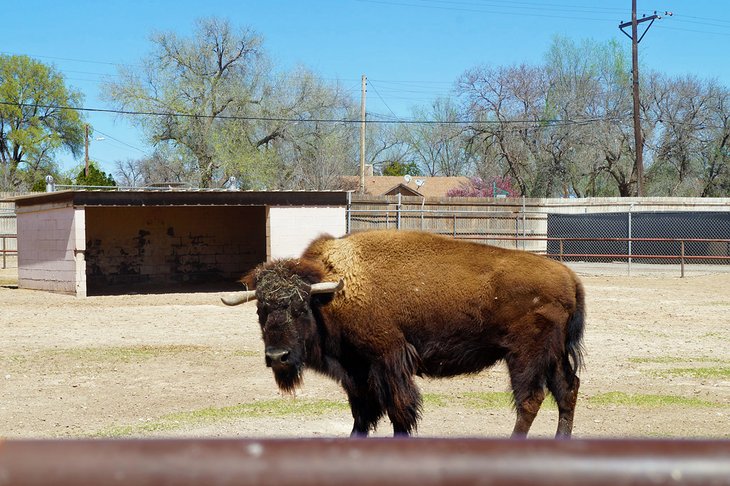 Covering about 34 acres, the Spring River Park encompasses several habitats, a children's zoo, miniature train, antique wooden horse carousel, and a trail system that features native species. The Capitan Trail educates visitors about the Pecos River system, native wildlife, and the southern Great Plains ecosystem - including prairie dogs and burrowing owls.
The children's zoo has a variety of animals including lemurs, miniature horses, and pygmy goats, and the zoo's ranch area includes miniature horses and Texas Longhorn cattle, while South American llamas graze around the perimeter.
Address: 1306 E College Blvd, Roswell, New Mexico
Official site: https://roswell-nm.gov/1382/About-the-Zoo
9. Explore the Roswell Historic District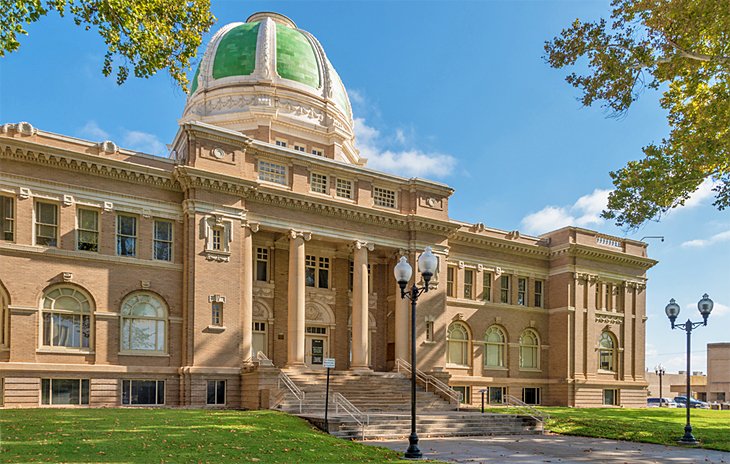 The historical Society for Southeast New Mexico offers a free walking tour brochure that leads visitors past some of the city's most remarkable historic homes. Roswell's oldest homes represent a surprisingly diverse range of architectural styles, including Hipped Box, Queen Anne, Tudor, Colonial Revival, Italianate, Mission Revival, and Spanish Pueblo Revival.
Roswell is also home to some architecturally significant public buildings like the Gothic revival First Presbyterian Church. The Neoclassical Chaves County Courthouse on Main Street opened in 1911 and is known for its green tiled dome and tile floors, enormous entry doors, and decorative plasterwork. The New Mexico Military Institute is also an impressive site, designed in Military Gothic style with crenelated parapets and decorative brick designs.
Official site: www.roswell-usa.com/historic
10. Walker Aviation Museum
Located in a wing of the Roswell International Airport, the Walker Aviation Museum is fun to visit while waiting for a flight or heading to your hotel. The museum's exhibits focus on the role of Walker Air Force Base as an arm of the Strategic Air Command during the cold war between 1945 and 1955 while the base was active. Although small in size, the museum is packed with interesting artifacts and information.
Collections include an extensive number of model military aircraft, a flight jacket, and an array of WWII-era firearms including Japanese rifles and bayonets, as well as German and Russian weapons. Other exhibits feature flight and communications equipment, uniforms, videos, and documents. There are also displays that focus on daily life at the Roswell Air Base, featuring mementos like movie ticket stubs and other memorabilia from the 1940s and 1950s.
Address: 1 Jerry Smith Circle, Roswell, New Mexico
Official site: www.wafbmuseum.org
Roswell, NM - Climate Chart
Average minimum and maximum temperatures for Roswell, NM in °C
J
F
M
A
M
J
J
A
S
O
N
D

13

-4

17

-2

21

2

26

6

30

12

34

17

35

19

33

18

30

14

24

8

18

1

13

-4

PlanetWare.com
Average monthly precipitation totals for Roswell, NM in mm.

10

10

9

15

33

41

51

59

50

33

14

15