New Mexico in Pictures: 19 Beautiful Places to Photograph
Wild and wonderful, New Mexico is filled with beautiful places to photograph. The Land of Enchantment, as New Mexico refers to itself, is home to huge stretches of wide-open spaces and wild landscapes, like the endless dunes at White Sands National Monument and the straight-out-of-an-old-Western backdrop at Red Rocks Park. It also boasts charming and beautiful small cities like Santa Fe and Taos that look like nowhere else in the U.S. and are filled with hundreds of years of history, culture, and art.
1. White Sands National Monument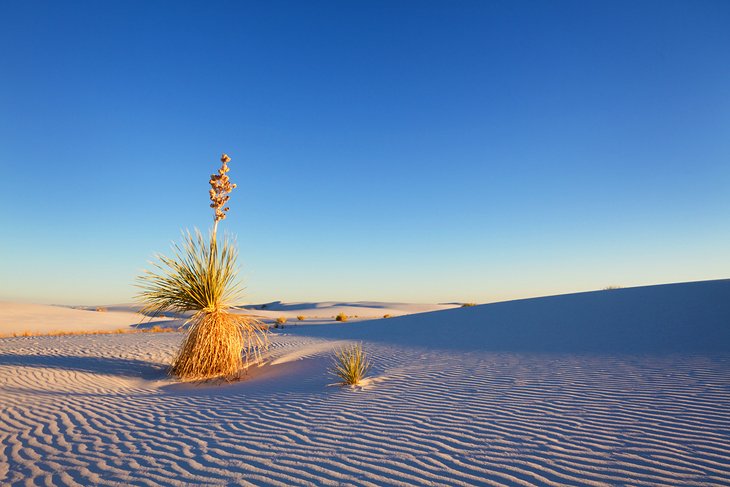 The ethereal landscape at White Sands National Monument is beautiful anytime of day, but visiting as the sun is setting (pictured above) is truly spectacular. White Sands is like nowhere else on the planet. The national monument in southern New Mexico features a 275-square-mile area of huge wave-like glittering white sand dunes in the middle of the desert.
2. Taos Pueblo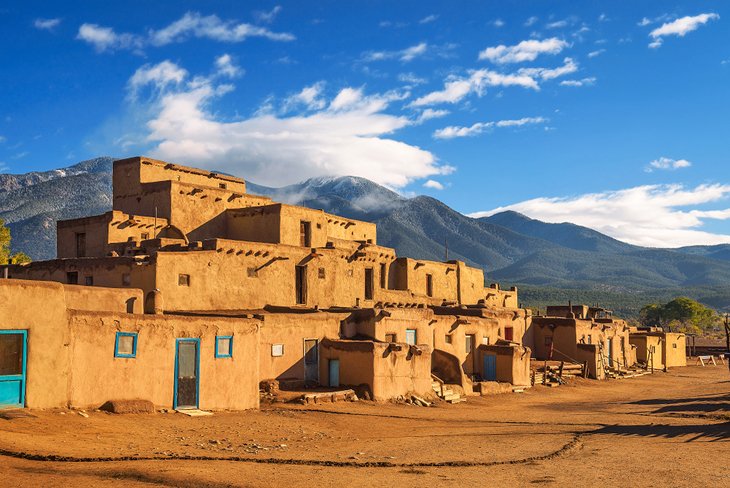 One of the oldest continuously inhabited settlements in the U.S., the Taos Pueblo (pictured above) has been designated a UNESCO World Heritage site. The all adobe architecture set against a high desert meets mountain backdrop is striking.
3. Bandelier National Monument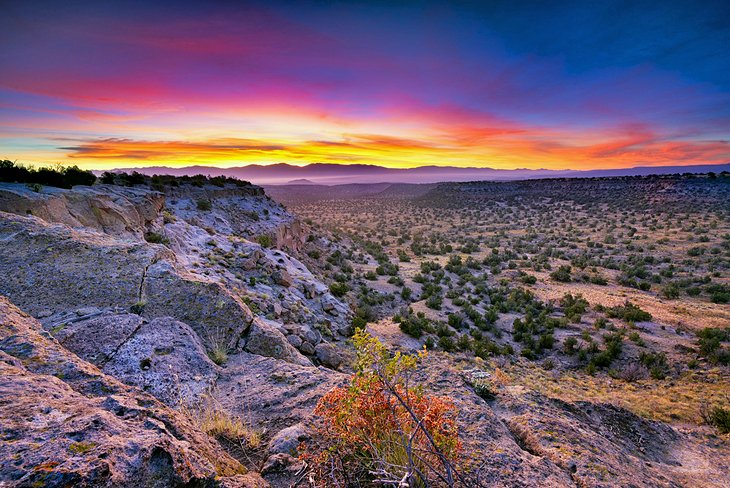 Just outside Los Alamos in northern New Mexico, Bandelier National Monument is especially beautiful at sunrise (pictured above) and sunset, when the sky blazes a rainbow of colors and makes the surrounding rocky desert landscape glow. The park in canyon and mesa country also preserves the ruins of ancient Ancestral Puebloan dwellings built here some 11,000 years ago.
4. Santa Fe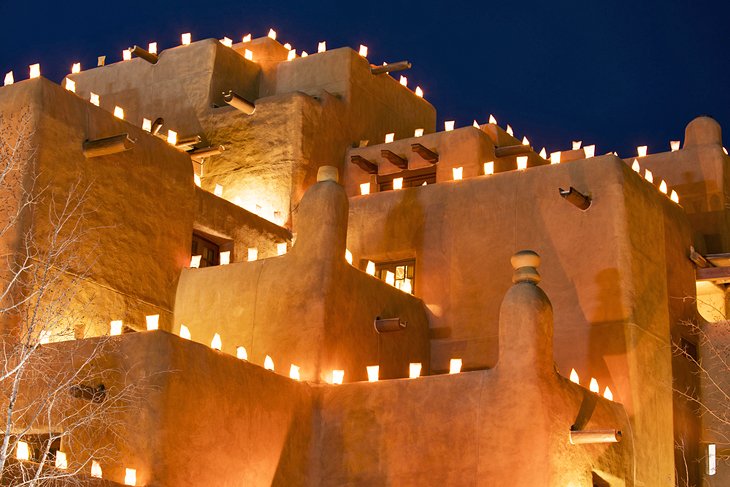 The all adobe city of Santa Fe looks straight out of a film set with its matching architecture and narrow, winding streets branching off a big grassy main square. After dark in the festive season, you'll find the entire city twinkling with the light of farolitas (pictured above) on and around the adobe buildings.
Accommodation: Top-Rated Resorts near Santa Fe, NM
5. Shiprock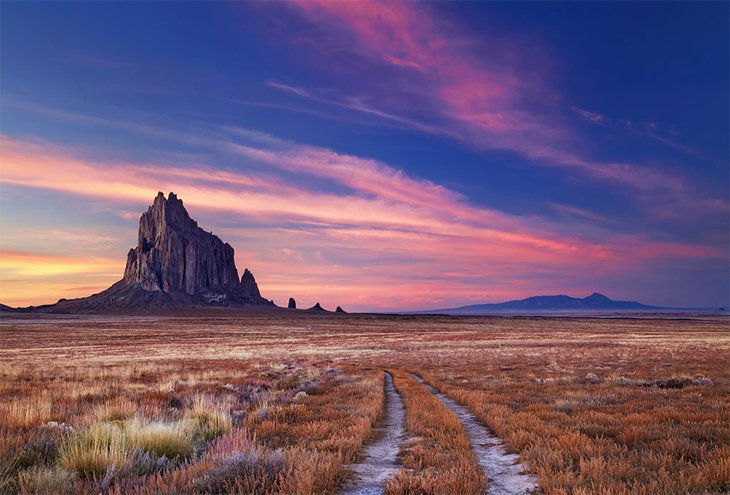 This iconic volcanic rock formation rises up 1,583 feet from the high desert plain in New Mexico's Four Corners region (where New Mexico, Colorado, Arizona, and Utah all meet). On Navajo Nation land, Shiprock is spectacular at sunset, when it is framed against a fiery orange, pink, and purple sky. This is one sight best photographed from a distance.
6. Las Cruces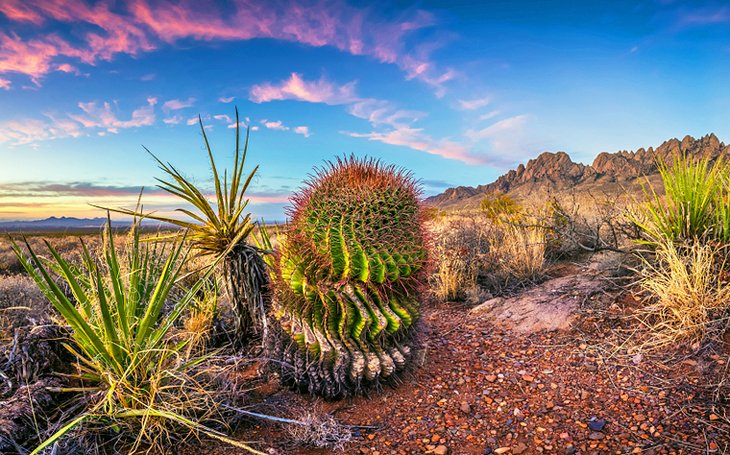 In southern New Mexico, the town of Las Cruces is surrounded by serene and stunning desert landscapes like the scenery pictured above. Less explored than the state's northern cities like Santa Fe and Albuquerque, Las Cruces is perfect if you're looking for a remote back-to-nature style escape.
7. Red Rocks Park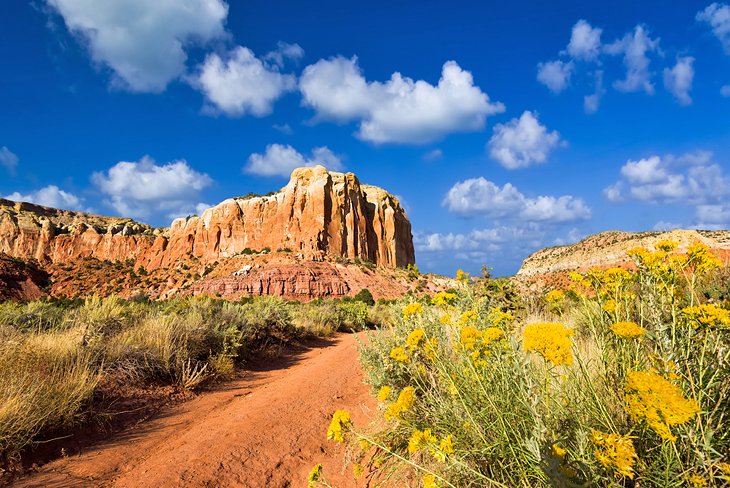 Just outside Gallup in western New Mexico, Red Rocks Park looks a lot like an old Western film set. The red cliffs here are more than 200 million years old. The park is filled with hiking and biking trails.
8. Albuquerque during the Hot Air Balloon Fiesta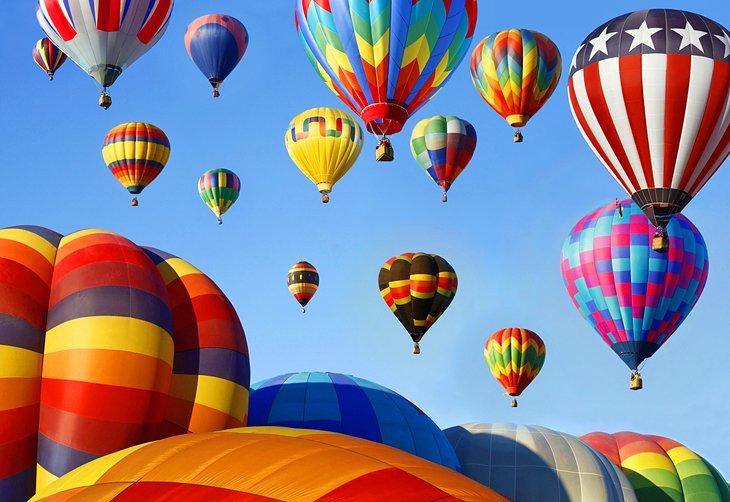 Whether you witness it from the ground or rising up with hundreds of other balloons participating in the mass ascension (pictured here), Albuquerque's annual Hot Air Balloon Fiesta is a beautiful sight. It's held in early October, when the sky is usually clear, blue, and sunny, and the colorful balloons juxtaposed against a mountainous backdrop makes for a gorgeous photo.
9. Kasha-Katuwe Tent Rocks National Monument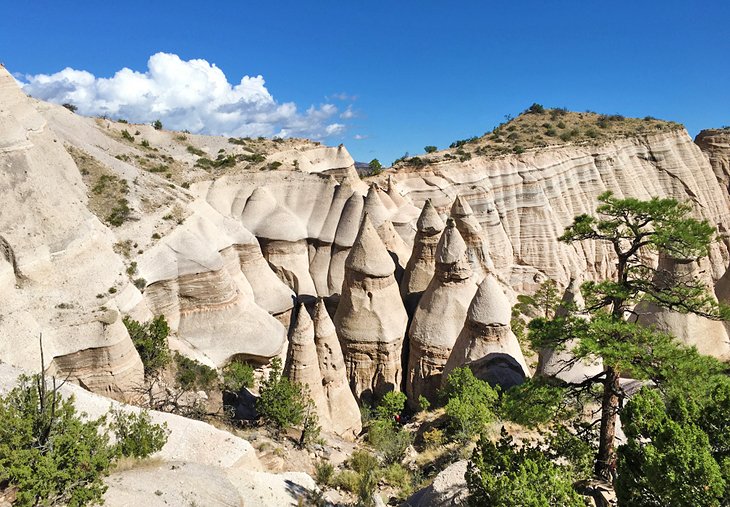 The scenery at Kasha-Katuwe Tent Rocks National Monument is remarkable. And like so many other New Mexico destinations, it is truly one of a kind. Here, you can hike a network of trails through a landscape of bewitching cone-shaped rock formations created by volcanic eruptions some seven million years ago.
10. Fall in Abiquiu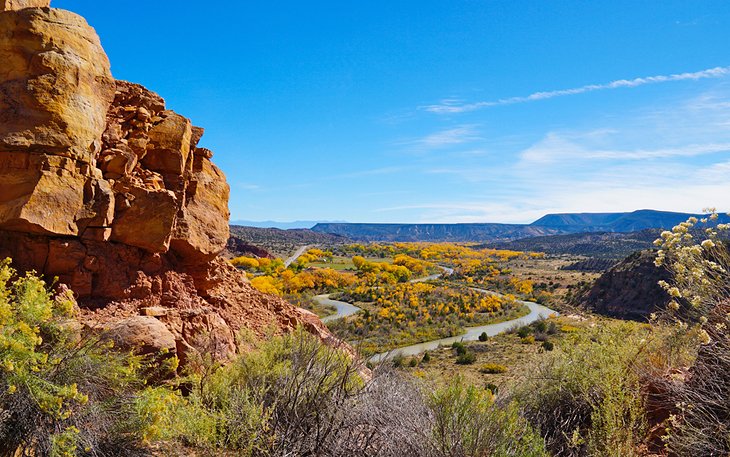 In northern New Mexico, about 50 miles north of Santa Fe, Abiquiu's beauty inspired the artist Georgia O'Keeffe for almost four decades. The acclaimed artist, best known for her large-format paintings of flowers and landscapes, called Abiquiu home from 1949 until 1984. Abiquiu is particularly fetching in autumn (pictured above).
11. Pecos National Historic Park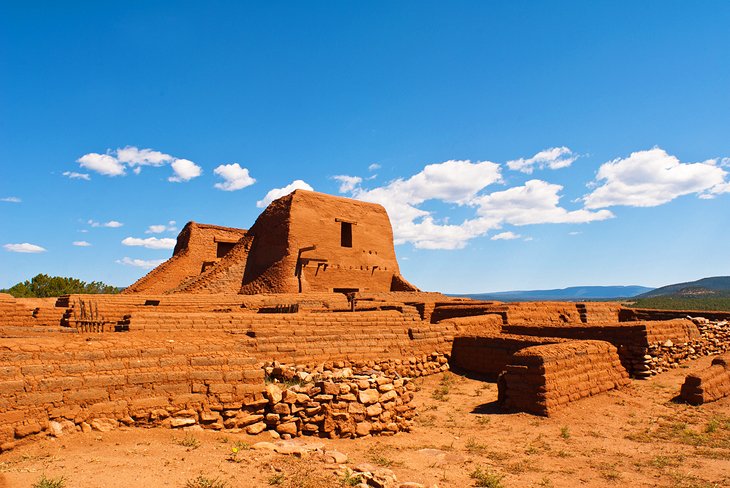 Protecting the remains of a civilization created by the Ancestral Puebloan people, who called the area around Pecos National Historic Park home for more than 7,000 years, the well preserved ruins here are an impressive sight. Located southeast of Santa Fe, at one time Pecos was the largest Native American pueblo in the Southwest.
12. Carlsbad Caverns National Park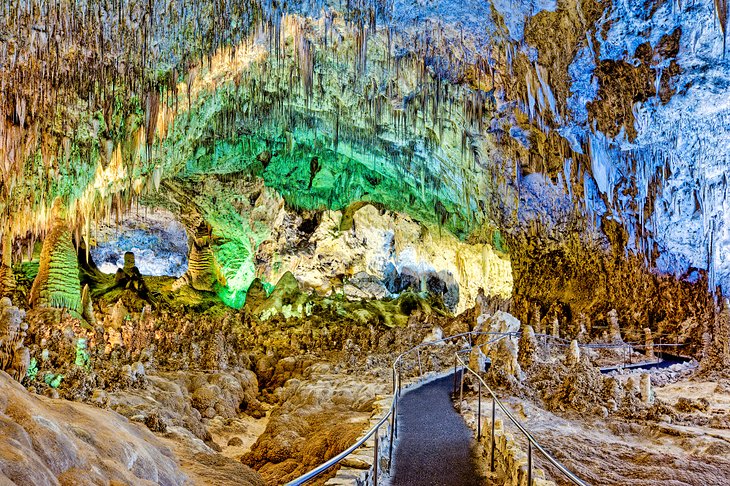 In southern New Mexico's Chihuahuan Desert, Carlsbad Cavern National Park features more than 100 different caves, including the one pictured above. The namesake cavern features a huge underground "Big Room," with impressive Stalactites hanging from its roof. You can tour the caverns on an organized tour or explore the park from above-there are hiking trails and driving loops.
13. El Santuario de Chimayo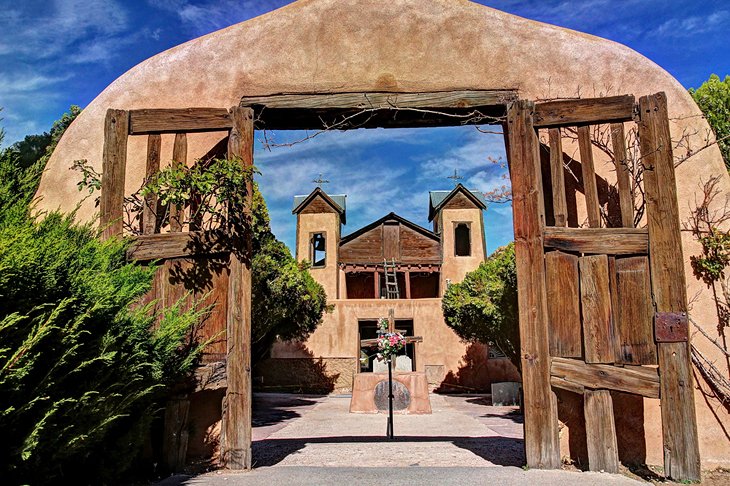 The picture-perfect mountain town of Chimayo in northern New Mexico is home to the El Santuario de Chimayo, which is a famous Roman Catholic Church. Constructed in the early 1800s, the shrine here is believed to having healing powers and attracts almost 300,000 religious pilgrims each year during Holy Week around Easter.
14. Sangre De Cristo Mountains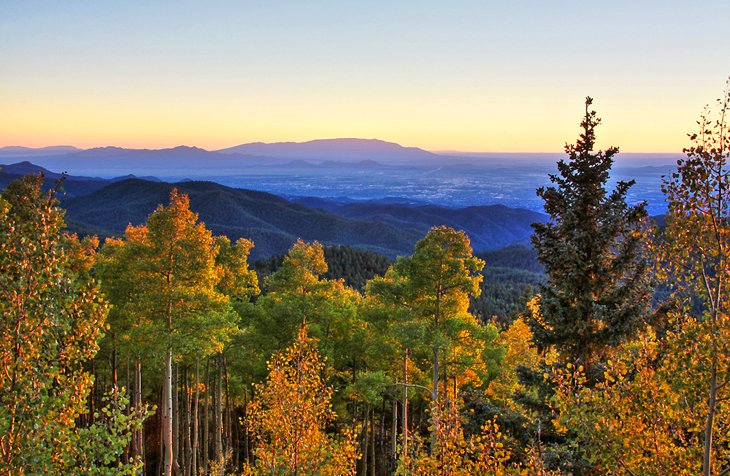 A subrange of the Rocky Mountains, the Sangre De Cristo range run between southern Colorado and northern New Mexico. In winter, they play host to New Mexico's top ski areas, but in fall (pictured above) they are wonderful hiking playgrounds that put on a fiery and beautiful color show.
15. Valles Caldera National Preserve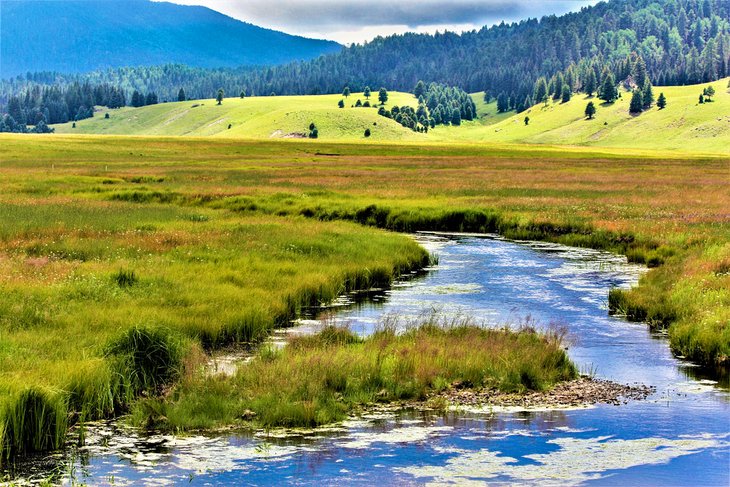 This beautiful place to photograph is one of the few places where you can get images of a volcano (a dormant one) in the United States. The landscape, formed by violent, ancient volcanic eruptions, includes mountains, meadows, streams, and forests. The lush forests are not what you expect from the typical desert landscape of New Mexico.
Aside from the scenic beauty, photographers just might capture images of elk, black bears, or eagles if they're lucky.
16. Old Town Albuquerque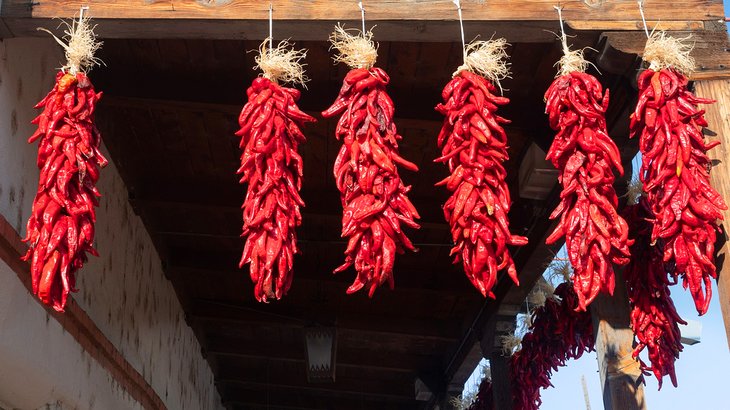 The central downtown part of Albuquerque, founded over 300 years ago, remains a destination for culture, architecture, food, and art. There are many great photo subjects here, found in the historic buildings or in the many antique shops and art galleries.
17. Sandia Peak Tramway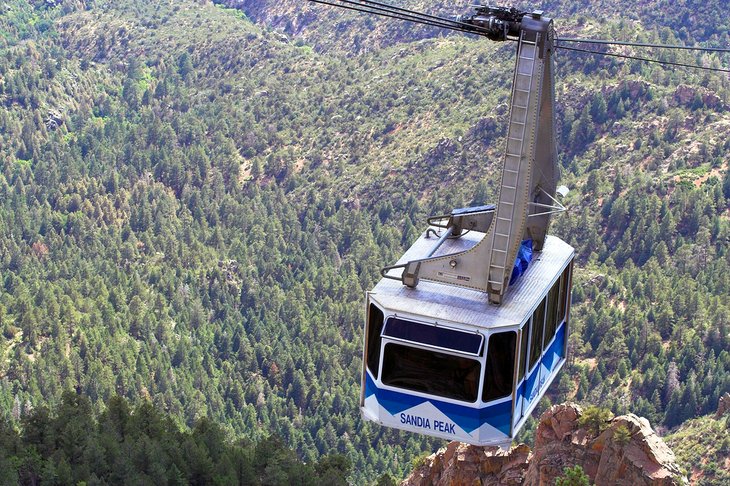 Located just outside Albuquerque, this tramway whisks you more than ten thousand feet up into the mountains to Sandia Peak. There is some beautiful scenery to photograph and a panoramic view of over 11,000 square miles. For some action and ski photography, there is a ski resort adjacent to the tramway, and you can even take the tram to ski (if you have your own skis).
18. ABQ BioPark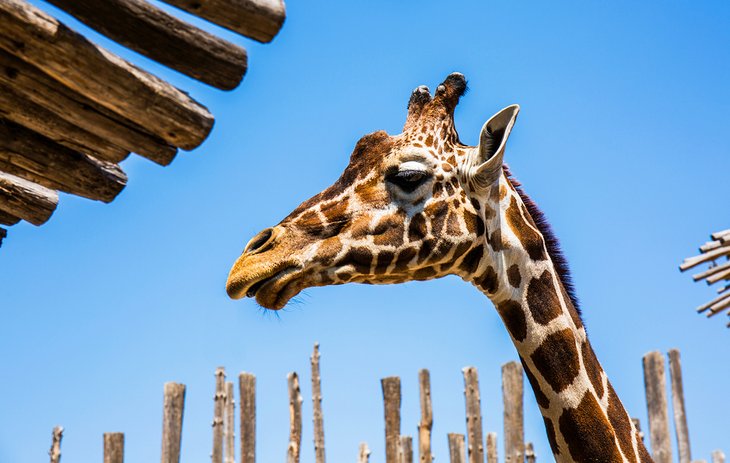 This large attraction, owned by the city of Albuquerque, is a zoo, an aquarium, and a botanic garden. Each offer a seemingly endless array of photo subjects of all kinds of flora and fauna. Highlights to photograph include sharks and stingrays at the aquarium, and the chimps, giraffes, and gorillas at the zoo. The botanic garden has 1.5 miles of paths surrounded by all kinds of colorful plants, birds, and insects.
19. Meow Wolf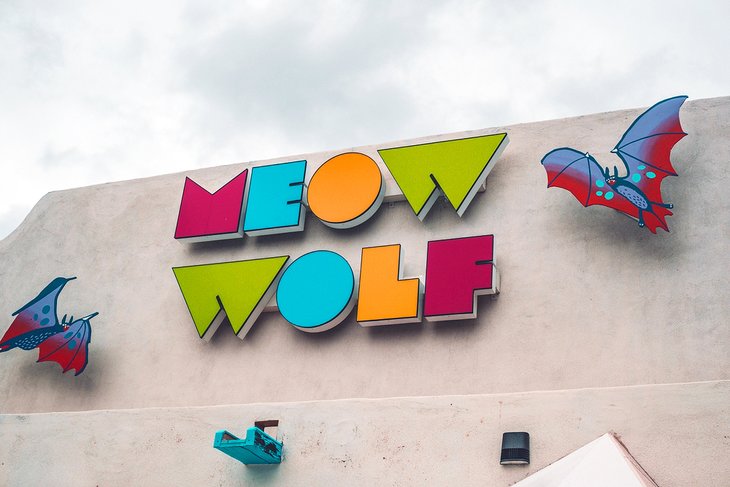 This unique place to photograph is a permanent art installation with over 70 different immersive environments. It's a sound and light show, referred to as a "mind-bending explorable art experience," making it popular for Instagrammers and photographers. Meow Wolf is located in the Railyard Arts District area of Santa Fe. The area is filled with art galleries and artist studios, which also provide some great subjects.