15 Best Places to Visit in New Mexico
The best places to visit in New Mexico satisfy many types of travelers, from adventure seekers and creatives to romantics who find bliss in solitude.
It's easy to understand why artists have flocked to New Mexico when you see the quality of the light in the high desert as you look out from your adobe hacienda in Santa Fe each morning, or gaze upon the glowing Organ Mountains above Las Cruces at day's end. Nighttime brings its own treasures, too. Visit White Sands National Park to see how brilliant starry night skies can be in the absence of light.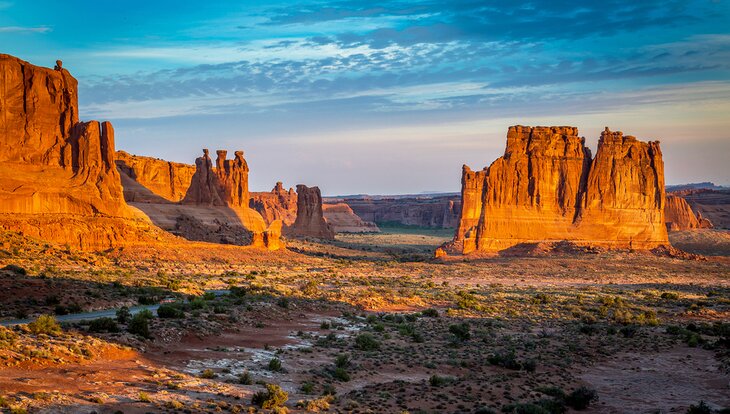 Much like sandhill cranes that arrive at the Bosque del Apache Wildlife Refuge on the Rio Grande each October, tourists visit New Mexico to feed a part of themselves. You will return home energized by skiing in the Sangre de Cristo Mountains near Taos, kicking up dust from your bike or horse on trails near Gallup, or rafting on the Rio Chama in Georgia O'Keeffe Country near Ghost Ranch. There are cultural attractions in all directions of this Four Corners state.
What's around your next corner? Find clues on our list of the best places to visit in New Mexico.
1. Santa Fe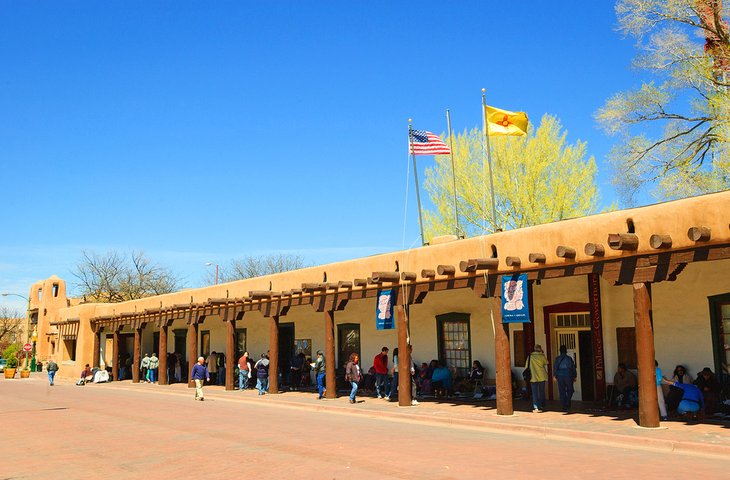 The city that means "Holy Faith" tops the list of any mention of best places to visit in New Mexico because it is exceptional in all the ways that matter to tourists. It's compact enough to feel intimate rather than overwhelming. It pleases the eye and delights the palate.
With its four-season environment, there's never a bad time to discover why Santa Fe is not only the ultimate destination in New Mexico, but one of the most appealing small cities in North America. There are things to do here all year round.
For a place with such a small population (88,000), Santa Fe packs a punch. Maybe that has something to do with so many buildings being continuously occupied back to the 1600s: Santa Fe has had centuries to refine its attractions. The diverse mix of its people, including Hispanic, Indigenous, and Anglo-European, contribute to the cosmopolitan vibe.
Streets in the historic district, narrow and crooked, invite closer inspection on foot. The Santa Fe River, a tributary of the Rio Grande, runs through the city, adding charm to the benches and picnic sites where you can watch the world go by.
Old Santa Fe is best explored up close and personal. Take your time discovering the many historic attractions of the state capital that are conveniently clustered in one area: The Plaza, Palace of the Governors, St. Francis Cathedral, and La Posada de Santa Fe resort and spa.
Don't miss the opportunity to visit Loretto Chapel, a Roman Catholic church dating back to 1878. The construction of the mysterious helix-shaped spiral staircase within the chapel, built without any known means of support, is believed to be a miracle.
Check out the Georgia O'Keeffe Museum, a required stop if your New Mexico itinerary includes the artist's stomping grounds at Ghost Ranch and Abiquiu. On the portal of the Palace of the Governors (home of the New Mexico History Museum), meet Native American artisans who gather most days to sell everything from bracelets to belt buckles.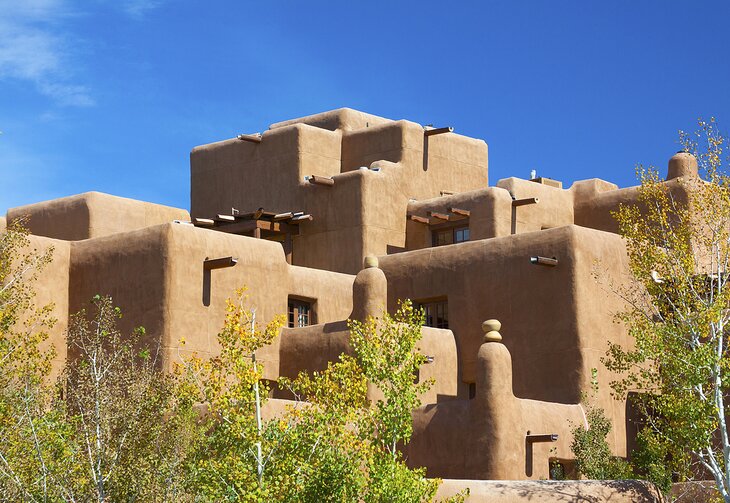 Even if you're not a shopper, visiting the galleries, shops, and cafés along Canyon Road is still a worthwhile thing to do. Christmas is a magical season to mingle with locals singing carols and drinking hot chocolate around the campfires that give a warm glow to Canyon Road and its offshoots.
Somewhat reminiscent of this experience is another event that brings together people and fire: Every Labor Day weekend at Fort Marcy Park, Santa Feans celebrate the Burning of Zozobra, a century-old festival where people purge themselves of whatever paper is causing grief. Bring your divorce decree, mortgage completion documents, parking tickets, and photos of people you don't want to see. All of it goes up in flames when the human effigy of Zozobra and associated collection baskets are set on fire.
Several museums, as well as the Santa Fe Botanical Garden and a café are clustered at Museum Hill. Head northeast to Hyde Memorial State Park for camping, hiking, and Nordic skiing.
Santa Fe is also a jumping-off point for visiting the state's 19 pueblos (traditional villages of Native American people). Join the Good Friday pilgrimage to El Sanctuario de Chimayó, 27 miles north in the foothills of the Sangre de Cristo Mountains. At Bandelier National Monument, 40 miles northwest, marvel at cliff dwellings and petroglyphs dating back 11,000 years.
Accommodation: Top-Rated Resorts near Santa Fe, NM
Read More: Top-Rated Tourist Attractions in Santa Fe
2. Albuquerque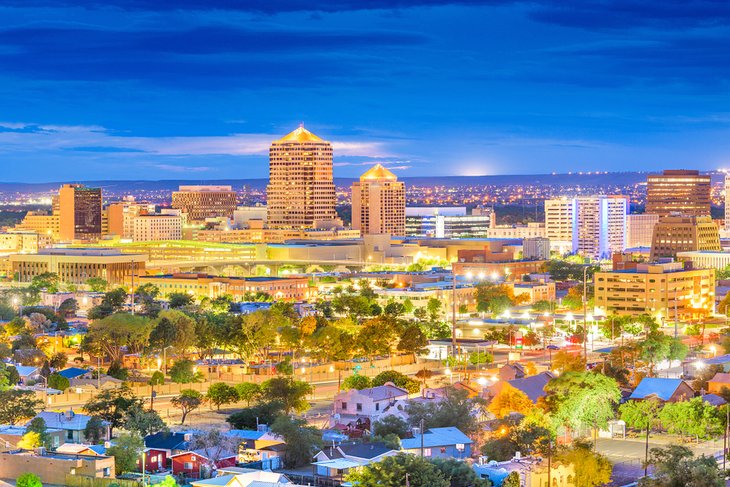 Your gateway to New Mexico might well be the airport to the state's largest city: Albuquerque. Step off the plane, breathe in the high desert air, and behold the grandeur of the surrounding Sandia Mountains. (Note that "sandia" is Spanish for watermelon, and here, we're talking about pointy slices.)
At more than 5,000 feet, Albuquerque is considered high elevation, yet the number doubles once you reach the highest point on the Sandia Peak Aerial Tramway. A tram ride is a thrilling way to get a bird's-eye view of the urban adventure that awaits. You can also leave it to the last day (or evening to 8 p.m.) and bask in the satisfaction of reviewing where you've been.
Adjust to the altitude if you're not used to it with a stroll through historic Old Town, the cultural heart of the city. Albuquerque was founded as a Spanish colony early in the 18th century and retains a strong connection to its roots. Close to the plaza, you'll discover ties to Spanish and Indigenous culture through the majestic San Felipe de Neri Church (which dates to 1793 and is listed on the National Register of Historic Places) and traditional Pueblo construction.
Newer on the architectural front, discover what remains from the era of the Route 66 "Mother Road," a version of which runs for 18 miles through the city. The KiMo Theatre is the most spectacular of these buildings, claiming not only a place on the fabled highway but the influence of Art Deco and Pueblo design.
The theater is just one of many venues that contribute to a vibrant entertainment scene in Albuquerque. For culture, there's no end of attractions, including the National Museum of Nuclear Science and History and the Indian Pueblo Cultural Center.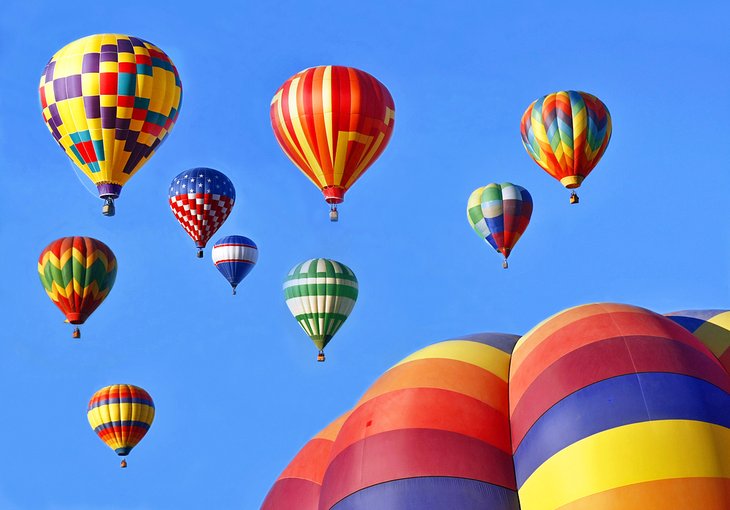 If you're lucky enough to be in New Mexico in October, take in the International Balloon Fiesta, reputed to be the largest such event in the world. Blessed by a spectacular setting and comfortable climate, the hot air balloon fest will literally take you up and away with appreciation for the spirit of Albuquerque.
During your visit to the city, savor the zesty flavors of New Mexico, whether you're in a funky diner or a fine restaurant. Diversity put Albuquerque on the map, and this is reflected in everything from cuisine to culture.
Be sure to make time for shopping, whether for a souvenir at a gift shop or a splurge at an exquisite gallery. The hardest part probably won't be the price, but the array of fabulous choices.
Read More: Top-Rated Tourist Attractions in Albuquerque
3. White Sands National Park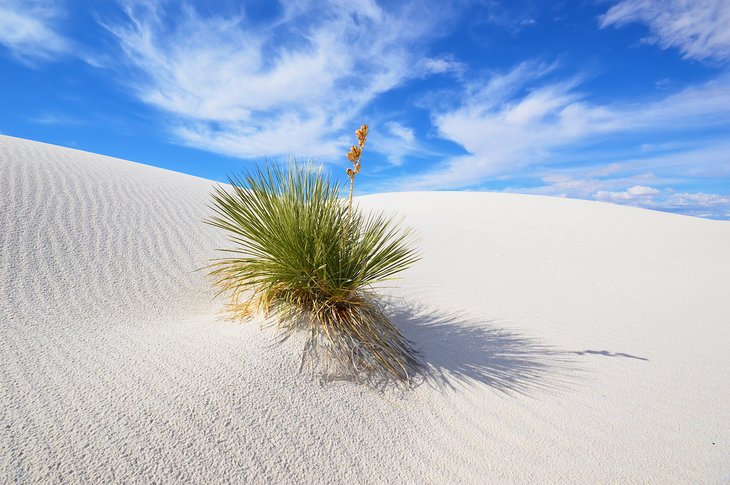 White Sands National Park, the world's largest field of gypsum dunes, is a desert unlike any other you've ever visited. As far as you can see, the pure white dunescape is like a blanket of snow that never melts. That's why anything that emerges from it (a clump of pink sand verbena) or moves upon it (an earless lizard or a kit fox) stands out in dramatic contrast.
Add to this contrast the intensity of New Mexico light and the brilliance of the sky (day or night), and you can easily grasp why the monument is so popular with photographers. Indeed, it's one of the best places to visit in New Mexico with your camera, especially to capture the sunrise or sunset.
Located at the northern end of the Chihuahuan Desert in the Tularosa Basin, the 275 square miles of the park are surrounded by the restricted zone of the White Sands Missile Range. Much of the park is also off-limits, but there's still plenty of room to roam.
The eight-mile Dunes Drive begins at the visitor center, where you'll find a museum, bookstore, gift shop, and refreshments. Along the way, you'll pass by the starting point for a number of trails as well as the Interdune Boardwalk, an elevated walking path that stretches nearly half a mile through the fragile interdune area. At the turnaround point, there's a cluster of attractions: The nature center, the Alkali Flat trail, and a picnic site at Heart of the Sands.
Take a ranger-guided tour, or attend a talk, to learn more about the monument and how to stay safe while exploring it.
4. Carlsbad Caverns National Park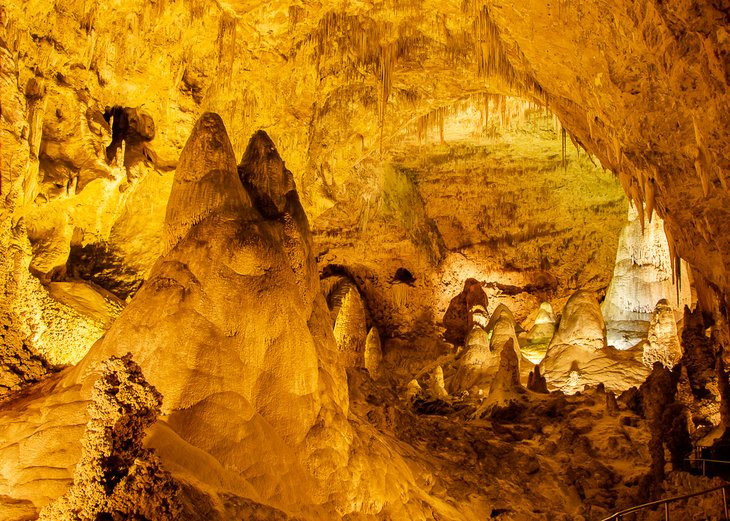 Tunneling deep below the surface of the Chihuahuan Desert in the Guadalupe Mountains of New Mexico is a 30-mile-long cave system known as Carlsbad Caverns — one of the largest and most accessible cave networks in the world.
To catch the best underground views, descend more than 750 feet by elevator to the easy 1.25-mile loop trail for a self-guided tour of the 8.2-acre cave chamber, the Big Room. If you want to see more, enter the cave through the Natural Entrance on a steep 1.25-mile trail that passes many naturally occurring monuments in limestone until it connects with the Big Room loop—the park's most popular attraction.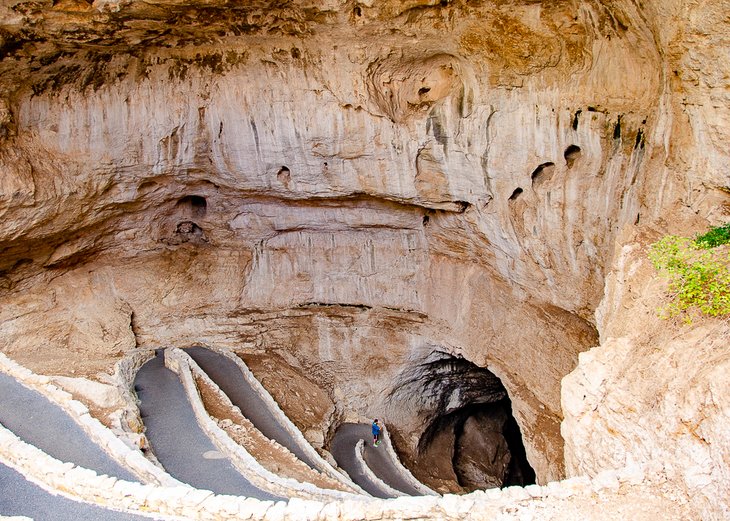 Sheltered from the bright New Mexican sun for a couple of hours or more, explore out-of-this-world rock formations on lit paved walkways with railings. A flashlight helps you see more details, while a camera with a flash enables you to take memories of these details home with you.
Sections of the Big Room loop are wheelchair accessible, but all trail surfaces can be wet, slippery, and bumpy. Wander carefully as your mind fills with wonder about the most fantastical stalactites and stalagmites you'll ever see!
Enhance your experience by making a reservation for a ranger-led tour. A ranger can guide you into restricted areas, such as Slaughter Canyon Cave, or behind gated chambers to view formations such as the King's Palace.
Seasonal ranger talks shine a light on the life of special cave residents that appear at lights-out: Mexican free-tailed bats. From spring to fall, a park ranger meets with visitors near the mouth of the cave around dusk. That's when bats take flight to feast on evening insects.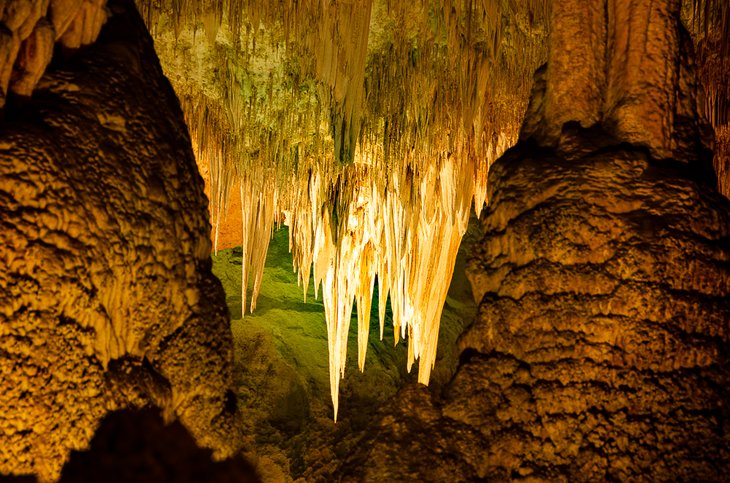 In comparison with the constant year-round temperature of 56 degrees Fahrenheit inside the cave, expect more extreme temperatures above ground. After emerging from this underground UNESCO World Heritage Site, fill your lungs with fresh air while walking the short nature trail from the visitor center.
If you have time before leaving the park, drive around the 9.5-mile Walnut Canyon Desert Drive, an unpaved, one-way route that immerses you in the desert scenery. During warmer months, head north 20.5 miles to Carlsbad for ice cream and refreshing water activities at peaceful Lake Carlsbad Beach Park.
5. Taos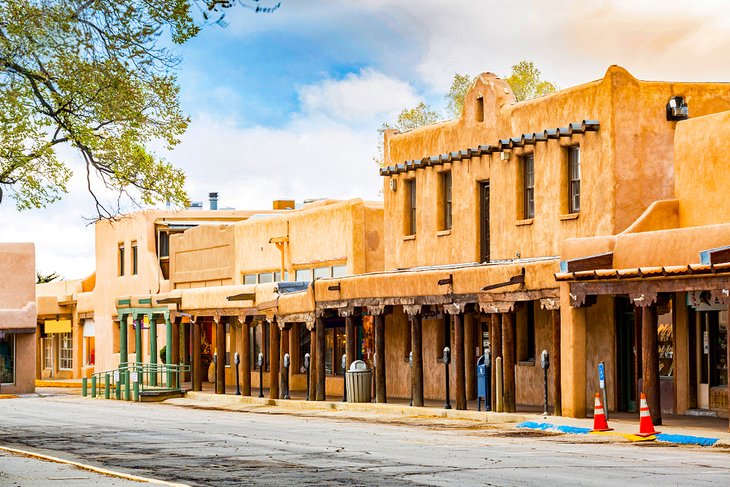 Wandering about Taos Plaza, it's easy to feel yourself stepping back in time. The adobe walls of Hotel La Fonda de Taos rise organically from the earth. This charming square also features adobe storefronts festooned with ristras (ropes of large, dried Anaheim chiles).
Expect an unrushed and intimate shopping experience with Taos vendors, who help you zero in on souvenir gifts, local crafts, fine American Southwest jewelry, and Western gear. Like spokes on a wagon wheel, pedestrian walkways branch out from the plaza to more shops, galleries, museums, and places to eat.
Fortify yourself with something tasty before setting out on one of many self-guided walks to more than 20 historic landmarks. If time permits, visit the Kit Carson Home and Museum and Taos Art Museum.
Leave your car parked downtown and hop aboard a seasonal trolley tour that immerses tourists in the culture and history of Taos. Drive yourself or take a trolley tour to nearby Taos Pueblo, an Indigenous community and UNESCO World Heritage Site where people have lived for more than 1,000 years. It's considered to be one of the country's oldest continuously inhabited communities.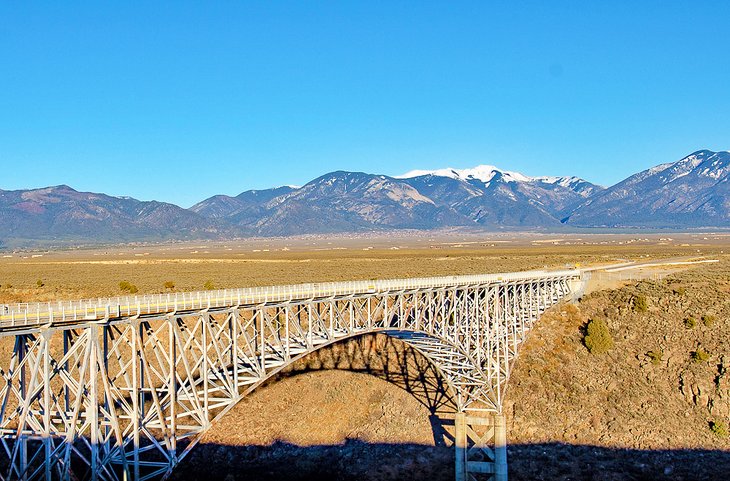 Taos is cradled between the Sangre de Cristo Mountains to the east and the banks of the Rio Grande to the west. Elevate your spirit even higher by planning a half-day drive of the Enchanted Circle Scenic Byway, an 84-mile route that leads you to ski areas in the winter and colorful landscapes in autumn.
As part of the Rio Grande del Norte National Monument, the Rio Grande Gorge Bridge is a dramatic backdrop for your selfie and a literal drop of 650 feet to the river. It's one of the highest bridges in the United States.
Another six miles farther along Hwy US-64, the Earthship Global Visitor Center sells guided and self-guided tours of some of the most cosmically inspired, yet functional homes on our planet.
Read More: Top-Rated Tourist Attractions in Taos
6. Roswell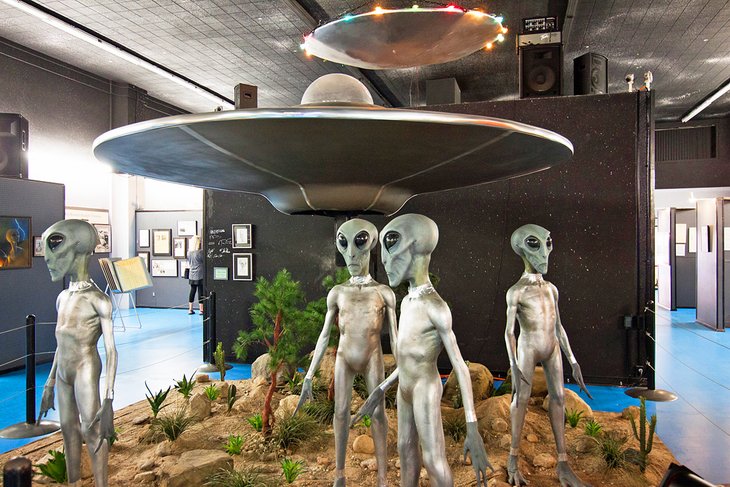 If you're looking for one of the best places to visit in New Mexico for an out-of-this-world experience, explore the alien environment of Roswell. From the McDonald's shaped like a UFO to the chainsaw carving of an alien at a gas station, the spirit of Roswell can be summed up in a few words: fun, fantastic, far-out.
How far out? Imagine the journey of an extra-terrestrial, coming from another galaxy, crashing somewhere on a Roswell ranch. Was it a nuclear surveillance balloon? A rocket ship? And what happened to the extra-terrestrials on board? Roswell has turned these questions into a reputation so vast, it has inspired a science fiction TV series aptly entitled ... Roswell.
The UFO incident that allegedly happened in 1947, preceded by rocket research in the 1930s, is the jet fuel that ignite creative artists, museum owners, and business people in enterprising Roswell. Everywhere you look, you'll see little green men with alien eyes probing your every move, and there's plenty to keep you on the go.
Take the whole family on a blacklight journey at the Roswell UFO Spacewalk. Pose for pictures in the surreal sets of the Area 51 Museum, Alien Zone. At the International UFO Museum and Research Center, sift through the facts and folklore, get educated about conspiracy theories, and decide for yourself what to believe about Roswell.
Had enough of aliens but still up for more fun? You'll find yet another slice of quirky Roswell at the Miniatures and Curious Collections Museum.
For a day trip, reconnect with Planet Earth at Bottomless Lakes State Park, located less than 16 miles from Roswell. Who knows if it's possible to get to the bottom?
7. Alamogordo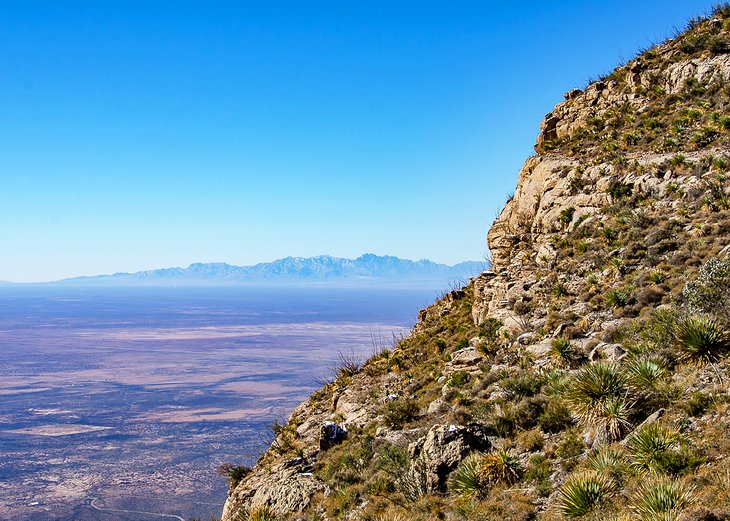 Alamogordo ("fat cottonwood") is your headquarters for some of the most popular things to do in southern New Mexico. It's the gateway to famous White Sands National Park. With world-class aerospace activities nearby, the Alamogordo area feels like an oversized adventure park for aviation and space enthusiasts.
Proximity to ground zero of the first atomic blast at the Trinity Site in 1945 led to Alamogordo's future in missile testing. The New Mexico Museum of Space History organizes limited tours to the restricted Trinity Site each April and October. The museum is also home to the International Space Hall of Fame.
Before planting your feet back on Earth, hop aboard McGinn's PistachioLand Farm Tour to visit its ranch of more than 12,000 pistachio trees, and taste some of the crop. At 30 feet tall, the World's Largest Pistachio statue is sure to photo-bomb your selfie.
If you have kids, another family favorite is playtime at Alameda Park with its Toy Train Depot and the Alameda Park Zoo (founded in 1898).
Alamogordo's backyard is the Sacramento Mountains, which inspire serious outdoor fun. Twenty miles to the northeast of Alamogordo is Cloudcroft. At 9,000 feet, you'll be strapping on your skis in winter, and catching air on your mountain bike in summer.
Another popular access point into the Sacramentos is Dog Canyon Trail from Oliver Lee Memorial State Park, 16 miles south of Alamogordo. You'll be rewarded for your strenuous uphill grind into Lincoln National Forest with panoramic views of the Tularosa Basin stretched out below.
8. Silver City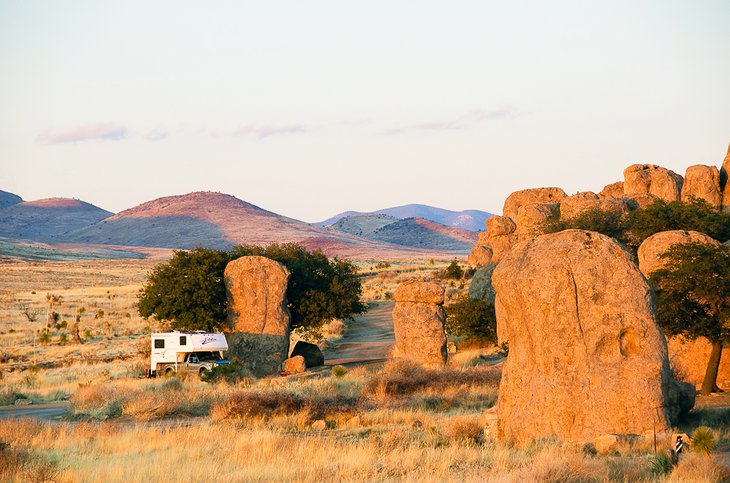 As New Mexico's gateway to the Gila National Forest, Silver City receives its fair share of hikers and campers eager to hit the trails. You might want to join them after visiting the shops and galleries along Silver City's pioneering grid of raised sidewalks.
Don't let the name fool you. The historic center of this city feels more like a hillside town. The name also implies a link to silver mining, but copper is the real gold in these hills and remains the local economic driver. As a tourist, you'll be mining unique treasures of your own.
In many American towns, it makes sense to first check out what's happening on Main Street. In 1895, Silver City's Main Street became a 55-foot-deep gulch following a catastrophic flood. Today, Big Ditch Park runs through the center of town, providing a shaded place to walk and rest on a bench beside Silva Creek.
In a restored classic home built in 1881, Silver City Museum features exhibits that connect you to local culture and events such as: The first criminal indictment of Billy the Kid, initial copper strikes by Spanish settlers, and the Apache encampment that is now Silver City.
Artifacts and displays about the ancient Mimbres Mogollon culture inform you about the first Indigenous people in the area. It also prepares you for the 45-mile drive north through the historic hamlet of Pinos Altos to visit Gila Cliff Dwellings National Monument.
Thirty-three miles south of Silver City is another one of the best places to visit in New Mexico. City of Rocks State Park appears like an apparition on a grassy knoll of Chihuahuan Desert. Artfully sculpted and positioned by volcanic activity millions of years ago, boulders and pinnacles as high as 40 feet create natural corridors that are the streets and boulevards of this surreal "city."
9. Ghost Ranch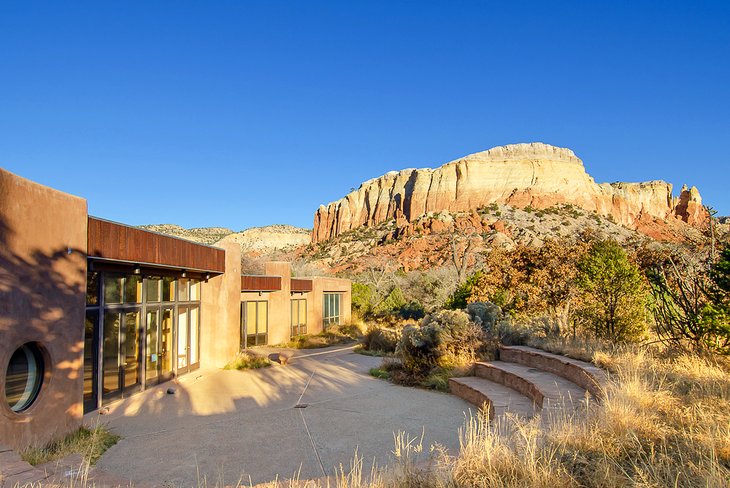 It was love at first sight when painter Georgia O'Keeffe set eyes on Ghost Ranch, a former dude ranch northwest of Santa Fe.
She had traveled by train from New York and, just like a magic trick, stepped out of her urban comfort zone into a world of desert extremes: intense sunlight, the brightest bluest sky, the surreal whiteness of dry bones, and crimson flowers against red rock. It was the kind of beauty that brings people to their knees, and the effect it had on O'Keeffe is shared by many visitors to Ghost Ranch.
Unlike O'Keeffe, who relocated to spend the last third of her nearly century-long life at Ghost Ranch and nearby village of Abiquiu, tourists come for only a day or a week. It isn't a long time, but they never forget this incomparable and inspiring environment.
Over the years, Ghost Ranch has been many things to many people: a movie set; a conference and retreat center; and a place to hike, go horseback riding, and wander with a camera. Located on 21,000 acres, Ghost Ranch captures the grandeur and open space that is the essence of New Mexico.
On your own, explore the many trails, an interfaith adobe chapel, a library, and two museums. One of them explains the human history of the area, and the other showcases ancient creatures who roamed this terrain, including the state dinosaur, Coelophysis.
For a glimpse and possibly a tour of Georgia O'Keeffe's other main residence, head 13 miles south (in the direction of Santa Fe) to the historic village of Abiquiu, which was settled in 1742. Four miles west of Ghost Ranch, a concrete path takes you into Echo Canyon Amphitheater, an immense sandstone cavern where you can shout and listen for an answer.
While Ghost Ranch has a lot to offer, it doesn't have a spa. To relax after a day of hiking and sightseeing, drive 45 minutes, and soak yourself in one of a dozen spring-fed thermal pools at Ojo Caliente Mineral Springs Resort & Spa. This resort, one of the oldest in the country, offers accommodation in the lodge or campground and a restaurant.
You could also consider making your way back toward Santa Fe for a soak at Ten Thousand Waves, which offers a Japanese onsen-style bathing experience in its pristine outdoor tubs.
10. El Morro National Monument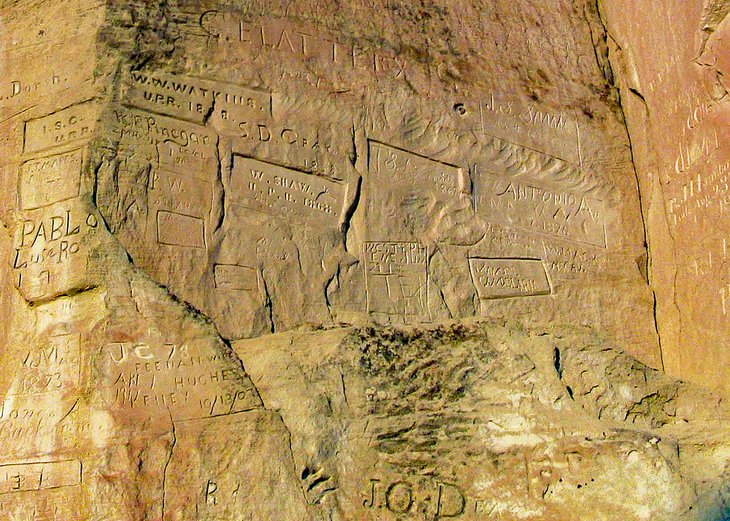 Towering above the high desert plains, El Morro National Monument is a sandstone monolith that is breathtaking to behold. Also known as Inscription Rock, El Morro reads like a guest book, with 2,000 carved names, dates, and messages of people who passed this way (Spaniards, Indigenous people, and explorers).
At the visitor center and museum, learn about 700 years of human history at the monument, and pick up a guide booklet that explains stops along the do-it-yourself trails. From the mesa top, you'll be awed by the view beyond 200-foot drop-offs. By the time you get back down, you too might feel the urge to record your journey. Go ahead—a sandstone rock is provided for tourists to make their own mark.
After your visit to El Morro, treat yourself to local brisket smoked on site at the Ancient Way Café, and check out the local crafts and Indian jewelry for sale at Inscription Rock Trading & Coffee Company.
From El Morro, explore these additional places, each in one of the four directions: Wild Spirit Wolf Sanctuary (16 miles south), the "badlands" of El Malpais National Monument (15 miles east), the Ramah Museum built in 1904 (12.5 miles northwest), and Zuni Pueblo for their jewelry, arts and crafts (34 miles west).
11. Chaco Culture National Historic Park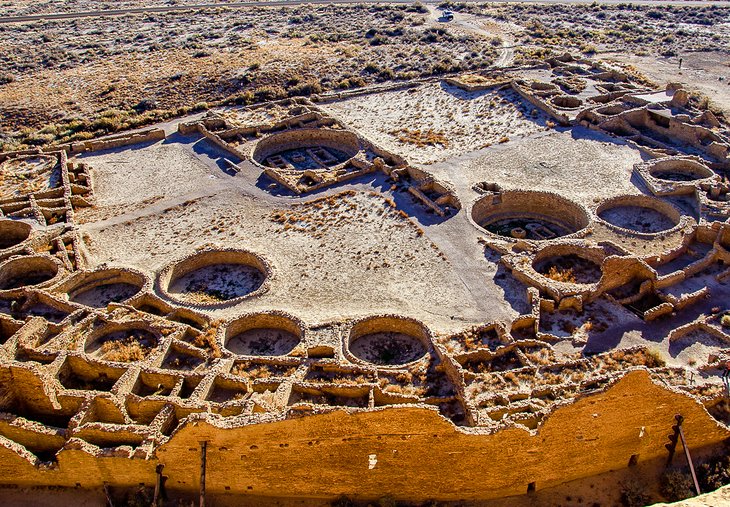 The "road less traveled" applies to Chaco Canyon in the modern era of travel and leisure, but it wasn't always this way. From 850 to 1150 CE, the valley that is now the UNESCO World Heritage Site of Chaco Culture National Historic Park was a primary trading center in the Four Corners.
Archeological discoveries indicate that Chaco was also connected to a vast Pan-American trading network. Thousands of Indigenous people who called Chaco Canyon home were Ancient Puebloans. Many people in the southwest today claim ancestral roots to Chacoan culture, and its ceremonial rites and traditions.
You will appreciate Chaco Canyon day and night. As an International Dark Sky Park, the attraction allows you to pursue your interest in the cosmos and capture starlight with your camera while camping beside a sandstone cliff. During the day, designated trails and overlooks allow you to walk in the footsteps of the Ancient Puebloans.
A paved nine-mile scenic driving loop begins at the visitor center. With bike racks conveniently located at trailheads for each of the village sites, this loop is a favorite ride for cyclists, as well as motorists.
Get ready to feel awe-struck when standing in the middle of Pueblo Bonito, one of the largest complexes of ceremonial kivas, courtyards, and pithouses made of carved and layered sandstone of many colors. Take your time to soak in the peace that surrounds you while exploring this and the other "great houses" of Chaco Canyon.
Surrounded by these monuments of civilization, imagine how ingenuity mixed with manual labor created such a vast complex of villages. Modern researchers have their theories, but why do you think the Chacoans decided to settle here only to abandon the place 300 years later?
12. Old Mesilla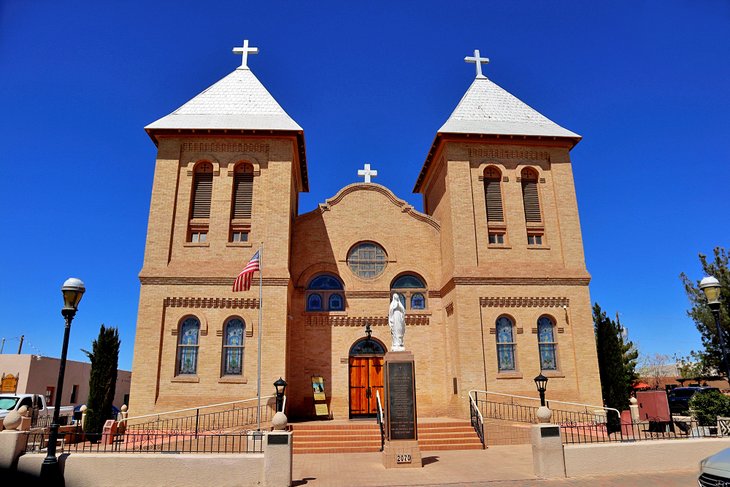 Nestled between the east bank of the Rio Grande and New Mexico's second-largest city of Las Cruces, Old Mesilla appears as if locked in time. The first building of its historic plaza was erected in 1849, and this social center is a venerated survivor of famous events and infamous characters.
Mesilla Plaza is the kind of place where you want to sit on a bench with a fresh "Day of the Dead" brew from Wild West Express-o in hand and people watch. Then spend a half hour walking around the plaza to read the historical markers about the people who came here before you. Step into a shop or two, including the Billy the Kid Gift Shop, where "The Kid" was jailed and sentenced to hang in 1881.
If you like hot and spicy food, this section of the Rio Grande cultivates some of the most famous chiles on the planet. The only forest you are likely to see here are plantations of pecan trees such as the historic Stahmanns Pecans estate, which harvests nine million pounds of pecans each year.
One of the best panoramic sunset photos in the American Southwest can be captured at the last rest stop along Interstate 10, just west of Las Cruces. The mammoth 20-foot tall Recycled Roadrunner Statue on the south side of the interstate helps guide you to the exit you need to take.
You're standing on an escarpment looking down across the Rio Grande valley. The changing light, reflecting off the jagged peaks of the Organ Mountains, mesmerizes you until the curtain call of darkness ends the show.
Return to Old Mesilla for dinner at La Posta de Mesilla, a restaurant dating back more than 80 years and located in the same 1840s building used by the Butterfield Stagecoach Line.
13. Rio Grande del Norte National Monument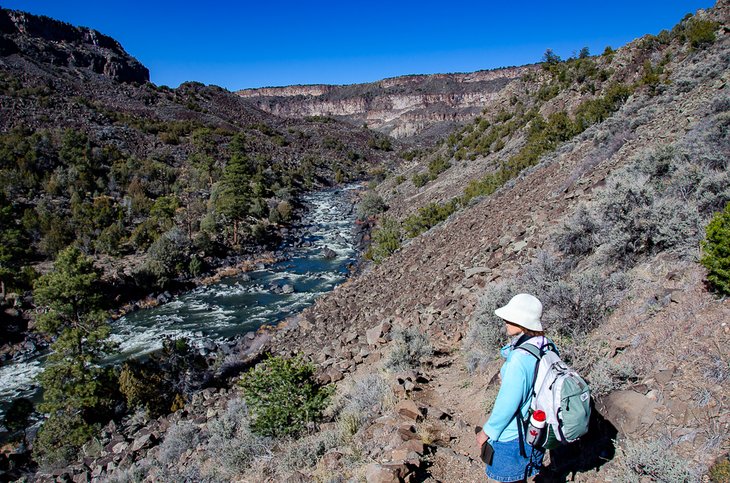 Fresh water and mountain air make Rio Grande del Norte National Monument near Taos one of the best places to visit in New Mexico if you're into the great outdoors. Ranging south from the New Mexico-Colorado border, this vast wilderness features volcano cones such as Ute Mountain, which reaches nearly 10,000 feet into the sky.
Below the earth's crust are flooded lava tubes, such as Lava Tube Spring—the largest freshwater spring in New Mexico—which bubbles into the Rio Grande. Where there is water, there is also wildlife. If lucky, you will spot a resident elk, black bear, bighorn sheep, or cougar. You might also snag a rainbow trout while fly fishing.
The most celebrated and accessible feature you experience is the untamed expanse of the Rio Grande flowing south from its headwaters in the Colorado Rockies. Rio Grande Del Norte is divided into the Upper Gorge (Wild Rivers Recreational Area) north of Taos and the Lower Gorge (Orilla Verde Recreational Area) south of Taos. The 900-foot drop in river elevation between the upper and lower sections carved the impressive 800-foot canyon walls.
Wild Rivers is a paradise for day hikers and backpackers, with 13 trails rated from easy to strenuous. Wheelchair accessible and photogenic overlooks above the roiling confluence of the Rio Grande and Red River inspire lasting memories of this high desert plateau.
The campground along the top of the escarpment is considered a hidden gem by camping enthusiasts. Designated riverside campsites reward hikers who have the backcountry gear and energy to reach them.
In addition to hiking and biking adventures along one of the eight trails at Orilla Verde, the Lower Gorge is the place to go for whitewater rafting and river tours. Roadside campgrounds along the river provide easy-to-access sites, some with RV hookups.
14. Gallup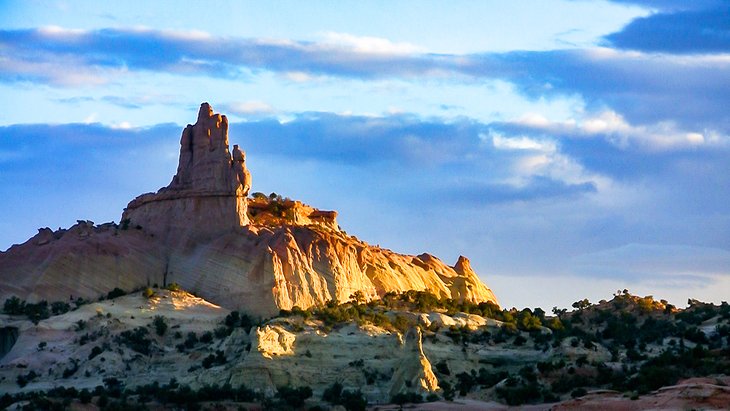 If you're a fan of Native American art, culture, and jewelry of the American Southwest, you could visit the Navajo Nation or Hopi Reservation, or just head straight for Gallup. Thousands of artists and hundreds of traders sell exquisite arts and crafts in the city's trading posts and gift shops.
Due to the scarcity of turquoise and restrictions on coral, you'll find the most gorgeous and valuable pieces of jewelry in pawn shops. Don't be put off by the word "pawn." This is the source of quality pottery, carvings, rugs, and belts that were made many years ago. If you're shopping for your first piece, knowledgeable staff will provide you with a certificate of authenticity.
With more than one third of its population associated with Native American communities, Gallup is renowned as a gathering place for Indigenous arts and culture. For a century, its annual Inter-Tribal Indian Ceremonial has been a longstanding celebration of Indigenous arts and culture attracting tribes from all over North America.
Watch for this popular summertime event that features ceremonial dances, pow-wows, a juried art show, parades, pageants, a rodeo, plus good eats and fun for the whole family.
Gallup is located on historic Route 66, in addition to being a stop on the Trail of the Ancients, a designated New Mexico scenic byway. With its rolling hills of red rock and tumbleweeds flying through the dusty air, the scenery attracted Hollywood moviemakers.
During the 1940s and 1950s (the heyday for making westerns in the Gallup area), movie stars stayed at the landmark Hotel El Rancho. The walls of this historic Route 66 hotel are covered with framed and autographed photos of John Wayne; Ronald Reagan; Humphrey Bogart; Gregory Peck; and Spencer Tracy and his leading lady, Katharine Hepburn. Relax in a comfy lobby chair, enjoy a drink, and scout out treasures in the well-stocked gift shop.
The most glorious natural landmark is Red Rock Park, located eight miles east of Gallup. A striking formation known as Church Rock oversees the red sandstone landscape, where visitors can enjoy hiking, biking, horseback riding, and camping. The Red Rock Balloon Rally, the second largest such event in North America, has been happening here for nearly 40 years, usually in December.
From Gallup, you're well positioned for a fascinating day trip to Zuni, the largest of New Mexico's pueblos. Most residents of this traditional village are engaged in making arts and crafts and are welcoming to visitors. Meet them in their studios, and purchase work from an array of cooperatives and trading posts. Be sure to purchase a permit from the visitor's center if you wish to take photos.
15. Bosque del Apache National Wildlife Refuge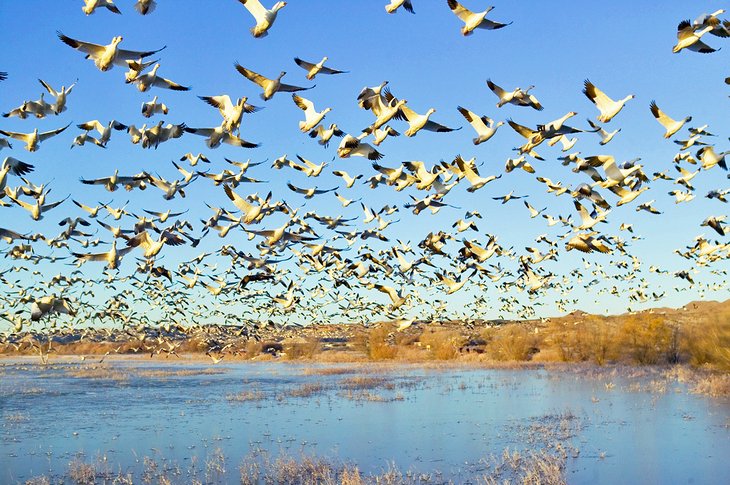 Of all the places popular with bird-watchers in New Mexico, one place soars above all the rest: Bosque del Apache National Wildlife Refuge. With 57,000 acres of habitat and the Rio Grande running through it, the refuge provides an important stopover for migratory waterfowl.
Starting in late October and ending in mid-February, sandhill cranes, geese, ducks, and eagles converge on the refuge to settle in for the winter. They have their reasons: The vast refuge is managed to ensure a seasonal supply of food and water, which draws birds by the tens of thousands for the annual Festival of the Cranes.
To take in this spectacle, time your visit to this region of New Mexico for mid-November, which is a lot less chilly than you might imagine if you are yourself a snowbird. Located mid-way between Albuquerque and Las Cruces off Interstate 25, you'll find the access for the refuge at San Antonio. (Socorro is the closest city.)
Amateurs and professionals alike are aided by experts at observation posts, lectures by ornithologists, and workshops in the field. Drive the 12-mile auto loop and explore the nature trails. The refuge hasn't just gone to the birds—keep your eyes open for wildlife, such as javelina and mule deer. Stop at the visitor center and nature store for information and souvenirs.
Map of Places to Visit in New Mexico