Native American Pueblos of New Mexico: A Visitor's Guide
When the Spanish arrived, there were many dozens of pueblos in north central New Mexico. Some of these Native American communities were quickly wiped out; others slowly fell apart and disappeared. Yet still today, in the area around Santa Fe, a number of Native American pueblos are still in existence and welcome visitors.
In these villages, old traditions such as ritual dances and artistic craftwork are maintained. Although generally open to visitors, pueblos do tend to treat strangers with some reserve; therefore, please remember that you should not photograph or film inside the pueblos except with express permission.
New Mexico is home to 19 pueblos: Acoma, Cochiti, Isleta, Jemez, Laguna, Nambe, Picuris, Pojoaque, Sandia, San Felipe, San Ildefonso, San Juan, Santa Ana, Santa Clara, Santo Domingo, Taos, Tesuque, Zia, and Zuni. To help you learn more about these fascinating communities before paying a visit, be sure to check out our visitor's guide to the Native American Pueblos of New Mexico.
Taos Pueblo, New Mexico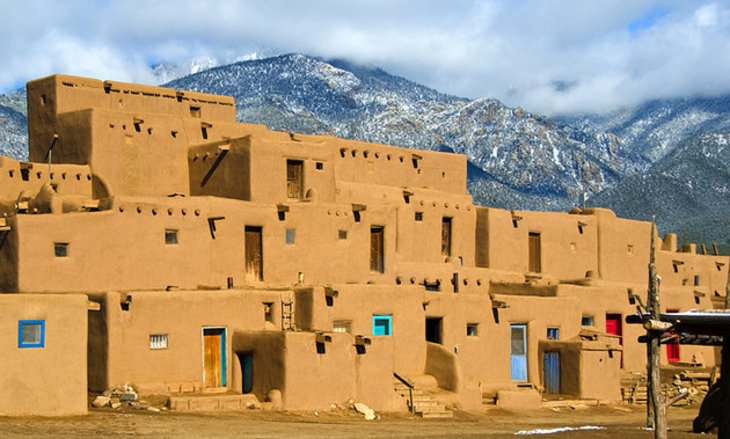 Just north of the modern Town of Taos is Taos Pueblo, which has been continuously and exclusively occupied for at least 1,000 years and has preserved much of its character as a pueblo in the purest form. Around the central plaza are fortress-like houses in the oldest adobe style, built only of clay and straw, without fired bricks, and housing some 150 residents. Particularly notable are the multi-storied houses and domed ovens for baking bread.
Built in a Hispanic style in 1813, the Mission Church of San Francisco de Asis is located just off the central plaza. Residents are still strongly attached to their traditions, and the pueblo tends to be quite reserved. Visitors are welcome during the day and on special occasions announced on the pueblo's website. The guided tours are outstanding.
Official site: http://taospueblo.com/
Kewa Pueblo, New Mexico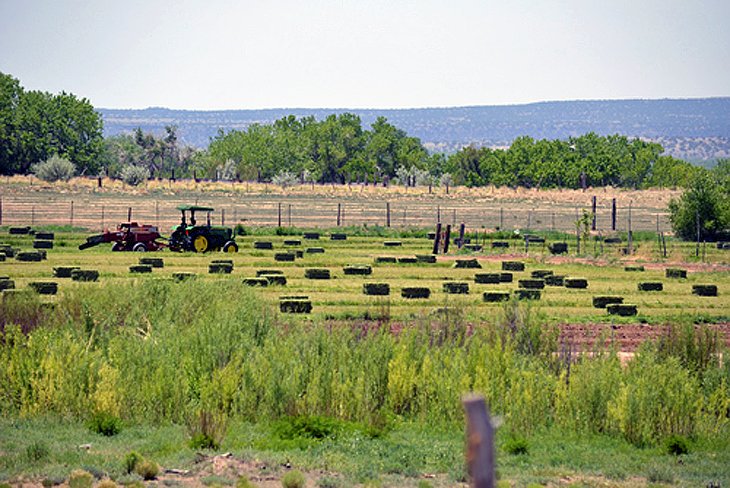 Located 30 miles southwest of Santa Fe, Kewa Pueblo–formerly Santo Domingo Pueblo–is one of the largest and most conservative of the New Mexico Pueblos. The pueblo is well known for its jewelry production, pottery, and handicrafts, as well as the great importance placed on time-honored religious institutions and social structures. Santo Domingo jewelers tend to travel far and wide with their wares, which is one of the reasons the pueblo is so well known.
Despite the conservative nature of the pueblo, they do welcome visitors for the Corn Dance and Sandaro, as well as Christmas and Easter ceremonies. The Mission Santo Domingo church was completed in 1895 on the site of an earlier church destroyed in the Pueblo revolt of the late 1600s. Photography and other recording is not permitted.
Official site: http://santodomingotribe.org
Cochiti Pueblo, New Mexico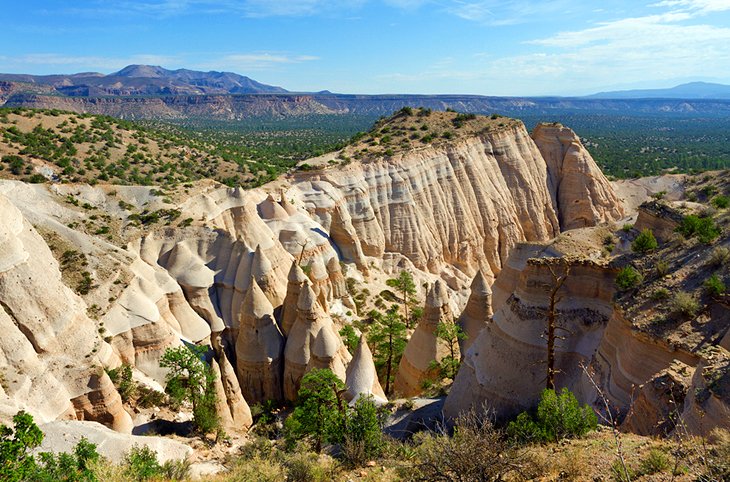 Cochiti Pueblo is located about 50 miles north of Albuquerque and 35 miles southwest of Santa Fe. Covering over 50,000 acres, the pueblo is home to about 1,200 individuals, most of them farmers and ranchers. Cochiti has worked hard to maintain the native language of Keres, as well as traditional practices and religion. Like the nearby Kewa Pueblo, Cochiti is well known for its unique style of jewelry, as well as its special pottery styles and handmade drums.
Cochiti is generally open every day, although they do close for certain ceremonies. Photography and other recordings are strictly prohibited.
Jemez Pueblo, New Mexico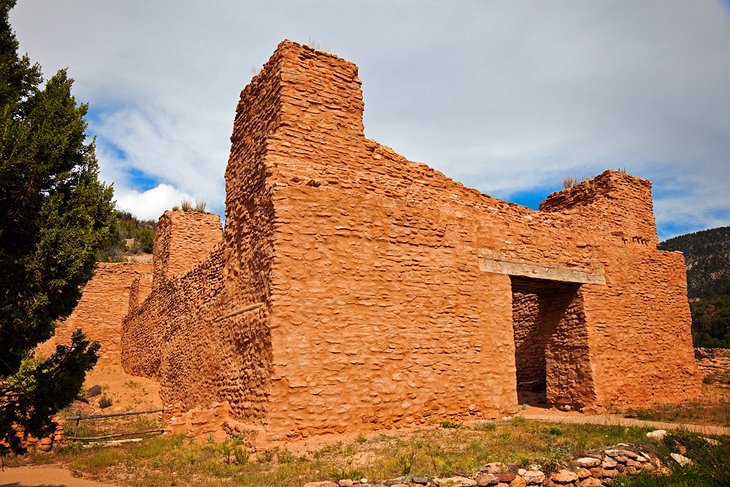 Situated among the stunning red cliffs of San Diego Canyon in the Jemez mountains northwest of Albuquerque, Jemez Pueblo is tiny, with only about 2,000 tribal members. The village itself is closed to visitors, and ceremonies are not publicized. The Walatowa Visitor Center at Jemez Pueblo, however, offers information about the pueblo and the surrounding area, as well as historic photographs.
Jemez is known for its ceremonial use of running foot races to mark special events and to aid in the growth of crops. It is also known for its return to traditional food sources as a way to combat modern diseases such as cancer and diabetes. Fly-fishing is available at the Dragon Fly Lake and Holy Ghost Lake on the pueblo lands.
Official site: http://jemezpueblo.com
Pojoaque Pueblo, New Mexico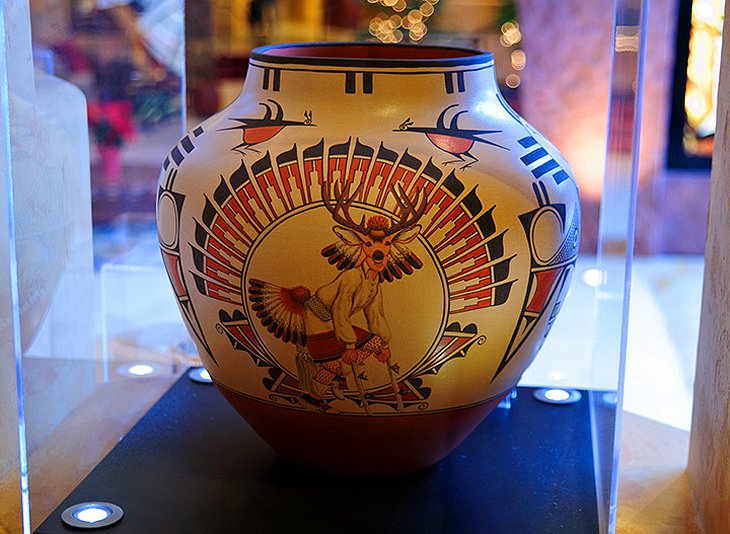 One of the six Tewa-speaking pueblos of the Rio Grande corridor, Pojoaque has been inhabited in one form or another for about 1,500 years–reaching its apex in the 1500s. The Tewa name for the pueblo means "a place to gather and drink water." The Spanish arrival brought great hardship for the pueblo people, and many scattered to other tribes, resulting in complete desertion at one point.
Pojoaque is currently enjoying tremendous economic growth, and the permanent collection of traditional Pueblo arts and crafts is a definite attraction at the Poeh Cultural Center and Museum. Visitors are welcome, and there are traditional dances on some weekends in the summer.
Official site: http://pojoaque.org/
San Ildefonso Pueblo, New Mexico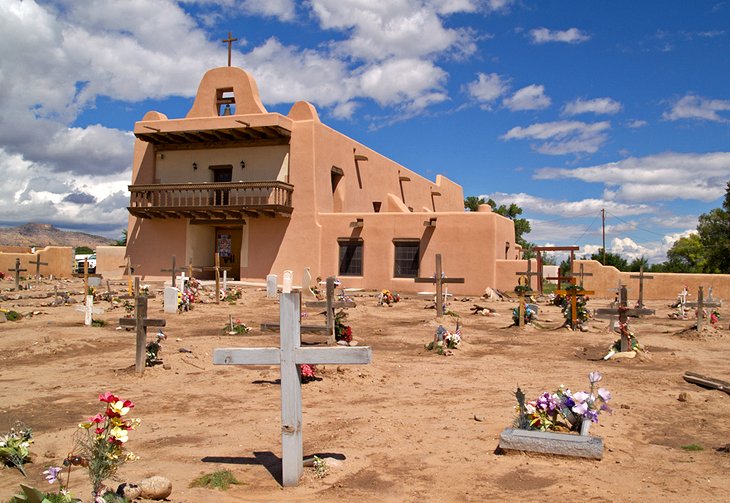 Located right at the base of the Pajarito Plateau along the Rio Grande, San Ildefonso is best known for the amazing black-on-black pottery style that originated there. Today, those pots are considered a hot item among fine art collectors. Besides the pots, this small pueblo of some 600 people is also known for its watercolor painters and jewelers.
The pueblo has existed for nearly 1,000 years and retains a strong sense of identity and culture, continuing religious practices and ceremonies. Best known is the Buffalo Deer Dance, performed on their feast day.
A Tewa-speaking people, the San Ildefonso place a high value on education and revitalization of their language. The San Ildefonso Pueblo Museum exhibits contemporary and traditional pottery, paintings, and other artifacts, emphasizing San Ildefonso artifacts and historic items. The San Ildefonso Mission Church is a recreation of the original church, built in 1711 and well worth a visit.
Official site: www.sanipueblo.org/
Santa Ana Pueblo, New Mexico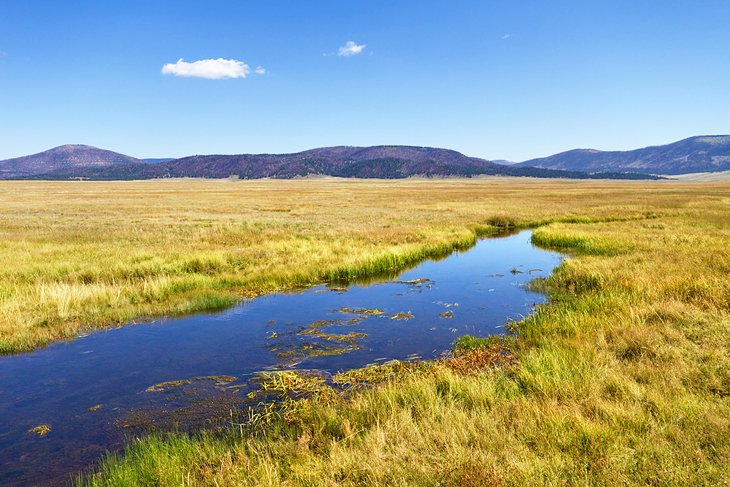 The Spanish did not spare the people of Santa Ana, all but wiping them out in the mid 1600s. But around 1700, the survivors returned and built a new community in a new location just north of modern-day Albuquerque. Originally farmers, most of today's Santa Ana residents now work off the reservation. The people of the pueblo tend to have two residences, a farming hamlet along the Rio Grande and a more traditional home along the Jemez River.
Traditional art forms at Santa Ana were revived in the 1970s, and the pueblo is now known for their high-quality pottery. The pueblo hosts several dances in the early summer that are open for tourists. Best known is the corn dance. Among the other things to do are to visit the mission church (which dates to 1750), the Santa Ana golf course and resort, and the Cooking Post offering Native cuisine. Visitors are welcome.
Official site: www.santaana.org/
Santa Clara Pueblo, New Mexico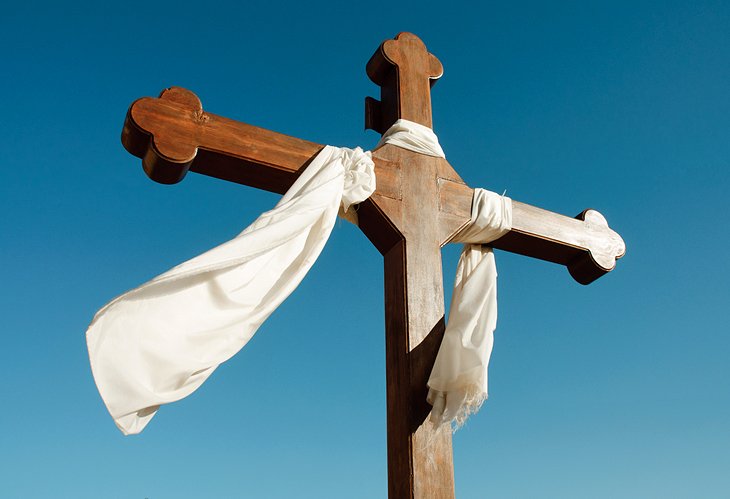 Another of the Tewa-speaking pueblos, Santa Clara Pueblo is located about 30 miles northwest of Santa Fe. A fairly large pueblo, it is perhaps best known for the interesting dances performed around Christmas. The pueblo sports a diverse economy with quite a number of options for the visitor, including guided tours, fishing, and camping. The landscape surrounding the pueblo is stunning.
With a strong sense of identity, the Santa Clara people retain their traditional religion while putting a high value on modern education. Santa Clara allows visitors to some of their festivals, but not all.
A must see at the pueblo are the Puye Cliff Dwellings, the ancestral home of the Santa Clara people. There are 740 rooms in the ruins, occupied by as many as 1,500 people from the 1100s to about 1580. The Santa Clara Pueblo is very well known for its beautiful pottery, noted for its unique eagle feather designs.
Tesuque Pueblo, New Mexico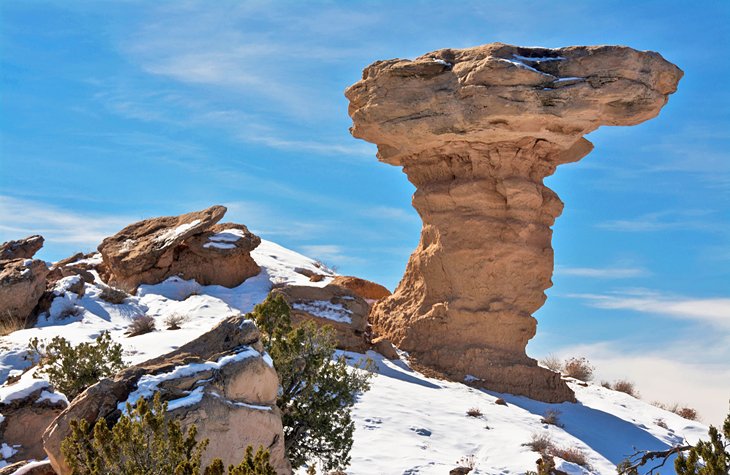 Located in the foothills of the Sangre de Cristo Mountains just north of Santa Fe, Tesuque Pueblo was established in 1694 on the site of an earlier pueblo built in the 12th century. It is perhaps this history that makes it one of the most reserved and traditional of all the New Mexico Pueblos. The people of Tesuque continue to engage in traditional farming practices, as well as making stunning pottery in amazing colors. Winter dances at the pueblo are generally open to visitors. Be sure to visit the Tesuque Pueblo Mission Church.
Nambe Pueblo, New Mexico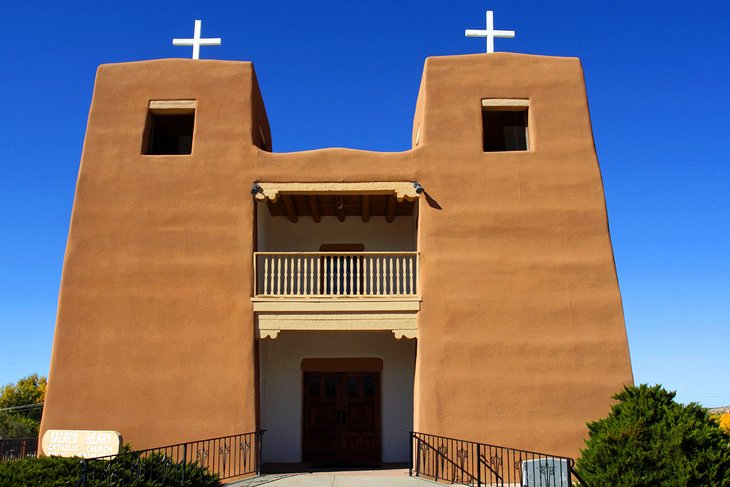 Another of the Tewa-speaking pueblos located just north of Santa Fe, Nambe is perhaps one of the most "Hispanicized" of all the New Mexico pueblos. Situated in a stunningly beautiful landscape and blessed with the jaw-dropping Nambe Falls, the pueblo has enjoyed a recent revival in traditional crafts, particularly weaving and pottery. There is also a fine art sculpture gallery.
Most Nambe people today are either farmers or staff at the nearby Los Alamos National Laboratory. Nambe dances typically take place in the summer, and the pueblo is most noted for its 4th of July festival.
Official site: http://nambepueblo.org/
Picuris Pueblo, New Mexico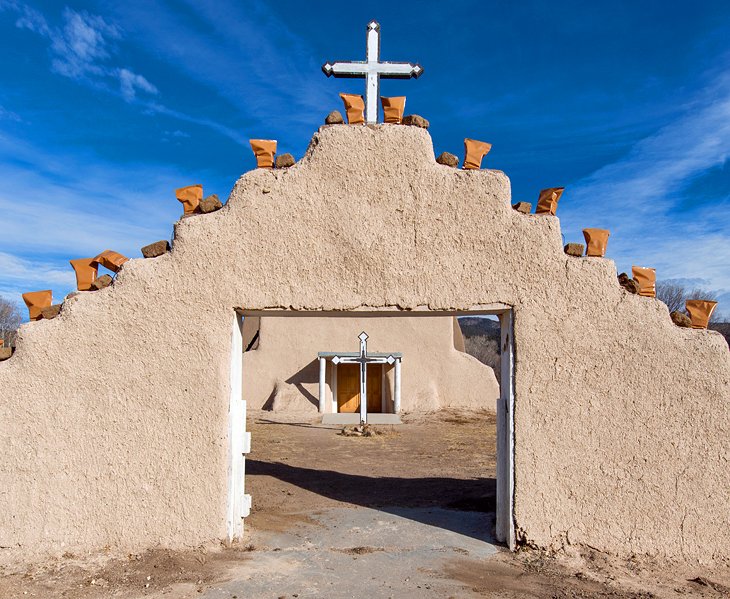 The old Picuris Pueblo, located 55 miles northeast of Santa Fe, is also known as San Lorenzo Pueblo and was built in the 13th century. At one time this was the largest pueblo in New Mexico, but is now among the smallest. Most members of the pueblo work off the reservation, and yet life at the village maintains much of its traditional flavor, including several dances in the summer.
Picuris–translated as "those who paint"–is known for its unusual pottery that stands out among all other Native American ceramic forms because it is made of micaceous clay mixed with mica. The Picuris Pueblo Museum Center includes the historic pueblo ruins, mission church, scalp house, and several restored kivas. Displays include prehistoric artifacts, photographs, and text of local historical interest, and the work of regional contemporary artists. The San Lorenzo de Picuris mission church is well worth the visit.
Official site: www.picurispueblo.org
San Felipe Pueblo, New Mexico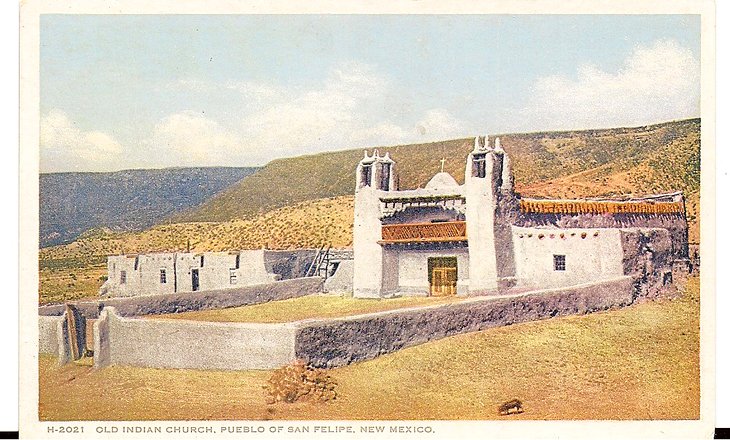 Southwest of Santa Fe is the San Felipe Pueblo, one of the oldest settlements in the area. A Keresan-speaking pueblo, San Felipe is known for its cultural conservatism and their battle to protect and retain their traditional culture. The pueblo is a theocracy, where social structure and the needs of the tribe tend to take precedence above that of the individual.
Visitors are generally not welcome to the pueblo, although at certain times outsiders are allowed to come to dances. These include dances in May and June. Stunning beadwork is the mark of San Felipe art. The San Felipe Mission Church was completed in 1736 on the site of a previous church built in 1706.
Ohkay Owingeh, New Mexico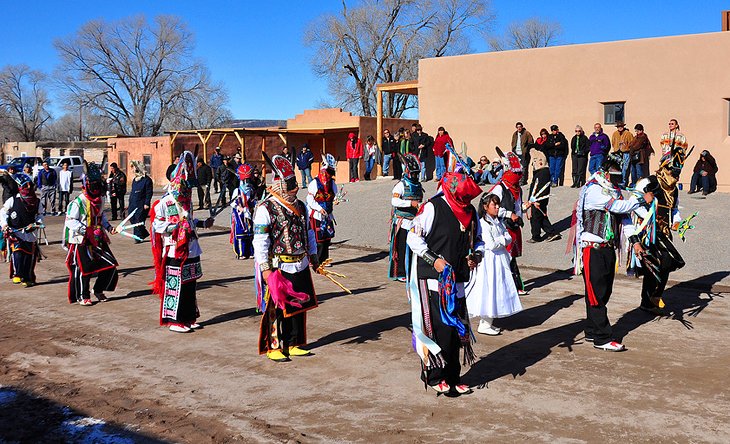 The very picturesque Ohkay Owingeh Pueblo (formerly the San Juan Pueblo), located 30 miles northwest of Santa Fe, is noted for its skilled potters and woodcarvers. It is home to a famous art center and cooperative, where tourists can view local artists and craftspeople working on jewelry and pottery. Ohkay Owingeh Pueblo has enjoyed an economic revival that has likewise allowed a revival of traditional cultural practices.
Visitors are welcome, and the winter Deer Dance is perhaps the most famous ceremony open to the public. The social structure is based on a division between Winter People and Summer People, as well as a rigid divide between the world of men and women. This Tewa-speaking pueblo also runs the Ohkay T'owa Gardens Cooperative, which is open for visitors interested in traditional native food. The name of the pueblo means "place of the strong people."
Official site: http://ohkay.org
Zia Pueblo, New Mexico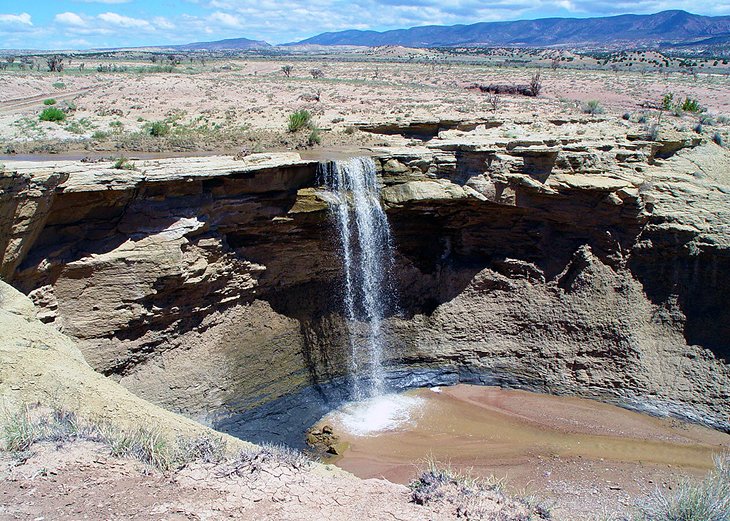 Zia Pueblo is located 20 miles northwest of Bernalillo, off NM 44. This pueblo is a hard one to see given that it blends so well with the surrounding landscape. The 700-year-old pueblo lends its symbol to the New Mexico state flag. Zia is another of the Keresan-speaking pueblos and tends to be rather reserved.
Most tribal members work as farmers or ranchers, although arts and crafts have taken off in recent decades. Most notable is the unpolished redware pottery with a white slip covered in abstract bird paintings. The mission church was established in 1706 and is generally open to visitors, and outsiders are also welcome to the August Corn Dance, but no photography or recordings are allowed.
Official site: http://zia.com/home/zia_info.html
More Related Articles on PlanetWare.com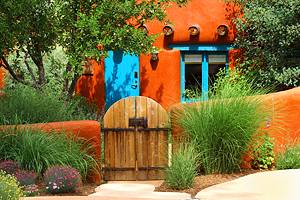 Santa Fe: Many of New Mexico's pueblos are within easy reach of Santa Fe. This city makes a good base for exploring the area and is worth spending some time. For more information, see our article on the Top Attractions in Santa Fe.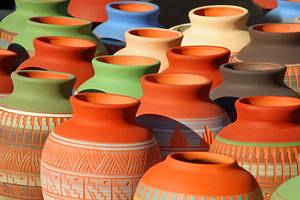 Taos: Although the name Taos is often associated with skiing at the nearby Taos Ski Valley resort, there is much more here to attract visitors. Museums, art galleries, and great Mexican food are just some of the highlights. For more reasons why you should visit Taos, read our piece on the Top Attractions in Taos.