12 Top-Rated Attractions & Things to Do in Las Cruces, NM
As a tourist in Las Cruces, you might find yourself at a crossroads: the traveler's dilemma of decision-making. That's because there are so many things to do in the second-largest city in New Mexico. Like the twinkle in an old cowboy's eye or a drop of dew glistening on cholla, Las Cruces is a multi-faceted gem. One major facet of its allure is year-round sunshine, so you can spend your days hitting all the attractions or just soaking up the vibe.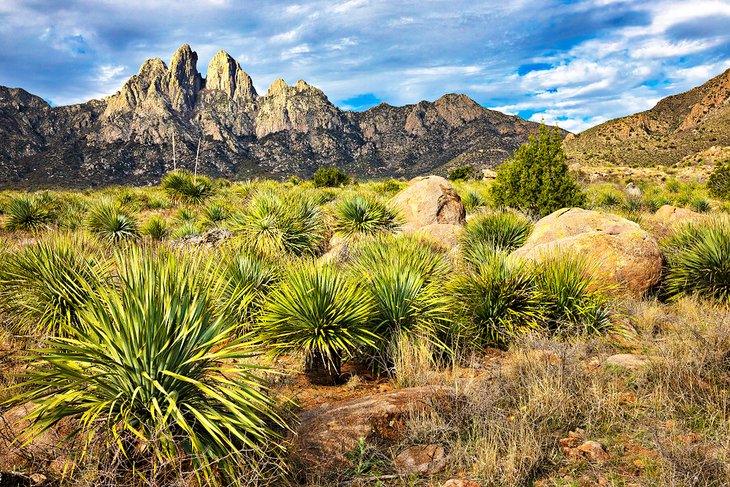 Approaching the city from the west, you will be greeted by The Roadrunner—the one made of recycled parts at the Interstate rest stop—or, if you're lucky, a real live specimen. You can explore two historic neighborhoods (Mesquite and Mesilla), plus no end of shops, restaurants, and cafés. And, Las Cruces is a goldmine of Southwest Native American jewelry.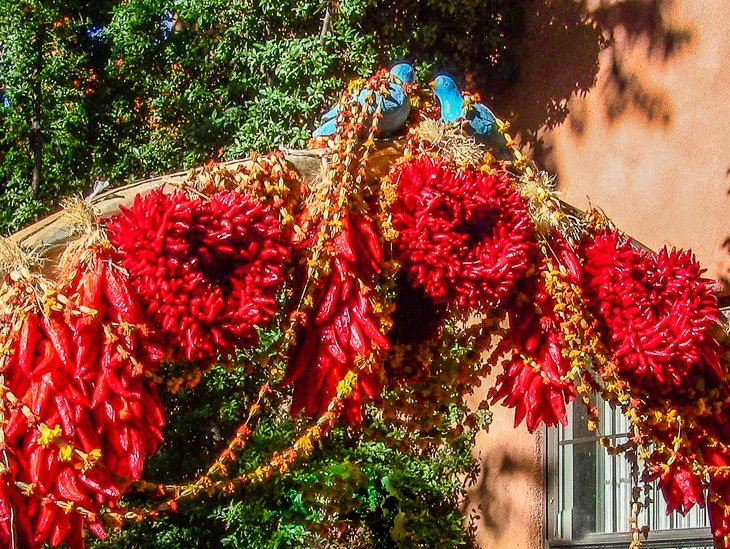 Away from the city's historic heart, there are places to visit where you can immerse yourself in the natural world: peaks, a slot canyon, a cave, the Rio Grande. Further afield, visit a ghost town in the Chihuahuan Desert.
For more inspiration, see our list of the top attractions and things to do in Las Cruces, New Mexico.
1. Discover the Charm of Old Mesilla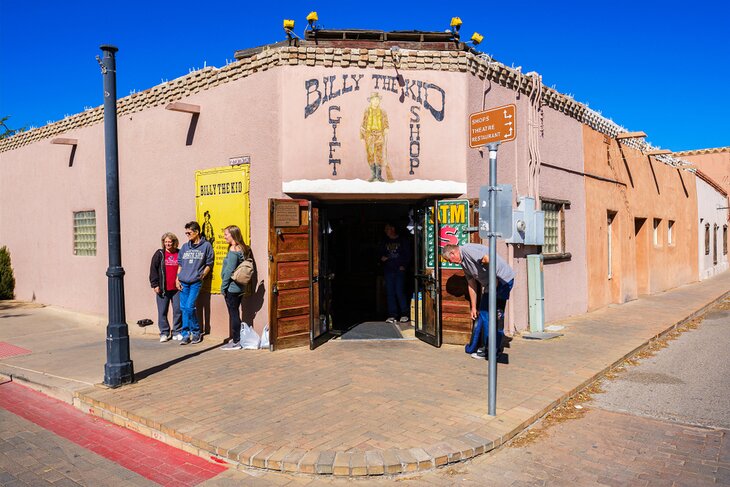 Old Mesilla village and plaza, dating back to 1848, is the most important place to visit in Las Cruces for appreciating local history, culture, politics, and the economy. With its basilica, art galleries, adobe gift shops, and restaurants, it is a sightseeing paradise for all kinds of visitors: shoppers, diners, and history buffs.
Perhaps its most famous feature is the courthouse where Billy the Kid was sentenced to hang in the county jail. Think about the electricity that filled the air when that happened, and here you are, standing under the same roof of that well-preserved adobe building with walls that are 18 inches thick. Browse the well-stocked gift shop to see what locals put on their T-shirts, then grab a takeout coffee to fuel you around the rest of the historic square.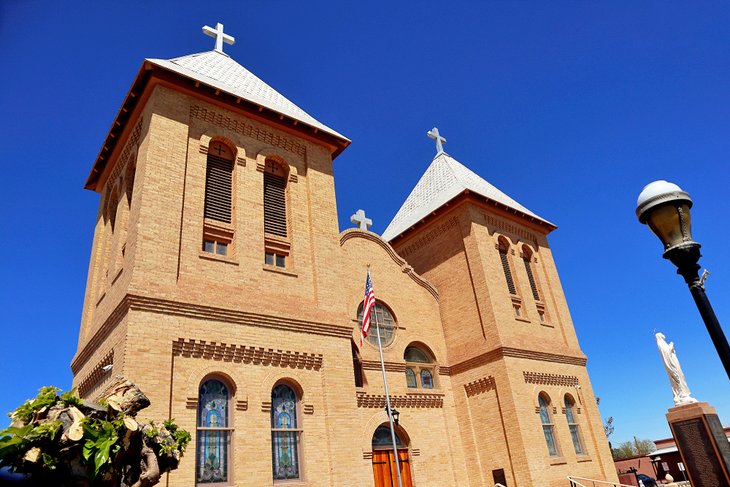 The Basilica of San Albino is the imposing church that dominates the plaza. Another prominent feature is the central kiosk. La Posta de Mesilla restaurant occupies the site where people and mail were once dispatched by stagecoach via Butterfield Overland Mail. If you visit at Christmas time, you'll see all of these buildings lit up with luminarias (candles inside paper bags filled with sand). It's a magical sight.
For its historical and cultural significance, Mesilla Plaza was designated a National Historic Landmark in 1961.
Read More: Best Places to Visit in New Mexico
2. Dive into Dripping Springs Natural Area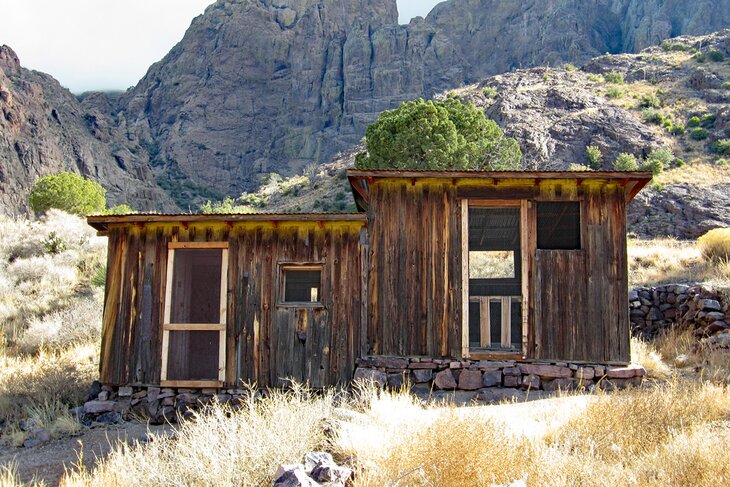 Las Cruces is a destination of scenic, cultural, and historical significance. That's why so many of its attractions have special national and state designations. All within easy reach of the city, they include one national park (White Sands), one national monument (Organ Mountains-Desert Peaks), a state monument (Fort Selden), and two state parks (Mesilla Valley Bosque and Leasburg Dam).
Luckily, for visitors to Las Cruces, within half an hour of driving, you can access the Organ Mountains-Desert Peaks National Monument, established in 2014 to preserve half a million acres of magnificent mountainous scenery. There are many trails and degrees of difficulty to choose from, one of the most popular of which is located in the Dripping Springs Natural Area.
Within this habitat of grasslands, desert scrub, pinyon pine, juniper, and oak, you can hike Dripping Springs Trail, an easy-to-moderate gravel trail that is three miles out and back. Along the way, there is a good chance you will see wildlife such as rock squirrels and mule deer, or the Gambel's quail with its adorable topknot. (In any covey of quail, notice who plays "scout"—the bird that stands sentinel for the rest of the group and issues warning signals.)
Soaring above you in this idyllic mountain setting are red-tailed hawks and golden eagles. You'll wish you could soar on their wings for a closeup of craggy summits within the monument such as Baylor Peak (elevation 7,700 feet).
At the visitor center, you'll notice that waterfalls and a spring are features of this trail. You will also see the fallen beams and rubble of old historic buildings. Unlike other ruins in the American Southwest, these relics are not the cave dwellings of Indigenous people who were the earliest inhabitants. One ruin is the remains of a mountain camp set up in the late 19th century. The other is what's left of a sanatorium for tuberculosis patients.
Take your time to mosey through and bring a picnic lunch to enjoy at one of the benches conveniently located along the way. In the springtime, you won't be smelling the roses, but prickly pear cactus and alpine flowers will be in glorious bloom.
Address: 15000 Dripping Springs Road, Las Cruces, New Mexico
3. Meet the State Bird: The Roadrunner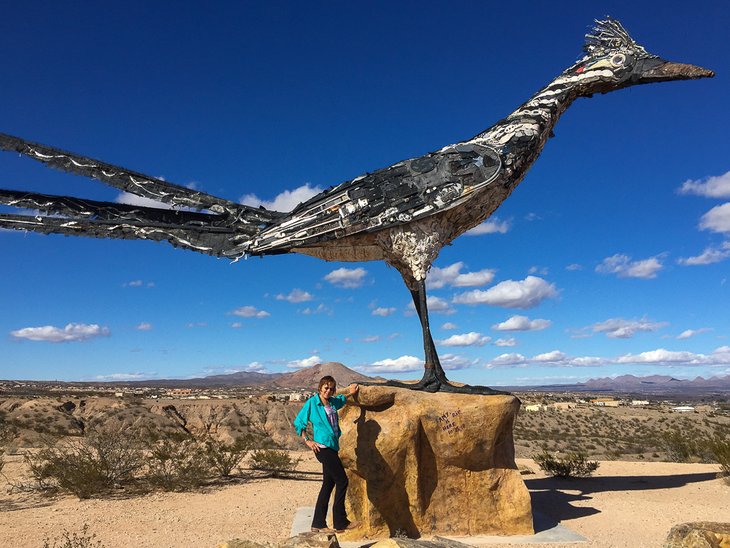 What better gatekeeper for Las Cruces than the roadrunner, state bird of New Mexico? It's always fun to see the real thing but if "Paisano" (the bird's Mexican nickname) doesn't cross your path, check out the funky facsimile measuring 40 feet long by 20 feet tall at a scenic rest area.
In the words of Olin Calk, the local artist who completed the sculpture in 1993, the intention was to create an environmental statement about public art made from recycled materials. Calk leaned on the city's recycling center and thrift stores for materials to create this inspired icon of Las Cruces. When local people see The Roadrunner, they know they're almost home.
You need to get up close to admire the details in the artistry. The "skin" is made of sheet metal and the beak from a hammered metal trash can. The eye is a Volkswagen headlight surrounded by a small bike tire. The head with crest is a mosaic of carefully coordinated shoes with rhinestones, belts, and windshield wiper blades. Paintbrushes, golf clubs, crutches, toys . . . hey, how many items can you identify?
The Roadrunner is permanently riveted by the valley view across to the Organ Mountains. "Catch" it at mile marker 134 off Interstate 10, west of Las Cruces.
4. Discover What's Hot at the Chile Pepper Institute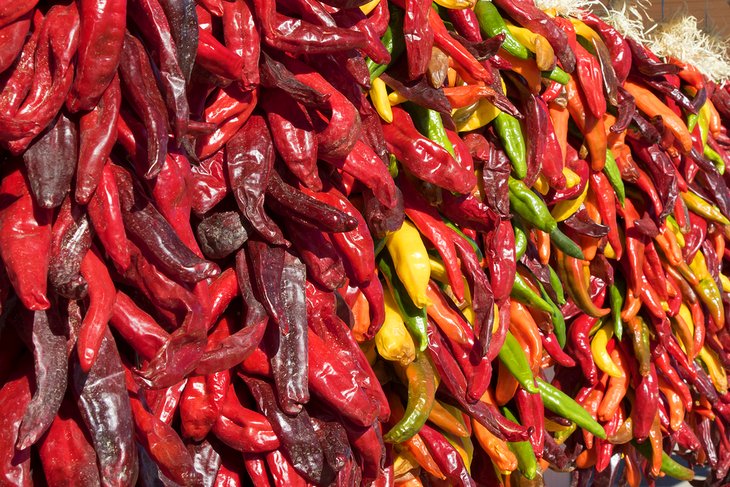 Human nature is fascinated by whatever is the biggest and best of anything, and there's always curiosity to know the limits of endurance. Some like it hot when it comes to chiles, and maybe you are one of those people who says "bring it on." If you've ever been tempted to try one of the hottest chiles ever discovered, head for the Chile Pepper Institute at New Mexico State University.
Bhut Jolokia (aka Ghost Pepper), measuring about one million units on the Scoville heat scale, was discovered here. Scorching as it is, it's not the world's hottest pepper—that's the Carolina Reaper at more than two million. To put this in perspective, the mild jalapeño is less than 10,000 units and the moderate habanero is under 300,000.
What's so hot about chile? At this international organization for research and education into chile peppers, you learn about the science behind capsaicin, the ingredient that makes them hot. You can tour the teaching garden and visit the gift shop if you want to spice things up in your kitchen: Sancto Scorpio hot sauce, Hatch chile sauce, and Holy Jolokia BBQ sauce. The institute grows 150 varieties of chile peppers, and you can buy seeds to grow them yourself, including super-hot Bhut Jolokia.
Interesting fact: The grandfather of Mexican cuisine in New Mexico, Fabian Garcia, worked for almost 40 years developing the cultivar that provides a consistent shape and heat level for New Mexican chiles. Not only was Garcia responsible for the chile industry, he introduced pecan trees to New Mexico, which created another economic windfall.
Address: 940 College Drive, New Mexico State University, Las Cruces, New Mexico
5. Find Your Bliss in Desert Scenery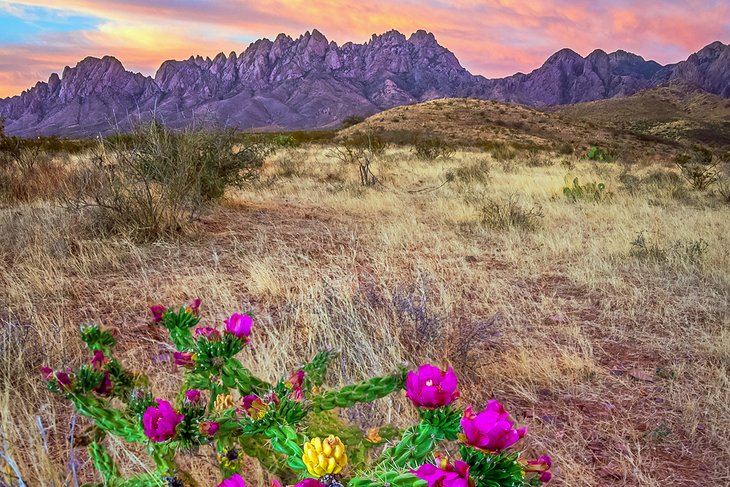 There are few things more glorious than hiking in springtime when cactus plants are blooming. Trails here meander alongside the Rio Grande or transport you to peaks and canyons. When adventuring at higher elevation (ranging from 4,000 to 9,000 feet), give yourself time to adjust and take extra drinking water, snacks, a hat, and sunscreen.
Beyond hiking, there are lots of other things to do in the natural attractions around Las Cruces. Bliss out on mountain biking, horseback riding, and birding. Overnight in a scenic campground at the base of cliffs in the Organ Mountains.
Closer to Las Cruces, three miles east of New Mexico State University, head for trails on Tortugas mountain with the big letter "A."
La Llorona Park (named for the "weeping woman" legend of Hispanic culture) is a city park with a paved 4.5-mile trail. Walk or bike along the Rio Grande while observing herons, egrets, and ducks. Even easier is the paved and wheelchair-accessible, 1.5-mile interpretive loop trail at Chihuahuan Desert Nature Park.
If you're into ATVing and motorcycles, explore 18 miles of trails on rolling, flat, and open terrain at Aden Hills Recreation Area.
6. Shop 'Til You Drop at the Farmers & Crafts Market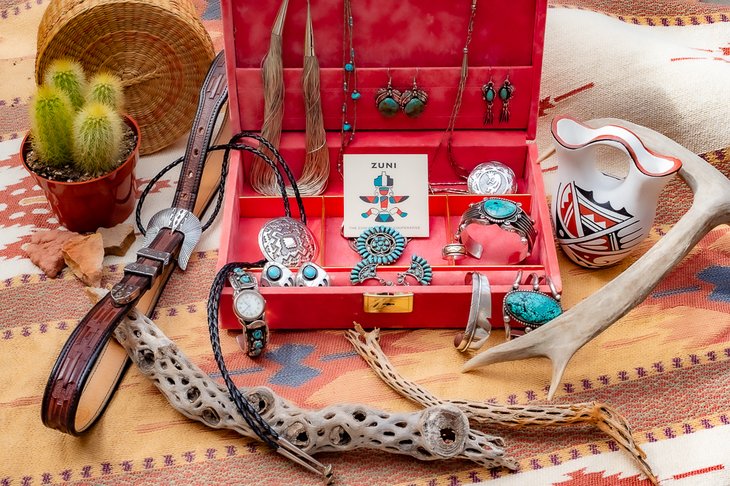 The Farmers & Crafts Market of Las Cruces happens twice a week (Saturdays and Wednesdays), sprawling over seven city blocks from Bowman Avenue to the Main Street roundabout. Hundreds of vendors and craftspeople convene at the markets, selling everything from organic veggies to specialty food items (such as pecan oil), jewelry, and ceramics.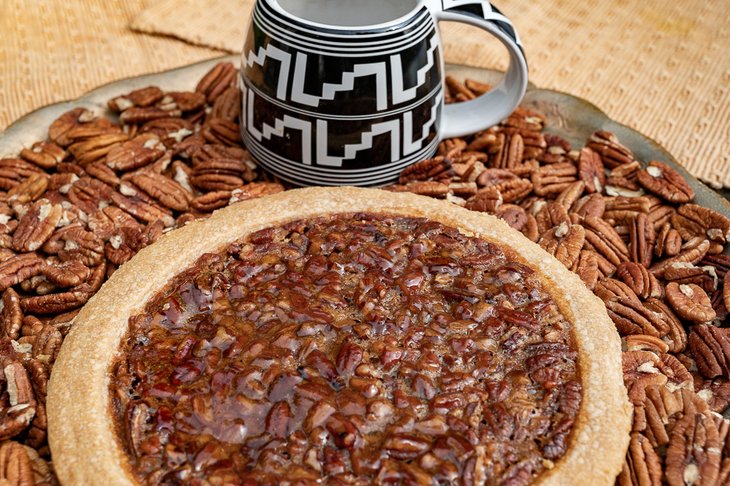 Savor the aromas while you shop for fresh food and try exotic confections: the Las Cruces version of peanut brittle (chile pecan), and candied pecans (spiced with chile, of course!). Learn about local arts and crafts while meeting the artisans who create them. Given the cultural diversity of the Las Cruces area, the whole experience is a rich dish.
7. Stroll the Same Route as the Conquistadores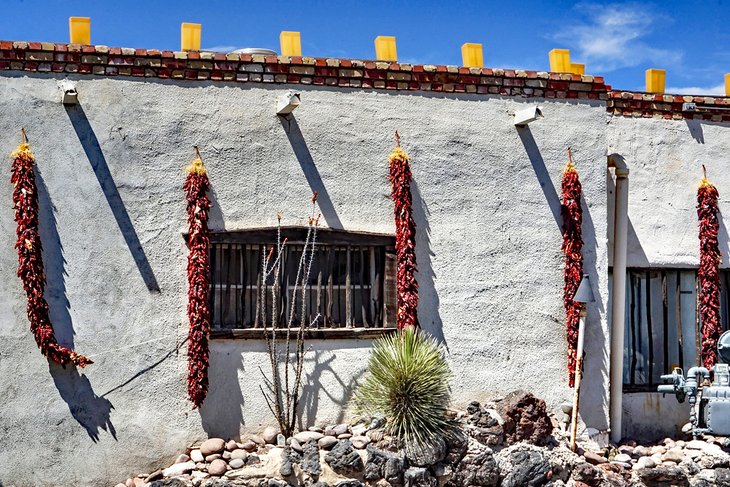 Way back when settlers were mudding up the walls of their adobe homes, Mesquite Street was a rough route between Mexico City and Santa Fe, traveled by traders and Spanish conquistadores. This part of east Las Cruces is now a living museum of history and culture, chock-a-block with the adobe buildings of settlers, parks and gardens, art galleries, and artist studios.
Look for these streets running parallel to Mesquite — Campo, San Pedro, and Tornillo — between Chestnut and Colorado Avenues. A good place to start your wanderings is the Jardin de Mesquite, where murals fill you in on how it was to live during the days of the Wild West. In the beginning, home ownership was decided by the lottery of picking plot numbers from a hat.
8. Celebrate local Culture at Festivals in Las Cruces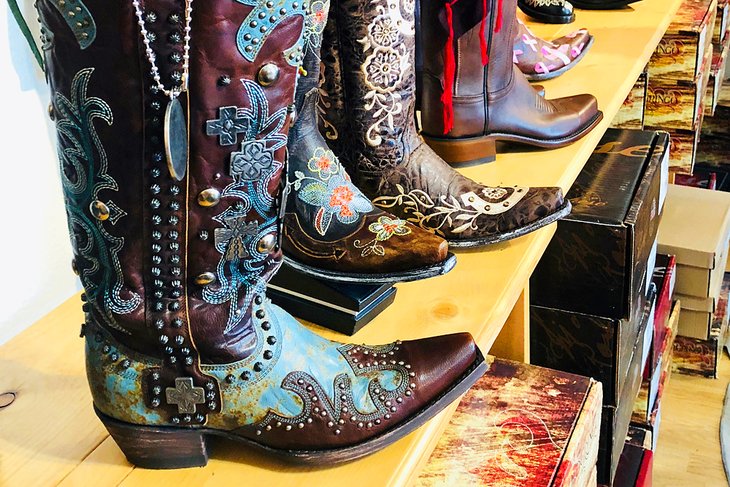 Picacho Mountain Outdoor Festival, held on a weekend in September, devotes the Sunday portion of its annual event to Cowboy Country Day. On this day, there's a fun run or walk, music, vendors, Jeep excursions, guided tours to the peak, and a chile relleno cookoff.
Cowboy Days, a two-day event that happens in March, is hosted by the New Mexico Farm and Ranch Heritage Museum. While the majority of the first day is reserved for schoolchildren on field trips, the second day is filled with things to do for tourists and locals alike. Watch demonstrations of chuck wagon cooking, listen to live performances from local musicians, take a pony ride, and learn about six types of cattle during the popular Parade of Breeds.
Another popular event is the Cinco de Mayo Fiesta in Mesilla. The two-day event, which occurs around the namesake "May 5th" holiday, features folklore ballet recitals, mariachi performances, and even a piñata and greased pole climbing competition. You can also eat your weight in traditional Mexican food.
In late September, head to the Southern New Mexico State Fair & Rodeo. With livestock shows, local cuisine, live music, carnival rides, a petting zoo, and a cowboy rodeo, this multi-day affair has something for everyone.
9. Golf at a Championship Course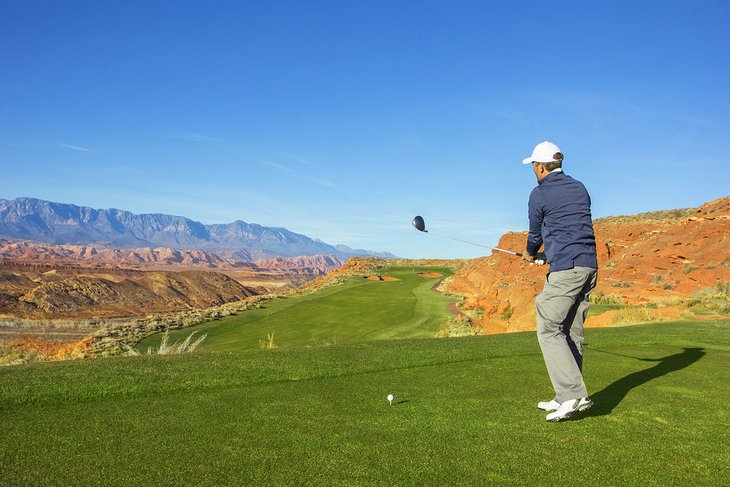 There's nothing better than a round of golf on a warm sunny day. If this rings true for you, Las Cruces is a hole-in-one. With 350 days of sunshine in a city where golfers fill scorecards every season of the year, Las Cruces delivers a superior golfing experience for every skill level in the shadow of the scenic Organ Mountains.
Sonoma Ranch Golf Course offers championship-level play. Six miles away is popular Red Hawk Golf Club, rated by Golfweek as one of the top five public golf courses in New Mexico since 2018. New Mexico State University is home to another championship course, which GolfPass ranks in the top 25 of all college courses in the United States.
Disc golfing is another popular thing to do in Las Cruces. New Mexico State University offers a disc golf course on its campus. The 18-hole course is noteworthy for its rugged desert terrain and challenging gusts of wind.
10. Fill your Boots at Monuments to Main Street Festival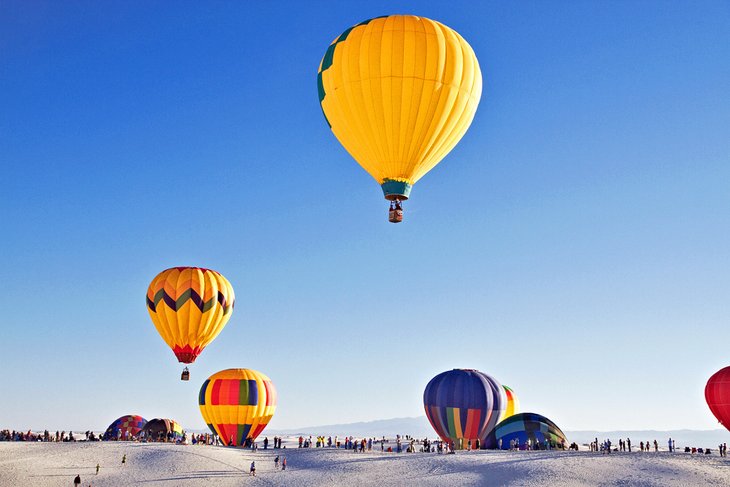 Monuments to Main Street Festival is a month-long event, usually happening in September, that celebrates the history, culture, nature, film, and cuisine of Las Cruces and Doña Ana County. If you've got a month to spare, make it monumental and check out this festival. It has done all the organizing for you and goes well beyond the itinerary of the average sightseeing tourist.
Here's a sample of what's up for grabs: A hike at White Sands National Park under the full moon, a balloon and music festival at White Sands, guided tours of Fort Selden, fine arts shows, birding in Mesilla Valley Bosque State Park, gravel bike rides, interactive campfire cooking demonstrations, movie screenings in Apodaca Park, and yoga in La Cueva Amphitheater.
11. Kick Up Dust at Lake Valley Ghost Town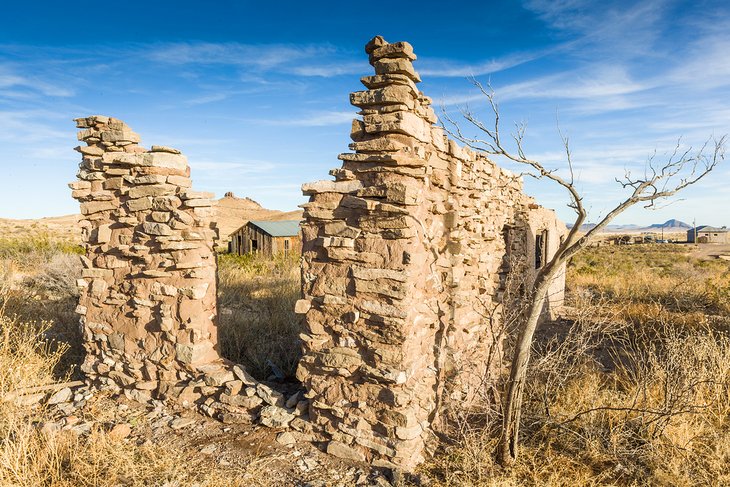 Visit a ghost town in the middle of nowhere: Lake Valley Historic Townsite. In 1878, almost overnight, Lake Valley turned into a thriving community of 4,000 people who came for mining. Just as suddenly, the community was abandoned when the silver ran out. Today, original buildings are preserved and interpreted rather than falling back into the dust from which they came.
A museum is part of the old schoolhouse, and there's a chapel where you can pray not to run out of gas and water. You can also embark on a self-guided interpretive walking tour. Be sure to take along sunscreen and a hat because "dry heat" is still smokin' hot when there's no shade. Check to make sure you're going on a day when the site is open to the public.
12. Get Involved at New Mexico Farm and Ranch Heritage Museum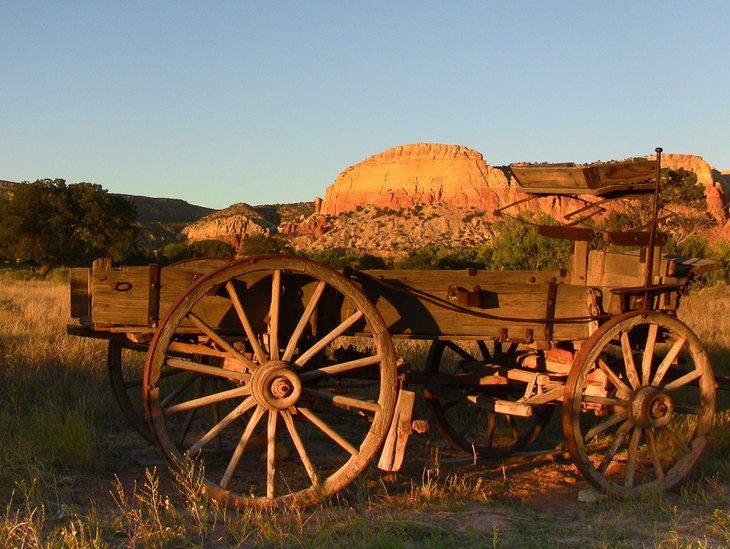 Museums in Las Cruces showcase plenty of history and culture, with one standout for people who like to be involved as participants and observers. At the interactive New Mexico Farm and Ranch Heritage Museum, set on 47 acres, you'll learn all about 4,000 years of farming and ranching in the area. Check out live demonstrations of quilting, wool spinning, sewing, and chair caning.
This city-run museum is a child-friendly attraction, with things to do for everyone in the family. See exhibits of plants and live desert animals. Plan to attend a scheduled feeding of turtles, snakes, and lizards. While this museum requires a small admission charge, several others run by the city—the Museum of Art, Branigan Cultural Center, the Museum of Nature & Science, and Railroad Museum—are all free of charge.
At the Zuhl Museum, part natural history museum and part art gallery, you'll get to see fossils, a baby mammoth skeleton, and the largest exhibit of petrified wood in the country. Petrified wood? It's not as scary as it sounds! Prepare to be dazzled!
Address: 4100 Dripping Springs Road, Las Cruces, New Mexico
Map of Attractions & Things to Do in Las Cruces, NM