14 Top-Rated Attractions & Things to Do in Ruidoso, NM
Not only is there a lot to see and do in Ruidoso, there's so much to hear. That makes sense, because the name of the village is Spanish for "noisy." Noisy? If that doesn't sound inviting, rest assured that the sounds you hear in Ruidoso could be music to your ears because there is plenty to be heard at all the festivals. If you're visiting Ruidoso Downs, you'll be thrilled to hear the thundering of hoofs going down the racetrack. And is there anything more enchanting than the sound of wind whistling through mountain pines?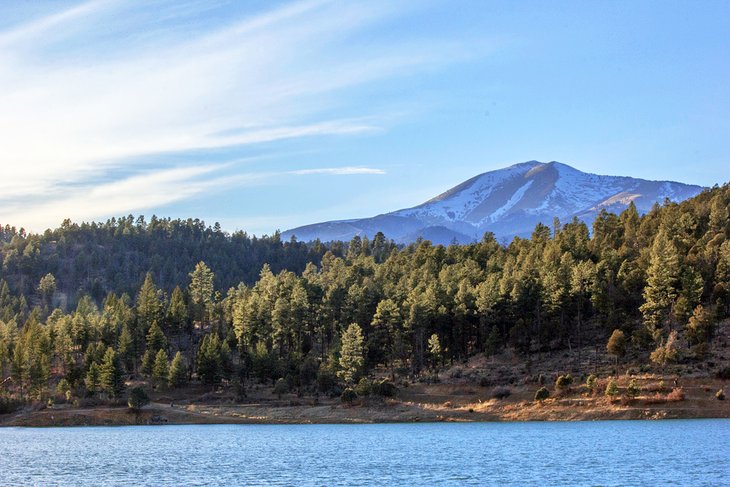 As a visitor to Ruidoso, you are likely to hear these sounds and more. That's the "noise" you hear, perhaps while trout fishing or walking along the river trail that runs through town, of Rio Ruidoso - the "noisy river" for which this place is named. Running, gurgling, and splashing for 30 miles, its headwaters are close to the 12,000-foot peak of Sierra Blanca, the highest in the White Mountain Range.
Surrounded by mountains and blessed by its river, Ruidoso is the promised land for visitors and families seeking places to play. Apart from one-time only events and competitions (Wind River Mountain Festival, Golden Aspen Motorcycle Rally, Tour de Ruidoso bike race), there is constant activity at Flying J Ranch Chuckwagon Suppers & Western Show in nearby Alto. Between Memorial Day and Labour Day, you can see a mock gunfight, watch lasso roping, chow down, and listen to fiddles duking it out with banjos.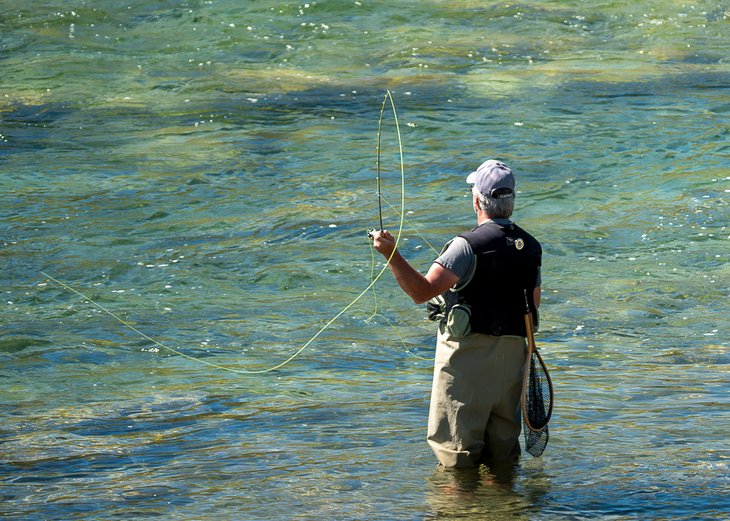 Located at 7,000 feet on the Mescalero Apache Reservation, Ruidoso also has a magnetic effect on winter visitors. The mountains are a playground for tubing, winter hiking, and "S" activities: skiing, snowmobiling, sledding, and snowshoeing. At the end of the day, in your cabin with a woodstove, cozy up with your family playing board games and finding puzzle pieces.
No matter when you visit, plan your trip with our list of the top attractions and things to do in Ruidoso, New Mexico.
1. See a Race at Ruidoso Downs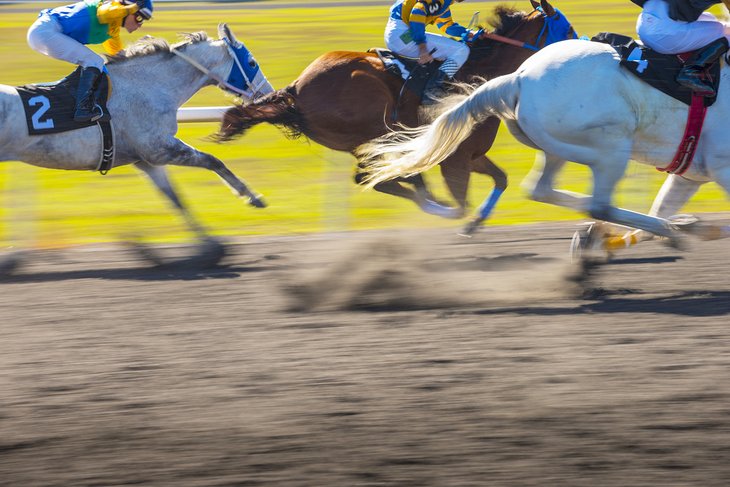 New Mexico is still the Wild West, and if you have any doubt, experience the last frontier in Ruidoso. In the same way we link alligators to Florida, horses capture the ethos of Western culture in New Mexico. That's why, when planning a trip to Ruidoso, you need to include the racetrack on your itinerary. There are only a few in the state, and Ruidoso Downs is one with a lot of superlatives.
This is where the fastest Quarter Horses in the world compete in the prestigious Triple Crown races that include the world's richest Quarter Horse race - a purse of $3 million. Don't know what the Triple Crown is? Never been to a derby? At the Ruidoso Downs Hall of Fame museum, find out who is top dog in the horse department. What you need to know is that this place lives, breathes, and venerates the horse, in all its power and beauty.
If thinking about the energy that a horse puts into a race makes you hungry, you can view a race anytime between Memorial Day and Labor Day in the comfort of one of the restaurants. You can also go trackside with takeout from one of the food concessions.
Get your souvenirs at The Finishing Line and Cowboy Latte gift shop, remembering all the fun you had with the family during your day at the races.
2. Get a Ticket to Ride at Ski Apache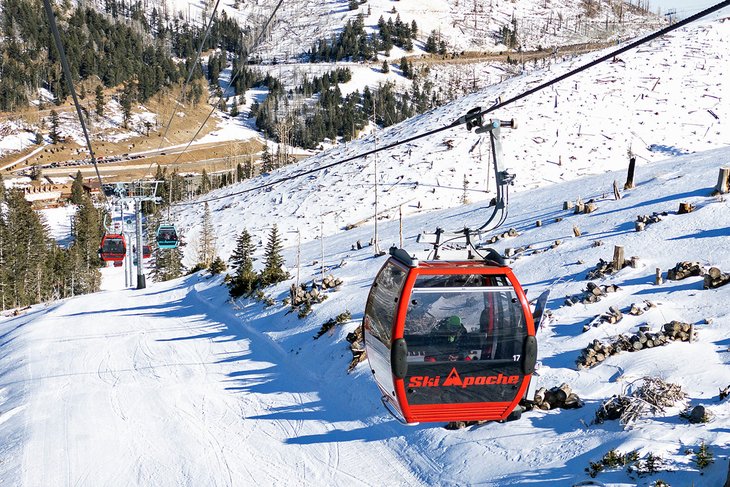 Ski Apache is one of the top places to ski in New Mexico. Summer or winter, ride in an eight-passenger gondola - the only one in New Mexico. Take in the views of White Sands National Park and Valley of Fires Recreation Area, named for when it was covered in hot lava.
Ride the world's highest and third longest zipline from a starting height above 11,500 feet. Apache Wind Rider ZipTour is almost 9,000 feet long, and whisks you through the mountain air at 60 miles per hour. Equipped with parallel cables, thrill seekers can ride side by side.
Not a fan of ziplining? Enjoy a rousing game of disc golf. Hike or jump on a mountain bike to explore miles of trails. Ski and snowboard during the winter. Ski Apache is owned and operated by the Mescalero Apache.
Official site: skiapache.com
3. Don't Miss the Hubbard Museum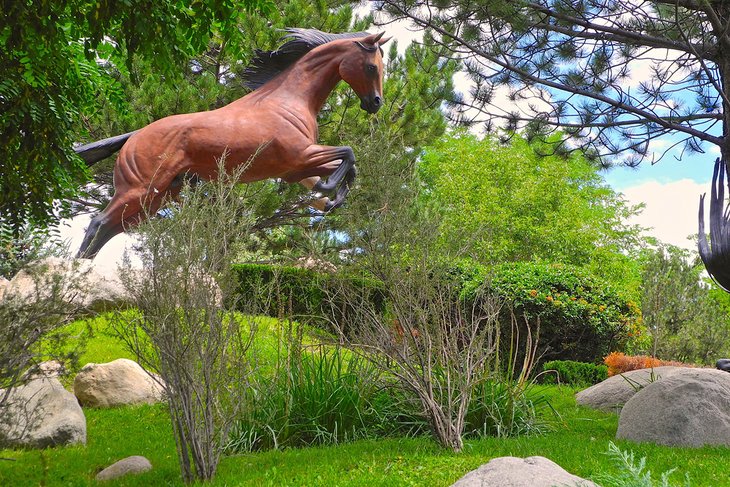 Located a half-mile from the racetrack, make like a lizard in the sun and soak up all the art, culture, and history of the American West that you can handle at the Hubbard Museum.
Before you set foot inside, though, check out the welcome brigade. Free Spirits at Noisy Water have been galloping through the imagination of visitors since they were installed in 1995. Admire the artistry of Dave McGary's bronze sculpture, and marvel at the engineering feat of balancing eight horses on nine hooves. One of the largest and heaviest equine monuments in the world, each of the seven American breeds weighs 3,000 to 5,000 tons in an exhibit that is 255 feet long.
Among the 9,000 items awaiting you inside the museum, the biggest are stagecoaches, buggies, and a horse-drawn hearse. You could easily be overwhelmed in this world of saddles and spurs, baskets and kachina dolls, so pick and choose. Don't miss this opportunity to learn about the lives of pioneers and invaders - Anglo, Native American, and Hispanic - who were here long before you.
Prepare to be dazzled by exhibits of fine jewelry by Navajo, Hopi, Zuni, and Santo Domingo master craftsmen: Squash blossom necklaces, clasp bracelets inlaid with precious turquoise, and strands of liquid silver beads.
At the mining exhibit, discover interactive features that test your life skills. Learn about William H. Bonney, alias Henry McCarty, alias Henry Antrim, a villain whose life became a legend. Never heard of him? His nickname was Billy the Kid, and his six-shooter is right here at the Hubbard Museum.
4. Steer Yourself to All American Cowboyfest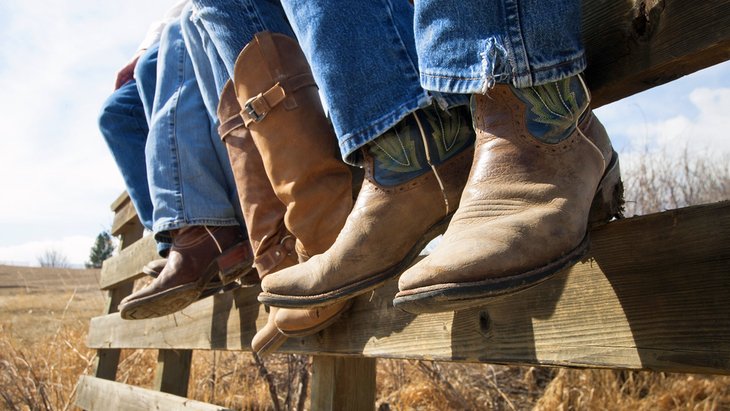 You don't need to be a cowpoke or cowgirl to groove at the All-American Cowboyfest, and no one will know as long as you look the part. Pack your western duds - not hard to find in New Mexico if you don't own any - and get ready to have a blast. A version of the festival has been running for 30 years.
Here's the lowdown on why it's so popular: Instead of race horses on the track, there's a rough stock rodeo. Cowboys on bulls and horses show off their skills at bronc riding, saddle bronc, steer wrestling, team roping, and barrel racing. Another competition not to miss: The Miss Rodeo New Mexico contest.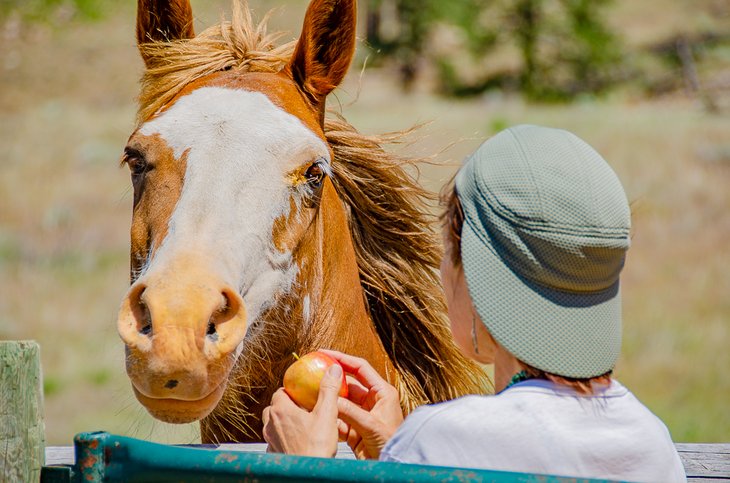 Imagine what happens when the sun has set and the moon is coming up. Energized by the rodeo, you're looking for another kind of country entertainment. Boy howdy, have you come to the right place. Every night there's roof-raising country music. Swing your partner on Saturday night, when the scene is rockin' and rollin' with country swing. Three stages, three days.
With all that whirling around, you'll burn up calories. No worries, though, there's lots of good grub. Does spicy cuisine bring your taste buds to their knees? Get a whiff of the world championship chuckwagon cook-off and head on down.
Official site: https://allamericancowboyfest.com/
5. Take a Walk on the Wild Side at Lincoln Historic Site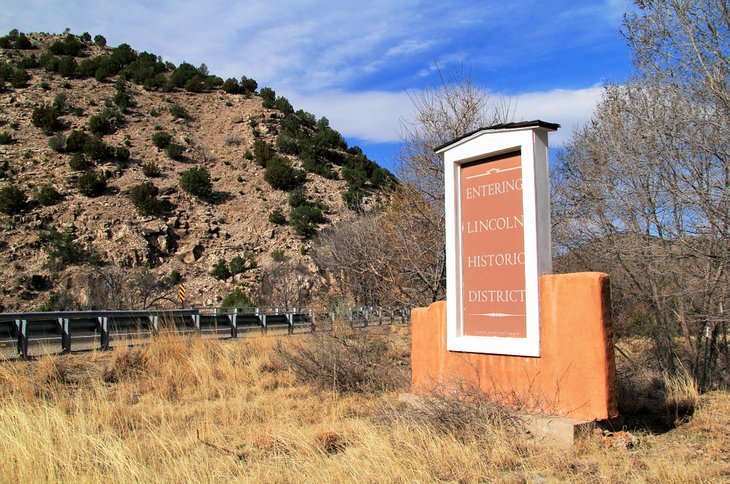 There was a time when the town of Lincoln had such an infamous reputation, it was considered bad to the bone. Its mantra could have been: Shoot 'em up and ask questions later. Visiting Lincoln today, you might think not much has changed. That's because, really, nothing has. Historic Lincoln is located on the scenic byway named for the most famous guy on a WANTED poster: Billy the Kid. There are miles of well-preserved adobe and stone buildings, including the courthouse from which The Kid escaped in 1881 and allegedly claimed the lives of two deputies. There's also the jail where they locked him up.
Dominating the landscape is El Torreon, a 20-foot round tower that was used for defense. A church dating to 1887 still welcomes tourists. Ditto the Tunstall store, where you can walk right in and see original merchandise lining the shelves and filling the display cases. Delve deeper and you'll discover that the store doubles as a museum. Get the lowdown on New Mexico's favorite bad boy (Billy the Kid) and Pat Garrett, the sheriff who eventually took him down.
Take the walking tour and watch the video. You'll learn that there was a lot of fighting back in the day, and it wasn't just fisticuffs involving rough-and-tumble characters like The Kid. The Lincoln County War was a high-stakes political battle over beef contracts with repercussions that went all the way to the capital of Santa Fe.
Lincoln Historic Site - the most visited state monument in New Mexico - is 18 miles from Ruidoso.
Official site: http://nmhistoricsites.org/lincoln
6. Change Up Winter Activities at Ruidoso Winter Park
Like the traditional combo of horse and carriage, or skiing paired with a chalet, Ruidoso Winter Park offers a pairing with a twist for visitors who want to play in the snow. Treat the family to a full day of tubing (and ziplining) while warming up and enjoying s'mores in a 12 x 12-foot canvas "igloo." The VIP igloo package is popular, so book a reservation. Ruidoso Winter Park also offers summertime tubing.
Official site: https://www.ruidosowinterpark.com/
7. Take a Giant Step Back in Time at Three Rivers Petroglyph Site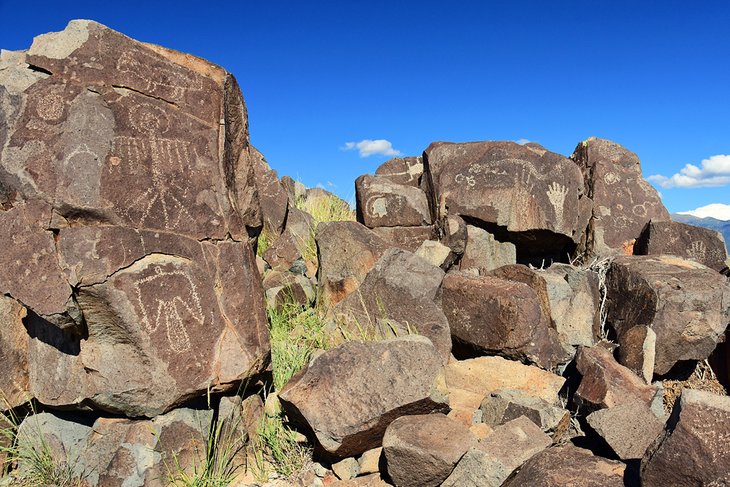 If you've ever found a message in a bottle, you know how exciting it is to connect with the messenger. Imagine 21,000 messages in the form of images carved on rock, none within the last decade or even the last century, but 10 centuries ago. Sometime between AD 900 and 1400, the pre-historic Jornada Mogollon people were carving on the rocks at Three Rivers Petroglyph Site.
Within an hour's drive of Ruidoso, find the visitor shelter and go for a short half-mile hike. You've arrived at a place where you can take a giant step back in time. The petroglyphs are easy to find, and you can walk right up to them.
What were the ancient people trying to convey by carving images in stone? Judging by the number of glyphs of wildlife, birds, insects, and sunbursts, the survival and imagination of the Mogollon were closely tied to nature. Other carvings depict masks and hands, as though the artists were laying claim and saying: "I was here." Using stone tools, they also carved geometrical and abstract designs.
Another short trail leads to a partly uncovered prehistoric village, likely occupied by the Jornada Mogollon people who mysteriously vanished after living here for hundreds of years. Explore the 50-acre site - as a day hiker or overnight camper - and reflect on the people who were here before us. Like modern-day tourists, they gazed upon the Tularosa Basin and found sanctuary in the Sacramento Mountains. Their legacy of rock etching is a gift that unites us with a sense of wonder.
Official site: https://www.blm.gov/visit/three-rivers-petroglyph-site
8. Take the Junior Ranger Pledge at Smokey Bear Historical Park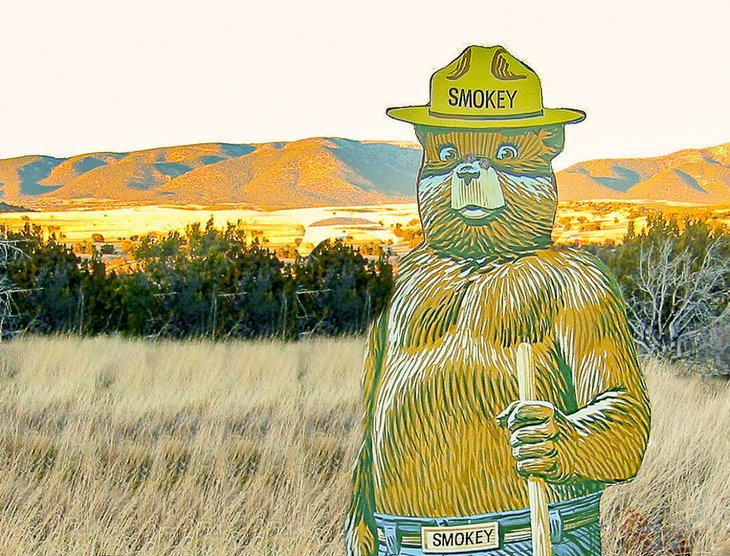 Six years after the U.S. Forest Service dreamed up a campaign to teach people about fire prevention (1944), they discovered the real live bear that would become Smokey the mascot (1950).
The cub was clinging for dear life to a tree torched in a Capitan Gap forest fire. After his rescue and recovery from burned paws, Smokey was onto a new life, courtesy of the federal government. The world's best-known icon for forest fire safety was everywhere: Posters, comic books, billboards, on radio and TV, advertising the jingle: "Remember . . . only you can prevent forest fires!"
After living and campaigning for more than a quarter-century at the National Zoo in Washington D.C., Smokey died and was brought back to his hometown of Capitan for burial. There's a memorial plaque in his honor at Smokey Bear Historical Park, a popular place for young people to make their Junior Ranger pledge.
The whole family will have a good time at Smokey Days, a two-day event in early May that includes a parade, food, and entertainment. There's also Smokey Bear Stampede on the 4th of July, featuring several rodeos, concerts, a BBQ, and fireworks. Visit Smokey Bear Museum and Gift Shop, 17 miles north of Ruidoso.
Official site: http://www.emnrd.state.nm.us/SFD/SmokeyBear/SmokeyBearPark.html
9. Go Ghost Hunting After Dark at Fort Stanton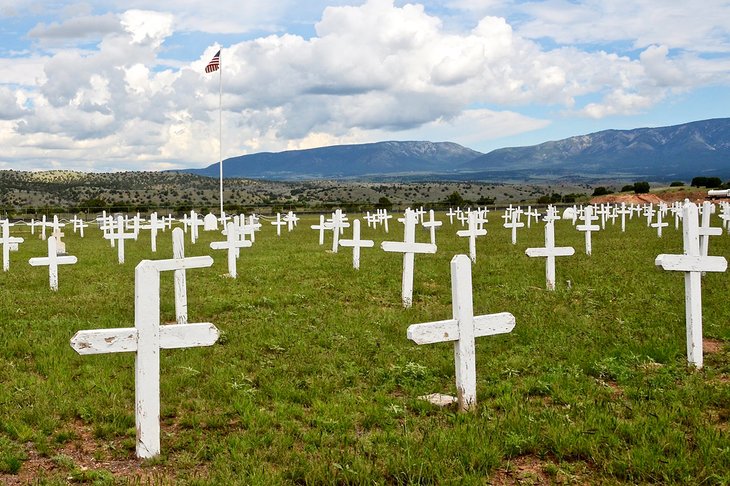 Fort Stanton Historic Site has been many things over the years in its long and impressive service to the nation. As the best-preserved military fort in New Mexico, it played a role in these conflicts: The Indian Wars, Civil War, and Lincoln County War during the Billy the Kid era. It then served more than 50 years as the first federal sanitorium for TB patients (1899 to 1953).
During the Second World War that occurred during this timeframe, Fort Stanton was a detention center for people considered to be enemies of America. Eventually, in 2008, it was acknowledged as a living history site and designated a state monument. The surrounding area, including an extensive cave system, became a national conservation area.
With all this somewhat gloomy history, there are rumors of ghosts lurking about the property. That's why there's an "after dark" tour that invites you to go ghost hunting. You wouldn't be the first. Fort Stanton was featured in a 2019 segment of A & E's Ghost Hunters.
By the numbers, Fort Stanton is impressive: Built in 1855, it has nearly 90 buildings on 240 acres surrounded by another 25,000 acres of mostly undeveloped federal land. To learn more, choose a tour that matches your interest: Link up with a docent, book a private group, go self-guided, learn about history on horseback, or join an educational tour.
Located off Billy the Kid Scenic National Byway at the Bonito River, Fort Stanton is next door to Lincoln, 18.5 miles from Ruidoso.
Official site: http://www.nmhistoricsites.org/fort-stanton
10. Look Below the Surface at Valley of Fires Recreation Area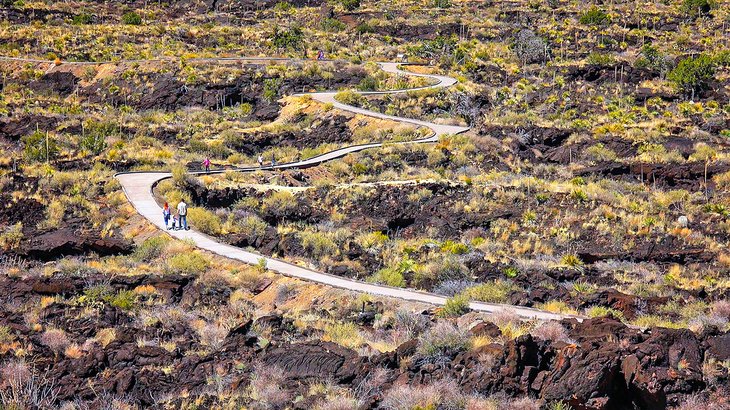 Valley of Fires Recreation Area is a landscape like none other in the area. The first thing you notice is the different color: charcoal black. Sometime in the last 5,000 years, a five-mile swath of red-hot lava poured 40 miles down the Tularosa Basin. After cooling, it turned into a black volcanic landscape known as El Malpais (Spanish for badlands). Yes, it looks harsh and barren, but it's alive. Walk along the easy concrete path and look closely. You'll see broad fissures, rock shelters, lava tubes, and big holes that are collapsed lava bubbles.
If you're thinking "this looks like the pits," you'd be right. Pits are part of this volcanic landscape, which makes it superb habitat for plants, birds, and critters large and small. Four species of bats live in a cave-like habitat created by eight lava tubes.
Also resident are cottontail rabbits and lizards who have adapted their skin color to blend in and survive. Mule deer, coyotes, bobcats, and kit foxes, as well as a small group of Barbary sheep, all make their home here. As for birds, don't be surprised to see burrowing owls and cactus wrens popping in and out of the lava rock. Soaring and patrolling above are birds of prey: great horned owls, hawks, golden eagles, and the cleanup crew of turkey vultures.
The hardiest plants of the northern Chihuahuan Desert take root here: Sotol yucca, walking stick cholla, and prickly pear cactus. For more details about plants, wildlife, and geology in this dramatic setting, the visitor center is a worthwhile place to visit. It's 30 miles from Ruidoso, just south of Carrizozo.
Official site: https://www.blm.gov/visit/valley-of-fires
11. Commune with Nature in the White Mountain Wilderness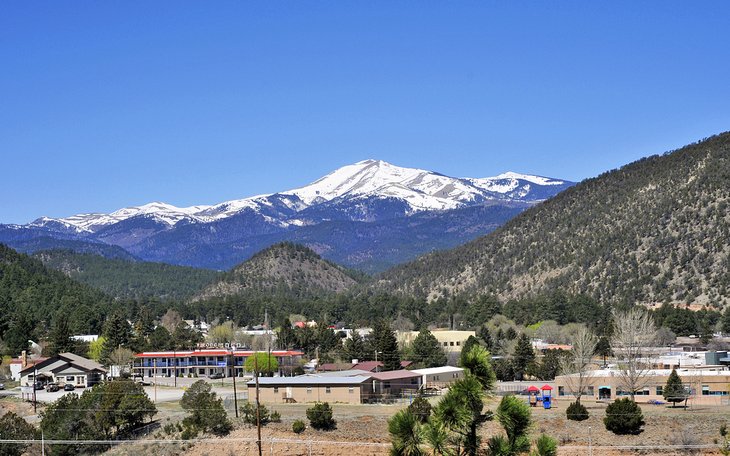 The mountain you see in Ruidoso with snow on top is Sierra Blanca, the highest peak in southern New Mexico. Behold its splendor with your camera, or hike to the top and take photos of what the eagles see. All around you is the 50,000-acre White Mountain Wilderness, 40 miles from Ruidoso.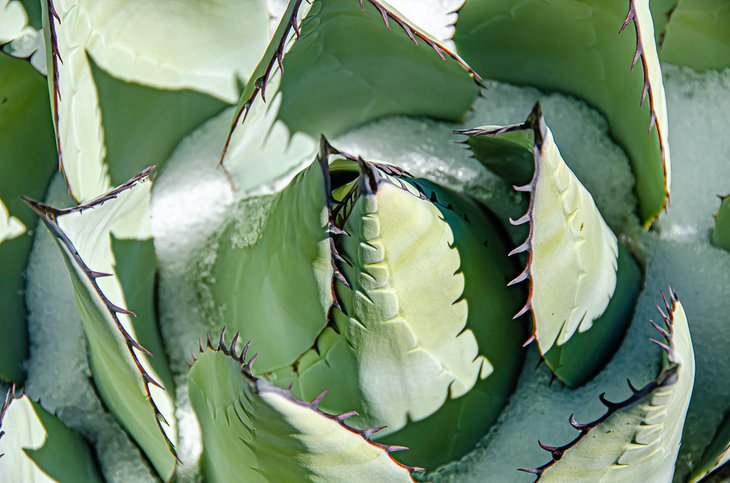 Apart from miles of hiking trails, you can ride OHVs (off-highway vehicles), go bike riding, or saddle a horse in this outdoor playground. During the winter, enjoy cross-country skiing, tubing, and snowshoeing. Prefer something less strenuous? Go bird-watching, pack a picnic, or camp at Three Rivers Petroglyph Site.
Official site: https://www.fs.usda.gov/recarea/lincoln/recarea/?recid=78583
12. Cruise the Billy the Kid Byway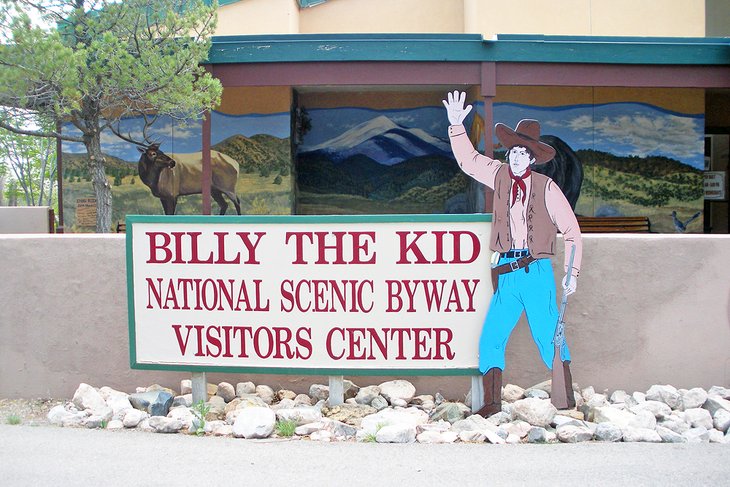 Take a road trip on the 84-mile Billy the Kid National Scenic Byway, and explore the legends and folklore of Lincoln County. Every community en route is rich in history, culture, and recreation, so take your pick or "do" them all: Ruidoso, Ruidoso Downs, Hondo, San Patricio, Lincoln, Fort Stanton, and Capitan.
Lesser-known San Patricio was the site of a battle as well as the place where Billy the Kid went dancing in the 1870s.
Capitan is Smokey the Bear's hometown and final resting place.
Hondo, named for the deepness of the River Hondo joining the Ruidoso and Bonito rivers, is a Spanish settlement with a stunning iris farm and gallery.
Learn about the tourist attractions on this scenic byway at the visitor center at Ruidoso Downs.
Official site: http://www.billybyway.com/
13. Golf or Disc Golf Year-Round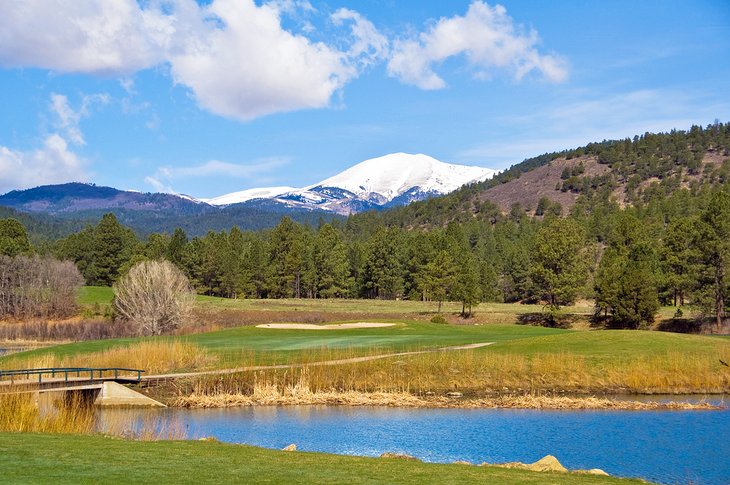 Don't forget the golf clubs when packing for your visit to Ruidoso. Even though there will be plenty of space between you and other golfers to swing your driver, other moving objects might delay your shot. At Inn of the Mountain Gods Resort Championship Golf Course in the White Mountains, it's common to see deer and elk crossing the fairways.
You'll likely see wildlife tracks while searching in the rough for your ball at other courses in Ruidoso. Only one golf course, however, transformed a runway into a fairway: Links at Sierra Blanca. Sculpted greens and pristine fairways with mountain views and pine trees make it a popular course for golfers and duffers.
As the oldest local golf course, Cree Meadows has seen the most eagles, birdies, and bogeys in Ruidoso since it opened in 1947.
Disc golfers have several choices, including Grindstone Park, Ski Apache, and the championship course at Moon Mountain Recreation Area. Moon Mountain also features miles of trails for walking and hiking.
14. Discover More History at the Carrizozo Museum
You'll find plenty of history at museums in Ruidoso and Lincoln, but what if you have a hankering for more? Head for Carrizozo and look for the 1940s building with the sign that says FROZEN FOOD LOCKER. Luckily, there's another sign that reads simply: MUSEUM.
That's right, the Carrizozo Heritage Museum and gift shop are housed in the same building where folks used ice to prevent food from spoiling. Exhibits include a 1905 barbershop, 1930s ranch kitchen, and a homesteader's log cabin. Learn how people lived before TV, when local kids attended a one-room schoolhouse (a classroom is on display).
Head for the exit only to find you might not be done. If you're a railway buff, wander next door to "train" your eyes on more memorabilia, with the added bonus of a mining exhibit and chuckwagon. From Ruidoso, the heritage museum is a 30-mile drive.