14 Top-Rated Things to Do in Marfa, TX
Marfa is famous for its unexplained luminescent spectacle of Marfa Lights, otherwise known as Marfa Mystery Lights and Marfa Ghost Lights. You may be right to think there is something in the water to make people see such things: Marfa owes its start to water. In 1883, it became a water stop for trains during steam-era days.
Marfa might be a place that catches your attention on your way to somewhere else. For some first-time travelers to Big Bend, Marfa is where they load up on ice and gas along a whistle stop sightseeing tour to Big Bend National Park. After spending only a short break here, most visitors detect something about Marfa that is different than any other town they'll see in this area southeast of El Paso.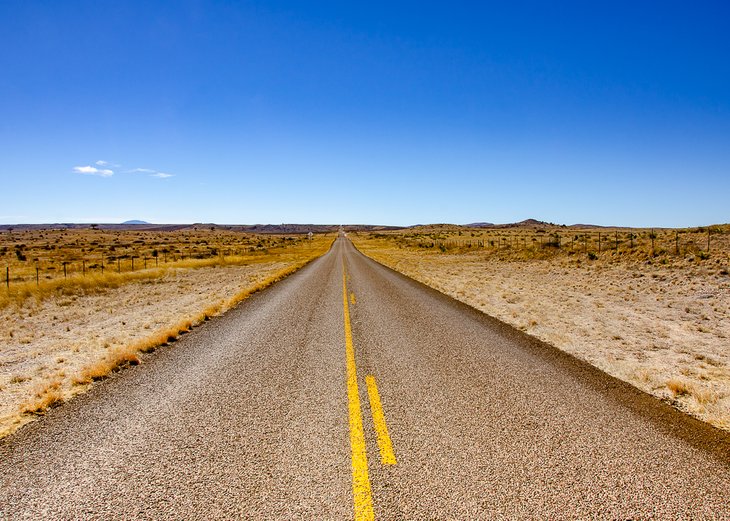 The vibrant arts and culture vibe in this small town makes it seem like you've been transported to a stylish hub in a larger center. At one of the local java hangouts or a food truck counter, you rub elbows with urban hipsters from Berlin, Tokyo, Paris, London, Chicago, and - of course - New York City. Marfa not only feels like a scene out of Hollywood, but it also became the headquarters for the epic western flic, Giant, which was shot outside of town in 1956.
Come for the mystical light show or cinematic backdrop, and stay for the warm hospitality of the locals, most of whom reflect an Anglo or Mexican pedigree. You will be forgiven if you think most of the locals share a common name: Judd. More on that later.
Enjoy the journey getting here in one of the farthest west towns in an area known as Far West Texas. Whether slipping through the air at 2,000 feet or riding high in the saddle in this high desert boomtown for the arts, our list will help guide you to some of the top attractions and best things to do in Marfa, Texas.
1. Hang Out with Hollywood Stars at Hotel Paisano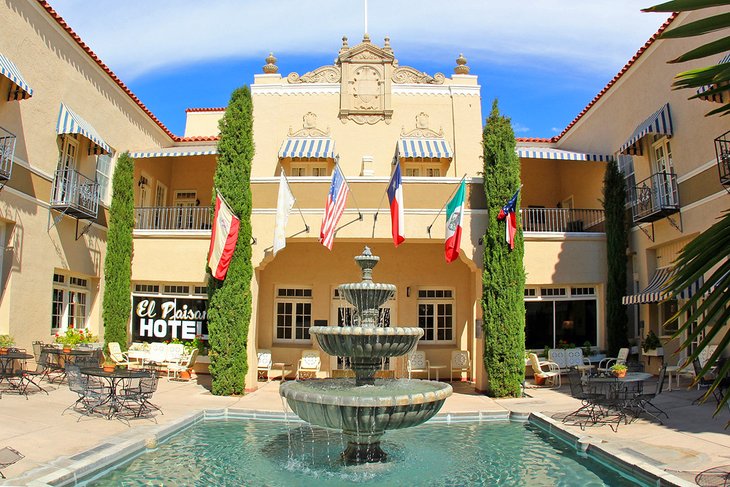 Listed on the National Register of Historic Places, Hotel Paisano is a place that gives you that goose-bumpy feeling when starstruck. Classic Art Deco design with lavish flourishes blends with the memorabilia of Giant, the blockbuster that won Hollywood director George Stevens his second Academy Award back in the 1950s.
Meander through the boutique hotel's lobby and adjacent courtyard. Furniture has been rearranged or replaced since Giant, but the interior preserves the mood that brought together Elizabeth Taylor and Rock Hudson as movie stars and helped them become close friends.
Sit down to a meal in Jett's Grill, named after the character played by the young heartthrob in America's Rebel Without a Cause, James Dean. For no cause except speed, the unrepentant daredevil of his generation tragically died in a car accident at age 24. Dean's final take on the Giant set happened only one week before his end.
Official site: https://hotelpaisano.com/
2. Be Hip and Artistic in the Middle of Nowhere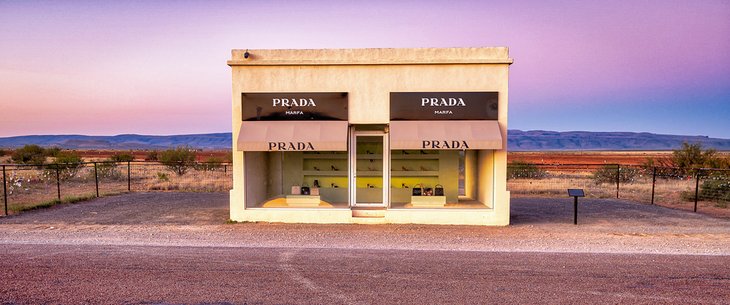 Out of the blue on lonesome Highway 90, you drive by something strange before you get to the one-horse hamlet of Valentine on the drive south to Marfa from Interstate 10. You pull over and back up until the eccentric Prada Marfa storefront fills your field of view. Almost guaranteed, your first two questions will be: What is this? Why is this here? Don't be surprised when the same questions come to mind while traipsing around Marfa. (Spoiler alert: What is quirky elsewhere is perfectly normal here.)
Everywhere you go in Marfa, you encounter people who look out of place in this isolated domain. These people - mostly dressed like the trendy art collections they've come to see - share an affection for work designed or inspired by Donald Judd. He's a 21st-century American artist who came to Marfa from New York in 1971.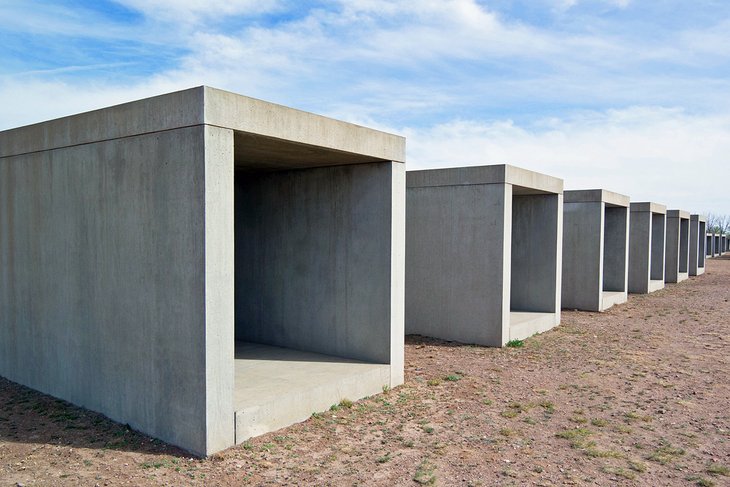 The town has since become hallowed ground for disciples of minimalism. They flock here from around the world to visit permanent art installations of the Chinati Foundation, which Donald Judd founded in the late 1970s.
In addition to Chinati's indoor collections, there's a two-mile self-guided tour of outside exhibits, including Judd's concrete forms set into the natural grasslands that he loved. The Judd Foundation makes it possible for tourists to visit what remains of Judd's living and workspaces. Can't get enough of Judd? Be here in October when the annual Chinati Weekend fundraiser rocks Marfa into the stratosphere.
Perhaps inspired by Donald Judd's creative genius, many artists are making a permanent move to Marfa and establishing art studios of their own. With roots in New York, the Ayn Foundation fits right into Marfa by supporting larger installations and artists with international profiles such as Andy Warhol.
Throughout town, check out upcoming culture and music events at venues such as the art spaces of Ballroom Marfa and Marfa Open.
3. Light Up the Skies with Marfa Lights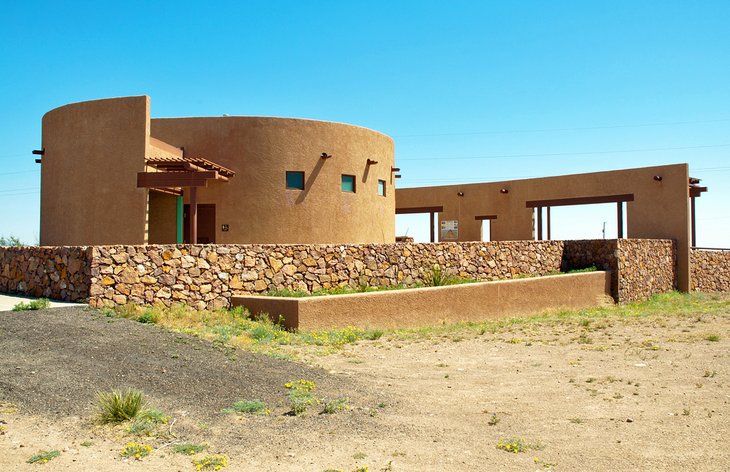 Long before the first sightings of UFOs near Roswell in New Mexico, Marfa locals were spooked by tiny bright spheres popping up along the horizon south of town. Facing in the direction of the Chinati Mountains and the Rio Grande that separates Texas and Chihuahua Mexico, these orbs appear following sunset and look like faraway headlights bouncing in the air.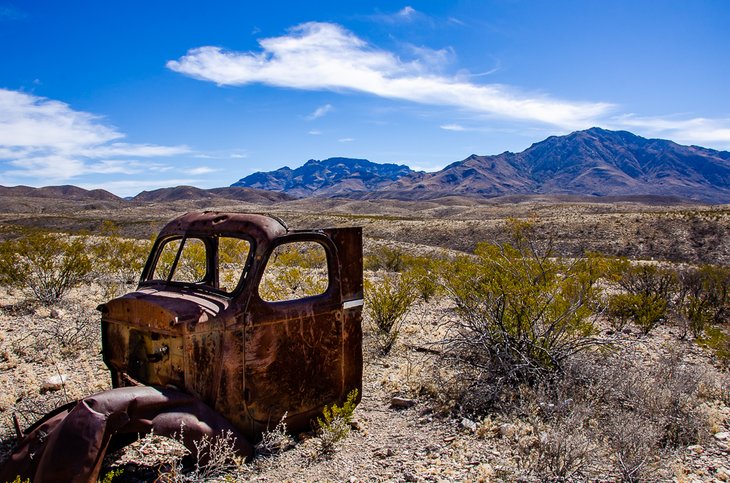 Join the tradition that dates back to the first recorded sighting in 1883. Head to the Mystery Lights Viewing Center nine miles east of town shortly after dusk. Each Labor Day Weekend, the entire town generates enough light of its own with the Marfa Lights Festival.
4. Capture Kodak Moments Night and Day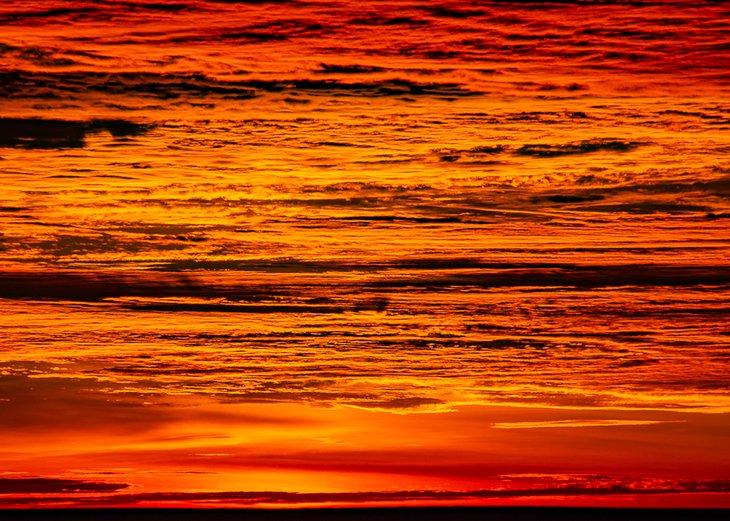 Marfa deserves its elevated reputation for creative photography. It's a popular place to visit for night and astrophotography (Google it!). During the day, not only is the light reliable and ample, but Marfa also introduces your eyes and camera lens to slices of diverse culture, history, and nature in an intimate setting. Whatever the gear slung across your shoulder or tucked away in your pocket, capture precious moments and playful objects in this photogenic sandbox.
What you photograph depends on your interest, but popular standouts include the stately Presidio County Courthouse, Marfa water tower, old railway intersections, and isolated stretches of straight country roads that roll on forever. Icons of rural life and agriculture include white picket fences, grain elevators, and the manes of horses backlit in the late-day sun.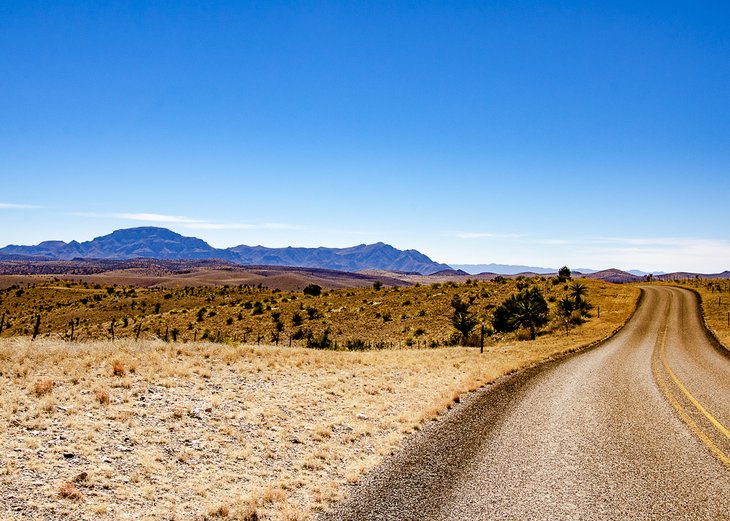 Marfa abounds with significant bird populations and herds of pronghorn antelope for nature photography. A short walk into the country on the northern outskirts of town leads to a gentle rise. From this viewpoint, you can frame Marfa in the background and the desert grasslands with a rustic windmill in the foreground.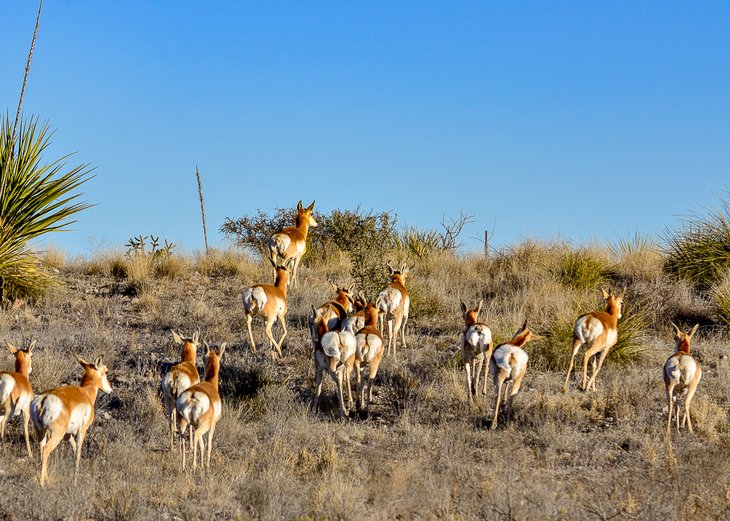 Buildings and art installations of every shape, age, and dimension give you an idiosyncratic range of things to photograph. Contemporary architectural masterpieces with minimalist appeal are just around the block from doublewide mobile homes on dusty backstreets.
Vintage Airstream trailers and teepees at El Cosmico will add contrast to your landscape photography, along with 1950s roadway signs for the Thunderbird Restaurant and Stardust Motel - relics of the past, but gold to the modern photographer.
5. Soar above Far West Texas with Marfa Gliders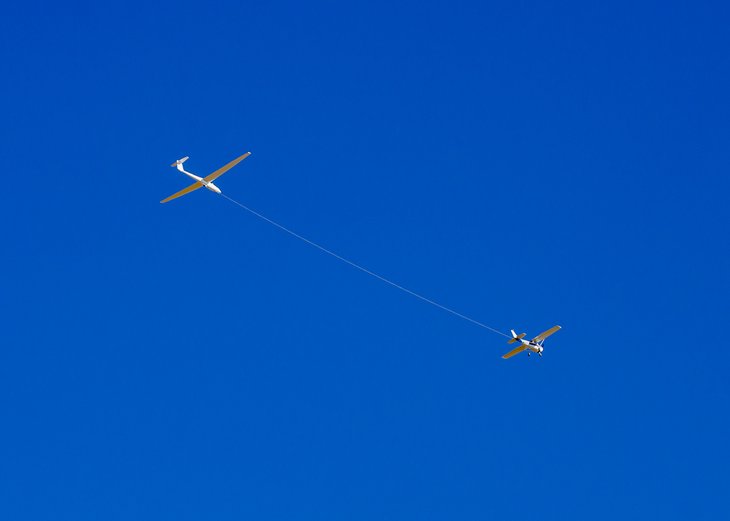 The landscape around Marfa is a panorama of flat grasslands, rolling hills, and endless plain in every direction. It's also home for non-stop daydreaming: Billowing clouds drift slowly across the blue skyscape. Want to get closer? A physical climb into the clouds is possible by booking a flight with Marfa Gliders.
Geography and atmospheric conditions create the ideal thermal updrafts required for gliding. Ten years after Marfa Gliders made its first fixed-winged glider flight in 1960, Marfa hosted the World Gliding Competition. Now is your chance to soar like an eagle to new heights in a sailplane. It's an uplifting experience to views that will take your breath away.
Official site: http://www.flygliders.com/
6. Walk While You Gallery Hop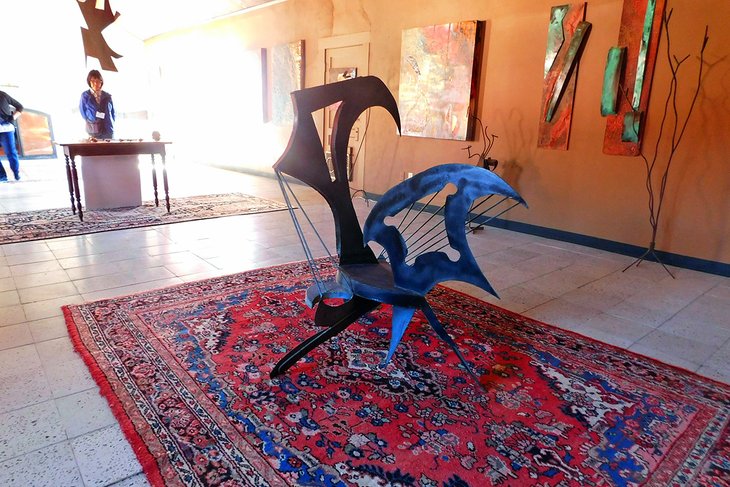 With a beverage in hand from one of Marfa's coffee-culture locations, mark your must-see art galleries, shops, and studios on a map and start walking. A less direct, but perhaps more satisfying way to gallery hop is to wander the streets without any navigational tool. The town is laid out in a simple grid. Following the Zen-like compass in your mind, you are sure to discover an out-of-the-way highlight all on your own.
Designers and artisans in Marfa take pride in creating and marketing one-of-a-kind fashions and furnishings with a distinctly Far West Texas sensibility. One celebrated example is Cobra Rock, home of the South Highland "minimalist western-inspired desert boot."
7. Appreciate Nature at the Chihuahuan Desert Nature Center & Botanical Gardens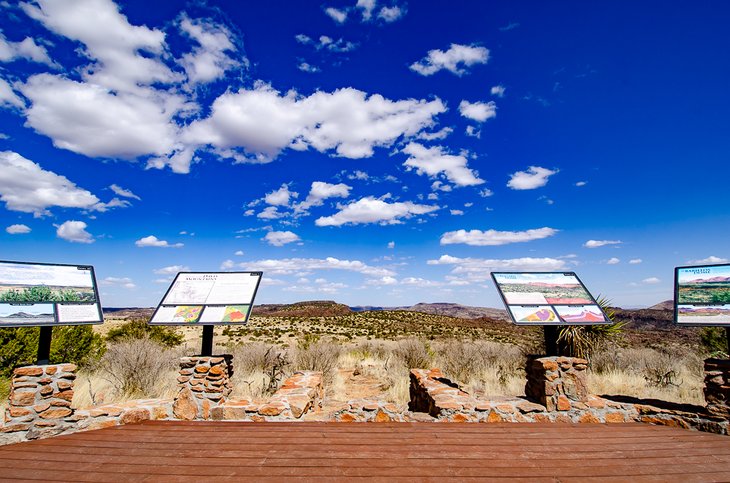 The life that supports Marfa began long before you and the first visitors traveled through this area. Desert plants and critters around Marfa owe their natural heritage to indigenous species that lived here thousands of years ago. Visit the Chihuahuan Desert Nature Center & Botanical Gardens, 26 miles north of town, to boost your knowledge and appreciation.
Before heading to one of the many beautiful nature and interpretation trails that surround the center, take time to visit the hands-on exhibits and displays about desert life. Staff and educated volunteers advise you about what to see, and answer questions.
The center is operated by the Chihuahuan Desert Research Institute, established by botanists and researchers at Sul Ross State University in nearby Alpine. By visiting the center and purchasing items in its well-stocked gift shop, you support the institute's important work in desert studies and conservation.
Official site: http://www.cdri.org/
8. Dine on the Streets in Food Truck Heaven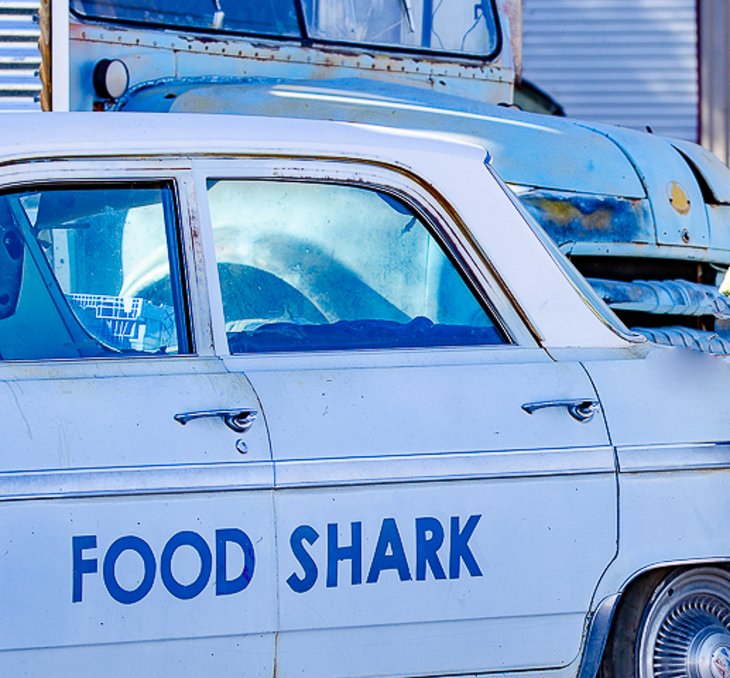 Roasting chiles and cooking beans in an outdoor kiva is a quaint idea from the past that was reborn in the Food Truck Capital of the World: Austin. In Marfa, the term "food truck" is synonymous with Food Shark. You are likely to see Food Shark stickers on vintage vehicles parked around town. Ask why there are so many of these old sedans, and you'll probably receive a range of responses such as: Meal delivery cars before the advent of UberEATS, offbeat form of billboard advertising, and Food Shark's stamp on Marfa culture.
For more than 12 years, locals and visitors have followed the aromatic trail to Mediterranean cuisine coming from one of Food Shark's roaming kitchens. Like sharks rising from the deep, Food Shark trucks pop up when you least expect them. But because food trucks are on wheels, Food Shark is a moving target. Like a hunter and gatherer, you will need to track down where your next Marfalafel is being prepared.
First check the covered market square off the main drag of South Highland Avenue at West El Paso Street. Another guess is the vacant lot on the corner of East San Antonio Street and South Austin Street. Wherever you go, keep an eye out for queues of hungry customers. Once you place your order, your tastebuds are in for a treat!
Official site: https://food-shark.business.site/
9. Connect with the Past in Shafter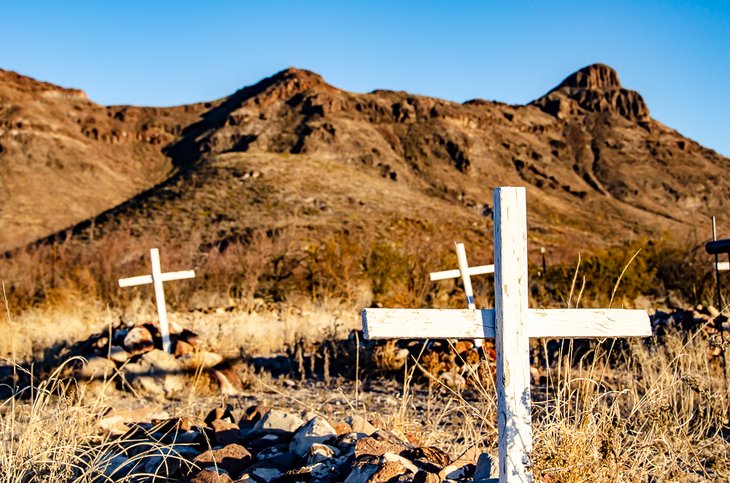 Ghost towns invite curiosity, and Presidio County's best-known place to inspire ghosts is Shafter, 40 miles south of Marfa. Some of the dozen or so locals who still get up and work each day might startle you if you wrongly presume that ghost towns are only for the dead.
Given that as many as 4,000 people lived in Shafter at one time, there are probably a few lofty spirits awaiting visiting ghostbusters. Due to its spectacular setting in the Chinati Mountains and along the cottonwood banks of Cibolo Creek, Shafter looks so inviting that ghosts are unlikely to scare you away.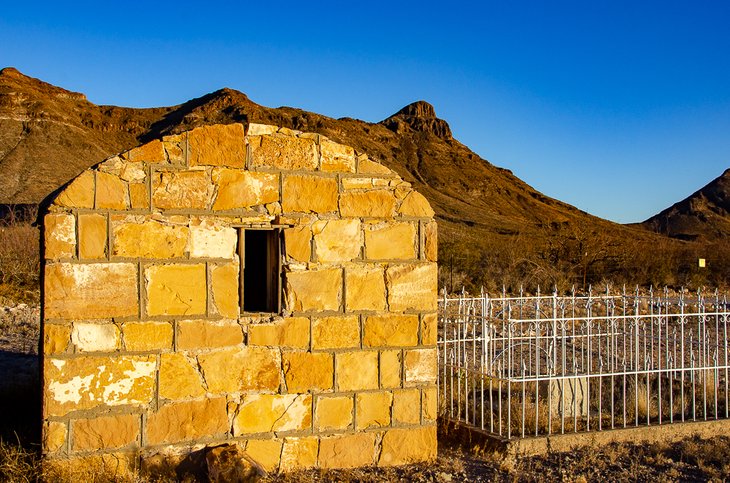 The social life of Shafter has always followed the course of its economic vitality as a silver mining town. The rise and fall of the market in precious metals will continue to influence new investments in the Presidio Mine, Shafter's main producer. As deep as the history and explored geology goes in this sleepy hollow, the brightest light for this community may be in its future.
10. Ride 'em Like a Texas Cowboy or Cowgirl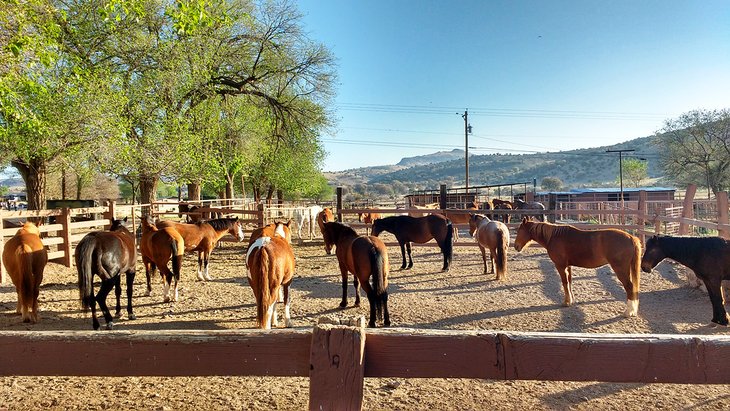 Approached from any direction, Marfa is surrounded by the legacy of large, privately owned ranches. They might inspire romantic dreams of feeling free on the range, but considerable resources and the hardscrabble labor of cowpokes help these ranches thrive. Turning to tourism, some local ranches make it a breeze for you to saddle up and saunter into the most beautiful riding country in the state.
Prude Ranch in the foothills of the Davis Mountains north of Marfa makes it possible for you to ride all day or ride an hour. Cibolo Creek Ranch, located south of Marfa, is one of the oldest ranches in Texas. Encompassing more than 30,000 acres, the ranch is dedicated to repopulating its lands with plants and animals indigenous to the surrounding Chihuahuan Desert. Ride and stay here to fulfill your every need for comfort while satisfying your dream of riding horseback in the high desert.
11. Step Back in Time at Marfa and Presidio County Museum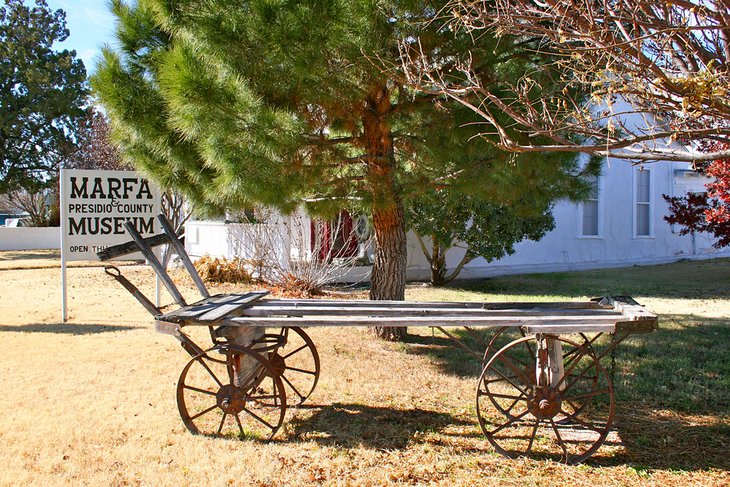 For almost 60 years, the Marfa and Presidio County Museum has been catching up on - and staying current with - events and people who have transformed life and made history in Marfa. During the course of its own history, the museum has been located in a succession of two historic homes. For history buffs and travelers wanting to dig a little deeper into the places they are visiting in Marfa and surrounding county, this small but mighty museum is open six days a week. Make yourself at home.
Official site: https://marfamuseum.org/
12. Penny Saved, Penny Given at Marfa Museum Thrift Store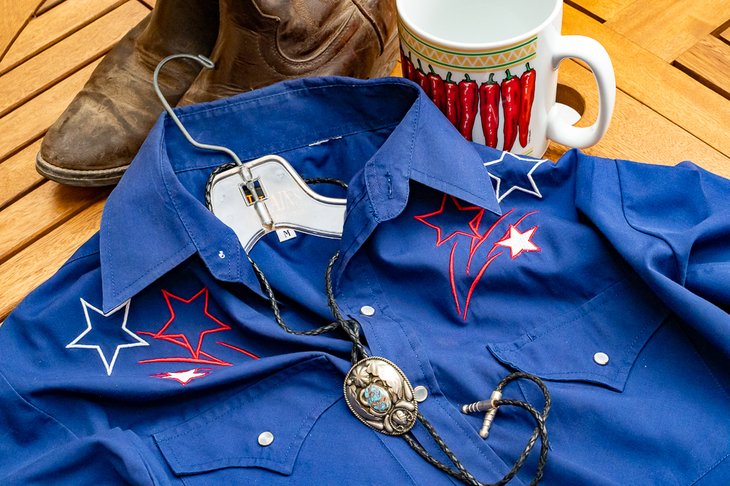 In a town that exhibits and sells pieces of art at out-of-this-world prices, it's reassuring that every tourist who comes to Marfa can take away something local without breaking the bank. The Marfa Museum Thrift Store is not only one of the longest-serving merchants in town, but also a business that gives back by raising money for a good cause.
Contributions to the thrift store reflect the taste and threads of Marfa's cosmopolitan and chic local population. While you cannot be guaranteed a second-hand designer garment on every visit, you won't score if you don't show up at the door.
13. Drive High at Marfa Municipal Golf Course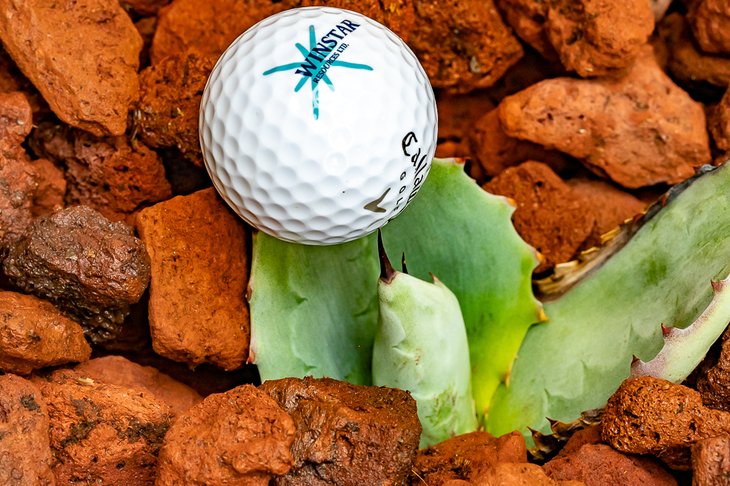 Some Texans might feel no need to brag. When you're the biggest of everything and know it, why flaunt it? That's why the Marfa Municipal Golf Course doesn't get high on its horse about laying claim to what other low-lying golf courses can only aspire. No matter how you slice it (and hopefully your ball doesn't slice at all), Marfa has the highest golf course in Texas.
Covering 3,265 yards, this public nine-hole, par 36 course offers well-tended fairways and greens that are friendly regardless of your scoring handicap. The course provides one of the easiest ways to commune with the Chihuahuan Desert without fear of cactus spines stabbing your legs.
Take your best drive off the first tee. It's only downhill from here!
14. Tuck Away Your Next Read from The Book Barn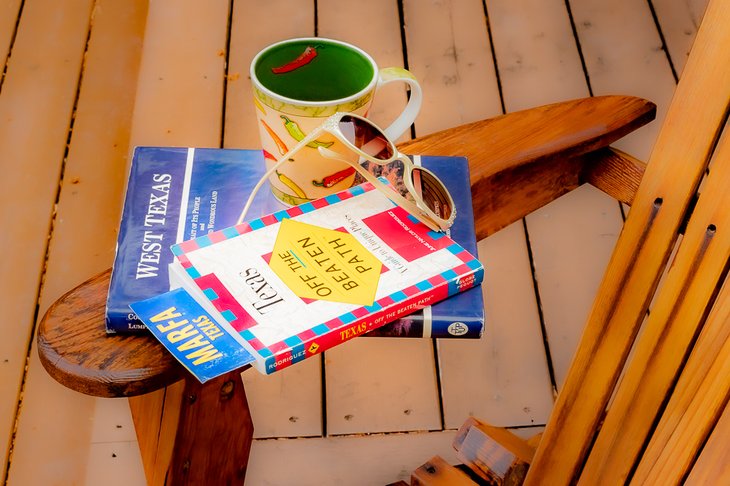 Marfa Public Library has Wi-Fi, but unlike other libraries, it harbors a hidden and dusty treasure: A Book Barn. Yes, an unheated, metal-sheeted barn with a dirt floor filled to the rafters with used books.
Ask the librarian for the key to the barn, turn the key in the padlock, and slide open the door. It's going to take a while to browse the organized stacks and random piles still in boxes, so bring a mug of fresh coffee with you. For a donation, you can walk away with an armful of reading material for the next leg of your vacation.
Map of Things to Do in Marfa, TX
Marfa, TX - Climate Chart
Average minimum and maximum temperatures for Marfa, TX in °C
J
F
M
A
M
J
J
A
S
O
N
D

15

-4

18

-3

21

0

26

4

29

10

33

14

32

16

31

15

28

12

25

6

19

0

16

-4

PlanetWare.com
Average monthly precipitation totals for Marfa, TX in mm.

10

12

6

17

34

46

72

69

73

38

10

15

Average monthly snowfall totals for Marfa, TX in cm.

3

2

1

0

0

0

0

0

0

0

2

1
Average minimum and maximum temperatures for Marfa, TX in °F
J
F
M
A
M
J
J
A
S
O
N
D

59

24

64

27

70

32

78

40

85

50

91

57

89

60

87

59

83

53

77

43

67

32

60

25

PlanetWare.com
Average monthly precipitation totals for Marfa, TX in inches.

0.4

0.5

0.2

0.7

1.3

1.8

2.8

2.7

2.9

1.5

0.4

0.6

Average monthly snowfall totals for Marfa, TX in inches.

1.0

0.8

0.2

0

0

0

0

0

0

0

0.6

0.5