7 Best Places to See Snow in Texas
Author Brad Lane has spent several winter trips enjoying the sunshine and snow in Texas.
Can you see snow in Texas? The answer is rarely, but when it does snow, the flurries usually fall in the Texas Panhandle and in west Texas. Sometimes the Dallas/Fort Worth area also sees snow. The best places to visit to see snow are cities like Amarillo and areas with higher elevations like Guadalupe Mountains National Park.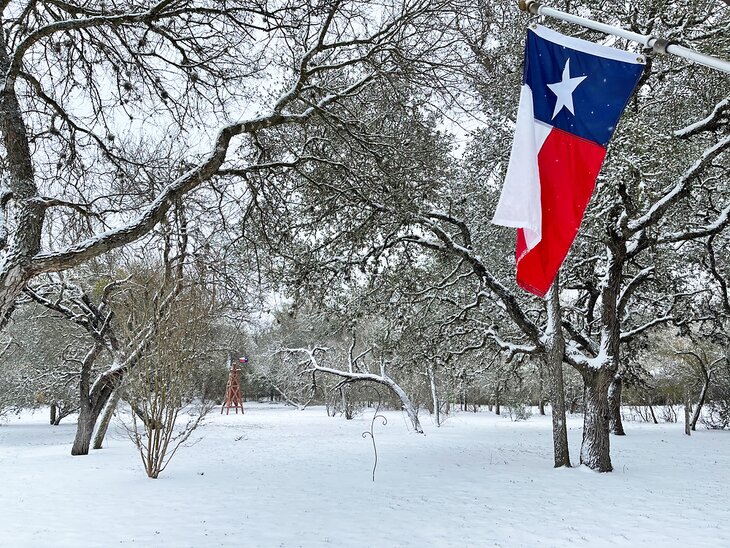 Central Texas doesn't accumulate too much snow, but places like Houston, Austin, and San Antonio receive snowflakes every few years. Snow at places like Corpus Christi in southern Texas is even rarer, but the once-in-a-decade snow on the Texas coast can be a magical thing to see.
While whiteout conditions are rare, and no one moves to the state looking for wintry weather, the experience of snow in Texas is a special sight to see. Plan your winter visit with our list of the best places to see snow in Texas.
1. Amarillo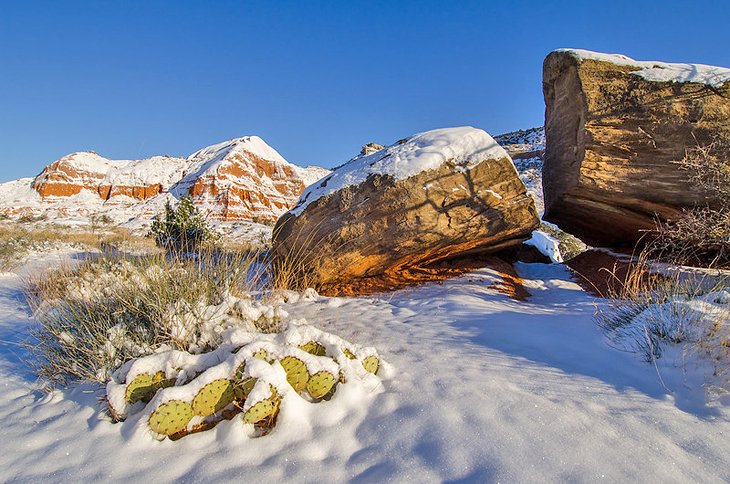 At the center of the Texas Panhandle, Amarillo sits at an elevation of over 3,600 feet and receives approximately 18 inches of snow every year.
While most of the snowfall in Amarillo occurs in January, the surrounding months, including October and April, have had snow in the past. Snow in Amarillo travels south from the Rocky Mountains and tends to fall fast on the city when it does.
Amarillo sees snow at least once a year, though it can be tough to plan much ahead of time for a snowy vacation. Forecasts typically see it coming at least three days ahead of time. Whiteout conditions are rare in Amarillo but do exist during winter events like "thundersnows" and other fast-moving weather patterns. Road conditions can become challenging during these winter storms.
Palo Duro Canyon State Park is a great place to enjoy some snowy landscapes less than 30 minutes from downtown Amarillo. Known as the Grand Canyon of Texas, the park features campgrounds, multi-use trails, and a road that accesses the bottom of the canyon. While a winter coat isn't common in Palo Duro Canyon, even a small layer of snow on the landscape makes for a scenic travel experience.
2. Lubbock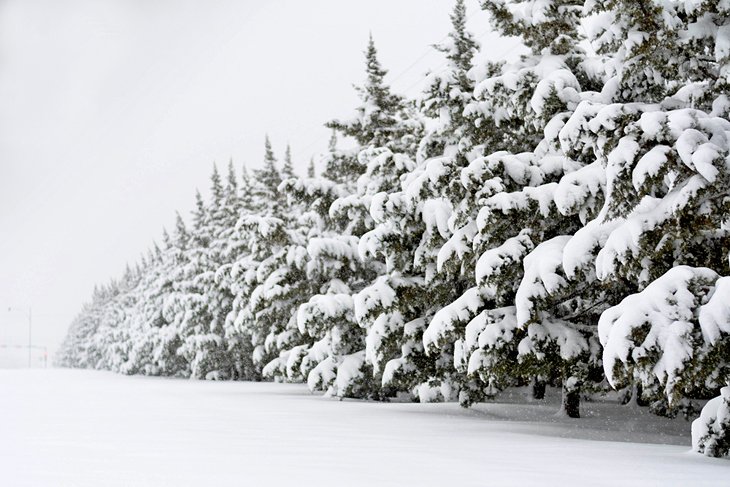 Lubbock is a central hub of activity in West Texas, and the birthplace of Buddy Holly. Snow doesn't fall very often in Lubbock, but when it does, the city can get dumped on.
While Lubbock averages approximately eight inches of snow in the winter season, some years, like 2015, can double that. Conversely, an entire winter season can pass by with scarce snowflakes.
The earliest recorded snowfall in Lubbock happened in October. The months of December, January, and February are much more likely to have snow. November has seen significant snowfall in Lubbock in past years, though most years November has rain if any precipitation at all.
Many of the top attractions in Lubbock, including the Buddy Holly Center and Statue, are hardly hampered by snow.
3. El Paso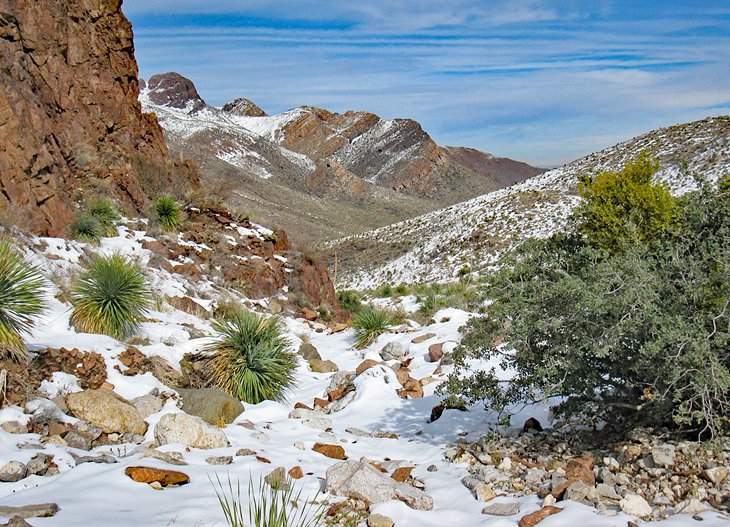 In far West Texas near the New Mexico border, El Paso does not receive the most snow in Texas. When it does snow in El Paso, however, the winter weather is often beautifully displayed across the city's mountains.
The place to get your hands on a few snowballs in El Paso is the Franklin Mountains, just a short drive from downtown. Franklin Mountain State Park is a good place to head for some El Paso snow, where hiking trails take you higher into the mountains. Camping and day-use areas are available at Franklin Mountain State Park.
The normal amount of snowfall in El Paso is less than four inches, and when it does fall, the snow that coats the mountains tends to stick around the longest.
El Paso has not had a major winter event since a 1987 December blizzard dropped nearly 17 inches in 24 hours.
The best months for El Paso snow are December and January.
4. Guadalupe Mountains National Park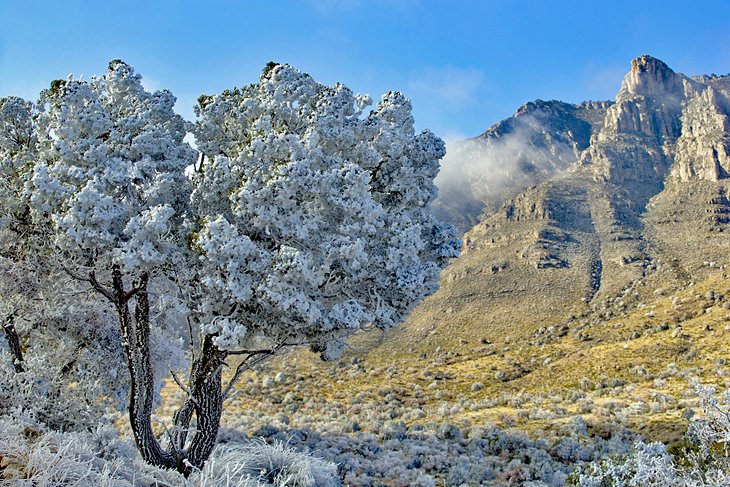 In west Texas, near the New Mexico border, Guadalupe Mountains National Park contains the four highest peaks in Texas.
With elevations from 3,000 to 8,000-plus feet, winter snow is common at higher elevations of the park. Snow can cover high-altitude hiking trails during December and January, like the route to the summit of Guadalupe Peak.
Both campgrounds in Guadalupe Mountains National Park remain open throughout the winter. The smaller Dog Canyon Campground features more shelter to shield campers from gusty winter winds. Despite the lack of snow, temperatures steadily drop throughout the night, and overnight visitors should pack accordingly.
Visitors to Guadalupe Mountains National Park in the winter should prepare for blustery conditions that break from the normal forecast of west Texas weather. Still, this can be a favorable time to visit outside of the blistering heat of summer. Bring extra layers for the chilly overnight temperatures.
5. Big Bend National Park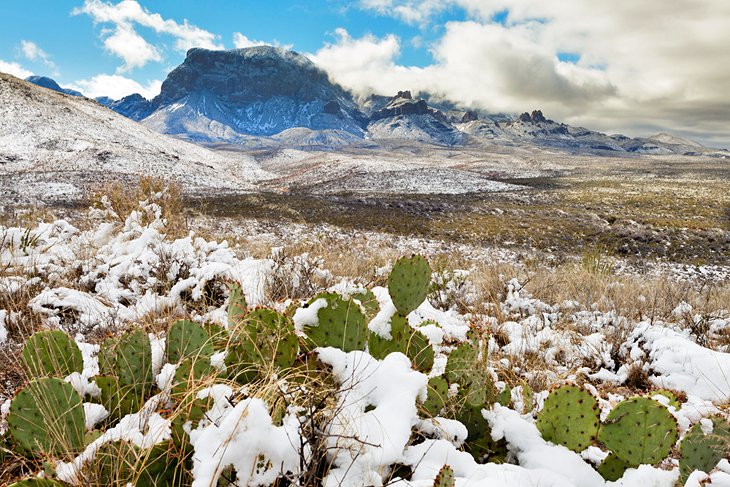 It's a rare treat to see snowcapped mountains or frosted cacti in Big Bend National Park, near the border of Mexico in West Texas. The only chance to see snow in Big Bend is in the higher elevations of the park, some of which can be seen from the car.
Snow adds extra appeal to scenic drives in the park. The Ross Maxwell Scenic Drive, in particular, is extra charming with a fresh layer of snow. At the highest elevations in the park, visitors can expect to see the snow-crusted peaks of the Chisos Mountains throughout the winter.
Hiking trails into the mountains become more challenging in the winter but offer beautiful opportunities for photography. As one of the state's largest tracts of roadless public lands, Big Bend has over 150 miles of hiking trails. Some of these trails traverse desert landscapes and can be easily hiked throughout the winter.
Accommodation: Best Places to Stay near Big Bend National Park
6. Dallas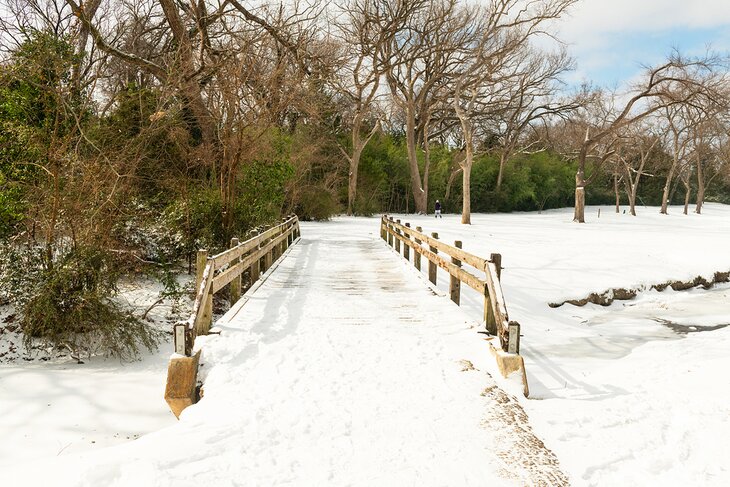 Snow in Dallas doesn't happen every year. Average daytime temperatures remain in the 60s throughout the winter, although fast-moving Texas Northers can drop temperatures several degrees in just a few minutes.
Occasional snowstorms have come through Dallas and blanketed the city in the past. Some, like a historic February 2010 blizzard, brought over a foot of snow.
Timing a trip to Dallas to catch some snow can be challenging. Unless you live nearby and have a flexible schedule, it's a matter of luck to see snow in Dallas. The months of January, February, and March are the most likely time to see any snow at all.
With limited snowflakes in the forecast, Dallas still provides snowy attractions like ICE! at the Gaylord Texan Resort and an artificial snow hill at Six Flags over Texas.
Accommodation: Top-Rated Resorts in Dallas, TX
7. Fort Worth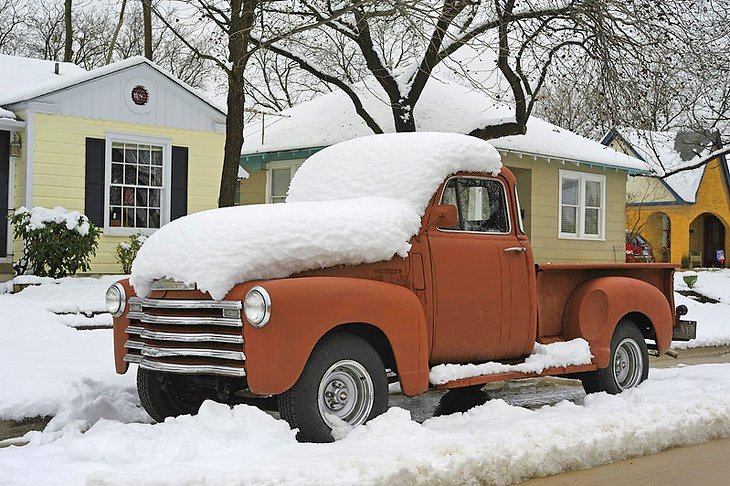 If Dallas is getting snow, Fort Worth is probably in the same forecast. The entire Dallas-Fort Worth area, including Arlington and Frisco, receives similar weather.
The snow tends to stick around longer the farther away from the concrete streets of these major commercial areas. Snow in Dallas and Fort Worth is rarely significant enough to report, making this touch of winter a special thing to experience.
Frequently Asked Questions about Snow in Texas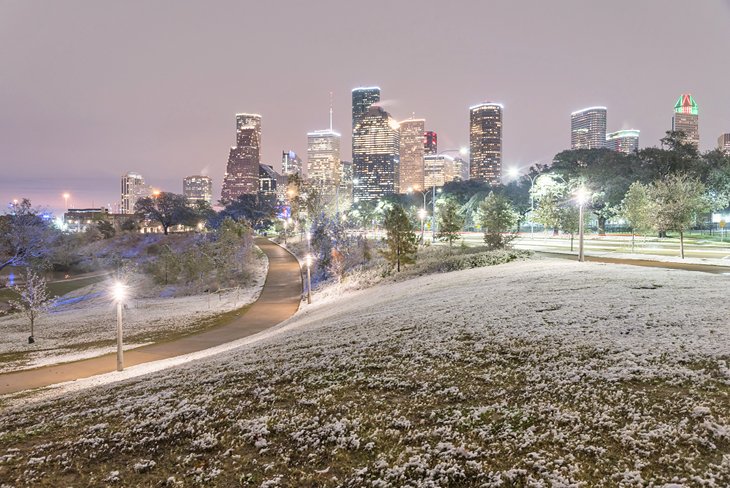 Does it Snow in Houston? Snow doesn't happen in Houston every year, but historically, the city has seen a few snowfall events. Anything over one to three inches of snow in Houston is significant. No other winter storm has since compared to an 1895 winter event that dumped over 20 inches on the city.
Does it Snow in Austin? With zero inches of annual snowfall, it doesn't snow that much in Austin. Gulf air and a southern latitude prevent much of anything from sticking around, even if flurries are falling from the sky. Austin snow isn't unheard of, though, and the last significant snow event occurred in 2017, when approximately two inches of snow stuck to the ground. A notable 2021 snowstorm swept across Austin and the rest of the state, leaving some residents without power for days.
Does it Snow in San Antonio? Much like Austin less than a hundred miles away, San Antonio rarely gets any snow. Flurries might be present throughout December, January, or February, but it's also common for multiple winters to pass with only trace amounts of snow. One of the largest and most recent snow events in San Antonio was a January 1985 blizzard that brought over a foot of snow.
Does it Snow in Corpus Christi? About a third of all winters in Corpus Christi, on the Gulf of Mexico, have a snow or ice event. The chances of ice are greater than snow in Corpus Christi, and when snow sticks, it's considered a special event. January is the coldest month of the year in Corpus Christi, but a few snowstorms have occurred in both December and February.
Snow near Texas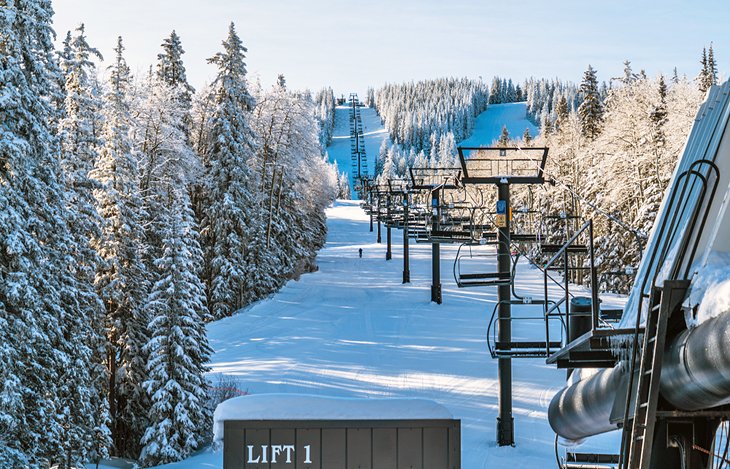 While Texas snow is special and tends to not last very long, nearby states offer true winter playgrounds where snow is a guarantee. The states of New Mexico and Colorado offer some of the best places to see snow close to Texas. Popular winter activities in these states include downhill skiing, snowboarding, tubing, and snowshoeing.
Texans looking for snow can head to the mountainous terrain of Lincoln National Forest in New Mexico. Seventy-five miles west of Roswell, this national forest encompasses high elevation landscapes, including the Sierra Blanca and the Sacramento Mountains. The mountain town of Ruidoso is a great gateway to the snowy landscapes, including the nearby Ski Apache resort.
Other ski resorts in New Mexico can be found farther north, but still close to Texas. Santa Fe is surrounded by great places to ski and play in the snow. The adjacent Santa Fe National Forest is a mecca for cross-country skiing, snowshoeing, and other winter sports. For downhill endeavors, Ski Santa Fe is 15 minutes from the city.
With the world-famous Summit County and several incredible ski resorts, the state of Colorado attracts winter enthusiasts from around the world. Texans heading to Colorado don't need to travel all the way to Breckenridge to enjoy the snow of Colorado. Across the New Mexico border, and a seven-hour drive from Amarillo, the mountain town of Pagosa Springs is a great basecamp to explore the San Juan Mountains.
Texas Snow Party
For Texans that don't want to drive to see snow, a Texas Snow Party can deliver snow to you. Commercial businesses in nearly every major city in Texas offer services that transport ice and a snowmaker to a destination of your choosing. These businesses then construct a temporary winter wonderland or tubing hill for the whole family to enjoy. Texas Snow Parties are popular for birthday parties, special events, and holiday celebrations.
Things to Do in Texas in the Winter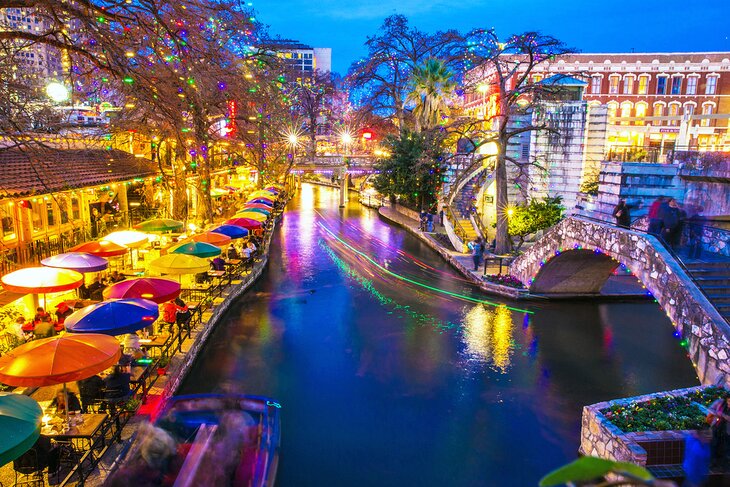 Most visits to Texas are often an escape from the snowy season up north. And rightfully so—the Texas winter is temperate, with typically warm, sunny days and chilly nights rarely dipping below freezing. This means that many of the state's top attractions are also fun things to experience during the winter in Texas.
Topping the list are quintessential sightseeing experiences like the San Antonio River Walk, with the never-forgotten Alamo a short walk away.
Other winter destinations in Texas include places like Texas Hill Country and Galveston, which bills itself as the "Winter Wonder Island of Texas." Other places to visit that lean into the holiday spirit in Texas include Grapevine, also known as the Christmas Capital of Texas, which ranks among the best Christmas towns in the US.
Map of Texas - Best Places to See Snow
More Related Articles on PlanetWare.com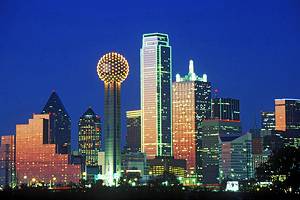 Other Things to Do in Texas Cities that See Snow: While the few cities in Texas that get snow only receive flurries a few days of the winter, the cities themselves provide fun things to do throughout the year. The top-rated attractions of Amarillo include Cadillac Ranch and Palo Duro Canyon State Park. One of the largest cities in Texas to receive annual snowfall, Dallas provides numerous attractions and other reasons for a day trip. In northwestern Texas, the city of Lubbock offers the chance to visit the birthplace of rock n' roll.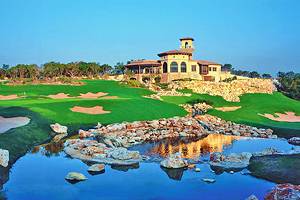 Exploring Texas: The largest state in the United States outside of Alaska, the top-rated attractions of Texas include picturesque places like the San Antonio River Walk, the Alamo, and Big Bend National Park. For a stunning place to stay when visiting the Lone Star State, the best resorts in Texas encompass luxury accommodations and stunning views. For family-friendly adventures, the best family resorts in Texas offer amenities like water parks, golf courses, and unbeatable locations.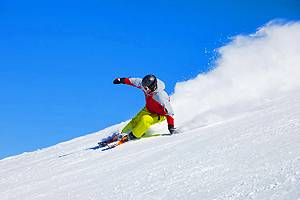 More Snow and Skiing Adventures: For some downhill skiing and snowboarding north of Texas, the best ski resorts in Colorado offer new runs to discover every day of the winter. These aren't just for experienced skiers. Many of the smaller resorts offer affordable opportunities for novice skiers and people looking to learn. For other ski and snowboard adventures in the country, the top cheap ski holidays in North America deliver with great winter adventures that won't break the vacation budget. To explore some other snowy landscapes, the best winter vacations in the U.S. include scenic destinations in across the United States.