14 Top-Rated Things to Do in Granbury, TX
Historic Granbury is a small town in Texas that is big on history, culture, outdoor recreation, and authentic Southern food. Granbury boasts a broad list of things to do during your stay, from a live performance at the 1886 Granbury Opera House and touring a small doll museum to the historic Hood County Jail Museum and visiting the commemorative gravesite of notorious outlaw Jesse James in the Granbury State Historical Cemetery.
A favorite pastime in Granbury is taking advantage of water recreation at Lake Granbury, like swimming, boating, and fishing. You can relax for a day at Granbury City Beach Park and cool off at the public beach, or rent a kayak and paddle around the coves and shoreline.
At the heart of Granbury is its historic square, which surrounds the courthouse and is the hub of social activity, where you will experience another noticeable element of this town: its food scene. While many towns feature unique and local food offerings, Granbury has a wildly diverse selection of restaurants, from Italian and German restaurants to vegan offerings, brunch at Paradise Bistro, and, of course, authentic and hearty Texas steak at Hoffbrau Steak & Grill House.
As you tailor your itinerary to suit your interests, review our list of the top attractions and things to do in Granbury.
1. Historic Granbury Square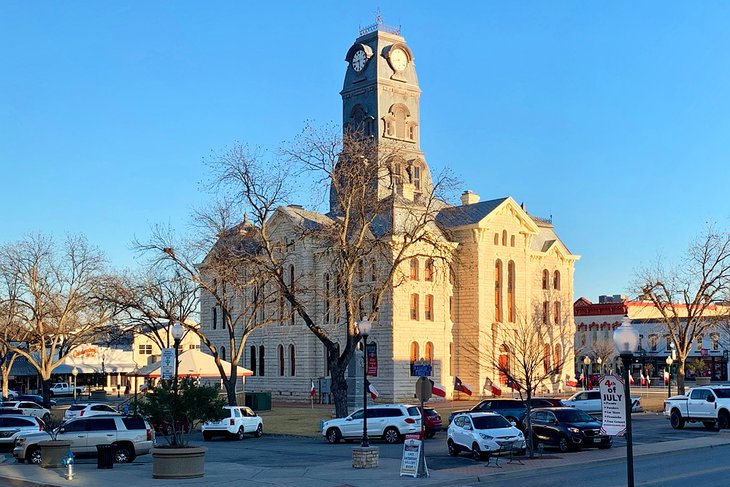 The Historic Granbury Square in the heart of town consists of more than 40 shops, restaurants, and coffeehouses that surround the old courthouse. It is easy to park the car and spend a few hours walking around to see the historic buildings, like the grand Nutt House Hotel, which holds the name of one of the most prominent families in the 1800s in Granbury.
All the buildings are historic landmarks, so take a close look as you shop to read the markers on the outside walls that depict what the original buildings were used for. The local blacksmith shop, hotel, and bank are all re-purposed for modern use but still hold a vintage flare in the architecture.
Start your historic square visit with a stop into the visitor center for a map of local landmarks and a calendar of the regular events that take place on the square like seasonal festivals and monthly art walks.
The Granbury Trolley is an easy way to get around the historic square. The free trolley makes stops at all the main hotels, and runs a regular nine-mile loop, with operating hours throughout the day and night, every day of the week.
Another fun way to explore downtown Granbury is by taking a guided Segway sightseeing tour. This tour takes you through the square and to see historic homes.
2. Granbury Opera House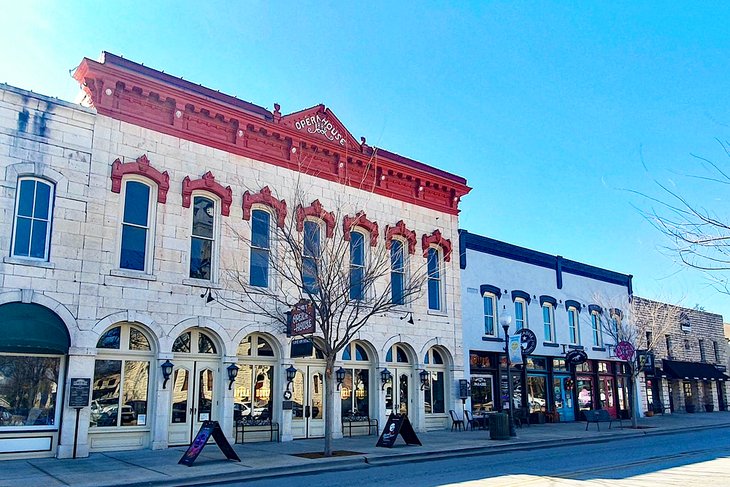 The Granbury Opera House is one of the most prominent historic buildings in the downtown square. The non-profit venue is the home of the Granbury Theatre Company, which regularly entertains with theater performances and musicals and is a beautiful venue for which to take in a matinee or evening performance.
The historic 1886 building has undergone a major renovation, revitalizing its historic elegance both inside and out. The Granbury Theatre Company has regular theater and concert dates throughout the year, including a Broadway on the Brazos series, which features familiar titles.
Address: 133 E Pearl Street, Granbury, Texas
Official site: https://granburytheatrecompany.org/
3. Hood County Jail Museum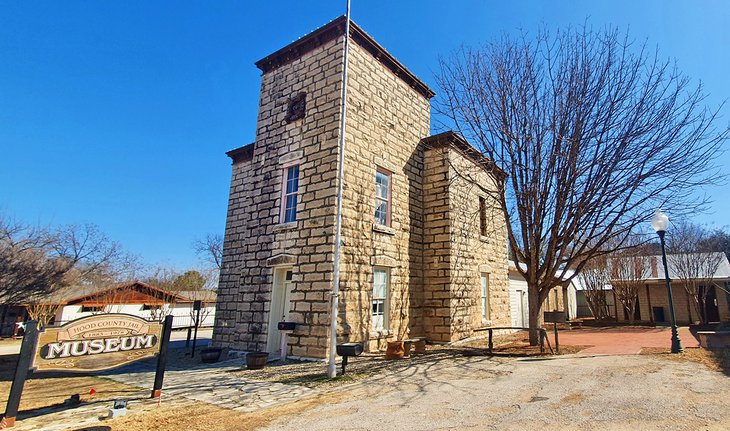 The original Hood County Jail, now a museum, was built in 1885 and started out as a log cabin located near the Brazos River. It remained in use through 1978. You can tour the historic jail, which now includes a museum, at the corner of the Historic Granbury Square.
A walk through the old jail is an educational experience to see the developments in Texas' approach to law and order. What might seem primitive by today's standards was a state-of-the-art facility when the jail was in use.
The first level of the jail that once housed the Sheriff's living area now displays information on Hood County history. The museum exhibits have artifacts and information related to outlaw Jesse James, Davey Crockett's family, John Wilkes Booth, and General Granbury and their ties to Granbury.
The second floor has preserved jail cells, a kitchen, and other preserved quarters that were used when the jail was in operation.

Address: 208 N. Crockett Street, Granbury, Texas
Official site: http://hctxhs.org/Museums/jail.htm
4. Swimming at Granbury City Beach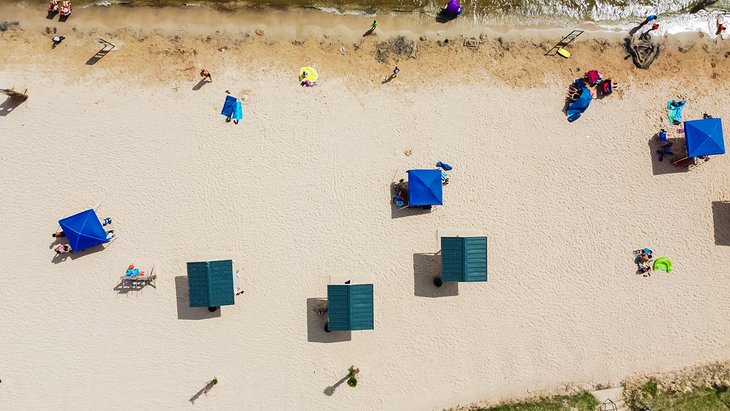 A summer destination spot in Granbury is at the City Beach Park in the center of town. The beach is located on the waters of Lake Granbury and is within walking distance to the historic downtown square, where you can go for food or shopping after a day at the beach.
The free beach park has plenty of public parking, restrooms, a splash pad, and shade pavilions with picnic tables. This is a nice spot for families that want to spend a few hours enjoying the Texas sun. There are beach rentals available at Beachside Toys & Takeout for paddleboards, kayaks, swimming tubes, and bicycles.
Address: 505 E. Pearl Street, Granbury, Texas
Official site: https://www.granbury.org/744/City-Beach-Park
5. Granbury Hike and Bike Trail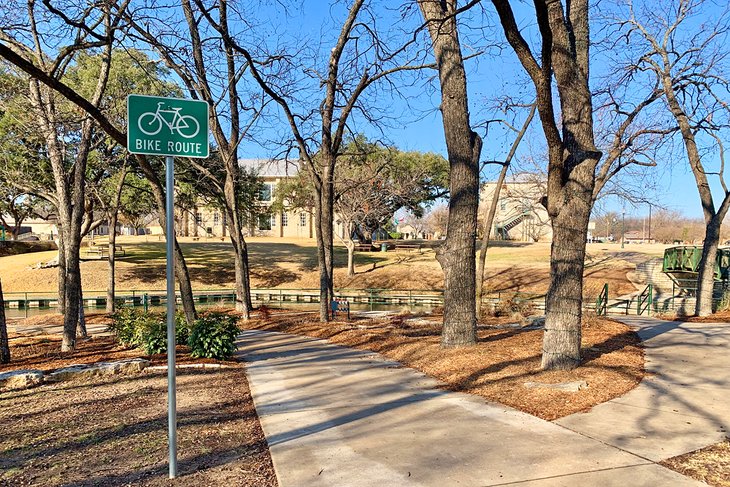 Get some outdoor exercise on the Granbury's Moments-in-Time Hike and Bike Trail, which meanders throughout the town. The paved trail extends nearly three miles from Granbury Regional Airport to Hewlett Park, with various points in between that enable you to tailor the length of your route.
The full route connects the airport, Crossland Railroad Trestle, Fireman Memorial Park, Shanley Park, Lambert Branch Park, and Hewlett Park. You will also pass other access points to the Granbury Disc Golf Course, the Granbury Bark Park, the local soccer field, the Rucker Street workout station, and the Historic Downtown Square.
Restroom facilities and public parking are located along the trail.
Official site: https://www.granbury.org/741/Moments-In-Time-Hike-Bike-Trail
6. Recreation on Lake Granbury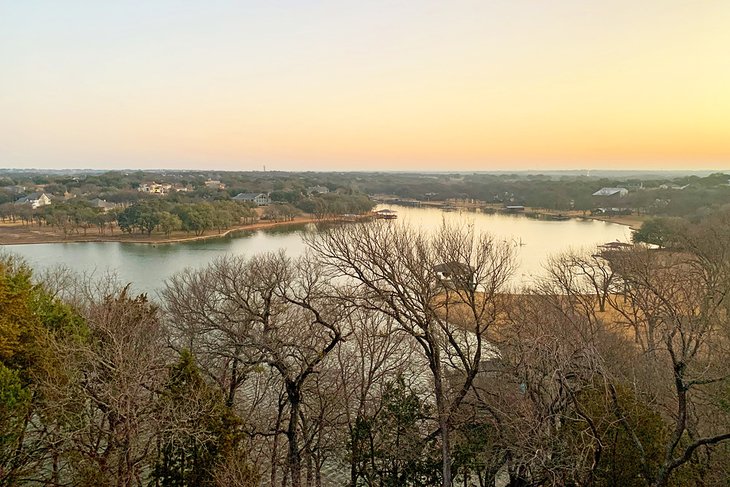 Lake Granbury is one of the top things to do while in Granbury with a full range of outdoor recreation options. With 103 miles of shoreline on Lake Granbury, it is easy to see why this is a popular location for vacation homes and cozy bed and breakfasts, like The Treetop Getaway, which take advantage of stunning panoramic sunrise views and offer an intimate alternative to hotel lodging.
Kayaking is popular on Lake Granbury and easy to do, with so many coves and calm waterways. You can rent kayaks and launch from City Beach Park, where you can also borrow a life jacket from the loaner station on the beach. Kayak rentals are also available from the Granbury Marina. If you launch from the marina, you can stop for a bite to eat at Stumpy's Restaurant after a day on the water.
Fishing on Lake Granbury is another popular activity, especially on the reservoir and near DeCordova Bend Dam. The lake is known for its largemouth bass, striped bass, and catfish. There are many bait and tackle shops located around the lake, and local fishing guides are available.
Address: 2323 S Morgan Street, Granbury, Texas
7. Find Local Legends in the Granbury Cemetery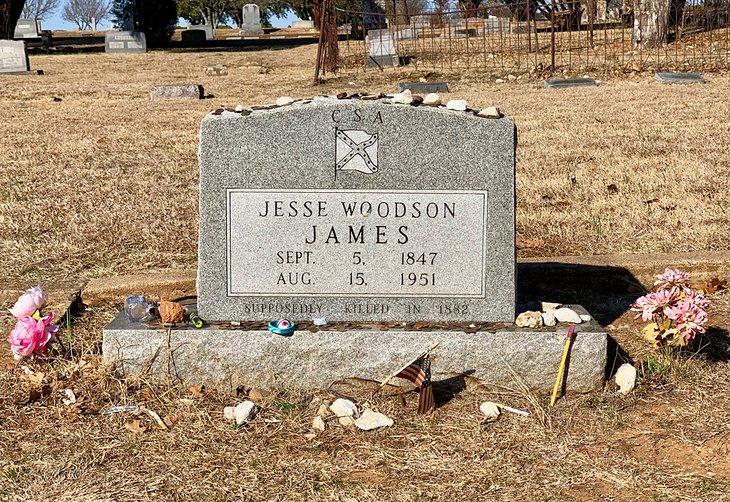 Just a few blocks from Historic Granbury Square is the Granbury Cemetery, one of the most curious and interesting places to visit in town, mostly due to the local legends that are laid to rest here.
Many of the famous historical names that have ties to Granbury are buried in the cemetery, including General Granbury, who died in the Civil War for whom the town is named; Ashley Crockett, the grandson of Alamo war hero Davey Crockett; and J.F. Nutt and Jacob Nutt, who were prominent settlers in the area in the late 1800s.
Perhaps the most famous headstone in the cemetery is the one honoring the infamous outlaw Jesse James, which was dedicated by his family descendants. Walk around the cemetery to see the sections dedicated to other local settlers, dignitaries, and war heroes who lost their lives in battle.
Address: 801 North Houston Street, Granbury, Texas
Official site: https://www.visitgranbury.com/listing/granbury-state-historical-cemetery/9158/
8. Granbury Doll Museum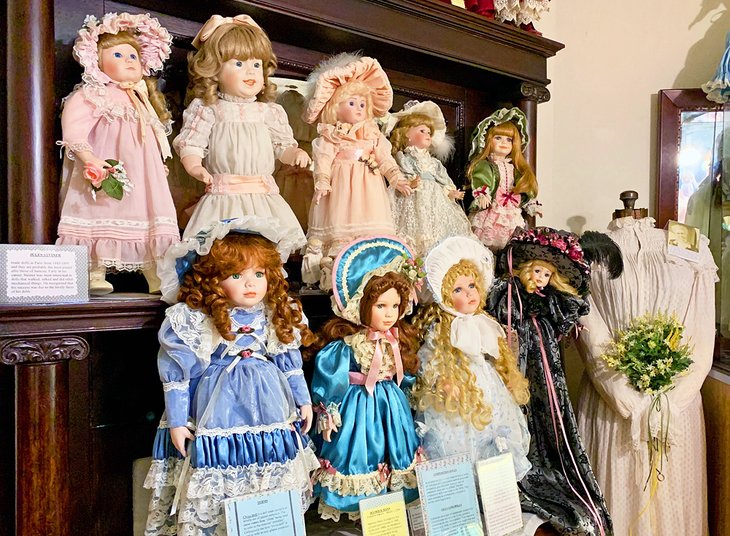 A small but special museum tucked into a residential area in Granbury is the Doll Museum. The museum is home to more than 7,000 collectable dolls, including some that are more than a century old. Each room has collections that range from 1920s French papier-mâché dolls to international dolls and even a mannequin from an 1880s storefront in Granbury.
Take a tour of the museum with one of the docents, who can share the historical perspective on dolls, the social culture, and toy marketing over the decades based on the way doll construction evolved. Famous doll makers like Madame Alexander are featured in the extensive collection along with dolls related to pop culture brands like the iconic Barbie and GI Joe figurines.
Address: 421 E Bridge Street, Granbury, Texas
9. Granbury LIVE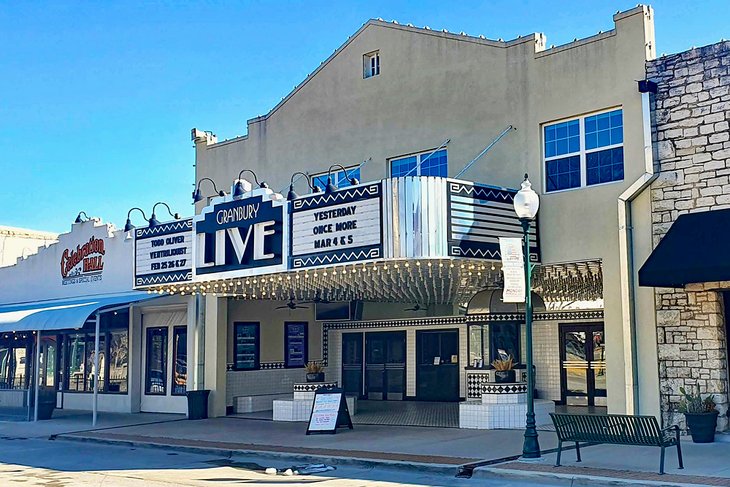 It is easy to find the spectacular Granbury LIVE venue, with its marquee lights that illuminate the historic square. An evening musical performance at the intimate Granbury LIVE theater is a nice way to spend some time experiencing the small-town atmosphere.
The live performance venue features music events ranging from local talent to cover band tribute nights honoring artists like Fleetwood Mac, ABBA, Elvis, and Selena. You can plan a full evening around a Granbury LIVE concert with dinner on the square and an after-show coffee.
Address: 110 N. Crockett Street, Granbury, Texas
Official site: https://thenewgranburylive.com/
10. Granbury Historic Railroad Depot Museum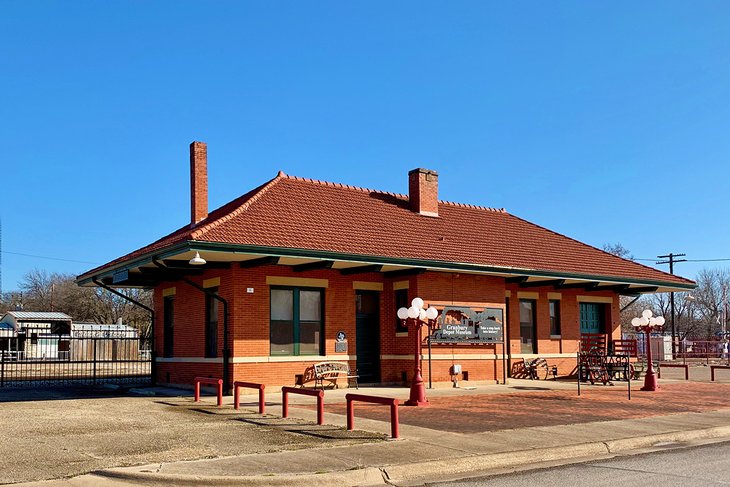 As with many small Texas towns, Granbury was built around its railroad in the late 1800s. The depot that stands today along the railroad tracks is a reproduction that helps maintain the significance of Granbury's railroad past, when the Ft. Worth and Rio Grande Railroad was a central part of the town's existence.
The current depot was built in 1914 after fire destroyed the original building in 1912. When you visit the depot, you can get a sense of what a typical Texas train station looked like during the boom of the railroad industry. Step inside the small museum for a glimpse at artifacts, small displays, and a re-creation of what the working depot looked like in 1887.
Address: 109 Ewell Street, Granbury, Texas
Official site: http://www.granburydepot.org/home/HCGShomePage.htm
11. Shanley Park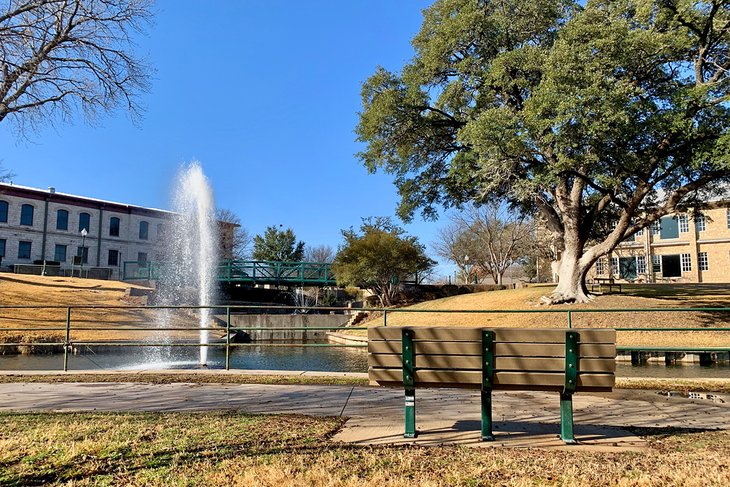 One of the most picturesque spaces in Granbury is Shanley Park in the center of town. This is an easy stop if you want to enjoy a picnic lunch or have a little bit of time to spend before a show or dinner.
Shanley Park is located behind City Hall. It is a beautiful public park, with winding pathways and foot bridges that go through various elevations, giving visitors changing views of the elegant landscaping and water features. This public open space is just a few blocks from the historic square and has sitting benches, waterfalls, picnic tables, and gazebos.
Find a bench beneath the shade trees as you enjoy the fountains and watch the local waterfowl in the park. Shanley Park is a regular spot for local events, concerts, and festivals throughout the year.
Address: 400 N Houston Granbury, Texas
Official site: http://www.granbury.org/740/Shanley-Park
12. Foodie Trail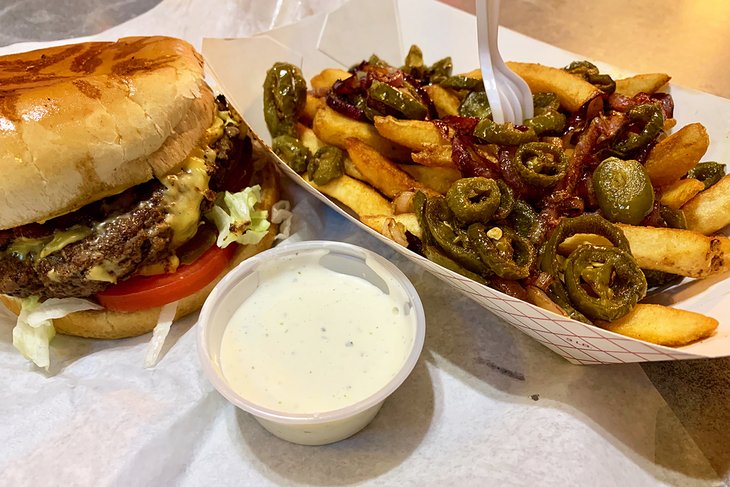 There is no shortage of food to try in Granbury, from thick hamburgers and shrimp and grits to vegan cauliflower wings and gourmet pastries. One of the best ways to taste your way through Granbury is on the Foodie Trail that's been established to offer tourists the many varieties of flavors of the area.
You can pick up an official Foodie Trail map from the visitor center in the historic square and start your tasting with the 12 participating restaurants. If you fill the punch card with visits to all 12 participating restaurants, you can get a Foodie Trail T-Shirt and be entered into a drawing for a gift card.
You will find plenty of memorable food on the trail, like the BBQ cheeseburger and dirty fries at local favorite Grumps Burgers to unusual ice-cream varieties at the Silver Saddle Saloon.
Official site: https://www.visitgranbury.com/foodie-trail/
13. Browse Antiques and Collectables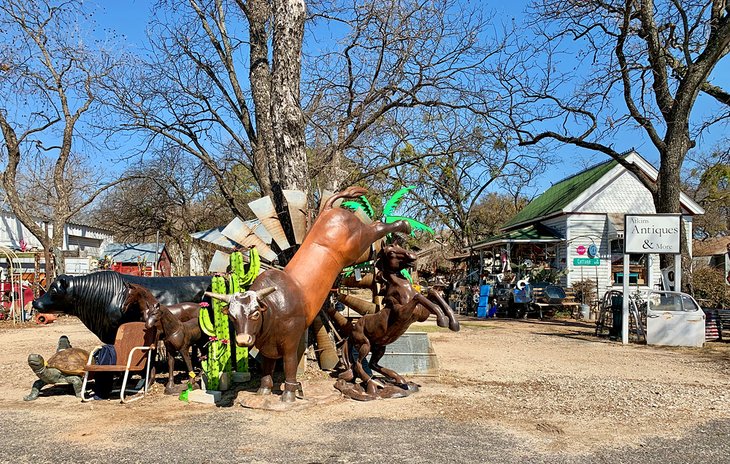 If you enjoy antiquing, you will want to set aside a day to visit the eclectic and overflowing antique shops in Granbury. There are several small antique malls, but there are other roadside clusters of shops that beckon you from the road with all the treasures out front.
You are certain to find one of everything, from antique tins, farming equipment, and marketing items to garden statues and birdhouses. You are also likely to see dozens of items that are unfamiliar but that pique your interest.
Several popular antique stores in Granbury include Cool Junk, Wagon Yard, Javelina Market, Witherspoon's antique mall, Atkins antiques, Brazos Moon Antiques, and Mystic Wolf Antique Mall.
14. Golfing in Granbury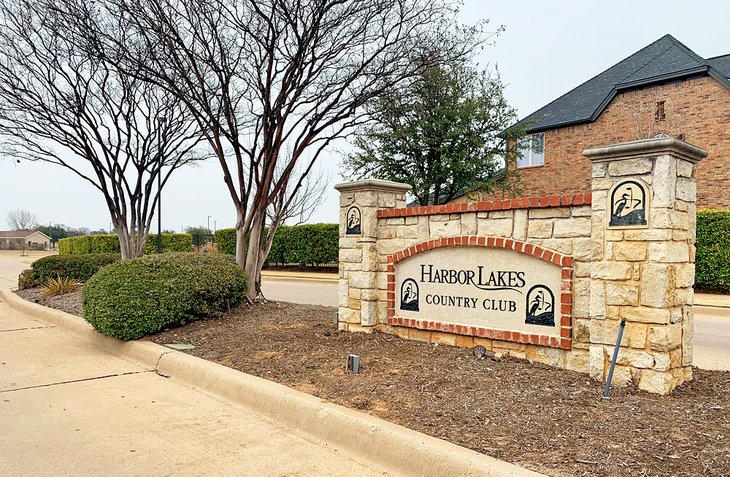 There are a few golf courses around Granbury that are a nice way to take advantage of the outdoor views in the area. Harbor Lakes Golf Club is located along Lake Granbury with a challenging course that encompasses the rolling hills and beautiful local scenery. The 18-hole golf course was designed by architect Dick Phelps. Harbor Lakes has a pro shop and a restaurant in the clubhouse, and offers golf instruction.
Address: 2100 Clubhouse Drive, Granbury, Texas
Official site: http://harborlakes.com/
Map of Things to Do in Granbury, TX
Granbury, TX - Climate Chart
Average minimum and maximum temperatures for Granbury, TX in °C
J
F
M
A
M
J
J
A
S
O
N
D

14

-2

18

1

22

6

27

10

30

15

34

19

36

21

36

20

32

17

27

11

21

4

16

-1

PlanetWare.com
Average monthly precipitation totals for Granbury, TX in mm.

42

58

71

74

132

102

56

55

80

97

57

61

Average monthly snowfall totals for Granbury, TX in cm.

2

2

1

0

0

0

0

0

0

0

1

1
Average minimum and maximum temperatures for Granbury, TX in °F
J
F
M
A
M
J
J
A
S
O
N
D

58

29

64

34

72

42

80

50

86

59

93

67

97

70

97

68

90

62

80

51

69

40

60

31

PlanetWare.com
Average monthly precipitation totals for Granbury, TX in inches.

1.6

2.3

2.8

2.9

5.2

4.0

2.2

2.2

3.2

3.8

2.2

2.4

Average monthly snowfall totals for Granbury, TX in inches.

0.8

0.8

0.5

0

0

0

0

0

0

0

0.2

0.3