10 Top-Rated Caverns in Texas
Everything's bigger in Texas, including the state's collection of caverns. Caves in Texas are most concentrated in a specific region known as the Edwards Plateau. Located west of San Antonio and Austin, the Edwards Plateau includes much of the beautiful Texas Hill Country. It's the unique limestone bedrock of the region that enables beautiful caves to grow and erode over thousands of years.
These caverns near San Antonio and Austin are abundant, but only a few are accessible by the public. Caverns of Sonora, Cave Without a Name, and Inner Space Cavern are just a few of these accessible "show caves."
The only way to see any show cave in Texas is with a guided tour. Many of these tours include lighted passageways and gravel walkways, so visiting a Texas cave does not have to involve crawling in the dark.
The biggest challenge of most cave tours is descending underground via stairs or steep walkways. A few caverns, like Cascade Caverns, also offer wild cave explorations that involve hours spent crawling underground.
All caverns in Texas retain a comfortable climate (approximately 70 degrees) throughout the year.
Start your underground adventure by reading our list of the best caverns in Texas.
1. Natural Bridge Caverns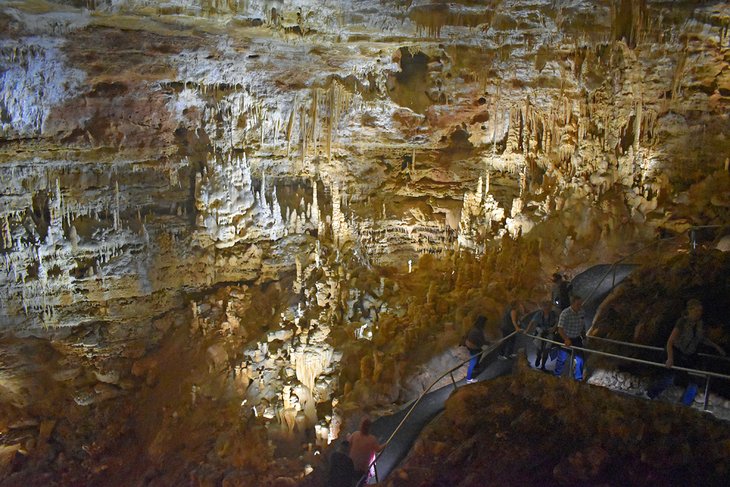 One of the most fantastic caverns in Texas is a 30-minute drive from the attractions of San Antonio. Natural Bridge Caverns is also equally as close to New Braunfels.
College students discovered Natural Bridge Caverns in 1960. This family-owned and operated cave system is now one of the most commercially recognized caves in the state. The facility offers several surface attractions, but the real fun is found on an underground tour.
Natural Bridge Caverns offers two main cave tours: the Discovery Tour and Hidden Passages Tour. Both tours follow a knowledgeable guide through lighted cave rooms for approximately 75 minutes. Few other caverns in Texas display the density of cave features seen in Natural Bridge Caverns. Formations include thousands-of-years-old stalactites, stalagmites, and columns.
Tours follow concrete paths and involve steps and steep inclines. Comfortable shoes are recommended for the trips, and handrails are available for steeper sections of the trail. The Discovery and Hidden Passages Tours do not involve crawling or tight passageways. Natural Bridge Caverns does offer a separate Adventure Tour that includes crawling around with headlamps.
Above-ground attractions include dining options, a gift shop, and a 5,000-square-foot maze. Natural Bridge Caverns also recently installed the unique Twisted Trails zip rails and ropes course, which features high-flying fun in a harness. It's recommended to book cavern tours in advance. Natural Bridge Caverns is a popular place for school groups and other large gatherings.
Address: 26495 Natural Bridge Caverns Road, San Antonio, Texas
Official site: https://naturalbridgecaverns.com/
2. Caverns of Sonora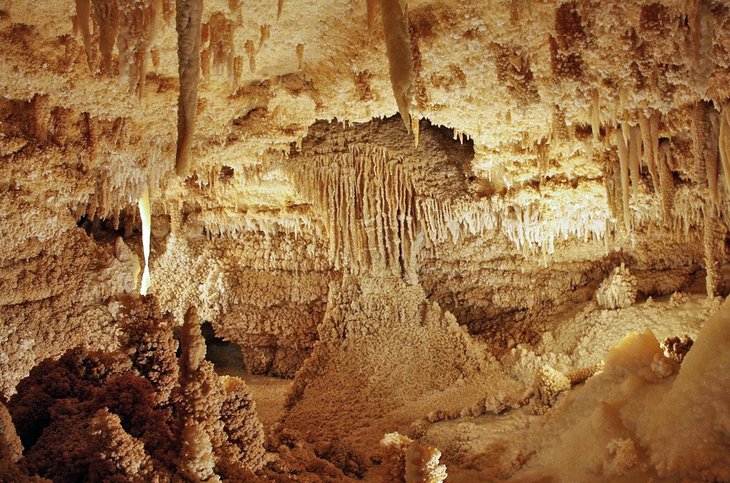 On a private ranch, three hours west of San Antonio, Caverns of Sonora is perhaps the most beautiful show cave in Texas. It's the diverse collection of cave formations that attract speleologists from across the world to this cave in Sutton County. Alongside magnificent columns, soda straws, and draperies, Caverns of Sonora has the best collection of side-winding helictites.
Popular with professional cave explorers and interested amateurs alike, guided tours go into detail about the underground world. The standard Crystal Palace Tour at Caverns of Sonora is 90 minutes and includes over 360 stairs. The cave is well-lit on this walking tour that takes place over 150 feet below ground.
Caverns of Sonora also offers an adventurous Discovery Challenge tour that includes a 50-foot rappel (by reservation only).
A specialty Photography Tour at the cave allows careful inclusion of a tripod and also needs to be booked ahead of time. Visitors can camp on the property, and RV sites are available. No dump station is available, but the campground at Caverns of Sonora features restrooms and showers.
Address: 1711 Private Road 4468, Sonora, Texas
Official site: http://cavernsofsonora.com/
3. Cave Without a Name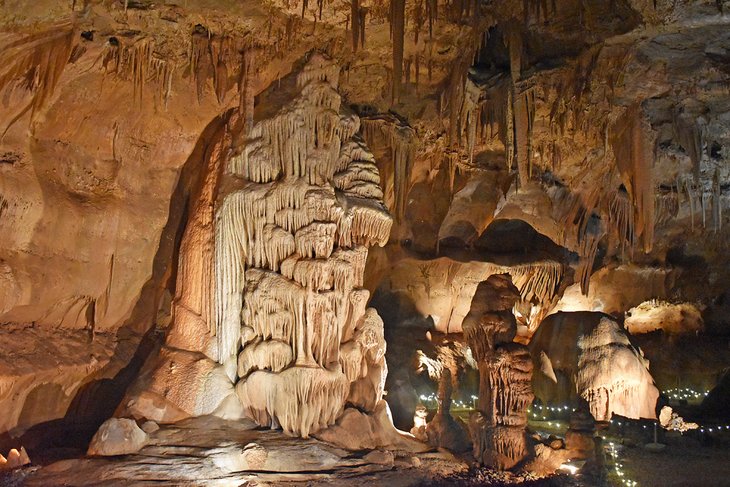 An hour's drive from both San Antonio and New Braunfels, this untitled cavern features large rooms and many hanging formations. Named as such because no title could capture the beauty of the cave system, Cave Without a Name has been inspiring the public since 1939.
The cave itself has been forming for thousands of years. The massive formations throughout the cave do well to represent this incredible geologic timescale.
The only way to experience this cave in Boerne is through a guided tour. The tour begins by descending 126 concrete steps. From here, visitors walk through several large rooms full of stunning cave features. A few of the natural features illuminated on the tour includes stalactites, stalagmites, and soda straws. Lights in the cave make it easy to get around, and the gravel floor helps keep shoes from getting too dirty along the way.
Every month, Cave Without a Name also puts on special concerts in the cave. The natural acoustics of the cave reverberate the musical artist to make for a pretty spectacular show.
Regular tours of the cave occur throughout the week and last approximately an hour. Reservations are not necessary.
4. Longhorn Caverns State Park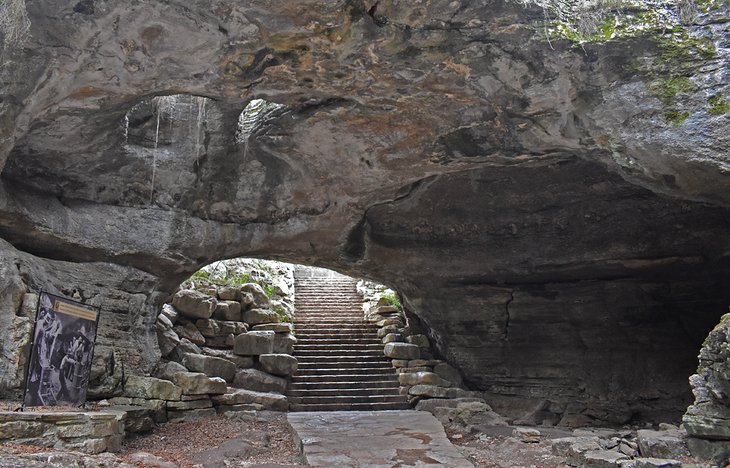 Ninety minutes northwest of Austin, Longhorn Caverns State Park offers a unique caving experience in Texas. Alongside a rich geologic history, this cave also displays significant cultural depth.
The Civilian Conservation Corps developed the cavern and encompassing state park in the 1930s. The cavern's history spans further back to the mid-1800s when Anglo settlers first utilized the underground space.
Visitors can learn more about the cave and surrounding Backbone Region of the park via a guided tour or surface hiking trails. The standard 90-minute walking tour of the cavern features lighted passageways and narration about the geology and history of the cave. Tour members are required to navigate 52 stone steps to access the cavern.
The state park's more adventurous Wild Cave Tour lasts three hours and includes crawling on hands and knees.
One of the best state parks in Texas, Longhorn Caverns also offers above-ground things to do. Of particular note is the stone Observation Tower, constructed by the CCC, which gives a high vantage point over the Texas Hill Country.
5. Inner Space Cavern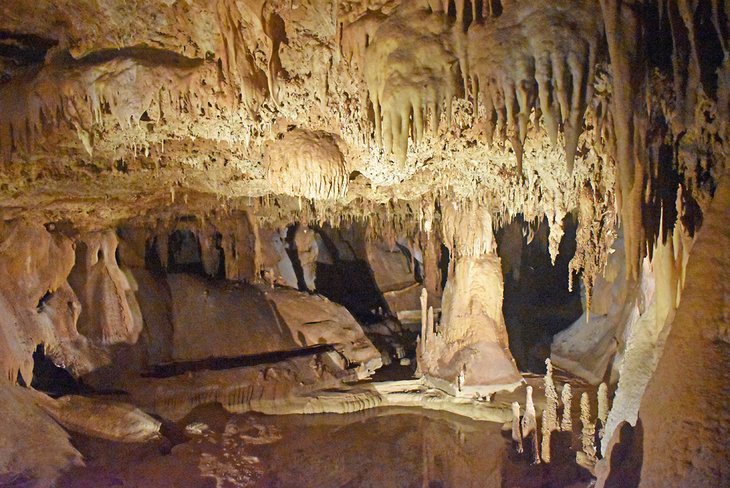 The Texas Highway Department discovered this stellar cavern while constructing Interstate 35 in 1963. Public interest quickly grew after the discovery of the cave, and Inner Space Cavern has provided guided tours ever since.
This fantastic cavern, less than 25 miles from Austin, is perhaps best known for the many fossils and animal bones found throughout its corridors. Archaeologists have discovered woolly mammoth bones and remnants of a saber tooth tiger in Inner Space Cavern.
Visitors on the guided Adventure Tour of the cave see the dig sites and examples of these prehistoric remains. The cave system is quite fantastic, even without these ancient artifacts. The 75-minute tour also features several cave formations, including flowstones, soda straws, and cave bacon.
The Adventure Tour is fun for the whole family and features concrete steps and lighted passageways. The Hidden Passages tour at the cave is a bit wilder. It traverses the natural floor of the cave, with flashlights provided. The guides at Inner Space Cavern are some of the most knowledgeable in Texas.
Address: 4200 N Interstate 35 Frontage Road, Georgetown, Texas
Official site: https://innerspacecavern.com/
6. Cascade Caverns
An accessible cavern near San Antonio, Cascade Caverns offers a hidden world to explore beneath the Texas Hill Country. Guided tours are the only way to see the wonders below ground, and Cascade Caverns provides a daily "Downunder Tour" led by a professional guide. Downunder Tours last up to an hour and traverse lighted passageways atop smooth gravel.
Cascade Caverns also offers a three- to four-hour group Adventure Tour, which involves crawling and getting muddy. Adventure Tours come with flashlights and protective equipment, including knee pads. Cascade Caverns is consistently around 64 degrees regardless of the weather outside. The cave does close periodically if it's raining heavily outside.
The campground at Cascade Caverns features sites for RVs and tents. Electric hookups are available. The 100 acres of land owned by Cascade Caverns, including two nature trails, encourage visitors to explore the surface before or after their tour.
Address: 226 Cascade Cavern, Boerne, Texas
Official site: http://www.cascadecaverns.com/
7. Colorado Bend State Park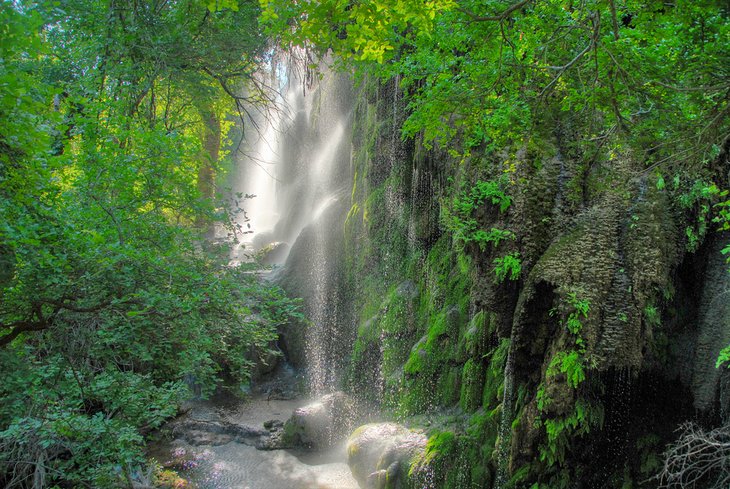 Home to one of the best waterfalls in Texas, Colorado Bend State Park also has several caves to explore. Guided tours are the only way to experience the underground treasures at Colorado Bend. A third-party concessionaire offers trips ranging from beginner-friendly tours to advanced expeditions that include climbing. All tours at Colorado Bend dive deep into the ground and reveal a fascinating world beneath the surface.
Discovery Tours are the most family-friendly tour and feature daylight always in sight. The Discovery Tours last approximately 45 minutes and feature no crawling. The intermediate Adventure Tour features crawling and the use of a personal flashlight. The tour company equips visitors with knee and elbow pads for the Adventure Tour. The Climbers Tour offers the most rugged experience with a self-supported climb up and down a crevice to begin and end the trip.
Thousands of visitors head to Colorado Bend State Park each year and never step foot inside a cave. The state park has over 30 miles of developed trails that are popular for hiking and mountain biking. The cascading Gorman Falls is one of the most popular natural features at the park. An extensive campground at the state park supports tent camping and RV camping.
Address: 2236 Park Hill Drive, Bend, Texas
Official site: https://tpwd.texas.gov/state-parks/colorado-bend
8. Wonder World Cave and Adventure Park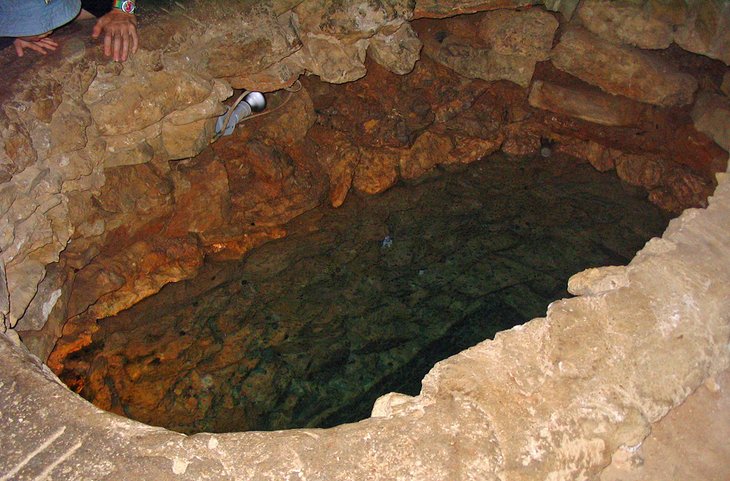 The first show cave in Texas, Wonder World Cave is a popular place to visit for above and below-ground attractions. This earthquake-created cave has hosted visitors for over a hundred years. Wonder World Cave offers a single tour that explores underground and highlights the many natural features of the cave. Knowledgeable guides lead these underground tours, traversing concrete pathways illuminated by lights.
Wonder World Cave and Adventure Park is in San Marcos, halfway between Austin and San Antonio. It's the above-ground things to do at Wonder World Cave that also make this cave one of the most popular in Texas. An Anti-Gravity House, Observation Tower, and a train ride through a wildlife park are a few of the other attractions at Wonder World Cave.
A combination ticket for all attractions, including a cave tour, offers the best value to experience Wonder World Cave and Adventure Park. The adventure park also features a petting zoo that is free to visit. Several picnic areas at the park also encourage families to bring packed lunches.
9. Kickapoo Caverns State Park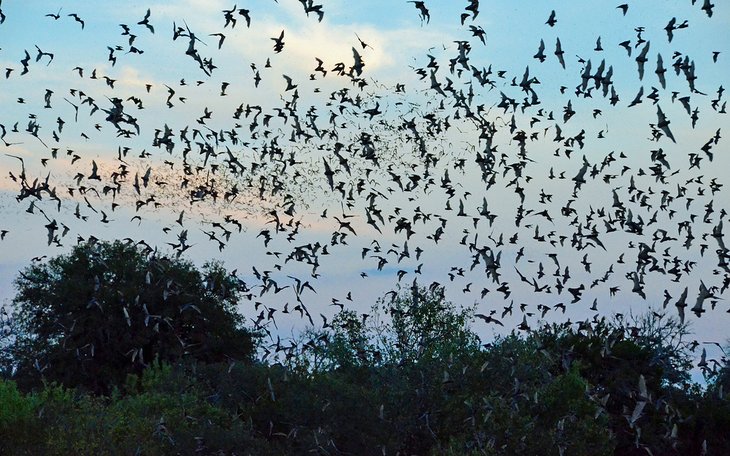 This state park near Del Rio is lightly developed and features over 20 known caves. The two largest caves at Kickapoo Cavern State Park are Stuart Bat Cave and the namesake feature, Kickapoo Cavern. The state park prohibits self-exploration of any cavern to protect the delicate habitats. The state park offers guided tours of Kickapoo Cavern on Saturdays, and visitors need to reserve their spot ahead of time.
Kickapoo Cavern is less developed than other show caves in Texas. The tours last approximately three hours, and visitors traverse muddy and challenging terrain. Visitors need to bring two sources of light into the cave for their underground visits. While these tours attract a dependable crowd, cave tours are not the defining thing to do at this unique state park in Texas.
The other prominent cave at Kickapoo Caverns, the Stuart Bat Cave, is home to thousands of Mexican free-tailed bats. These flying mammals roost in the cave from the spring through the fall. During this period, the bats erupt from the cave entrance in the evening to put on a spectacular show. Other attractions at the state park include hiking trails, a campground, and a record-setting amount of migratory birds.
Address: 20939 Ranch to Market Road 674, Brackettville, Texas
Official site: https://tpwd.texas.gov/state-parks/kickapoo-cavern
10. Devil's Sinkhole State Natural Area
Just over two hours west of San Antonio, Devil's Sinkhole is a massive vertical cavern that drops straight into the ground. Over 350-feet deep, this enormous hole is home to a large colony of Mexican free-tailed bats. Over three-million bats call the Devil's Sinkhole home between May and October. This dense concentration of insect-hungry bats offers quite the spectacle to see every evening in the warmer months of the year.
Due to the nature of the cave, no guided tours are available at Devil's Sinkhole. Admission to the natural area is also only available through a guided visit. Between May and October, the state natural area offers daily evening tours to watch the explosion of bats coming out of the cave. The state natural area also offers guided nature walks and bird-watching expeditions. Tours meet in the nearby city of Rocksprings.
Official site: https://tpwd.texas.gov/state-parks/devils-sinkhole
More Related Articles on PlanetWare.com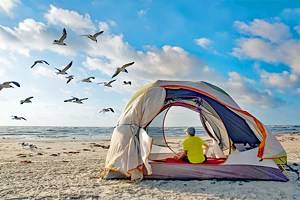 Exploring the Outdoors in Texas: For a great way to cool off during the Texas summers, or just a scenic place to visit after exploring underground, the best lakes in Texas feature freshwater for swimming, boating, and fishing. Also of interest are the state's many waterfalls. Campers looking to pitch a tent or set up an RV can find wonderful places to camp across Texas.