14 Top-Rated Lakes in Texas
Author Brad Lane has traveled throughout Texas, visiting lakes and outdoor areas while reporting for PlanetWare.
The best lakes in Texas share the "everything is bigger in Texas" motto. Significant bodies of water, like Lake Travis and Canyon Lake, feature hundreds of miles of shoreline.
The sheer size of some of these Texas lakes makes them a popular destination, where it's still easy to avoid the crowds. If you're looking for fishing, boating, camping, or scuba diving, the best lakes in Texas have plenty of room for that, too.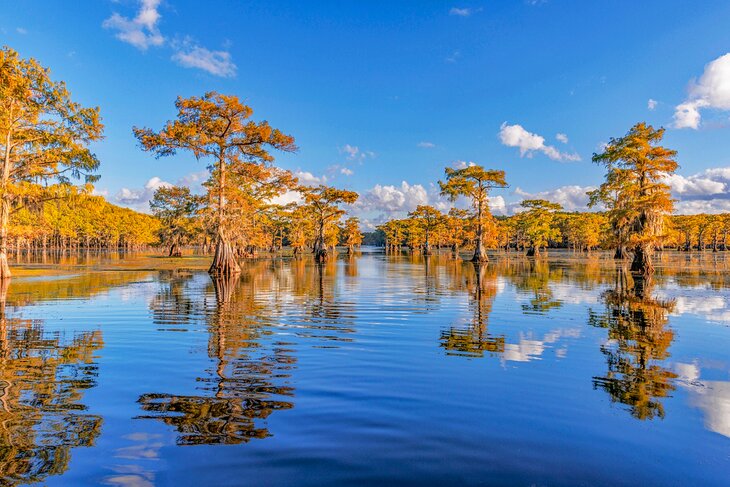 Beautiful lakes are across the state, but east Texas has one of the densest concentrations. Caddo Lake and Lake O' the Pines are two great east Texas lakes. The Central Texas Highland Lakes are also of note. The Highland Lakes are five famous lakes on the Colorado River, including Lady Bird Lake in downtown Austin. These massive reservoirs are some of the best boating lakes in Texas.
Lake Texoma and Sam Rayburn Reservoir are two of the best fishing lakes in Texas. Each is also well known as some of the best bass fishing lakes in Texas. With sunny weather and picturesque twilight hours, if anglers come up empty-handed, they still feel like they caught something special atop Texas waters.
Discover more places to enjoy the water with our list of the best lakes in Texas.
1. Lady Bird Lake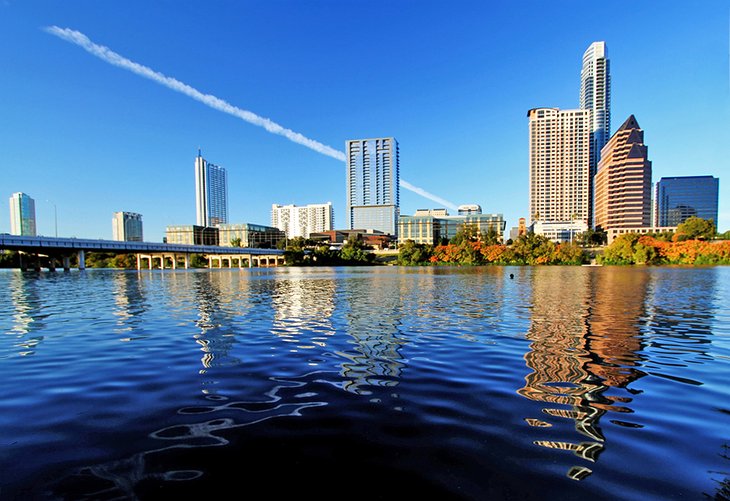 Lady Bird Lake is the last in the series of Highland Lakes on the Colorado River and runs through the heart of downtown Austin. Paddlers take advantage of this urban amenity via kayak or canoe every day of the year. And the Austin skyline provides a beautiful eastern backdrop while crossing the iconic Congress Avenue Bridge.
No motorized vessels are allowed on Lady Bird Lake without a special operating permit. However, non-motorized vessels like kayaks, canoes, and stand-up paddleboards are welcome to explore the water. Several rental companies line the shores near downtown. Popular cruises are also available throughout the year.
One of the best hiking trails in Austin lines much of the lake. The Ann and Roy Butler Hike and Bike Trail is a popular pedestrian corridor with great views of the water. Zilker Park is a 370-acre natural space abutting the lake. This public park features many lakeside amenities, including picnic tables, canoe rentals, and a disc-golf course. Zilker Park is also home to the world-renowned Aust City Limits music festival.
The Congress Avenue Bridge, crossing over Lady Bird Lake, also gives Austin its batty reputation. Millions of Mexican free-tailed bats roost in the bridge between April and October. This massive bat population flies out each night to dine on the local mosquito population. It provides quite a natural show every evening, and boaters get a great view from the water.
2. Lake Texoma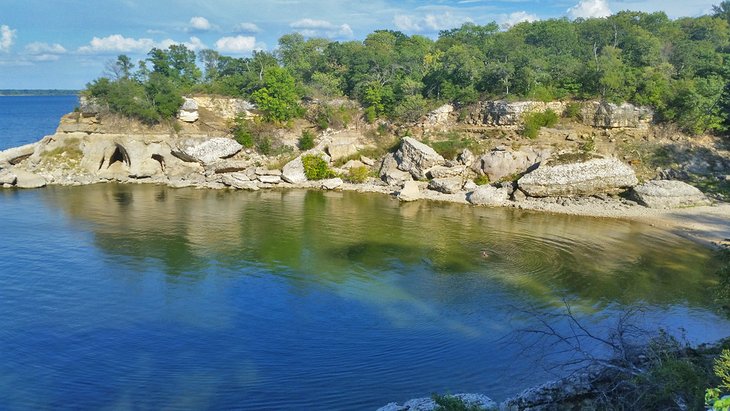 Millions of people visit Lake Texoma each year. It straddles the Oklahoma and Texas Border, 80 miles north of Dallas, and it's the sheer size of this impoundment of the Red River that attracts big crowds. However, it's the abundant and self-sustaining population of bass that draws in the anglers.
Texoma is one of the best bass fishing lakes in Texas. Record-breaking bass have come from the lake. Texoma provides an excellent opportunity to land smallmouth, spotted, and striped bass.
Texoma has approximately 580 miles of shoreline, making it one of the largest reservoirs in the United States. Alongside several golf courses and hotels, the Texoma shoreline also features marinas, boat rentals, and chartered fishing ventures.
3. Lake Travis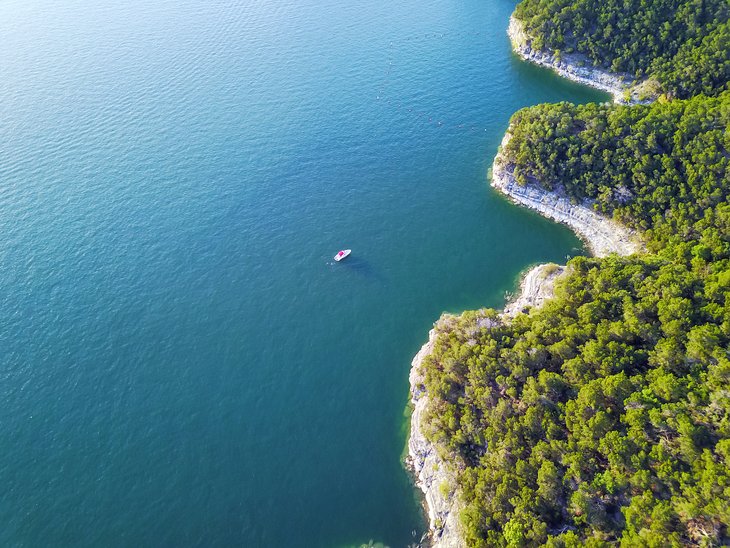 Considered the Crown Jewel of the Central Texas Highland Lakes, Lake Travis is overflowing with fun things to do. This long and skinny reservoir is over 63 miles long, with approximately 270 miles of shoreline.
Popular water activities include boating, diving, fishing, and jet skiing. Several public access points line the shore, as well as marinas, boat rentals, and guide shops.
Residents of Austin can reach portions of Lake Travis within a half-hour drive. Windy Point Park is less than 30 minutes from the city and features campsites, picnic tables, and some of the best diving areas in the state. Several land-based activities also surround Lake Travis, including live music concerts, zipline tours, and golf courses.
4. Caddo Lake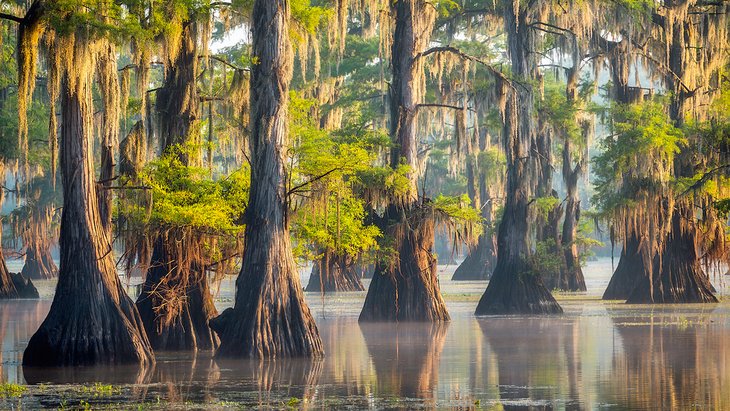 Straddling the Texas/Louisiana border, Caddo Lake offers a unique water experience in the Lone Star State. Caddo Lake encompasses over 20,000 acres of cypress swamp with several bayous, channels, and waterways.
Magnificent cypress trees draped with Spanish moss and low-flying herons are some of the sights to see on Caddo Lake. Though rare to encounter, American alligators also live in Caddo Lake.
Caddo Lake State Park is a central spot for recreation on the west end of the lake, along the Cypress Bayou. The state park features hiking trails and campgrounds, but the real reason to visit is its access to the water. Caddo Lake has over 40 miles of scenic paddling trails, and the state park has canoe rentals available. The state park also features a fishing pier.
5. Canyon Lake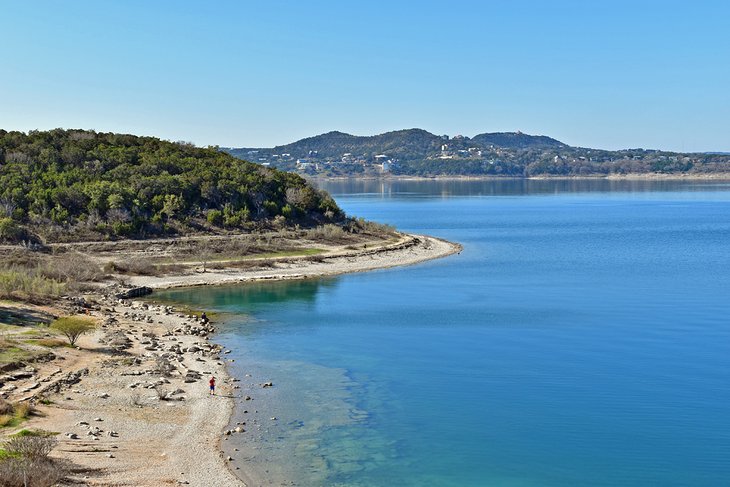 Canyon Lake is a jewel of Texas Hill Country, halfway between San Antonio and Austin, and a 30-minute drive from New Braunfels. The lake is on the Guadalupe River, and the water is incredibly clear. Canyon Lake is popular for all sorts of recreation like boating, fishing, and lakeside hiking.
The Army Corps of Engineers maintains eight developed recreation sites on the lake. Some places, like Canyon Park and Fort Sam Houston Recreation Area, feature tent camping and RV camping.
Other spots like Guadalupe Park and Comal Park are day-use destinations equipped with picnic tables and hiking trails. Overlook Park offers visitors a unique walking trail that traverses the top of Canyon Dam.
6. Sam Rayburn Reservoir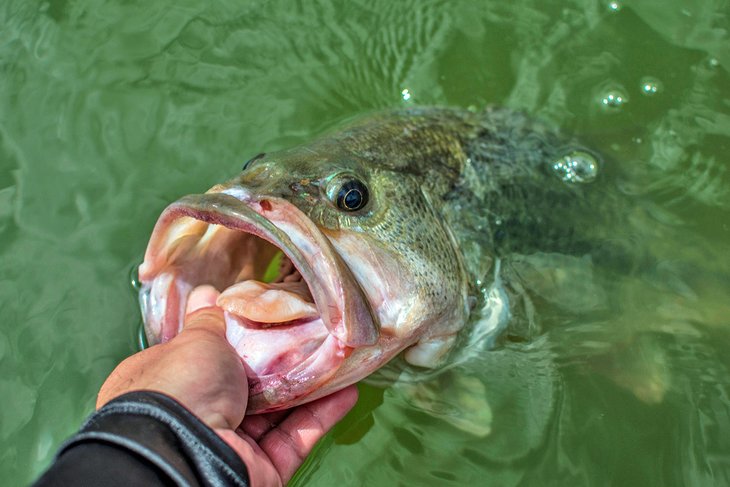 Sam Rayburn Reservoir is a popular recreation lake in deep East Texas, operated by the Army Corps of Engineers. Parks and public space line this massive human-made reservoir encompassing over 110,000 acres.
The lake reaches a depth of 80 feet and sustains a very healthy population of largemouth bass. These fish help Sam Rayburn receive notoriety as one of the top bass fishing lakes in Texas.
The U.S. Army Corps of Engineers operates a dozen park facilities on the lake. Most of these parks have hiking trails, picnic areas, scenic overlooks, and boat ramps. Everything from primitive campgrounds to luxury cottages also surrounds the lake.
7. Lake Conroe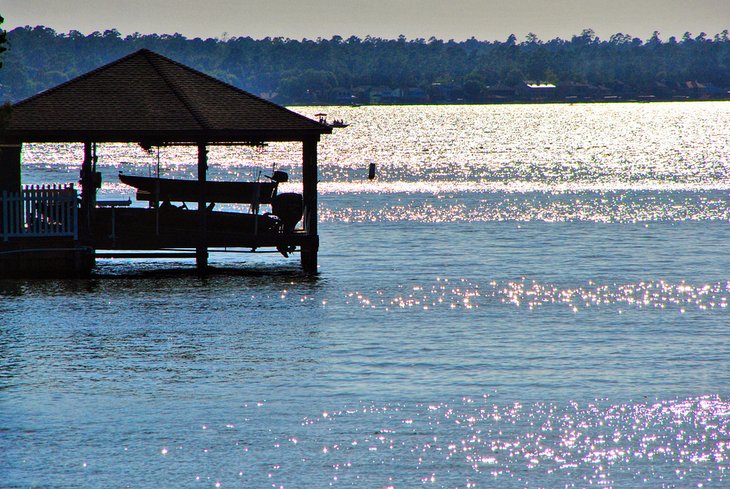 Lake Conroe is an approximately 22,000-acre boating lake within an hour's drive of Houston. It's a popular spot to escape the city. On any given day, jet skis, sailboats, and fishing rigs make waves atop the water. Visitor amenities like golf courses, lakeside restaurants, and full-service marinas also line the shore.
The Sam Houston National Forest surrounds Lake Conroe's northern end, where several hiking trails entice land lovers. The 129-mile Lone Star National Recreation Trail skirts past the northern reach of Lake Conroe.
The adjacent city of Conroe is worth the weekend visit alone. A vibrant scene is burgeoning in Conroe with a combination of live music, restaurants, and easy access to the outdoors.
Read More: Top-Rated Things to Do in Conroe, TX
8. Possum Kingdom Lake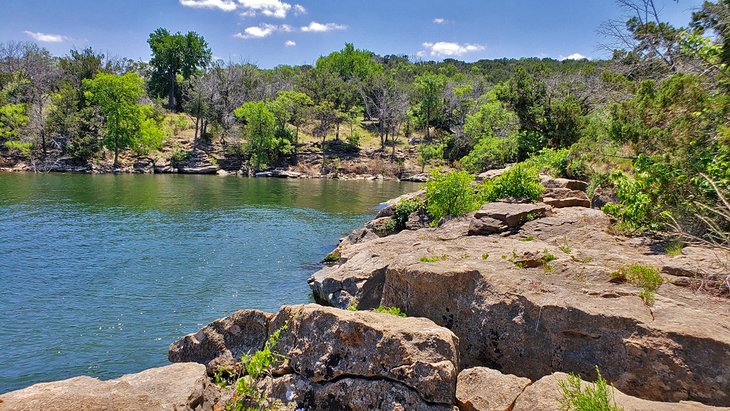 Possum Kingdom Lake is in a rugged canyon country on the Brazos River, 70 miles west of Fort Worth. This reservoir is well known for natural cliff features lining the south end of the lake. The crystal blue waters of Possum Kingdom Lake also pose well for pictures.
The clarity of the water at Possum Kingdom lends to activities like fishing and scuba diving. The best fish to cast for at Possum Kingdom Lake are white bass, and it's also a great place for freshwater trout fishing.
A popular spot for recreation is Possum Kingdom State Park on the west side of this approximately 20,000-acre lake. The state park offers several inland things to do like hiking and biking trails. The park also features places to stay, including campgrounds and air-conditioned cabins. A popular activity at Possum Kingdom is embarking on a boat and finding a secluded cove to drop anchor.
9. Lake Lewisville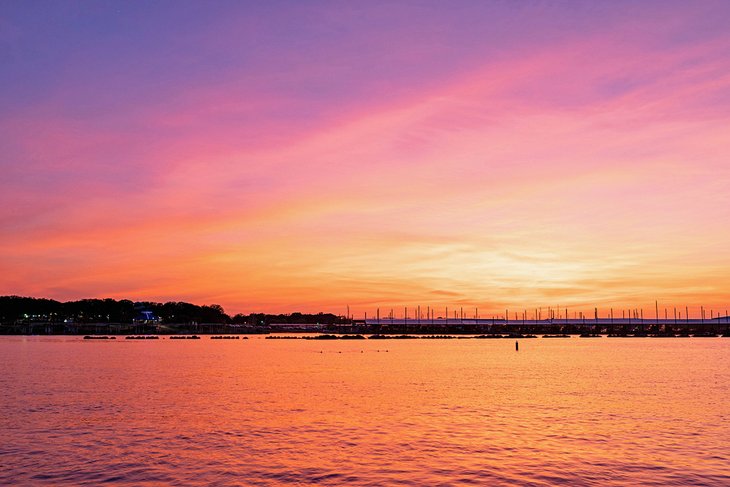 This 29,000-acre lake is within an hour's drive north of Dallas. It's immensely popular on the weekends and offers a wide range of ways to enjoy the water. Boating and fishing are two of the most frequent activities at the lake. Canoes, kayaks, speedboats, and houseboats are all seen enjoying the water. The lake has excellent conditions for crappie, catfish, and white bass.
Another popular activity at Lake Lewisville is finding a cove, tying up to other boats, and enjoying a sunny day while listening to music. Several public parks line the shore of Lake Lewisville and provide outlets for hiking, camping, and bicycling. Lake Lewisville also features championship golf courses near the water, including the Lake Park Golf Course.
Read More: Best Lakes in Dallas
10. Inks Lake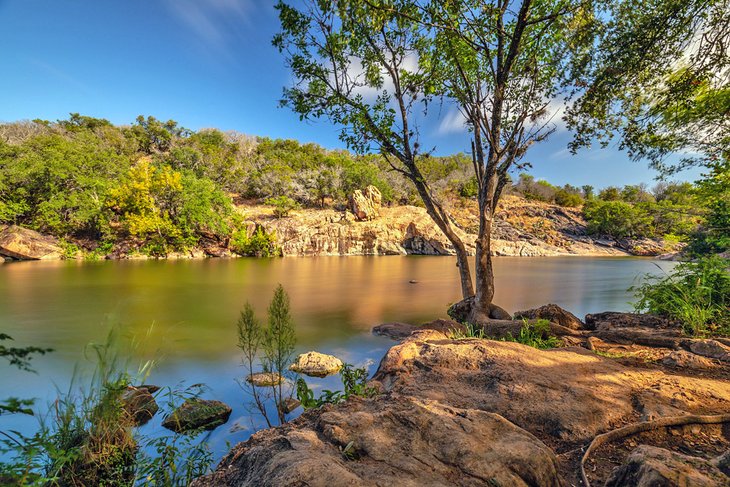 Inks Lake is a scenic reservoir on the Colorado River, fifty miles northwest of Austin. It's surrounded by the rolling landscape of Texas Hill Country and is particularly beautiful thanks to the pink rocks jutting near the shore.
The expansive Inks Lake State Park encompasses the southeast edge of the lake. The state park features facilities like campgrounds, hiking trails, and a visitor center.
It's the lakeside campsites that make Inks Lake one of the best places to camp in Texas. Everyday activities on the water include swimming, skiing, and paddling. The state park has canoes and kayaks available to rent. Inks Lake is also popular for fishing, with two fishing piers, a cleaning station, and boat ramp.
11. Lake O' the Pines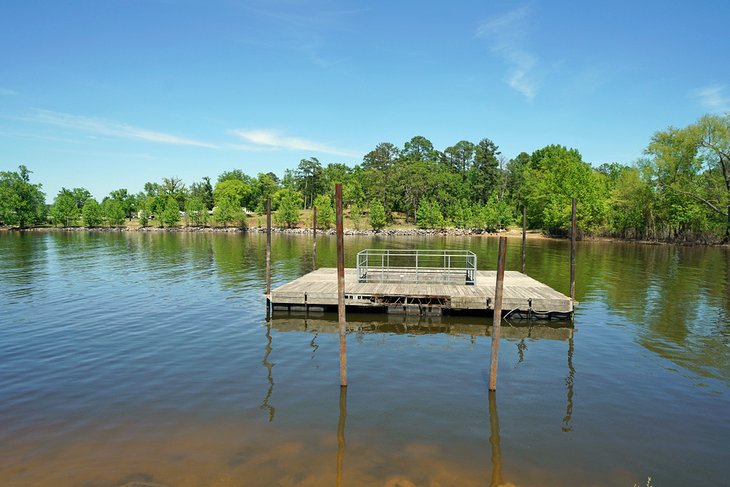 Lake O' the Pines lives up to its name, 30 miles west of Caddo Lake in East Texas. The Piney Woods of the region surround this 18,700-acre lake, adding considerable scenic attraction to the water. Alongside beautiful appeal, these tall pine trees also provide shade for the hiking trails and campgrounds close to the shore.
Brushy Creek and Buckhorn Creek Park on the lake provide beautiful campgrounds with a view. Other parks at Lake O' the Pines, like Johnson Creek and Lakeside Park, feature expansive beaches for swimming and suntanning.
Several boat ramps are also available on the shoreline. Fishing is a popular activity on the water, and Lake O' the Pines has an excellent reputation for catching largemouth bass.
Read More: Top-Rated Fishing Lakes in Texas
12. Lake Granbury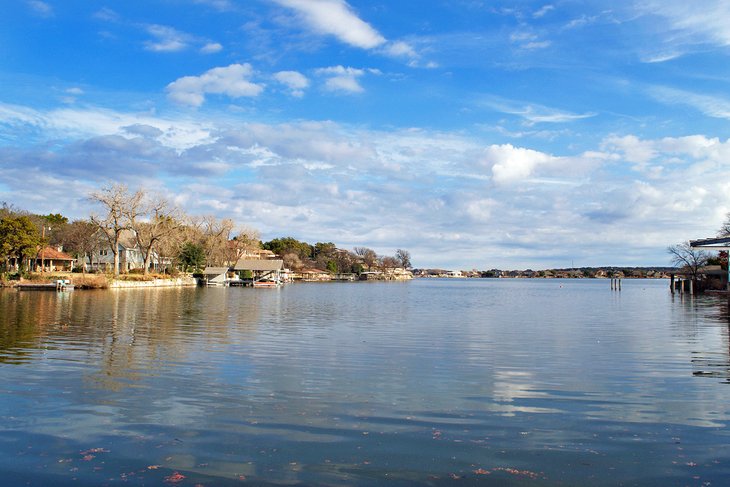 At the center of Granbury in northern Texas, 40 miles southwest of Fort Worth, Lake Granbury is a resort lake destination on the Brazos River.
Several parks line this 33-mile-long lake, and Granbury offers a diverse collection of stores and restaurants. Granbury City Park is a popular public space to enjoy the water, with boat ramps, boat rentals, and swimming areas available.
Lake Granbury has an excellent reputation for catching fish. Largemouth bass, crappie, and sunfish are abundant in the water.
Campgrounds also surround the lake at places like Rough Creek Park, Hunter Park, and De Cordova Bend Park. Other lakeside accommodations at Lake Granbury include cozy cottages and historic resorts.
Read More: Top-Rated Things to Do in Granbury, TX
13. Lake Buchanan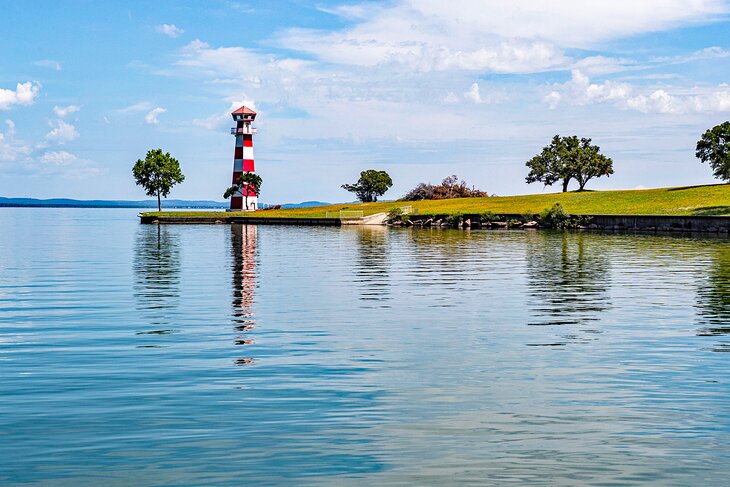 Lake Buchanan is the second-largest of the Texas Highland Lakes, only smaller than Lake Travis. It's approximately a 60-mile drive northwest of Austin and a popular weekend destination for a wide range of activities. The lake has over 124 miles of shoreline with several access points and public property next to the water.
Boating, swimming, and sunbathing are everyday activities at Lake Buchanan. Fishing is also extremely popular, and Lake Buchanan has an excellent reputation as a bass-fishing destination, including largemouth bass, white bass, and striped bass. Several commercial cabin rentals are available for overnight trips.
14. Toledo Bend Reservoir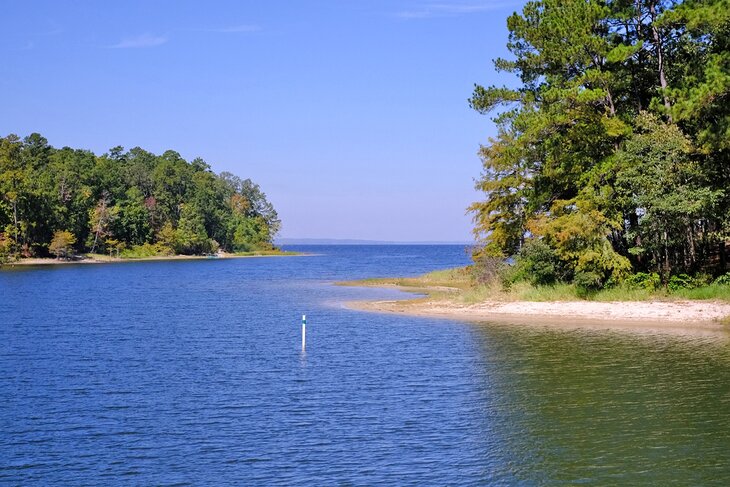 Toledo Bend Reservoir is another significant body of water near the Sam Rayburn Reservoir on the Louisiana/Texas border. It's a popular vacation destination and the crown jewel of the surrounding Toledo Bend Lake Country, filled with live entertainment, hotels, and a thriving nightlife district.
Fishing is increasingly popular at Toledo Bend Reservoir. The water spans over 60 miles along the border, providing plenty of places to cast a line. Toledo Bend is also home to several sport fishing tournaments throughout the year for anyone interested in some competition.
More Related Articles on PlanetWare.com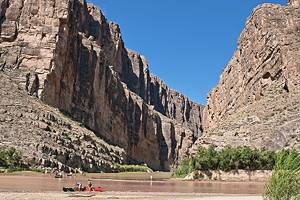 Exploring the Outdoors in Texas: The best state parks in Texas highlight the wide range of landscapes throughout the state. Many of these memorable state parks also offer some great places for camping. The state's crown-jewel outdoor space, Big Bend National Park, offers outstanding opportunities for hiking and camping. For a completed overview see our guide to Things to Do in Big Bend National Park.