12 Best Campgrounds at Big Bend National Park
Author Lana Law has enjoyed many nights camping under the stars in Big Bend National Park.
Camping in Big Bend National Park is one of the highlights of a trip to this outstanding park. Dark skies, birds and wildlife, nature, and tranquility are what you'll find.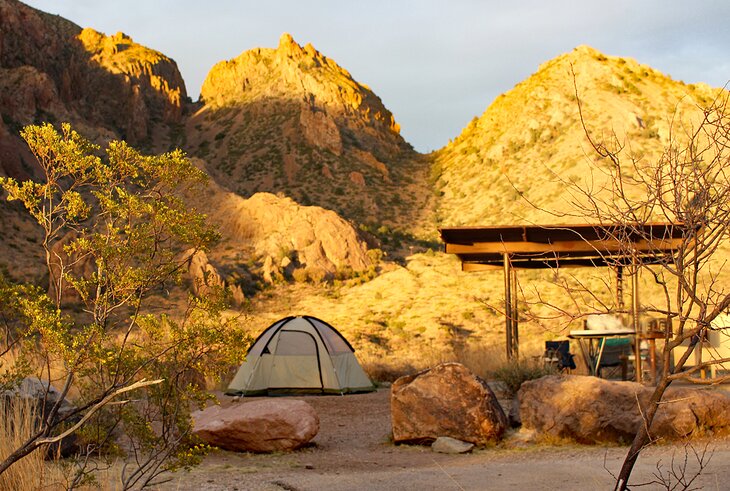 The park has a campground in each of its three distinct regions: Rio Grande Village, Chisos Basin, and Santa Elena/Castalon. The latter is where you'll find the Cottonwood Campground. Each of these areas offers something a little different, but all the campgrounds are very good.
Choosing where to stay comes down to personal taste or even time of the year. Chisos Basin has a little different climate, with warmer nights and cooler daytime temperatures than Rio Grande Village or Cottonwood.
Many of the hiking trails in Big Bend are centered around Chisos Basin, but one of the best hikes, Santa Elena Canyon, is near Cottonwood. The hot springs, one of the top attractions in the park, are near Rio Grande Village.
Generators are allowed in Chisos and Rio Grande Village, with operating-hour and site-specific restrictions. Generators are prohibited in Cottonwood campground.
Here are our top picks for the best campgrounds at Big Bend National Park.
1. Chisos Basin Campground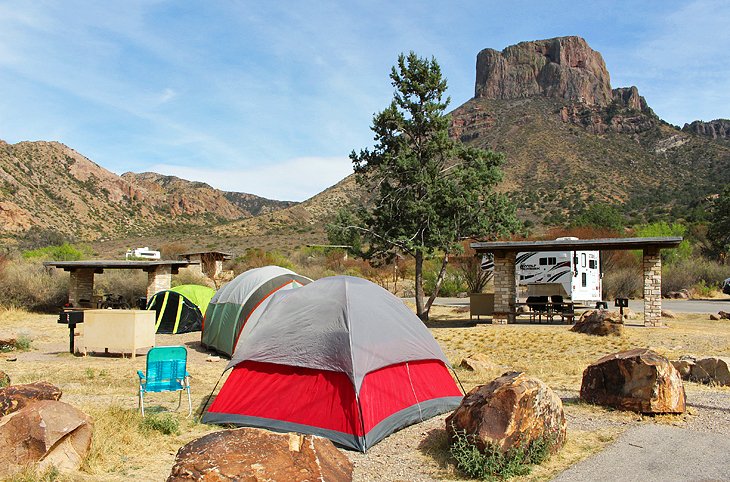 Set on a small plateau surrounded by jagged peaks, the Chisos Basin Campground has a dramatic setting, at an elevation of 5,040 feet.
This is one of the most pleasant places for camping due to the climate and the proximity to some of the best hikes in Big Bend National Park.
As a general rule, the nighttime temperatures can be warmer than those at lower elevations, as the warm air drifts upward, and it's slightly cooler here during the day, which can be a real relief at times.
Popular hikes in this area include Lost Mine, Emory Peak, and the Window Trail, the latter of which can be accessed directly from the campground.
The campground has 60 campsites, 24 of which are reservable. All others are first-come, first-served. Sites vary from very private, with barely another site visible, to very exposed, backing on to other campsites with no visible separation.
The sun beats down on this area, and not all sites have covered shelters for shade. This can be a determining factoring when trying to choose a site here. Chisos Basin Campground does not have showers but does have flush toilets.
Trailers over 20 feet and RVs over 24 feet are strongly discouraged due to the very tight and narrow roads. This is primarily a campground oriented towards tent camping.
2. Cottonwood Campground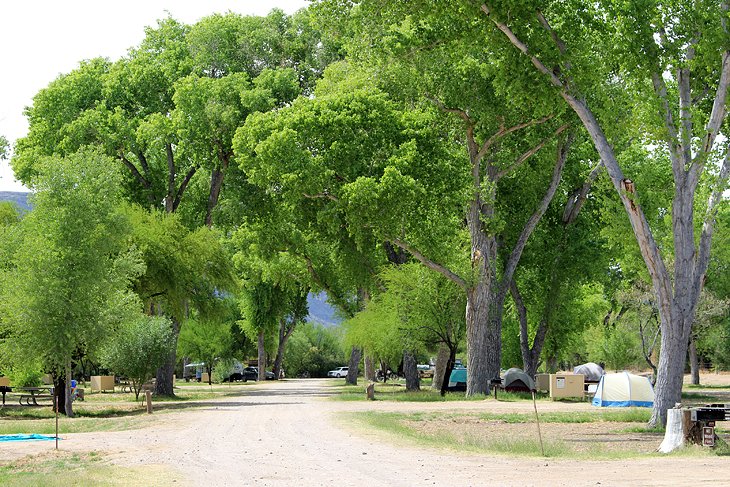 For nature and tranquility, Cottonwood Campground is your best option.
Set in a lush area, not far from the Rio Grande, this campground sees all kinds of birds and critters, from vermilion flycatchers to the much maligned javelinas. At night, you can sometimes hear great horned owls near the sites.
Huge cottonwoods provide plenty of shade during the hot days from spring until fall. The Cottonwood area is much warmer than Chisos Basin due to the lower elevation of only 2,169 feet, but this can sometimes be an advantage when the weather is cold.
This campground has 24 campsites, which can be booked online in advance on a 14-day rolling basis. For the most part, sites are large and set well apart from each other.
Facilities here are limited to pit toilets.
3. Rio Grande Village Campground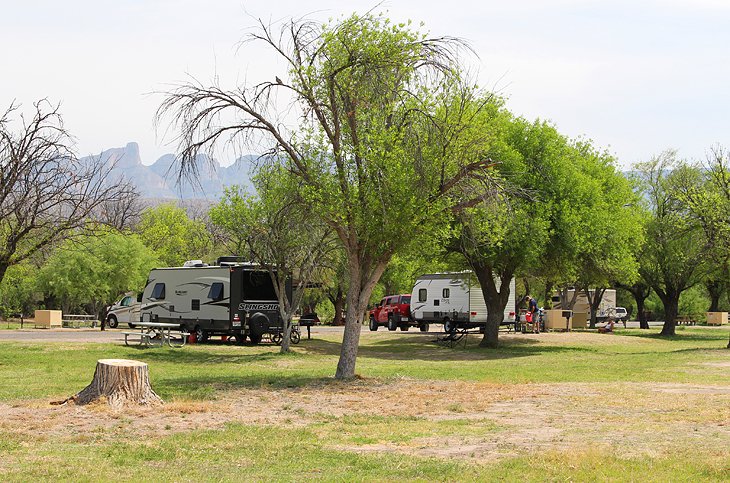 Set near the Rio Grande River, this is the largest campground in the park, although it is divided up and still has the feeling of a more intimate campground.
Of the 100 sites, 43 are reservable. This campground is set at an elevation of 1,850 feet, so it is one of the hottest areas in the park. This can be a benefit during the colder months but a definite drawback in summer.
Sites are mostly large and offer a fair bit of shade, and most campsites do not have shade covers. Most sites offer good privacy, and some are completely surrounded by trees and shrubs, so surrounding sites are not even visible.
The Nature Trail, one of the best short walks in the park, leaves from this campground.
Facilities at Rio Grande Village Campground include showers and flush toilets. Generators are allowed throughout the day but must be turned off by 8pm.
The National Park Service has recently invested in new sunshades at this campground, a much-needed addition. Now campers and RVers will have some respite from the blazing desert sun.
4. Rio Grande Village RV Campground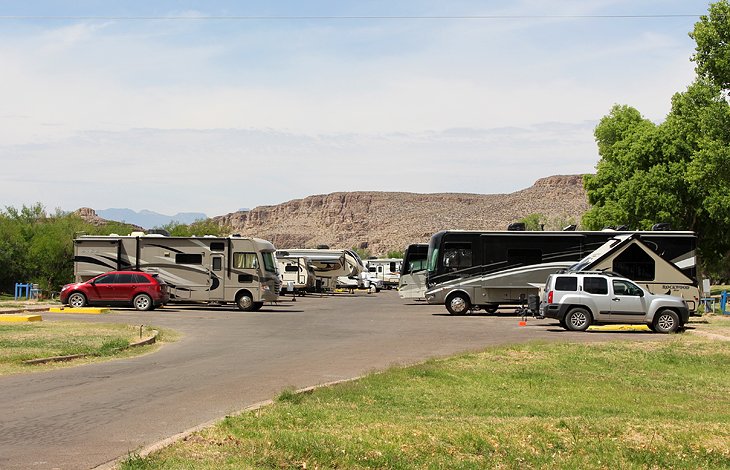 Located not far from the Rio Grande Village Campground, the RV park is a long and narrow, paved parking area, with RV sites lining the sides. While the parking-lot-style setup is not wonderful, the surrounding scenery is.
Large cottonwood trees surround the area, although they are not close enough to provide shade, and you can see the mountains in the distance. Roadrunners and other critters frequent the area.
Just down the road from the RV park is a pleasant picnic area and the start of a hike that leads to the hot springs, although this is by no means the shortest access point to the hot springs.
The Rio Grande Village RV Campground, operated by Forever Resorts, offers 25 sites, all with full hookups, and 20 of which are reservable.
The elevation here is 1,800 feet, and days can be quite hot, depending on the season.
A camp store is nearby with some food and basic supplies.
5. Primitive Roadside Campsites in Big Bend National Park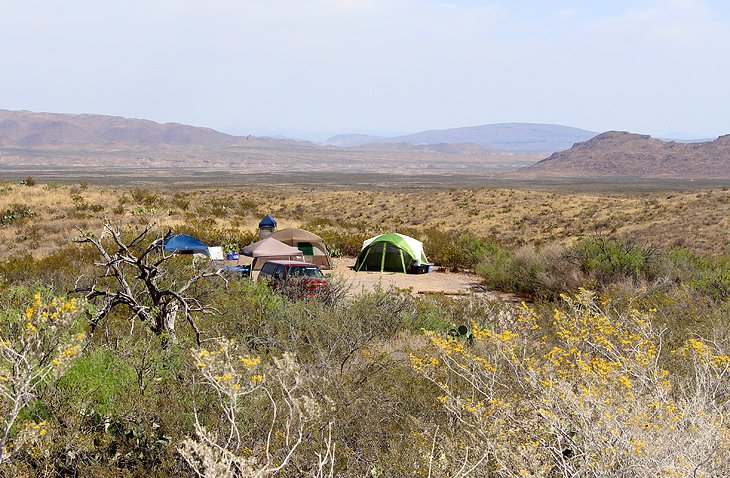 Off dirt roads, tucked into various corners of the park, you'll find backcountry campsites. Unlike many parks where backcountry means hike-in camping, here you can drive your vehicle to your own isolated campsite.
If you want to experience the quiet of a desert night out on your own, primitive roadside campsites in Big Bend National Park are a great opportunity. Light pollution is almost non-existent in the park, which is a designated dark sky park, and on a moonless night, the stars are fantastic.
It is important to note that there are no toilets, no water is available, and many have absolutely no shade, so be sure that you are well equipped and bring a shade structure.
You need to be completely self-sufficient. If it has rained recently, you may be out of luck, as the roads become undrivable. Backcountry permits are required, but they're free. All of these are non-reservable.
6. Rancho Topanga Campground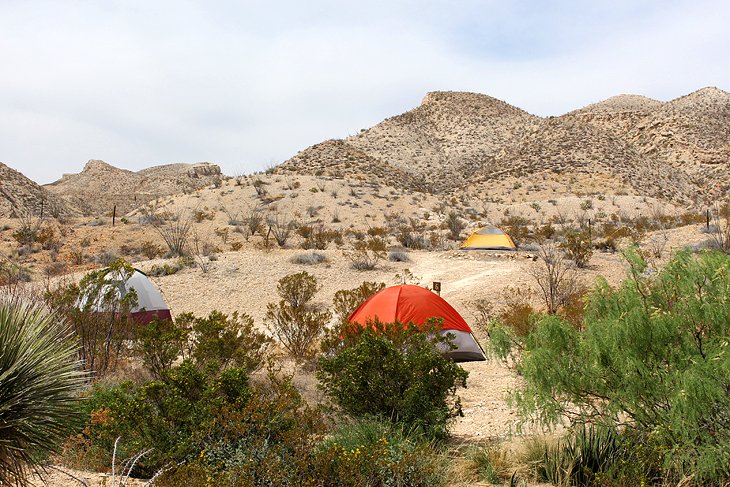 Located on the west side of the park, not far from Terlingua, Rancho Topanga Campground is a tenting-only campground and a good option if you can't find camping in the park.
This family-run establishment is the best campground for tenters outside the park. The campground is set at the base of a hillside and is relatively scenic.
Facilities include showers with hot and cold water, a luxury you can't always find at some of the hotels in Terlingua, flush toilets, water at every site, and the campground is pet-friendly.
The 25 sites are spread across a large area of desert and there is no shade, so be sure to bring your own canopy if you are planning on spending time at the campground during the day.
A major bonus here is that ground fires are allowed at every site. Nights in the desert can be quite cool, and there's nothing quite like sitting around a toasty fire and gazing up at the starlit skies.
7. Maverick Ranch RV Park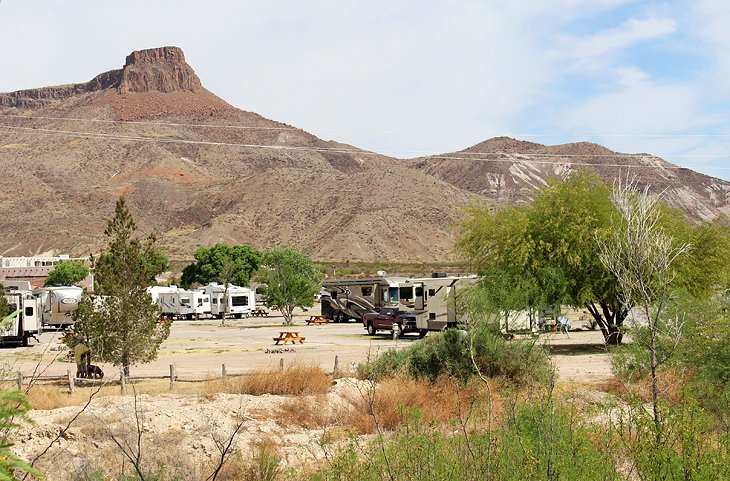 Associated with Lajitas Golf Resort, Maverick Ranch RV Park is a beautiful RV park in a scenic setting in the Painted Hills, about 20 miles from the west entrance to Big Bend National Park.
One of the great advantages of staying here is that guests have full use of the facilities at Lajitas Golf Resort, including the pool, "chilled" in the summer, and all the activities offered through the resort. Activities include ziplining, golfing, horseback riding, skeet shooting, and mountain bike riding. The resort also has a spa.
The park itself has a number of large trees spread around the grounds, and each site has a picnic table. The park is pet friendly and offers wireless internet, cable TV, full hookups, bathrooms, showers, laundry facilities, and a dog park.
Although this is primarily an RV park, with 100 RV sites, 60 of which are pull-through, they also accommodate tents. Rates vary depending on the season and the length of stay, including daily, weekly, and monthly pricing.
8. BJ's RV Park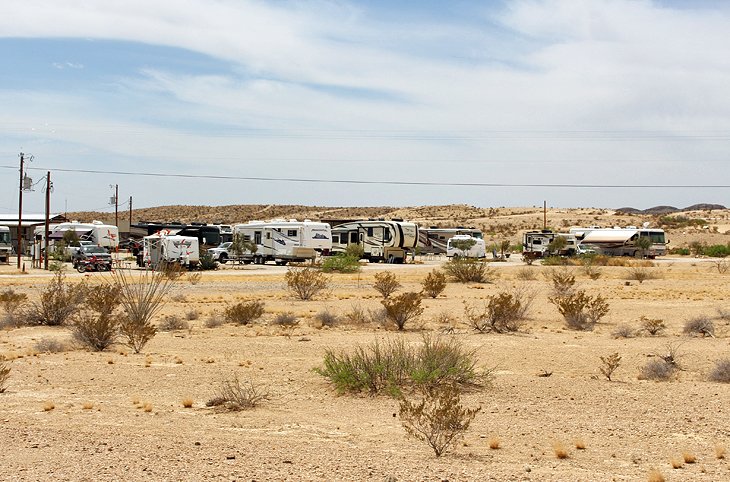 This is the closest place to the park for RVers.
Located on the west side, in Terlingua, BJ's RV Park offers 29 sites with hookups, and it can accommodate any size of RV.
Amenities include flush toilets, showers, and Wi-Fi. This park is simply a patch of desert on the roadside, but what it lacks in scenery and ambience it makes up for with convenience if you are planning on visiting the park.
The park prides itself on low light pollution, so that you can see the amazing night skies of West Texas. BJ's RV Park is also pet-friendly.
9. Big Bend Resort & Adventures RV Park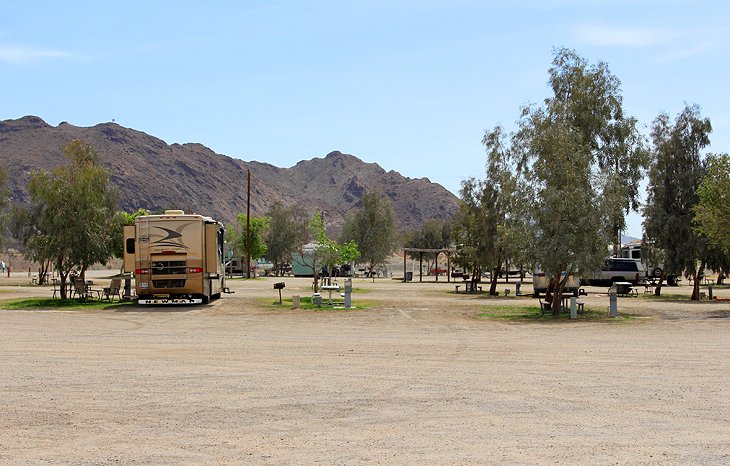 Big Bend Resort & Adventures RV Park is about four miles from the eastern entrance to Big Bend National Park, making it incredibly convenient. This is a huge campground, so if you are stuck, you can usually find something here.
It can accommodate large rigs, as well as tents, and it offers full hookups and wireless internet access. Pets are welcome, and reduced rates for monthly stays are available. Parking areas are not paved, so it can get a bit dusty if the winds are up.
10. Study Butte RV Park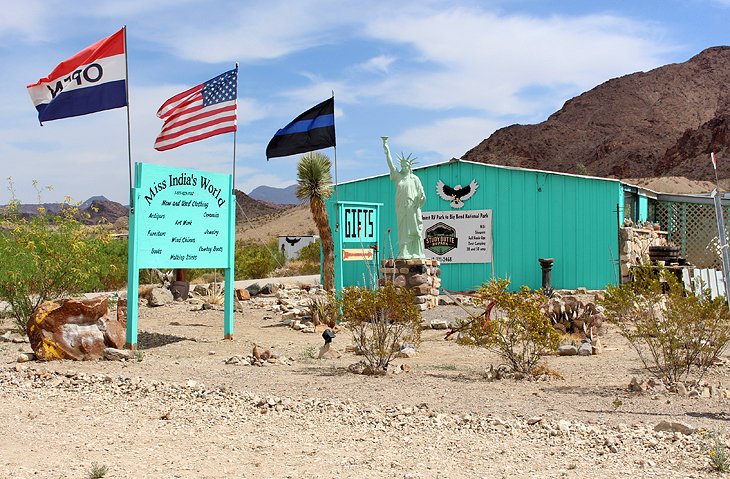 The undeniable advantage of staying at this RV park, if you cannot find camping in the park, is that it is only three miles from the west entrance of Big Bend National Park, making it the closest camping option to the park.
This is a small facility but offers showers, Wi-Fi, full hookups, and some tent sites. The campground has a small store with a gift shop, but directly across the street is Cottonwood General Store, with an excellent selection of groceries and camping supplies.
You can't miss this place as you drive through Study Butte. The gift shop is a bright green color, and the statue of liberty stands proudly in front on the roadside.
11. Terlingua Ranch Lodge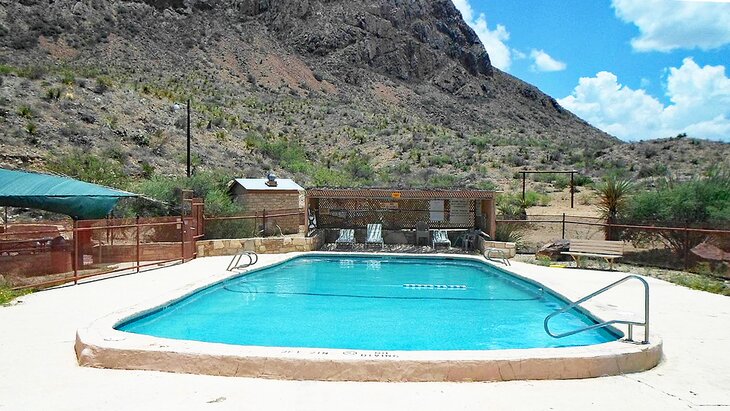 For a more remote desert camping experience with some of the comforts of home, consider the Terlingua Ranch Lodge. Located 45 minutes from Terlingua, this property offers 21 RV sites and eight 30/50 amp pull-through sites, along with another 12 sites with only 30-amp service that's limited to rigs less than 25 feet long.
No matter which site you choose, they all have water hookups and a fire ring; some have sewer service. Wander over from your site and enjoy the ranch's facilities including the pool and horseshoe pits.
The on-site Bad Rabbit Cafe is a local hot spot for good food and good times. Time your visit right, and you'll be able to participate in the monthly pot luck dinner program on the first Thursday of each month.
The last three miles from the highway to the ranch are not paved and can be wash-boarded—be sure to have everything in your rig put away and stored before entering.
12. Marathon Motel and RV Park
Located in Marathon, about 40 miles from Big Bend National Park, the Marathon Motel and RV Park offers an RV area with 29 sites offering full hookups, and a separate tenting area. Facilities include bathrooms, showers, cable TV, and a dump station.
This is perhaps the best option if you are arriving from the east. The main problem with this location is the train track right across the road. At night, the trains will blast their horns as they go through Marathon.
Frequently Asked Questions
When is the best time to camp at Big Bend National Park?
The best time to camp at Big Bend National Park is from early January through the middle of April. At this time, you'll enjoy sunny days and cool nights, and you'll see the desert in bloom.
May through September are considered hot, and although you may be able to camp at Chisos Basin where it's higher and cooler, your daytime activities will be limited due to the heat, usually in excess of 100 degrees Fahrenheit.
What are the best campgrounds in Big Bend National Park?
The best area to camp in a tent in Big Bend is in Chisos Basin campground. This campground is surrounded by towering hills and is close to all the best hiking trails.
The best place to camp in an RV is in Rio Grande Village. The campground is centrally located to many of the park's attractions.
How far in advance can I book a campsite?
You can reserve sites at Chisos Basin in advance on a six-month rolling basis. Limited sites are also available two weeks in advance.
At Rio Grande Village, sites are also bookable in advance on a six-month rolling basis, except during the summer months (May 1st to October 31st) when they are first-come, first-serve.
Cottonwood campground sites can be booked in advance on a 14-day rolling basis year-round.
Map of Big Bend National Park - Best Campgrounds
More Outdoor Adventures around Big Bend National Park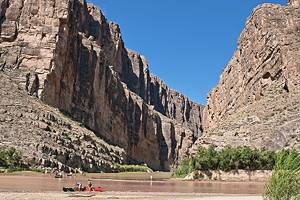 Big Bend is a playground for outdoor adventures and full of interesting sites. Plan your days in the park with our list of the Top Things to Do in Big Bend. If you are interested in exploring some of the park on foot—one of the best ways to see the landscape—have a look at our article on the Best Hikes in Big Bend National Park.
Wondering where to go next? Don't overlook the West Texas towns of Amarillo, for at least a stop at Cadillac Ranch, and Lubbock, the hometown of legendary Buddy Holly, and today, a hot spot for live music.