14 Best Beaches in Texas
Author Anietra Hamper and photographer Ian Henderson traveled along the Texas coast to find the best beaches in the state.
The Texas coastline has nearly 370 miles of fantastic beaches along the Gulf of Mexico. From the popular vacation spots like East Beach in Galveston to the naturally preserved landscape of Padre Island National Seashore near Corpus Christi, and even a Blue Wave Beach designation in Rockport, there's a beach for every kind of desired getaway.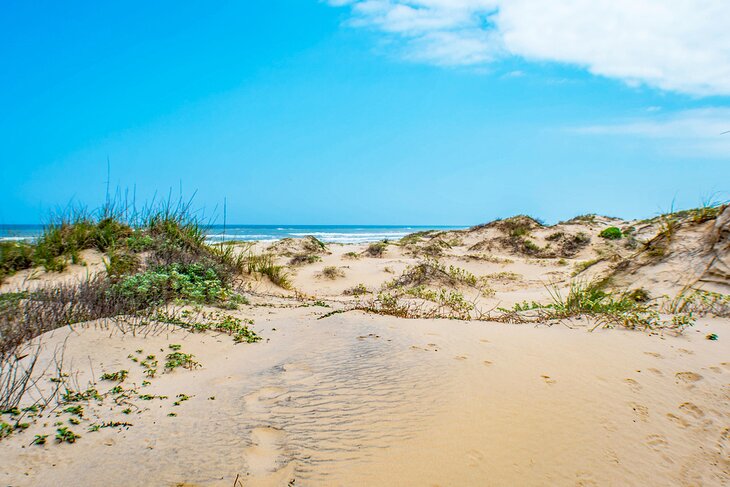 While all the beaches along the coast have epic views that set the stage for idyllic days in the sand and by the blue ocean water, there are some standout beaches that offer even more. Some beaches are popular for their social scenes and seaside activities, like sandcastle building and windsurfing, and others for their remoteness, beachcombing, and shell hunting.
Whatever appeals to you for a perfect day by the water, review our list of the top beaches in Texas.
1. Padre Island National Seashore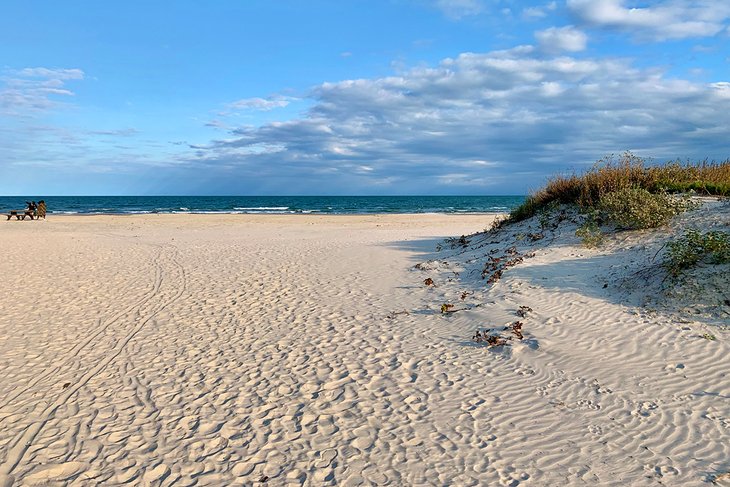 Highlights: The longest undeveloped barrier island in the world, pristine natural surroundings
The pristine natural landscape of the Padre Island National Seashore near Corpus Christi is one of the top beaches in the state because of its untouched beauty. It's the longest undeveloped barrier island in the world, and its 66 miles of beaches are surrounded by preserved natural elements like towering sand dunes and protected wildlife.
The sand on the beach is clean, soft, and expansive, so there is plenty of room, even during the high tourist season. This beach is great for swimming, looking for shells, overnight camping, bird-watching, and relaxing with no agenda beneath a beach umbrella.
The Padre Island National Seashore is also known for its Kemp's ridley sea turtle hatchlings and releases that take place from June through August. The releases are open to the public for observation and are a fun way to spend a day at the beach.
Address: Park Road 22, Corpus Christi, Texas
Read More: Best Beaches in Corpus Christi, TX
2. Port Aransas Beach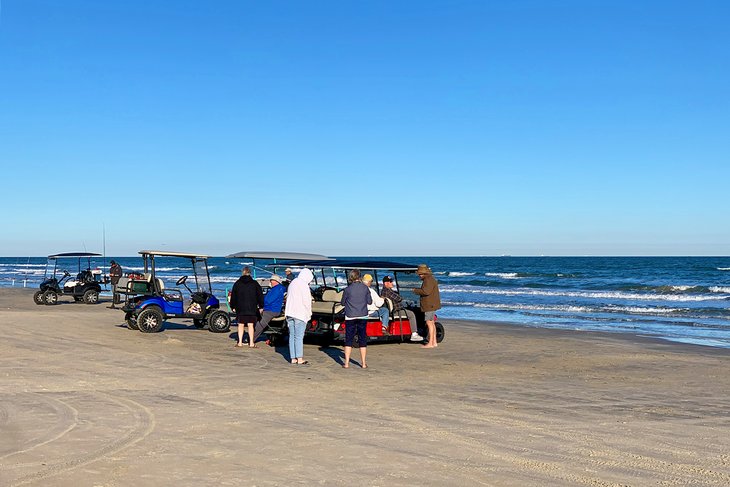 Highlights: Social beach activities like volleyball, bonfires, and sandcastle competitions
The beach vibe in Port Aransas is a relaxed one, with a cottage-community feel, so it is no wonder that Port Aransas Beach is popular for its communal experience. The beach is great for swimming in the gentle waves coming in from the Gulf of Mexico.
This beach is ideal for families and groups that want a more social element, with beach activities like volleyball, sandcastle-building competitions, and evening bonfires that are permitted on the beach. The beach is in a central location in Port Aransas, so it is easily accessible, making it nice for overnight camping, which is also permitted.
Address: Port Aransas Beach Road, Port Aransas, Texas
Read More: Best Beaches in Port Aransas, TX
3. Malaquite Beach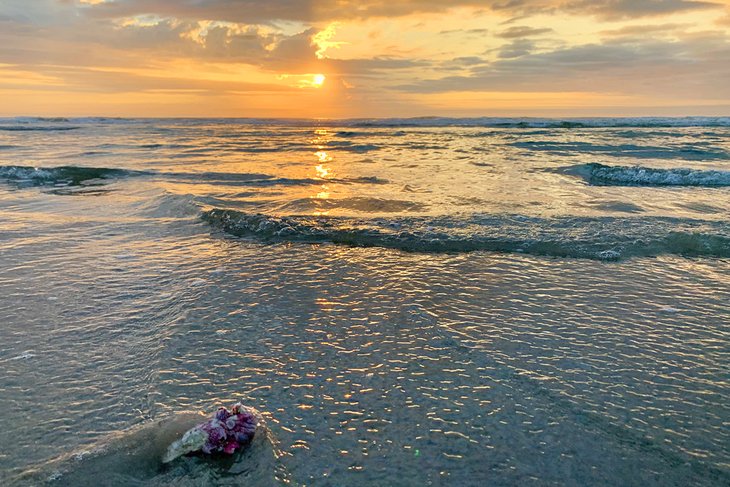 Highlights: White sand beach, picnic pavilion, wildlife viewing, camping, full-service visitor center
A Texas beach that can live up to your vision of pristine white sands and epic azure water with just the right amount of salty air breeze is Malaquite Beach on the Padre Island National Seashore. If this is a first visit to the area near Corpus Christi, Malaquite Beach is a perfect place to start your seaside vacation.
Stop into the Malaquite Beach Visitor Center to get information on the area and access amenities like restrooms, the bathhouse, and shaded pavilion. There are picnic tables right on the beach, so you can pick a spot for the day and enjoy beachcombing and swimming. Sand dollars are common finds along this section of beach.
Malaquite Beach is also a perfect beach to visit for camping, wildlife and nature viewing. Birding and viewing the coastline from the elevated lookout areas are great ways to fill the time and soak in the area's natural beauty, which is different from other locations along the Texas coastline.

Address: 20420 Park Road 22, Corpus Christi, Texas
Read More: Top Tourist Attractions & Things to Do in Corpus Christi
4. Rockport Beach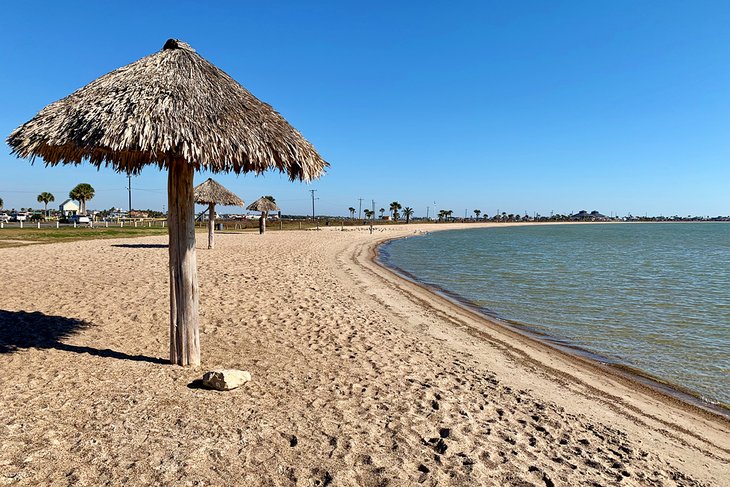 Highlight: First Blue Wave Beach designation in Texas, free section in addition to a day-fee park
Texas' first Blue Wave Beach designation is Rockport Beach, making it one of the best places to visit on the coast. Rockport Beach only extends for one mile, but it is a beautiful stretch of beach that is perfectly maintained.
There is a free section of Rockport Beach open to the public, but it is worth paying the day fee to go into the Rockport Beach Park, where there is manicured sand and lots of space for swimming, parking, playgrounds, walking paths, restrooms, shade cabanas, a saltwater lagoon, and other activities.
The Blue Wave Beach designation is unique to Rockport Beach, meaning it maintains the highest quality when it comes to meeting environmental standards. This beach is visually stunning whether you plan to relax on it in the sun, photograph it, or enjoy the many beachfront activities.
Address: 210 Seabreeze Drive, Rockport, Texas`
Read More: Top-Rated Things to Do in Rockport, TX
5. Seawall Beach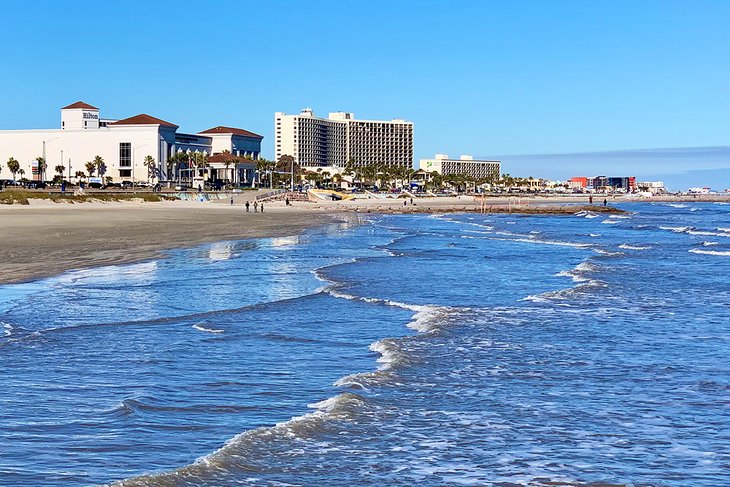 Highlight: The most recognized and popular stretch of beach in the heart of Galveston.
One of the most popular beaches in Galveston is Seawall Beach since it sits along the iconic seawall promenade in the central section of the island. On any given day, you will find beachgoers enjoying the surf and relaxing by the water with the bustling Pleasure Pier in the background.
Given the popularity of this beach and the resorts along the coast, it is easy to find cabana rentals and a comfortable space in the sand. Swimming is a popular activity at Seawall Beach, but so is just enjoying the view by taking walks along the shoreline or looking at the statues along the seawall promenade.
There are no restrooms or concessions at Seawall Beach, but it is easy to walk across the street to find restaurants and other conveniences during the day.
Address: Seawall Boulevard, Galveston, Texas
Read More: Top-Rated Attractions & Things to Do in Galveston
6. Isla Blanca Park & Beach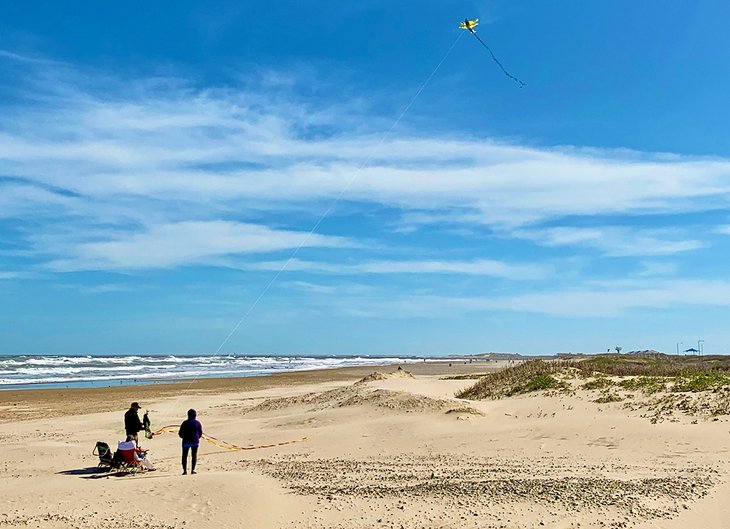 Highlights: Family-friendly, beach activities like kite flying, public boardwalk, picnic pavilion, shells, Island Metro stop
Isla Blanca Beach is a stunning section of beach on South Padre Island. This beach gets high marks for its scenery but also for its activities and comforts, like a boardwalk, easily accessible restrooms, picnic areas, shaded pavilions, and concessions.
This beach is located at Isla Blanca Park on the south end of the island, and it has lots of space for beach biking, flying kites, shell hunting, and sandcastle building. This is a popular beach for swimming in the consistent waves coming in from the Gulf. The far end of the beach near the jetty is a great spot to watch boats traveling through the shipping channel and where local fishermen try for the catch of the day.
There is a day fee to access the Isla Blanca Park, and it is a convenient way to spend a day by the water without needing to return to the hotel or venture out to look for food. There is also an Island Metro stop at the park, so it is easy to get there from many of the locations and hotels on South Padre Island.
Address: 33174 State Park Road 100, South Padre Island, Texas
Read More:
7. Mustang Island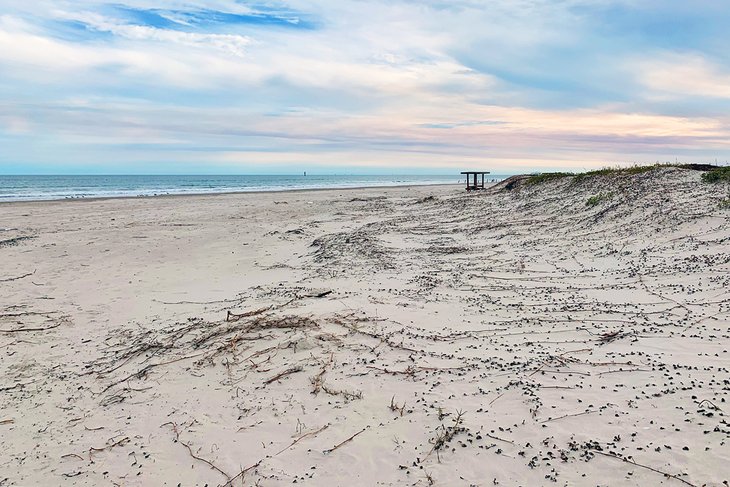 Highlights: 18 miles of natural coastline bordered by towering sand dunes
Mustang Island might be one of the most popular Texas beaches with name recognition, and its beauty matches its reputation. It is an 18-mile stretch of beaches between Port Aransas and Corpus Christi, with a stunning natural coastline accented by tall sand dunes.
The beach at Mustang Island is great for swimming and walking along the coastline to look for shells. Beach buggies are allowed on the sand. There is also ample parking at one of the many public access points. If you are not sure where to go on Mustang Island, a nice section for first-timers is at Mustang Island State Park.
8. East Beach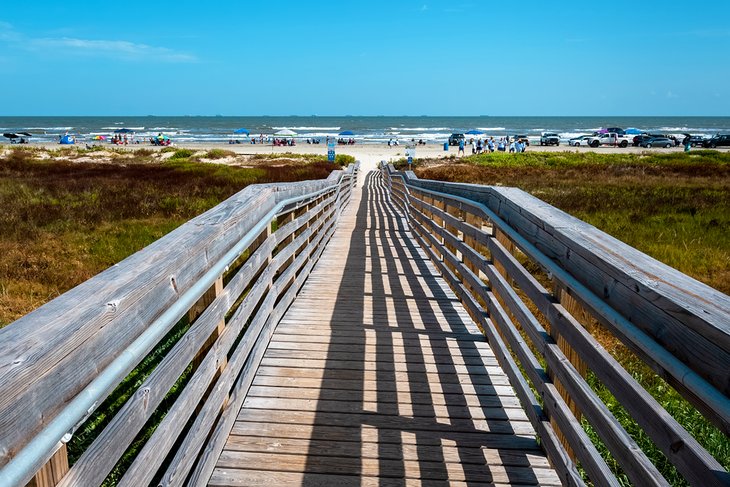 Highlights: A happening social scene, lots of space, concessions, beach activities, live entertainment in the summer
One of the busier and most popular beaches on Galveston Island is East Beach. The layout of the 80-acre beach park, with extensive parking and dozens of picnic pavilions, is representative of the popularity of this beach. Swimming is a top activity at East Beach, but so is the social aspect of it.
The beach park has volleyball courts, an entertainment stage, beach chair and cabana rentals, and regular festivals and activities. There are multiple entrances to East Beach. There is a nature preserve near entrance #2 that is nice to add to the beach day for hiking, bird-watching, and kayaking.
Address: 1923 Boddeker Road, Gavleston, Texas
9. Surfside Beach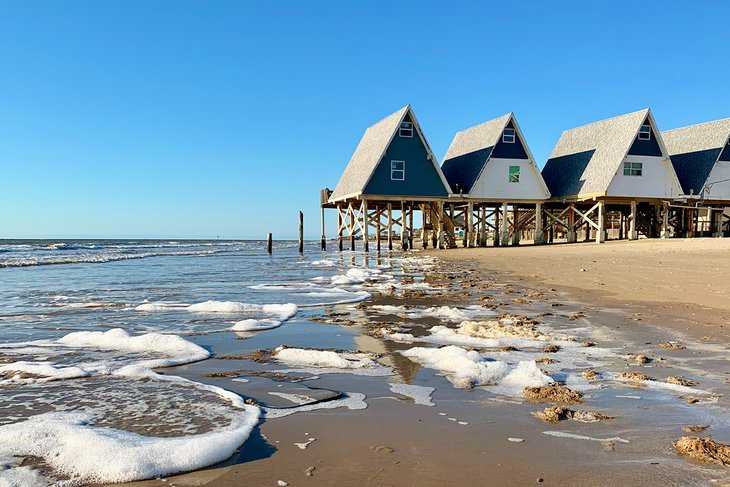 Highlights: Secluded beach along Bluewater Highway popular for shells, fishing, and beach walking
The sands of Surfside Beach, located between Galveston and Port Aransas, are beautiful and not as crowded as other beaches in the main oceanside cities. It is located along the Bluewater Highway, about an hour from Houston.
This is a quieter beach, with a more undisturbed natural setting, making it a great beach for families or couples that want a less crowded atmosphere. The waters are good for swimming, and it is a beautiful spot to look for seashells or take a horseback riding tour at sunset.
The Surfside Jetty County Park is one location from which to access this beach. It has conveniences like restrooms and showers and a six-mile jetty that is fun to walk for people-watching, observing the local fishermen, and watching the oil tankers cruising by in the Gulf.
Address: 101 Parkview Road, Surfside Beach, Texas
10. South Padre Island County Beach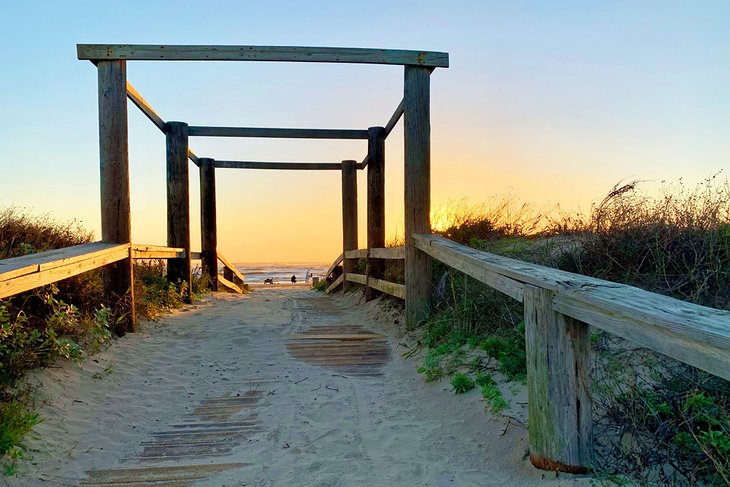 Highlights: Multiple public access points along the beach, two parks with restrooms and picnic areas
The section of county beach on South Padre Island is mostly on the north end and provides some of the most exciting beach opportunities in Texas. While there are multiple public access points to the county beach, the best bet is to access it from either the King Atwood County Park or Andy Bowie County Park.
Both parks require a day-use fee, but these locations make it convenient, especially for families to access the beach quickly and conveniently and have access to paved parking, restrooms, and picnic areas.
The South Padre Island County Beach is quite scenic, with steep windswept sand dunes that frame the oceanfront. Relax with a beach tent and enjoy the gentle waves that brush the shoreline at this beach. This is also a nice beach for shell hunting.
11. Whitecap Beach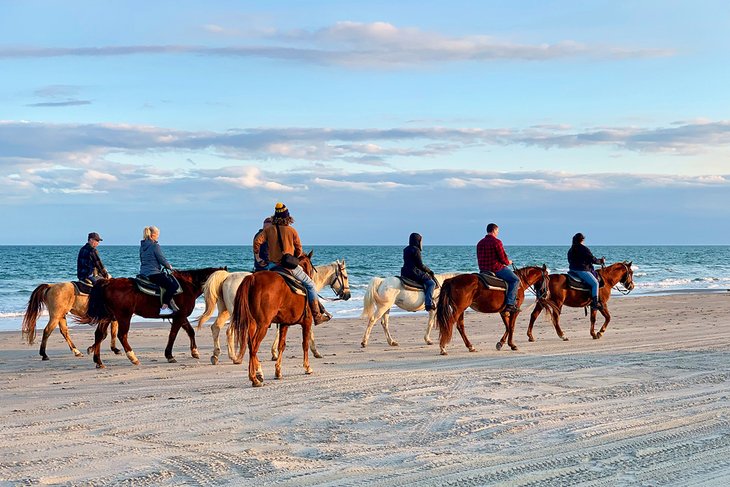 Highlights: Active beach scene day and night with surfers, sunset horseback rides, evening bonfires
The allure of the pure white sands of Whitecap Beach near Corpus Christi is one of the reasons it tops the list of the best Texas beaches. This is one of the beaches where surfers congregate when the water conditions are great, so it also makes it a fun spot to watch the athletes take on the waves.
This is a social beach, so it is a nice option if you are looking for an active beach scene, with volleyball and bonfires in addition to great swimming. Overnight camping is allowed, and beach activities like kiteboarding and horseback riding are common here.
Address: Whitecap Blvd., Corpus Christi, Texas
12. Stewart Beach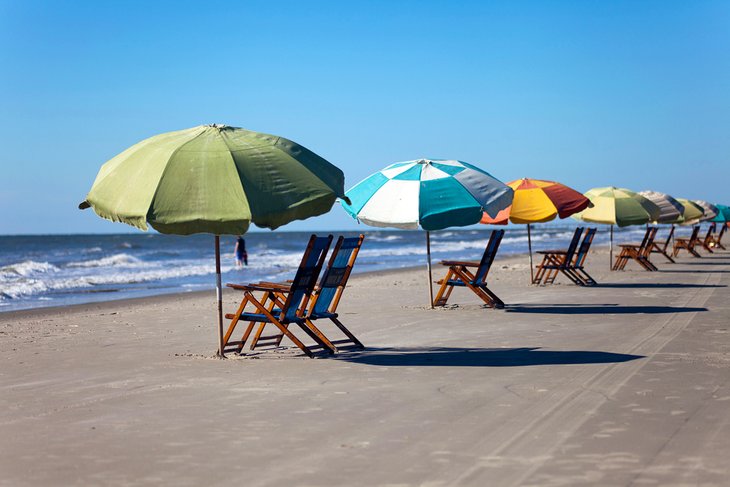 Highlights: One of the best family beaches in Galveston with activities and amenities like playgrounds for kids
One of the most family-friendly beaches on the Texas coast is Stewart Beach in Galveston. There are lifeguards on duty and there are many other things to do at the park, like playgrounds for children. Stewart Beach has paved parking and easy access to the beach.
The popularity of Stewart Beach is due in part to its convenient location on Galveston Island, close to Seawall Boulevard and local attractions and restaurants. Cabana and umbrella rentals are available, and there is plenty of sandy space to find a comfortable spot, even on popular days.
There is a fee to enter Stewart Beach during the high season, from March to October, but that gives you access to concessions and restrooms that are close to the beachfront.
Address: 201 Seawall Blvd., Galveston, Texas
13. South Padre Island City Beach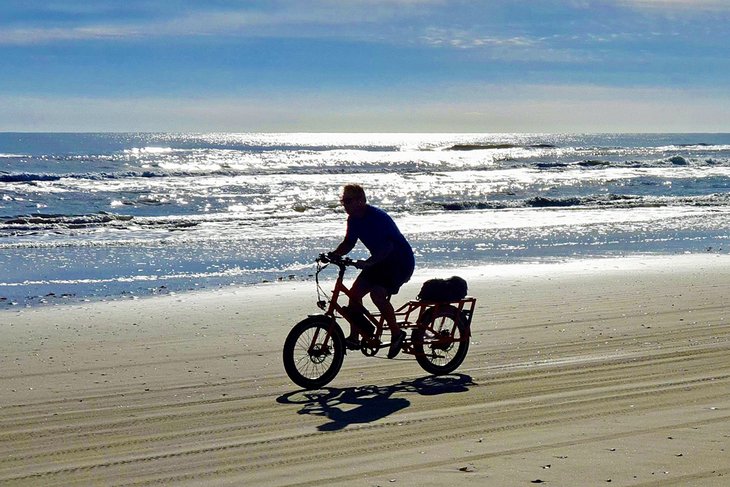 Highlights: Excellent beach for walking and looking for large shells washed up along the coastline
The South Padre Island City Beach extends for approximately six miles and is an easy way to enjoy the warm Gulf waters that this part of Texas is known for. The city beach has excellent swimming and many types of shells on the shore. Walking along the city beach coastline is nice, and the scenery constantly changes.
There are 25 access points to the South Padre Island City Beach, and each has something different, so you will want to research those before planning a day by the water. Some have restrooms, paved parking, or bike racks, whereas others are more primitive, with only a small boardwalk to the beach.
14. Crystal Beach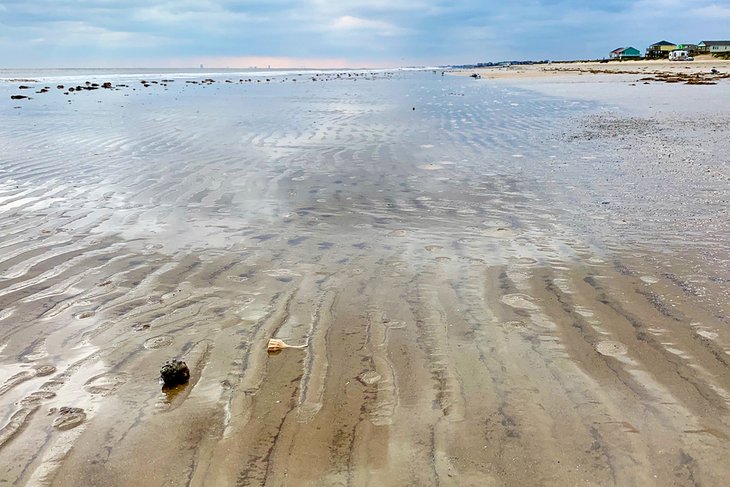 Highlight: A ride on the Bolivar Ferry to access the beach
Crystal Beach is a top Texas beach to visit because of the added adventure that it takes to get here. The beach is located on the Bolivar Peninsula near Galveston and requires a short ferry ride to the peninsula. This is a quieter beach, with some of south Texas' most pristine landscapes accenting the beauty of the Gulf of Mexico.
This relaxing beach is best for taking a nap beneath a shade cabana, but it's also nice for swimming and for taking long walks by the water. This is a pet-friendly beach, with semi-hard sand that makes it prime for more strenuous activities, like fat-tire biking and jogging.
Access Crystal Beach by taking a 15-minute trip on the Bolivar Ferry from the east end of Galveston Island and driving a few minutes to the public beach access points. Be sure to look for pods of dolphins during the ferry trip, as they almost always escort the boat.
Address: Bolivar Peninsula, Galveston, Texas
Map of Beaches in Texas
Best Time To Visit Beaches in Texas
The best time to visit Texas beaches is in the heat of the summer when vacationers can bask in the best of sun, sand, and water activities along the Gulf Coast. The best months for beach fun is during the months of June, July, and August.
Pack your water and sunscreen, because these are the hottest months along Gulf Coast, with high humidity. Average daily temperatures during the summer months are consistently in the high 80s and 90s Fahrenheit, but you will enjoy the best that Texas beaches have to offer in terms of sand volleyball, swimming, and water sports.
The hottest month is August, when daily temperatures rarely dip below the 90s Fahrenheit. This is also the month with the least rain, meaning more time at the beach. The month of July is the next-hottest, followed by June.
If you are not a fan of extremely hot weather, your next best options are the months of March, April, May, September, and October. You can still hit the beach with beach activities picking up in late May for the summer and tapering off in the fall. The weather during these months is more comfortable than in the heat of the summer and there are fewer people sharing the sand.