13 Best Beaches in Corpus Christi, TX
The beaches in Corpus Christi, located along the Texas Gulf Coast, are without a doubt the main draw of the region. The city and its beaches are also close to the top beaches in Port Aransas and Rockport, so a visit to Corpus Christi means that you can take advantage of these, too, a short drive down the highway.
Corpus Christi has more than 100 miles of beach shoreline, so if you are looking for waves to surf or calm waters that are suitable for families with kids, there are plenty of oceanfront opportunities to suit your needs.
There are beaches like North Beach located within the city that also enable you to visit some of the top things to do in Corpus Christi while you are in the area. Then there are the more idyllic beaches, with pristine natural environments and scenery, like Padre Island National Seashore and Mustang Island. These beaches are as enjoyable for the mental escape as they are for their activities.
As you plan your vacation, start with our list of the top beaches in Corpus Christi.
1. Padre Island National Seashore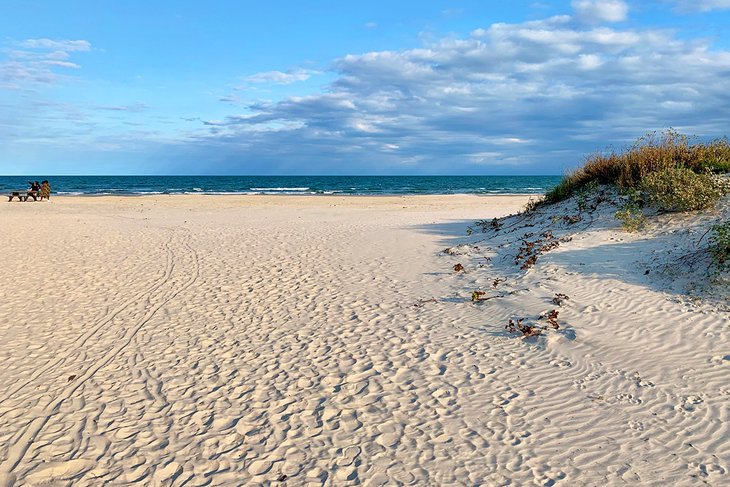 The Padre Island National Seashore is a must-visit while in Corpus Christi. This is the longest section of undeveloped barrier island in the world, stretching for 66 miles. The beach is wide and clean, with superb swimming and overnight camping. One of the best things to do at this beach is observe the natural habitat of sand dunes, tidal flats, and prairies that are protected by the National Park Service.
The Padre Island National Seashore is great for beachcombing and finding unique shells and other items that wash ashore with the varied current of the Gulf waters. Taking part in sea turtle hatchling releases is a popular activity at this beach. The seashore is a nesting ground for the Kemp's ridley sea turtle, and the releases that generally take place from mid-June through August are open to the public.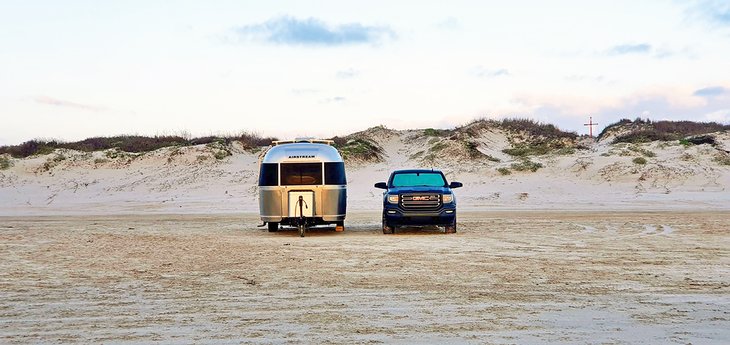 Birding is one of the other top activities at this beach since it is prime habitat for more than 380 species that are either native or migrating during the spring and fall. You can take a birding tour to access some areas on the island that are not open to the public.
The best public access to the beach is from the Malaquite Visitor Center, which is a great first stop on your visit to pick up information on the area and the wildlife that you will see during your stay.
Address: Park Road, 22, Corpus Christi, Texas
Official site: https://www.nps.gov/pais/index.htm
2. Whitecap Beach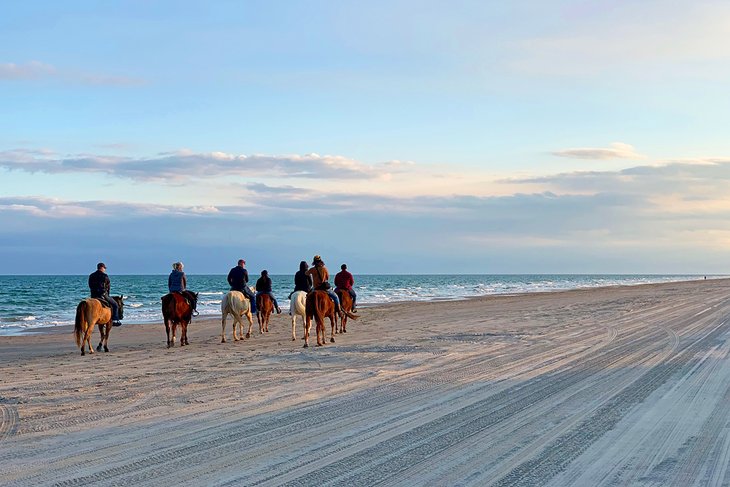 Whitecap Beach is not only a beautiful beach with pristine white sands but a fun beach for enjoying outdoor activities. This beach is where you will often find surfers if the conditions are right, and it is where people can take surfing lessons.
There is a nice social vibe on Whitecap Beach. It is quite common to find groups of people who drive onto the sand and congregate in a block party fashion in the natural setting as they enjoy the surf, sand, and views. Overnight camping is allowed, and beach bonfires are common.
One of the fun things to do on Whitecap Beach is horseback riding, especially during the intensely colorful sunsets.
Address: Whitecap Blvd., Corpus Christi, Texas
3. JP Luby Beach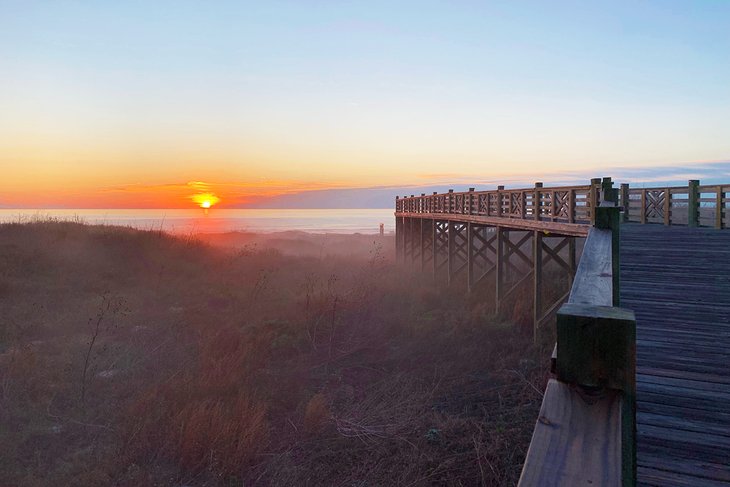 JP Luby beach is one of the seaside gems of Corpus Christi. It is an ultra-wide beachfront and suitable for driving your car right onto the sand with a proper permit.
The sand is soft to walk on, and the beach is bordered by some of the tallest sand dunes on Mustang Island. This is a perfect beach for morning shell hunting, beach walking, swimming, and watching the sunrise.
You will often find early morning fishermen at JP Luby Beach testing the surf or setting up camp on the jetty that is close to the beach. There are portable restrooms and trash receptacles located along the beachfront.
Address: 101 N Shoreline Blvd, Corpus Christi, Texas
4. North Beach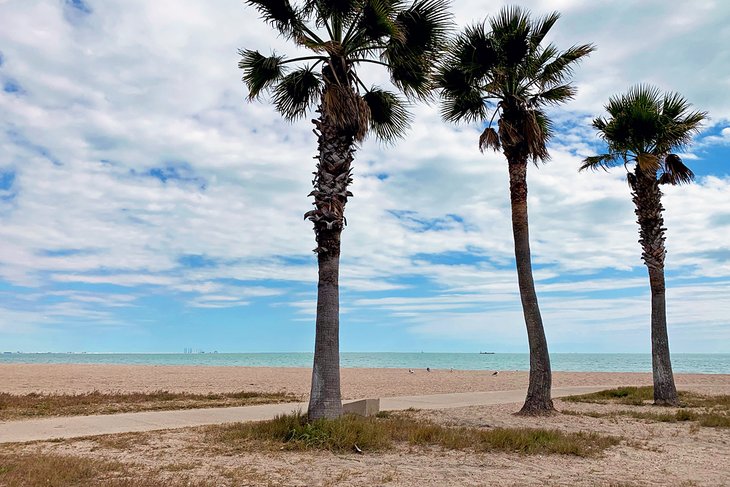 North Beach is a great public beach located near downtown Corpus Christi. This is a scenic beach with the backdrop of the USS Lexington aircraft carrier and museum.
It is an easily accessible day-use beach in the heart of the city if you are staying within the Corpus Christi downtown area or do not have time to go to the beaches near Mustang Island or Padre Island National Seashore.
North Beach is located just off Highway 35, so there is convenient access from most parts of the city, plenty of public parking, and multiple access points. It is a comfortable soft-sand beach that has a paved public walking and biking path that parallels the beachfront and goes to the Corpus Christi Beach Park.
The beach is pet-friendly, and there are public restrooms available.
Address: 201 Surfside Blvd., Corpus Christi, Texas
5. Malaquite Beach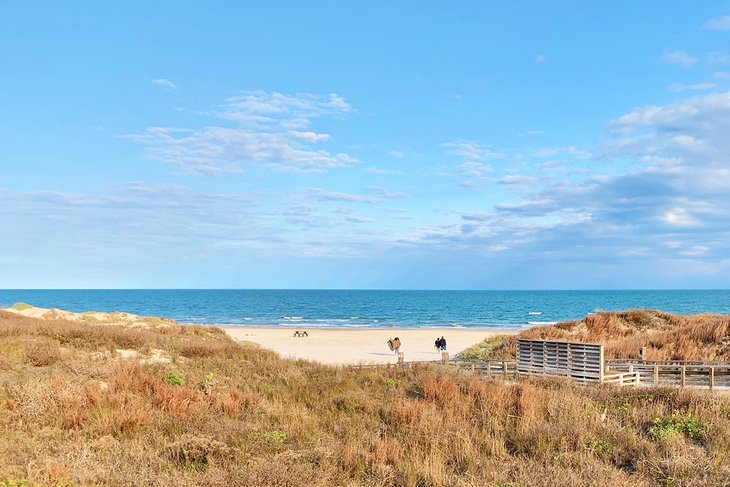 Malaquite Beach is located on the Padre Island National Seashore. The Malaquite pavilion and visitor center is a great place to start if you have never been to the area, as it has information about the seashore and the ocean and wildlife that inhabit the landscape.
Malaquite Beach is serene, making it a fantastic spot for a day of swimming in the Gulf of Mexico. There are picnic tables right on the beach and guest access to a bathhouse and boardwalk platforms that are elevated, with scenic overlooks.
As you walk the shoreline, keep your eyes open for seashells, starfish, and sand dollars that are commonly found washed up in the sand. Though this is a popular beach, the wide, sandy footprint offers plenty of space, even on crowded days. The conveniences like rinse-off stations and restrooms make this a nice beach for families that want to spend a day by the water.

Address: 20420 Park Road 22, Corpus Christi, Texas
Official site: https://www.nps.gov/pais/planyourvisit/map1.htm
6. South Packery Channel Beach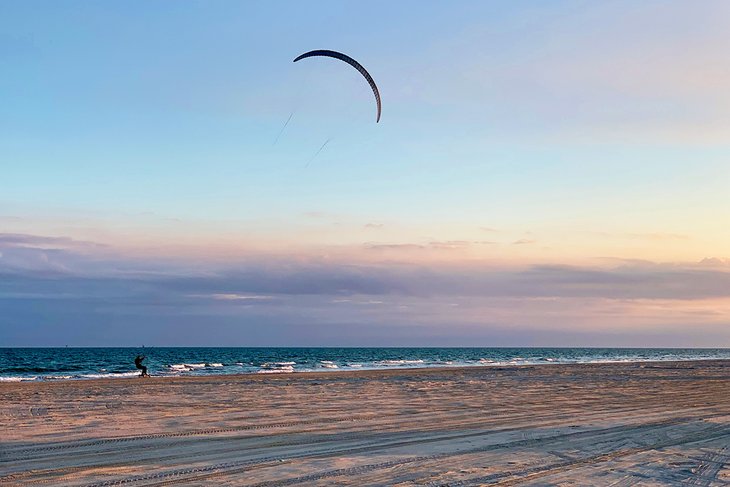 Located just outside of the North and South Packery Channel jetties is the South Packery Channel Beach. It is not as popular as other beaches in Corpus Christi, meaning that it is a good option if you are looking for a quieter beach setting.
South Packery Channel Beach is a wide beach that is popular for swimming, fishing, and kiteboarding. The sand is soft and great for building sandcastles, which is a popular activity here. Camping and campfires are permitted at this beach. The easiest way to get to South Packery Channel Beach is from public access point 3A.
Address: 14802 Windward Drive, Corpus Christi, Texas
7. Mustang Island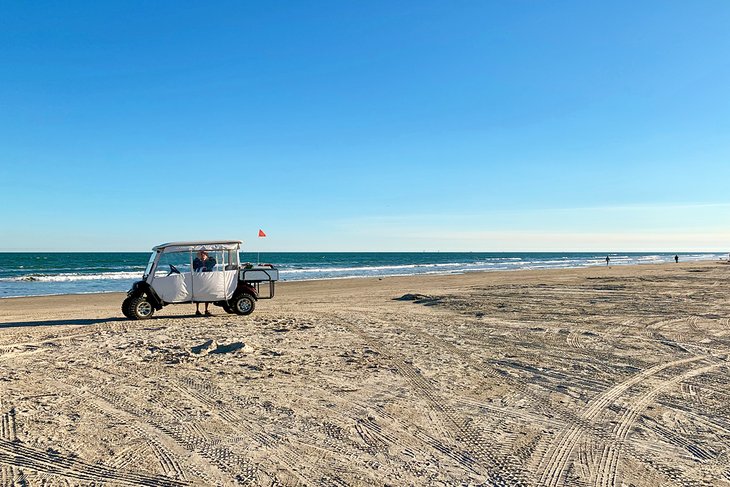 Mustang Island has some of the best beaching on the Texas coast. It is an 18-mile-long beach, between Corpus Christi and Port Aransas, with some of the best sand and sun that you can experience.
The gentle waves of Mustang Island make it perfect swimming water. You can drive on the beach with beach buggies and bicycles, but most people enjoy a leisurely walk to look for seashells or just soak in the ocean breeze.
There are many access points and public parking spots along the beach, and it is easy to find restrooms and picnic tables. If you want to stay directly on Mustang Island Beach, you can stay in eco-friendly lodging like Lively Beach Resort, which has direct boardwalk access to the beach from your accommodation.
8. McGee Beach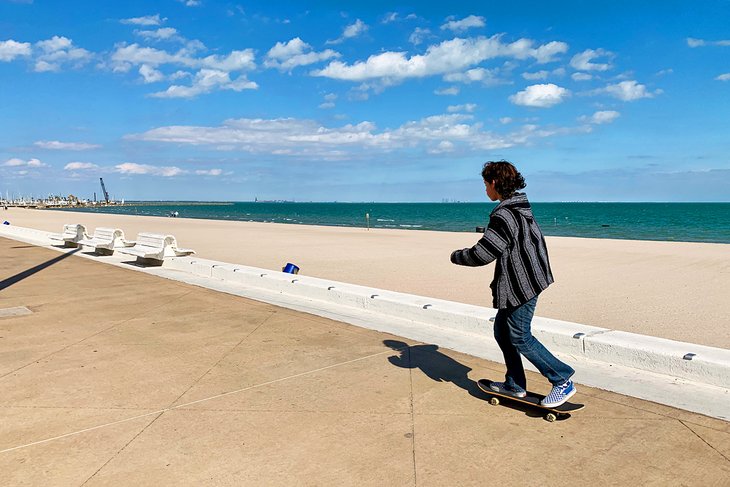 One of the most convenient beaches in Corpus Christi is located right downtown along Shoreline Boulevard. This centrally located beach has a wide stretch of sand and lots of space to spread out, with great swimming areas that extend out into Corpus Christi Bay.
This beach is located next to the seawall and pedestrian path that is great for a walking, skateboarding, roller-skating, biking, or taking a rented scooter down along the beachfront. This is a nice beach for families to visit because it is within walking distance to Water's Edge Park, restaurants, and sitting benches.

Address: 402 S Shoreline Blvd., Corpus Christi, Texas
9. Padre Balli County Park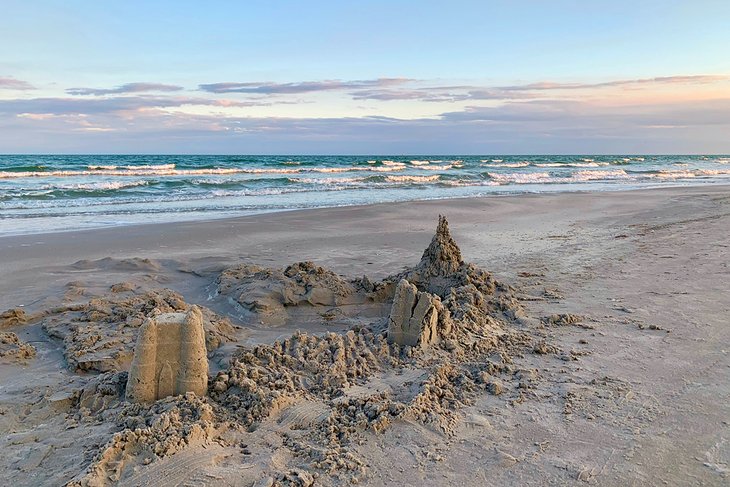 Sandcastles are a common sight at Padre Balli County Park, as it is a popular beach spot in Corpus Christi. This year-round park provides many beachfront activities like bonfires, and there are convenient public access points.
The soft sandy beach is where you can relax in the sun for the day and enjoy swimming in the Gulf of Mexico. This is a popular camping beach that offers paved campsites with water and electricity. A bathhouse is located at the park for use by campers and the public. Recreational vehicles are common and are allowed on the beach with a permit.
Address: 15820 South Padre Island Drive, Corpus Christi, Texas
10. Mustang Island State Park Beach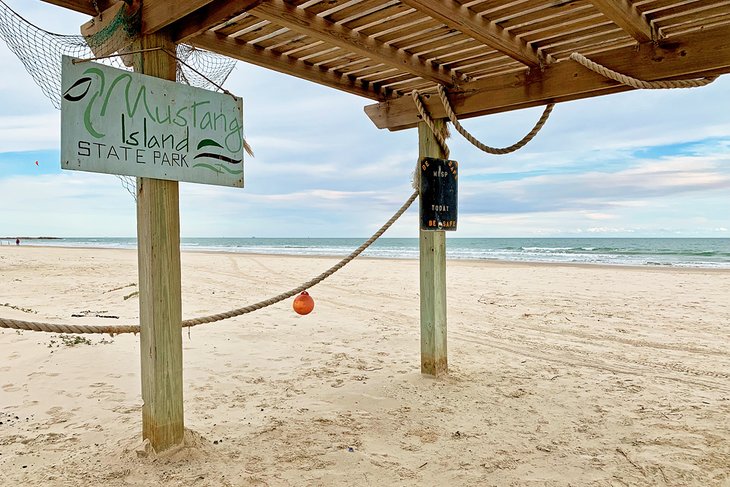 Mustang Island State Park Beach is a great way to access beautiful sand and water tucked behind the towering sand dunes of Mustang Island. This section of beach is recommended because with a day-use fee for the park, you can access all the amenities, like restrooms and showers, as well as other activities that are available at the nearly 4,000-acre state park.
This is a popular family beach that is nice for swimming, looking for shells, picnicking, camping, bird-watching, fishing, biking, and sunbathing. Since it is located on a natural barrier island, it is a scenic beach, so sunrises and sunsets are especially tranquil.
Address: 9394 State Hwy 361 Corpus Christi, Texas
Official site: https://tpwd.texas.gov/state-parks/mustang-island
11. Rockport Beach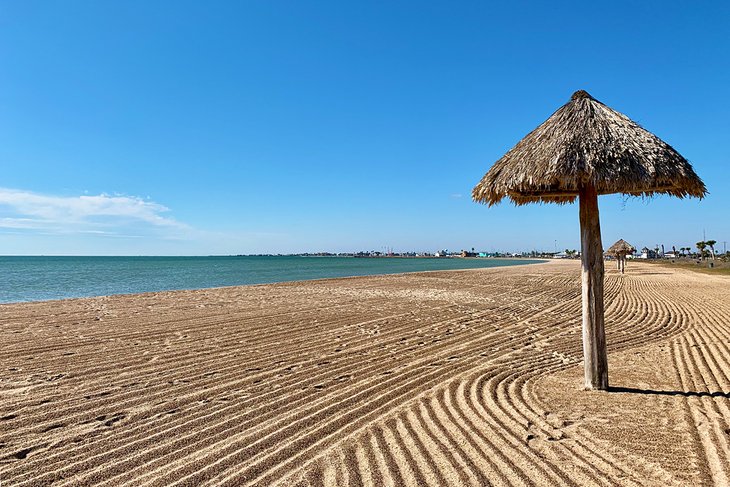 Rockport Beach is only about 25 miles from Corpus Christi, so if you have the time it is worth taking a day excursion to visit one of the top beaches in Texas. Rockport Beach is the state's first designated Blue Wave Beach, a certification given to beaches that meet high environmental quality standards.
This beach is clean and perfectly manicured, even down to the wave pattern that is raked into the soft sand each morning. While there is a free section of Rockport Beach that is in front of the Bay Education Center, it is worth paying the day fee to go into the beach park.
The Rockport Beach Park is where you can spend an entire day swimming at the beach, playing volleyball, taking a dip in the saltwater lagoon, and walking along the paved paths. Park access also enables you to use the shaded pavilions and picnic tables, as well as the restrooms and showers.
Address: 210 Seabreeze Drive, Rockport, Texas
Official site: http://www.rockportbeach-texas.com/
Read More: Top-Rated Things to Do in Rockport, TX
12. Big Shell Beach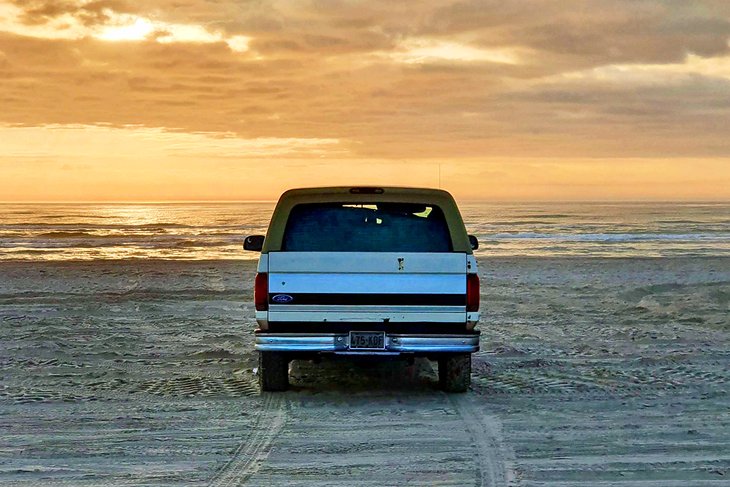 Anyone looking for a cool and natural beach excursion in Corpus Christi should explore Big Shell Beach. As its name suggests, this is a great place to find large shells that are known to wash ashore from the currents on this southern edge of the Padre Island National Seashore.
Big Shell Beach is more of a remote beach experience, and you will need a suitable car to access it because the road literally ends and becomes beach-only access. This is a popular beach for RV camping given its remote location.
You can access Big Shell Beach by going into Padre Island National Seashore (admission required) and taking Park Road 22 all the way to the south end, where you will begin the beach-only access.
Address: 20420 Park Rd. 22 Corpus Christi, Texas
13. Little Shell Beach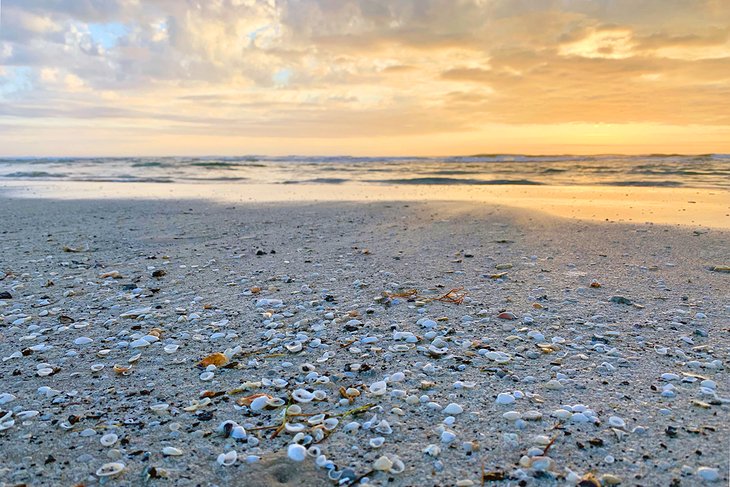 If Big Shell Beach strikes your interest, then you should continue farther to experience the even more remote Little Shell Beach, also located on the southern tip of Padre Island National Seashore. The distinct appeal of these two beaches is their remoteness.
In contrast to Big Shell Beach, Little Shell Beach currents generally deposit an array of smaller shells that are fun to look for during the tide changes. There is limited vehicle access, and you will need a suitable vehicle in order to drive on the sand since there is no road to this area.
You will need to access Little Shell Beach through the Padre Island National Seashore with admission, and take Park Road 22 until it dead ends into the beach-only access.
Address: 20420 Park Road 22, Corpus Christi, Texas
Best Time to Go to the Beach in Corpus Christi, TX - Historical Climate Averages
Average minimum and maximum temperatures for Corpus Christi, TX in °C
J
F
M
A
M
J
J
A
S
O
N
D

19

8

21

9

24

13

27

17

30

21

32

23

34

23

34

24

32

22

29

18

24

13

20

9

PlanetWare.com
Average monthly precipitation totals for Corpus Christi, TX in mm.

41

47

44

52

88

90

51

90

128

100

44

45