14 Top-Rated Museums in Houston
Houston is known for its outstanding museums, and one of the city's great features is the Museum District, where many of the state's best museums stand within walking distance of each other.
Within this area are the Museum of Natural Sciences, Museum of Fine Arts, Contemporary Arts Museum, Children's Museum, Holocaust Museum, and the Menil Collection, among others.
The city also has some less traditional and even quirky museums, which offer their own unique experiences but are enjoyable nonetheless. As an added bonus, several of Houston's museums are free of charge.
For an overview of the options, see our list of the best museums in Houston.
1. Space Center Houston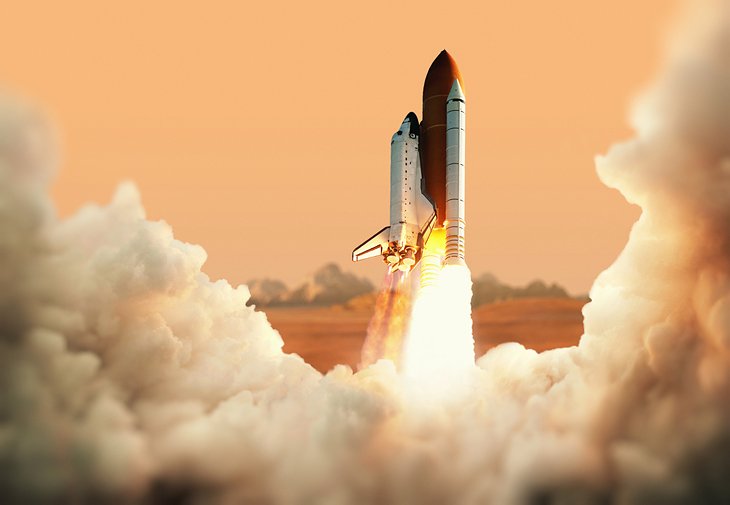 If you are interested in space, space travel, or even science fiction books or movies, Space Center Houston is an absolute must while visiting Houston.
At the visitor center, you can explore the space shuttle replica Independence and the huge shuttle carrier it's perched on. You can also walk through a replica of Skylab, America's first space station.
But this is more than just a historical look at space travel. Plans for NASA's upcoming space missions, including the Mission to Mars, are presented in detail.
Space Center Houston is also the gateway to the Johnson Space Center, home of Houston's famous mission control and where astronauts train for their upcoming space missions.
Tram tours will take you around the whole facility to see the Johnson Space Center, as well as Rocket Park, where old rockets are on display, including those used during NASA's missions in the 1960s and 70s.
For true space fanatics, the Level 9 Tour, a 4.5-hour VIP tour, takes you behind the scenes at Johnson Space Center to see areas that are otherwise off limits.
Address: 1601 NASA Parkway, Houston
Official site: http://spacecenter.org/
2. Houston Museum of Natural Science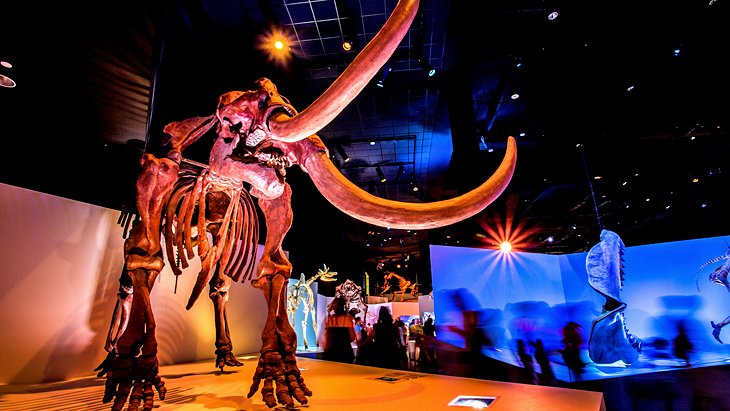 In Hermann Park, the Houston Museum of Natural Science is the most visited museum in Houston and popular with all ages.
This huge complex covers everything from the time of the dinosaurs right up to the space age. The Hall of Paleontology, showcasing several dinosaur skeletons, is always a favorite, but there is much more to explore at the museum.
In addition to its extensive collections of fossils, dinosaur bones, gems, and ancient artifacts from Egypt and North America, the museum also has the Burke Baker planetarium, the Cockerell butterfly center, and the Worthham giant screen theater.
You can pay a small fee in addition to your admission for a guided tour. This is a great way to get a general overview and learn about what you're seeing.
Address: 5555 Hermann Park Drive, Houston
Official site: www.hmns.org
3. The Museum of Fine Arts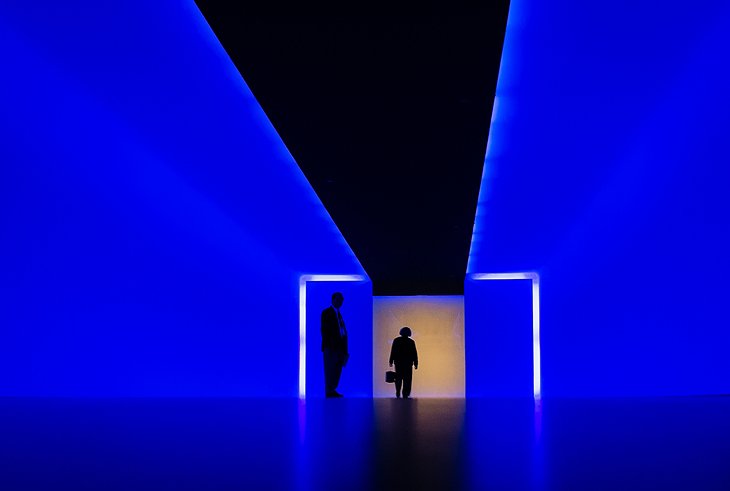 The Museum of Fine Arts in Houston - one of the largest such establishments in the country - contains a vast collection of American, European, African, and Far Eastern art spanning some 6,000 years.
Highlights of its more than 63,000 works include Italian Renaissance and French Impressionist paintings, American and European decorative arts, a notable collection of African and pre-Columbian gold, and numerous fine sculptures.
If you are serious about exploring the museum, it's advisable to take a tour. Audio tours are available, but you can also sign up for gallery tours by museum educators.
The main campus of the complex consists of two buildings; the Audrey Jones Beck Building and the Caroline Wiess Law Building. You can enter either of these from the street, but they are connected underground by Wilson Tunnel, which itself is an attraction.
Another gallery of the Museum of Fine Arts worth visiting is the Bayou Bend Collection and Gardens, tucked away in the River Oaks suburbs and home to a large collection of decorative arts, paintings, and furniture.
Address: 1001 Bissonnet Street, Houston
Official site: www.mfah.org
4. The Menil Collection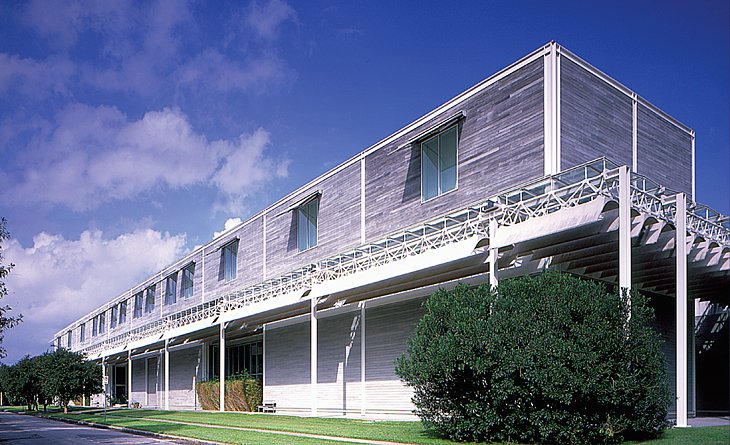 One of Houston's free museums, the Menil Collection, donated by founders John and Dominique de Menil, is displayed primarily in the Main Building on Sul Ross Street.
This remarkable building, designed by Renzo Piano, who also designed the Whitney in New York, was created specifically to house the collection. The rooms, many of which contain huge glass windows, look out onto lush atriums. Almost all are naturally lit, providing a wonderful atmosphere and aesthetic experience to complement the outstanding collection. Changes in the light outside create different moods and experiences when viewing the art.
The collections, which span from antiquities to modern art, are grouped by theme, with rooms dedicated to Byzantine art, Abstract, Surrealism, contemporary, and so on. The museum is also known for possessing one of the largest collections of Max Ernst in the world.
The Menil's campus consists of seven buildings, as well as parks. Another highlight is the Rothko Chapel in Menil Park, adjacent to the main building. It is worth strolling over to spend a few minutes in the chapel, where huge mural canvases created by Mark Rothko adorn the walls and encourage contemplation.
Also worth seeing is the former Byzantine Fresco Chapel, which now houses annually changing contemporary art installations.
5. The Children's Museum of Houston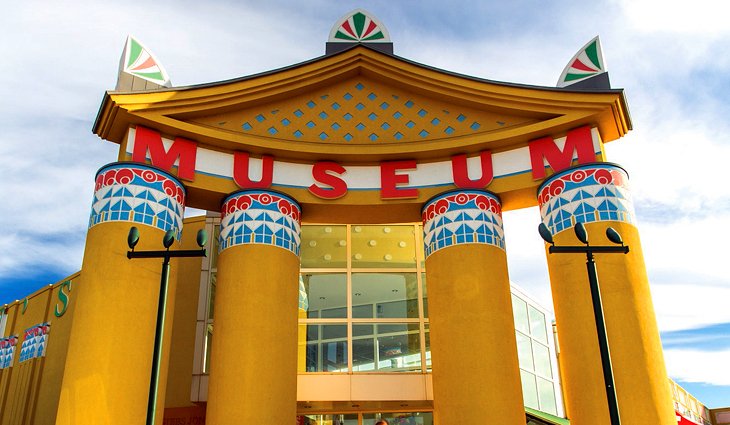 This museum is creative, fun, colorful, and full of energy. Founded by a group of parents in 1980, it is extremely well-thought-out and a must-do if you are traveling with kids.
Crammed full of fun, hands-on exhibits related to science and technology, history and culture, health, and human development, the museum offers plenty of opportunities for youngsters to let-loose and explore. Large-scale changing exhibits keep things interesting.
Highlights include robot building in the Invention Convention area, pretending to read the news on TV, and even getting elected as Mayor of Kidtropolis. For some outdoor fun, check out the FlowWorks wet zone.
Address: 500 Binz Street, Houston
Official site: www.cmhouston.org
6. Holocaust Museum Houston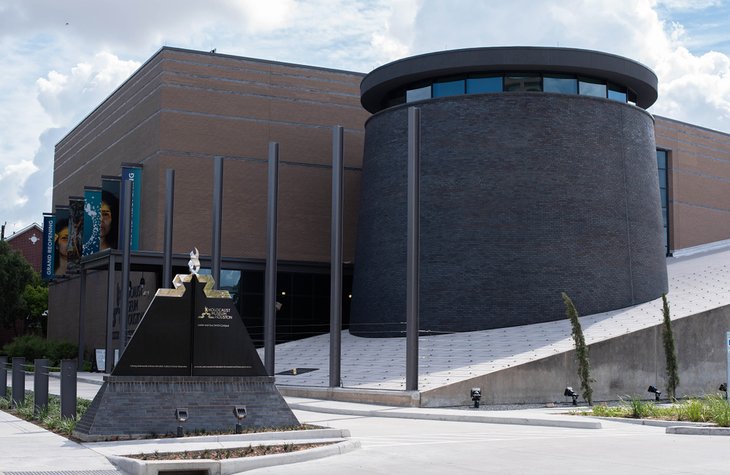 Founded in 1996, Holocaust Museum Houston provides a chilling account of the persecution of people before and during WWII.
Focusing on the stories of survivors, exhibits highlight the dangers of prejudice and hatred in society using the all-too-real examples of the terrors of the Nazi regime in Europe.
Among the larger items in the collection are a railcar used to transport victims and a small Dutch fishing boat used to transport Jews to safety. Of particular note is the Boniuk Library, with its more than 5,000 volumes related to the Holocaust, plus numerous artifacts, documents, photos, and films.
Address: 5401 Caroline Street, Houston
Official site: www.hmh.org
7. Art Car Museum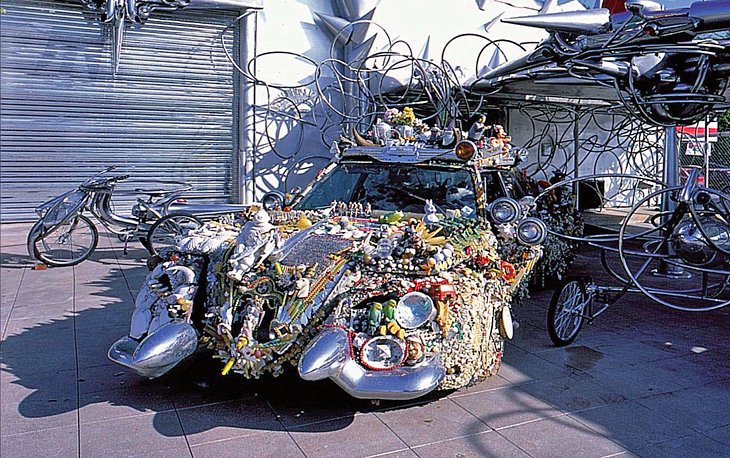 The Art Car Museum is definitely a locals' favorite and worth checking out if you are looking for something truly unique.
This unusual but amusing museum is exactly what it sounds like: cars used as a basis for creating art. Cars are decorated, often in outlandish and eccentric fashions; painted in all kinds of designs; and adorned with any type of decoration.
They are often done with a theme in mind. You can see art cars outside the museum in Houston as well, sometimes parked on the street and outside retail establishments. The city also hosts an annual Art Car Parade each spring.
Address: 140 Heights Boulevard, Houston
Official site: http://artcarmuseum.com
8. National Museum of Funeral History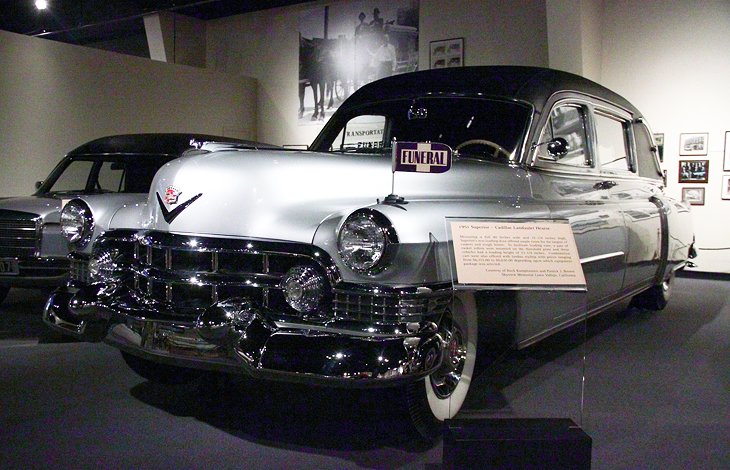 Another of Houston's unique museums, the National Museum of Funeral History displays artifacts related to the funeral industry.
This 30,500-square-foot facility claims to be the "largest educational center of funerary customs in the US" and is surprisingly popular. On display are historical hearses, a colorful exhibit on Day of the Dead (Dia de los Muertos), as well as exhibits on embalming, presidential funerals, coffins from Ghana, Japanese funerals, 9/11, and various other themes.
Temporary and seasonal exhibits are also held throughout the year.
Address: 415 Barren Springs Drive, Houston
Official site: http://nmfh.org/
9. The Health Museum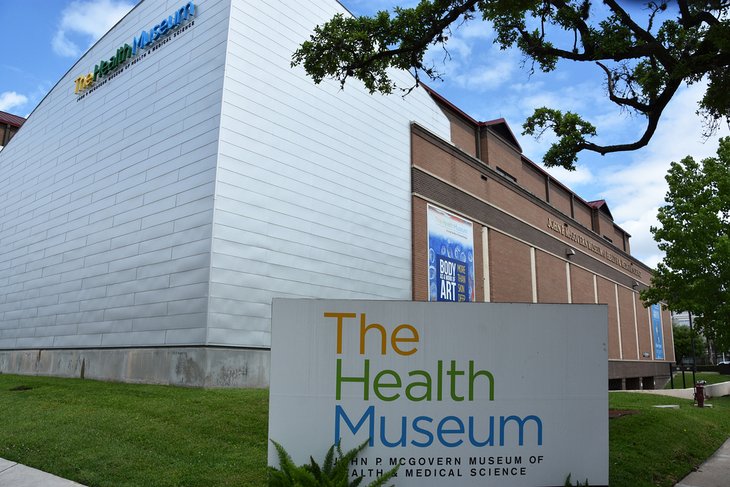 The Health Museum is a fun, hands-on family experience. At this museum, you'll be able to walk inside a giant human body and see super-sized bones and organs. Some of these include a 12-foot-high beating heart, a 10-foot-high walk-through brain, and a massive eyeball.
Another exciting experience is the 4D McGovern Theater. Here, all your senses are engaged as you watch the show on a special screen.
For an additional modest fee consider a visit to the DeBakey Cell Lab. In this area, you'll put on lab coats, gloves, and goggles and participate in live experiments.
The museum is just down the street from the Children's Museum.
Address: 1515 Hermann Drive, Houston, Texas
Official site: https://www.thehealthmuseum.org/
10. Contemporary Arts Museum Houston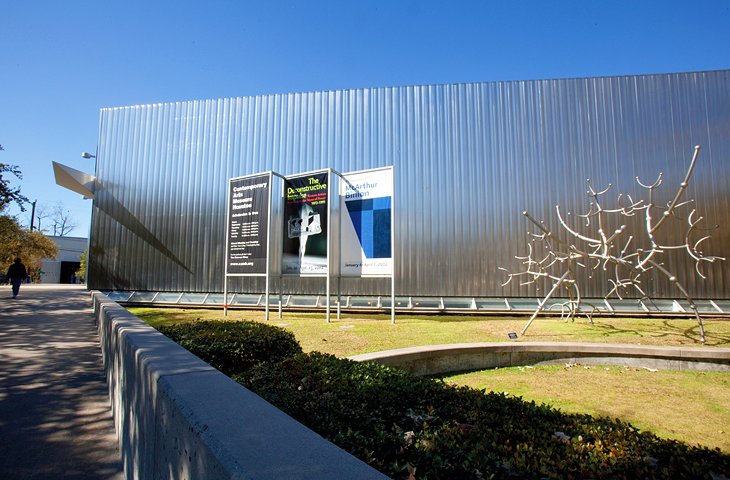 One of a number of important cultural institutions in the heart of Houston's Museum District, the Contemporary Arts Museum presents regional, national, and international art exhibits and features emerging talents along with well-known contemporary artists.
Started in 1948 by a group of local citizens, the museum aims to present the art of the time and its role in modern life through exhibitions, lectures, and other activities. With regularly changing exhibits presented in two galleries, there is always something new to see.
Address: 5216 Montrose Blvd, Houston
Official site: http://camh.org
11. 1940 Air Terminal Museum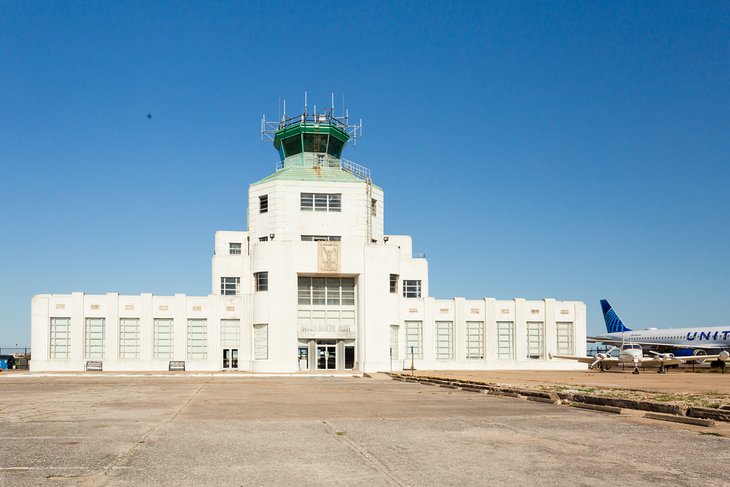 Any fans of aviation history, or architecture buffs will want to be sure to head out to Hobby Airport and visit this small museum. It's a delight to tour this wonderfully restored Art Deco building, once the original air terminal for the city of Houston.
The museum has a wide array of exhibits tracing the history of aviation throughout the ages and frequently hosts temporary exhibits. An additional bonus of a visit here is that you'll be able to watch the planes take off and land on the active runways of Hobby Airports from an up-close vantage point.
Address: 8325 Travelair Street, Houston, Texas
Official site: https://www.1940airterminal.org/
12. Houston Museum of African American Culture
The Houston Museum of African American Culture or HMAAC as it's known locally, is another one of the city's free, interesting, and unique institutions. One of the most memorable permanent exhibits includes the Jazz Church of Houston. This visually stunning and acoustically stimulating exhibit traces the history of Jazz music and culture in the city.
In addition to the permanent exhibits, the museum hosts a continually changing roster of traveling and temporary exhibits, some but not all related to African American culture. Be sure to check the website to see what's on and upcoming.
Address: 4807 Caroline Street, Houston, Texas
Official site: https://hmaac.org/
13. Battleship Texas State Historic Park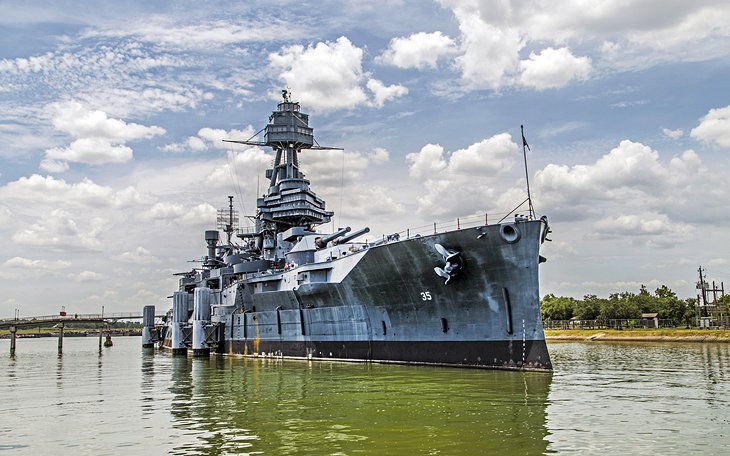 Active in battles of both world wars, Battleship Texas, the world's last remaining dreadnought, is now a floating museum docked just 25 miles from Houston on the Gulf of Mexico.
The USS Texas was commissioned in 1914, and in 1916 was the first battleship outfitted with anti-aircraft guns.
You can tour the ship on your own or on a hard-hat guided tour that will take you into some areas that are otherwise off limits.
Note: As of writing the Battleship Texas is closed to visitors. The ship is slated to undergo a massive revitalization that will see it brought back to its former glory. This project involves removal of the vessel from its current location to a dry dock so the heavy repair work can be completed. It's anticipated that the vessel will be moved in August, 2022, a completion date has not yet been released.
Address: 3523 Independence Pkwy La Porte, Texas
Official site: https://battleshiptexas.org/
14. San Jacinto Battleground State Historic Site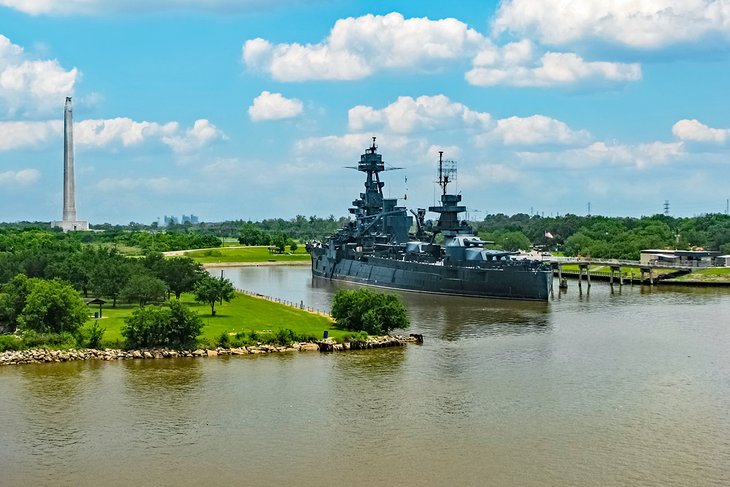 Just a short distance away is the San Jacinto Battleground State Historic Site, a 1,200-acre national historic site that is home to the 567-foot-tall San Jacinto Monument commemorating the decisive battle in the Texas Revolution.
At the base, you'll also find a museum. The permanent exhibit deals with the story of Texas' Independence. Other areas of the museum host traveling exhibits.
You can take an elevator up 489 feet to an observation deck overlooking the site.
Address: 3523 Independence Parkway South La Porte, Texas
Official site: https://www.thc.texas.gov/historic-sites/san-jacinto-battleground-state-historic-site
Map of Museums in Houston