12 Top-Rated Tourist Attractions & Things to Do in Lake Charles
We may earn a commission from affiliate links ()
Southwest Louisiana is an eclectic sensory experience, and Lake Charles is the welcoming hub. Whether you are admiring the Cypress Swamp along the Calcasieu River or observing wildlife along the Creole Nature Trail, you leave Lake Charles with an authentic immersion in rich Louisiana culture.
History buffs will appreciate the historical flavor of Lake Charles. Walk the neighborhoods to take in the stately Southern homes, and if you are a foodie, you will want to seek out some of the small local eateries serving up top Cajun and creole dishes from generations-old recipes. If you are a fan of Mardi Gras celebrations, the Mardi Gras Museum gets you up close to the elaborate costumes, floats, and rich history of this important piece of southwestern Louisiana culture.
Plan your sightseeing around this friendly city with our list of the top attractions and things to do in Lake Charles.
1. Creole Nature Trail & Adventure Point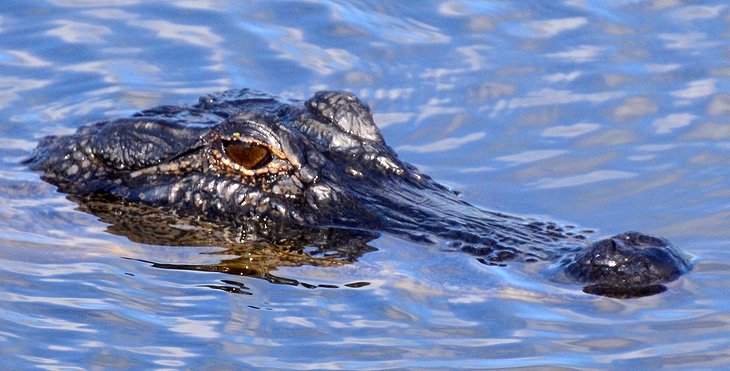 Along the Creole Nature Trail, you can enjoy the outdoor splendor of southwest Louisiana. As one of only 43 designated All-American Roads in the United States, the trail is 180 miles of Cajun culture and wildlife and more than 26 miles of Gulf coast beaches. The Creole Nature Trail is actually a series of pull-offs and trails that you can do at your own pace.
You will enjoy world-class wildlife experiences as you get a close-up view of preserved alligator populations and more than 400 bird species. This pristine experience is prized among nature photographers and outdoor enthusiasts who enjoy fishing, crabbing, and boating.
Be sure to start the Creole Nature Trail at Adventure Point visitor center where you can learn more about the area and how to look for alligators and experience local Zydeco music. Maps of the trail are available online.
Address: 1205 N. Lakeshore Drive, Lake Charles, Louisiana
2. Grosse Savanne Eco-Tours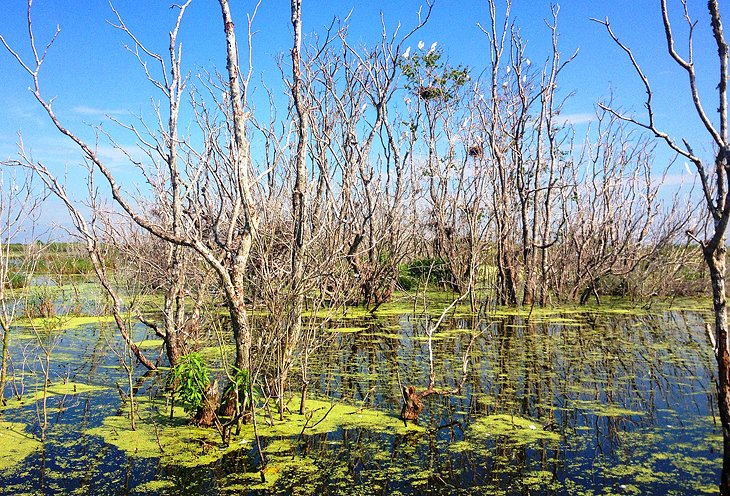 One of the most spectacular ways to experience the natural environment that surrounds Lake Charles is through an ecotour. Get up close to wildlife during a guided trip with Grosse Savanne Eco-Tours, a small-group experience that takes you into undisturbed natural marshes, swamps, and coastal prairies.
Keep your camera ready as you get an intimate look at the natural habitats of herons, raptors, alligators, bobcats, and other wildlife. The ecotour takes you deep into 50,000 acres of protected habitat, allowing you to see plants and animals in fresh and saltwater marshes with uninterrupted access.
Address: 358 Chalkley Road, Ball City, Louisiana
Official site: https://www.grossesavanne-ecotours.com/
3. Mardi Gras Museum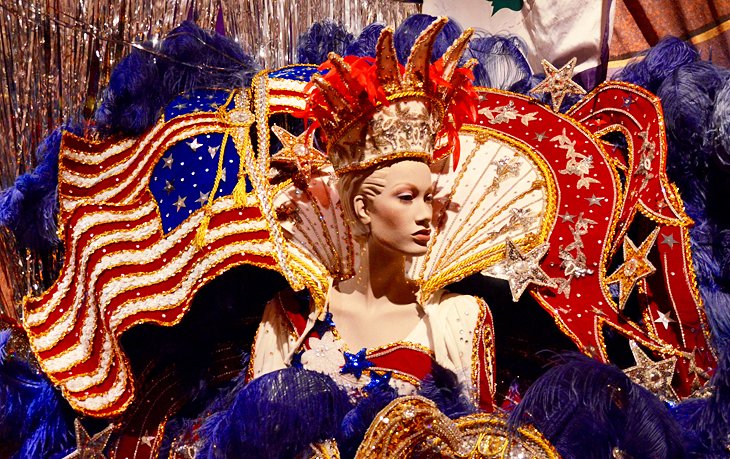 The elaborate Mardi Gras Museum in Lake Charles is the largest display of Mardi Gras costumes in the world. It is worth a visit during your stay for an understanding of the important history of the area. There are only six rooms in the museum, but you will leave with a colorful and detailed history of Mardi Gras traditions.
Learn about the significance of the festival, costume design, the 12th night celebrations, and parades. You can even climb aboard a Mardi Gras parade float in one of the rooms. If you are lucky, you might even stumble on a King Cake decorating lesson and sample some of the leftovers.
Address: 809 Kirby Street, Lake Charles, Louisiana
4. Sam Houston Jones State Park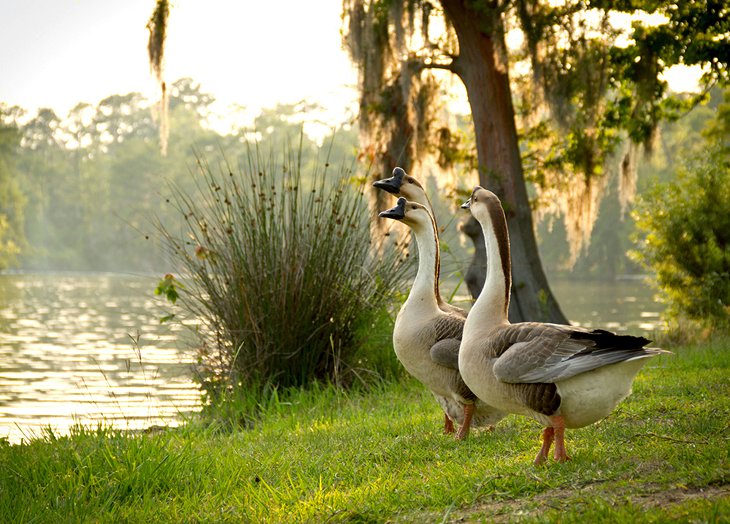 The Sam Houston Jones State Park and preservation area is one of the best stops if you want to spend time outdoors during your visit to Lake Charles. With more than 1,000 natural acres of trees, lakes, and rivers surrounded by a hardwood pine forest, it is a peaceful natural environment to explore.
5. Charpentier Historic District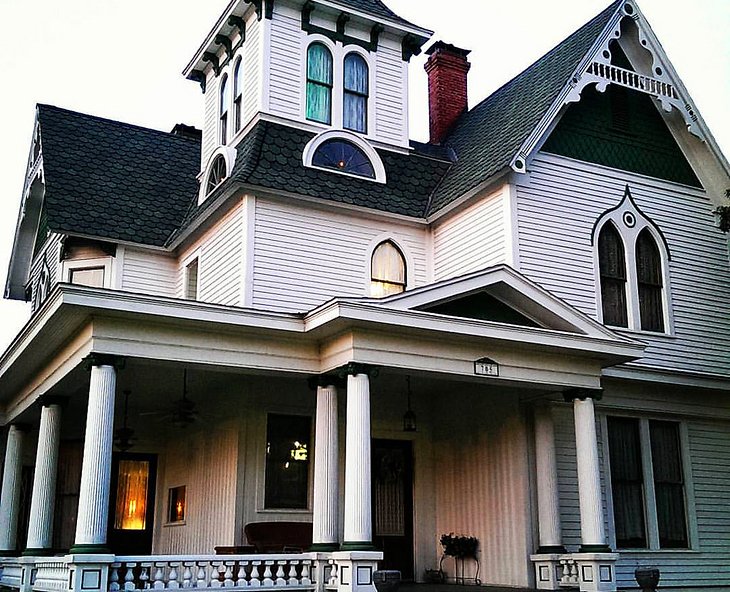 The Charpentier Historic District is a leisurely way to explore Lake Charles and marvel at the exquisite architecture of some of the most elaborate homes in Southwestern Louisiana. There are more than 400 structures and homes in the 40-block area of Lake Charles. You can download a free app and take a walking tour at your own pace or take a tour.
Along the way, learn about the history of the area, including ghost stories and the great fire of 1910. For a romantic day out exploring the streets and historic homes, take a horse-drawn carriage ride with Lake Charles Carriages. For an added treat, stop for a bite at one of the many restaurants downtown in converted historic buildings.
6. USS Orleck Naval Museum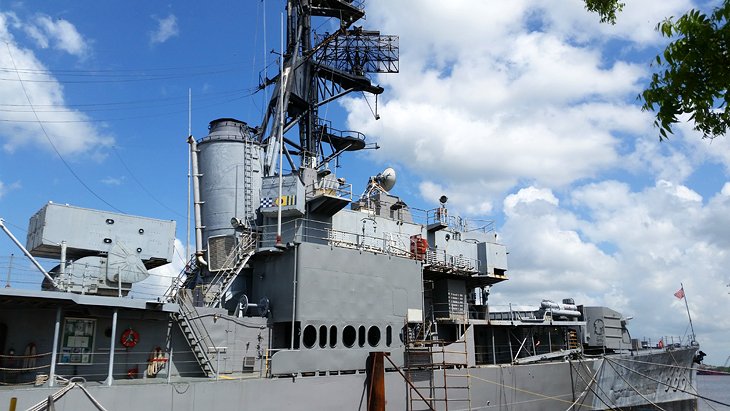 A visit to the USS Orleck Naval Museum is where you will get hands-on access to many important pieces of naval history. The museum features the USS Orleck DD 886 WWII destroyer. Explore the restored ship that had battle service in WWII, Korea, and Vietnam, and stop by the scale model gallery to view replicas of naval machinery used throughout various conflicts.
This tourist attraction holds important pieces of history that military and history buffs can appreciate. It raises funds for artifact preservation through merchandise sales and even on-site laser tag activities.
Address: 604 N. Enterprise Blvd., Lake Charles, Louisiana
Official site: http://orleck.org/
7. Lake Area Adventures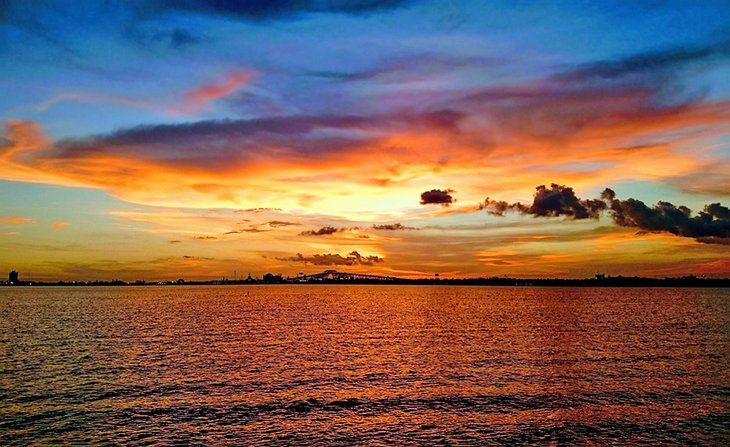 Get out on the water during your trip to Lake Charles with guided boat and kayak trips with Lake Area Adventures. Kayak tours range from one to six hours depending on the trip. There are beginner trips and more scenic trips to see wildlife in the area from your own kayak. You will have a new perspective on the natural beauty of Lake Charles as you paddle past the cypress trees and tour the water trails of Southwest Louisiana.
You can also book a boat tour through some of the Lake Charles waters with a private guide. For a more leisurely boating trip, you can rent paddle boats and hit the waters at Prien Lake Park.
Address: 5959 Common Street, Lake Charles, Louisiana
Official site: https://www.lakeareaadventures.com/
8. Millenium Park
If you are heading to Lake Charles with children, you will want to visit Millennium Park during your stay. The park is located on the lakefront in Lake Charles and has playgrounds, a splash pad area, a rock climbing wall, and interactive activities. There are walking paths and sitting areas if you want to watch the kids play or just enjoy the waterfront scene or sunset.
Address: 1100 Lakeshore Drive, Lake Charles, Louisiana
9. Imperial Calcasieu Museum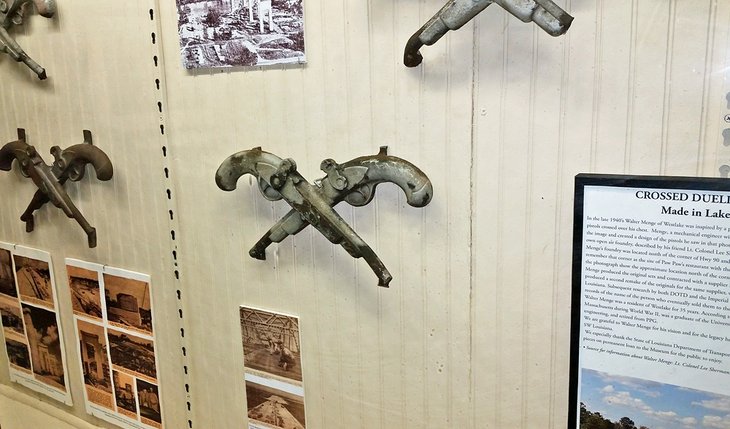 A nice cultural experience in Lake Charles is at the Imperial Calcasieu Museum, which showcases cultural arts from the five parishes in the area. The museum has historical artifacts, from artwork and furniture from various periods, as well as photographs that shed light on the inhabitants of the region through the decades.
You can take a self-guided tour through the museum, which provides a historical context to your visit to Lake Charles.
Address: 204 W. Sallier Street, Lake Charles, Louisiana
Official site: https://imperialcalcasieumuseum.org
10. The Velvet Pig Cooking Classes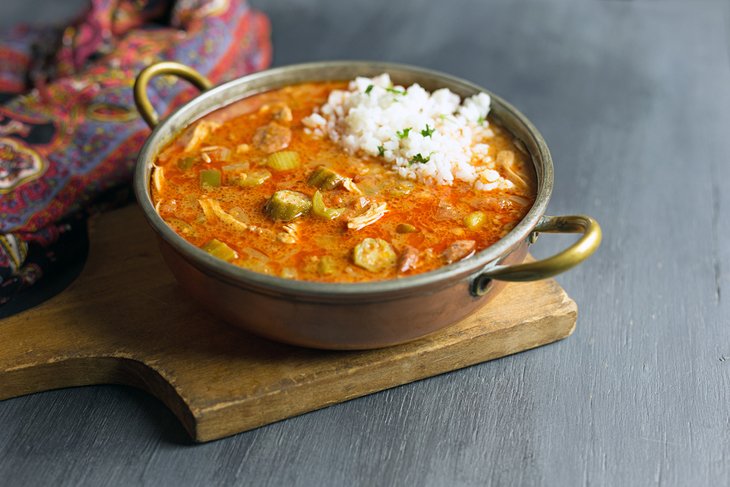 Tap into your inner Cajun chef and explore Lake Charles through a cooking class at the Velvet Pig, located within the Cash & Carry Farmers' Market. This is a tasteful way to learn about the culinary culture of the area, which is a mix of French, Cajun, German, and Native American influences.
Prepare your own homemade meal of gumbo, eggs benedict, or another southwestern Louisiana favorite under the guidance of local chefs. Most of the ingredients are locally sourced, which is a broader mission of the farmer's market. Classes are three hours.
Address: 801 Enterprise Blvd., Lake Charles, Louisiana
11. Prien Lake Park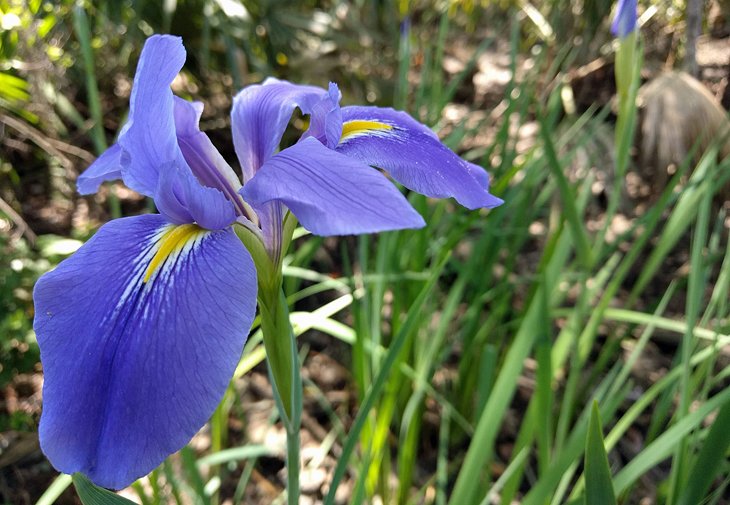 Prien Lake Park is a public park on the shore of Indian Bay, where you can take advantage of the amenities and enjoy the nature in the area without having to head into the bayou. One of the best features of the park is the boardwalk, with a terrific view of the expansive I-210 bridge over the waterway.
The park has canoe launches and picnic pavilions as well as a popular water playground for kids in the summer. With its fountains and flowers, the park is a perfect location to relax, picnic, or rest between other activities.
Address: 3700 West Prien Lake Road, Lake Charles, Louisiana
12. The Children's Museum
The Children's Museum in Lake Charles is a must-visit for families staying in the area. The non-profit museum has three floors of educational, hands-on experiences for children. There is a kids' bank, construction zone, a Louisiana wetlands experience, and market shopping.
One of the highlights of the museum is the ArtSpace, where kids can create their own art pieces with a variety of art materials available.
Address: 327 Broad Street, Lake Charles, Louisiana
Official site: https://www.swlakids.org
Where to Stay for Sightseeing in Lake Charles
Lake Charles has a wide range of lodging in the area, from large resorts to small budget hotels. If you have a particular interest in downtown attractions or locations, like the Creole Nature Trail just beyond downtown, you are best to find lodging closest to the activities you want to do.
Luxury Hotels: Without a doubt, the Lake Charles luxury hotel options include the large resort complexes like the Golden Nugget

Hotel

, which has on-site activities like a championship golf course and lazy river. L'Auberge Resort Lake

Charles

is located on the waterfront and has luxury amenities like a spa, golf course, and restaurants.
Mid-Range Hotels: If your Lake Charles trip centers on the outdoors and the Creole Nature Trail, you can stay at the SpringHill Suites by

Marriott

, which is only a 10-minute drive to the trail, so you can make the most of your day on it. For a location close to town, the Hampton

Inn

is an option close to the Charpentier Historic District and many of the Lake Charles museums.
Budget Hotels: It is not hard to find budget hotel options in Lake Charles. The Red Roof Inn & Suites Lake

Charles

is a family-friendly hotel close to all the main attractions, like the Children's Museum and the Mardi Gras Museum. Another budget-friendly option is the Best Western Plus Lake Charles Inn &

Suites

, which is centrally located between the airport and downtown attractions.
More Related Articles on PlanetWare.com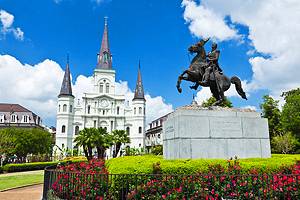 Exploring Louisiana: After your visit to Lake Charles, you may want to explore Louisiana a bit more to experience New Orleans or Baton Rouge. There are some unique and historic hotels in New Orleans that can add a nice element to the visit. If you are planning a special occasion there are some fantastic weekend getaway ideas to extend your trip, like a visit to Plantation Country.