12 Top-Rated Tourist Attractions in Natchez, MS
We may earn a commission from affiliate links ()
The little town of Natchez in southwestern Mississippi, founded in 1716, was once the most important port on the Mississippi River in the heyday of the cotton trade. As a result, the town has many beautiful and historically significant antebellum-era mansions and estates.
The pedestrian-friendly historic downtown core of Natchez is fun to explore on foot. It's here you'll find the town's best shopping experiences, as well as the best places to stay. It's also where you'll find places to eat, too, from casual home-cooking restaurants to cafés and fine-dining experiences.
At night, you can attend a live music event, often hosted in conjunction with a restaurant, or check out the roster of shows at Natchez Little Theatre, the state's oldest community theater. And for those on a fixed travel budget, you'll be pleased to learn that there are numerous free things to do in Natchez, from visiting its attractive old churches, to wandering its interesting old graveyards.
You can learn more about the best places to visit in Mississippi with our list of the top tourist attractions in Natchez.
See also: Where to Stay in Natchez
1. Antebellum-Era Stanton Hall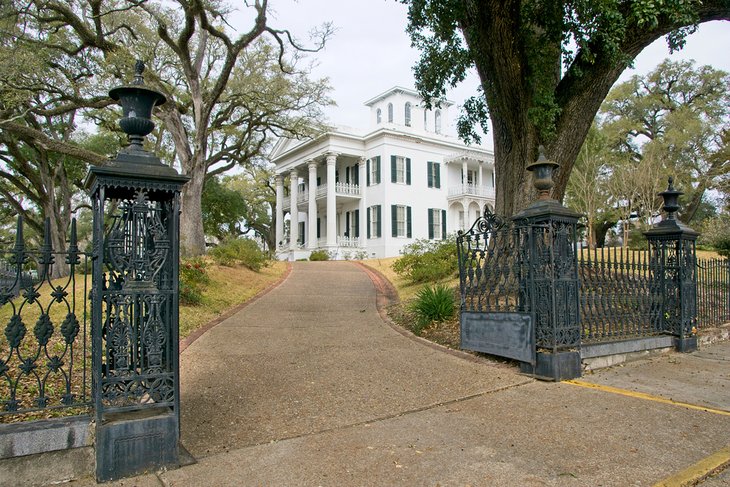 Stanton Hall, also known locally as Belfast House, is one of the largest and most lavish antebellum mansions in the US. It was built in 1857 in the style of his Irish ancestral home by cotton grower Frederick Stanton and, along with its beautiful grounds, covers an entire two-acre city block.
After a spell as a girls' school in the early 20th century, the building fell into a state of disrepair but was brought back by the Pilgrimage Garden Club who restored the property. Today, visitors can tour the finely restored interior of the house, which is filled with original and antique furnishings.
Guided tours of Stanton Hall are also available. Feeling peckish? Afterwards, why not enjoy a meal in its Carriage House Restaurant. Its Sunday brunches are a popular treat among locals and visitors alike.
And after visiting, you might in fact feel as if this beautiful building seems a little familiar. It certainly should for anyone who has ever visited Disneyland, whose famous Haunted Mansion was based on this classic antebellum home. Stanton Hall is itself supposed to be haunted.
2. Nutt's Folly: Longwood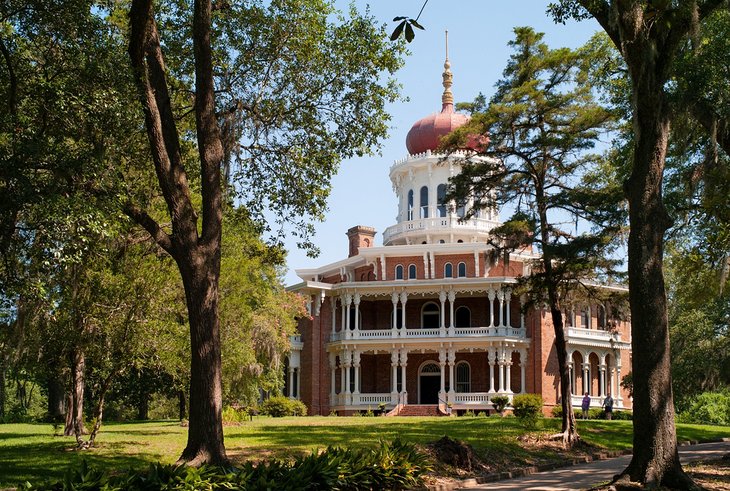 Another majestic mansion to visit while in Natchez is Longwood. Also often referred to as "Nutt's Folly," this stunning red-brick house was constructed in 1858 and is notable for its large Byzantine-styled dome. The home was built by Dr. Haller Nutt and is thought to be one of the largest octagonal houses in the US.
Due to the advent of the Civil War in 1861, the interior was never completely finished. However, the first floor family area, consisting of nine of the planned-for 32 rooms, is furnished with family heirlooms.
3. The Scenic Natchez Trace Parkway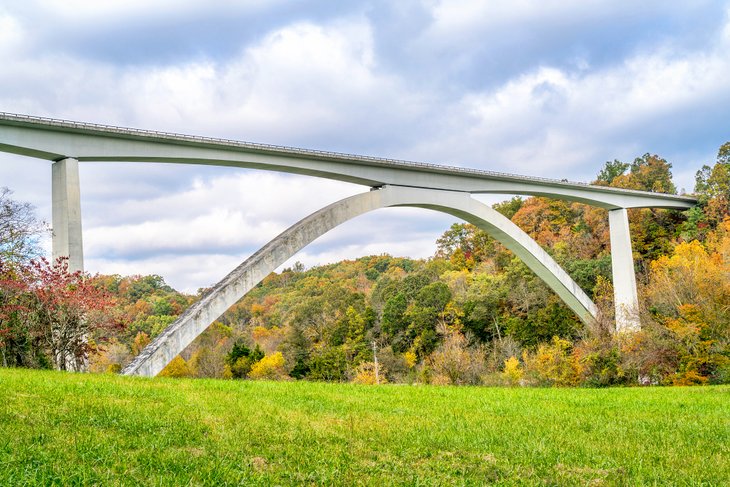 Also known as "the Old Natchez Trace," Natchez Trace Parkway is a spectacular tourist road that follows the line of an old historic route that stretches 444 miles from Natchez all the way to Nashville, Tennessee.
First mentioned in 1733, the Natchez Trace route was at its busiest between 1800 and 1820. During this time, the crews of flatboats, which were simple vessels made of logs bound together and designed for a single downstream journey, sailed down the Mississippi to Natchez and returned home on foot or horseback.
Now designated as an All-American Road for its historical and scenic significance, the Parkway, runs past Emerald Mound, 12 miles north of Natchez. The second largest pre-Columbian site in the United States, it was occupied between 1250 and 1600 by the Mississippi people, ancestors of the Natchez and Choctaws.
Other tourist attractions along the route include Mount Locust, built in the 1780s, and the Chickasaw Village Site. Natchez Trace Parkway is also especially popular with cyclists and those who enjoy camping.
4. Rosalie Mansion: "Our Lady on the Bluff"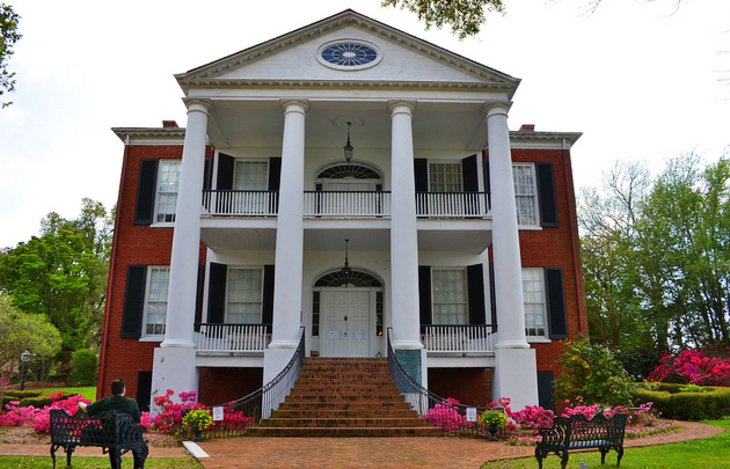 Well known for its stunning views over the Mississippi River, the lovely red brick Rosalie Mansion sits on the site of the former French Fort Rosalie in Natchez, after which it's named. Known locally as "Our Lady on the Bluff," this magnificent home was built in the early 1820s and is notable for having served as the regional headquarters for Union troops in 1863. During these turbulent times, much of the artifacts and furniture on display today was placed in storage.
Lovingly restored since, it's now run as a museum and is furnished throughout with antiques from this period, most of them originally from the home itself. It's also listed on the National Register of Historic Places. Be sure to allow additional time to explore the adjoining four-acre grounds, home to the Rosalie Historic Gardens.
5. Natchez City Cemetery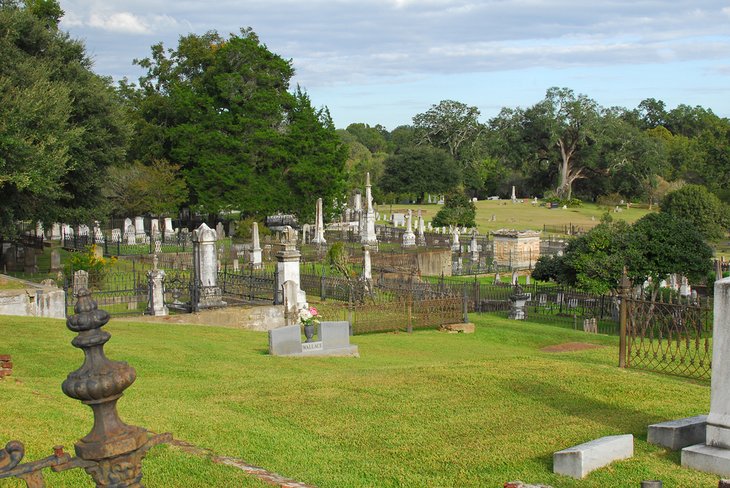 The Natchez City Cemetery, established in 1822, is listed on the National Register of Historic Places and contains the remains of a number of residents buried in an even earlier nearby graveyard that can be traced all the way back to the 1700s. The cemetery is nicely maintained with uniquely designed iron fences.
Strategically placed benches offer superb views over the Mississippi, an especially pleasant experience at sunset. Numerous large and shady live oaks line its pathways. Be sure to spend time inspecting some of the more elaborate monuments and tombstones located here. These include a unique tomb that houses a wealthy individual who chose to be buried in his favorite rocking chair.
Guided tours are available, including a special once-a-year option known as Angels on the Bluff. This fun tour includes informative commentaries by descendants of those buried here. A self-guided tour is also available.
6. Auburn Museum and Historic Home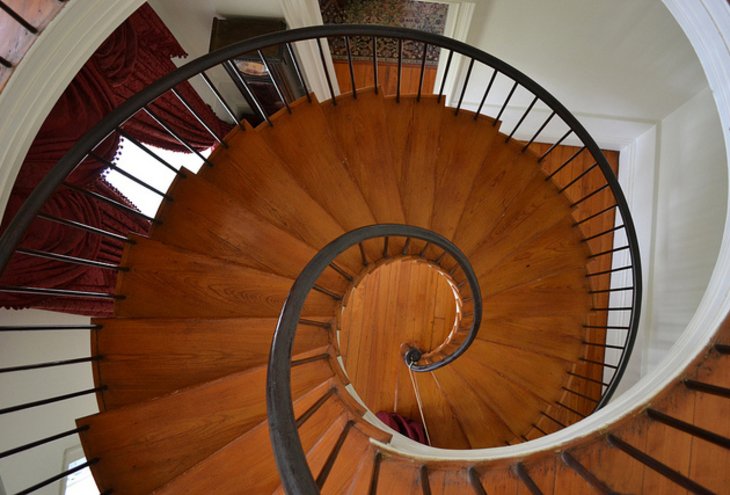 Set amid a 222-acre public park, Auburn is an 1812 red brick mansion designed in Greek Revival style. With features later often emulated in many other antebellum-era homes, it is considered one of the finest homes in the area of its time.
Of particular interest to architects was the grand entrance, which features tall Corinthian columns and a large upper-level balcony. The interior has been completely restored and furnished in period fashion, with a highlight being a delightful freestanding, unsupported spiral staircase.
If you are in the area in December, be sure to visit during their fun Christmas Open House. This popular event includes free guided tours and period baked goods. An on-site gift shop sells a large selection of related souvenirs.
7. Natchez National Historical Park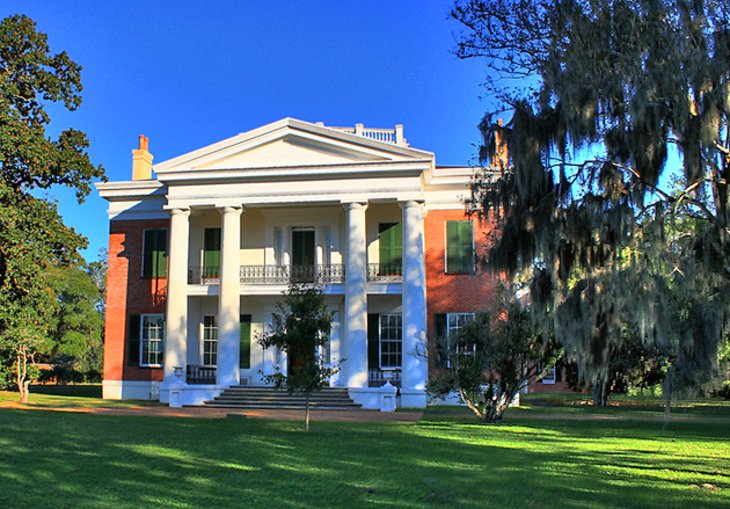 Natchez National Historic Park deals with the cultural history of the town of Natchez and contains three important sites: Fort Rosalie, William Johnson House, and Melrose Plantation.
Your first stop, though, should be the Natchez Visitor Center. This popular destination contains maps and attraction details, as well as a number of interesting exhibits, audio-visual displays, and a bookstore.
Your next stop should be the Melrose Estate. This finely preserved antebellum mansion features sundry outbuildings, which have remained little changed since the 1840s. Highlights include guided interior tours, as well as self-guided tours of the outbuildings, including a sobering look at a slave cabin and gardens.
8. Emerald Mound: "Selsertown Site"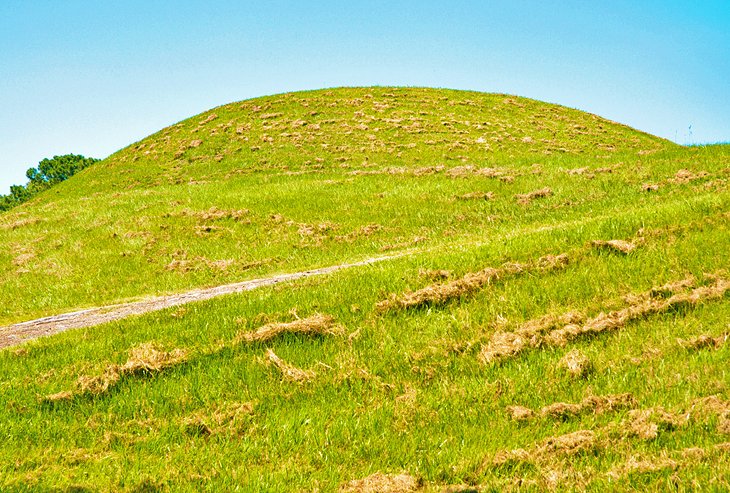 Emerald Mound, also known as the "Selsertown site," is located close to the Natchez Trace Parkway, and is the second largest Pre-Columbian ceremonial mound in the United States. Believed to have been constructed by predecessors of the region's Natchez people, it's a big site that covers eight acres and was created by depositing earth along the sides of a natural hill to create an enormous artificial plateau.
9. Natchez Museum of African American History and Culture
A great way to learn more about the history of African Americans in the South is to pay a visit to the Natchez Museum of African American History and Culture. Opened in the town's former post office in 1991, the museum provides a fascinating insight into the culture and history of African Americans in the region, from the times of the town's foundation in 1716 right up to the Civil War.
In addition to its displays of artworks, photos, documents, and artifacts, there are important exhibits dealing with issues such as slavery. It also includes details of the notorious Forks of the Road, once one of the country's largest slave markets. A memorial at the actual location of the market can be visited nearby.
10. Historic Jefferson College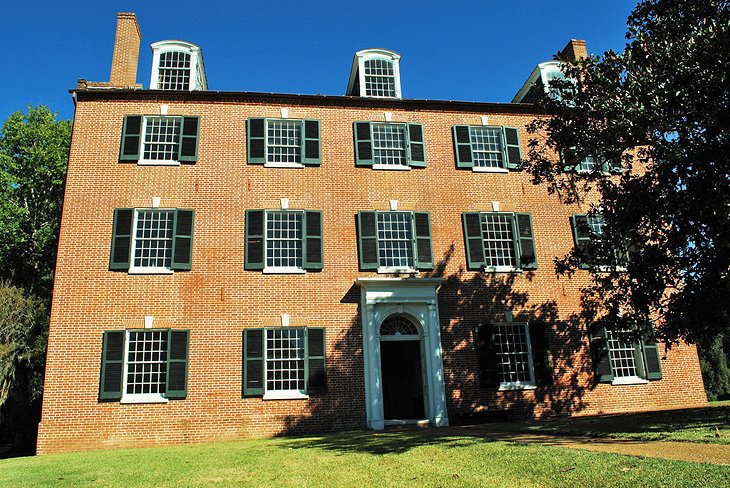 Take an easy 15-minute drive west of downtown Natchez, and you'll find yourself in the neighborhood of Washington, home to Historic Jefferson College. Established in 1811 and in operation until 1964, the site is now run as a museum and public park.
And it's certainly a fascinating attraction to explore. Interesting displays and exhibits provide visitors with a chance to learn of life at the former military academy attended by well-known alumni, including Jefferson Davis, the former President of the Confederate States of America.
Buildings open to visitors include the kitchen and the various outbuildings that supported this important part of the college, as well as the West Wing and Prospere Hall. Afterwards, be sure to wander the mile-long T.J. Foster Nature Trail network on the property, popular for its wildlife and natural beauty. A number of easier-to-navigate trails are also available.
11. Port Gibson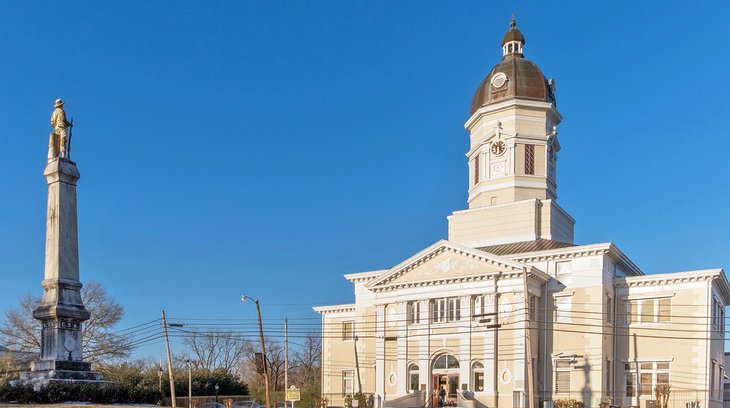 The small town of Port Gibson is a nice side trip, either from Natchez or Jackson. A visit offers up a number of interesting attractions, along with good restaurants, hotels, and shopping.
It was thought by General Grant to be almost as beautiful as Natchez, which explains why it has remained relatively unspoiled. Visitors today can still enjoy seeing a number of well-preserved pre-war antebellum-era houses, supposedly saved after General Grant proclaimed the town "too beautiful to burn."
The famous Windsor Mansion, south of the town, was not so lucky. All that remains of this former mansion today are some impressive ruins.
12. Grand Village of the Natchez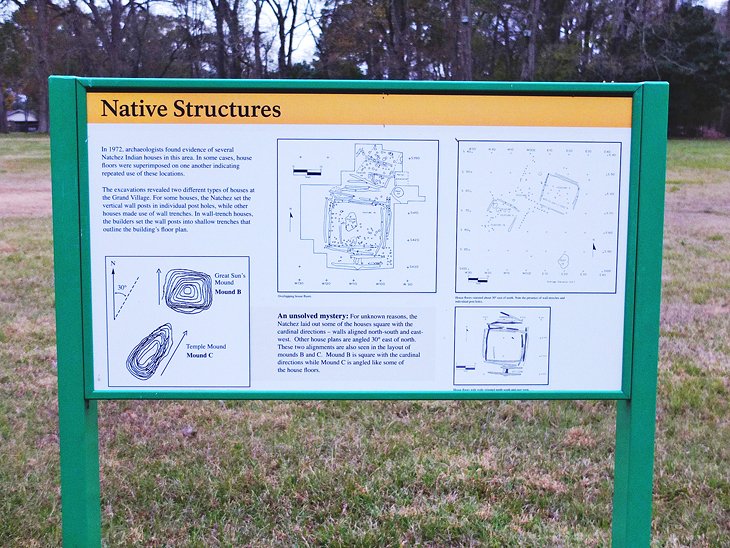 A great attraction for those interested in the area's rich native history is the Grand Village of the Natchez. Set amid some 128 acres, this important historic site was once home to an indigenous village that existed here in prehistoric times and which was occupied and in use right up to the early 1700s as an important political and religious center.
Evidence of three original ceremonial mounds were found, parts of which have since been restored. A highlight of a visit is checking out the on-site museum, which contains a number of important artifacts found during archeological digs, including fascinating grave goods buried with the dead, often European made.
The museum also contains an interesting collection of traditional baskets from local native tribes, as well as exhibits and displays portraying the site's significance. A replica of a period tribal home, plus plenty of hiking trails are also available to explore. The site is also a great place for a picnic.
Where to Stay in Natchez for Sightseeing
We recommend these great hotels in Natchez, each located near top attractions such as the city's historic antebellum homes:
More Related Articles on PlanetWare.com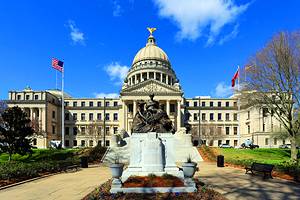 Mississippi Moments: If you haven't had enough of that Deep South friendliness after a stay in Natchez, then head straight to Jackson, the state capital of Mississippi. Fun things for families to do here include touring the Capitol building and museum, visiting the Mississippi Museum of Natural Science, and, of course, the Mississippi Children's Museum.
And there's plenty of other things to do in the state of Mississippi, too, from exploring one of the most spectacular coastlines in the Gulf of Mexico, the Gulf Islands National Seashore, to getting up close to the diverse marine life found here at the Institute for Marine Mammal Studies.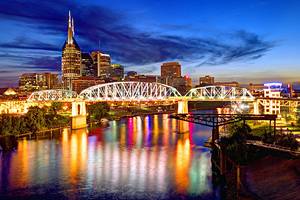 Deep South: The exciting city of New Orleans, Louisiana, offers visitors plenty of great attractions (the National WWII Museum is a must), as well as diverse neighborhoods such as the lively French Quarter, famous for its music, shops, and restaurants.
Other Southern US destinations to consider visiting include Memphis, famous the world over for its Graceland estate, the former home of the "King," Elvis Presley; and that other important center of musical innovation, Nashville (also in Tennessee), where you can wander Music Row, an area with multiple attractions dedicated to music, including the Country Music Hall of Fame and RCA Studio B, where many a famous recording was made.