12 Top-Rated Weekend Getaways in Louisiana
We may earn a commission from affiliate links ()
When planning a weekend getaway in Louisiana there are so many options that it helps to start your search by considering the type of trip you want to have, whether it is a family getaway, romantic getaway, solo trip, or something else. Next, figure in your starting location. The drive-time or fly-time will impact how long you have on the ground because you want to maximize your weekend. Louisiana's footprint is large, so your final consideration is determining the region you want to visit.
Cajun Country in the southwest part of the state is one of the most popular regions for its food and culture, but the Greater New Orleans Region is also a hot destination that will keep you plenty busy and perhaps require an extended weekend. If you are into the history of the Deep South and the plantation scene in Louisiana, then the Plantation Country region, which surrounds the capital of Baton Rouge, might be of interest.
If you are looking for outdoor excursions like hiking, fishing, and bird-watching then the more northern regions, known as the Crossroads and Sportsman's Paradise, are most suitable. Start planning your next quick vacation with our list of the best weekend getaways in Louisiana.
Note: Some businesses may be temporarily closed due to recent global health and safety issues.
1. New Orleans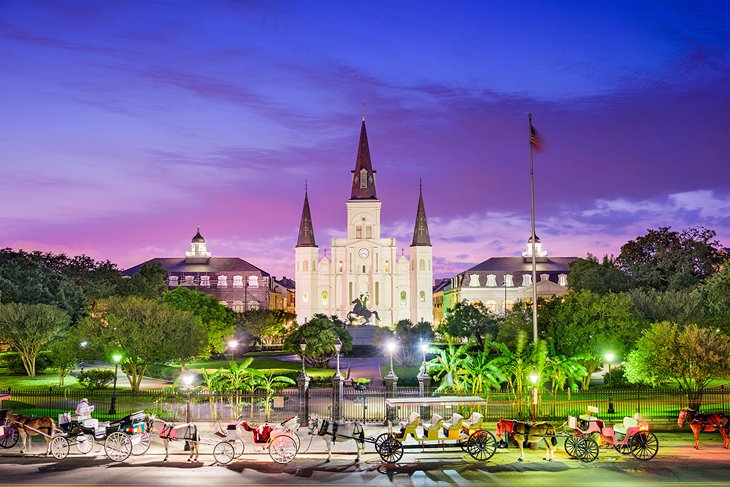 New Orleans is one of the top vacation spots in Louisiana for its non-stop activity and more than 300 years of history, culture, unique experiences, and unforgettable food. Head out on one of the New Orleans streetcars to explore the French Quarter and other neighborhoods. There are four streetcar lines–the Saint Charles Streetcar Line is the oldest in the world and has operated for more than 150 years.
In addition to wandering the French Quarter make a stop to Vieux Carre, where you can see some of the iconic landmarks, like Jackson Square, and tour the St. Louis Cathedral.
Some of the other top experiences to cover during your New Orleans weekend include a visit to the famous Café du Monde for beignets, getting your fortune read, and a stop at the French Market. This open-air market covers five blocks and is a New Orleans tradition with specialty shops and a community flea market, dining, and music. If you have a spare afternoon, visit some of the unique cemeteries in New Orleans or the National World War II Museum.
A visit to New Orleans is not complete without experiencing some of the local live music with an evening on Bourbon Street. Plan at least one dinner at Antoine's Restaurant, owned by the same family for 179 years, for some delicious New Orleans cuisine. There are many hotels in New Orleans, but one of the most unique is the Hotel Monteleone, which has had famous residents like Ernest Hemingway, William Faulkner, Tennessee Williams, and John Grisham.
Accommodation: Where to Stay in New Orleans: Best Areas & Hotels
2. Plantation Country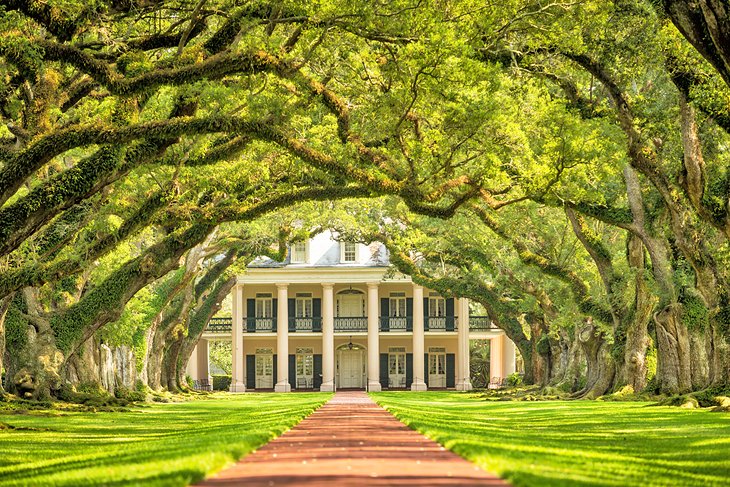 About an hour outside of New Orleans is Plantation Country, a quiet getaway that is especially nice for couples. This historic region is home to dozens of sprawling plantations that you can tour and it is the birthplace of Louisiana's famous andouille, a staple ingredient in Southern food.
Some of the most notable sites to explore include the Houmas House Plantation and Gardens; the Laura Plantation; and the Oak Alley Plantation, which was the filming location for several feature films. Some of the plantations, like the Ormond Plantation, Houmas House, and Oak Alley have dining and lodging available if you want to plan an extra special stay.
Beyond the plantations, you can spend a day taking in the culture. Take a kayak, pontoon, or airboat swamp tour to learn about local wildlife and the Cajuns and Native Americans that originally inhabited the area. Plan an afternoon to take in some of the Cajun cuisine made in Plantation Country, or visit a smokehouse making fresh andouille for locals and restaurants to add to their dishes.
3. Lafayette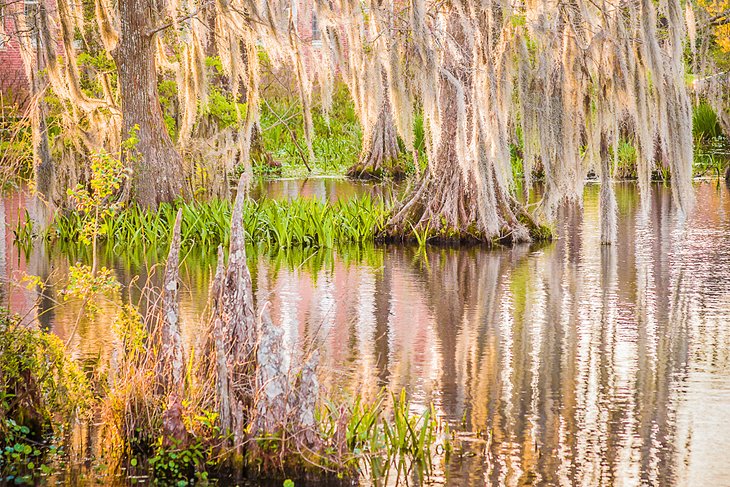 If you want a getaway that puts you in the heart of Louisiana's Cajun country, Lafayette should top your list. It is known as the "Happiest City in America," where you can experience a well-rounded Cajun experience in terms of culture, food, and music in a weekend. Take a tour of the TABASCO® Pepper Sauce Factory to learn about the McIlhenny Company, the McIlhenny family, and their famous pepper sauce. You will become an expert in the growing process of pepper plants, the mash, and the aging process required to create this beloved American hot sauce.

If your taste buds want more, stop for a bite to eat at "1868," the on-site restaurant where you can sample a variety of hot sauces. Before you leave the TABASCO factory, you can visit the Jungle Gardens and tour a 170-acre semitropical garden. Wake up early for a trip out to famous Fred's Lounge in Mamou on a Saturday morning to get the day started with some dancing. Then, head to the Blue Moon Saloon for some of the best local live music. It is a community gathering spot for families, artists, and vacationers.
Since the Lafayette area is located near the Atchafalaya Basin, this should be on the itinerary. The basin area is the largest river-basin swamp, with 850,000 acres of swamps, lakes, and water prairies. The best way to experience the basin is to get out on it by taking a swamp tour. The basin is just a short drive from Lafayette and makes for a great day trip.
There are quite a few bed-and-breakfasts in Lafayette, including the Mouton Plantation Bed & Breakfast and T'Frere's Bed & Breakfast, which are stunning historic homes.
4. Natchitoches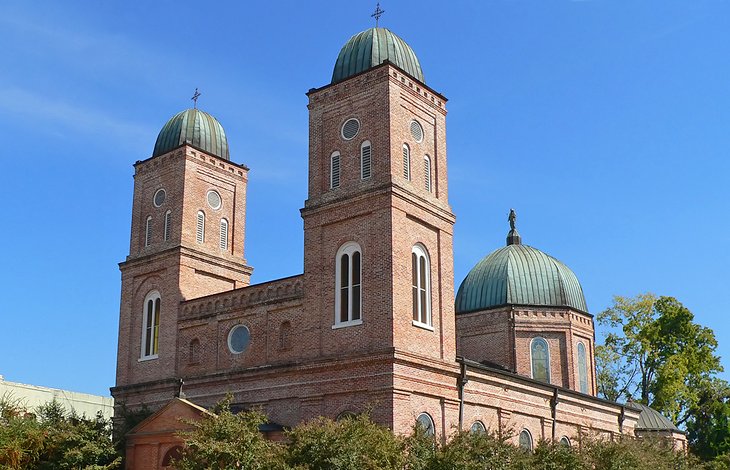 The oldest settlement in Louisiana is the small town of Natchitoches (pronounced Nack-a-tish), which is a fun and historic getaway. Of particular interest in this town is the National Historic District, where you can spend a day strolling from the Kaffie-Frederick General Mercantile–an old-fashioned general store that opened in 1863 to the Louisiana Sports Hall of Fame & Northwest Louisiana History Museum, and wrap up at the popular Cane River Lake waterfront restaurant Maglieaux's on the Cane. For a post-lunch or dinner excursion head down a block to Cane River Paddle & Pedal Sports, which rents out gear to go floating on the Cane River.
Remember the movie Steel Magnolias? It was filmed entirely in Natchitoches, so you will find many places to visit that you might recognize from the movie, which featured Sally Field, Shirley MacLaine, Julia Roberts, Dolly Parton, and Olympia Dukakis. Steel Magnolia tours are available, and you can even stay overnight at the Steel Magnolias Bed & Breakfast, where a significant portion of the movie was filmed.
One of the main draws for visitors is the Cane River Creole National Historical Park, which showcases regional history. You can visit two plantation museums, Oakland and Magnolia, which are part of the Louisiana African American Heritage Trail. The entire Cane River National Heritage Area has many sites to visit, including the Prudhomme-Rouquier House (open by appointment) and others, so you will want to plan ahead to make the most of your time.
For a bite of famous local fare go to Lasyone's Meat Pie Restaurant for a famous Natchitoches meat pie.
5. Baton Rouge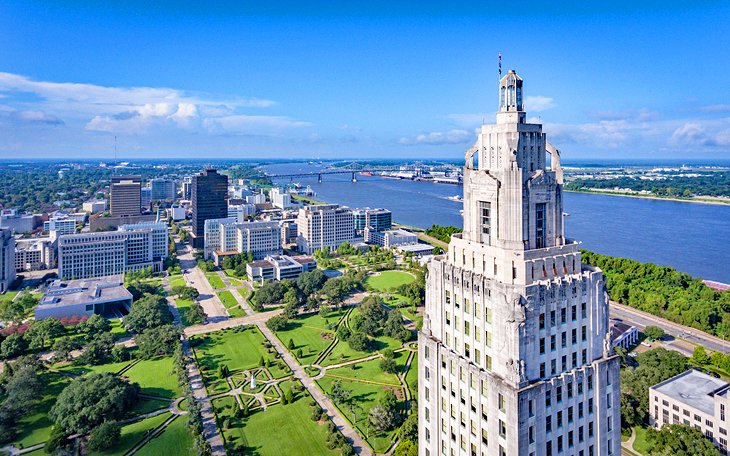 For an urban getaway consider the Louisiana capital of Baton Rouge. Start your visit at the Louisiana State Capitol, the tallest capital building in the United States, with 34 stories. Be sure to experience the 27th-floor observation deck, which overlooks spectacular gardens.
Then visit Louisiana's Old State Capitol to see why the castle-like Gothic architecture is one of the most photographed sites in the city. You can take a tour of this National Historic Landmark, which sits on a bluff above the Mississippi River.
To add to your historic exploration, visit the Capitol Park Museum. It has collections of artifacts ranging from Louis Armstrong's childhood horn to a 48-foot shrimp trawler. Once you have a base of Baton Rouge history get a sense of its culture through the food. Some options to try are the Cecelia Creole Bistro; Elsie's Plate & Pie; the White Star Market, a nine-vendor food hall; and The Gregory, an upscale Southern food restaurant inside a converted bank building that is now the luxury Watermark Baton Rouge, Autograph Collection hotel.
A day exploring the Mississippi River should be on your itinerary. Take a walk along the 4.3-mile biking/walking trail on top of the levee for some of the best views in the area. Also located along the trail is the World War II-era destroyer USS Kidd, where you can take a tour.
6. Toledo Bend Reservoir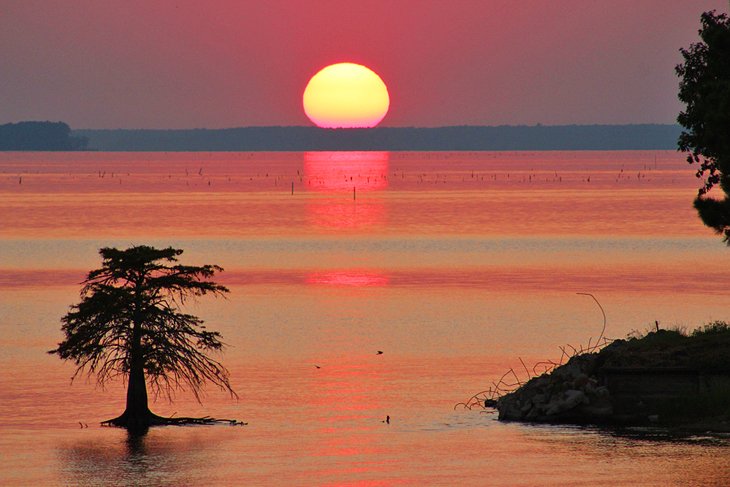 For an outdoor Louisiana getaway, you may want to head to Toledo Bend Reservoir in North Toledo Bend State Park. The reservoir, the largest man-made lake in the south, is known as one of the top fishing spots in the state, and it has been nationally recognized for fishing opportunities for novice and even professional anglers. You can take a guided fishing trip on the lake or bring your own rod and reel.
Choose your outdoor activities to accommodate as much time and adrenaline as you have, from hiking and biking to water recreation and year-round golf. Kayaks, canoes, and flat-bottom boats can be rented from the park for day-use. Toledo Bend Reservoir is also a great birding location with more than 900 acres to trek for native and migrating species.
The state park has campsites available that range from premium campsites to primitive and backcountry camping. There are cabins available that sleep up to six people and come with cookware. For families traveling together there are also lodges available that accommodate larger groups.
7. Lake Charles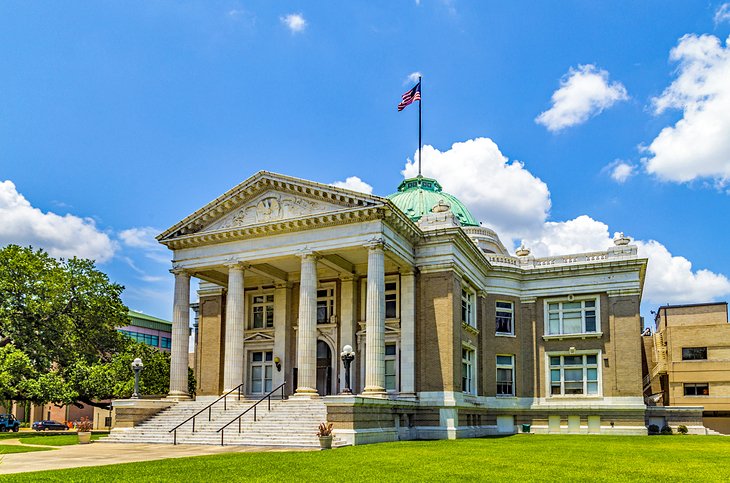 A fun place to spend a weekend is in Lake Charles in southwest Louisiana. It has a mix of deep southern culture and upscale accommodations and dining experiences that draw A-list entertainment. Those looking for a luxury getaway can enjoy the spa and golf options in the area. There are six public golf courses in Lake Charles surrounded by the stunning natural scenery of the area.
You can spend a majority of one day exploring downtown Lake Charles. There are more than 40 blocks in the downtown area. The Charpentier Historic District has one of the best collections of Victorian architecture in Louisiana, dating from the late 1800s to the early 1900s. It is named Charpentier (carpenter in French), since most of the homes were designed and built by carpenter architects.
One of the top experiences in Lake Charles is along the Creole Nature Trail. The entire trail, often referred to as Louisiana's Outback, is 180 miles long. You can do one of two pre-made itineraries that will take you across either the east or west sides of the trail. One of the easiest ways to follow the trail is through an app that is available through iTunes and Google Play, where you can select a portion of the trail customized to your interests and time.
Another spectacular place to visit while in Lake Charles is the Mardi Gras Museum of Imperial Calcasieu. It has the largest Mardi Gras costume display in the world, with six rooms of elaborate masks, information about the history of the festival, king cakes, and a parade float that you can climb aboard and experience the Mardi Gras magic.
Be sure to take in some of the southern Cajun food. You can try the boudain trail for part of your weekend or hit several spots each day. For po' boy sandwiches, check out Darrell's which is known in the area for the ultimate po' boy experience.
8. Monroe and West Monroe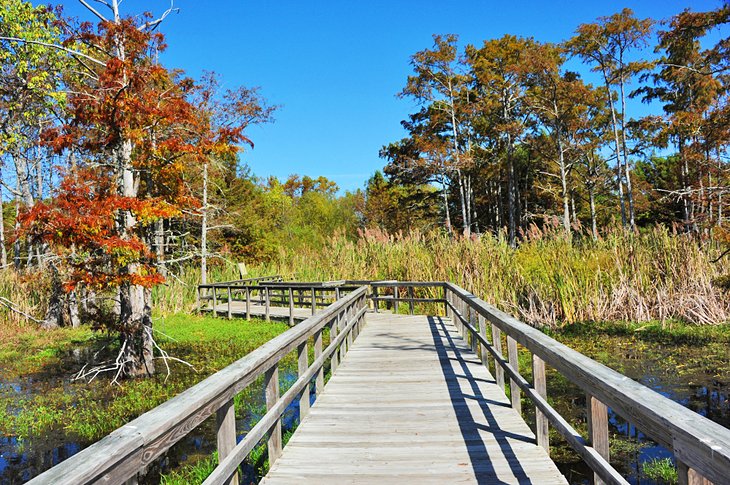 The northwest region of Monroe and West Monroe is picturesque, partly because it is located on the banks of the Ouachita River. You can start your time in the area by visiting The Biedenharn Museum and Gardens in Monroe. The museum has four sections to visit: the historic Biedenharn home, the Bible Museum, the ELSong Gardens, and the Coke Museum.
If the name is not familiar, the contributions that Joseph A. Biedenharn made to the American culture will be. Biedenharn was the first man to bottle Coca-Cola and one of the original investors in Delta Airlines. Guided tours of the home are available, and you can walk the gardens on your own. The Bible Museum has collections of historic Bibles and religious art, and the Coke Museum chronicles the story of how Coca-Cola was first bottled.
Another great pastime in West Monroe is Antique Alley. This is the spot to target for great antique stores, boutique shops, and unique gifts. You can make a side stop to soak in some local history at the Chennault Aviation and Military Museum, which follows the story of local WWI hero General Claire L. Chennault.
You cannot leave Monroe and West Monroe without spending some time at the Black Bayou Lake National Wildlife Refuge Visitor Center. Plan a half-day or full-day hike as you look for alligators, turtles, ducks, fish, and a variety of bird species. You can even rent a canoe or kayak and explore the refuge that way.
9. Northshore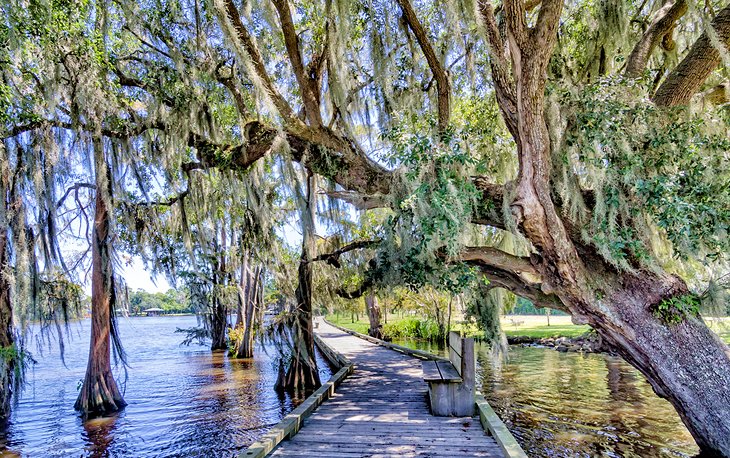 The Northshore of Louisiana encompasses Abita Springs, Mandeville, Madisonville, Covington, and Slidell. All of the towns are located north of Lake Pontchartrain, about 30 minutes outside New Orleans. You can keep the agenda flexible during your getaway and hit all the towns, and enjoy some spontaneous exploration.
Slidell is where you can see the Old Town Soda Shop made famous by Norman Rockwell's America illustration. If you want to spend some time outdoors take a Honey Island Swamp Tour to get up close to some of the local alligators.
As you head to Abita Springs, bike up the St. Tammany Trace. Pack your swimsuit because you can plan a tubing trip down the Bogue Chitto River while you are here. Once you are back on dry land visit the Abita Mystery House, also known as the UCM Museum. Inside, you will see thousands of obscure items and fascinating treasures.
Covington is where you can experience some of the great galleries and antique stores on Columbia Street, Lee Lane, and Boston Street.
10. Central Louisiana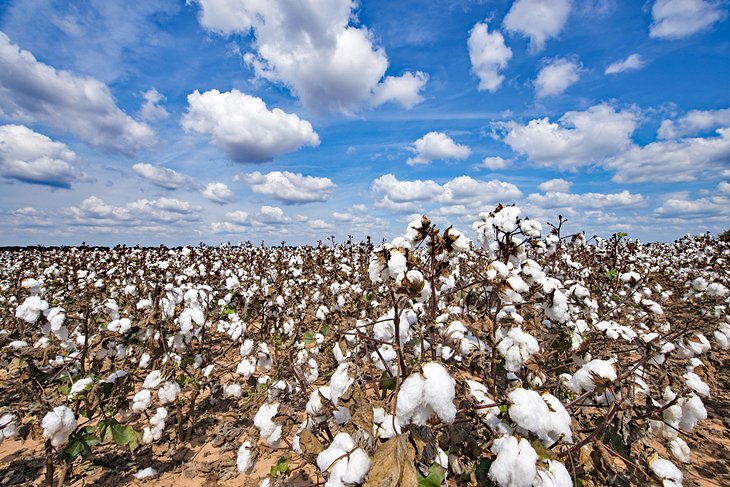 Your central Louisiana getaway will take you to the Central Louisiana-Solomon Northup Trail in Alexandria & Marksville. This is a neat trip if you want to combine outdoor exploration and history. The Solomon Northup Trail allows visitors to follow the route of Solomon Northup during his 12 years as a slave in the region. The movie 12 Years a Slave, which earned an Academy Award, was created after Northup's journey.
Along the trail, you will learn about Solomon Northup, who spent twelve years in Rapides and Avoyelles Parishes after he was kidnapped and lived as a slave on plantations with the false promise of work of playing his violin in a traveling circus.
The Northup Trail pays homage to the book and the Oscar award-winning film. Among the sites that you can visit are several plantations where Solomon was enslaved, as well as the Edwin Epps House and the Marksville Parish Courthouse where Northup was freed.
While in Alexandria, plan a visit or your entire stay at the historic and luxury Hotel Bentley. This preserved luxury hotel, built in 1907, is famous for its restored architectural details. For a fun restaurant experience try the Diamond Grill, in a transformed 1930s-era jewelry store, and the Sentry Grill, an old-school diner.
11. Shreveport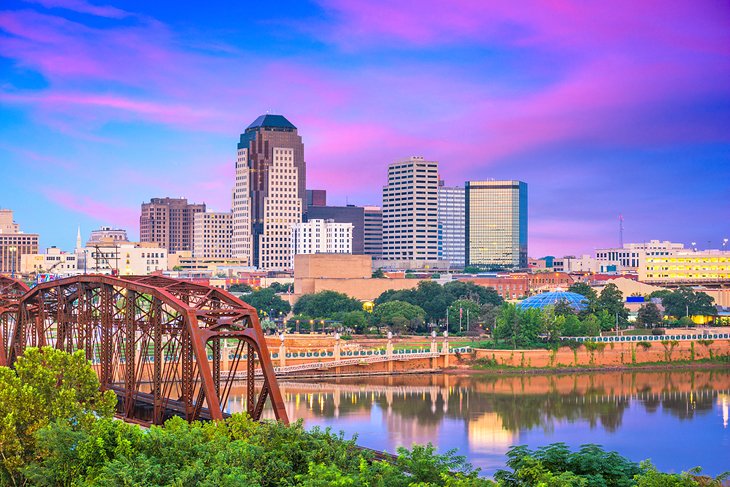 The Shreveport area in northeast Louisiana is a perfect weekend for those who love festivals and music. Start at the Shreveport Municipal Auditorium, where you can take a backstage tour to learn about the stories and music of the celebrities who have taken the stage. The auditorium was once home to The Louisiana Hayride, where many musicians began their career including Elvis Presley, Hank Williams, Johnny Cash, and Johnny Horton.
Spend an evening watching an independent film at the Robinson Film Center, a non-profit movie house that is a local education center for filmmaking. The décor is fun, and you can stay for dinner on the balcony overlooking the marquee.
If the weekend is a romantic one, you can spend some time at the American Rose Center. The gardens have more than 20,000 rose varieties accented by fountains and sculptures. If that's not enough action for you, plan on visiting Gator and Friends Adventure Park, where you can zipline over the park's ponds and alligators.
12. Kisatchie National Forest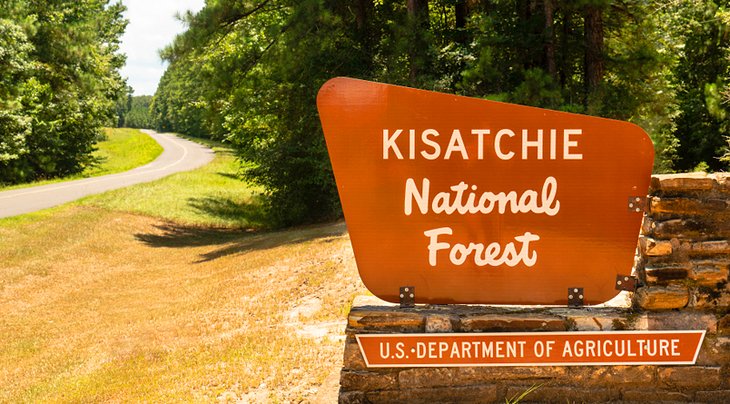 The ultimate outdoor Louisiana weekend getaway is in the heart of the Kisatchie National Forest. With more than 600,000 acres of forested hills, you can hike and enjoy some of the most stunning scenery in the state. Locally, the Kisatchie National Forest is known as the "Little Grand Canyon." Trails through the forest are marked and range from half-mile trails to 30-mile trails that require backpacking.
Outdoor recreation in the forest ranges from fishing and camping to water recreation. Just taking a scenic drive is popular, too. Drive up to the Longleaf Vista Recreation Area, which has beautiful sandstone bluffs and panoramic views, or check out the rapids at Kisatchie Bayou Recreation Area.
Another focus of your visit can include the Wild Azalea Trail, a favorite among mountain bikers and hikers, and the Hayes E Daze ranch, which organizes horseback riding tours throughout Kisatchie.
More Related Articles on PlanetWare.com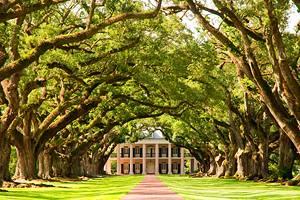 More in Louisiana: If you have a little more time to spend in Louisiana than just a weekend getaway, use our article on the Top-Rated Tourist Attractions in Louisiana to find more things to see and do.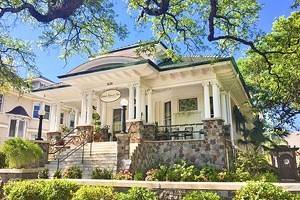 Where to Stay in New Orleans: If you are concentrating on New Orleans and looking for accommodation, have a read through our article on the Where to Stay in New Orleans: Best Areas & Hotels. This will help you narrow down where you want to base yourself and then help you select a hotel in your price range. Alternatively, if you know you are looking for a luxury resort to splash out in for a while, you can narrow your search by reading through our list of the best resorts in New Orleans.