15 Top-Rated Attractions & Things to Do in Mobile, AL
We may earn a commission from affiliate links ()
Set along the Gulf of Mexico at the head of Mobile Bay, Mobile is a historic city with beautiful old homes, lovely squares, and a vibrant cultural scene. This port city is also home to the USS Alabama Battleship Memorial Park, one of the main attractions along this stretch of coast.
Visitors can spend a day wandering the historic districts, visiting some of the museums, touring Fort Conde or the Gulf Coast Exploreum Science Center, or exploring the beaches and small towns along Mobile Bay. Mobile is also known for being the home of the oldest Mardi Gras celebrations in the country, a tradition it still celebrates in a lively fashion each year.
For ideas on places to visit, read through our list of the top attractions and things to do in Mobile, Alabama.
See also: Where to Stay in Mobile
1. Visit the USS Alabama Battleship Memorial Park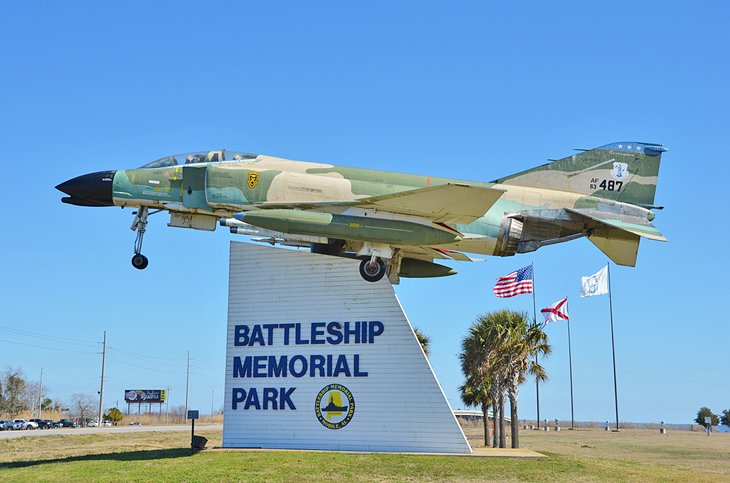 The USS Alabama, a BB-60 battleship nicknamed "the Mighty A," was launched in 1942 and decommissioned after WWII, becoming the centerpiece of Mobile's new veteran's memorial park in 1965. The decks, turrets, mess, berth compartments, bridge, wardroom, and captain's cabin of the USS Alabama are open for tours.
The USS Drum, a historic submarine, is also located in the memorial park and can be toured as well. The park also contains an impressive collection of aircraft including WWII-era craft like a Red-Tail P-51 and Boeing B-52 bomber, as well as a Cold-War A-12 Black Bird spy plane.
2. Explore Fort Conde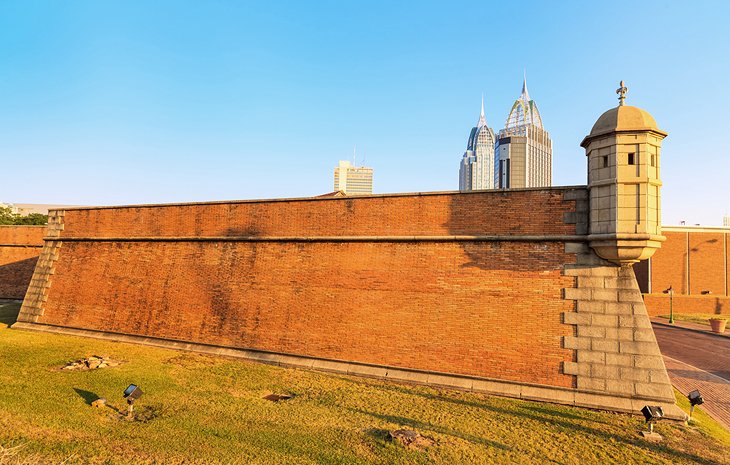 Built by the French on Mobile Bay in 1702 to defend their colony, the fort was rebuilt in 1723 after a flood, serving as the area's main defense point until 1820. By 1823, all of the fort's buildings had been removed to make way for what is now downtown Mobile, including present-day Theater Street, Government Boulevard, Royal Street, and more. Today's historic fort area covers about one-third of the original space, and was reconstructed using a 4/5 scale to incorporate as many of the features as possible.
3. Mobile Museum of Art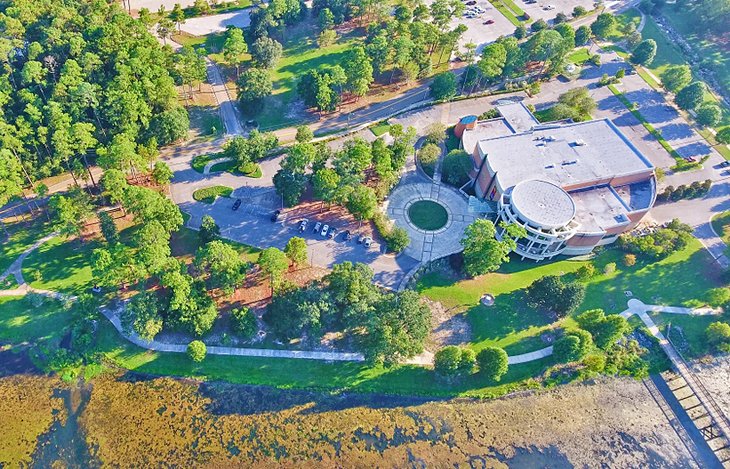 The Mobile Museum of Art is located in Mobile's Langan Park. This large facility is home to more than ten thousand works of art, which span a period of 2,000 years. The permanent collection, displayed on a rotating basis due to sheer numbers, features decorative arts, African art, contemporary crafts, and American art.
There is also a large Native American collection, which features both art and artifacts, including baskets, beadwork, textiles, and several early photographs and hand-colored lithographs. Temporary exhibits complement the permanent collection with an ever-changing program.
4. History Museum of Mobile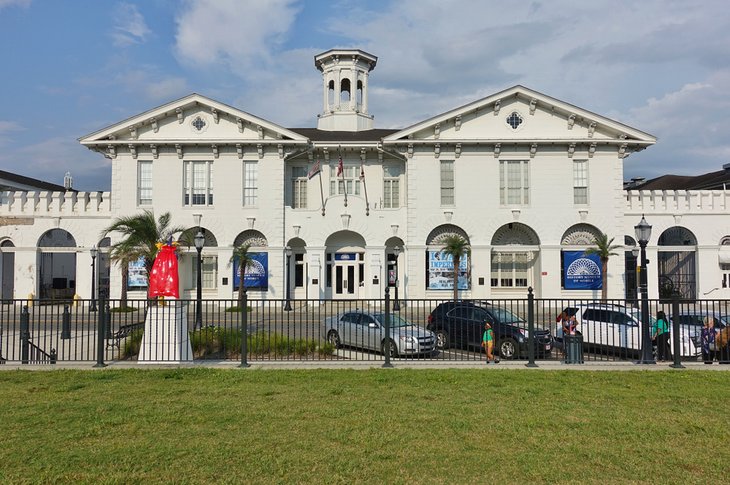 The History Museum of Mobile is home to artifacts and exhibits that explore Mobile's fascinating past. Looking back as far as the Native Americans who first inhabited the area, the main exhibits take a journey through time. Through educational displays and artifacts, visitors will learn about the Colonial Period, slavery and the Civil War, Mobile's important role in supporting WWII war efforts, and important events in the Civil Rights Movement. A centerpiece of this exhibit is the 5,000-pound Civil War cannon, which once stood on the decks of the Confederate ship CSS Alabama.
Another interesting collection is found in the Mary Jane Slayton Inge Gallery, which houses a variety of decorative arts and interesting artifacts from Old Mobile's high society, including china, sculptures, and fine crystal. The museum is also home to a unique collection of miniature houses, which depict some of Mobile and Alabama's finest mansions in detail.
5. Tour Bellingrath Gardens and Home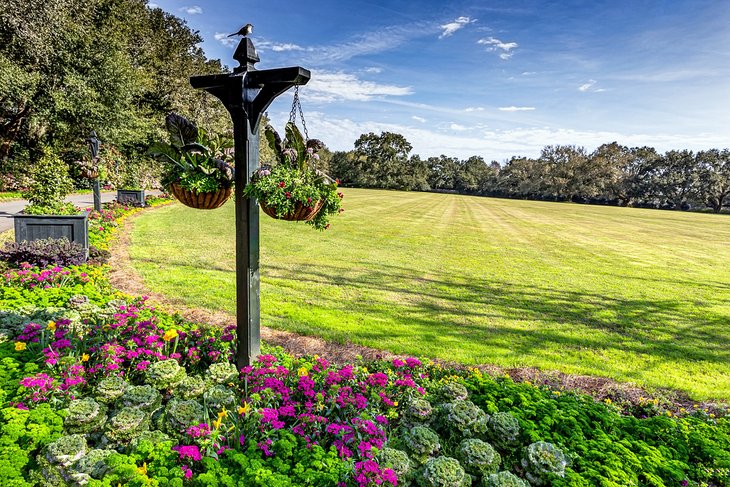 The Bellingrath estate occupies 16 acres just outside Mobile and is famous for its fine gardens and historic mansion. In January and February, visitors can enjoy over 400 varieties of camellia, the state flower, and March is a particularly popular time when the garden's 250,000 azaleas bloom. Another special sight are the Cascading Chrysanthemums, in bloom in November.
The 15-room museum home was built in 1935, designed by local architect George B. Rogers. The home's historical significance is in its repurposed elements, many building materials salvaged from other important structures. Features include a brick façade made from the birthplace of Alva Smith Vanderbilt Belmont and iron work from the Southern Hotel before its demolition.
6. GulfQuest National Maritime Museum of the Gulf of Mexico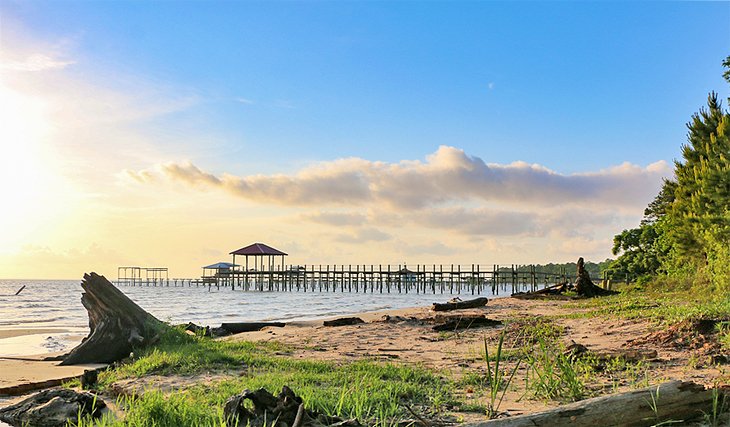 GulfQuest is home to a wide variety of interactive and educational exhibits, which explore every aspect of the Gulf of Mexico, from its natural habitats and weather to its importance as a maritime trade center. For the youngest visitors, the Junior Mariners play area encourages imagination with costumes, props, and gear that can be used to turn the kid-sized ship into any vessel. Kids will also enjoy the full-wall mural of Mobile Bay, which features movable sea life and boats, so they can create their own scene.
7. Gulf Coast Exploreum Science Center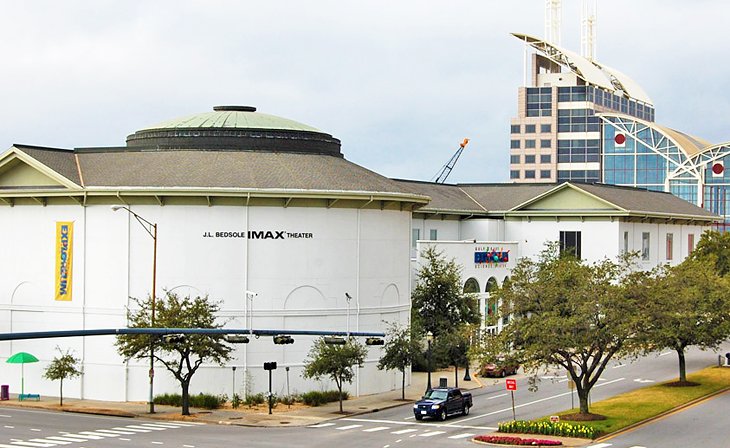 Gulf Coast Exploreum Science Center is home to interactive science exhibits and an IMAX theater aimed at entertaining and educating young minds. The museum's permanent exhibits cover a variety of topics, including an interactive life science lab where kids can conduct their own experiments while learning about biology and health.
8. Richards DAR House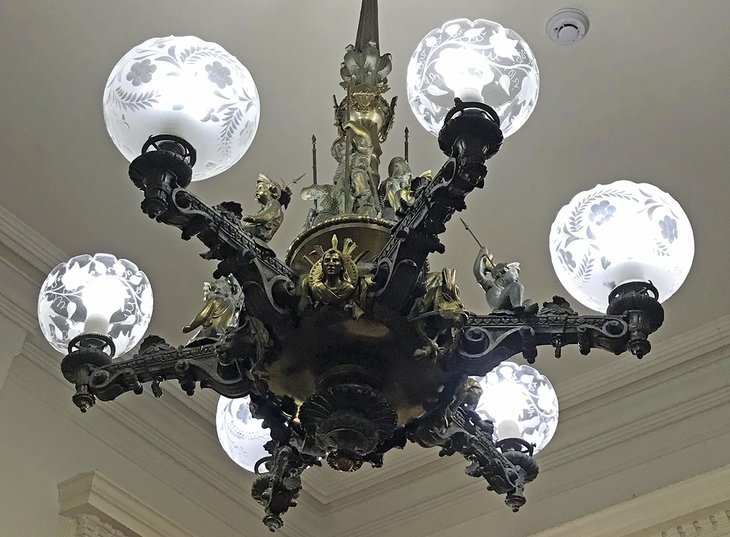 Located in the De Tonti Square Historic District, this Italianate townhouse was built in the 1860s for Captain Charles G. Richards and his wife Caroline. Later donated to the city of Mobile, the home was restored in 1973 by the local chapters of the Daughters of the American Revolution and turned into a museum house, which offers daily guided tours and hosts special events.
9. Experience Mardi Gras Celebrations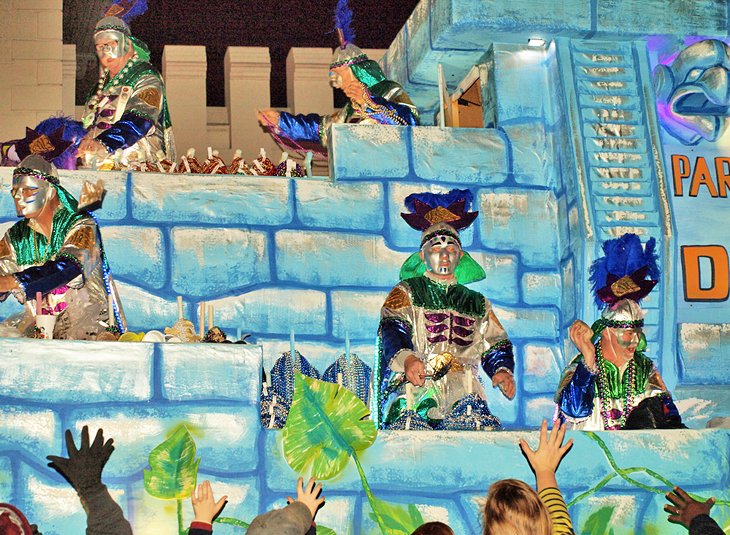 Mobile is the home of the oldest Mardi Gras celebration in the United States. Occurring in February, this event is lively and full of color with a traditional parade watched by onlookers who fill up the balconies of surrounding homes and businesses. Storefront windows are decorated, and beads can be found all over the city streets, balconies, and park trees for days after the actual event. Some of the city's premier social events include Mardi Gras masquerade balls. Mardi Gras, or Fat Tuesday, is the day before Ash Wednesday and the start of Lent.
10. Tour Mobile's Historic Districts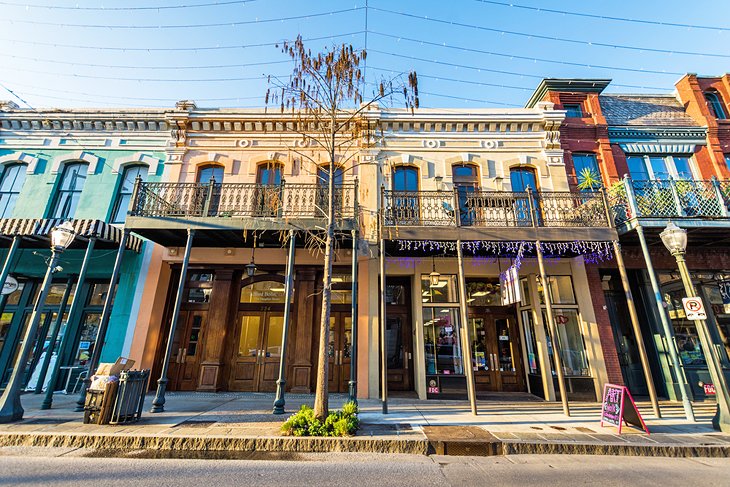 Visitors can gain a sense of Mobile's history by walking through the city's romantic historic districts. There are seven designated Historic Districts in Mobile, each with its own unique character and architectural heritage. Self-guided driving or walking tours are available to explore these interesting areas.
One of the highlights is the De Tonti Square in downtown Mobile, with historic buildings in Federal, Greek Revival, Italianate, Queen Anne, and Victorian architectural styles. The clay-brick townhouses and houses were built in the 1850s and 60s along brick sidewalks that still maintain the original gas lamps. The Oakley Garden District, which covers more than 60 blocks, is home to a mix of mansions and cottages characterized by varying architectural details from the 1830s to the 1930s.
The Old Dauphin Way District is west of Mobile. The older structures consist of simple frame cottages, while larger homes line Dauphin Street and Spring Hill Avenue. Church Street East is the most diverse of Mobile's historic districts. Many of the colonial French, Spanish, and English structures were destroyed by fire and then rebuilt in the late 19th century. Lower Dauphin Street is Mobile's only predominantly 19th-century commercial district with two- and three-story brick structures built in the Victorian, Federal, Italianate, and 20th-century Revival styles.
11. Cathedral Basilica of the Immaculate Conception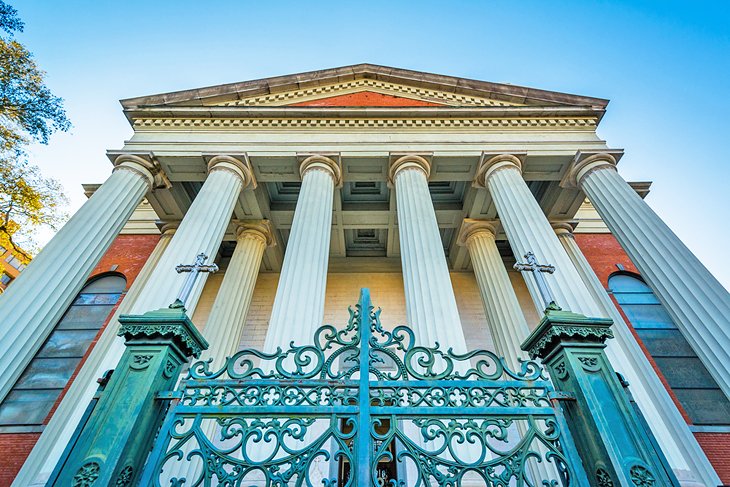 The Cathedral Basilica of the Immaculate Conception is a popular tourist attraction for both its history and architecture. Initially established in 1704, the church was moved to its current location in 1711 and has continued to grow ever since. Today, the cathedral is laid out in classic Roman Basilica style, featuring eight Roman Doric columns, a barrel vault ceiling, and two towers.
12. Oakleigh Period Museum House
The Oakleigh Historic Complex consists of three homes. Oakleigh, a Greek Revival mansion, was built in 1833 for James Roper, a prominent merchant. The house has been restored and furnished with antiques of the early Victorian, Empire, and Regency periods.
Next to the mansion is the Cox-Deasey House, a raised Creole cottage typical of Mobile's middle-class city dwellers in the 1850s. Built by a brick mason for his wife and 11 children, the displays cover the period up to and including WW II.
13. Condé-Charlotte Museum House and the Bragg-Mitchell Mansion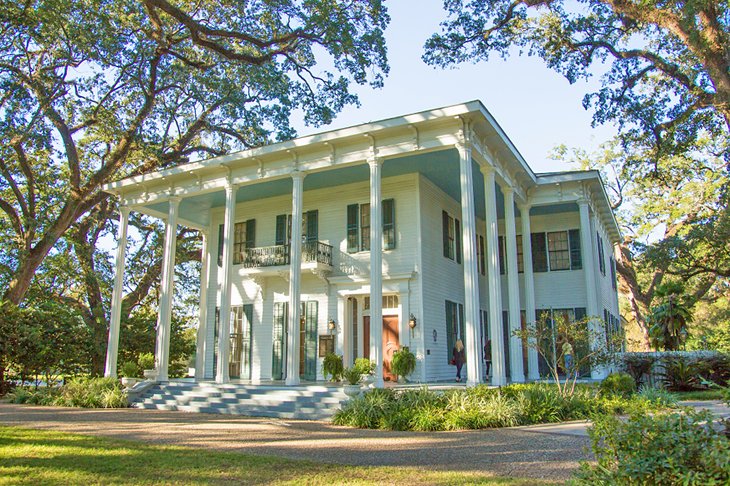 The Condé-Charlotte Museum House was built in 1822 to serve as the city's first official jail and courthouse, and later renovated and expanded to become the home of the Kirkbride family after its purchase in 1849.
Some rooms are furnished to reflect a period and a nationality, including French Empire, 18th-century English, American Federal, and the Confederate room. Other rooms are authentically restored to illustrate 19th-century life, including the oldest part of the home, its kitchen, which was the original jail structure. The museum also houses a collection of historic artifacts, including the 17th-century Chaudron silver tea set, Bohemian vases, and antique clocks. A walled Spanish garden, designed in an 18th-century plan, complements the house.
On Springhill Avenue, the Bragg-Mitchell Mansion is another fine historic attraction. This grand home was built in 1855 with entertaining in mind, featuring an elegant spiral staircase and double parlors. It is considered one of Mobile's finest antebellum mansions. It was designed in a combination of Greek Revival and Italianate architecture, and during its heyday, the home was the center of a lively social life in the thriving port of Mobile.
14. Spend a Day on Mobile Bay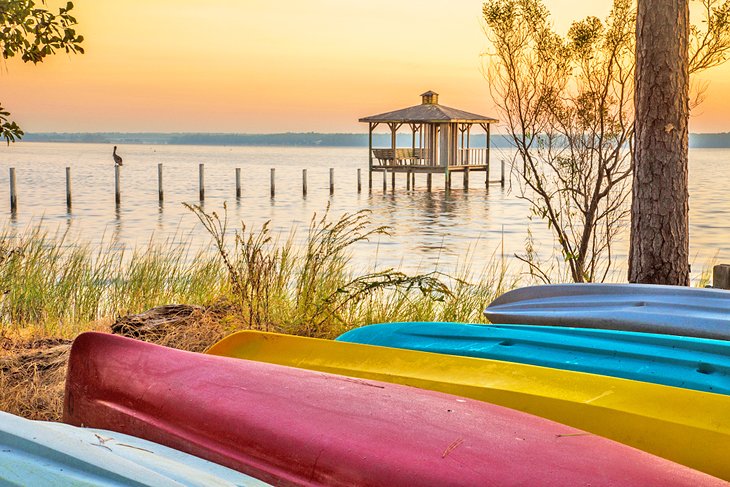 Mobile Bay, on the Gulf of Mexico, has a number of lovely beaches, small towns, and historic sites to explore. At the southwest entrance to Mobile Bay lies the Dauphin Island bird sanctuary, with Fort Gaines, which played a part in the Civil War. From here, visitors can take a ferry to the western point of Pleasure Island, home to Fort Morgan. In the southeastern corner of the bay are the fine bathing beaches of the Gulf Shores and Orange Beach.
Dauphin Island is home to an Audubon bird sanctuary, an important site for bird migration. On the island is a freshwater lake with opportunities for swimming, fishing, and relaxing on the beaches. Also located on Dauphin Island is Fort Gaines, a location that changed control from France to Great Britain and then to Spain, eventually stopping with the United States seizing control in 1813. Fort Gaines was completed in 1861 and played a major role in the Battle of Mobile Bay. The fort was used in WWI as an artillery garrison and in WWII as a US Coast Guard station.
Another point of interest is Fairhope, located high on the bluffs of the Eastern Shore of Mobile Bay. The town is ideal for outdoor activities such as biking, golfing, tennis, and fishing off the Fairhope Pier. The Weeks Bay National Estuarine Research Reserve near Fairhope is home to a diverse habitat with a variety of fish and crustaceans. This living laboratory educates visitors about estuaries. Guided walks or self-guided tours can be enjoyed on the elevated boardwalks, as well as on more than two miles of ground trails.
15. The Hank Aaron Childhood Home and Museum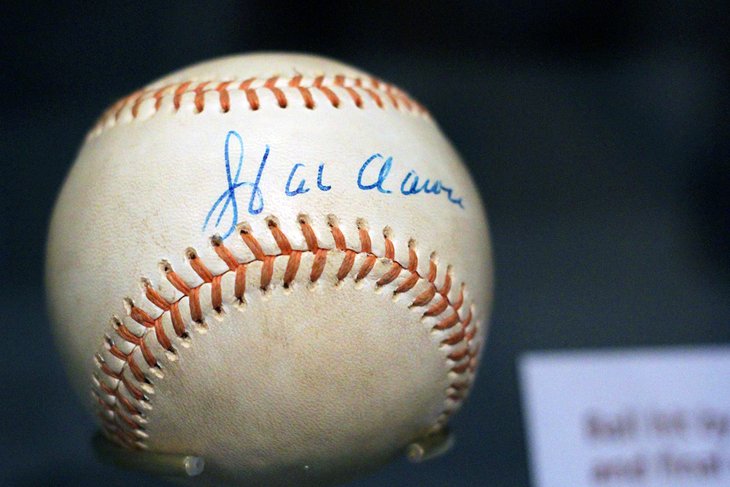 Built in 1942 by Hank's father Herbert Aaron, this home started with just three rooms before being expanded in 1962 and 1972. Hank's mother Estella lived in the home until 2007, and in 2008, it was moved to its current location at Hank Aaron Stadium, former home of the Mobile Bay Bears.
The home was restored, and in 2010 opened as a museum dedicated to the life and career of baseball legend"Hammerin' Hank." The museum includes exhibits on his family and childhood, as well as memorabilia, including his 1957 Golden Glove award.
Where to Stay in Mobile for Sightseeing
Mobile has a lovely downtown area with many revitalized historic buildings. This is also where many of the city's major attractions, including Fort Conde, the Science Center, and several museums are located. For visitors looking to explore the city, this is the best place to stay. Below are some highly rated hotels in good locations:
More Related Articles on PlanetWare.com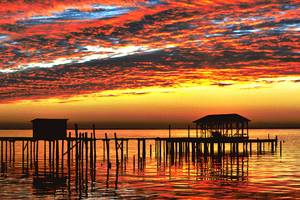 Exploring Alabama: Many of Alabama's top attractions can be found in its largest cities, Montgomery and Birmingham. In a little under three hours' drive from Mobile, tourists can find a wide range of things to do and places to visit in Montgomery, including important civil rights landmarks, and in Birmingham, most notable for the Birmingham Civil Rights Institute and historic Civil Rights District.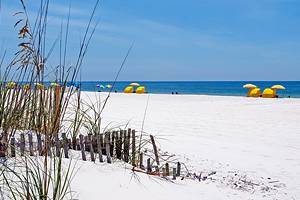 The Gulf Coast: Located on the Gulf Coast, Mobile is convenient to several seaside tourist destinations. Many of Alabama's best resorts are in the Gulf Shores and cater to families, couples, and everyone else. Just an hour by car from Mobile, the Gulf Shores is known for its white-sand beaches, where you'll find everything from sunbathing to zipline tours over the water.
Pensacola, Florida is also about an hour from Mobile, making it a perfect destination for a day trip to the beach. In addition to its white-sand beaches and laid-back atmosphere, Pensacola has a variety of historic attractions, museums, and things to do for kids.