11 Top-Rated Beaches in Alabama
Author Anietra Hamper always loves a reason to head back to the beaches in Alabama, many of which boast some of the most beautiful views and fun experiences on the Gulf Coast waters.
There's no doubt that the Alabama Gulf Shores is a show-stealer when it comes to beaches. The pristine white sands, family-friendly atmosphere, wildlife, and nearly perfect weather most months of the year make it a top beach destination in the United States, and visiting the beaches is one of the top things to do here.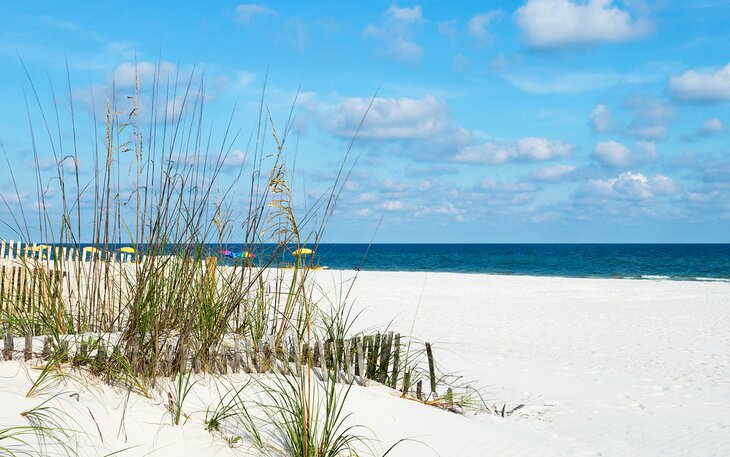 While it often competes with the neighboring beaches of Florida, Alabama can hold its own with vacationers looking for quality sand and surf. Alabama beaches are famous for what the locals describe as "sugar-white" sands. The tiny granules that massage your toes as you stroll the shore are as comfortable for walking as they are for dozing off in the sun on your beach towel.
The southern waters are great for swimming, but the beach activities here extend to all forms of water sports, from surfing and parasailing to diving and Jet Ski dolphin tours.
There is no shortage of beautiful resorts in Alabama, so you can extend your beach vacation with a golf or spa excursion when you want a little time out of the sun. Before you plan your sand-and-sea vacation, check out our list of the best beaches in Alabama.
1. Gulf Place, Main Public Beach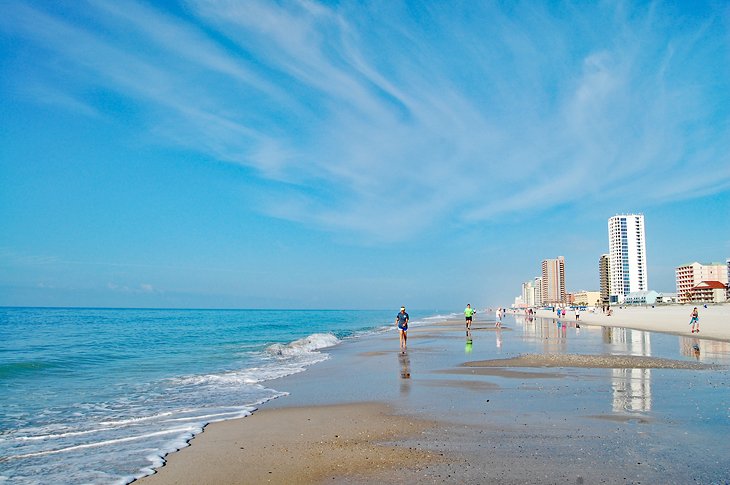 The main public beach in the Gulf Shores, called Gulf Place, is favored by tourists and locals because of its easy access to the water and bustle of seaside activity. Walk the soft sand at sunrise to watch the local wildlife enjoying the changing tide before the sun worshipers head out for the day.
This beach offers many public access points, walking paths, a green space, volleyball courts, wheelchair-accessible mats, restrooms, and an amphitheater. The beach is clean and it's the meeting point for many water excursions in the area, like Jet Ski dolphin tours.
If you are new to the area, the main public beach is a great first stop because there are plenty of amenities and plenty of free and paid parking.
The environmentally conscious vacationer will enjoy Alabama's beaches not just because they are litter-free but for the ongoing commitment by beach communities to promote sustainable travel. The Orange Beach and Gulf Shores communities' Leave Only Footprints campaign has measures in place like no glass containers on the beaches to protect the natural habitats, fish, and wildlife, which make the area so appealing for a sandy vacation.
Address: 101 Gulf Shores Pkwy, Gulf Shores, Alabama
Accommodation: Top-Rated Resorts in Gulf Shores, AL
2. Gulf State Park Beach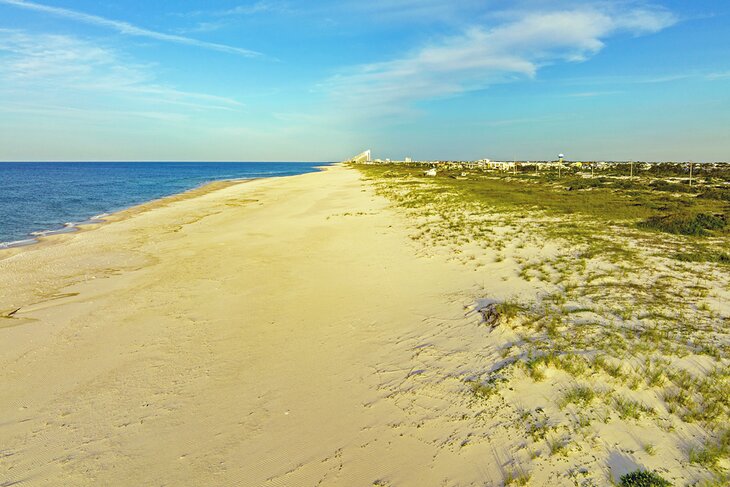 One of the best beach experiences in Alabama is at Gulf State Park Beach, in part because of the stunning white sand and blue ocean waters that create a tranquil ambience, but also because of the state park that surrounds it.
This is a great beach for families because there are many kid-friendly things on-site, like a splash pad, nature center, beach pavilion, and picnic tables.
This beach is over two miles long, with the Gulf State Park Fishing and Education Pier as the centerpiece. You will see local fisherman heading out onto the pier early in the day to target many of the local species. Be sure to stop in to the pier restaurant for a bite to eat. If you want to extend your day, take advantage of the many trails and educational opportunities available at the state park.
Address: 20800 E Beach Blvd, Gulf Shores, Alabama
3. Alabama Point Beach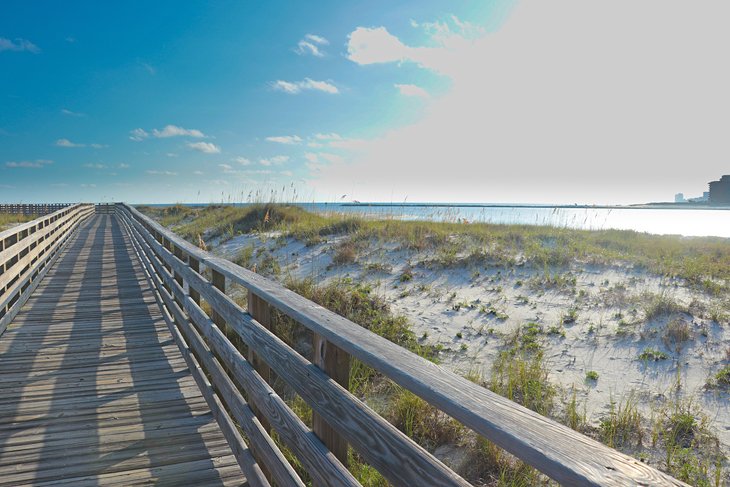 Alabama Point Beach, located in Orange Beach, has more than a mile of white-sand beach access and is near the Gulf State Park. Since the beach is located near the Perdido Pass Bridge, you have front-row views of boat traffic passing through the Perdido Pass, which is a bonus for photographers.
One of the nice features of Alabama Point Beach is how wide it is, with more than 6,000 feet of beach area to scout a spot for the day. Pack a lunch to enjoy the shade at one of the picnic areas. Besides relaxation and swimming time, be sure to explore the sand dunes at the beach and boardwalks.
The beach has picnic areas, a boardwalk, restrooms, and showers. Alabama Point is usually not crowded, and the water has mild waves, so it is ideal for families and kids. For an added treat, keep your eyes peeled for dolphins that sometimes swim through the area. The beach requires paid parking.
Address: 27853 Perdido Beach Blvd, Orange Beach, Alabama
4. Fort Morgan Public Beach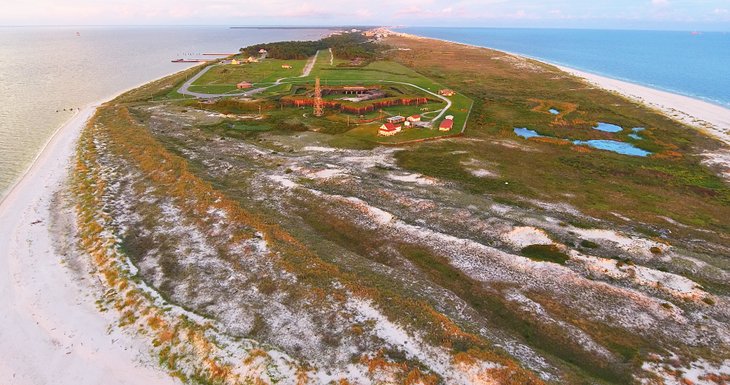 One of the most unique beaches in Alabama is the small, quaint peninsula of Fort Morgan. The beach surrounds the historic fort, which was an active military site during several wars, including the Civil War. It is more remote than other beaches, about 20 miles outside of the downtown Gulf Shores area, but it is well worth the scenic drive and secluded beach.
Though Fort Morgan beach is not really used as a public beach, it can be accessed by paying the entry fee to the Fort complex. This can make for a full day by combining some historic sightseeing and time by the water. The quiet beach is a nice alternative to some of the more populated public beaches and is located less than an hour from the Gulf Shores.
Much of the area is part of the Bon Secour National Wildlife Refuge, so you will likely spot many species of birds and other animals.
Address: Fort Morgan Road (AL-180), Gulf Shores, Alabama
5. West Beach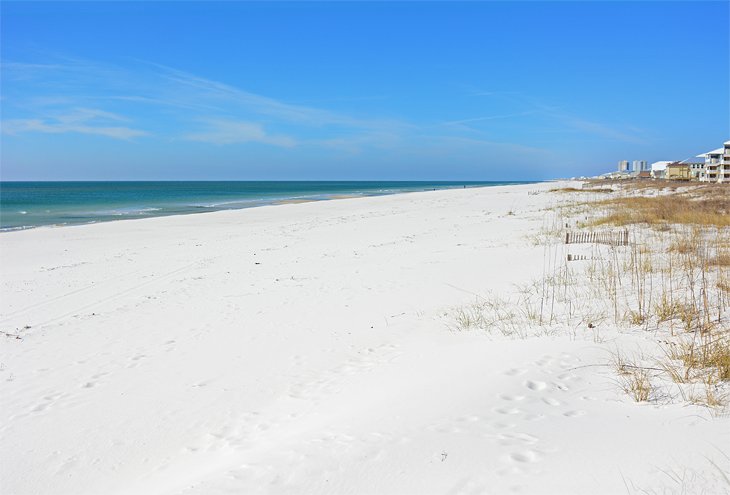 If you are looking for fewer crowds but the Gulf Shores beach experience, West Beach is where you want to set your flip flops and towel. It is a section of Gulf Shores comprised mostly of beach houses that you can rent or just admire from the waterfront. There are also plenty of restaurants to enjoy lunch by the water or a romantic sunset dinner.
This beach has a number of nearby attractions, including the Gulf State Park and Waterville USA water park. The closest lodging options for West Beach are private vacation homes, or you can stay in one of the resorts along the Gulf Shores and drive to West Beach for the day.
Address: 1649 W Beach Blvd, Gulf Shores, Alabama
6. Fairhope Beach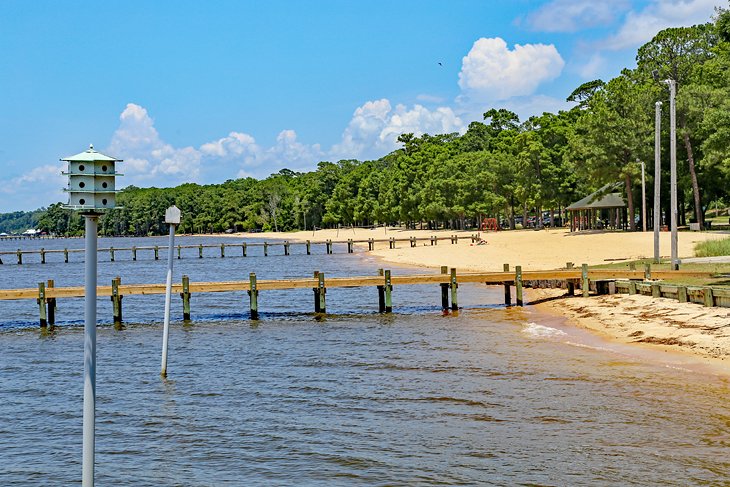 If you are looking for an active beach scene and more things to do besides lying surfside, Fairhope Beach, located just off Mobile Bay, needs to be on your itinerary. The ambience of Fairhope beach and the community that surrounds it is relaxing.

The minimal waves make Fairhope Beach a casual place to swim. There is no shortage of spots for a picnic and to find shade midday.
The park near the beach has an entrance fee, but it is well worth it to enjoy the restaurants, shops, gardens, and the Fairhope Pier. Fairhope is a pedestrian-friendly town, with small boutiques and eateries. There are many walking paths and nature trails around if you do not want to spend the full day at the beach.
For the ultimate getaway to Fairhope Beach, try the Grand Hotel Marriott Resort, Golf Club & Spa in Point Clear, known for its stunning views, rich history, and luxury accommodations.
Address: 4 N Beach Road, Fairhope, Alabama
Read More: Top-Rated Small Towns in Alabama
7. Romar Beach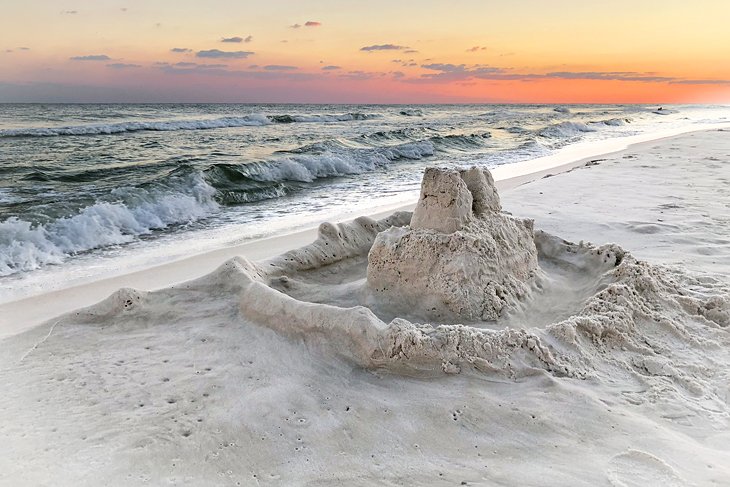 Romar Beach is an iconic beach scene by day with sandcastles, kites, and volleyball, and one of the best locations to observe the stunning Gulf Shores sunsets.
Romar Beach requires paid parking, but it has easy access and is a perfect location if you are just looking for a post-dinner beach stroll or an afternoon picnic by the water. The beach is small, but that is why many people like it.
Address: 24522 Perdido Beach Blvd, Orange Beach, Alabama
8. Cotton Bayou Beach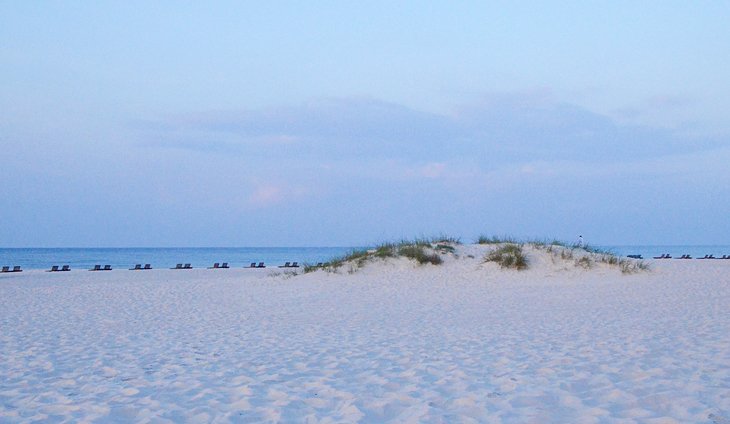 The Cotton Bayou Beach is a small stretch of beach nestled between two boardwalks, two highways, and condominiums. This hidden retreat has the same pure-white sand as other Orange Beach waterfront locations but it is not as busy as some public beaches.
There are outdoor recreation opportunities and plenty of nearby restaurants for a beach snack. You might want to plan your visit around a waterfront dinner and pre-dinner shopping at the new Coastal Orange Beach. This beachfront restaurant features local seafood, and the adjacent large retail complex has more than 3,000 square feet of beach-inspired clothing.
This beach is convenient for its access to restrooms and showers on-site. It does require paid parking.
Address: 26026 Perdido Beach Blvd, Orange Beach, Alabama
9. Dauphin Island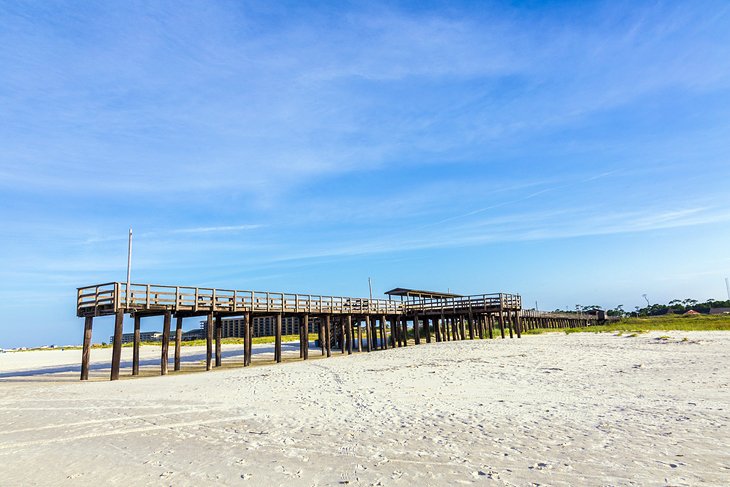 The public beach on Dauphin Island is worth the getaway from the popular beach scenes in the Orange Beach and Gulf Shores areas. The island is 14 miles long, with long stretches of sand and ocean surf. The beach is pet-friendly and safe for families.
If you want to add in some education with your swim, you can take a peek at the 19th-century Fort Gaines located on the island, which still features original cannons. Bike and kayak rentals are available, or you can take a walk on one of the trails in the area near the beach.
You can reach Dauphin Island by ferry from the Gulf Shores or Orange Beach by taking the Mobile Bay Ferry from Fort Morgan over to Dauphin Island (weather dependent). You can drive to Dauphin Island from Mobile by heading south and accessing the island bridge.
Where to Stay: Your best bet for lodging is to stay in Mobile or in one of the resorts in Gulf Shores for convenient access to Dauphin Island.
Address: 109 Bienville Blvd, Dauphin Island, Alabama
10. Robinson Island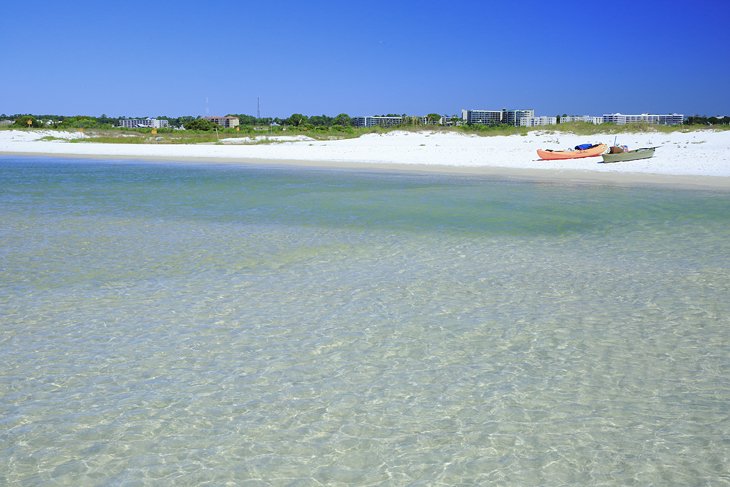 One of the best-known secrets of the Orange Beach area is Robinson Island, which attracts both swimmers and boaters. Robinson Island is one of three small sandbar islands located north of the Perdido Pass bridge. These islands are popular with locals and are only accessible by boat.
The islands, which include Bird and Walker islands, are all shorebird nesting habitats, so visitors are strongly encouraged to stay in the beach areas and not venture inland in order to protect the habitat. Other visitor restrictions include no pets on the island.
Because the habitat around Robinson Island is protected, it is a small piece of paradise tucked away in the back bays. The scenery is picturesque, and the city is protecting the natural flora and fauna around the water.
You can get to Robinson Island by taking an island cruise that includes a stop there for swimming. Another option is to book a kayak tour from Coastal Kayaks, which offers a day trip to the islands.
11. Little Lagoon Pass
Little Lagoon Pass in Gulf Shores is a family-friendly public beach access area. It is located across the street from where Little Lagoon empties into the Gulf. It is a good option if you are looking for a place that offers both beach access and amenities like public parking, restrooms, and outdoor showers.
The shallower water is great for families with small children. There is also a small public park at Little Lagoon Pass, where you can find a shady spot to enjoy a packed lunch. The area is close to other attractions and a fishing pier, so you can make it a full beach day in one location.
Address: 1660 West Beach Blvd Gulf Shores, Alabama
Map of Beaches in Alabama