15 Top-Rated Things to Do in Temple, TX
Temple was named after Santa Fe Railroad official B.M. Temple, and in its early days, the town was run by tough local characters stereotypical of the Old West.
If you look closely at the saved facades of the old downtown buildings and imagine the pavement and modern aspects gone, you can almost picture what life in the city looked like more than a century ago.
Today, Temple embraces its railroad history by integrating it with the modern expectations of those who visit the city. The parallel is a nice balance when it comes to visiting places like the Temple Railroad and Heritage Museum and the Czech Heritage Museum and Genealogy Center. You can still find the rustic flare of old Temple in places like Bo's Barn Dance Hall, one of the oldest traditional dance halls still standing in Central Texas.

As you walk through the downtown streets, historic Temple comes through in the markers around the municipal building and in the details of the renovated buildings. It is easy to spend a lot of time outdoors in Temple, whether you want to stroll the downtown streets to check out local antique stores or soak up the more natural surroundings at places like Belton Lake or Friar's Creek Trail, which has paths that wind through local parks, residential neighborhoods, and along the creek.
As you plan your visit here, review our list of the top attractions and things to do in Temple, TX.
1. Temple Railroad and Heritage Museum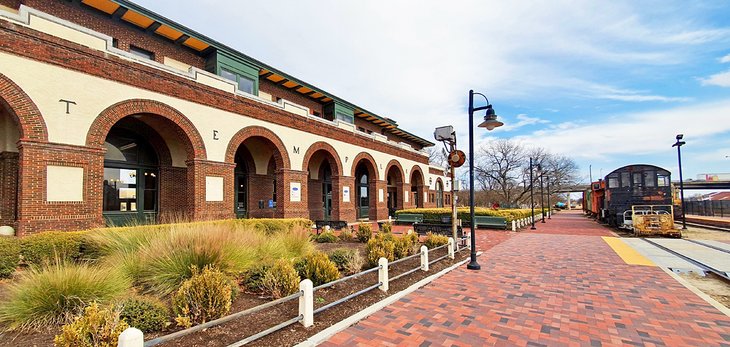 The Temple Railroad and Heritage Museum should be one of the first places to visit in Temple. The museum is located inside the historic Santa Fe train depot downtown. Walk around the outside of the museum to see the stunning details of the depot building and the historic train cars that sit behind it.
The depot is a museum but also the ticket office to an active Amtrak station. Inside the museum, you can tour the exhibits to learn more about Temple's history as a railroad town.
There are several permanent exhibits and a regular rotation of changing exhibitions, so no two visits will be the same. There are regular events held at the depot, and educational programs that you can take part in if you are a train enthusiast.

Address: 315 W. Ave B Temple, Texas
2. Czech Heritage Museum and Genealogy Center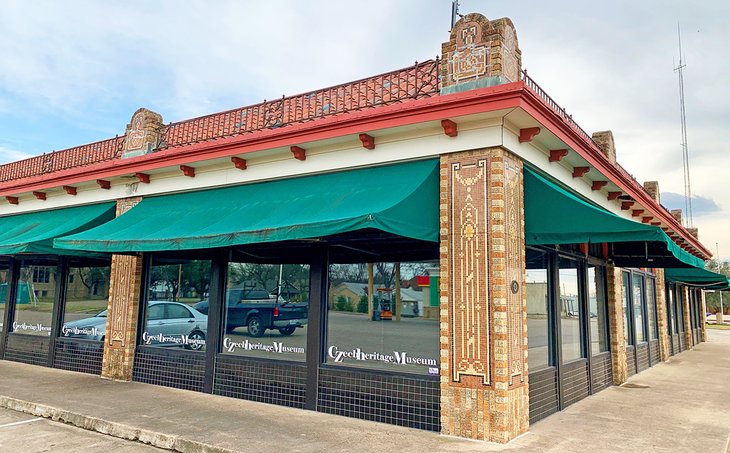 Texas has a large Czech immigrant population, and the Czech Heritage Museum and Genealogy Center is a fantastic resource to learn more about how this heritage influences life today in Temple, and in the state. It is a small museum that showcases various stories of Czech natives through history.
You can find artifacts and exhibits that show the history of Czech culture, and details about the immigrants who inhabited Texas between 1850 and the early 1900s. The museum is housed inside an old storefront in Temple's business district with a mosaic tile design dating back to 1931.
The Czech Heritage Museum also serves as a genealogy center that can be utilized to uncover family histories related to Bohemians, Slovaks, Wends, and Texas German immigrants.
Address: 119 W. French Avenue, Temple, Texas
Official site: https://czechheritagemuseum.org/
3. Miller Springs Park & Nature Center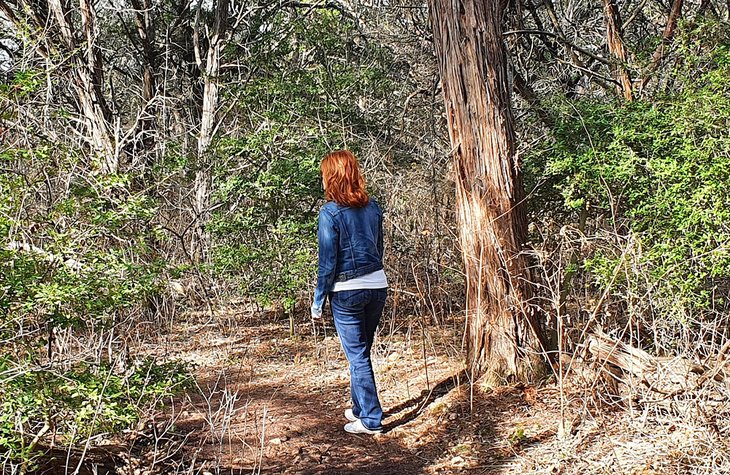 One of the most charming side stops in Temple is at the Miller Springs Park and Nature Center. The center is actually an area of space encompassing walking trails, overlooks, waterfalls, and wildlife viewing. There are several trails that wind through the park and benches in scenic spots where you can sit and enjoy the quiet sounds of nature.
The 260-acre nature preserve is located close to the Lake Belton Dam. It is free to visit and an easy place to meander through the woods and enjoy the natural side of Temple. It is an undeveloped section of land and nature preserve.
Address: 1473 Farm-to-Market Road, Belton, Texas
4. Ralph Sn and Sunny Wilson House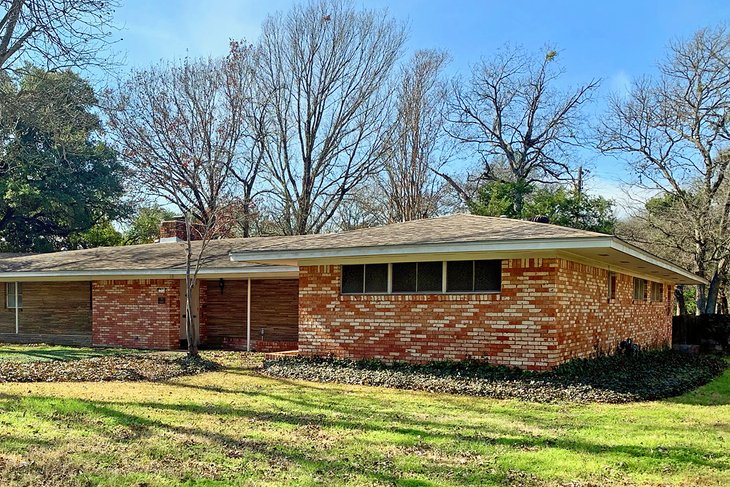 Anyone interested in architecture and home building should visit the Ralph Sn and Sunny Wilson House. It is tucked away in a quiet Temple neighborhood, but this hidden treasure holds a vast history related to the laminates used in homes in the 1950s.
The home is on the National Register of Historic Places. From the outside, the brick home looks like the others on the residential street. Inside, it has an ornate display of 50s laminate, showcasing the ways it was used in homes, usually on countertops and tables.
The home was built by Ralph Wilson Sr. who founded Wilsonart. The home served as a showroom for his laminate company to show how it could be used, and he also tested the durability of the products there by putting them into practical use. The house is open for tours by appointment.
Address: 1714 S. 61st Street, Temple, Texas
Official site: https://www.wilsonart.com/corporate/wilson-house
5. Friars Creek Trail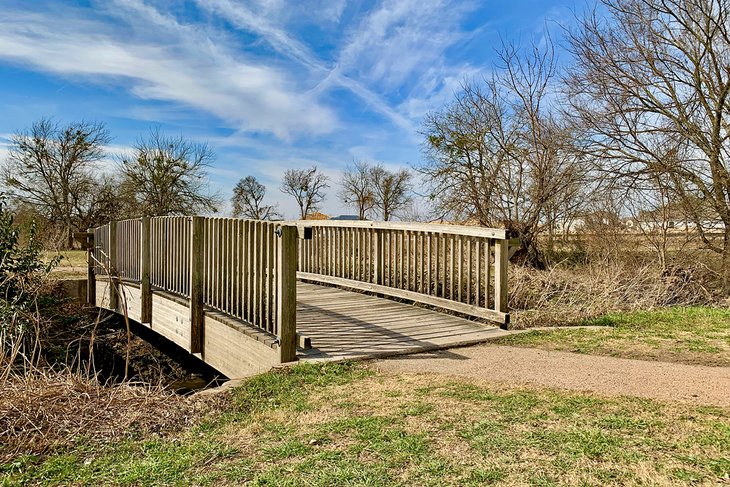 You will find a number of walking paths in Temple but one of the nicest is Friars Creek Trail. It winds through parks, shaded green space, residential neighborhoods, and along the creek. The paved trail is 2.25 miles in its entirety and divides into several park loops.
You can catch Friars Creek Trail in South Temple Park where there is plenty of parking. The path takes you past several playgrounds and picnic areas if you decide you want to detour and spend some time enjoying the other sites along the way. There is also a family water park nearby if you want to make an afternoon out of this section of Temple.

Address: 5000 S 5th Street, Temple, Texas
6. Sammons Golf Course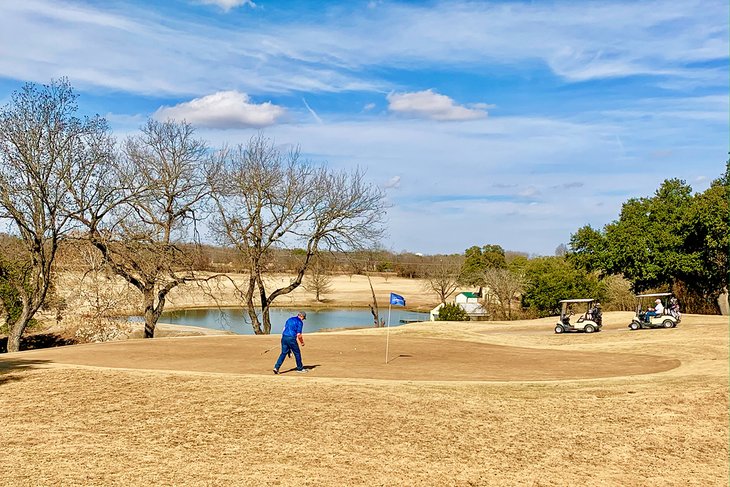 If you are looking for some things to do outdoors, the rolling hills in Temple make for a challenging golf course at Sammons Golf Course. While the hills test even the most skilled golfer, it is the many hidden water features throughout the course that make it one of the top reasons that local and out-of-town golfers visit.
The 18-hole public golf course is scenic, with tall pecan trees, resident ducks, and beautiful ponds and streams. The course winds through two large sections divided by a railroad bridge. It is open year-round with a driving range, putting green, and a pitching/chipping area.
The municipal golf course also has a pro shop and a restaurant where you can enjoy a hearty Texas burger after a day on the golf course.
Address: 2727 W. Adams Avenue, Temple, Texas
7. Belton Lake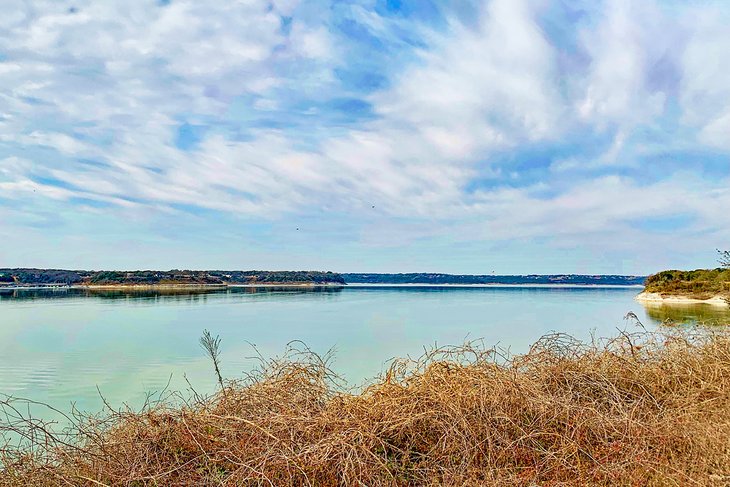 Belton Lake is one of the must-see spots while you are visiting Temple. It is a central place for outdoor recreation and water activities. It is located just west of Temple and is a popular lake for people coming from all around Central Texas.
Belton Lake has spectacular views and offers some of the best fishing in the region. There are good populations of largemouth and smallmouth bass and white and hybrid bass. It is also a good lake to fish for channel and flathead catfish.
Boating is also popular at Belton Lake, but you can also kayak and paddleboard to explore the small coves, giving you an up-close view of the wildlife and surrounding scenery.
8. Take in a Performance of the Temple Symphony Orchestra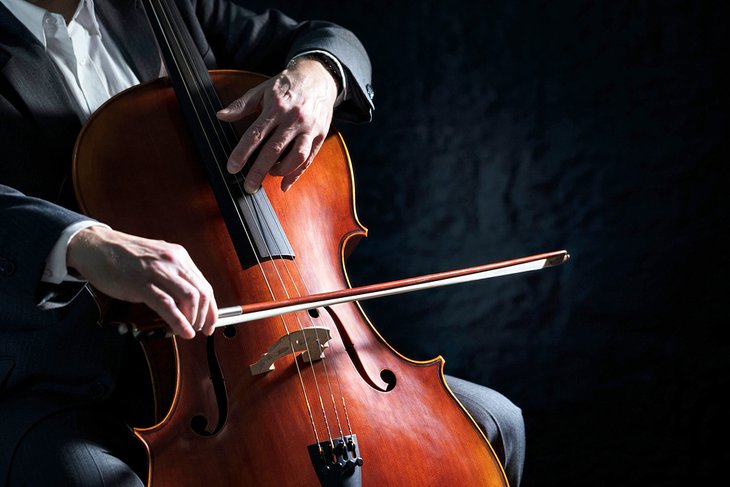 The city of Temple has a rich history in the arts, which is why catching a performance of the Temple Symphony Orchestra is one way to enhance your visit. While the symphony often performs at the Mary Alice Marshall Performing Arts Center at Temple College, they also perform in various other venues in the city.
The Temple Symphony Orchestra is comprised of up to 90 professional musicians from the Central Texas region. Concert themes change throughout the year. Review the website before your trip to Temple to see upcoming performances and ticket information.

Address: 2600 South 1st Street, Temple, Texas
Official site: https://templesymphony.org/
9. Listen to Live Country Music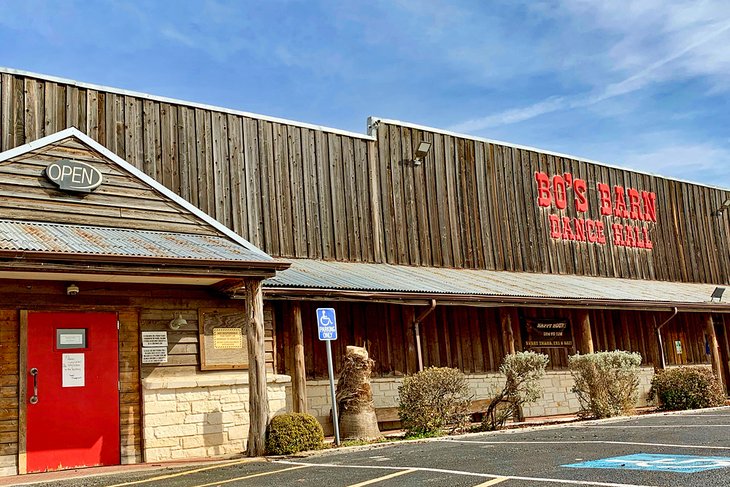 If you are looking for an authentic Texas dance hall experience and want to listen to live country music then you can spend an evening or two at Bo's Barn Dance Hall. It is one of the last remaining traditional dance halls left in Central Texas.
Bo's features live country music every Friday and Saturday night, with new bands coming through regularly. The dance hall has been around since 1981, and it has a long history in Temple having previously also been a bingo hall and indoor archery range.
The "Bo" who started the dance hall was Horace Milton "Bo" Hallmark who died in 1997. Bo originally opened the hall with the encouragement of friends to have a local gathering place. Bo's memory is still honored here today.
Address: 4984 W FM93, Temple, Texas
Official site: http://www.bosbarndancehall.com/
10. Temple Civic Theatre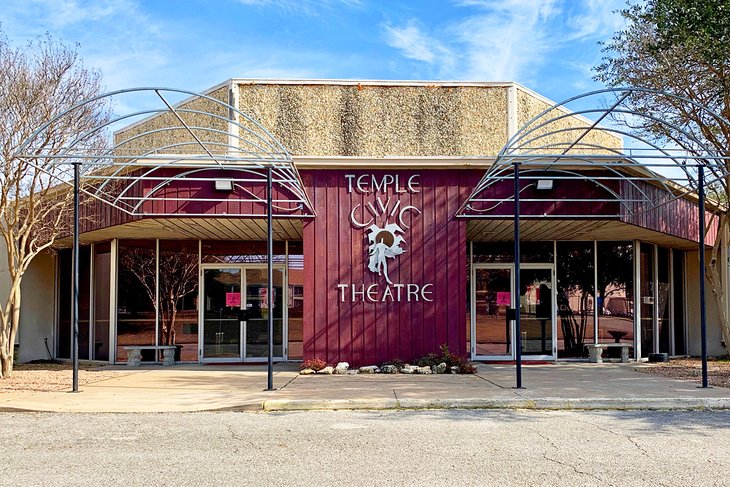 A small artistic gem in Temple is the Temple Civic Theatre. It has performances throughout the year put on by a passionate group of artists who are revitalizing the arts in the city. The 228-seat auditorium is an intimate atmosphere for audiences, who can connect more closely with the entertainment in the small production house.
Temple once had a thriving arts scene in the 1920s and 30s, but things dried up over the years, until the performing arts scene was rejuvenated in the 1960s by a group of local citizens. The Temple Civic Theatre evolved out of that effort and maintains a regular series roster. You can check the performance schedule ahead of your trip. There is also a youth program that showcases performances by young actors.
Address: 2413 South 13th Street, Temple, Texas
Official site: https://templecivictheatre.com/
11. Bell County Museum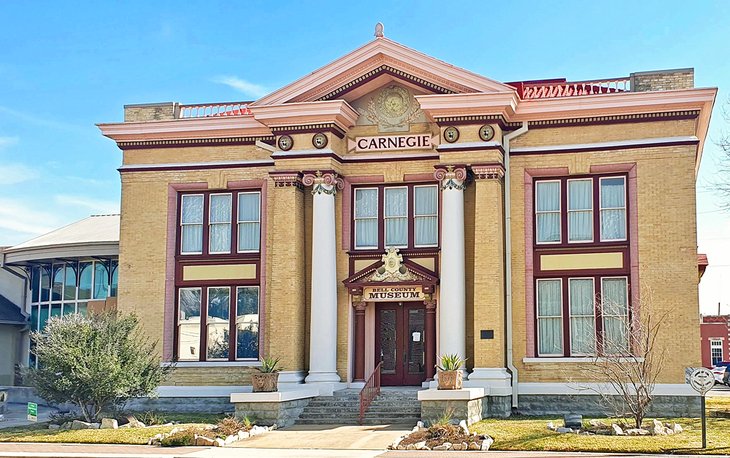 Just down the road from Temple is the stunning Bell County Museum, which features exhibits related to local heritage. The museum houses permanent collections like the C.O. Buckellew Miniature Collection, which is a small-sized version of homes and properties in Bell County. There is an impressive lithics exhibit, with artifacts found by collectors.
The museum has exhibits that show attire from the 18-century, historical photos, arts, and artifacts.
The Bell County Museum is located in the beautiful Carnegie Library Building. It was built in 1904 and is worth walking around to observe the details and history of the building itself.
Address: 201 N. Main Street, Belton, Texas
Official site: https://www.bellcountymuseum.org/
12. Feel the Arts Vibe at That Art Place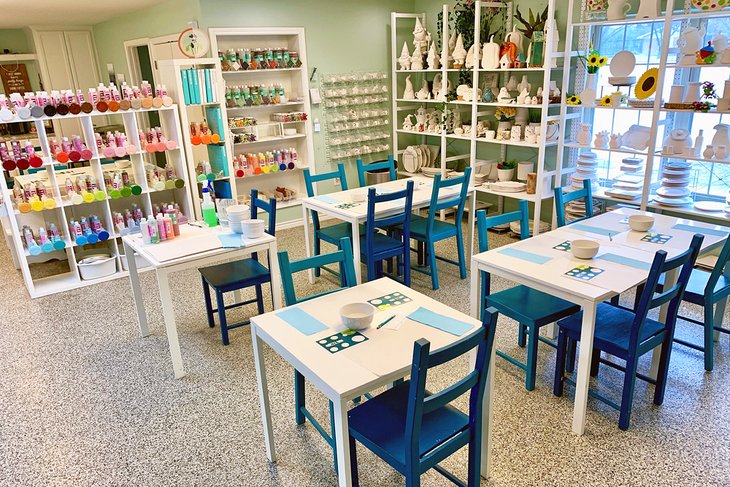 If you want to get creative and make a unique souvenir during your time in Temple, plan a visit to That Art Place. The walk-in creative arts studio is where you can hand-paint ceramic art or fused glass items.
The art studio is set up like a classroom. Once you select your item to make, an instructor works with you to teach you how to paint, glaze, and customize it. You can select from places, mugs, plaques, and other pottery pieces. Once you finish your session, the piece will be fired and ready to pick up within a few days.
This is a nice art studio near Temple that accommodates visitors to the city and even offers some options for same-day art projects. This is a fun option for couples and families who are looking for something different to do and have a nice personalized souvenir to take home.
Address: 108 Lake Road, Belton, Texas
Official site: https://www.thatartplacestudio.com/
13. The Book Cellar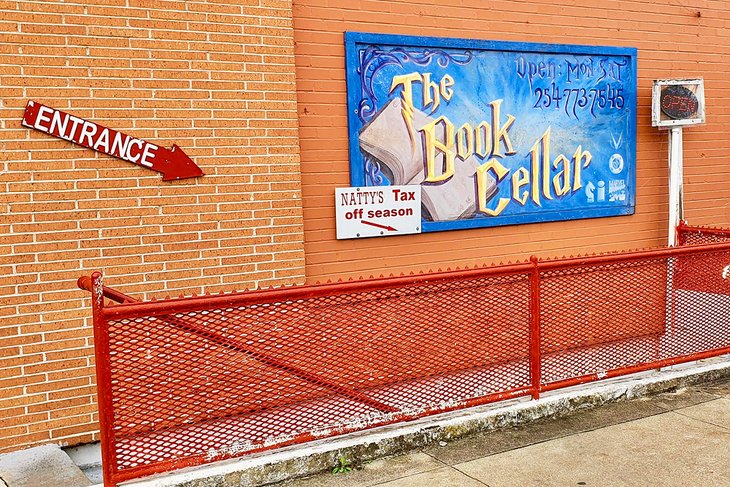 One of the eye-catching stores in downtown Temple is The Book Cellar. As the name indicates, the bookstore is located below ground and has a vast variety of books, from comics to collectibles. The store has been a downtown Temple staple for several decades.
Plan on spending more time than you think in the Book Cellar because there's more than just books. There is a great collection of random memorabilia, from WWII items to signed sports jerseys.
Address: 3 W Central Ave, Temple, Texas
14. Explore Downtown Temple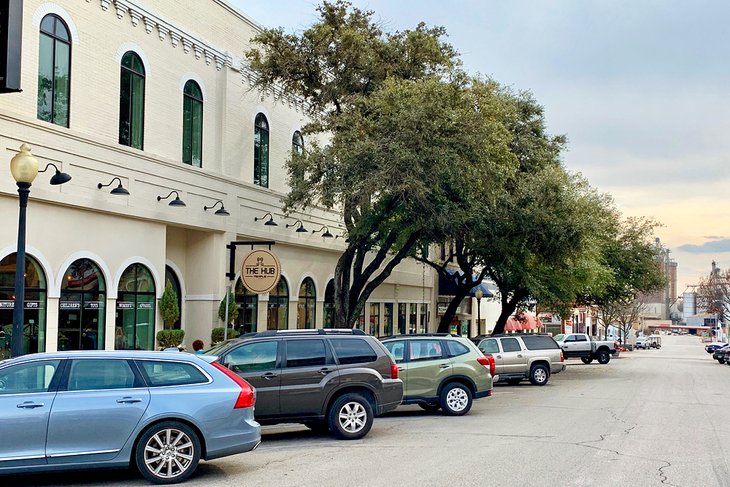 You should spend part of a day parking your car in downtown Temple and walking the streets to see how the historical buildings have been transformed into new spaces. The Hub is a shopping staple that has several sections of items sold by local vendors. Items include everything from jewelry and clothing to novelty gifts and gourmet snacks.
There are several antique stores downtown that have rotating goods from local estate sales. While you are walking around downtown, take note of the historical markers around the town center, and the artist-created "hidden trains." See if you can find the five art trains that decorate the downtown street in various locations and celebrate the town's railroad history.
Temple, TX - Climate Chart
Average minimum and maximum temperatures for Temple, TX in °C
J
F
M
A
M
J
J
A
S
O
N
D

14

2

17

4

21

8

25

12

29

17

32

21

35

22

35

22

32

19

27

13

20

7

15

3

PlanetWare.com
Average monthly precipitation totals for Temple, TX in mm.

49

69

67

71

116

94

46

56

102

95

77

68

Average monthly snowfall totals for Temple, TX in cm.

1

3

0

0

0

0

0

0

0

0

0

0
Average minimum and maximum temperatures for Temple, TX in °F
J
F
M
A
M
J
J
A
S
O
N
D

57

35

62

39

70

46

77

54

84

63

90

70

95

72

95

72

89

66

80

56

68

45

59

38

PlanetWare.com
Average monthly precipitation totals for Temple, TX in inches.

1.9

2.7

2.7

2.8

4.6

3.7

1.8

2.2

4.0

3.7

3.0

2.7

Average monthly snowfall totals for Temple, TX in inches.

0.5

1.2

0

0

0

0

0

0

0

0

0

0