11 Best Lakes in Dallas
Several bodies of water surround the Dallas Fort Worth area. Many of these massive lakes are less than an hour's drive away, and each offers a vital getaway from the city. Whether for water sports, fishing, or lakeside hiking trails, these lakes add to the appeal of living or visiting North Texas.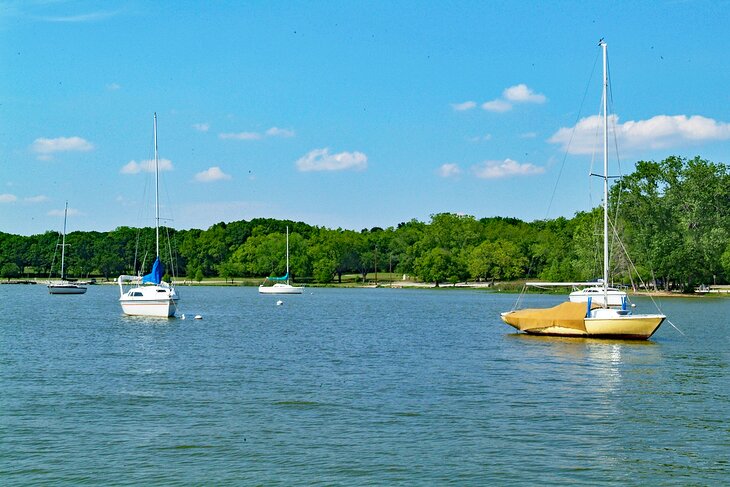 Many of the best lake escapes from Dallas include resorts and hotels right next to the shore. Other aquatic destinations include more natural lodging options, like campgrounds and RV sites. However, since each lake is within easy driving distance, day trips are the most common ways to enjoy the water from Dallas.
Check out your next weekend adventure or vacation destination with our list of the best lakes in Dallas.
1. White Rock Lake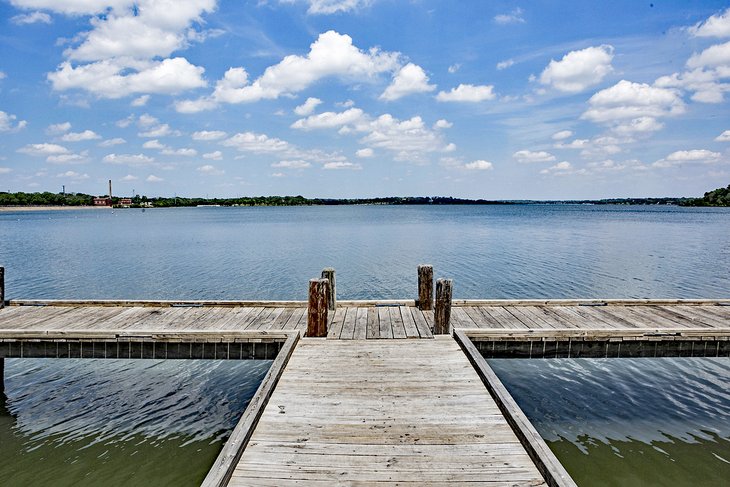 White Rock Lake is arguably the most popular lake near the city. It's situated 5.5 miles northwest of downtown, and denizens of Dallas flock to the water on weekends and throughout the week. It's a popular place to visit for nature walks and taking a break from the city.
A 9.3-mile paved trail circles the 1,000-plus acre lake. Numerous natural and cultural attractions offer points of diversion along the path. The Dallas Arboretum is on the southeast shore, and a boathouse and boat launch sit on the opposite shore. Other lakeside interests include piers, picnic areas, and a popular dog park.
2. Grapevine Lake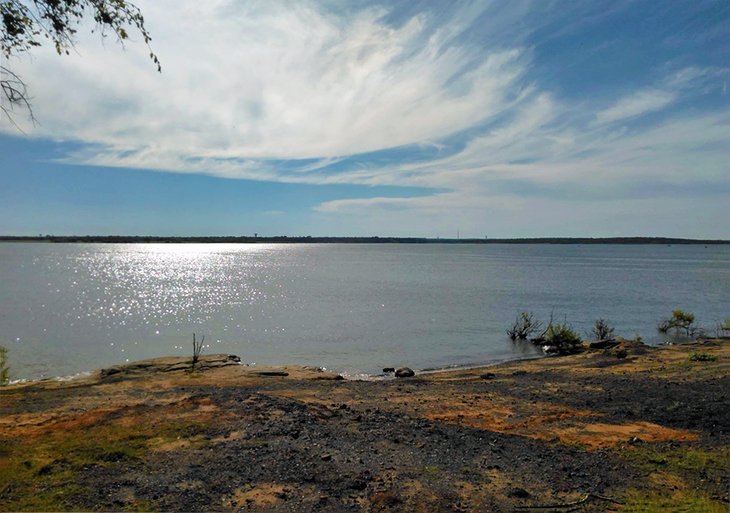 This 8,000-acre lake is just over 20 miles northwest of downtown Dallas, not far from the DFW International Airport. It's a popular spot for all types of water-based activities. Jet Skis, powerboats, pontoon boats, and fishing rigs all make waves across the water. Other forms of flotation like stand up paddleboards and kayaks are also popular.
Three marinas around the lake offer fuel, storage, rentals, and extra amenities like burger shacks and sailing clubs. Other things to do around the lake include exploring the hiking trails and camping. The 9.5-mile North Shore Trail is one of the most scenic routes to hike or bike. And the city-owned Meadowmere Park, on the south-central shore, is a popular place for tent camping.
Read More: Top-Rated Fishing Lakes in Texas
3. Lake Lewisville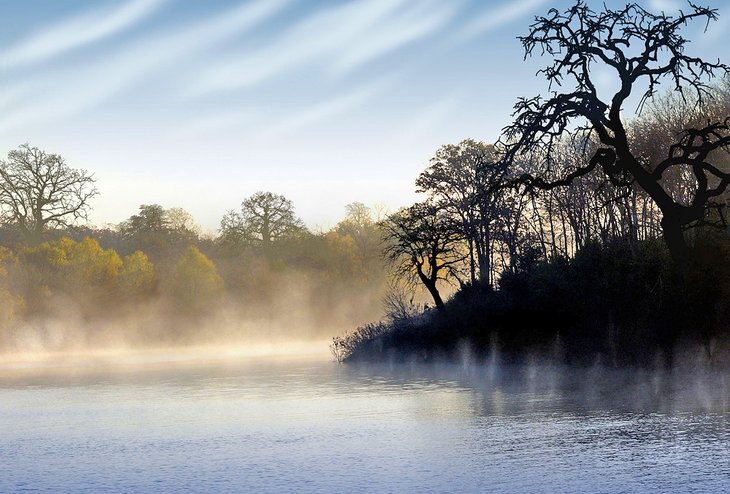 This massive lake northwest of Dallas has over 230 miles of shoreline. It's one of the most popular Texas lakes to visit and has several means of access. The water offers opportunities for all types of boating. And several public parks lining the shore offer activities like hiking, biking, and camping close to the water.
Lake Park, also known as Lewisville Lake Park, is one of the easiest and most popular places to go from Dallas. It's a 30-minute drive from the city. The park encompasses over 600 acres and features amenities like boat launches, campsites, and places to picnic. The park also features an 18-hole golf course and an 18-hole disc golf course.
4. Joe Pool Lake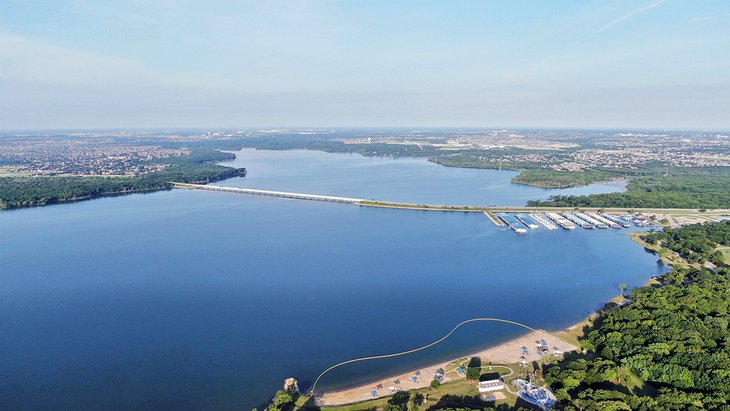 This approximately 6,500-acre lake spans three cities southwest of Dallas. The lake is a massive reservoir of Mountain Creek, which branches from the Trinity River. It's grown to be a top recreation destination in the region since its impoundment in 1986.
Joe Pool enables all types of land and water activity. Three parklands surround the lake and lend the easiest access to the shoreline. Along the eastern shore, Cedar Hill State Park enables activities like fishing, swimming, and mountain biking. The park is also home to a campground, with over 350 sites catering to tent camping and RV parking.
5. Lake Ray Hubbard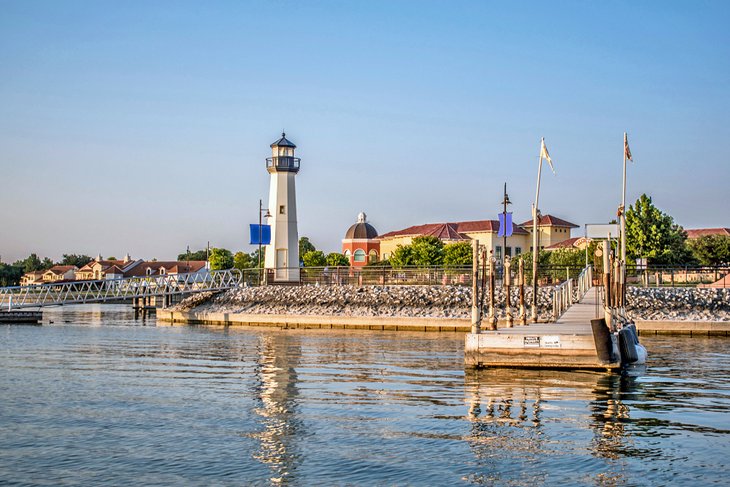 Several public parks line Lake Ray Hubbard east of downtown. This massive recreation lake spans approximately 22,000 acres and is popular for activities like boating and fishing.
Windsurf Bay Park and John Paul Jones Park are two public places easily accessible from Dallas on Interstate 30. Farther east on the I-30, other lake exits include a public boat ramp off Dalrock Road and The Harbor Bay Marina.
The marina is next to a vibrant commercial district: The Harbor Rockwall. This central spot for entertainment is right on the lakeshore. The Rockwall offers landscaped pedestrian spaces and a vibrant shopping and dining district that stays open late.
6. Lake Granbury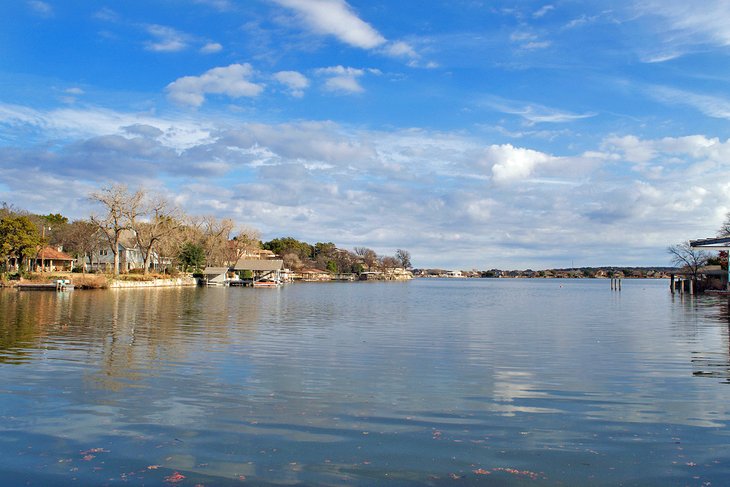 This relaxing reservoir on the Brazos River is just over an hour's drive from Dallas. The water is southwest of the city, close to the Fort Worth metropolitan area. With over 8,000 acres to explore, it's a popular water body for fishing, boating, and swimming from sandy beaches.
Granbury City Beach Park is a popular place to congregate and enjoy the nice weather. This small but packed city park features a sandy swimming beach and other day-use areas like volleyball courts and picnic pavilions. A popular boat ramp enables all types of vessels to get on the water near the city park and the Highway 377 bridge.
Read More: Top-Rated Things to Do in Granbury, TX
7. Eagle Mountain Lake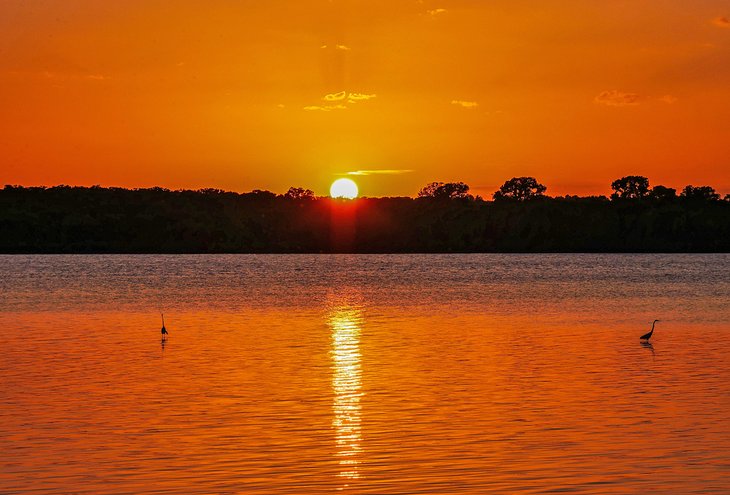 Eagle Mountain Lake is an approximately 8,700-acre reservoir a short drive from downtown Fort Worth. It's a popular spot for boating and water sports, with several public access points lining the shore. Houseboats, powerboats, and Jet Skis all find room on the water, as well as various fishing rigs.
Twin Points Park is a popular spot on the lake a half-hour drive from Fort Worth. This lakeside park features several amenities for family outings. Activities at the park include swimming from a sandy beach, renting paddleboards, and unloading at the park's boat ramp. The park also has several picnic pavilions, many of which can be reserved for large groups.
8. Burger's Lake
Burger's Lake is a unique 30-acre park on the northwest side of Fort Worth. The central point of attraction at the park is a spring-fed swimming lake lined with lifeguards and fountains. Several other summertime activities also line the shore of this commercial swimming spot.
Two sandy beaches at Burger's Lake are popular for lounging and soaking in the sun. Diving boards, small waterslides, and a 25-foot trapeze offer enjoyable ways to jump into the water. Other park amenities at the lake include hundreds of picnic tables and charcoal grills.
9. Lavon Lake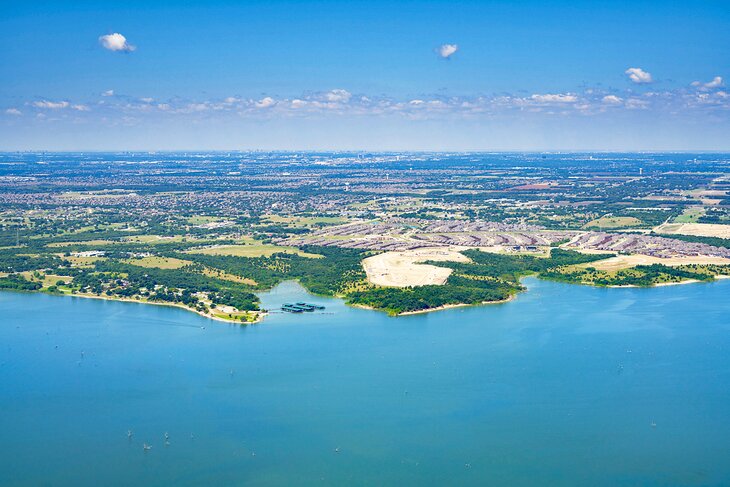 Lavon Lake, commonly referred to as Lake Lavon, is a beautiful drinking water reservoir north of Dallas in southeast Collin County. The Army Corps of Engineers manages this massive reservoir and provides several recreation outlets for the public to enjoy. Among the biggest visitor magnets at are public parks, campgrounds, and plentiful boating opportunities.
Several parks span the shoreline of Lake Lavon. Collin Park is a visitor favorite, featuring hiking trails, lakeside views, and a comprehensive RV campground. Collin Park is also home to the lake's primary marina for boat supplies, making it a common launching point for days spent boating on the water.
10. Lake Tawakoni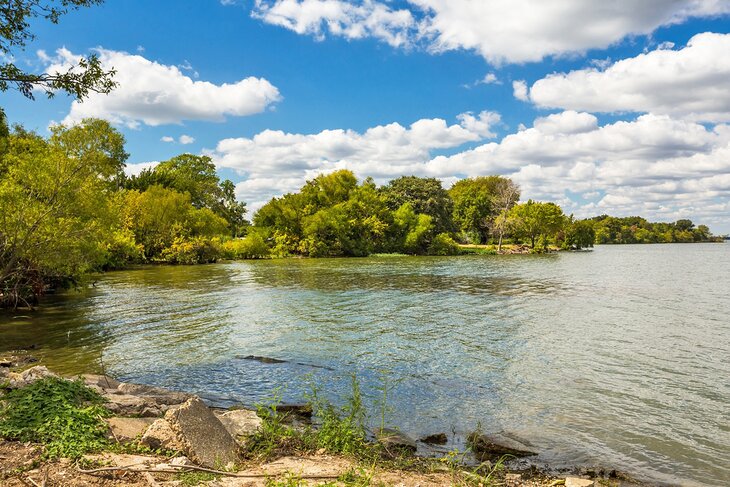 Lake Tawakoni is a nearly 4,000-acre reservoir less than an hour's drive east of Dallas. It's a popular lake destination for several reasons and especially attracts interest from anglers. Fishing is permitted from boats and the shoreline at Lake Tawakoni. Several types of bass, catfish, and crappie often nibble at the line.
Lake Tawakoni State Park is one of the best places to explore the water. This state park has over five miles of shoreline bordering an expansive oak forest. It's also home to a four-lane boat ramp that keeps a steady pace on the weekend. Campgrounds and hiking trails are also abundant in the area.
11. Bachman Lake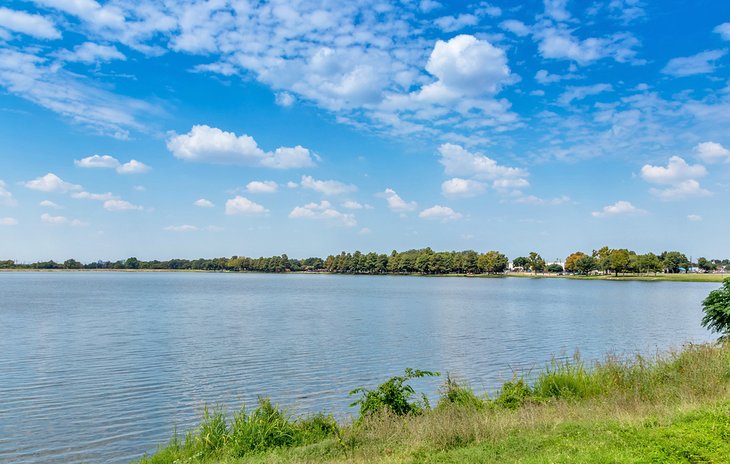 This small lake is in northwest Dallas, on the north side of Love Field Airport. This approximately 200-acre lake was born as a drinking water reservoir in the city's olden days. As the city grew into a major metropolitan area, the lake conditions worsened for decades at a time. However, recent environmental improvements have transformed the lake back into a pleasant place to spend the day.
An approximately 3.5-mile paved trail circles the entire lake. It's a popular path with plenty of space to accommodate the many cyclists, strollers, and joggers that navigate the route on the weekends. Non-motorized boating is also popular on the water. The Bachman Recreation Center is a fun place to visit on the northwest shore with picnic pavilions, playgrounds, and nature trails.
Dallas - Climate Chart
Average minimum and maximum temperatures for Dallas, TX in °C
J
F
M
A
M
J
J
A
S
O
N
D

13

2

16

5

21

9

25

13

29

18

33

23

36

25

36

24

32

21

26

14

19

8

14

4

PlanetWare.com
Average monthly precipitation totals for Dallas, TX in mm.

48

59

80

88

135

100

62

55

67

118

66

64