4 Top Places for Deep Sea Fishing in Texas
Everything is big in Texas, including its 367-mile coastline, which entices anglers from around the world to come and target some of the best deep sea fishing opportunities in the United States. Deeper sea waters off the coast stretching into the Gulf of Mexico produce the popular red snapper and other types of snapper, grouper, mackerel, tarpon, amberjack, and shark.
Closer to shore, you can catch black drum, red drum, and the popular spotted seatrout. Summer is one of the best times of the year to go deep sea fishing in Texas because you can keep red snapper, and the water is calmer in July and August. If you are targeting fish in federal waters (beyond nine nautical miles), you will want to time your trip around the species you plan to catch.
Your decision on where to depart from depends on several factors: Do you have a specific destination in mind? Are you interested in departing from and staying in a big city or small town? How deep do you want to go (5, 30, or 100 miles)? And, where are you coming from? That will determine whether you depart from the upper coast in Galveston or hit the southernmost port out of South Padre Island. Keep in mind that the farther you go offshore, the more other factors like weather and the size of waves can impact your trip.
The resort towns along the Texas coast are the best places to start if you are looking for a deep sea fishing departure location. You are likely to find mom-and-pop bait shops and communities that center around the fishing culture on the Texas shoreline with local experiences that enhance your visit beyond just catching great species of fish. There is no shortage of communities that have convenient accommodations, restaurants, and plenty of fishing guides to take you out into the deeper waters.
Before you begin planning your Texas deep sea adventure, you should consult the Texas Parks and Wildlife Department website for updated fishing reports and information on fishing licenses. For ideas on where to go, see our list of the top places for deep sea fishing in Texas.
1. Galveston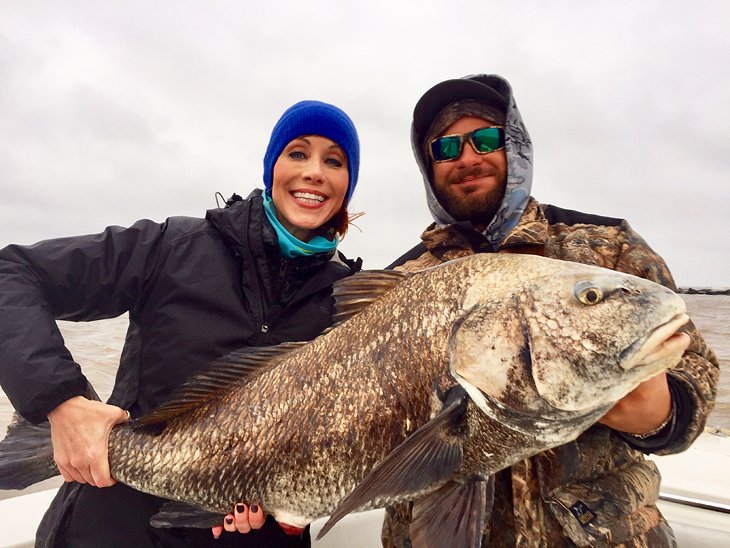 Galveston is one of the best places to depart from for deep sea fishing in the state because it offers the greatest variety of species to target during your day on the water. Even on a bad weather day, you still have the option to fish in the jetties or bays if you cannot go offshore. These are the two main reasons I chose Galveston for my deep sea trip.
"When you're coming to Galveston for deep sea fishing, you have to go farther offshore, but the fishing is excellent in terms of the many types of species available. It is the best place to go to catch 10 to 12 fish in a day depending what you're targeting," says my guide Shane Cottrell of Galveston Sea Ventures.
Cottrell worked with me before my trip to Galveston Island to discuss the seasonal species options during the window of my visit in order to lay out a game-plan.
The most popular months for deep sea fishing out of Galveston are during the summer, when you can catch shark, Spanish mackerel, flounder, trout, and cobia. The winter months are great for targeting black drum and redfish.
The night before my offshore trip, a cold front blew in 20-mile-per-hour winds and eight-foot waves. That would make heading offshore in the morning dangerous, so my guide and I had to re-group and figure out a Plan B. Fortunately, Galveston's location allows for back-up plans, when other Texas departure points would keep anglers stuck at the hotel for the day.
Cottrell worked up a great alternative to target black drum in the waters that open to the mouth of the Gulf. With the boat rocking sharply left and right, and consistent rain tapping our protective gear, we forged ahead. Deckhands Taylor Borel of Wave Dancer Charters and Jonathan Weiss rigged our hooks with blue crab and shrimp. The cold front must have stirred up the fish because my first black drum hit hard in the choppy water. The dense bottom-feeder struggled with me, managing strong tugs and jerks and running the line in fast spurts in between my occasional turns of the reel.
Getting the fish, weighing upwards of 50 pounds, to the boat was a respectable fight. The black drums are strong and determined, and my first one was larger than average. In order to fight it in the rain and shifting boat, I braced my knees on the side wall for leverage. The drum barreled his way into deeper water, nearly pulling me in with him.

Eventually, I saw his dorsal fin and the black and white mosaic pattern of his body. With his tail whipping on the surface of the water, I caught a glimpse of his prehistoric face and large mouth making me even more determined to get him close to the deckhand who was ready with the net.
Once the drum was onboard, I could see its stout body structure and feisty attitude. After a few photos, I released him back into the murky water and we tried again. In all, I caught three massive black drums on the four-hour trip. The tally was great considering the challenge by Mother Nature, which is always a possibility when you book a fishing trip months ahead of your departure. All the fish were catch and release.
Cottrell's best advice to anglers is sound: Seize the opportunity. Meaning, if you have a specific fish species in mind to catch, spend your money and effort to plan the trip during the time of year when that species has the best catching opportunity. Galveston is only an hour drive from George Bush Intercontinental Airport in Houston and 45 minutes from Hobby Airport. Offshore pelagic fish like swordfish, blue marlin, and yellowfin and blackfin tuna are popular to go after from Galveston.
If you aren't quite ready for deep sea action, Galveston has nearshore charters that are nice for six- to eight-day trips. Nearshore charter boats generally target mackerel, cobia, sharks, and red snapper. Anglers who want to enjoy their catch for dinner will enjoy taking a nearshore charter that specifically targets artificial reefs and shipwreck sites that are closer to shore.
Galveston Island has a lot happening, even beyond the fishing, so when you need to relax after your day on the water, or if weather causes a cancellation, you can still visit Pleasure Pier or one of Galveston's museums. There are many oceanfront hotels located on the island, but one of the most unique is The San Luis Resort, built on a bunker, with several restaurants on-site, making it a convenient and comfortable home base for fishing.
2. Freeport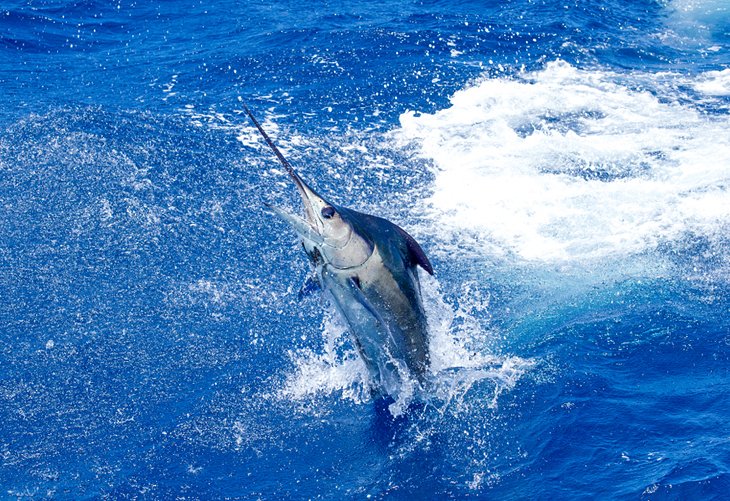 Just about an hour from Galveston is the small town of Freeport, which is another top departure point for deep sea fishing in Texas. It is in the Brazosport area, which consists of several small towns right on the Gulf Coast. This area is home to the first deep-water port and the reason that many private boat and charter operators are headquartered here.
There are plenty of charter options available in the area, and it is one of the best locations from which to target the state's artificial reef program in the deeper waters. Freeport is bordered by a wildlife refuge and the Gulf, so there are unique combinations of fish species to catch like flounder, red drum, speckled seatrout, redfish, and sheepshead.
Species like red snapper, cobia, shark, and kingfish can be caught within 10 miles offshore from Freeport. You can also head to much deeper waters for tuna, blue marlin, sailfish, and swordfish.
The cooler winter months (December-February) are great for catches of redfish and speckled trout, with black drum towards the end of the winter months. Spring (March-May) leads up to prime time fishing with the addition of Spanish mackerel, mahi-mahi, king mackerel, and red snapper available. The summer months (June-August) are great to go after blackfin, hammerhead and tiger shark, cobia, blackfin tuna, kingfish, and mahi-mahi.
There are still opportunities in September and the early fall to catch mahi-mahi, shark, and tuna. As cooler weather comes in from October through November, this is a great time to fish for redfish and speckled trout.
Another perk to Freeport is that anglers have quick access to fishing at the end of the Brazos River and small bays that have redfish, flounder, speckled trout, black drum, and sheepshead. Freeport is a nice option if you are looking to have a fishing getaway that encompasses both offshore fishing for the large species and inshore fishing for table fare.
Freeport caters to anglers who want a more intimate town experience versus the bigger city feel of Galveston. You can find small hotels and bed-and- breakfasts or beach houses to rent. You can also stay in Galveston or Houston and drive to Freeport for the day. Since Freeport is only about 50 miles from Houston, you can fly into the Houston airport.
3. Port Aransas/Rockport/Corpus Christi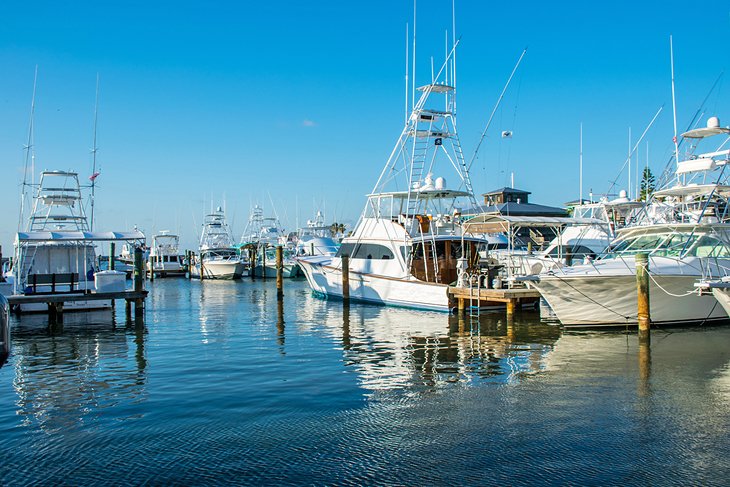 The ports of Port Aransas, Rockport, and Corpus Christi are all in the same region along the middle coast of Texas. The species you can target from these departure points include redfish, speckled seatrout, black drum, flounder, and king mackerel. In the deeper waters, you can target shark, mahi-mahi, kingfish, amberjack, and yellowfin and blackfin tuna. The offshore fishing from Corpus Christi is notable because you can target some of the most prized pelagic fish in the Gulf.
Inshore charters are popular in Corpus Christi for speckled trout and redfish, and charters usually have shorter day trips available for anglers who just want a taste of the sea. Nearshore trips from Corpus Christi usually net cobia and the popular red snapper.
Redfish are one of the reasons that anglers come to Corpus Christi, specifically, the oversized red fish, which are common in September and October and have been caught over 40 inches. Corpus Christi is the most popular of the three cities in this region for deep-sea fishing. It is a bigger city, with an airport, and sits on a bay.
Port Aransas is a smaller town with lots of beaches. The port faces the Gulf's blue water, with plenty of coastline to enjoy at sunset or for fishing. Port Aransas is a nice destination if you are a beginner or traveling with children who are not ready for the full offshore experience. There are many charters that offer shorter four-hour trips to target speckled trout, redfish, and flounder in the bays.
The best months for offshore fishing from Port Aransas are May to September when you have the greatest chances at catching the most species, from amberjack, mahi-mahi, and marlin to blackfin and yellowfin tuna. Since it is a beach town, there are lots of fishing tournaments and nearly 100 guides available. There are also plenty of resorts and condos for lodging.

Rockport is not as popular as a departure point but it is an option. The town is located more inland with fewer fishing guide services available.
4. South Padre Island/Port Isabel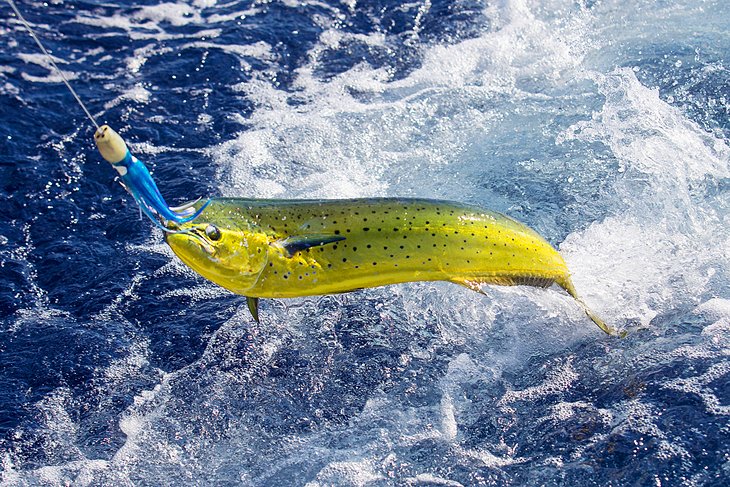 South Padre Island and Port Isabel are on the southern coast of Texas, close to Mexico. This is a deep-sea angler's paradise, not just for the ability to target deeper waters faster, but because of the beach scene ambience. All of South Padre Island has hotels, restaurants, and beaches. Port Isabel is on the inland side, but both areas are departure points for deep sea fishing charters and have an abundance of guides.

This area is the farthest point in Texas from which to head out for deep sea fishing, but it has opportunities that the other destinations do not. South Padre Island is home to the largest artificial reef in Texas, so it is a prime spot for anglers looking for red snapper and other species.
There's also an abundance of fishing tournaments. Deeper waters from South Padre Island produce larger species like mahi-mahi, wahoo, barracuda, snapper, blue marlin, sailfish, kingfish, tarpon, dorado, and tuna.
Summer months (June-August) are the ones to target for the prized offshore giants like mahi-mahi, marlin, kingfish, tarpon, and blackfin and yellowfin tuna. As the fall months approach (September-November) species like flounder, red snapper, snook, and wahoo are great to target.
Winter months (December-February) are the least productive, but the warm waters of South Padre Island make fishing possible year-round. These months produce species like jack crevalle, pompano, redfish, snook, and speckled trout. The spring months (March-May) see species like mangrove snapper, king mackerel, and redfish.
Map of Places for Deep Sea Fishing in Texas
More Related Articles on PlanetWare.com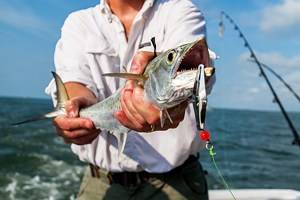 Deep Sea Fishing Destinations: If you are looking for other areas to try deep sea fishing, see our articles on deep sea fishing in North Carolina and South Carolina. And for something interesting, also see our article on trout fishing in Texas.