4 Top-Rated Places for Deep Sea Fishing in South Carolina
South Carolina can satisfy almost any angler's preferences for species and waterways, with options from man-made reservoirs and inlets to pier fishing and river systems, but the state is a favorite for those who want serious deep sea fishing action.
Anglers can come here to fish year-round, but the best months for offshore fishing are late April to December. For hard-core anglers looking for the ultimate blue-water action that South Carolina can deliver, target the months of May through September. These months see great numbers of groupers, snappers, and mackerel, but they are also when marlin and sailfish pull in from the Gulf Stream.
Charter boats are easy to find, but reputable companies will book up early, so it is best to do your homework and plan ahead. Most charters offer half-day and full-day options and provide tackle and snacks. Since each company is different in their offerings, it is best to research several options before booking a charter. The thrill of pulling in a sailfish, amberjack, cobia, flounder, or giant blue marlin does not get better than in South Carolina.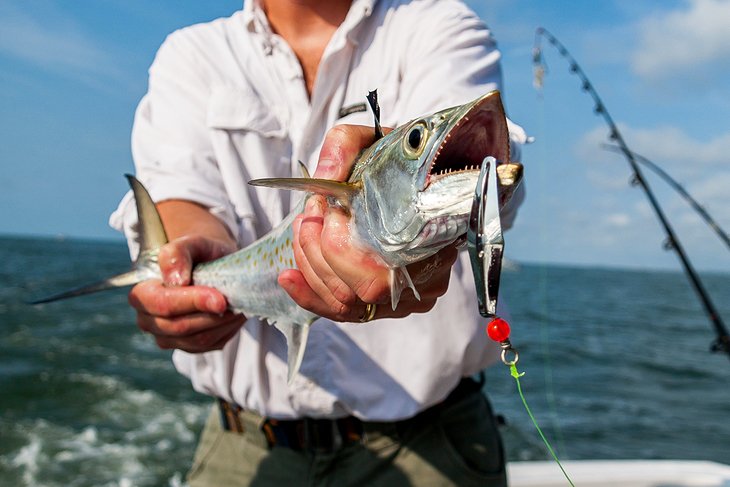 South Carolina has the unique angling option of many offshore artificial reefs located all along the coast. There are more than 40 reefs designed from different structures and created as habitats for a wide variety of fish species.
The reefs provide another fishing opportunity for anglers and charters, which can be combined with a day of deep sea fishing or a specifically targeted excursion. Many of the structures in the reefs are scrap metal, but some include sunken US Army tanks, concrete bridges, subway cars, and more.
Anglers hitting the coastal waters should be informed of the state's Marine Game Fish Tagging Program (MGFTP). South Carolina was the first state on the east coast to institute a public tag-and-release program designed to promote conservation of more than 40 species of fish. The MGFTP effort is designed to track growth rates, movement, and habitat changes in an effort to protect species that have seen a decline.
Anglers who catch a tagged fish should report it to the South Carolina Department of Natural Resources, and they will receive a hat or t-shirt for the effort plus a report on the history of the tagged fish. Local charter captains likely know of the MGFTP, but anglers should also take personal responsibility to know the laws and statewide conservation efforts.
With 3,000 miles of tidal shoreline, there are many locations from which to depart for deep sea fishing in South Carolina, but most anglers turn to one of four main coastal areas. Anglers can buy a fishing license or access fishing information from the South Carolina Department of Natural Resources.
1. Myrtle Beach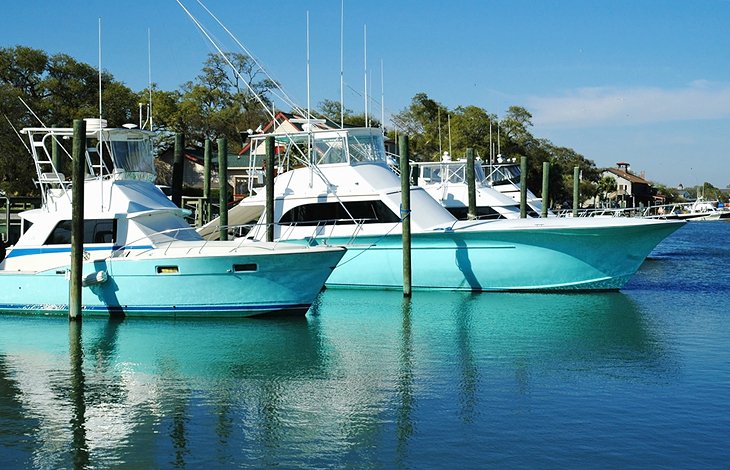 One of the most popular deep sea fishing departure locations is Myrtle Beach on the northern coast of South Carolina. This popular tourist and beach destination makes booking a fishing charter easy due to the amount of companies that service the region.
In the Little River and Georgetown there are more than a dozen companies and plenty of lodging. There are also many launch locations for private boats and prime fishing spots closer to shore for smaller vessels.
Season and depth are the two indicators of the kinds of species that you can target from Myrtle Beach on deep sea fishing outings. March through November are the prime months to catch many types of species 30 miles or more out from shore.
This is the peak season for pelagic fish like cobia, mahi-mahi, Spanish and king mackerel, and barracuda. While these are ideal times to go deep sea fishing out of Myrtle Beach, you can target different species during other times of the year.
Springtime offers a range of species, including a variety of snapper, grouper, sea bass, and sheepshead. Summer means hot temperatures, but it also offers the exciting chance to catch amberjack, mahi-mahi, Spanish mackerel, barracuda, and if you are lucky, a prized marlin or sailfish.
Fall is a popular time to target beauties like flounder, amberjack, and king mackerel offshore and red drum and flounder closer to the shoreline. Winter is not as popular for deep sea fishing nor does it produce as many fish, but you can hit a range of depths and often catch sea bass and sheepshead.
The northern coastal area near Myrtle Beach has 18 artificial reefs and eight piers available for fishing. If you head to Myrtle Beach for a fishing vacation, it is easy to spend one day on a charter and another or several days in the area hitting popular fishing spots like the Apache Pier, which is the longest wooden fishing pier on the east coast.
Myrtle Beach has a convenient fishing equipment rental program throughout the area, so you do not need to bring your own tackle. After a long day of fishing, grab a bite of fresh seafood from a beachfront restaurant and soak in the busy tourist scene in Myrtle Beach from the towering Sky Wheel on the coast.
2. Charleston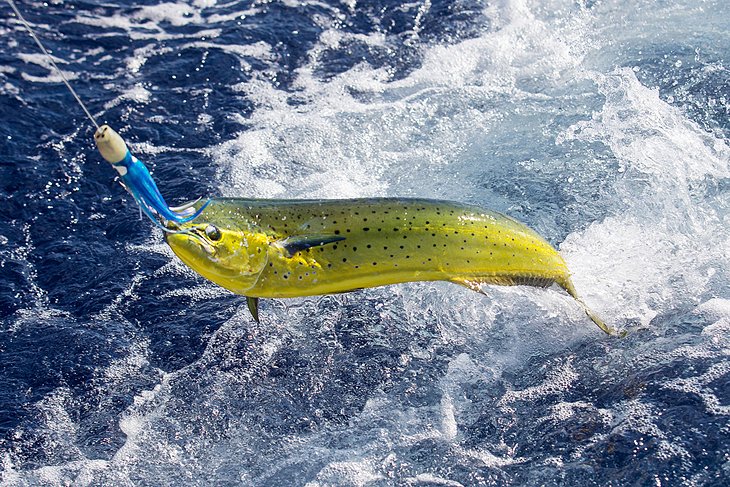 Departing from the central coast is best from Charleston, where you will find convenient lodging, recreation, and a range of fishing charters. If you are new to deep sea fishing, you may want to start with a shorter trip and target some of the rocky bottom areas closer to shore. Or, stick on your anti-motion sickness patch and head out for an eight-hour charter to try for some large sport fish or catch some species to bring back for dinner.
Longer charter trips are best for more experienced anglers because you can expect long days on the water and paying top dollar to get in the right waters. Most charters offer 10- to 12-hour trips to target some of the trophy catches that hang near the Gulf Stream currents, which are about 60 miles out from shore. This is where you can find marlin, wahoo, tuna, sailfish and mahi-mahi. A longer trip is needed for the time it takes to get to prime spots and to have time to catch what could be the fish of a lifetime.
Seasonal fishing species options are similar across the state, especially since deep sea charters are heading into open water. In spring, anglers enjoy targeting offshore flounder and several species of snapper, including the vibrant red snapper. The early summer months are the most productive for species like white and blue marlin. As summer progresses, you can target barracuda, and sizable mahi-mahi. You can also catch impressive numbers of amberjack in the warmer months.
In the fall, red drum is prevalent, and you might even reel in a tagged drum as part of the MGFTP conservation effort. The fall season is also a great time to target amberjack, king mackerel, and flounder, or sea trout closer to shore. Winter species are more limited and so is the number of fish you are likely to catch.
The central coast has 13 artificial reefs, which attract a wide variety of fish (mostly schooling fish) and offer some exciting fishing, especially since the GPS coordinates are readily available from the South Carolina Department of Natural Resources. One of the most popular reefs near this departure point is about 12 miles out of the Charleston Harbor.
The Charleston 60' reef has many underwater structures including barges and army vehicles. If you are taking a boat out on your own, there are many places to launch in Charleston, and the artificial reefs are ideal locations to explore.
If your deep sea fishing outing is a bust (it happens) due to weather, you will not be bored in Charleston. This historic town has many attractions and recreational opportunities, like plantations to tour. Be sure to check out the culinary scene and kick back with a traditional low country boil.
3. Beaufort/Hilton Head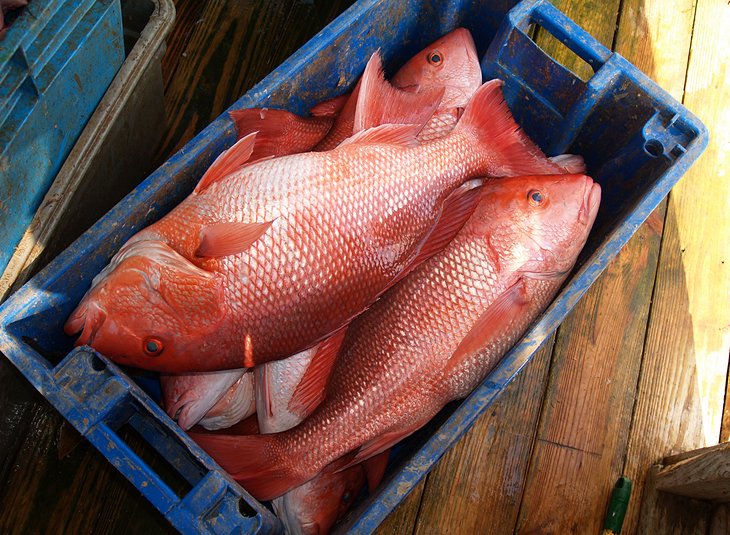 There are two main options for deep sea fishing departures on the southern coast of South Carolina. Beaufort and Hilton Head Island are less than an hour apart, and both offer ample lodging and fishing charters for anglers.
If you are launching your own vessel, there are many launch points in both cities, as well as close-to-shore locations for fishing with rocky bottoms and ledges that attract a variety of species. You will have no problem finding a reputable deep sea fishing charter from either location. Many of the charter captains have worked the region for decades and offer a variety of trips to suit your skill level and interest.
Anglers enjoy the spring offshore action from the southern coast for species like red snapper and grouper. Summertime (July-August) brings in anglers to target sailfish that peak in the Gulf Stream, which is 60 to 80 miles offshore. Summer is also ideal for dolphin and barracuda.
When waters start to cool in the fall, anglers can target king mackerel, amberjack, and flounder offshore, as well as red drum close to the coastline. Winter angling success follows suit pretty evenly along the coast, with more limited options for species and catches.
There are 11 artificial reefs in the southern region that are easy spots to target if you want to try your luck for a mixed bag of species. If you are staying in Beaufort, wind down from your fishing holiday with the laid-back friendliness of the locals in the historic seaside town. If Hilton Head Island is your home base, be sure to leave a little post-fishing time to enjoy some of the local tourist attractions.
4. Murrells Inlet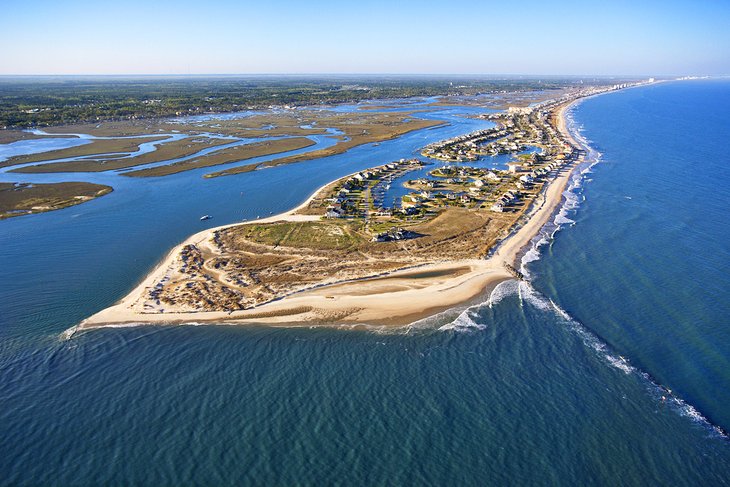 Another popular deep sea departure point in South Carolina is at Murrells Inlet, especially for the serious anglers who are ready for aggressive trips 60-plus miles offshore. If you come to Murrells Inlet for a lifetime fishing experience, it is best to book a full-day charter to have enough time to get to the right water and tangle with species like sailfish, cobia, mahi-mahi, wahoo, King mackerel, and sharks.
In between the big bites, your captain might set up to jig for amberjacks, grouper, porgies, triggerfish, and grunts lingering in depths of 150 to 250 feet for bait coming from the Gulf Stream.
As with other South Carolina offshore fishing, summer months are your best times for fishing, as the warmer water suits species like grouper, snapper, tarpon and mahi-mahi. Late summer is when sailfish are on the move, and by the fall and winter months that bite gives way to species like amberjack and wahoo. In the spring, you can target wahoo and blackfin tuna, tarpon, and shark.
Most anglers and captains like to have a back-up plan, and that is something that Murrells Inlet offers if offshore waters are not suitable on your booked charter day. There is great inshore fishing for redfish, black drum, and speckled trout.