10 Top-Rated Attractions & Things to Do in Columbia, South Carolina
We may earn a commission from affiliate links ()
Southern hot spot Columbia, in South Carolina, is steeped in history and culture and calls to tourists with heritage-filled neighborhoods, beautiful parks, world-class museums, and plenty of fun outdoor adventures. South Carolina's capital city since 1786, Columbia was physically and culturally transformed by the Civil War.
Today, the city is the vibrant home of the University of South Carolina; enjoys a diverse economic landscape fueled by high-tech, pharmaceutical, and manufacturing industries; and has emerged as a contemporary, shining New South city. A favorite place to visit in the southeast for tourists, Columbia is known for its compact, easily navigable streets, as well as its Southern charm, cuisine, and hospitality.
For the best sightseeing opportunities and to find the city's top attractions, be sure to refer often to our list of the top-rated things to do in Columbia.
Note: Some businesses may be temporarily closed due to recent global health and safety issues.
1. South Carolina State House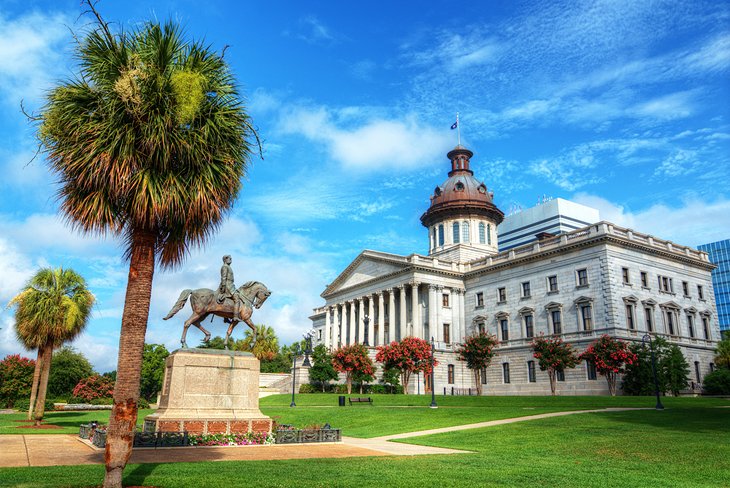 One of the most visited tourist attractions in the state, the South Carolina Statehouse is a fine example of Greek Revival architecture that was in style during the pre-Civil War period in the South (construction started in 1851, but wasn't completed until after the war). The highly-regarded design work of John Niernsee, the capital towers 180 feet high with a patinaed copper dome.
Visitors exploring the vast capitol grounds get a sense for the complex state history here, viewing the Revolutionary War Generals Monument, American-Mexican War Monument, the African-American History Monument, the Confederate Monument, and other statuary honoring George Washington, S.C. Senators, and fallen State Law Enforcement Officers.
Be sure to look for the five stars along the building's exterior highlighting where Union cannonballs struck the façade during the Civil War, before the structure was completed.
Free tours take visitors through the impressive inner corridors of the capitol building and provide views of both the state senate and house chambers. Hours vary depending upon when the legislature is in session.
Address: 100 Gervais Street, Columbia, South Carolina
Official site: www.scstatehouse.gov/visit.php
2. Riverbanks Zoo & Garden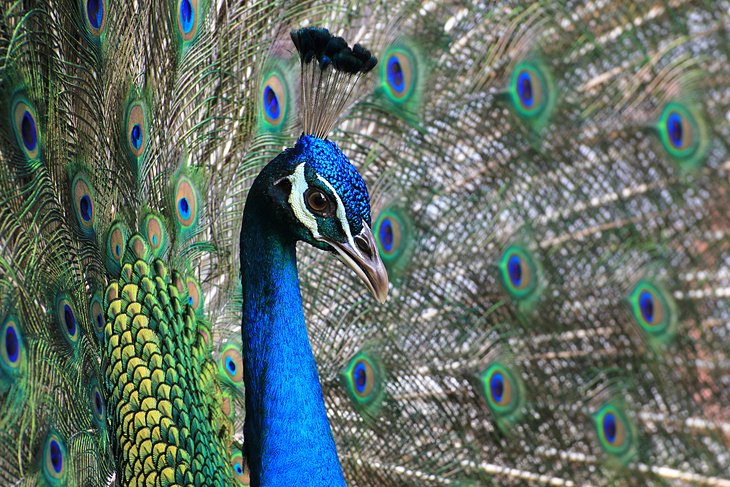 More than 2,000 creatures make their home at this 170-acre zoo and garden. Especially well-suited for family outings, Riverbanks is a two-time recipient of the Governor's Cup Award for South Carolina's most outstanding tourist attraction.
Dedicated areas like the Reptile House, Bird Complex, and Petting Zoo make it easy for visitors — particularly the wee ones — to get extra close to various species and learn through interactive exhibits. Want to find out what goes into beekeeping? You'll learn here in a special exhibit. At Riverbanks, you can even feed the giraffes lettuce that is provided for a small fee.
Be sure to also spend time exploring the zoo's Riverbanks Botanical Garden, which covers 70 acres and is home to 4,200 different species of exotic and native north American plants. Visitors interested in the area's textile history can look out for the self-guided 0.3-mile River Trail. Beginning at the Saluda Bridge and winding along the river to the Saluda Mills Interpretive Center, the trail provides a close-up view of the first water-powered textile mills in South Carolina.
Address: 500 Wildlife Parkway, Columbia, South Carolina
Official site: www.riverbanks.org
3. Waverly Historic District
This self-guided walking tour takes visitors in and around Columbia's first suburb: Waverly. The community is well known as a diverse enclave encouraging black artistry, craftsmen and women, professionals, and social activists. Roughly bound by Hampton, Heidt, Gervais, and Hayden Streets, the neighborhood today is home to Benedict College and Allen University — two widely acclaimed historically black colleges that provided higher education during the time of segregation in the South.
Other highlights of the tour include Bishop's Memorial AME Church, built in 1885 and listed in the National Register of Historic Places; Daddy Grace's Parsonage; Heidt-Russell House; the Waverly Five & Dime; Carpenter's Hall; and Carver Theater. (Check the link below for the full walking tour itinerary.)
4. Historic Columbia: Robert Mills Houses, Hampton-Preston Mansion, & Woodrow Wilson Family Home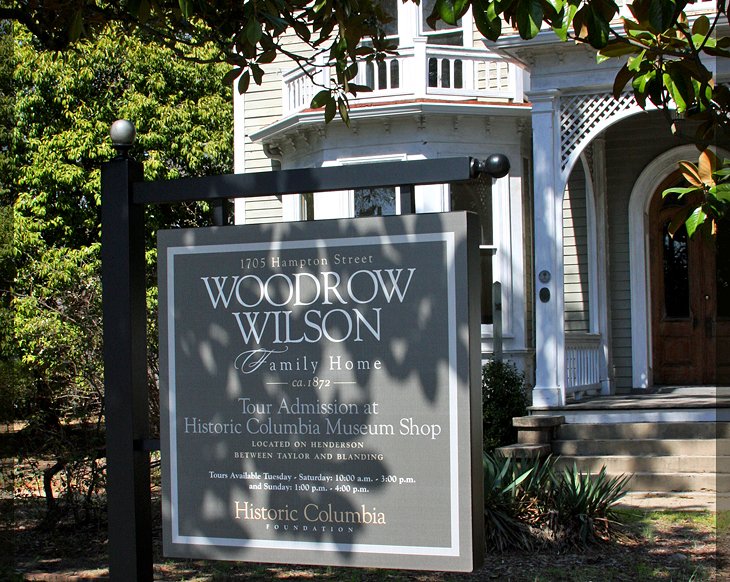 Three of Columbia's most historic homes are lovingly restored and open for tours made available by Historic Columbia, a non-profit preservation organization.
Robert Mills House and Gardens was built in 1825 in the Classic Revival style as a private residence by Robert Mills, the designer of the Washington Monument in Washington, D.C. Saved from the wrecking-ball in 1961, the home reopened as a historic museum and features an extensive collection of period pieces and decorative arts furnishings, many in the American Federal and French Empire styles. The gardens were a late post-restoration addition in the 60s and are in the classic English style.
The Hampton-Preston Mansion and Gardens has enjoyed many prior lives. Built in 1818 as a private residence and home to the prominent Hampton family, it went on to serve as a Union Army Headquarters during the Civil War and subsequently the Governor's Mansion. The home is also listed in the National Register of Historic Places. The Antebellum Gardens surrounding the four-acre grounds were designed by former owners and mother-daughter duo of Mary A. Hampton and Caroline H. Preston.
The Woodrow Wilson Family Home is the only presidential site in South Carolina. This Italianate-villa-style manse was the boyhood home of Woodrow Wilson, the 28th president of the United States. Exhibits, vignettes, and backstories tell about "Tommy," as Wilson was then known, and provide an early narrative (circa 1871) to the history of this great American.
Address: Historic Columbia, 1601 Richland Street, Columbia, South Carolina
Official site: www.historiccolumbia.org
5. Edventure Children's Museum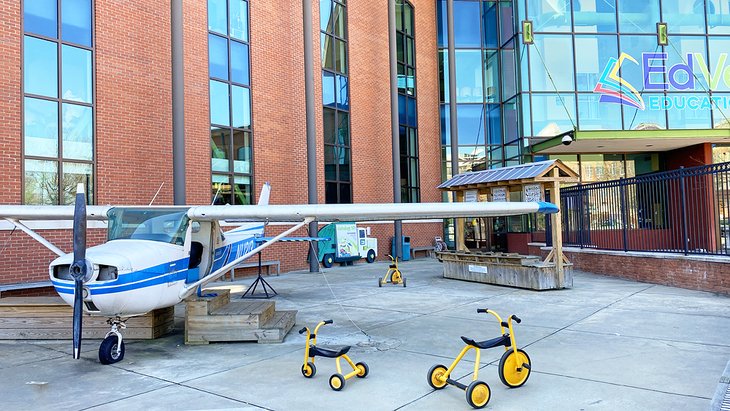 From the moment you step into Edventure Children's Museum, you realize this is a special, one-of-a-kind attraction. Here, fun adventure awaits, with hands-on exhibits enhancing the experience for kids and adults alike. Eddie, the world's largest child, greets everyone upon arrival to the main atrium. The perpetually ten-year-old boy is 40-feet tall and weighs more than 17.5 tons. His wide grin and encouraging nature encourages kids to climb over and through his giant frame.
Dedicated exhibits include Wags and Whiskers, a simulated pet care lab, where the kids can learn about grooming and caring for their four-legged friends, here in plush-toy form. Marketworks is a fun and imaginative inventor's lab, where young tinkerers (age five and up) use blocks, Lego, and kid-friendly tools to work on various projects.
World of Work shows the young ones what may await them as they grow older and enter the workplace. They can visit (and climb upon) a real fire engine at Dalmatian Station, stock the shelves at the Neighborhood Market, and get behind the wheel of a tractor. Planet Putt & Play engages children of all ages using math and geometry combined with indoor miniature golf to conquer this tricky course.
Carousel Café has plenty of favorite child-friendly snacks and meals including mac 'n' cheese, burritos, and hot dogs.
Address: 211 Gervais Street, Columbia, South Carolina
Official site: http://edventure.org/
6. Columbia Museum of Art
With more than 25 galleries and a global collection covering 5,000 years of history, the Columbia Museum of Art is one of the most highly regarded institutions of its kind in the southeast. The museum is a multiple award winner, capturing prestigious National Art Education honors, the Governor's Award for outstanding contribution to the arts in South Carolina, and the National Park Foundation Award.
Worth a special visit is the Press Collection, a world-class assemblage of Renaissance and Baroque art. Florentine master, Sandro Botticelli's Nativity Fresco is the sole such work outside of his native Italy. Impressionist Claude Monet's View of the Seine is considered the collection's crowning jewel.
The museum has an equally impressive American art collection, including works by portraitist Charles Willson Peale, sculptures by Frederic S. Remington, and marble work by Hiram Powers. Early and mid-century American decorative arts are also displayed, including furniture designed by Duncan Phyfe and ceramics by Victor Toothaker.
Address: 1515 Main Street, Columbia, South Carolina
Official site: www.columbiamuseum.org
7. South Carolina Confederate Relic Room & Military Museum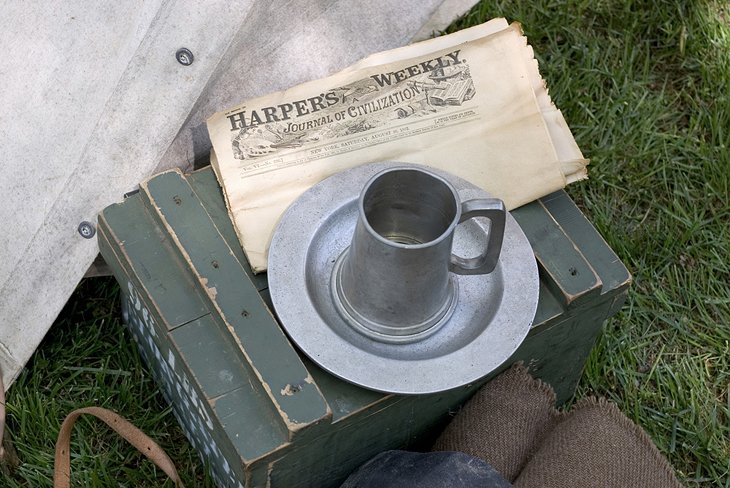 The South Carolina Confederate Relic Room & Military Museum is the third-oldest museum in South Carolina and tells the story of the state's military history from the Revolutionary War though the present-day war on terrorism.
Much of the collection focuses upon the Civil War and shares a vast and well-preserved grouping of uniforms, guns, medical gear, memorabilia, and artifacts that help tell the story of the "War between the States." More than simply remnants, the detailed letters, manuscripts, ledgers, and written documentation paint a graphic picture of life during the war.
The museum is established and maintained by the Daughters of the American Revolution.
Address: 301 Gervais Street, Columbia, South Carolina
Official site: https://crr.sc.gov/
8. Congaree National Park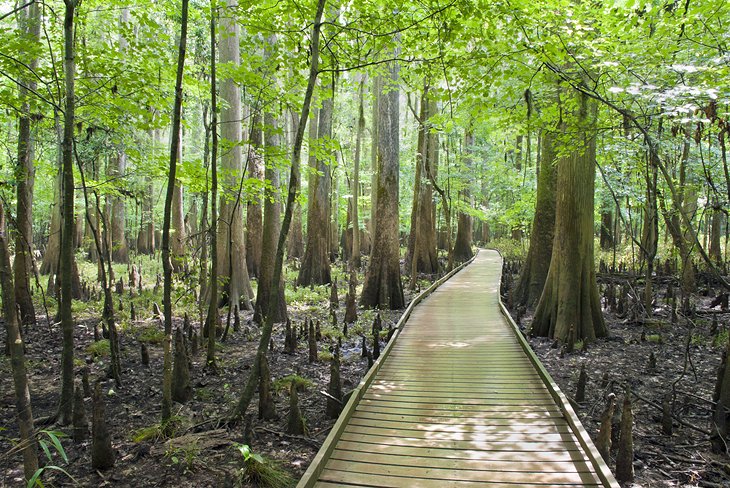 Low-country outdoor splendor is on full display at the 26,000-plus acre Congaree National Park, where the nutrient-rich Congaree and Wateree rivers overflow onto the floor of this low-lying hardwood forest.
A good first stop here is the Hampton Visitors Center, where you can pick up trail, canoe, and kayak maps, chat with a ranger, and learn about the amazing biodiversity of one of the tallest deciduous forests in the world. The average tree canopy height is well over 100 feet tall. The center has some small yet interesting exhibits, along with scale models and a Junior Ranger Program to make the visit extra fun for the kids.
The nearby 2.5-mile Boardwalk trail will keep your feet clean and dry as you hike out into the hardwoods. Marked rails show numbers corresponding with your map providing descriptions of the park's ecology. You'll want sturdy boots and hiking gear on any of the other trails, as the lowlands can be wet and muddy. Cedar Creek flows through the center of the park and is well suited for canoeing and kayaking.
The park doesn't offer rentals, so you'll want to bring your own gear or check out a local outfitter. Some of the best can also organize tours at Cedar Creek and other nearby water attractions such as the Saluda River, Broad River, and Lake Murray.
Address: 100 National Park Road, Hopkins, South Carolina
Official site: www.nps.gov/cong/index.htm
9. Columbia Canal & Riverfront Park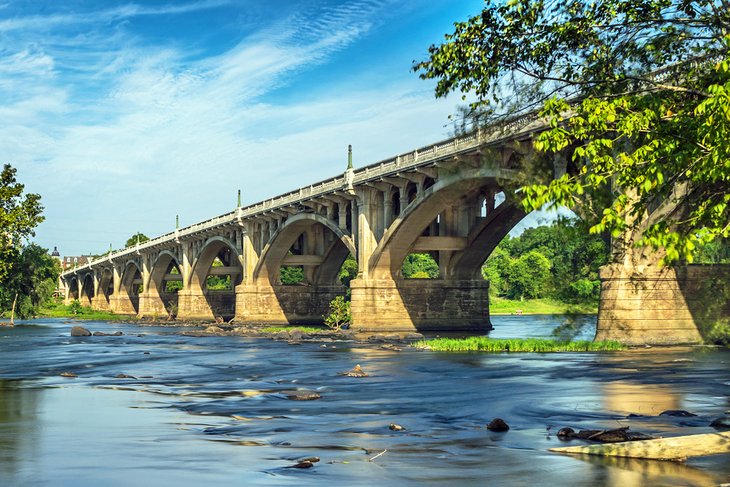 Columbia Canal & Riverfront Park is a popular linear urban park running along the Saluda River and the Columbia Canal. Miles of paved paths attract bikers, joggers, and walkers. This is an unusual city park in that it has an outdoor gym with seven pieces of equipment, and you can enjoy a free workout using the lat-pull, vertical press, rower, leg press, and elliptical machines. This 14-acre downtown park is wheelchair friendly, and you'll find picnic tables, restrooms, and quiet river views here.
Address: 33 Rivers Greenway, Columbia, South Carolina
10. South Carolina State Museum
Since it opened in 1988, the South Carolina State Museum has established itself as the go-to attraction for those seeking to learn more about this great state's history. Spread across four floors of a 19th-century mill are a mix of displays of the museum's own collections, as well as rotating exhibits focusing on important events in the state's history, along with stories of its people through the lens of art, culture, science, and technology (there's also a great deal of information regarding natural history, too).
In addition to the exhibits, visitors can enjoy shows in the museum's state-of-the-art planetarium, as well as in its interactive 4D theater. Other highlights include an observatory, the first steam locomotive to be built in the US, as well as an early submarine.
Address: 301 Gervais Street, Columbia, South Carolina
Official site: http://scmuseum.org
Where to Stay in Columbia for Sightseeing
If you're planning on spending vacation time — or perhaps a romantic couples' getaway — in Columbia South Carolina, be sure to check out these top-rated hotels first:
Luxury Hotels: A favorite for those seeking a luxury hotel stay in South Carolina's capital, Hilton Columbia

Center

features exquisitely decorated rooms and suites with floor-to-ceiling windows, an on-site steakhouse, plus a 24-hour fitness center.
A contemporary feel is very much the in-thing at the high-end Hyatt Place Columbia / Downtown / The

Vista

, which offers its guests not just a great central location close to museums and shops, but also bright modern rooms with plenty of living space, and pullouts.
The Sheraton Columbia Downtown

Hotel

is another reputable luxury hotel and features a mix of rooms and suites with classy fixtures and high ceilings, along with an on-site restaurant and a rooftop lounge.
Mid-Range Hotels: For a great quality boutique hotel experience in the heart of downtown Columbia, consider staying at the trendy Hotel

Trundle

, featuring classy rooms with kitchenettes, plus a great free continental breakfast.
Although at the higher-end of the mid-range pricing level, the SpringHill Suites Columbia Downtown/The

Vista

is worth checking out for hotel deals due to its quality rooms, free breakfast, and great amenities.
Also worth checking out for deals, the Hampton Inn Columbia - Downtown Historic

District

features comfortable rooms and beds, plus amenities including a saltwater swimming pool.
More Related Articles on PlanetWare.com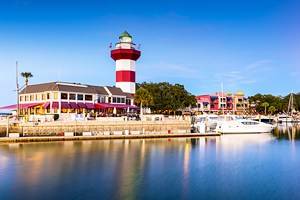 The Best of South Carolina: Just a short drive from Columbia, you'll find yourself in the picturesque old town of Charleston SC, largely unspoiled and one of the best places in the state to enjoy a waterfront walking experience. Prefer a beach vacation? Head to either Myrtle Beach for its endless stretches of sand and lovely boardwalks, or to Hilton Head Island for a relaxing walk on one of the widest — and longest — beaches on the East Coast.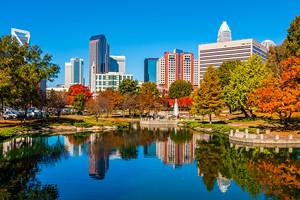 The Best of North Carolina: That other Carolina, North Carolina, is not without fun vacation destinations of its own. A favorite for historians for its well-preserved architecture and the battleship North Carolina, the picturesque old streets of Wilmington are worth exploring. So too is the state's largest city of Charlotte, home to the NASCAR Hall of Fame and the Carolinas Aviation Museum.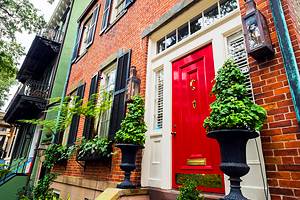 Top Places to Visit in the South: Few US cities are as attractive as Savannah, Georgia, popular for its well-preserved old homes and waterfront district complete with its original warehouses and cobbled streets. The much larger city of Atlanta, Georgia is also worthy of a getaway stay and is home to numerous attractions, including an aquarium and a fascinating civil rights museum. And you can't travel much farther south in the US than the tropical paradise of Key West, tucked away at the bottom of Florida and the perfect playground for couples and adults seeking a fun escape from the cold.