15 Top-Rated Attractions & Places to Visit in South Carolina
We may earn a commission from affiliate links ()
Whether you're interested in history, love relaxing at the beach, or are looking for interesting things to do with your kids, you'll find it in South Carolina's many engaging tourist attractions. Take your pick from high-quality stage shows, golf, and water parks in Myrtle Beach, or relax at the beach and at the family-friendly holiday resorts on Hilton Head Island.
Explore the atmospheric streets of Charleston on a romantic carriage ride, or tour some of the South's most beautiful plantation homes nearby. You can visit the fort in Charleston harbor, where the Civil War began, or revel in the breathtaking views and quiet trails of Caesars Head State Park.
Bike the trails at Hilton Head, enjoy some of the South's best deep sea fishing, or take the kids to a zoo or planetarium. Whatever your interests, you'll find plenty of things to do in this list of the top tourist attractions and places to visit in South Carolina.
1. Charleston's Historic District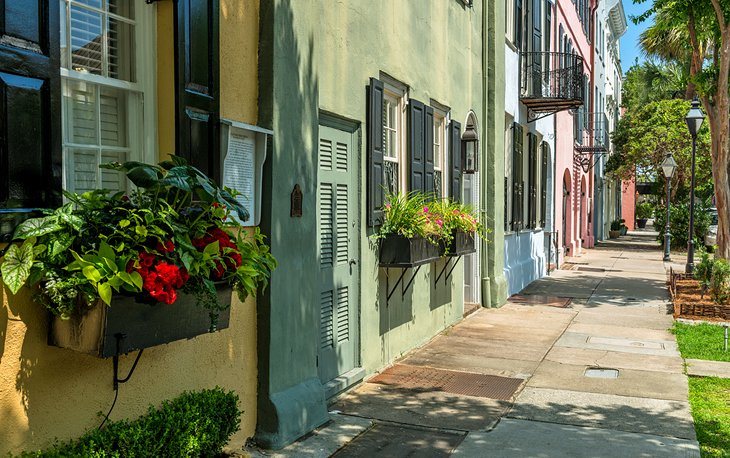 Immerse yourself in the gracious atmosphere of the antebellum south in Charleston, where more than 1400 historic homes, churches, and other buildings line the streets. A carriage ride will give you an overview and a little history as well, or you can join a walking tour that includes a peek into some of them.
You can also take a guided tour of several historic homes, including the Aiken-Rhett House and the 1808 Nathaniel Russell House. Both hold priceless collections of fine and decorative arts.
2. Myrtle Beach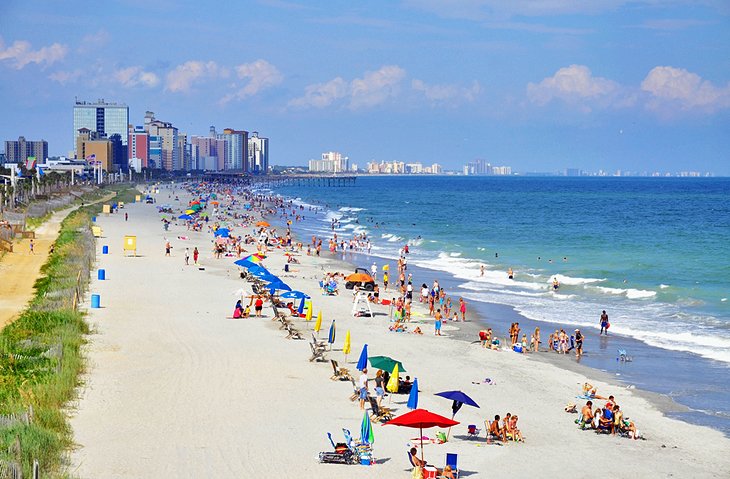 One of the most popular things to do in South Carolina in the summer is to retreat to the miles of pristine sands that line the coast at Myrtle Beach. As appealing as the beaches themselves are the many traditional seaside pleasures to choose from here. The Carolina Opry produces musical shows, and the Myrtle Beach SkyWheel takes visitors on 10-minute rides above the beach and boardwalk.
Broadway at the Beach is the state's largest entertainment and shopping venue, with rides, mini golf, Ripley's Aquarium, movies, specialty shops, dining, and other attractions in a pedestrian-only area around Lake Broadway. Families love the slides, splash rides, and swimming pools at water parks and at major hotels.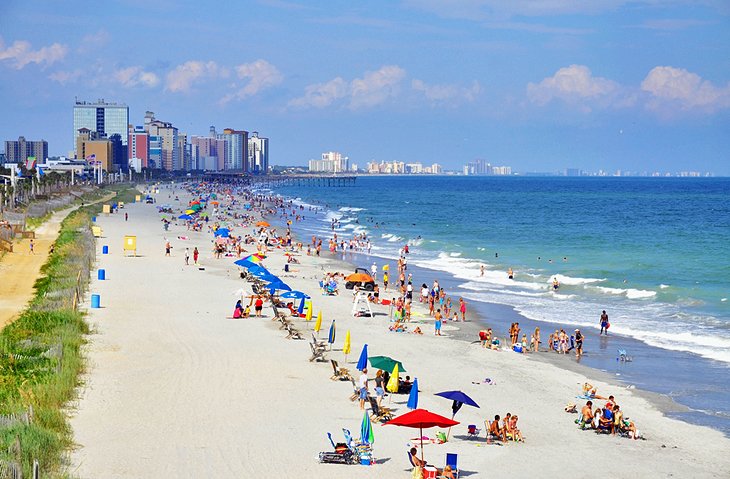 3. South Carolina Plantation Gardens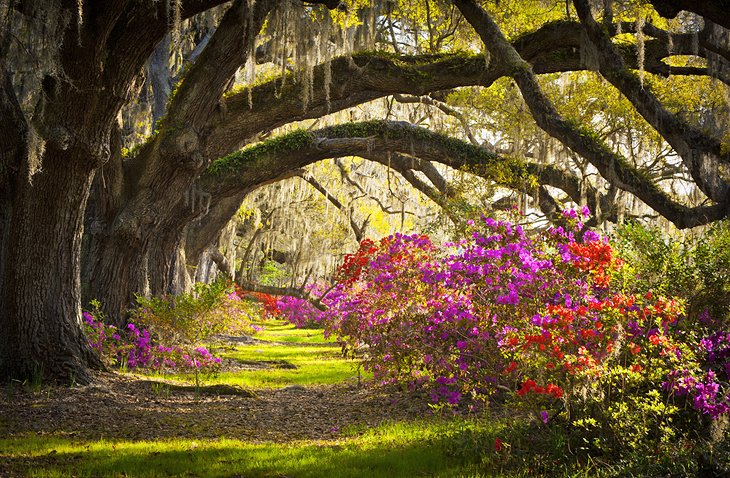 Many of the state's 2,000-plus plantations are open to visitors, and those around Charleston are noted especially for their outstanding gardens. Magnolia Plantation is in America's oldest publicly accessed gardens, begun in the early 1700s and first opened to visitors in 1870. They are unique as America's last grand Romantic-style garden. Middleton Place sits above America's oldest landscaped gardens; the house is fully furnished in original style.
Boone Hall Plantation in nearby Mt. Pleasant is one of the nation's oldest plantations still operating as a working farm, and is best known for its picturesque, three-quarter-mile Avenue of Oaks. You get a rare glimpse of original 18th-century craftsmanship in the ornamental details of the interior of Drayton Hall, which is the oldest unrestored plantation house in America that's open for tours.
Along with showing how the owners and their families lived, these plantations now include exhibits, tours, and programs on the lives of the enslaved people who made the plantation lifestyle possible during the 17th, 18th, and 19th centuries.
Guided tours of Middleton Place include discussions not only about the Middleton family, but also the enslaved people and freedmen who served them. Active archaeological studies at Drayton Hall continue to recover artifacts that provide insight into these undocumented lives.
Magnolia's Cabin Project preserves former slave dwellings that serve as the focal point for a 45-minute program on African-American history, highlighting not only the lives of enslaved people, but their later role in maintaining and preserving the estate's magnificent gardens. Boone Hall features a live presentation of the unique Gullah culture developed by African slaves, where descendants of the Gullah people tell the history of this culture through storytelling and song.
4. Hilton Head Island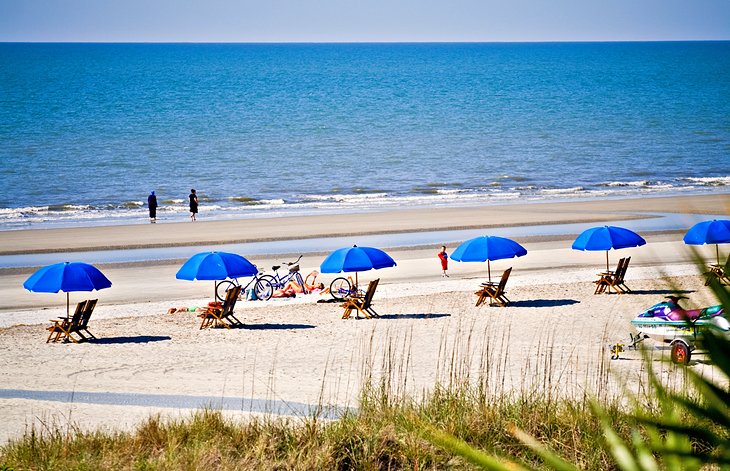 While Hilton Head Island doesn't have the glamorous stage shows of the Grand Strand in Myrtle Beach, this low-country beach town offers laid-back relaxation and smaller crowds. You'll find plenty of fun things to do here, including great shopping, restaurants, and golf courses, and, of course, the beautiful wide sandy beaches.
One of the best places in South Carolina for bicycling, Hilton Head has miles of flat, well-marked bicycling trails, with great scenery and signage to point out landmarks and interesting facts. At low tide, you can even ride along the beaches, as most bike rental companies now offer bikes with extra wide tires that handle nicely on the firm, packed sand.
In some places, particularly along the shores of the Intracoastal Waterway, you may be lucky enough to catch a glimpse of dolphins playing on the surf not too far from you. Wildlife watchers can also spot rare and common marine and birdlife up close at the Pinckney Island National Wildlife Refuge.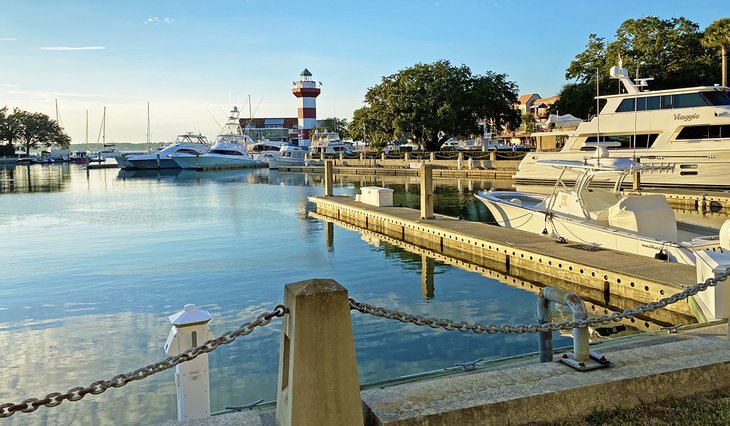 5. Fort Sumter and Charleston Harbor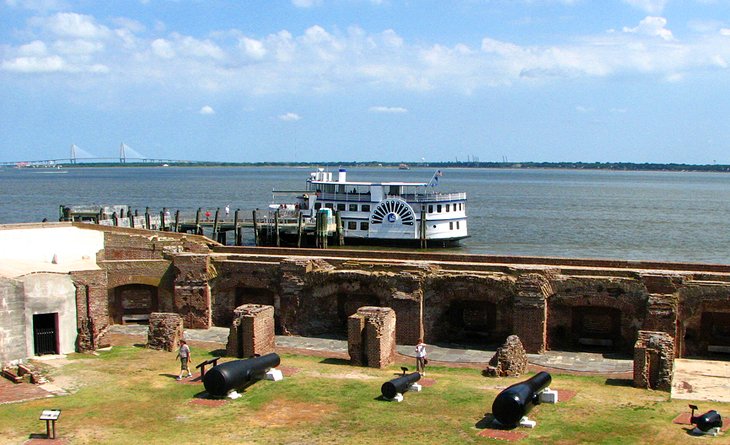 The attack on Fort Sumter, the federal fort guarding Charleston Harbor, by Confederate forces on April 12, 1861, began the American Civil War. The excellent National Park Rangers' interpretations bring those events vividly to life and set the stage for a better understanding of Civil War history.
You can visit the island and the well-preserved ruins of the fort by boat from the Visitor Education Center at Liberty Square, or from Patriots Point. Or you can get good views of the fort from a 90-minute tour on a sightseeing boat that takes you along the Cooper River to Fort Sumter National Monument.
6. USS Yorktown and Patriots Point, Mount Pleasant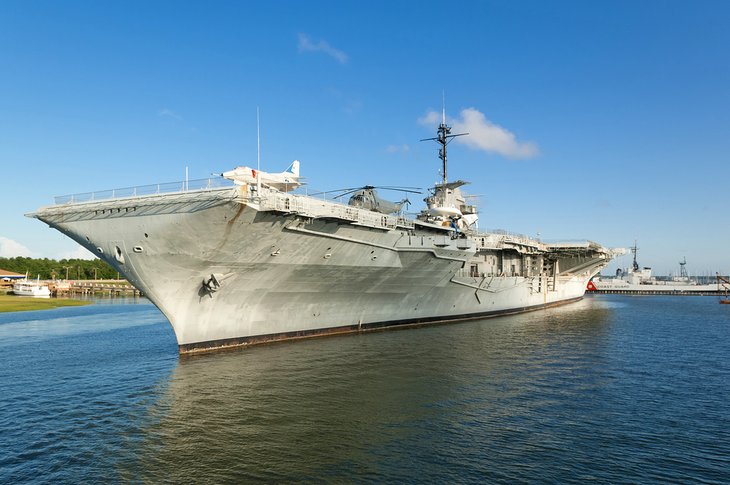 At Patriots Point, on the other side of the harbor from Charleston's Historic District, you can tour the historic Essex-class aircraft carrier USS Yorktown. Built in 1943, it was the tenth aircraft carrier to serve in the United States Navy, and earned 11 battle stars for service in World War II, later adding five battle stars for service in Vietnam. The USS Yorktown also "starred" in the 1944 documentary film, The Fighting Lady.
7. Congaree National Park, Hopkins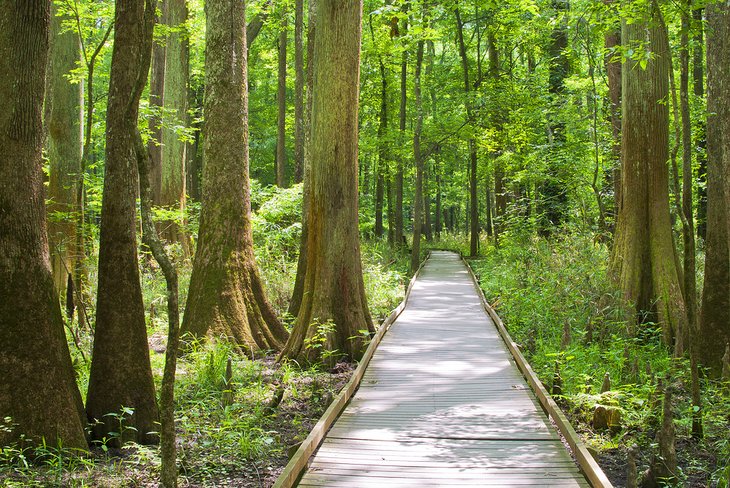 An easy 30-minute drive south of Columbia, Congaree National Park covers more than 26,000 acres and is a popular destination for those who enjoy the great outdoors in South Carolina. Home to the USA's largest concentration of tall bottomland old-growth forest, this incredibly scenic area is also one of the country's prime wilderness areas, with over half the park considered an unspoiled habitat that's home to abundant wildlife.
It's also notable for having been designated a UNESCO biosphere reserve. Little surprise, then, that the park is home to an abundance of ecologically important flora and fauna. Wildlife spotters can expect to see everything from bobcats to deer, as well as armadillos and plenty of amphibians.
8. Watch Wildlife at Huntington Beach State Park, Murrells Inlet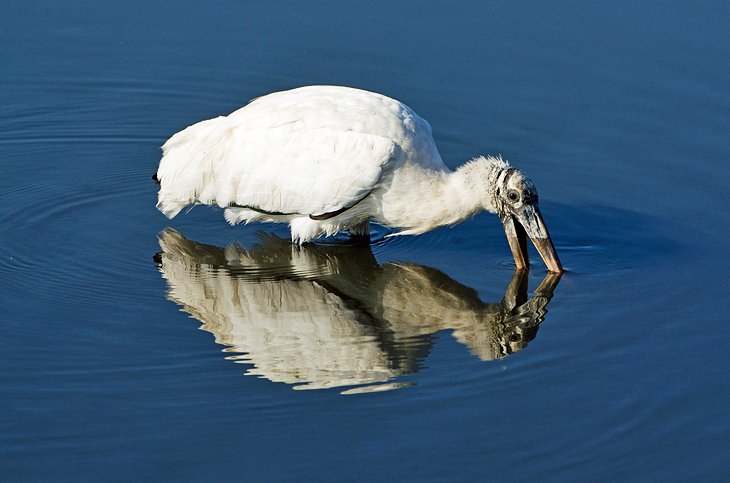 With more than 300 different species of birds found in the park, Huntington Beach is considered the best birding location in South Carolina.
But birds are not the only attraction for tourists who love wildlife. Visitors can usually spot alligators at the park's freshwater lake, and a wide variety of park programming offers chances to observe loggerhead turtles and other endangered species, as well as introducing some of the rare local plants.
9. South Carolina State Museum, Columbia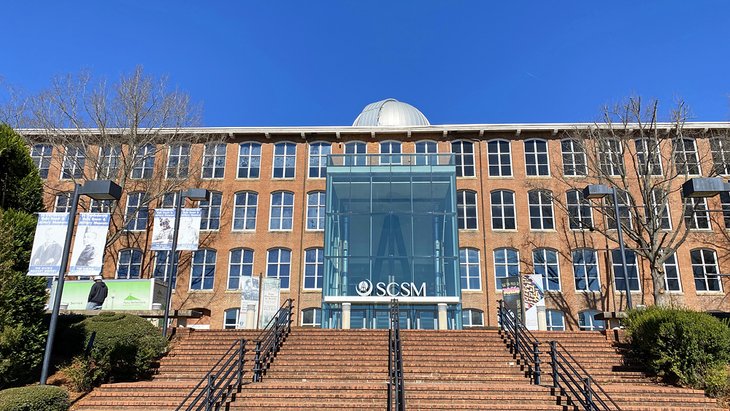 The South Carolina State Museum is the state's largest such facility. This popular attraction features four floors of exhibits covering South Carolina's natural history, art, culture, science and technology.
10. Brookgreen Gardens, Murrells Inlet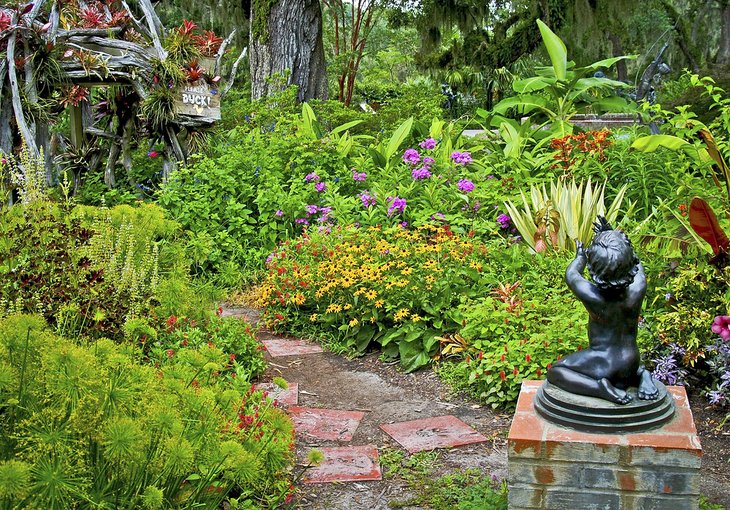 Set on more than 9,000 acres of former rice plantations south of Myrtle Beach, Brookgreen Gardens combines a sculpture garden, the Lowcountry Zoo, and a wildlife preserve featuring multiple ecosystems. The sculpture is displayed throughout an entire series of themed gardens, which include the Kitchen Garden, Palmetto Garden, and a children's garden.
There's also a terrace garden filled with perennials, roses, and flowering shrubs. The Live Oak Allée of 250-year-old trees dates from plantation days in the early 1700s. Throughout the gardens and in three galleries are displayed more than 2,000 works by 430 artists, the country's largest and most comprehensive collection of American figurative sculpture.
11. Deep Sea Fishing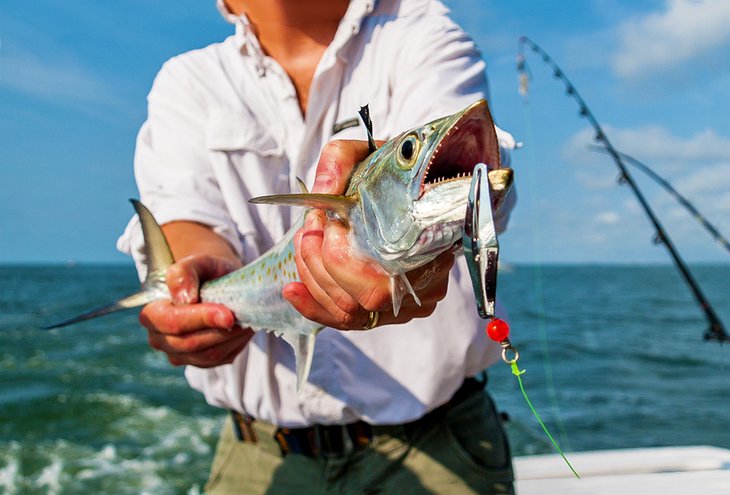 From April through November, South Carolina is a prime destination for deep sea fishing, when avid anglers take to the water in a quest for sailfish, amberjack, cobia, giant blue marlin, barracuda, and other game species.
Unique to the state's waters are the many artificial reefs, more than 40 of which are located off its 3,000 miles of tidal shoreline. Built from scrap metal, including discarded equipment, barges, concrete bridges, and military vehicles, the underwater structures create habitat for a variety of marine species.
Three coastal areas are especially prime for fishing. The sea near Myrtle Beach has 18 artificial reefs and eight fishing piers, including Apache Pier, the longest wooden fishing pier on the east coast.
Charleston is the best departure point for the central coast waters, where 13 artificial reefs furnish habitat for several species, including blue marlin. Convenient departure points for the southern coastal waters are Beaufort and Hilton Head Island.
12. Riverbanks Zoo and Garden, Columbia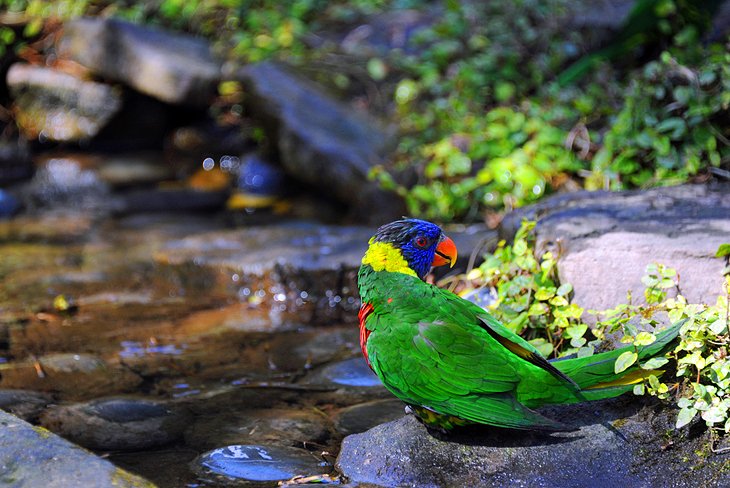 As if kangaroo and koala joeys weren't enough, Riverbanks Zoo and Garden is home to more than 2,000 other animals, representing more than 350 species. The two-acre African Plains exhibit reproduces an African savanna, where you can see giraffes, ostriches, and zebras along with African lions and baboons in their own separate natural habitats.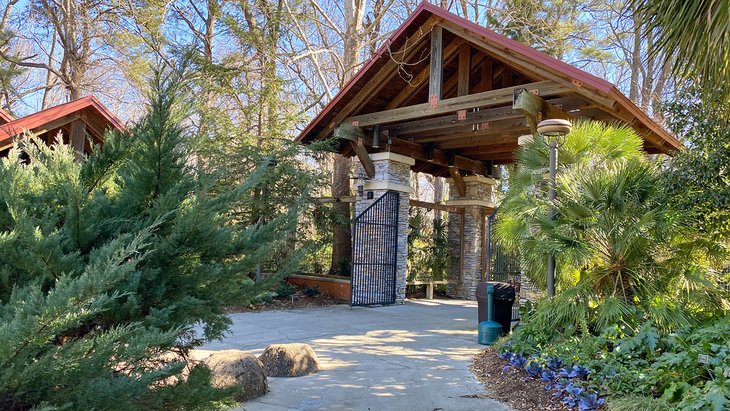 13. Caesars Head State Park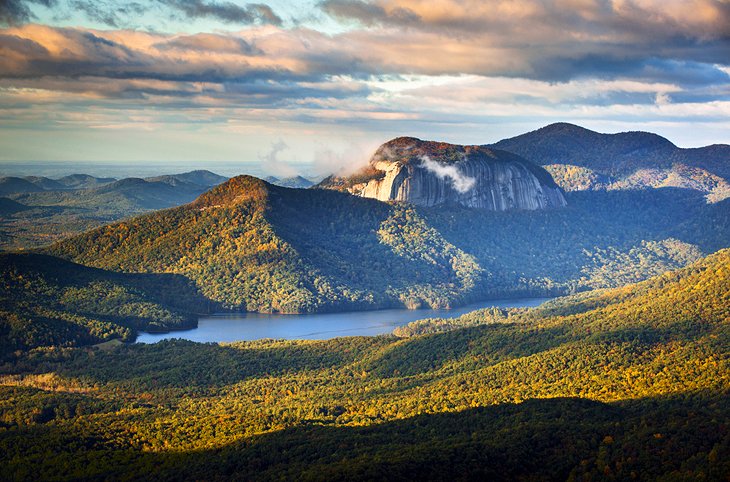 Caesars Head State Park in Cleveland encompasses the heights of the Blue Ridge Escarpment and is filled with photo ops. The most impressive is from The Overlook, with its breathtaking view of Table Rock. The Raven Cliff Falls Trail leads to South Carolina's tallest waterfall, and the Jones Gap Trail leads to a series of swimming holes.
14. Columbia Museum of Art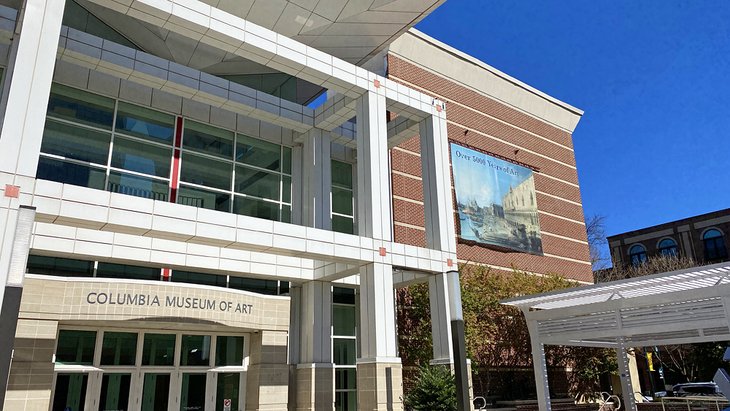 Art lovers traveling to South Carolina should be sure to include the Columbia Museum of Art on their travel itinerary. Consisting of over 25 galleries showcasing regional, national, and international artworks, it's a delightful way to spend a few hours.
Highlights include examples from the Baroque and Renaissance periods, along with works by a number of other European Masters. There's also an extensive collection of artworks by American artists, as well as decorative and furniture pieces.
15. EdVenture, Columbia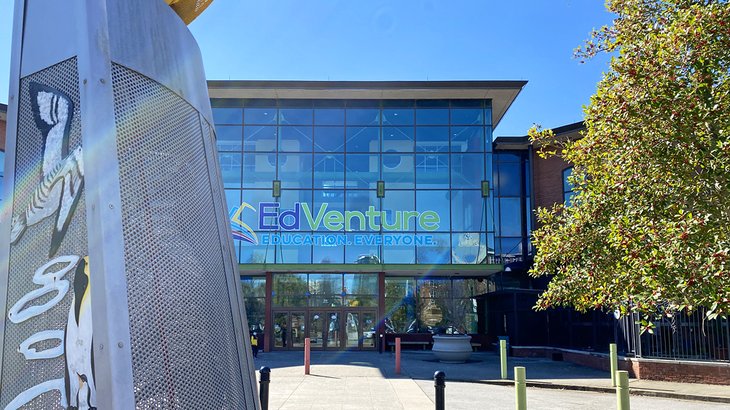 This one's strictly for the kids. The EdVenture Children's Museum is a fun, state-of-the-art attraction that places the emphasis entirely on making learning fun. And the fun here is very much hands on, from the outdoor activities, including a full-scale airplane, to the magical indoor play areas.
More Related Articles on PlanetWare.com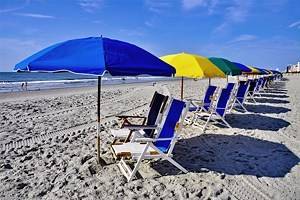 Where to Go in South Carolina: If you're going to be here in summer, spend some time finding the most beautiful beaches in the state, as well as to the best resorts in South Carolina. And don't overlook the many things to do in South Carolina's lovely small towns.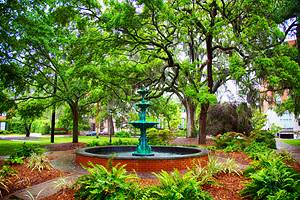 Places to Visit near South Carolina: South of Charleston, traveling through the Low Country leads into Georgia, where you will not want to miss romantic Savannah, with its lovely parks and streets of antebellum homes.