South Carolina in Pictures: 25 Beautiful Places to Photograph
Whether you're looking to soak up the sun, step back in time, or improve your golf game, South Carolina has everything you need for a relaxing vacation, including great photo locations. The natural scenery bursting from this Southern gem is so spectacular, your camera will thank you for bringing it along.
Ancient oak trees clothed in hanging moss entwine in romantic archways over historic avenues. Gorgeous plantation homes and quaint main streets evoke the Southern charm we've come here to experience. And then there's the coast – that glorious coast. Long stretches of golden sand caress sweet beach towns, while the effervescent Myrtle Beach awaits those looking for action.
Not sure where to start snapping? This list of beautiful pictures will help.
1. Boneyard Beach, Edisto Island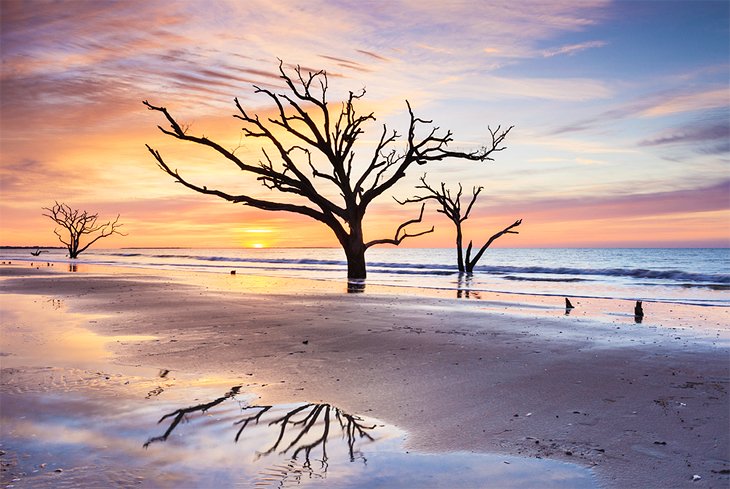 There's never a bad moment to visit Boneyard Beach, especially if you're hoping to take photographs so gorgeous your living room wall will beg you to hang them. Situated on Edisto Island, this remarkable beach boasts remnants of a forest left stranded by erosion. Its unique driftwood is so dreamy, you can't help but take a gazillion artsy photos.
2. Table Rock State Park, Pickens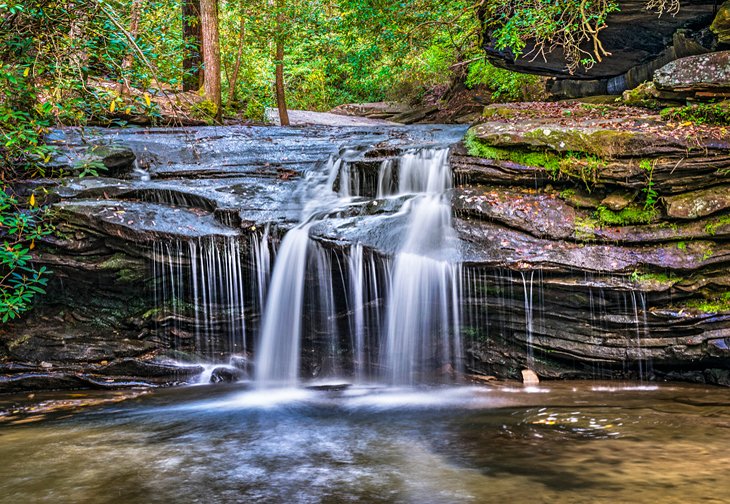 Named after the majestic mountain looming in the distance, Table Rock State Park offers 3,000 acres of nature at its absolute best. Hike the well-worn trails through the verdant forest, jump through streams, take photos of impressive waterfalls, and soothe your soul with the breathtaking vistas provided from the top of both Pinnacle and Table Rock Mountains.
3. Avenue of Oaks, Boone Hall Plantation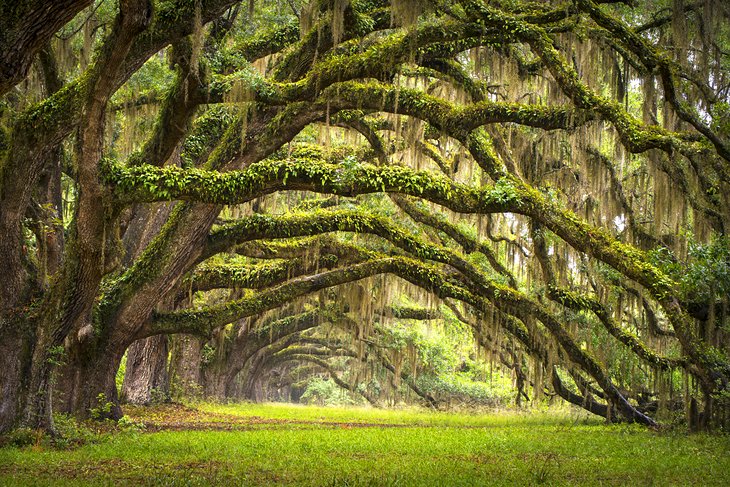 A photographer's dream landscape, the unbeatably gorgeous tree tunnel (a.k.a. Avenue of Oaks) is so pretty, you won't want to look away. A spectacular entryway to Boone Hall Plantation, this breathtaking sight features massive oak trees resplendently dripping with moss. Its fairy-tale-like state beckons woodland creatures and evokes a sense of mystery and magic.
4. Magnolia Plantation & Gardens, Charleston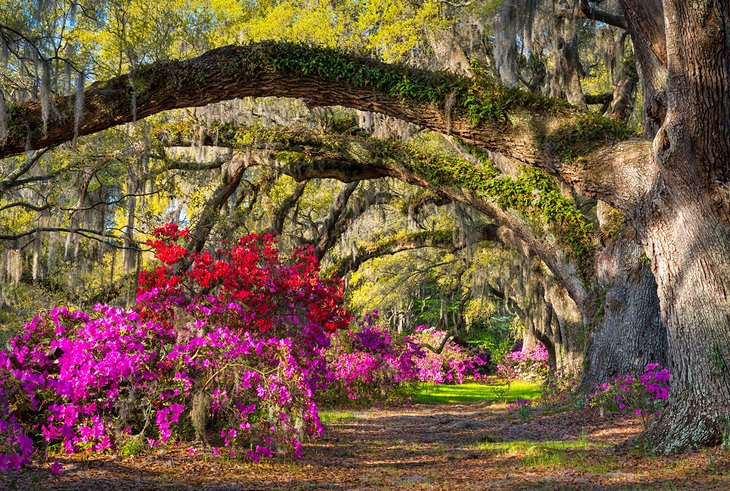 Beauty bursts from every angle of Charleston's Magnolia Plantation & Gardens. During spring, you'll find vibrantly violet azaleas sprouting from the lush ground. Summer gives birth to wildflowers peeping through the grass. Throughout the year, strings of moss hang romantically, caressing visitors as they walk below the old oak trees.
Accommodation: Top-Rated Resorts in Charleston, SC
5. Charleston Historic District, Charleston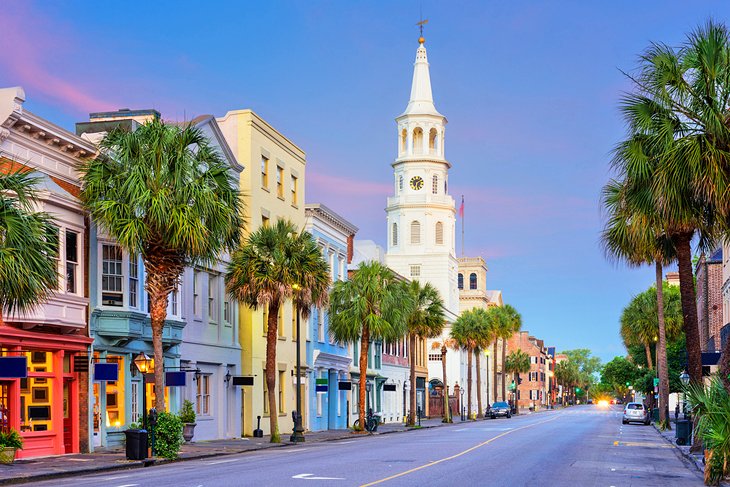 Discover the real deep south by wandering the lovely streets of Charleston's Historic District. One of the country's oldest cities, Charleston boasts a past rich in history. Overflowing with charm, the historic district has managed to cling to the most impressive (and classic) buildings worthy of a million pictures.
6. Myrtle Beach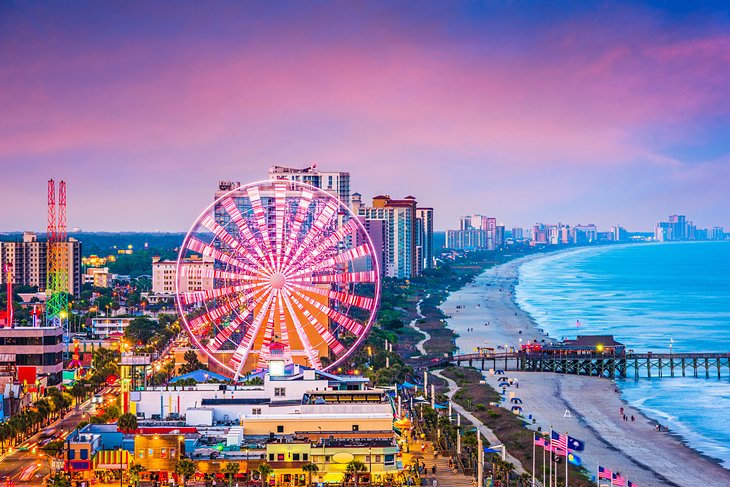 No one gets bored on Myrtle Beach. From sunning themselves, to riding the waves, to people-watching, there's a ton to keep visitors entertained. Want to play mini golf? No problem. Fly through the air on a zipline? Got that, too. What keeps guests' shutters happy, though, are the fluorescent lights and innate vibrancy on offer. There's always something (and someone) to photograph.
Accommodation: Best Resorts in Myrtle Beach
7. Daufuskie Island, Beaufort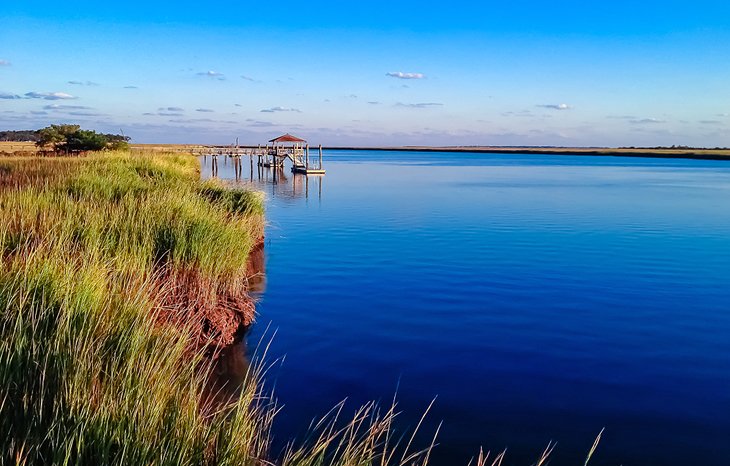 Luscious green sea grass pops against the dark blue water on Daufuskie Island in Beaufort. An untouched natural gem, this small and beautiful isle lies just off the southwest edge of Hilton Head Island. Most of the island's residents descended from freed slaves. Today, they make their living off the sea.
8. Beaufort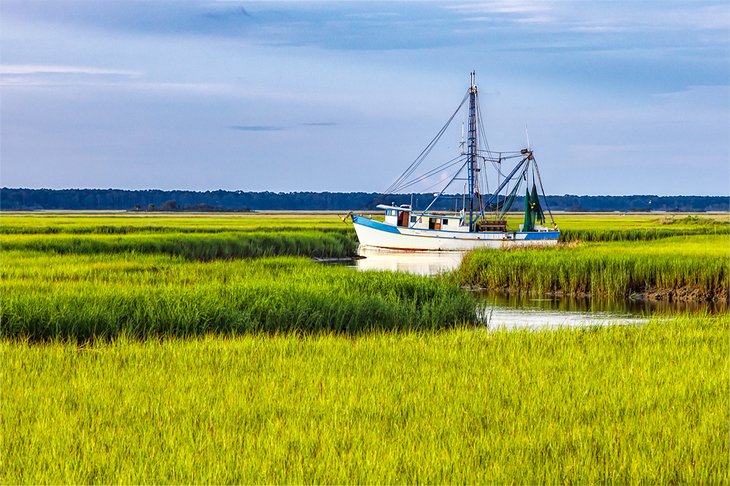 Beaufort is the second oldest city in South Carolina. It's also one of the most beautiful. Winding streets, massive mature trees dripping with moss, and charming historic homes bring both life and art to your lens. Up the charm factor by touring the sweet lanes in a horse-drawn carriage or head to the verdant marshes for a boat tour.
9. Congaree National Park, Hopkins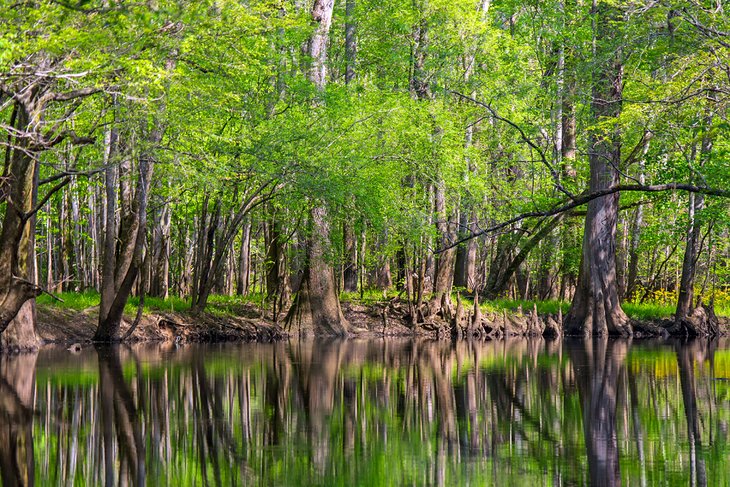 Transport yourself to another more natural world with a visit to the stunning Congaree National Park. The extraordinary floodplain is filled by water from both the Congaree and Wateree Rivers, and this vast park is home to an extensive old-growth hardwood forest. Its verdant trees are so captivating, you'll want to stay to admire them for hours.
10. Fort Sumter, Charleston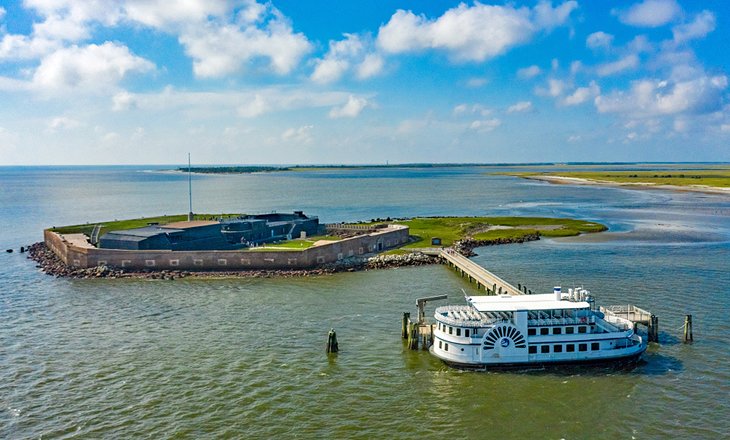 A sea fortress, Fort Sumter lies on its own, man-made island at the entrance to Charleston Harbor. Built in 1829, the fort is famous as the site of the first battle of the American Civil War: The Battle of Fort Sumter, which took place in April of 1861.
11. Lake Jocassee, Salem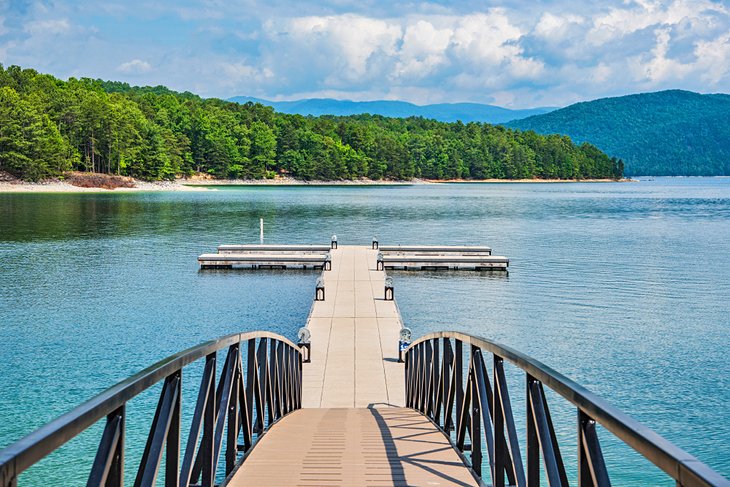 Rent a canoe, hike through the forest, or enjoy a refreshing dip in Lake Jocassee, which lies in Devil's Fork State Park. Technically a reservoir, this lovely spot is made even more wonderful by its impressive backdrop: The Blue Ridge Mountains. It's also home to multiple waterfalls. Trust us, you won't want to leave.
12. Wildcat Falls, near Cleveland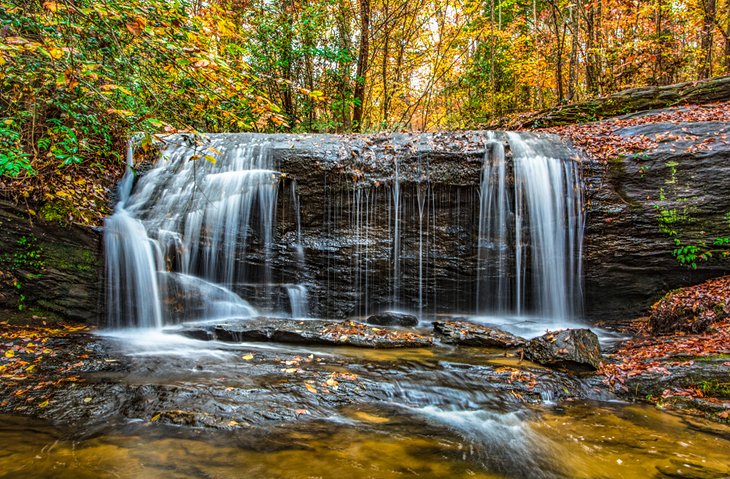 You don't have to hike to see these soothing falls. Located just beside the SC 11 (a.k.a. the Cherokee Foothills Scenic Highway), Wildcat Falls offers a pretty backdrop for any photo shoot. Cascading from Wildcat Branch Creek, the tranquil falls will soothe what ails you, if only for a few moments.
13. Angel Oak, Johns Island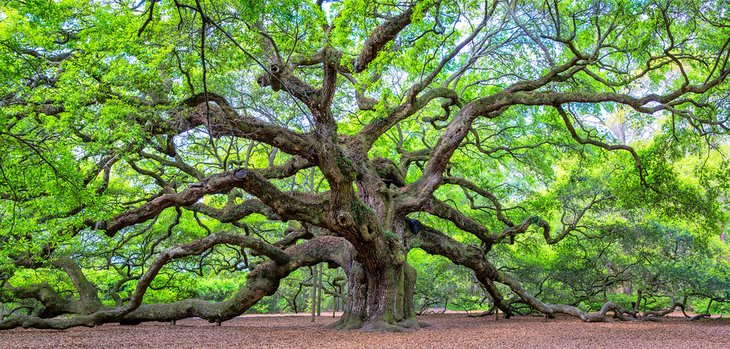 If there was ever a tree you wanted to come to life, it would be the majestic Angel Oak. Set in Angel Oak Park on Johns Island, this 65-foot masterpiece is a marvel so popular, it receives more than 400,000 visitors each year. While you'll wish you could climb and play in its crooked winding branches, just catching sight of this unique beauty will fill you with childhood joy.
14. Lake Hartwell, Clemson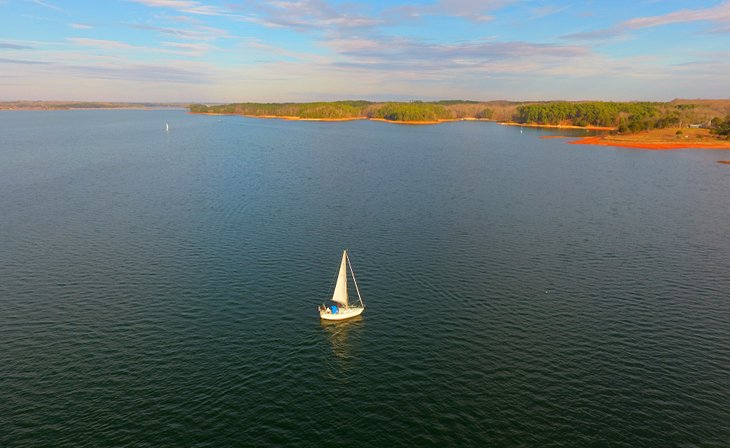 Best known for its renowned fishing, the 56,000-acre Lake Hartwell is also home to spectacular views. Nestled sweetly in Lake Hartwell State Park, near the border of South Carolina and Georgia, this watery beauty (also a reservoir) is worth a visit. The area also boasts campsites, nature trails, and two cabins for those who prefer to "glamp."
15. Hilton Head Island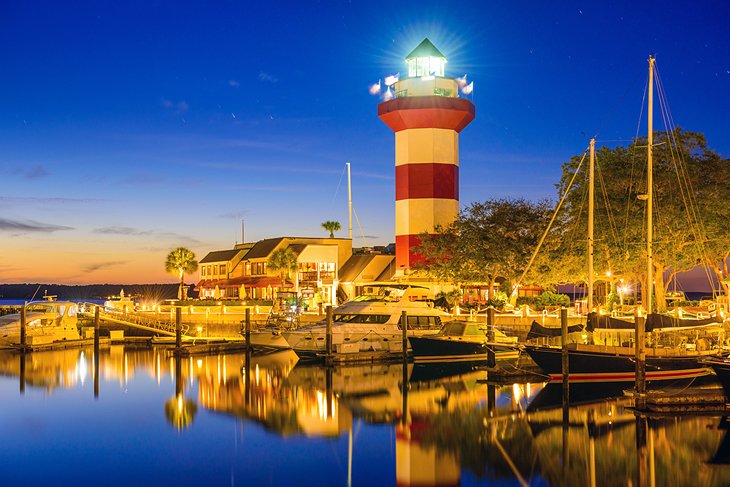 Pretty Hilton Head has long been a playground for wealthy vacationers, especially those with a penchant for golf. With 12 miles of idyllic beaches, dozens of pristine golf courses, and a bevy of fancy (read: private) resort communities, it's easy to see why. This "lowcountry" vacation hot spot has made the most of its fame, adding delicious restaurants and eclectic shops.
Accommodation: Top-Rated Beach Resorts in Hilton Head, SC
16. Brookgreen Gardens, Murrells Inlet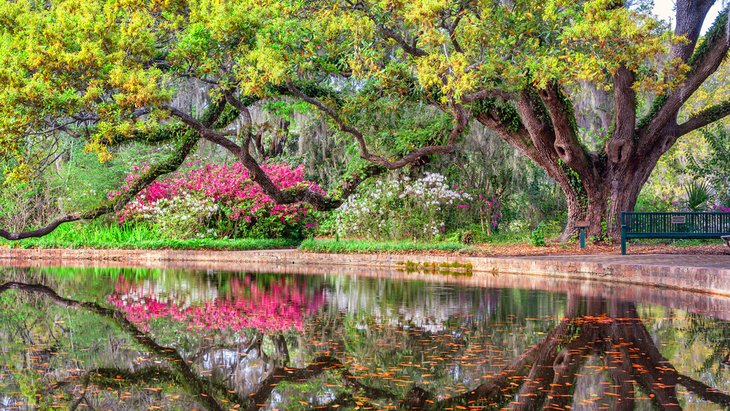 A visit to the remarkable Brookgreen Gardens is one of the most serene trips you can take while in South Carolina. Be still your flower-loving hearts because the spring's azalea blooms are so spectacular, they'll leave you breathless. An easy day trip from nearby Myrtle Beach, this impressive spot also boasts a sculpture garden, zoo, aviary, and botanical gardens.
17. Waterfront Park, Charleston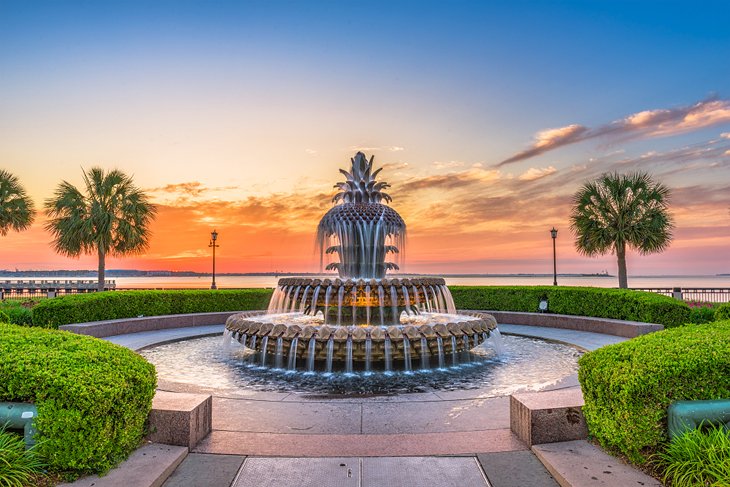 Charleston's popular Waterfront Park is easy on the eyes. This more than 10-acre sliver of land overlooks Charleston Harbor and the Cooper River, providing stunning views and a relaxing environment for an enjoyable walk. The tree tunnel is especially picturesque, as is the unique (and impressive) palmetto-tree-topped fountain.
18. Boone Hall Plantation & Gardens, Mount Pleasant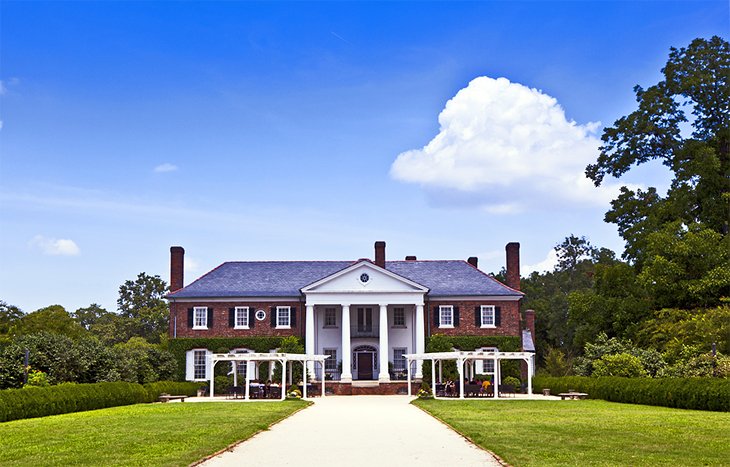 This traditional plantation home dates to the late 17th century. Today, this working farm (including the home and its vast, magnificent grounds) are open to visitors. The cotton it was once known for producing has been replaced by strawberries, peaches, and tomatoes.
19. The Battery, Charleston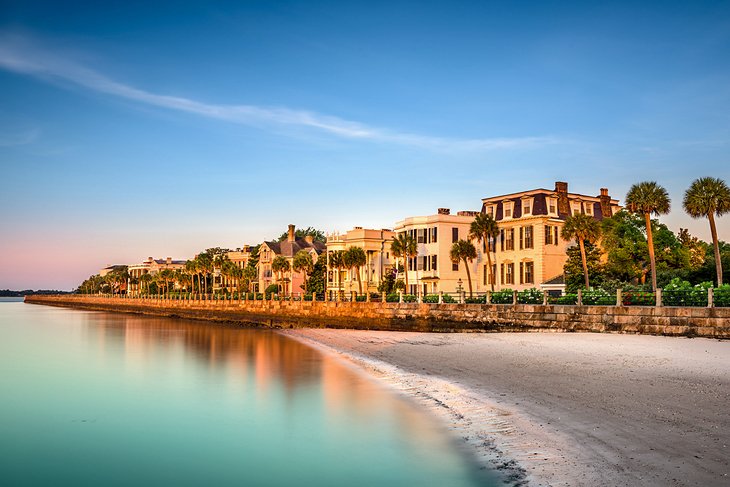 Enjoy a scenic walk on one of Charleston's most prized attractions, The Battery. A fortified seawall located downtown, this long promenade features lovely views of the waterfront, which is lined by impeccable mansions. Nestled on the tip of the Charleston peninsula, the area features a ton of photo-worthy items, including giant oak trees, palmettos, cannons, and unbeatable views of the Sullivan Island Lighthouse and Castle Pinckney.
20. Huntington Beach State Park, Murrells Inlet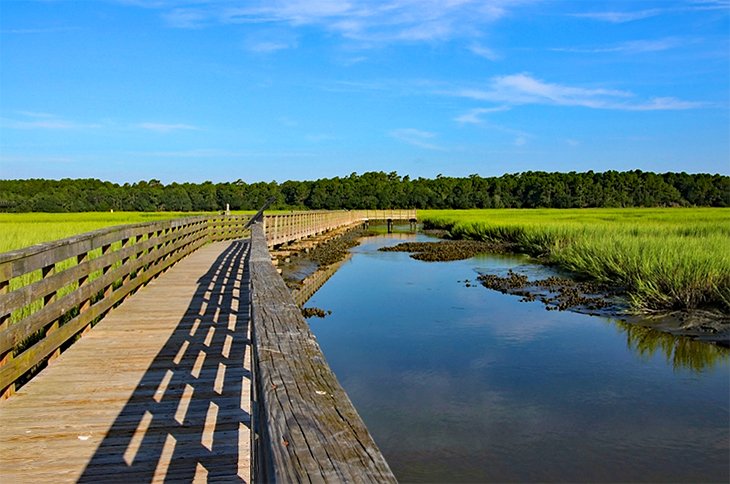 This natural wonderland is a haven for bird-watchers. Pack your telephoto lens and get ready to capture waterfowl in flight above a lush background peppered with brightly colored wildflowers. The beach itself is clean and lovely, featuring wide-open spaces and soft, golden sand. Keep your eyes peeled for gators; you're sure to see one (or more) wandering the shore.
21. Georgetown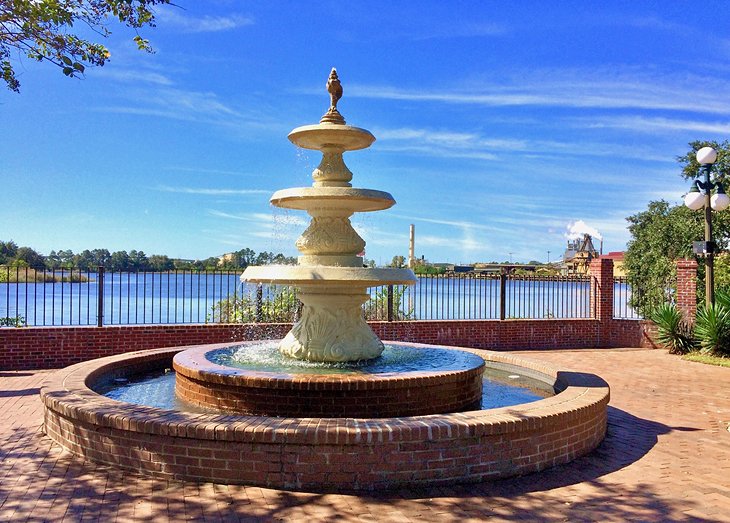 Georgetown is adorably quaint. Small in size, its charming historic homes, sweet main street, and perfect seaside setting are the stuff of dreams. Nestled between the much larger (and louder) Charleston and Myrtle Beach, this quiet and compact town is a wonderful spot to recharge.
22. Blue Ridge Mountains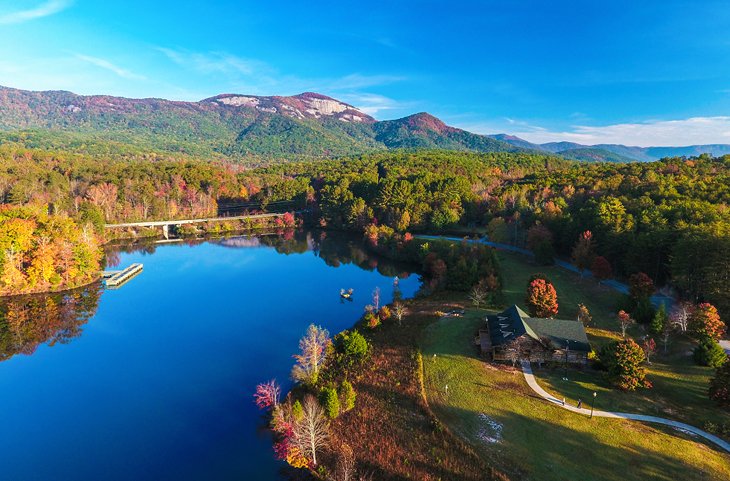 It's impossible to find fault with the Blue Ridge Mountains. Rising majestically from the "Upcountry" region of the state, these phenomenal peaks are breathtaking (literally). Climb to the top for a stunning vista worthy of a thousand pictures (including a few selfies, of course).
23. Folly Beach, Charleston County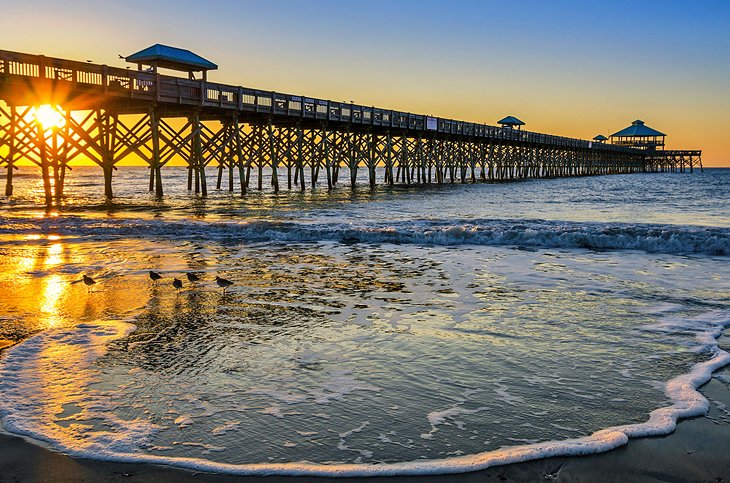 There's no doubt about it, your camera will fall in love with Folly Beach. Whether you're an angler, photographer, sun worshiper, or surfer, this delightful spot will make you forget your worries. The closest beach to Charleston, this is a popular place, especially during warm weekends. One of its main attractions is the picture-perfect fishing pier.
24. Swan Lake Iris Gardens, Sumter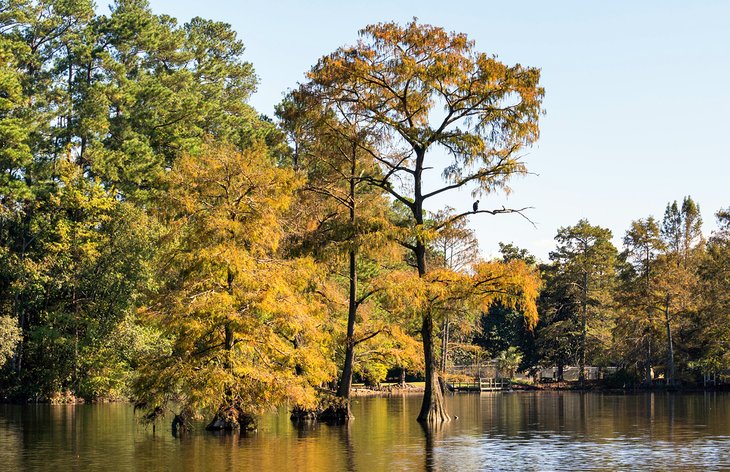 Nature lovers will rejoice in a day spent at Swan Lake Iris Gardens in Sumter. In addition to its glorious blooms, this is the only public park in the US to serve as home to the eight swan species. Here, too, you'll find 150 acres of natural wonderland primed for exploring. Visit during late spring to gasp with delight at the 120 varieties of iris.
25. Caesars Head State Park, Cleveland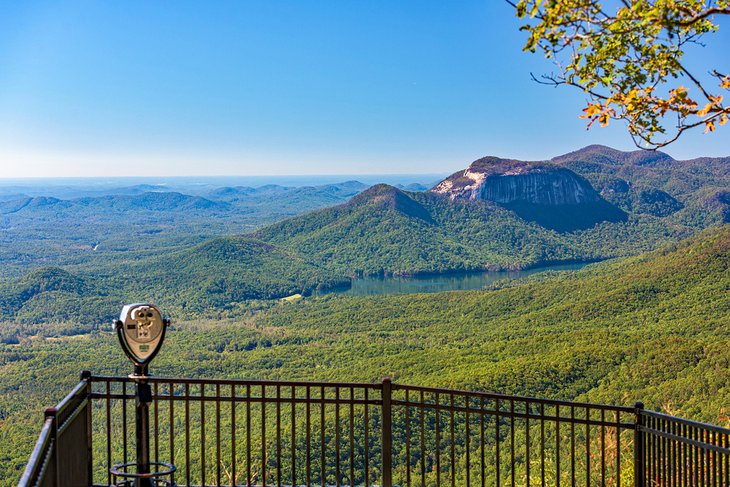 Caesars Head State Park offers some of the most spectacular views you'll find in South Carolina. In addition to unsurpassed vistas of Table Rock, visitors are granted plenty of opportunities to gape at the impressive Pinnacle Mountains, which stretch far into the distance. On a clear day, guests can see into North Carolina and Georgia.