11 Top-Rated Things to Do in Augusta, GA
Set overlooking the Savannah River on Georgia's eastern border with South Carolina, the city of Augusta is a great place to visit for an overnight stay, a fun weekend break, or even a longer family vacation. Established in 1736 and now the Georgia's third largest city, with a population of just over 200,000 souls, Augusta features plenty of things to do for all tastes.
While many of the top tourist attractions are located within the downtown core, including numerous cultural and entertainment opportunities, the city's popular Riverwalk is a big draw for visitors and locals alike. This pleasant pedestrian-only route follows the Savannah River, with direct access to the downtown area. Those wanting to explore further afield can hike along an extensive trail network that follows the historic 19th-century Augusta Canal.
Augusta is also famous as the home of the USA's most prestigious golf tournament, The Masters, held at the exclusive Augusta National Golf Club each April. The city's population almost doubles during the event.
Find out why this Georgian city ranks so highly on travelers' lists of places to visit in the Southern USA, with our list of the top things to do in Augusta, Georgia.
1. Augusta Riverwalk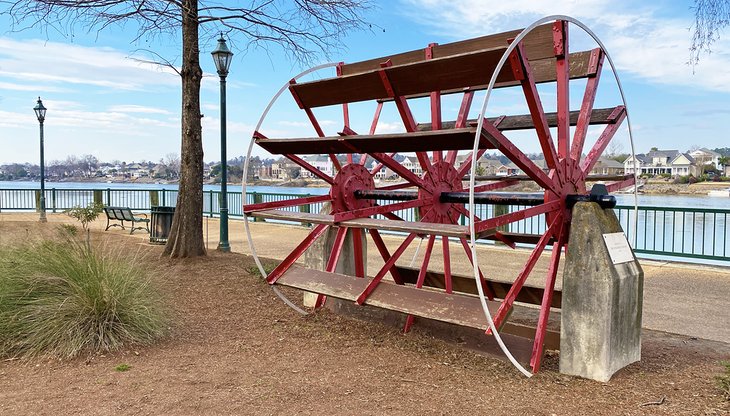 The Augusta Riverwalk is a great place for an easy waterside stroll. Located within the city's downtown area between 6th and 10th Streets, this pleasant, two-tiered brick pathway follows a section of the Savannah River and offers plenty of places to stop and enjoy the views over the river to South Carolina.
Along the way, you'll find places for the kids to play, picnic tables, and even a large 1,800-seat amphitheater where concerts and church services are frequently held. The trail is also home to a number of important attractions, including the extremely photogenic St. Paul's Episcopal Church at the east end, and the Morris Museum of Art at the west end.
There's also a Japanese Garden that's worth a visit. The Riverwalk's also fun to visit on Saturday's when the local farmers market is held here.
Address: 10th Street, Augusta, Georgia
Official site: www.augustaga.gov/292/Augusta-Riverwalk
2. The Augusta Canal Discovery Center at Enterprise Mill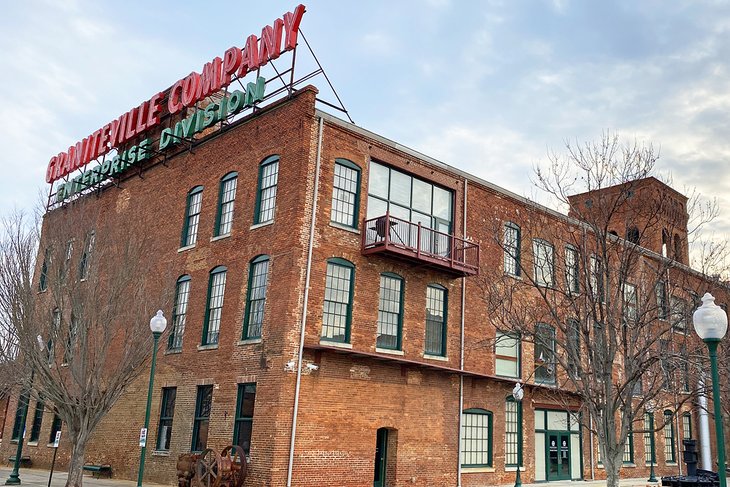 Built in 1845 to provide power, water, and a transportation route around a non-navigable portion of the Savannah River, the Augusta Canal is notable for being one of the only such engineering projects still in use for its original purposes. Thirteen miles in length, consisting of three levels, and fed by the river, the waterway's fascinating history is preserved at the Augusta Canal Discovery Center at Enterprise Mill.
Set in a former textile mill, a visit reveals fascinating details regarding the canal's construction, as well as its role in Augusta's development as one of the most important transport hubs in the South. In addition to a film show and artifacts, as well as original machinery, admission includes a fun boat tour along a section of the canal. A gift shop is located on the premises.
Hikers and bikers will want to also explore the Augusta Canal Trail. Accessible from the Discovery Center, this trail network includes a section that runs adjacent to the canal, as well as some that lead off into different areas of Augusta. They also provide an introduction to native flora and fauna. Kayak and canoe adventures can also be enjoyed in the canal's first level.
Address: Blome Lane, Augusta, Georgia
Official site: https://augustacanal.com/about-discovery-center.php
3. The Masters at Augusta National Golf Club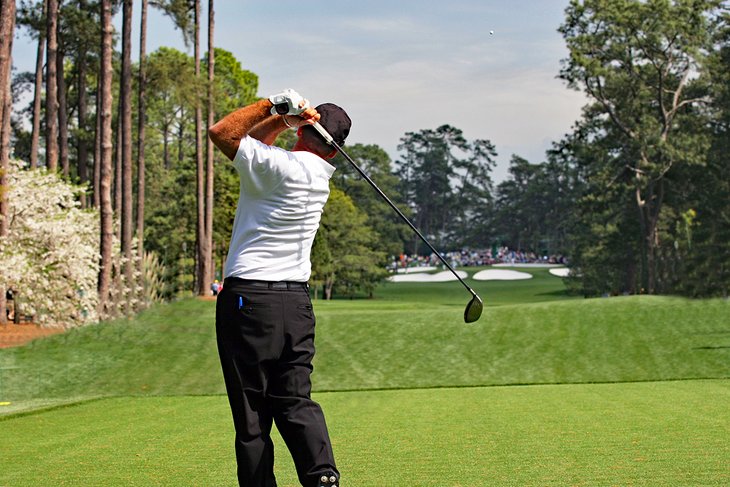 Golf fans will want to mark their calendars for a spring visit to Augusta. Taking place the first full week of April, The Masters, America's most prestigious golf tournament, is held at Augusta National Golf Club and draws huge crowds of spectators to the city, most of them here to join in the fun off-course.
Known among golfers simply as The National, the club itself is ranked one of the top private courses in the world. Since it opened in 1932, it has seen everyone from celebrities to politicians tackle its two courses, including its championship 18-hole course.
While tickets for the event are difficult to get hold of and are expensive, there are experiences that the public can enjoy during the Masters. These include special deals and events at other local golf courses and driving ranges, as well as screenings of the tournament in local restaurants and various public facilities and attractions across the city.
Address: 2604 Washington Road, Augusta, Georgia
Official site: www.masters.com/index.html/
4. Augusta Museum of History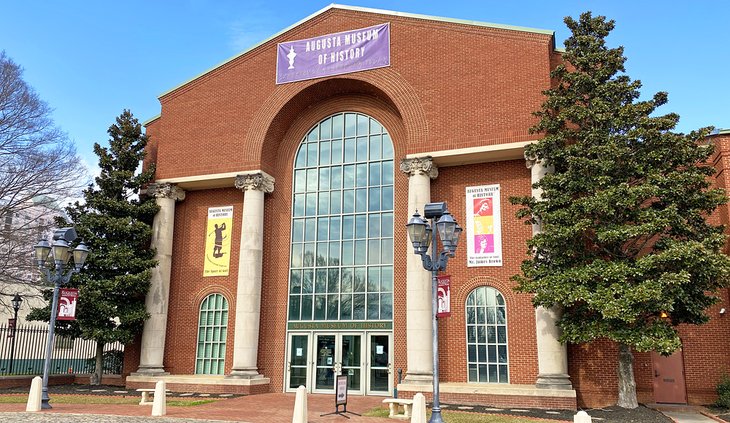 Since its establishment in 1937, the Augusta Museum of History has done a great job of fulfilling its mandate to celebrate and display the city's rich history, along with that of its surrounding counties. Situated in the downtown area just a few steps away from the city's Riverwalk, it's a fun outing for all ages, with interesting dioramas, artifacts, and exhibits showcasing everything from the region's first human settlers right up to the present day.
Of special interest to music fans is a collection related to the "Godfather of Soul," James Brown, who grew up in Augusta. Highlights include some of Brown's most iconic stage costumes. Other exhibits cover the history of the city's early radio stations, which were instrumental in sharing Brown's music with the world.
Golf fans here for The Masters will also want to visit the museum's "Grand Tradition: The Sport of Golf" exhibit. It offers a fascinating glimpse not only into the huge industry that has grown up around the sport, but also with the tournaments held at Augusta National Golf Club.
Address: 560 Reynolds Street, Augusta, Georgia
Official site: www.augustamuseum.org
5. Savannah Rapids Visitor Center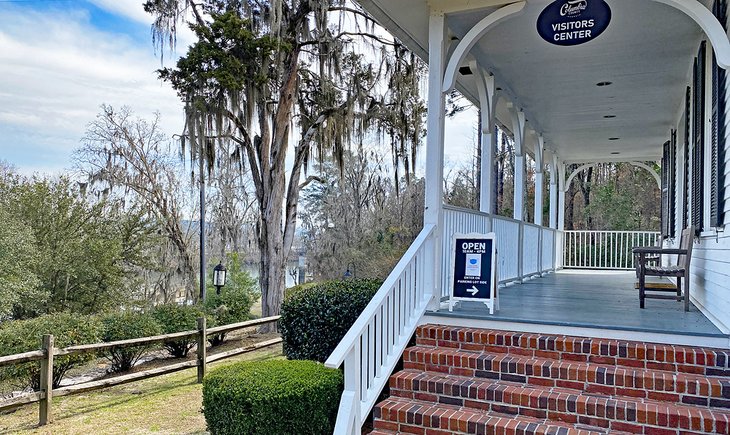 The Savannah Rapids Visitor Center provides another opportunity for visitors to explore the river that has shaped and continues to define Augusta. Also known as Columbia County Visitors Center for the wider region it covers, it's located in the former Lockkeepers Cottage above a section of the Augusta Canal.
Built in the 1890s, the facility provides interesting facts and displays related to both the river and the canal. And given its raised position overlooking the river and canal, the views are spectacular. Other facilities include a much newer pavilion that's a popular spot for family events and weddings.
The surrounding grounds are fun to explore and include plenty of trails suitable for walking and cycling. It's also a good spot for kayakers and canoeists to launch their craft and explore the canal and river. There's ample free parking here, but it's on an incline, so expect to exert yourself on the way back up to your vehicle.
Address: 3300 Evans to Locks Road, Martinez, Georgia
6. Sacred Heart Cultural Center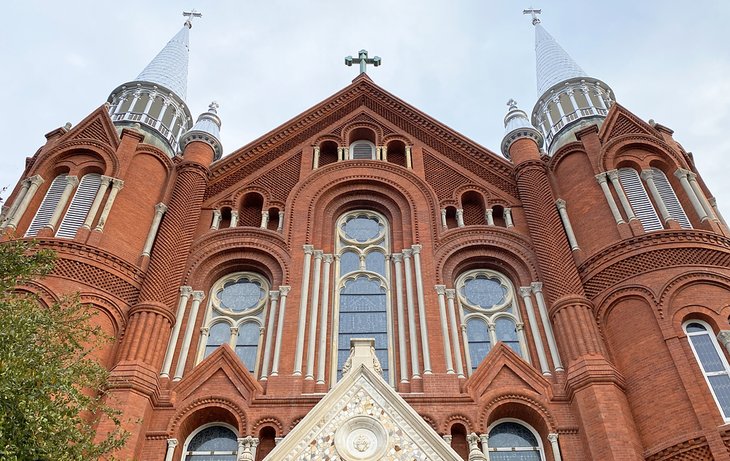 Set in a beautiful red-brick former Roman Catholic church, Sacred Heart Cultural Center is certainly one of the most photo-worthy historic buildings in Augusta. Built in 1900 and in use as a place of worship for 70 years, the then derelict building was given a new lease on life after being added to the National Register of Historic Places in 1972 before reopening as a cultural center in 1987.
This carefully restored building now regularly hosts concerts, festivals, and seasonal celebrations, as well as art shows. If visiting in spring, be sure to check the attraction's website for news and details of the annual Garden City Festival at Sacred Heart, held here each April.
Address: 1301 Greene Street, Augusta, Georgia
Official site: http://sacredheartaugusta.org
7. Get Your Southern Art Fix at Morris Museum of Art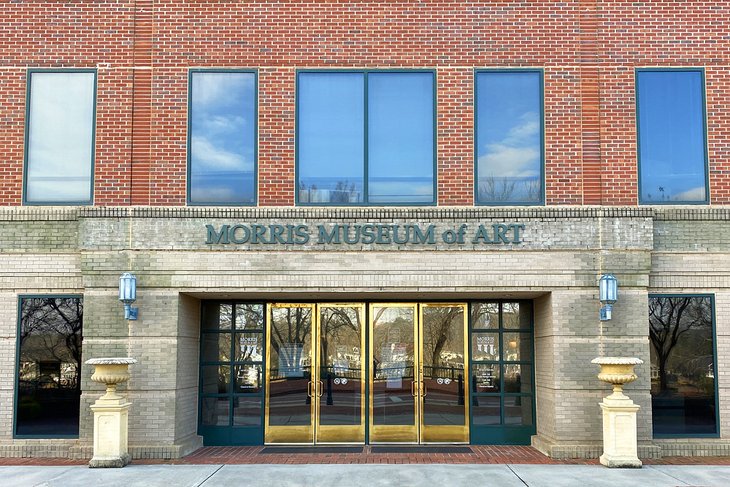 Since it opened in 1985, the Morris Museum of Art has offered art fans a great excuse to visit Augusta. Notable as the first museum in the USA to focus on collecting and showcasing artwork and artists exclusively from the Southern states, the museum is housed in a modern facility overlooking the Augusta Riverwalk and within the downtown district.
The museum's large permanent collection of over 5,000 artworks is well worth a visit and is spread out over 10 themed galleries. It's supplemented with regular temporary exhibits related to the work of artists from the South.
Regular workshops, educational programs, and concerts are also held frequently, along with specific programming aimed at younger audiences. Guided turs are available.
Address: 1 10th Street, Augusta, Georgia
Official site: www.themorris.org
8. Wander Broad Street and Explore Downtown Augusta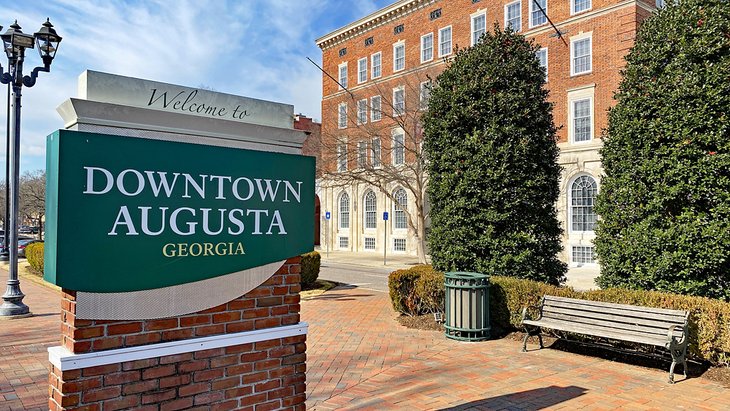 There are certainly a lot of fun things to do in downtown Augusta. Being within easy reach of the city's best attractions, including the Morris Museum of Art and the Augusta Museum of History, as well as the superb Riverwalk, makes it particularly fun to explore on foot. Ample affordable street and covered parking is available, so you can park the car and explore without worry of being ticketed.
There's a wide selection of great restaurants in downtown Augusta, too. While those seeking a fine dining experience can book a table at the posh Frog Hollow Tavern, lighter grab-and-go healthy fare can be enjoyed at SoSal (Southern Salad). Both, along with dozens of other great eateries, are located on picturesque Broad Street.
Other highlights of a walk along Broad Street include the colorful James Brown murals overlooking Augusta Common Park, where you'll also find a statue that pays tribute to the city's best-known performer. For tips and tactics about these and other places to visit, pop into the Augusta Visitors Center, where helpful staff can assist with your planning.
9. Take in an Imperial Theatre Show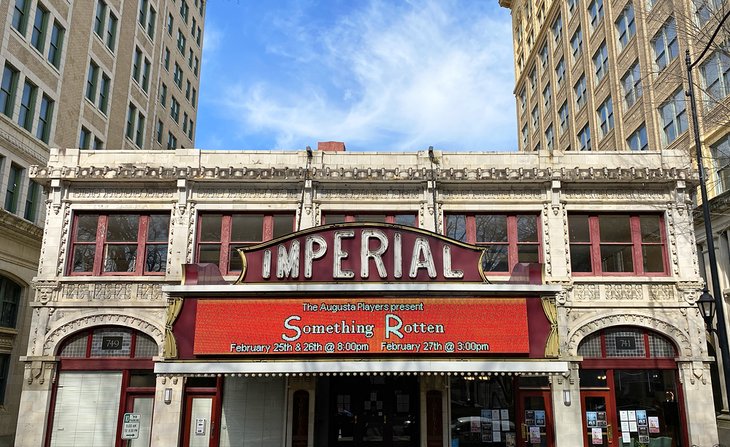 One Broad Street landmark you'll find it hard to miss is the historic Imperial Theatre. Sandwiched between two much taller office buildings, it was built in 1917 originally as a vaudeville theater and continues to be the venue of choice for over 850 people per show.
Now in its second century of entertaining locals and visitors, the Imperial has built up a stellar reputation for the quality of its performances, which includes a regular roster of musicals, ballets, and concerts. Over the decades, some of the USA's best-known performers and celebrities have graced its stage, including greats such as Charlie Chaplin, and, of course, local hero James Brown.
Guided group tours of the facility can be arranged, which include a look at the theater's famous 1925 Wurlitzer organ. Speaking of the Godfather of Soul, check out the James Brown Arena for details of other great Augusta concerts and events.
Address: 749 Broad Street, Augusta, Georgia
Official site: www.imperialtheatre.net
10. Visit the Boyhood Home of President Woodrow Wilson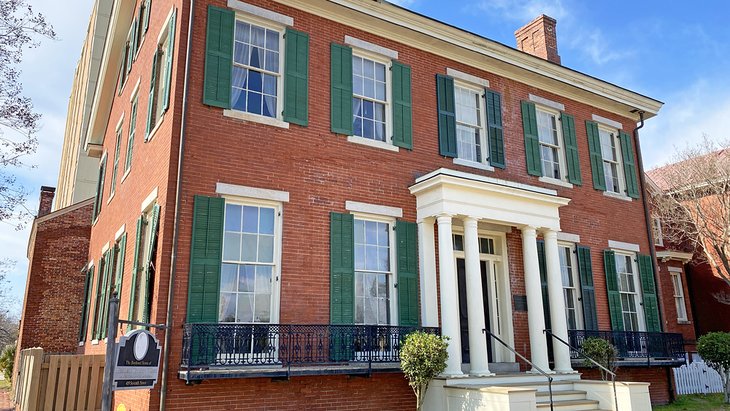 The Boyhood Home of President Woodrow Wilson is another great Augusta attraction that's easy to get to on foot from the downtown district. Wilson was the USA's 28th President, and this attractive red-brick home, custom built for his family, served as his home for 13 formative years.
The home has been carefully renovated and preserved just as it would have appeared in 1860, when Wilson would have been just four years old. Highlights of a visit include family artifacts and heirlooms, period furnishings, and even interesting displays related to his life and times. Visitors can also take a peek into the homes' original carriage house and servants' quarters.
Address: 419 7th Street, Augusta, Georgia
Official site: https://www.woodrowwilsonhouse.org/
11. Meadow Garden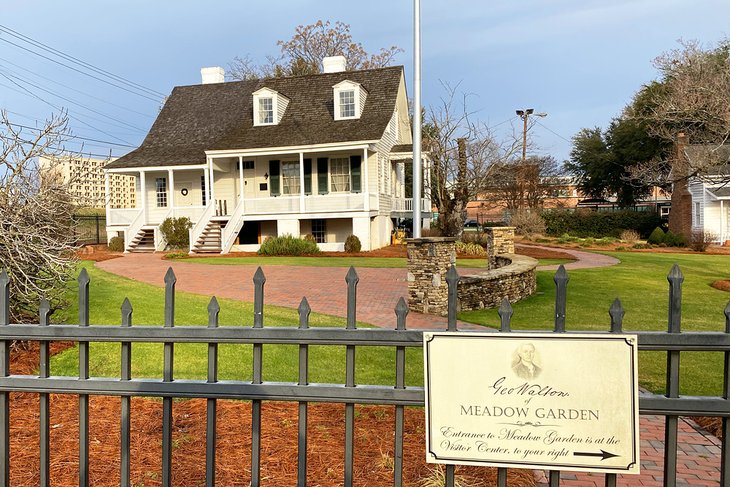 Notable as the one-time home of George Walton, a signatory of the US Declaration of Independence, Meadow Garden is a pleasant distraction close to downtown Augusta. Built in 1791 and one of the oldest structures in Augusta, this simple wood-clad home offers a unique look at the period of time that America attained nationhood.
Highlights include seeing period furniture and décor, along with examples of construction techniques of the time. Tours are provided by costumed guides, who offer a fascinating insight into this important time in America's history.
Address: 1320 Independence Drive, Augusta, Georgia
Official site: https://historicmeadowgarden.org
Map of Things to Do in Augusta, GA
Augusta, GA - Climate Chart
Average minimum and maximum temperatures for Augusta, GA in °C
J
F
M
A
M
J
J
A
S
O
N
D

13

1

16

2

21

6

25

9

29

14

32

18

33

21

32

20

29

17

24

10

20

5

15

2

PlanetWare.com
Average monthly precipitation totals for Augusta, GA in mm.

114

104

117

75

78

106

103

114

91

81

68

80

Average monthly snowfall totals for Augusta, GA in cm.

1

3

0

0

0

0

0

0

0

0

0

0
Average minimum and maximum temperatures for Augusta, GA in °F
J
F
M
A
M
J
J
A
S
O
N
D

56

33

61

36

69

43

77

48

84

57

90

65

92

70

90

68

85

62

76

50

68

41

59

35

PlanetWare.com
Average monthly precipitation totals for Augusta, GA in inches.

4.5

4.1

4.6

2.9

3.1

4.2

4.1

4.5

3.6

3.2

2.7

3.1

Average monthly snowfall totals for Augusta, GA in inches.

0.3

1.0

0

0

0

0

0

0

0

0

0

0