16 Best Beaches in Georgia
Georgia boasts some of America's best beaches. Nearly 100 miles of soft white sand covers its Atlantic Ocean shoreline while other pristine sandy beaches flank the state's sparkling lakes. Barrier islands (a.k.a. the Golden Isles) pepper the coast, serving up more idyllic places to get sand between your toes.
If you're looking for a kid-friendly beach to while away a day building sandcastles, SUPing, or playing a game of pickup volleyball, you'll find plenty of options the whole family will love on Georgia's best beaches. Hoping for a quieter, more romantic setting? Georgia offers a slew of serene and secluded beaches perfect for couples.
Luxury hotels caught on to the area's beauty many years ago, which means it's easy to find a fabulous resort to stay in while resting your sun-drenched head. Before you go, use our list of the best beaches in Georgia to help plan your trip.
1. Tybee Island's Beaches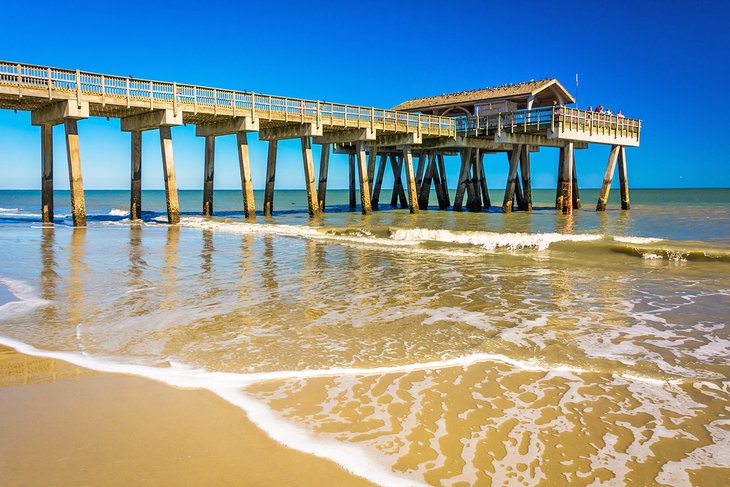 Tybee Island is home to many of Georgia's best beaches. A barrier island 18 miles southeast of Savannah, it's referred to by locals as "Savannah's Beach." A mere 30-minute drive from downtown transports visitors to this heavenly spot boasting three miles of lusciously soft sand.
Five beaches are peppered across the isle. The most popular (and most crowded) is South Beach – a great beach for families. Multiple lifeguards man these calm waters, making it easy for parents to relax a little while visiting this top beach in Georgia. The picturesque Tybee Island Pier and Pavilion is a big draw, as is nearby Tybrisa Street.
North Beach, the second most popular beach, sits across from the Tybee Lighthouse while Mid Beach is a more centrally located and tranquil beauty. Two river beaches (Back River Beach and Savannah River Beach) boast impressive views and ample dolphin watching opportunities.
For an even more isolated experience, rent a kayak or hop on a boat to visit the beach on nearby Little Tybee Island, a nature preserve that lies just across Back River.
2. Cumberland Island's Beaches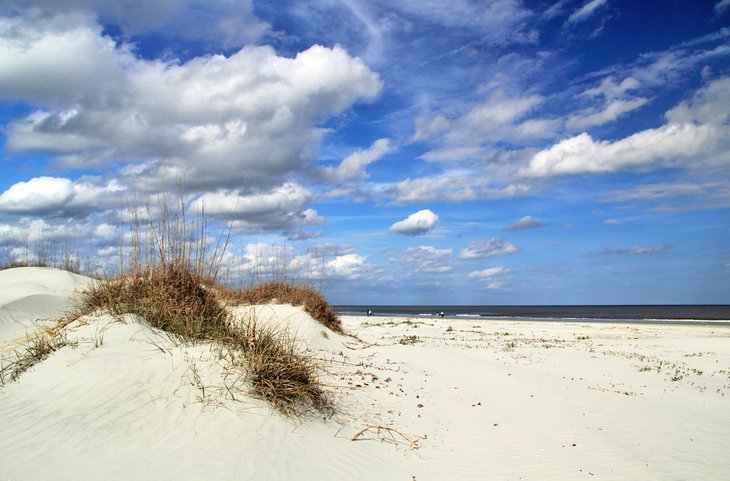 Eighteen miles of undeveloped, dune-backed beaches greet visitors to Cumberland Island. The largest and southernmost of Georgia's Golden Isles, this natural wonderland is only reachable by boat from nearby St. Marys. Over 9,800 acres make up the protected Cumberland Island National Seashore.
With no cars or commerce on-site, this is the perfect place to escape from reality. If you only have a few hours to spend, choose one of the beaches closest to the dock. To explore further afield, book a ranger-guided tour or rent a bike at the Sea Camp Dock.
When you aren't basking in the sun, swimming in the ocean, or kayaking around the isle, head back in time with a walk to the historic Plum Orchard Mansion, Dungeness Ruins, or First African Baptist Church. No matter how you choose to spend your time, you're sure to have a memorable (and relaxing) time on Cumberland Island's best beaches.
3. Jekyll Island's Beaches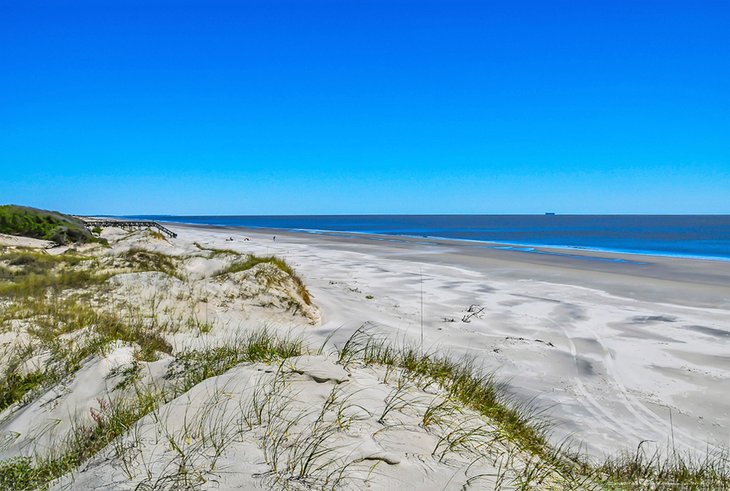 Seven phenomenal, dune-backed beaches stretch across 10 miles of romantically windswept Jekyll Island. This small barrier isle covers just 5,700 acres and lies nearly halfway between Savannah and Jacksonville, Florida. It's home to a National Historic Landmark District, water park, and golf courses, but most come for its sandy shores, which include some of the best beaches in Georgia.
You'll learn more about the island's three most magnificent strands further down this list. The first, Driftwood Beach, is a photographer's dream spot, while St. Andrew's Beach Park is a haven for bird-watchers. Glory Beach is one of the best beaches for solitude and spectacular views.
Great Dunes Beach Park is particularly family-friendly, offering a wide, clean expanse for kids to run about and enough sand to build a zillion castles. It's also close to playgrounds and a mini-golf course. This is also the island's most popular beach. Arrive early if visiting on a warm weekend, as it can get pretty crowded.
South Dunes Beach Park is home to a stunning, elevated boardwalk crossing 20-foot sand dunes. Corsair Beach Park boasts restrooms, picnic pavilions, and outdoor showers at the southern edge of the vibrant Jekyll Beach Village. Oceanview Beach Park sits in the middle of the island, offering fabulous ocean views.
4. Driftwood Beach, Jekyll Island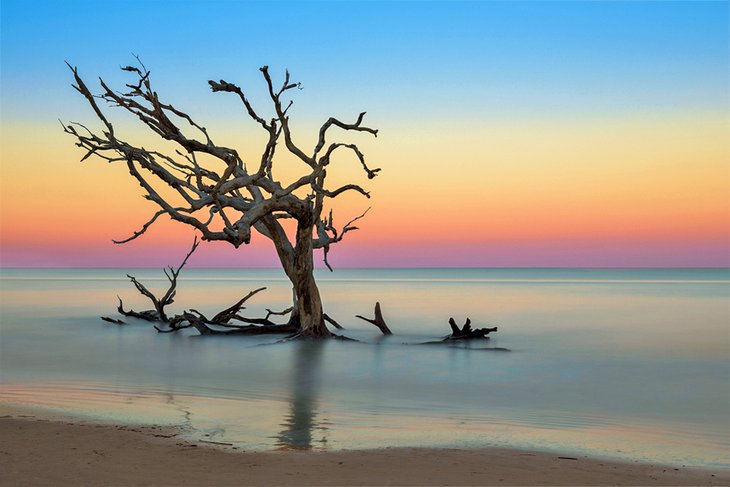 Visitors are transported to another dimension when visiting Driftwood Beach on Jekyll Island's northern shore. A true example of Mother Nature's power, this unique beauty is breathtaking. Gnarled, twisted, and curled driftwood of all sizes rests upon soft white sand, inspiring photographers to start snapping photos of one of the most stunning beaches in Georgia.
While some pieces give off an eerie, otherworldly feel, the surrounding landscape is so gorgeous, you can't help but feel at ease in its inimitable magnificence. Remnants of giant oak and pine trees that fell prey to erosion dot the shore, creating a resplendent backdrop you won't forget.
Deemed one of America's most romantic beaches, Driftwood is a popular place for proposals and weddings. The water here is murky, muddy, and often peppered with giant sticks, so it's not safe for swimming. If you're hoping to soak up some unbeatable scenery, though, this is the place to be.
Insider's tip: You'll find this beach slightly hidden between the Clam Creek Picnic Area and Villas by the Sea Resort and Conference Area.
5. Little St. Simons Island Beach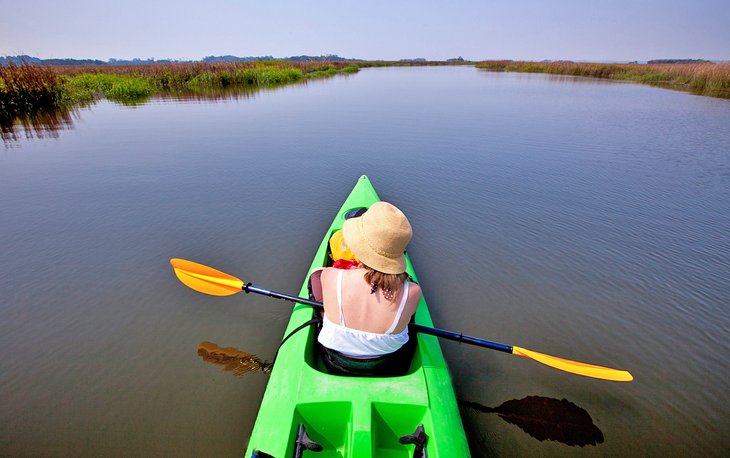 Little Saint Simons Island makes it easy to reconnect with nature while spending quality time with your travel companions. An isolated utopia, this Golden Isle is home to some of Georgia's most impressive flora and fauna. Only reachable by boat, it is also free from crowds.
Seven miles of spotless beach grace this lovely island, inviting guests to lay upon its soft sand while being lulled by waves crashing gently upon the shore. Visitors are apt to spot turtles, birds of all kinds, and even armadillos as they wander this protected habitat.
Hop in a canoe or kayak to explore the waterways, walk or bike along the sand, comb the area for shells, jump in for a swim, or cast a rod in the deep dark ocean. There are so many fun things to do on Little St. Simons Island's beach.
Insider's tip: Only 32 guests are permitted to stay at the island's sole ecolodge, and there's a cap on daily visitors, so you'll never feel the need to jostle for space. Book early to ensure there's a room for you.
6. East Beach, St. Simons Island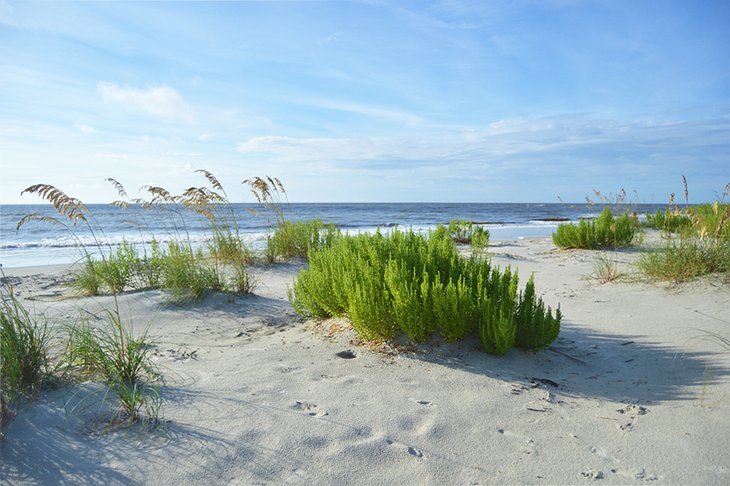 East Beach lies almost kitty corner to Jekyll Island's Driftwood Beach, across the point where the Brunswick River joins the Atlantic Ocean. Lots of interesting treasures (including sand dollars) wash up on the shores of this sheller's paradise. It's set upon St. Simon, the largest Golden Isle, so bring a bag or bucket along to transport your precious finds.
Also known as Coast Guard Station Beach, this golden strand lies before the historic St. Simons Coast Guard Station, which houses the World War II Home Front Museum and Coastal Encounters Nature Center. From here, guests can wander the beach and saltwater marshes or book a kayak tour.
Popular beach-based activities include swimming, kitesurfing, windsurfing, and biking. The sand here is firm, making it especially amenable to cyclists. Facilities include restrooms and showers, and there are concessions on offer seasonally, as well as on-duty lifeguards.
7. St. Andrew's Beach Park, Jekyll Island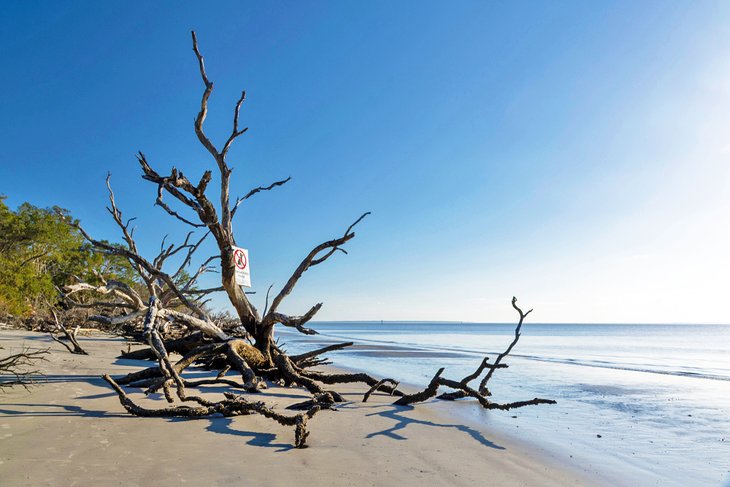 Wildlife enthusiasts flock to St. Andrews Beach Park at the southern tip of Jekyll Island. Close to the Intracoastal Waterway, wildlife of all types call this tranquil area home, making it a perfect place to spot everything from pelicans to dolphins.
A two-story wildlife viewing platform is located just behind the beach in the St. Andrews Picnic Area. It offers guests a better vantage point for spotting migratory birds and larger creatures at sea.
When you're not shaking sand from your swimsuit, explore the Wanderer Memory Trail, which follows the banks of the Jekyll River, outlining the story of America's last known slave ship, the Wanderer.
Although it may be tempting, do not climb on or walk along the sand dunes. These are home to many protected species, including ghost crabs and loggerhead turtle eggs.
8. Glory Beach, Jekyll Island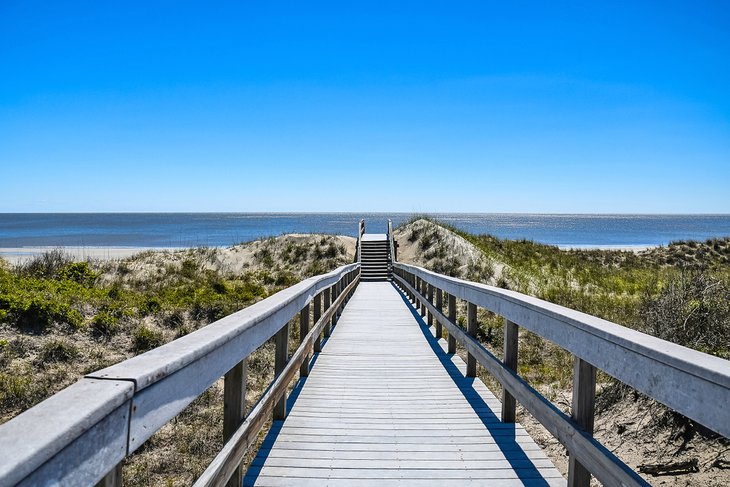 Another Jekyll Island star, Glory Beach is well, glorious. To reach the beach, you must cross a long, wooden boardwalk that rises above towering sand dunes, lush sea oats, and pools of freshwater. This was built in 1989 by producers of the Civil War flick, Glory, which was filmed here.
Miles of hard-packed sand make it easy to walk or bike along the wide strand without sinking too deep. Ocean breezes make for easy kite flying. Turn your gaze towards the horizon for a lovely, unimpeded view of Cumberland Island.
Located on the southern side of Jekyll Island, this pretty beach in Georgia sits beside the island's Soccer Complex, which serves as the beach's parking area and entrance. It's often pretty empty, which adds to its tranquil allure.
Insider's tip: Don't bring Fido. Pets are banned from this beach, which is a protected site for nesting and migrating birds.
9. North Beach, Tybee Island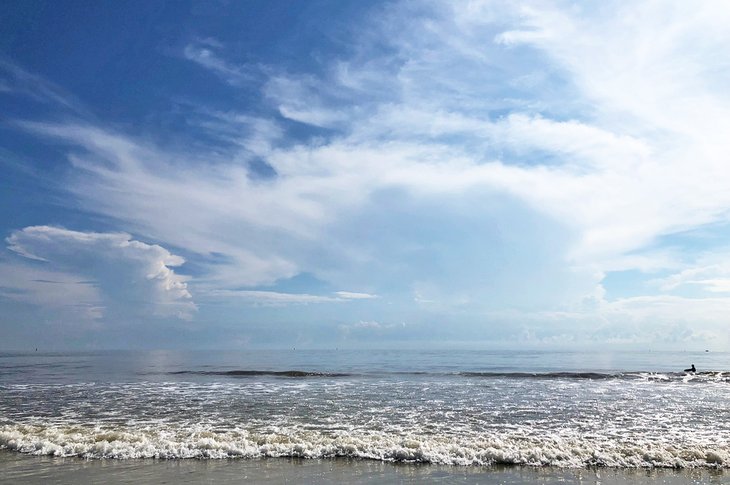 Tybee Island's North Beach is the largest on this pretty isle. Its vast, sandy expanse and convenient locale (it's super close to the island's shops, restaurants, and historic attractions) make it a perfect place to spend a day or three by the Georgian shore.
Another bonus: This beach is less crowded than its neighboring South Beach. North Beach features the soft, tan sand and rolling dunes made famous in this region and boasts interesting shells to please beachcombers. Families with boat-loving kids enjoy the ample ship-watching opportunities. Don't miss the sunset; it's captivating.
When you're sick of the sand, walk to the nearby Tybee Island Light Station and Museum, home of Georgia's tallest and oldest lighthouse. Or book an airboat ride, rent a Jet Ski, head out in a kayak, or reel in a big one on a deep sea fishing adventure.
10. Nanny Goat Beach, Sapelo Island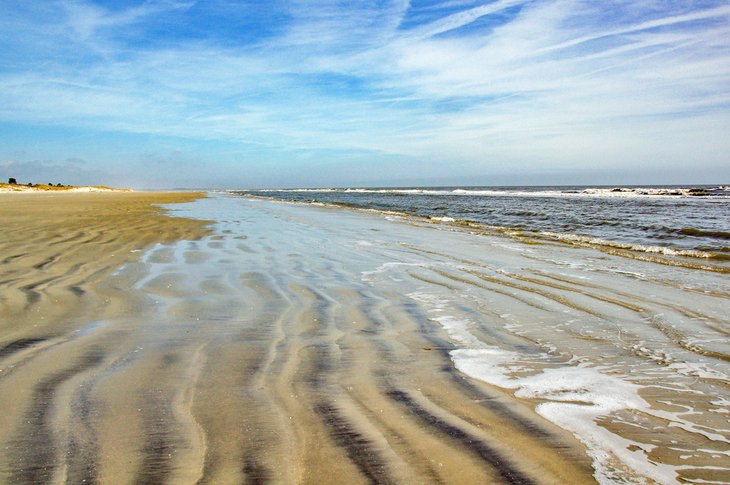 A short ferry ride will take you to the lovely and isolated Nanny Goat Beach. Situated on the southeastern tip of Sapelo Island, this glamorous beach is covered by two miles of sugar white sand, lined by maritime forest, and backed by rolling dunes famous throughout the state.
Shell seekers can fill buckets with the multitude of sand dollars that wash up on this shore, while birders will gasp with pleasure at the active avian scene. Coastal gems such as blue herons, egrets, bald eagles, and ospreys call this place home. Pack binoculars.
Visitors to the island must pre-register their trip. They can either book a public tour through the state or Sapelo Island National Estuarine Research Reserve, a private trip with a resident of the Hog Hammock community, a room at the Reynolds Mansion, or a spot at the Carbetta Campground.
Insider's tip: Pack snorkeling or scuba gear and enjoy a few hours in the water at nearby Gray's Reef National Marine Sanctuary.
11. Gould's Inlet, St. Simons Island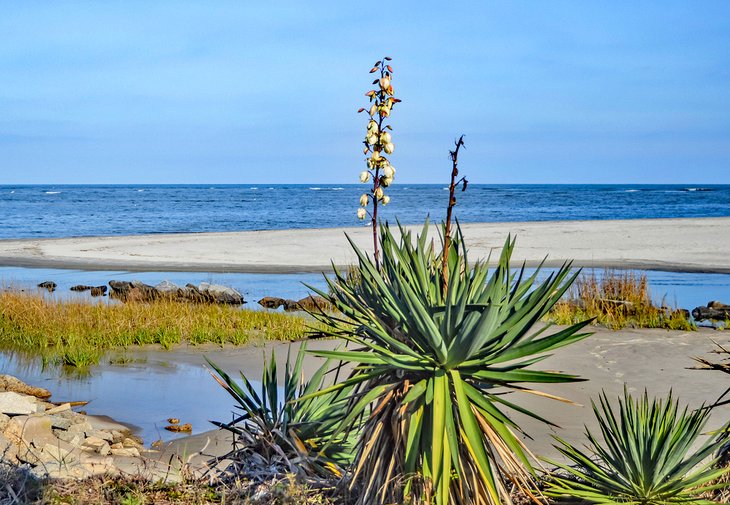 When residents of St. Simons Island are in need of some R&R, they know exactly where to head: Gould's Inlet. This small sliver of land is located at the end of Bruce Drive, just north of Coast Guard Station at the tip of East Beach.
While it's easy to spend an afternoon at this pretty spot - the sand is clean, there's ample room to fish, and the view of Sea Island is fantastic - be warned that it's not a great place to swim. Strong currents and an undertow make splashing in the waves a dangerous activity. If you're traveling with kids who want to spend the day playing in the water, this isn't the beach for you.
Instead, visitors choose to spend their time at Gould's inlet fishing off the pier or the sand, admiring the local birdlife, and watching paddleboarders make their way from the neighboring beach. Amenities include a shower, water hose, community dog bowl, and benches.
Insider's tip: Parking is limited, so it's best to arrive early.
12. Cabretta Beach, Sapelo Island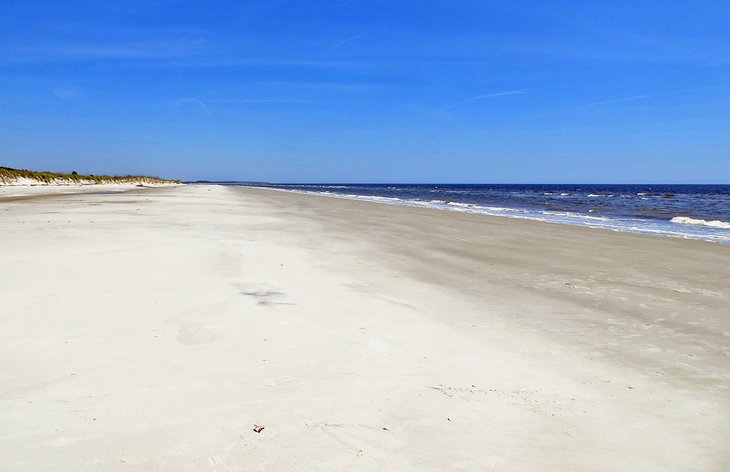 Like Driftwood Beach on nearby Jekyll Island, Cabretta Beach is dotted with bleached branches, roots, and trunks of trees lost to erosion. A haven for photographers and beachgoers looking for a serene sandy escape, this picturesque strand is a must-see.
Located at the northern end of Sapelo Island, Cabretta Beach becomes an island in its own right during high tide, hence its nickname: Cabretta Island. To get here, visitors must enter through the small Cabretta Campground, which must be prearranged, or arrive by boat.
The most popular activities are fishing, sunbathing, kayaking to nearby Blackbeard Island, and walking and running along the hard-packed sand. You'll likely have the place to yourself, which makes this a very romantic locale. Add in a sunset to up the romance level.
13. Sea Island Beach Club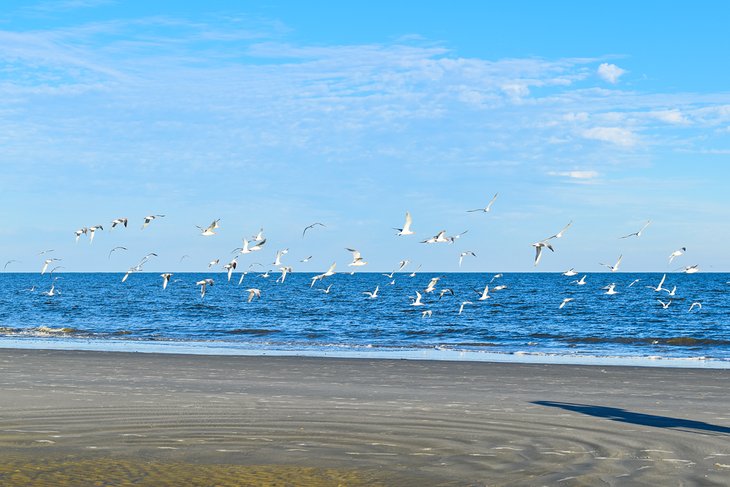 Live it up at the Sea Island Beach Club. This posh club is home to five miles of pristine private beach lining the Atlantic Ocean, three swimming pools (including a waterslide), and access to multiple water sports (we're talking everything from kayaking to sailing to kiteboarding).
If the weather's less than ideal, head inside to the six-lane Sea Strike bowling alley; explore the Sea Island Nature Centre; or unleash your inner child in the game room, which includes an arcade. This really is your one-stop solution serving up endless family fun.
Stay at the club's five-star, The Cloister at Sea Island resort for a luxurious experience you won't forget. In addition to the expansive sandy beach, you'll also have access to three golf courses, sailing, and horseback riding, as well as the multiple pools, restaurant, and spa.
14. Van Pugh Park North Beach at Lake Lanier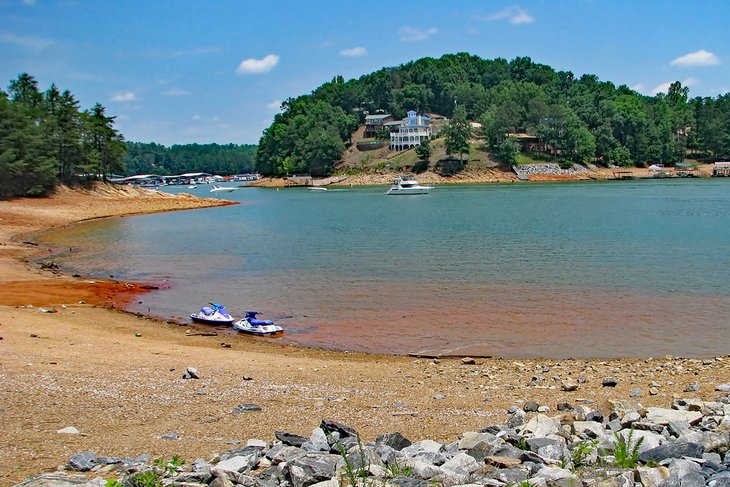 Spanning more than 38,000 acres and over 700 miles of shoreline, Lake Lanier is the largest lake in Georgia. It is also the most popular lake in the state, with over seven million visitors enjoying its non-stop activities each year.
From spending time on the soft, sandy beach to fishing, boating, kayaking, and swimming, there seems to be no end to the fun guests can have at Lake Lanier.
Van Pugh Park North is one of the best parks on Lake Lanier, situated on its southeastern shore. It plays host to many amenities, including playgrounds; picnic areas, complete with grills; and a boat ramp. The most prized attraction at this Lake Lanier park is its soft, sandy beach and designated swimming area. In the summer, you'll need to arrive early to assure yourself a spot.
Not ready to say goodbye to the fun you're having at the beach? No worries. There are plenty of options for camping at Lake Lanier, including glamping facilities that feel more like a hotel stay.
15. Robin Lake Beach, Pine Mountain
Not a fan of saltwater? Head to Robin Lake Beach. A mile of soft, sugar-white sand lines a sparkling lake so inviting, you'll want to jump right in. This man-made beach is supposedly the largest of its kind in the world, and it lies just over an hour south of Atlanta.
During the summer, the beach boasts concessions (including an ice-cream truck - yum!), water sports rental equipment (like kayaks and paddleboards), beach bikes, mini golf, and fun festivals that include a water ski and wakeboard tournament.
When you've had enough lounging, head to the nearby Callaway Resort & Gardens. It boasts 2,500 acres filled with fun, including hiking and bike trails. Kids will love the ziplines and tennis courts, while grownups can spend hours on the golf course or in the spa.
16. John Tanner State Park, Carrollton
John Tanner State Park is home to the largest sand swimming beach in any Georgian state park. It also offers everything you need for a fun-filled vacay. Campsites? Check (they have three). Mini-golf? Check (18 holes, of course). Paddleboats? You betcha (they even rent canoes).
For a very nominal fee, families can spend a lovely day playing volleyball; throwing horseshoes; fishing; building sandcastles; and splashing in the crisp, clean water of John Tanner State Park lake. There's also a trail winding its way through the trees bordering the water.
If you're hoping for a quiet break, this isn't the beach for you. The park's 138 acres; two lakes; and clean, soft sand, entice many visitors to flock here on a sunny day.
Map of Beaches in Georgia
More Related Articles on PlanetWare.com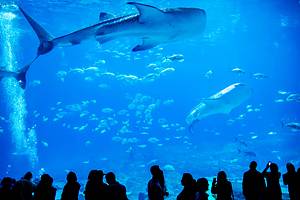 While You're in Georgia: If you're planning a trip to Georgia, be sure to stop in and see the sights of Savannah. This is one of the most beautiful cities in the Southeast. Atlanta offers no end of fun attractions, so plan a visit here if you can fit it into your schedule.