12 Best Places to Camp in Texas
From primitive tent camping to awesome spots to park an RV, the best places to camp in Texas offer stunning landscapes to sleep near. The Texas Panhandle; the Texas Coast; and the south, central, and western parts of the state all feature great places to go camping. Unique features of a few include spring-fed swimming pools, wild rivers, and ancient caverns.
Places like Colorado Bend State Park offer some of the best tent camping in Texas. The nearby Guadalupe River State Park features an excellent RV park close to Austin. Both state parks are within Texas Hill Country, near Central Texas, which is a prime destination for RV camping and places to pitch a tent. Texas Hill Country is also home to many of the best caverns in the state.
Great places to camp can be found in every corner of the state. Palo Duro Canyon is a beautiful state park and place to camp near the Panhandle. Padre Island, off the Texas Coast, features incredible beach camping on an undeveloped coastline. Cypress swamps define places to camp in East Texas, and rugged mountains offer a scenic backdrop in West Texas.
During school breaks and other peak times it's best to reserve a site in advance. You can make campsite reservations at most state parks.
While all campsites have their unique differences, each place to camp shares the same spectacular Texas sunsets and sunrises. Lay claim to your site today with our list of the best places to camp in Texas.
1. Big Bend National Park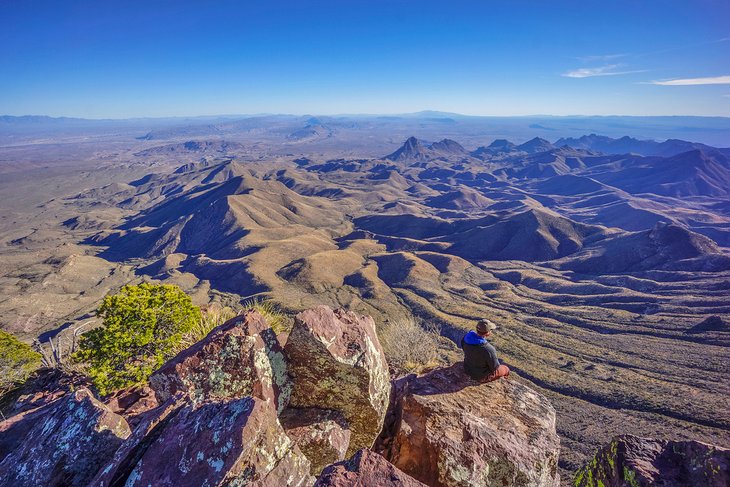 Abutting the Rio Grande River and the U.S./Mexico Border, Big Bend National Park provides a treasure trove of camping options in West Texas.
The National Park Service operates four developed campgrounds within the park. This includes the Rio Grande Village RV Campground, which features 25 full hook-up sites. The three other campgrounds in Big Bend cater towards tent camping and dry RV camping.
The largest tent campground at Big Bend National Park, the Rio Grande Village Campground, features over 100 sites close to the river. Half of the sites at Rio Grande Village Campground are reservable ahead of time. A camp store and shower facility are within walking distance of every campsite.
Near the center of the park, some of the best hiking trails in Big Bend surround the Chisos Canyon Campground. This makes the campground popular for tent campers interested in day hiking.
Big Bend National Park encompasses over 800,000 acres. Visitors have several opportunities to primitive camp within this vast expanse of canyon landscapes. Backcountry campsites are accessible via backpacking, horse riding, river rafting, and off-road vehicle driving. Visitors need to obtain a permit before spending the night in Big Bend outside of developed campgrounds.
This park receives large crowds on holidays during the cooler months of the year, including spring break and December breaks from school. Several private campgrounds surround Big Bend and provide relief from the congestion of the park. These campgrounds range from RV resorts to tent-only options. The adjacent Big Bend Ranch State Park also features several drive-in primitive campsites.
Accommodation: Best Places to Stay near Big Bend National Park
2. Guadalupe River State Park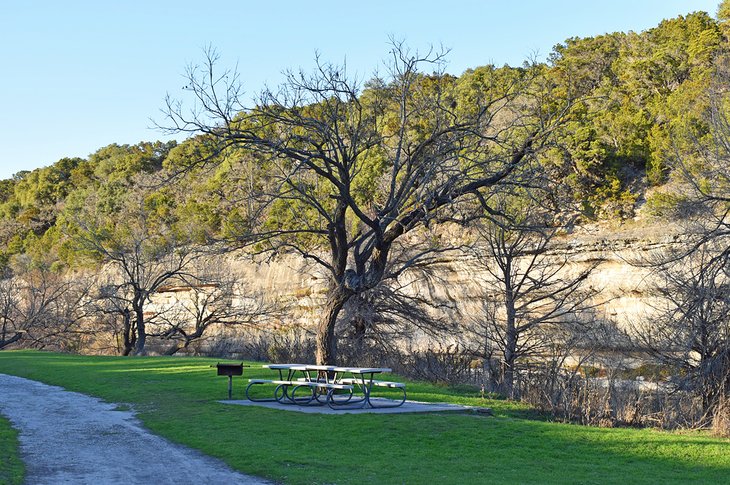 This river-centered state park features nearly 100 campsites less than an hour north of San Antonio.
Campsites at Guadalupe River State Park are split between three campgrounds. The Turkey Sink and Cedar Sage Campgrounds host a majority of campsites at the state park. These campsites feature full electric hookups and are popular for Texas Hill Country RV Camping. Campsites require a two-night stay on the weekends (Friday and Saturday). Campsites in Turkey Sink and Cedar Sage are close to flushing restrooms and shower facilities.
The state park also features nine primitive sites at the Wagon Ford Campground, which require a short walk from a parking area. These walk-in campsites have immediate access to the Bald Cypress Trail and adjacent Guadalupe River. Campers at Wagon Ford Campground have access to restrooms but no showers.
Address: 3350 Park Road 31, Spring Branch, Texas
3. Padre Island National Seashore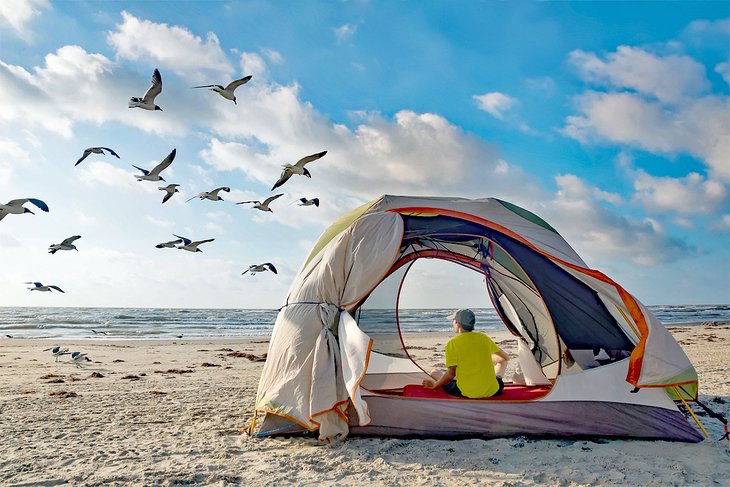 On the Texas Coast, Padre Island National Seashore protects the longest undeveloped barrier island in the world. Abutting the Gulf of Mexico, this 130,000-plus-acre wild space offers several unique camping options. Visitors take advantage of the ample beach camping available at Padre Island.
Two developed areas for camping are the Malaquite Campground and the Bird Island Basin Campground. The Malaquite Campground features 48 semi-primitive sites with access to flushing toilets and shower facilities. The campsites at Bird Island Basin are completely primitive and have only chemical toilets available. Windsurfers often occupy the sites at Bird Island Basin, thanks to the world-class recreation within walking distance.
Primitive and beach camping is also available on the seashore in three designated areas. Campers looking to pitch a tent at North Beach, South Beach, and Yarborough Pass need to obtain a free permit before spending the night. Many sites require vehicle travel on the beach, and users should know how to navigate on the sand. Visitors should also pack for a self-supported trip because very few amenities are available on Padre Island.
4. Palo Duro Canyon State Park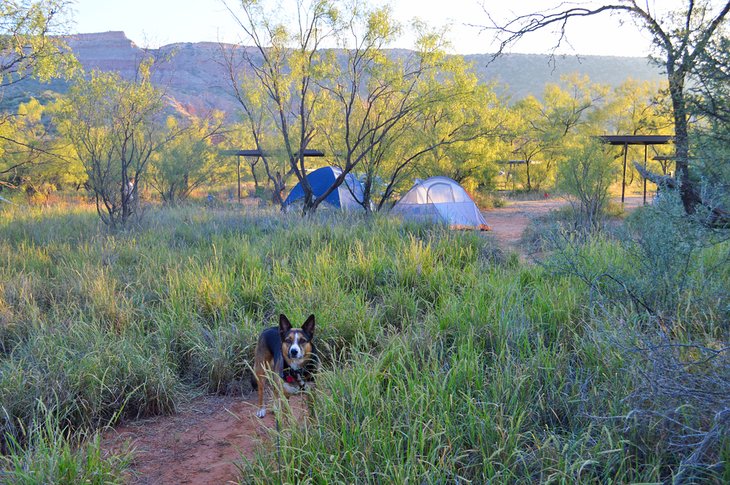 Also known as the Grand Canyon of Texas, Palo Duro Canyon State Park provides campsites with a view. Camping in this Texas Panhandle state park is spread between different areas of Palo Duro Canyon. Campsites with electricity are on both ends of the state park at the Juniper, Sagebrush, and Hackberry Campgrounds. RVs up to 60 feet long can find spaces to park in the Sagebrush and Hackberry Campgrounds.
Palo Duro Canyon State Park also features unique primitive campsites that are only accessible by a half-mile hiking trail. No designated sites exist in this primitive camping area of the park, and overnight visitors pick the spot where they'd like to pitch a tent. Group camping is also available at Palo Duro Canyon, as are cabins. All campsites are close to mile-long views of Palo Duro Canyon.
The canyon is one of the top things to see around Amarillo, just 30 minutes away.
Address: 11450 State Hwy Park Road 5, Canyon, Texas
5. Colorado Bend State Park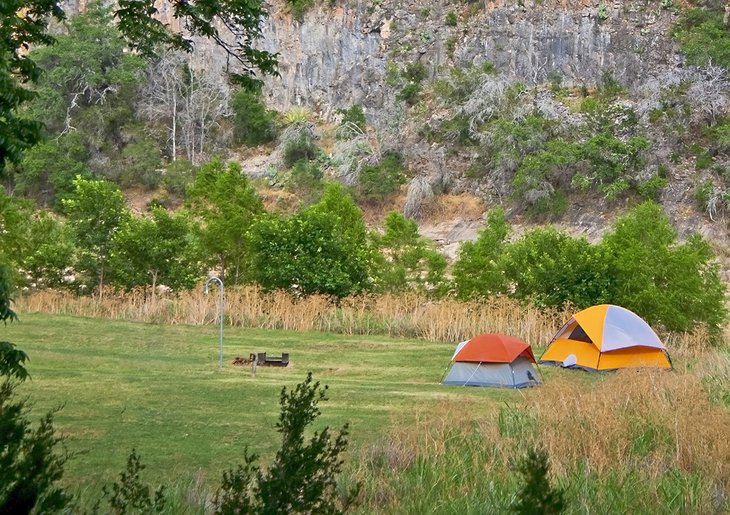 Colorado Bend is one of the best state parks in Texas and has several places to camp. Self-contained RVs tend to steer towards the 15 drive-up campsites in the park. The park also features 28 walk-in campsites that cater to tent camping. All campers at Colorado Bend have access to potable water and restrooms (no showers are available).
Popular activities at Colorado Bend include utilizing the 35-mile network of multi-use trails. The Gorman Falls Trail is one of the most well-traversed trails in the park.
Colorado Bend State Park features two hike-in backcountry camping areas, both of which are accessible with a mile-long hike. Group campgrounds are also available at Colorado Bend and accommodate up to 48 people.
Address: 2236 Park Hill Drive, Bend, Texas
6. Caddo Lake State Park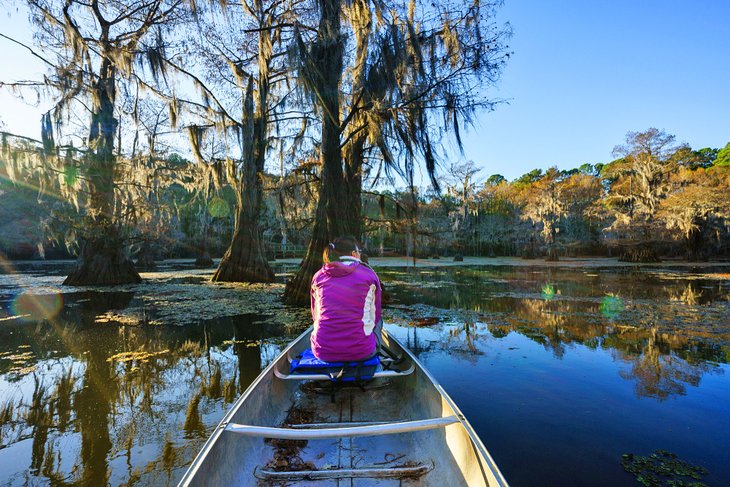 One of the best places to camp in East Texas, Caddo Lake State Park is less than 10 miles from the Louisiana border. This expansive state park lends easy access to the bayous of Caddo Lake and features a variety of campsites. Eight RV-exclusive sites with full hookups are available, as well as 18 partial hookup sites where visitors can also pitch a tent.
Caddo Lake State Park features an additional 20 sites close to the water that cater exclusively to tent camping and small pop-up trailers.
Navigating the several paddling trails at Caddo Lake is a very popular activity, and the state park has canoe rentals available.
All campers have access to flushing toilets and showers. The state park also features screened shelters to spend the night.
Address: 245 Park Rd 2, Karnack, Texas
7. Enchanted Rock State Natural Area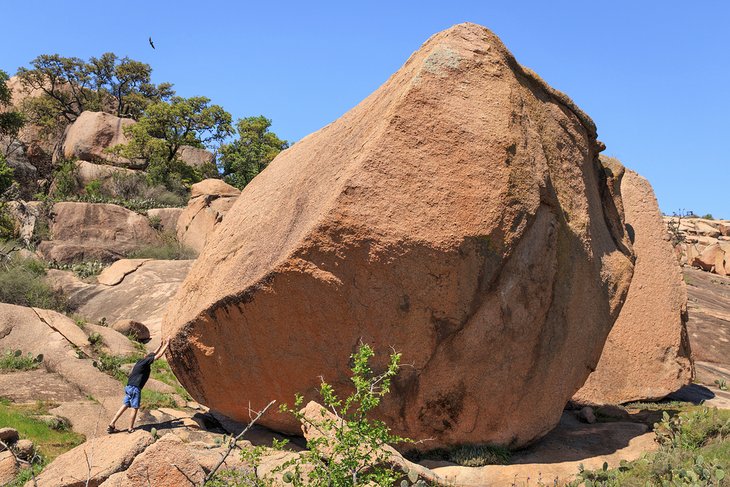 Twenty miles north of the city of Fredericksburg in Texas Hill Country, Enchanted Rock offers a special place to camp. Each campsite puts visitors in the shadow of the mystical monolith known as Enchanted Rock.
This state natural area features 35 tent-only sites with access to water. The campsites require a short walk from the parking area. Each site has access to a restroom and shower facility, and some sites feature a modern shade shelter.
These car camping sites also feature close access to popular trails in the park, including the Enchanted Rock Summit Trail. Campers often take advantage of this proximity with a breathtaking sunset hike.
Enchanted Rock State Natural Area also features 20 hike-in campsites that require a one to three-mile trek. A group campsite is also available at Enchanted Rock, which accommodates up to 75 people.
Address: 16710 Ranch Rd 965, Fredericksburg, Texas
8. Balmorhea State Park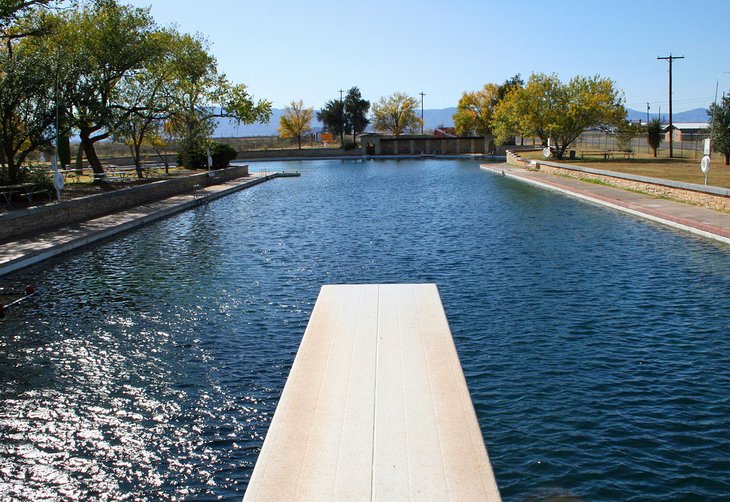 In West Texas, 30 miles north of Davis Mountain State Park, Balmorhea State Park provides a relaxing retreat from the Texas heat. The state park is a popular destination due to its 1.3-acre spring-fed swimming pool, one of the largest in the world.
Alongside this spring-fed swimming spot, the Civilian Conservation Corps also constructed the adjacent San Solomon Springs Court. This historic structure offers modern motel-style lodging for those not interested in camping.
As well as staying in the San Solomon Springs Court, RV camping is also popular at Balmorhea State Park. The state park features over 30 sites with electricity for RV camping. Half the sites offer cable TV hookup as well. All sites are near flushing restroom facilities and are a short walk to the spring-fed swimming pool.
Address: 9207 TX-17, Toyahvale, Texas
9. Inks Lake State Park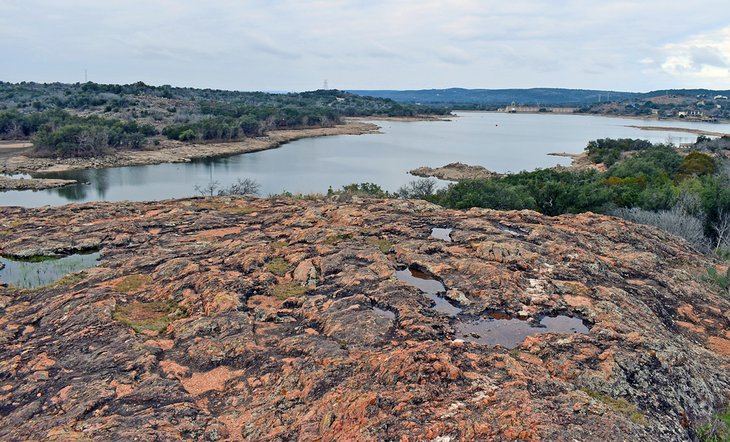 Less than two hours northwest of Austin, Inks Lake State Park features nearly 200 campsites. Every campsite is close to the park's namesake feature, and 125 sites at Inks Lake cater to RVs with electrical hookups. Unique to Inks Lake, these electric campsites have weekly and monthly rates available. This makes Inks Lake State Park one of the most popular for Texas Hill Country RV camping.
Inks Lake State Park also features nine primitive campsites that are only accessible by a 1.5-mile hiking trail. These sites require campers to pack in their own water supply. A park store at Inks Lake features camping supplies like firewood and snacks. Inks Lake State Park is also a popular place for those looking to camp near the day-use-only Longhorn Caverns State Park.
Address: 3630 Park Road 4 W, Burnet, Texas
10. Ratcliff Lake State Recreation Area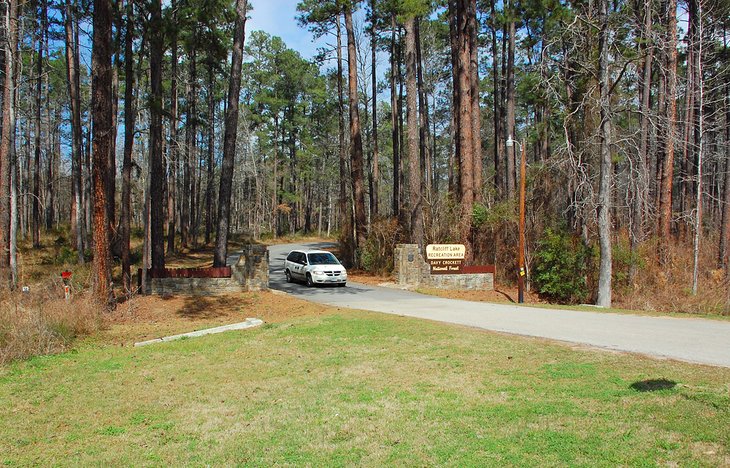 Within Davy Crockett National Forest in East Texas, Ratcliff Lake is a popular spot for family adventures. Including primitive and standard campsites, all 56 places to spend the night are near the 45-acre Ratcliff Lake. Alongside access to swimming areas and hiking trails, all campers at Ratcliff Lake are also near shower facilities.
The forested landscape surrounding the campground offers many ways to enjoy the environment. The area is popular with day users, and several picnic areas provide a peaceful place for an outdoor lunch. The 20-mile Four C National Recreation Trail originates at Ratcliff Lake and ends at the Neches Bluff Overlook. Shorter hikes spread throughout the rest of the state recreation area.
Address: TX-7, Ratcliff, Texas
11. Tyler State Park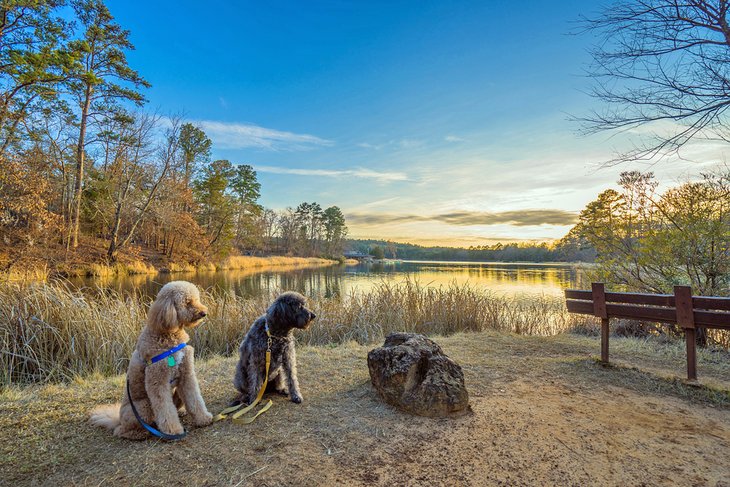 In the Rose Capital of America, a 64-acre lake is the centerpiece attraction of this popular state park in East Texas. The state park is one hundred miles east of Dallas. Other popular natural attractions include multi-use trails, massive trees, and several places to park an RV or pitch a tent. The park also features boat rentals to access the water.
With over 100 campsites, Tyler State Park offers a variety of options to spend the night. The state park features RV-exclusive campgrounds, as well as tent-only camping. All sites at Tyler State Park have access to restrooms with showers, and all are a short commute to the shoreline. Tyler State Park also features six cabins and nearly 30 screened shelters to spend the night.
Address: Tyler State Park Area 1 Bath House, 789 Park Road 16, Tyler, Texas
12. Dinosaur Valley State Park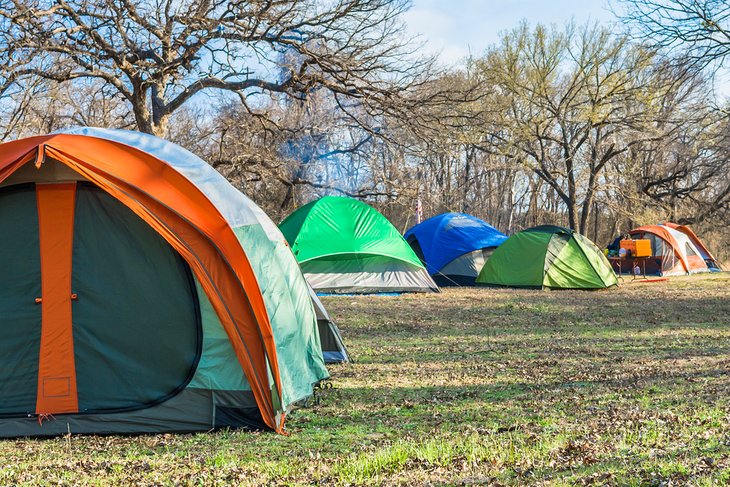 Campers can walk in the footsteps of dinosaurs at this unique state park near Fort Worth. An hour drive southwest of the city, dinosaurs left their tracks in the limestone bed of the Paluxy River here. During the summer months, when the water is low, visitors can explore the dinosaur trackway and spend the night in the campground nearby.
Dinosaur Valley State Park offers 44 campsites with electricity, as well as 15 primitive sites. The state park also features two group campgrounds that accommodate up to 40 people. Half the primitive sites require a one- to three-mile hike to reach. Alongside the dinosaur tracks, campers also come to Dinosaur Valley to ride horses in the 100-acre South Primitive Area.
Address: 1629 Park Rd 59, Glen Rose, Texas
More Related Articles on PlanetWare.com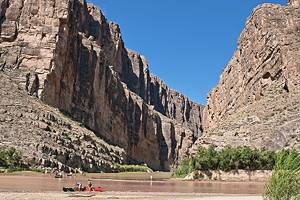 Exploring the Outdoors in Texas: For some underground adventures in the Lone Star State, our guide to the top caverns in Texas feature guided tours and breathtaking speleothems. For anglers, our guide to the best fishing lakes in Texas will have you landing a big one in no time. Other attractions in the state include the top waterfalls in Texas. While it's a rare and special sight to see, if you're dreaming of a white winter, our guide to Where to See Snow in Texas can send you in the right direction.