14 Top-Rated Attractions & Things to Do in Jacksonville, FL
We may earn a commission from affiliate links ()
Jacksonville in Florida – known locally simply as "Jax" – is where South meets North. Southern gentility, neighborliness, and cuisine is still practiced with pride. Yet while this city is so rich in cultural and historical heritage, it's well-endowed with many modern sights and experiences to enjoy, too.
But despite the downtown high-rises and tall office blocks, the local folk still very much believe in small-town values. Perhaps nowhere else in Florida are the contrasts so stark, and so interesting.
This is a river city, and life here revolves around the St. Johns River running right through town, as well as the ocean to the east. Jacksonville also offers surprises galore. For example, few people know that Jacksonville was actually the original Hollywood. In the early 1900s, this was the motion-picture capital of the world, a thriving film and production location before anyone east of Los Angeles had ever heard of that other Hollywood.
Jax residents are indeed blessed to be sitting alongside a grand river, a nearby ocean with spectacular beaches, natural wonderlands just beyond (and sometimes within) the city limits, and enough outdoor recreation options and tourist attractions to fill up a year-long visit.
To learn more about these and the many other fun places to visit in this dynamic Florida city, be sure to read our list of the top attractions in Jacksonville.
1. Cummer Museum of Art & Gardens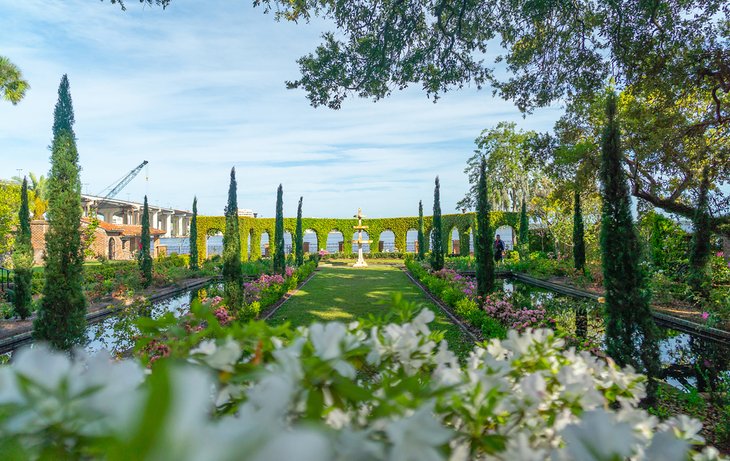 Ninah May Holden Cummer was a local philanthropist who wanted to create "a center of beauty and culture" in Jacksonville. Unfortunately, she didn't live to see the opening of the Cummer Museum of Art & Gardens in 1961. But the gift she bequeathed to the city and its visitors will live on forever.
The museum is now home to more than 5,000 pieces of art – some dating back more than 3,000 years – including more recent works from artists such as Winslow Homer, Thomas Moran, and Norman Rockwell, and including the Wark Collection of Early Meissen Porcelain.
As for the 2.5-acre gardens, there are actually four different gardens, including an English and Italian garden, each more than 100 years old and stunningly beautiful and serene in its own distinct way. Guided tours of the museum and gardens are available, and a good café is located on-site.
2. The Catty Shack Ranch Wildlife Sanctuary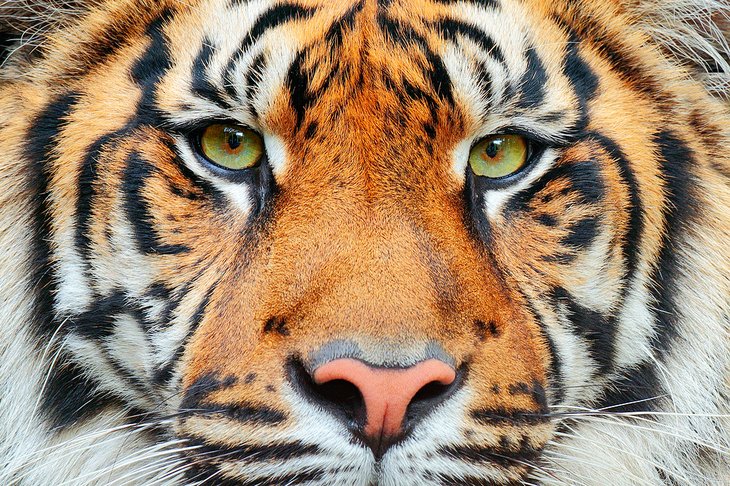 The mission of this non-profit organization is a noble one: to educate the public on the dangers of owning big cats as pets and on threats to the cats from changing weather patterns, environmental pollution, diminishing habitats, and human hunters. None of the animals living here have ever been bought, sold, or traded; they've mostly been brought here by owners who couldn't care for them properly.
As a result, you and the kids can see some of the world's most exotic cats up close. Residents of the sanctuary include lions, tigers, pumas, cougars, leopards, bobcats, foxes, and coatimundis (which are not big cats, but actually members of the raccoon family, with very long snouts).
3. Kingsley Plantation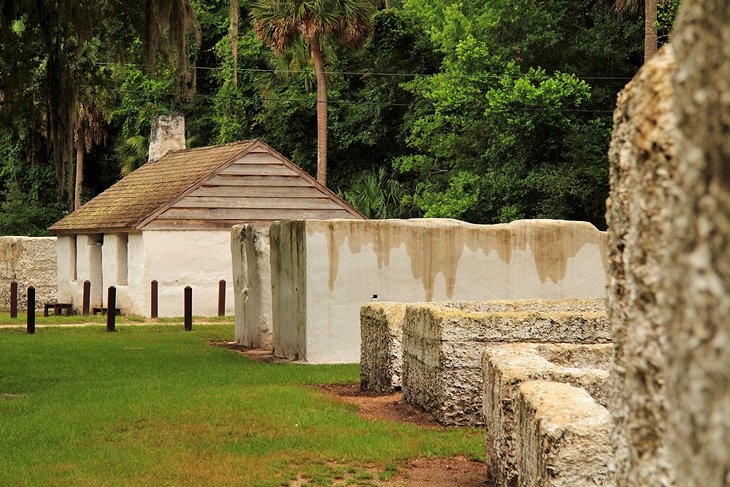 At the Kingsley Plantation, on Fort George Island east of the city, you can take a trip back to the 19th century. This is a good example of a grand Southern mansion from the pre-Civil War days, and a lifestyle that, thankfully, died with the Confederacy.
There's a plantation house, a kitchen house, a barn, and the remains of some 25 slave cabins. Zephaniah Kingsley was the master of the plantation, and he later married one of his slaves, who became a successful businesswoman and property owner. However, discrimination against her and her family caused them to move to what is now the Dominican Republic.
4. Visit the Talbot Islands State Parks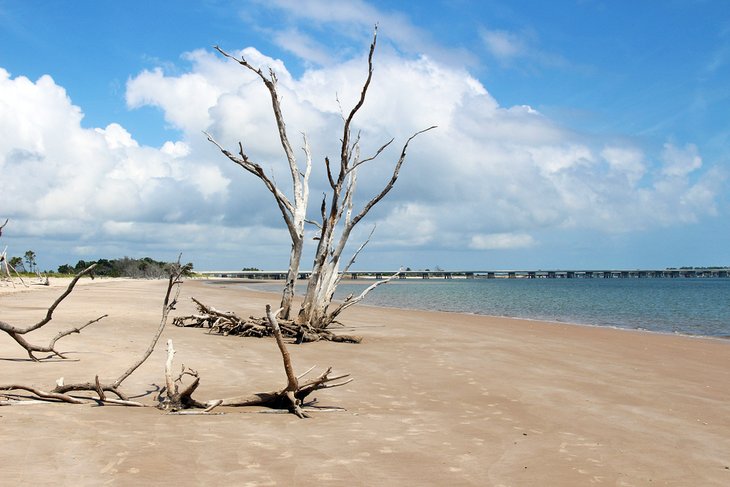 A visit to both Little Talbot Island State Park and Big Talbot Island State Park, located just a short drive up the scenic A1A highway from downtown Jacksonville, make for a fun Florida Atlantic coast excursion. The highway passes directly through both parks before a bridge crossing over Nassau Sound takes you onto the equally pleasant Amelia Island.
Now in fact slightly larger than its relative to the north, Little Talbot Island State Park is really not so little. Covering an area of 2,500 acres, it's particularly popular among hikers, kayakers, and wildlife spotters. It features a landscape of sand dunes and beaches, salt marshes and maritime forests, and you'll likely spot everything from an abundant bird population to river otters. Bobcats have also been seen here.
Other fun things to do include fishing, camping, swimming, and sunbathing, while surfing is also increasing in popularity. A kids' playground, picnic shelters, bike and canoe rentals, and boat launch are also available.
Crossing into Big Talbot Island State Park, be sure to head for Boneyard Beach. This much photographed spot is famous for its long dead, bleached live oaks. Also worth seeing is Blackrock Beach, named for the (you guessed right) black rocks along the shoreline here.
5. Catch a Performance at the Florida Theatre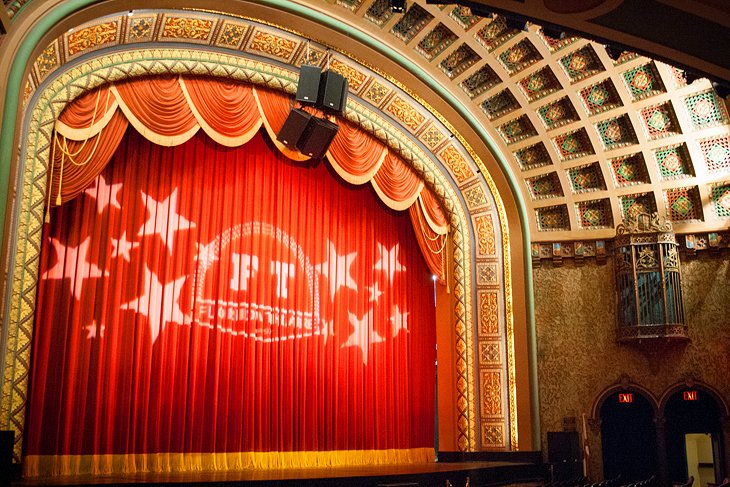 On April 8, 1927, the Florida Theatre opened. Where once stood a ramshackle police precinct filled with some of the most unsavory characters in Northeast Florida, suddenly there was a beautifully crafted, classic performing arts theater, with a stunning old-world ambience.
Since that time, some of the most famous performers in the world have appeared here, playing music ranging from rock to Rachmaninoff, and happy holiday presentations to children's theater, and pretty much everything in between. And oh, yes, one young performer had his first solo show here: Elvis Presley.
6. Fort George Island Cultural State Park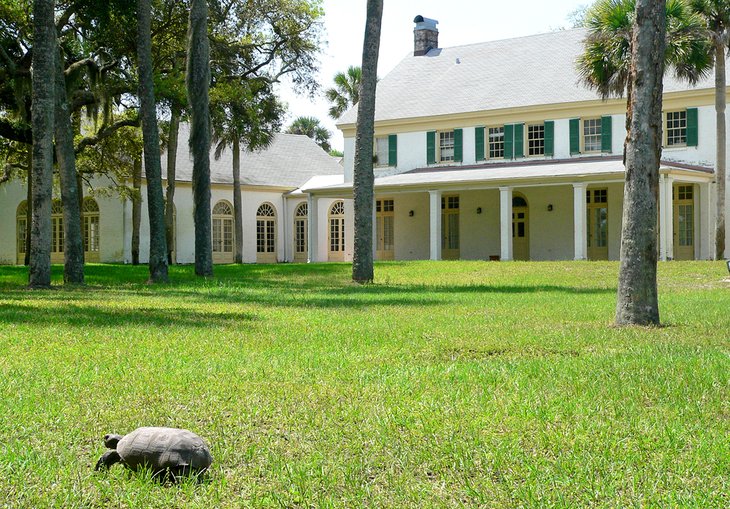 For a different side of the Jacksonville area, head for Fort George Island Cultural State Park. This spot is a bundle of contradictions. For one thing, it's a historic landmark, the site of Fort George, built in 1736 to defend the southern flank of what was then the British colony of Georgia. It's also a place of lush natural beauty, interesting wildlife, and great recreational opportunities – not to mention a most beautiful and calming silence.
And, yet, it's also the site of The Ribault Club, Jacksonville's most raucous and glittery club for the rich-and-famous in the Roaring Twenties. An outfit named Kayak Amelia can set you up for a guided tour of the island on a cross-terrain Segway, or you can go boating, fishing, kayaking, geocaching, cycling, birding, canoeing, picnicking, and hiking.
7. Amelia Island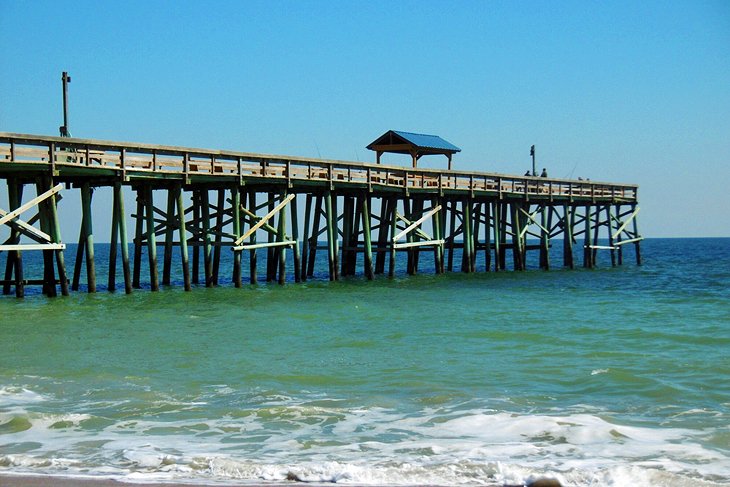 While you may not have heard of Amelia Island, about 20 miles north of Jacksonville, rest assured the Spanish, French, English, and Scottish knew of it. At various times, some of them even captured the island, lost it, and then recaptured it again from their enemies.
At one time, in fact, Amelia Island must have been the most desired place in America, because eight different flags have flown over it – more flags than anywhere else in the US. In these early years, the island's cast of characters was known to have included pirates, gun-runners, Confederates, Union soldiers, escaped prisoners, and sailors who jumped ship.
Today, the island's main town of Fernandina Beach looks much as it did then, with brick sidewalks and red-brick Victorian buildings from the late-1800s, many now filled with interesting shops, restaurants, and galleries.
One of the top things to do here is to take a horse-and-buggy ride through town, and afterwards stroll these old streets for some great surprises. The island also offers great hiking, biking, horseback riding, beaches, a couple of interesting museums, and ghost tours. History buffs might also enjoy the Civil War reenactments at historic Fort Clinch. If you're here in May, be sure to visit the Isle of Eight Flags Shrimp Festival.
8. St. Johns River Taxi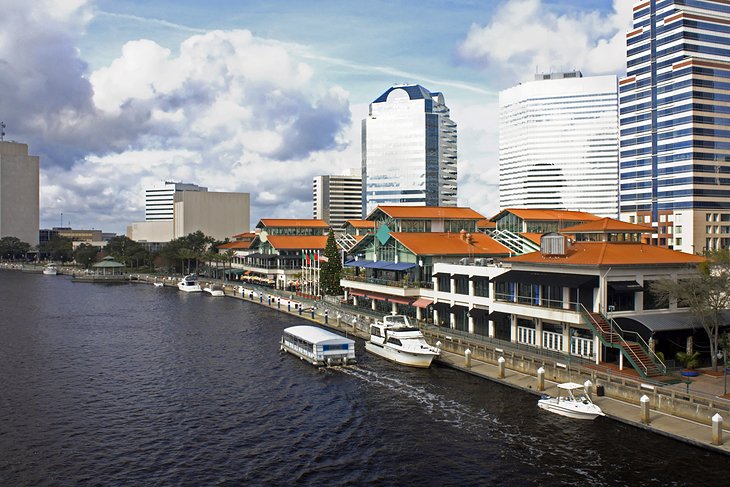 St. Johns River Taxi will take you to three stops along the Southbank and three stops along the Northbank. The modern, comfortable, covered boats seat up to a hundred passengers and offer spectacular views of the city and skyline.
The company also offers special trips and tours to places like the Riverside Arts market and the Museum of Science & History. You can also sign up for a popular sunset cruise, when the lights of the city turn into a continually-changing tableaux.
9. Adventure Landing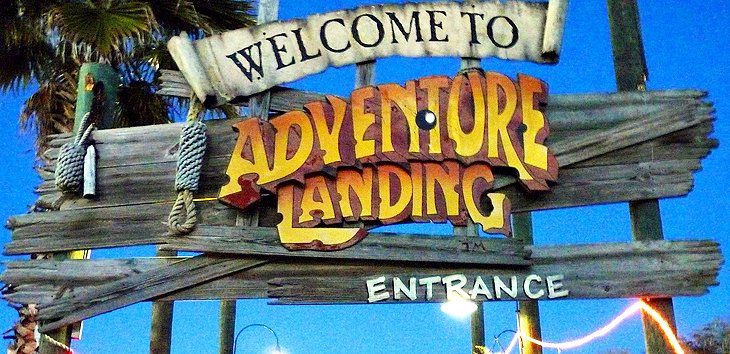 At Adventure Landing Jacksonville Beach – the first of 10 such theme parks that have sprung up since this one opened in 1995 – the kids will be screaming and splashing all day long, and parents will turn into kids again.
10. Stroll along the Jacksonville Riverwalks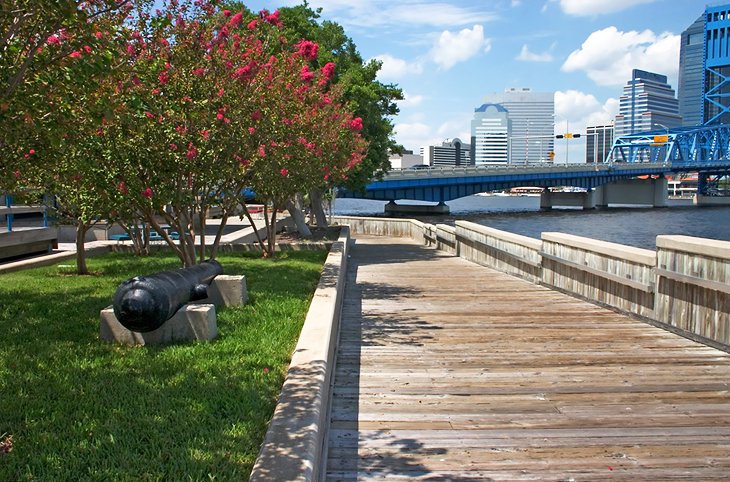 The St. Johns River is the commercial, transportation, and historic heart of Jacksonville. Now consisting of two sections – the Northbank and Southbank – this fun network of pedestrian walkways extends some 3.5 miles along the river, connecting a number of hotels and attractions.
It's romantic to walk along the river at dusk, when a calm takes over the water just as the city on either side of it is lighting up. During the day, it's fun to stop and listen to the frequent performances by excellent street performers and bands. In addition, there are some good restaurants along the way.
It's also a safe place to jog, run, bike, or just walk. And keep a sharp eye out because you may well see dolphins cavorting in the water.
11. Atlantic Beach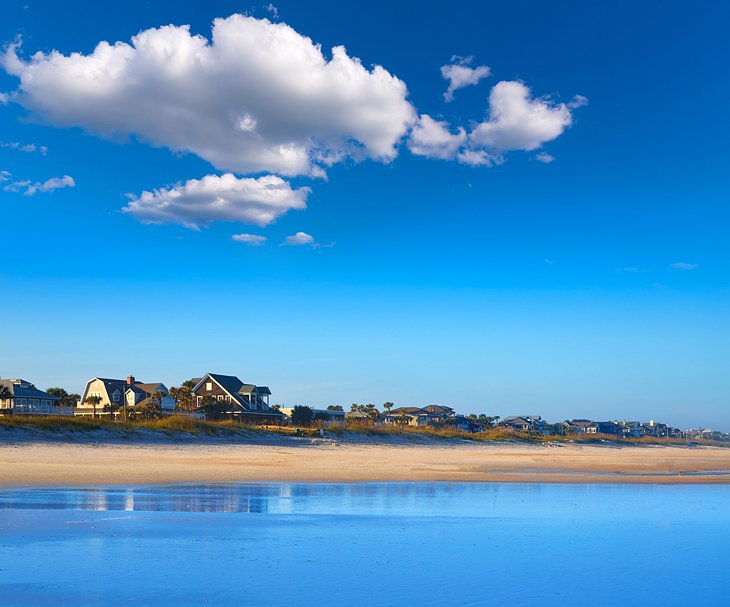 Just a short drive east from the urban buzz of Jacksonville is another world altogether: Atlantic Beach. Here, the only sounds to be heard are the soothing waves lapping against a beautiful beach, and the seabirds swooping above the water. One of the best ways to get to Atlantic Beach is via the St. Johns River Ferry, which plies the river amid all types of interesting scenery.
Several deep-sea fishing charter companies operate out of Atlantic Beach. If you take one of them, chances are good you can bring your catch to a local restaurant for cooking.
Another good place to visit is the Tide Views Preserve. This tranquil spot is popular for its great natural beauty, with a long pier jutting out into the marshes and a park with trails and boardwalks. Atlantic Beach is a great place to just relax and soak in the smells, sights, and sounds of one of Florida's great getaway destinations.
12. Museum of Science and History (MOSH)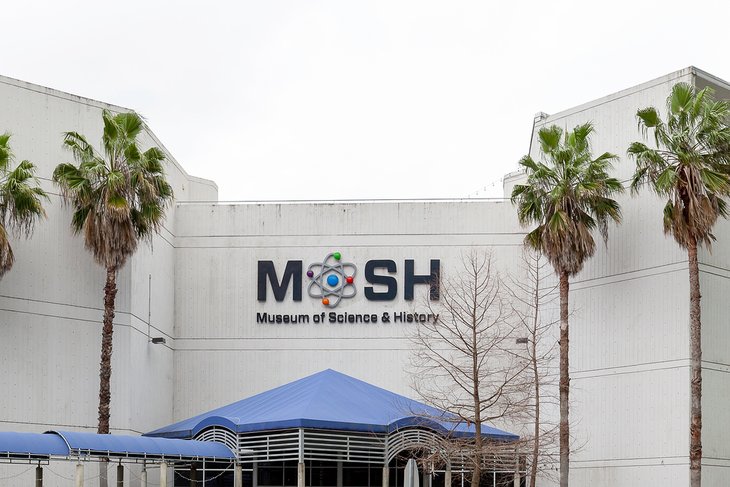 If you love seeing your child's face light up with wonder, visit the Museum of Science and History (MOSH). Originating in an old Victorian home in 1941, this museum has since grown into one of the finest in Florida, with an outstanding collection of both permanent and traveling exhibits.
These exhibits range from historic looks at Northeast Florida to revealing glimpses of future technology and communications, as well as energy and ecosystems. There's also a peaceful courtyard with native plants, and an interactive play area for younger children.
13. Jacksonville Zoo and Gardens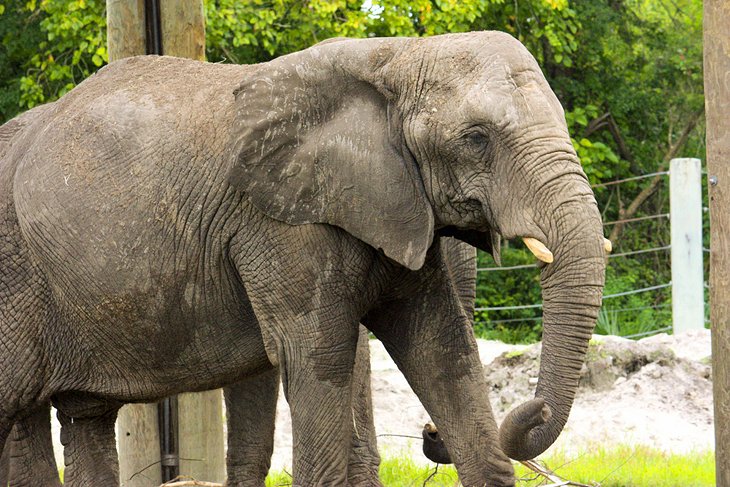 Jacksonville Zoo and Gardens is more than just a zoo: it's an exciting experience that's fun for the whole family. Behind-the-scenes tours, close-up encounters with the animals, and a walk-through Butterfly Garden and Land of the Tiger exhibit are just some of the fun things to do here.
There's also a Play Park and Splash Ground for the kids, and at Stingray Bay, you can pat the inhabitants. Kids can also ride an old-fashioned carousel or sign up for the Zookeeper For A Day program.
14. Jacksonville Beach & Beaches Museum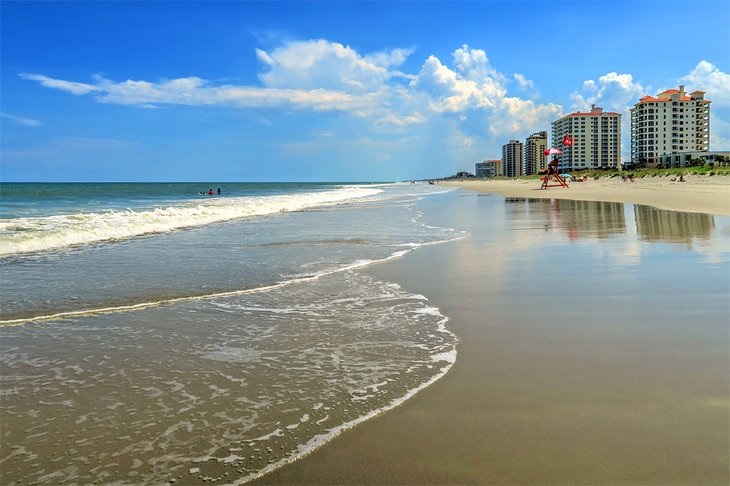 Located just a few minutes' drive south of Atlantic Beach, the City of Jacksonville Beach is well worth a visit. The highlight, as the name suggests, is the lovely 4.5-mile-long stretch of golden sand that beckons to be enjoyed and explored.
In addition to the superb surfing and swimming conditions here (with lifeguard attendants), if fishing's your thing, you'll want to make your way to the 625-foot-long Jackson Beach Fishing Pier. And if fishing's not your thing, the views over the beach are incredible.
Where to Stay in Jacksonville for Sightseeing
To ensure you get the very best out of your Jacksonville vacation accommodations, be sure to consider checking out (and into) the following highly recommended options. These top-rated hotels and resorts are all within easy reach of the area's best attractions, beaches, and entertainment options, with many also being adjacent to (and offering views of) the St. Johns River.
More Related Articles on PlanetWare.com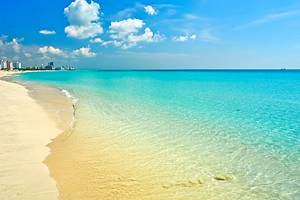 Florida Vacation Ideas: No doubt about it, the main reasons most travelers head to the Sunshine State are the many wonderful Florida beaches. Some of the best are located on the Atlantic coast around the seaside town of Cocoa Beach, or a little farther north to the home of Nascar in Daytona Beach. An added bonus for both destinations is the fact they're only an hour or so drive away from the world's theme park capital of Orlando, home to the iconic Walt Disney World. If you're looking for something a little more historic, head to beautiful Saint Augustine, the oldest walled city in North America.