From Orlando to Clearwater: 5 Best Ways to Get There
Orlando is a haven for theme park lovers set deep in the heart of central Florida. Clearwater, on the other hand, is a Gulf Coast gem favored by those who crave sand and surf. If you're hoping to round out your Floridian vacay, it's only right to visit both cities. Luckily, it's only 106 miles from Orlando to Clearwater, an easy distance to cover in a multitude of ways.
Driving is the fastest, easiest, and almost cheapest way to travel from Orlando to Clearwater; only hopping on a bus could save you more cash. Rent a car and hit the highway – you'll be in Clearwater in less than two hours if you don't run into traffic. Taking a train or plane are other more expensive, and lengthier options, but they'll still get you where you need to go.
Or you can book an organized tour to sit back, relax, and soak up the sights – literally. A day trip to Clearwater Beach allows you to bask in the sun, shop, surf, or go deep sea fishing, and you don't have to plan a thing.
Our list of the best ways to travel from Orlando to Clearwater will help you determine which option is best for you.
1. From Orlando to Clearwater by Car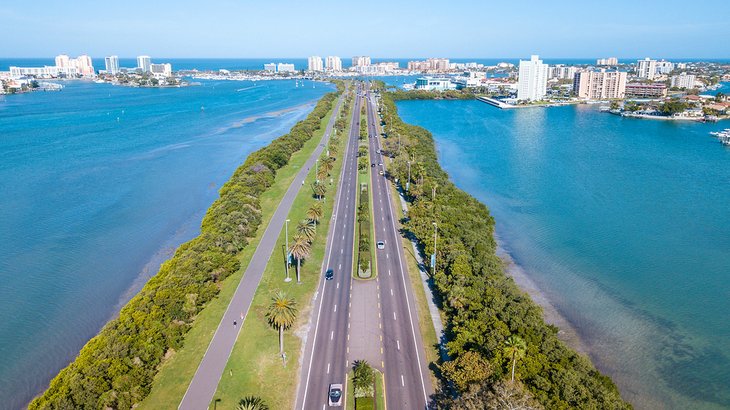 The fastest and easiest way to get from Orlando to Clearwater is by car. There are 106 miles between these two cities, and if you're lucky enough to avoid traffic, the drive from Orlando to Clearwater will take just under two hours. That's short enough you won't even need to factor in time to stop for gas.
The most direct route involves taking the I-275 S towards St. Petersburg/Tampa before veering onto the FL-60. This is a toll route, so be warned. If you're renting a car, check with the rental company to see their policy on toll roads. You could be slapped with an extra fee in addition to the toll. It may be cheaper to buy your own pass.
Speaking of rental cars, the most popular companies include, Avis, Alamo, Dollar, National, and Hertz. Many are available at the Orlando International Airport, which means you can grab a ride straight after you get off your flight.
Another option that doesn't involve tolls is taking the I-4 W to the FL-60. The I-75 to FL-60 route is another popular route that is only slightly slower. Expect tolls on this journey as well.
If you're heading for the barrier island that's home to Clearwater Beach, take the I-4 W followed by the I-75 S.
2. From Orlando to Clearwater by an Organized Tour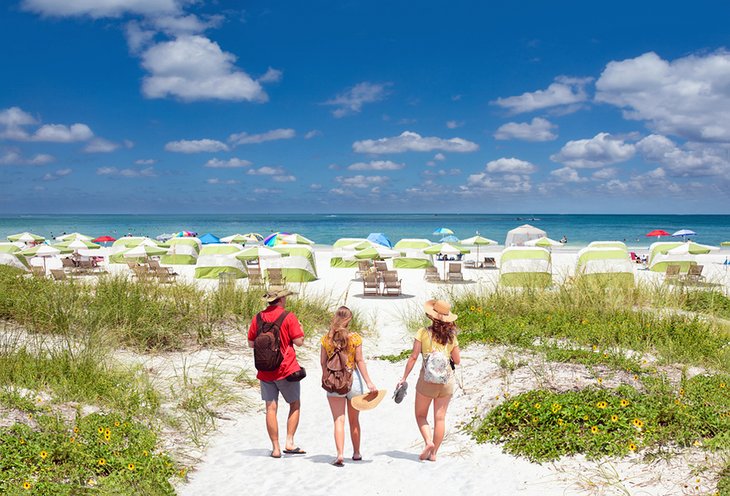 Don't want to stay the night in Clearwater? No problem. Book the Clearwater Beach Day Trip from Orlando, and leave the driving and trip planning to someone else for a change. For a flat fee, this 12-hour tour includes pickup and drop off from multiple Orlando locations and boasts a slew of sightseeing adventures throughout. Taking a day tour is by far the most fun and informative way to get from Orlando to Clearwater.
Departure time is at 7am, so be prepared for an early start. You will return to Orlando in time for dinner at around 7pm. The hour-and-a half-long coach ride to the sugar-white sand and emerald-green water of Clearwater Beach goes by in a blink.
While at the beach, you have the choice to lounge in the sun, frolic in the waves, or wander the area's cute shops and restaurants. While lunch is included, bring some extra cash, as things like snorkel gear, water sports equipment, and beach chairs and umbrellas can be rented on-site. Once you see the sparkling waves, you'll be unable to resist the urge to jump in!
Upgrade your adventure to include a one-hour boat ride aboard the Sea Screamer, a boat that races past the shore at 35 miles an hour – hold onto your hat! Tours guarantee a dolphin sighting, so be sure to keep your eyes peeled. Or tack on a deep-sea fishing trip for an additional fee. You may be lucky enough to catch dinner. Bring your own cooler if you're hoping to take your catch back with you.
3. From Orlando to Clearwater by Bus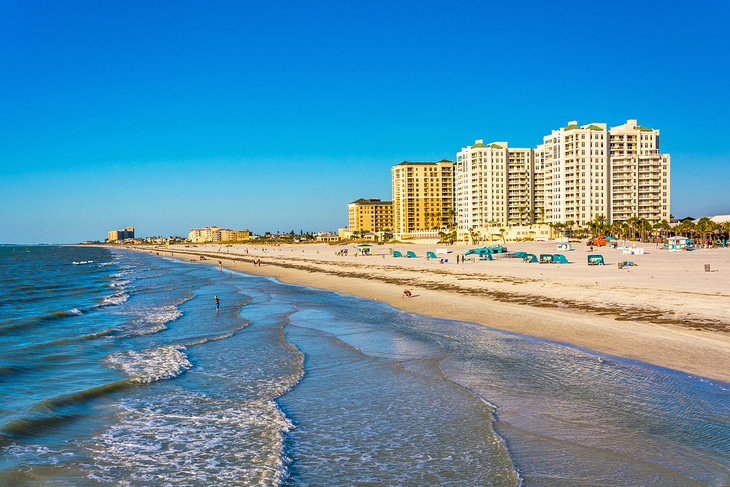 The cheapest way to get from Orlando to Clearwater is by bus, but this is far from a direct route. Greyhound buses depart the Orlando Bus Station on N John Young Parkway and arrive at the PSTA Transit Center in Pinellas Park-St. Petersburg anywhere from three hours and 20 minutes to eight hours later, depending on traffic and the number of stops en route.
There's usually only one bus trip offered daily (in the morning). That said, depending on the time of year you're hoping to travel, there may not be any buses scheduled for this route. Be sure to do your research before you leave by checking the Greyhound website, then plan your trip accordingly.
There's also a bus operated by Amtrak that departs the Orlando Amtrak station and arrives at the St. Petersburg-Clearwater Amtrak Station about two hours and 40 minutes later. Regardless of which bus you choose, you'll need to find your way to Clearwater from the bus station.
The PSTA runs a bus from St. Petersburg to downtown Clearwater. Route 18 takes travelers from 1 Ave N and 6 St N in downtown St. Petersburg to Park Street Terminal in about an hour and a half. Or you can make things easy on yourself and hop in a cab.
4. From Orlando to Clearwater by Train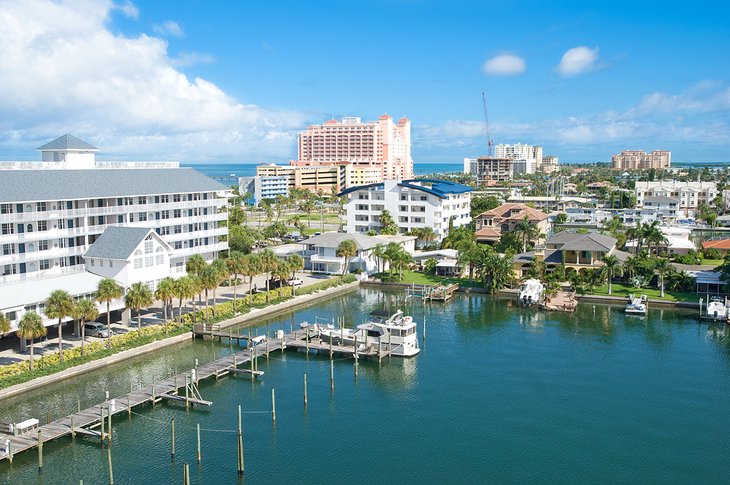 Taking the train can be one of the slowest and least direct ways of getting from Orlando to Clearwater, depending which route you choose. The closest Amtrak station lies about 13 miles southeast of Clearwater in Pinellas Park. Known as the St. Petersburg-Clearwater Station, this also services travelers to St. Petersburg.
It will take about two hours and 40 minutes to travel on a direct Amtrak train from Orlando to St. Petersburg-Clearwater station. While you won't likely need to book a room for such a short journey, upgrading to a cabin is a luxe way to make the journey. Each room comes complete with beds, towels, a private restroom and shower, and free meals.
Speaking of food, there's a Café on board, so you can grab a quick bite or refreshment to help pass the time and quell those hunger pangs.
Once you've arrived, you'll have to make your way to Clearwater. The fastest and easiest option is to hail a cab or use a car service, which will take just over 20 minutes. Another good bet is to board a bus to Clearwater at a nearby curbside bus stop. This will take about an hour.
Another option is to take the train to Tampa Union Station, which is about 23 miles east of Clearwater. The train trip from Orlando to Tampa will take about two hours. From the station, you'll have to either hop in a taxi, which will take close to 40 minutes without traffic, or board a bus, which will take roughly two hours.
5. From Orlando to Clearwater by Plane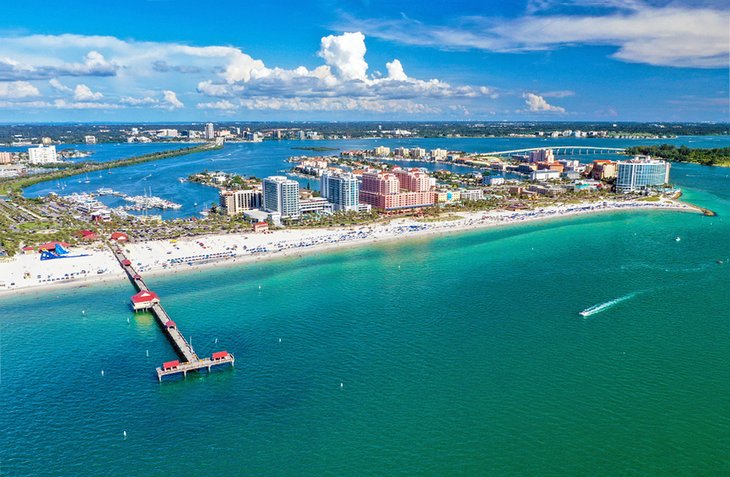 Don't let this title deceive you - there are no flights from Orlando to Clearwater. The closest you'll get by plane is Tampa. That said, flying can get you almost to Clearwater, but be warned, it is not a direct route and will take a while, not to mention the fact that it will cost you a pretty penny in the process.
Flying is the most expensive way to get from Orlando to Clearwater. First, you'll have to book a flight with a company like American Airlines, Spirit Airlines, or Delta. Their flights leave from Orlando International Airport and arrive at Tampa International Airport eventually. We say eventually because most of these flights involve stopovers in a multitude of places, increasing your flying time to anywhere from two and a half hours to more than 10 hours.
Once you arrive at Tampa International Airport, you'll have to hail a cab, rent a car, or hop on a bus. Regardless of which method you choose, you're looking at an additional 40 minutes to well over an hour before you arrive in Clearwater. The only good news is that Orlando International Airport lies a mere 22 miles from downtown Orlando, which is less than a 25-minute drive. That means you won't have far to go at the beginning of your journey.