14 Top-Rated Attractions & Things to Do in Daytona Beach, FL
We may earn a commission from affiliate links ()
Daytona Beach is renowned for its Speedway, its colorful history, its world-class cultural amenities, and a calendar crowded with great events and festivals. Exciting things always seem to be happening here. Interested in shopping? Daytona delivers, with everything from great adventure and water sports stores to malls like the Tanger Outlet Shops, which boasts over 75 shops and restaurants.
The Cici and Hyatt Brown Museum of Art – considered the largest repository of Florida art in the world – is the perfect place to visit for art enthusiasts, while a $400 million "re-imagining" of the Daytona International Speedway was recently unveiled. The result? This famous old race track is now shiny-new, with state-of-the-art facilities and exciting new experiences for visitors.
And it's not as if Daytona Beach didn't have plenty to offer before. Its 23 miles of beaches are world-famous, the historic downtown is filled with great shops and restaurants, and the famous Boardwalk lights up with colorful amusements and shops and eateries.
Golf is one of the more active things to do here, and you can play it all year long. The Ponce de Leon Inlet Lighthouse is still Florida's tallest at 175 feet, and the Stetson Mansion – built by the man who gave us the Stetson hat – is still an international-visitor magnet.
To learn more about these and the many other fun things to do here, be sure to read our list of the best things to do in Daytona Beach.
1. Daytona Beach: The Beach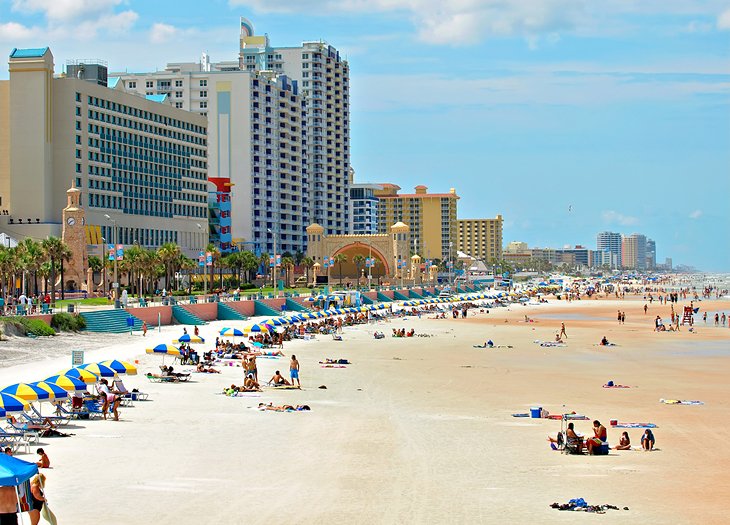 The founders of Daytona Beach didn't just pick a random spot to create a resort town. They chose a stretch of sand extending some 23 miles, which was to become widely recognized as one of the best beaches in Florida, if not one of the best in the entire United States. Edged by its distinctive aquamarine waters, this famous beach now borders one of the world's most legendary Boardwalks, itself home to a ton of amusements, funky shops and restaurants, and outdoor street performers.
This is a true family beach, where the sounds of the waves are intermingled with the laughter of children. The beach is also home to 10 parks, a number of interesting festivals, and recreational opportunities galore. And from May 15 to October 31, a parade of giant sea turtles emerges from the ocean to lay their eggs on the sand.
2. Daytona International Speedway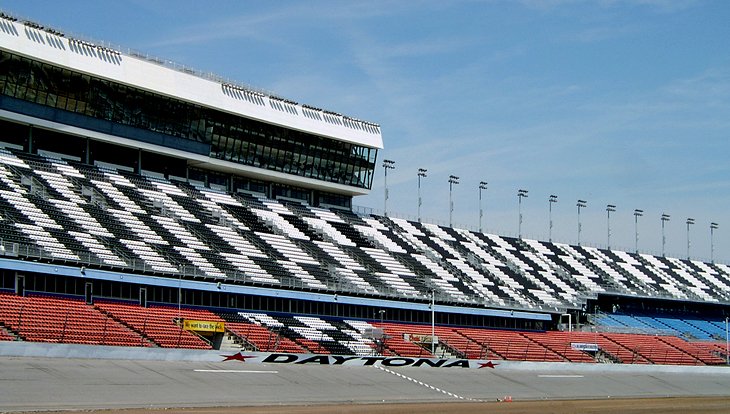 The moment you enter Daytona International Speedway, you'll know you're on hallowed ground. This is not only one of the most legendary auto-racing tracks on Earth, it's also the home of NASCAR, the National Association for Stock Car Racing. Founded by Bill France, Sr., in 1947 and still family-owned, this organization holds colorful events that attract upwards of 125,000 spectators.
And now you can even get a taste the thrill of race car driving in a bunch of interactive racetrack experiences and tours. On the Speedway Tour tram ride, you'll experience the 31-degree banks on the track, and even climb up to the podium in Victory Lane for a photo.
3. Daytona Beach Boardwalk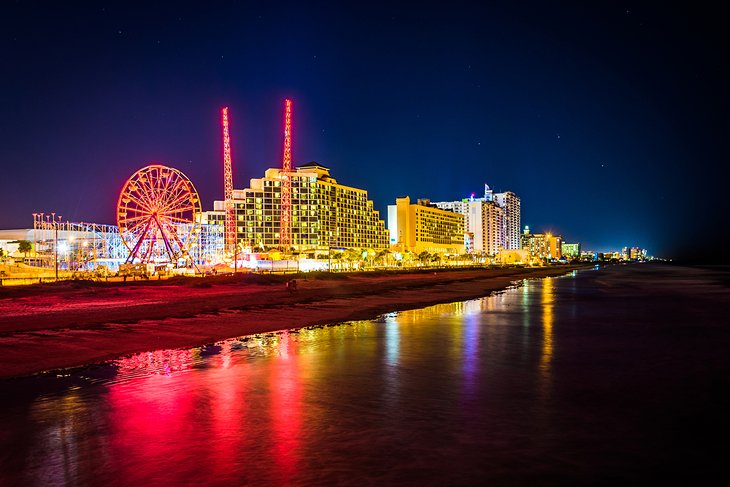 Built in 1938, the Boardwalk amusement area – originally named the "Broadwalk" – is the center of Daytona Beach life, and is constantly being upgraded with new shops, new culinary treats, and new experiences.
Located close to the Main Street, this always bustling area has plenty of fun for people of all ages, with family-friendly indoor and outdoor things to do, including a Ferris wheel, go-carts, and free concerts in the bandshell.
4. Daytona Beach Main Street Pier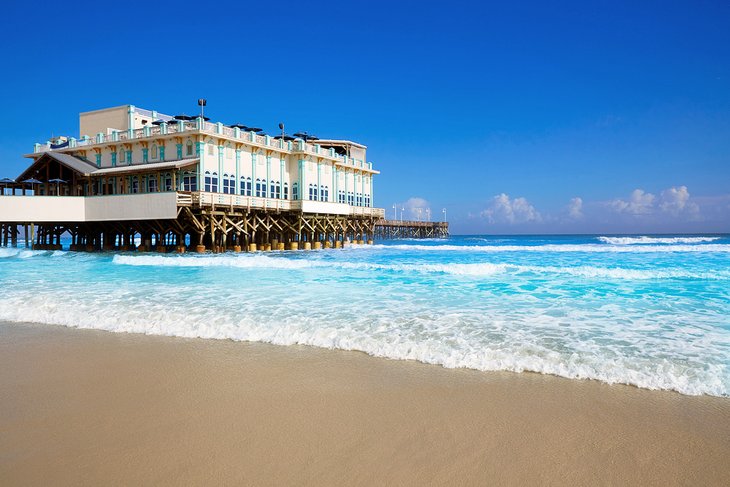 Although most frequently referred to simply as Daytona Beach Pier, the city's Main Street Pier, to use its proper name, has been a popular waterfront attraction for close to 100 years. Constructed in 1925, this city landmark is as popular for fishing as it is for those out for a stroll to get some ocean air.
Stretching 740 feet out into the Atlantic Ocean, this quaint wooden pier is easily accessible from the Daytona Beach Boardwalk. It's open daily and free to explore. It's a great spot for a sunrise selfie, or to spot marine life, such as dolphins, and seabirds. There's also a couple of restaurants here for those wanting to grab a bite with a great view over the water, one of which will also cook up any fish you may have caught.
5. Marine Science Center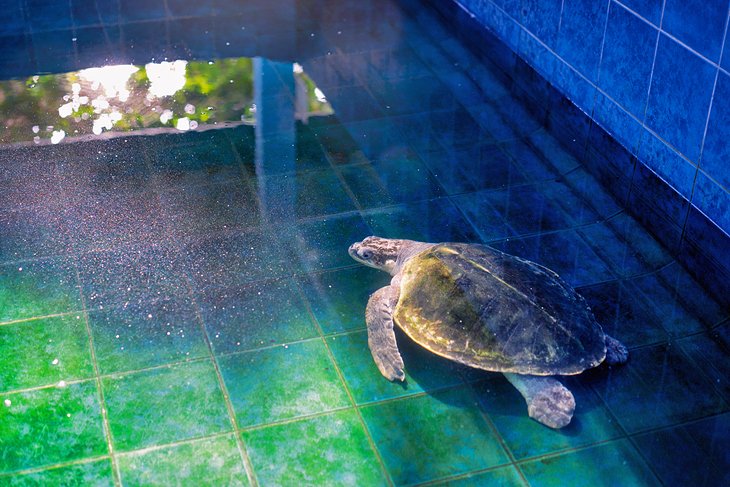 The Marine Science Center is not only a living museum of underwater life, it's also a research and learning center. Since opening its doors in 2002, this fascinating attraction has nursed more than 200 species and many thousands of animals back to health and released many back into the wild.
Among the rescued critters are sea turtles, hatchlings, and other animals such as snakes, gopher tortoises, and freshwater turtles. And, since opening in 2004, the Mary Keller Seabird Rehabilitation Facility has taken in almost 18,000 injured birds.
6. Jackie Robinson Ballpark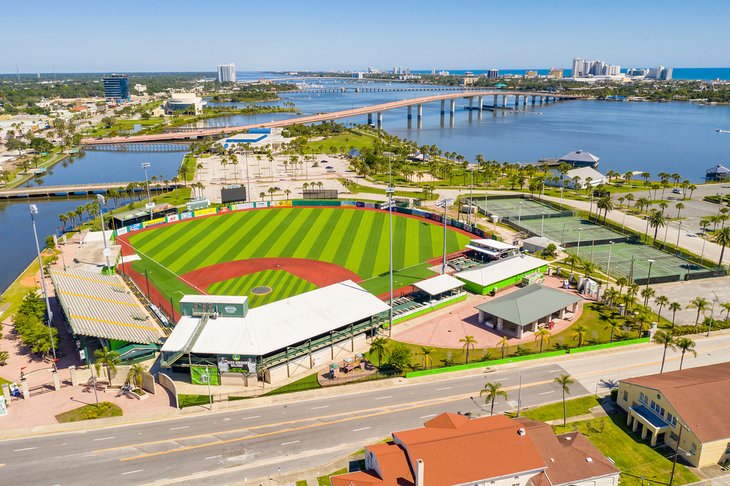 If you're a baseball fan, you'll be familiar with the name Jackie Robinson. In 1946, Robinson became the first African-American to play in a professional baseball game in the US – right here in the stadium that carries his name. He was a minor-leaguer then, playing for the Montreal Royals. But it wasn't long before he was called up to the majors, to play – and eventually make the Hall of Fame – with the Brooklyn Dodgers.
7. Cici & Hyatt Brown Museum of Art
The Cici and Hyatt Brown Museum of Art actually refers to itself as a history museum because it tells the history of Florida through the works of its artists, from pioneer days until now. It tells this history more comprehensively than any other art museum and features more than 2,600 works of art, making it the world's largest collection of Florida art and artists.
Here, you'll find exhibits both historic and contemporary on subjects such as Florida weather, the Seminoles and the Everglades, depictions of Florida by female painters, and views of St. Augustine. Other highlights include pop-culture exhibits such as Americana, Coca-Cola, and the railroads. There's even a stunning Planetarium show, free with the purchase of a regular museum ticket.
8. Stetson Mansion
The Stetson Mansion is a still-standing sentinel of the Gilded Age. It was considered Florida's first luxury estate and its most glorious home up until the 20th century. Built by hat tycoon and philanthropist John B. Stetson in 1886, the house was constructed with a variety of interesting interior carvings, rare woods for the floors, 10,000 window panes of leaded glass, and world-class art.
The Stetsons were known for hosting the most lavish parties in Florida, attended by foreign royalty and American entrepreneurs, tycoons, and inventors. Family friend Thomas Edison helped design the electrical system, and the Stetsons even built their own power plant, ice plant, and a hotel for their wealthy guests.
9. Angell & Phelps Chocolate Factory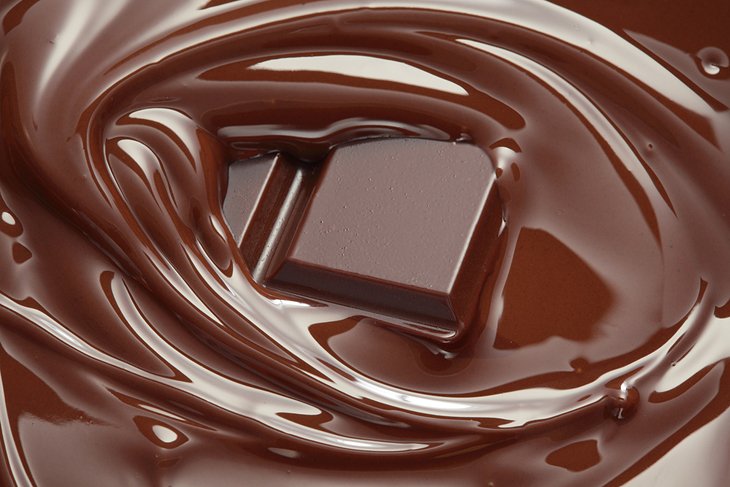 Angell & Phelps has been hand-making incredible chocolate confections since 1925. It was actually founded in Mackinac, Michigan, but moved to Florida at the start of World War II. It was a woman-owned company well before its time, with founders Riddell Angell and Cora Phelps helping blaze the way for female entrepreneurs. In fact, many of Riddell's and Cora's original recipes are still used here.
10. Ponce Inlet Lighthouse & Museum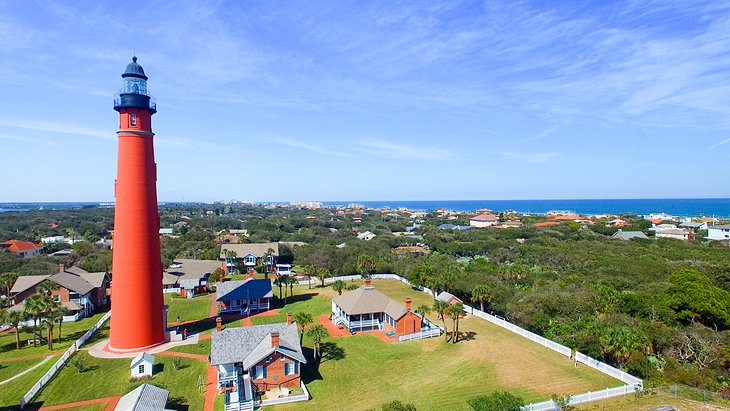 While some may claim that Spanish explorer Ponce de Leon actually slept on the spot where the Ponce Inlet Lighthouse stands today, it's a topic for debate. But there's no debating the fact that he never found his Fountain of Youth, or else he'd be here to tell us about it.
At the Ponce Inlet Lighthouse & Museum – named for the man who first sailed into this inlet with a fleet of Spanish ships – you'll have the opportunity to explore Florida's oldest lighthouse, built in 1887 as one of a chain of 10 lighthouses erected in the late-1800s along the east coast of a state known for its shipwrecks.
11. Museum of Arts & Sciences (MOAS)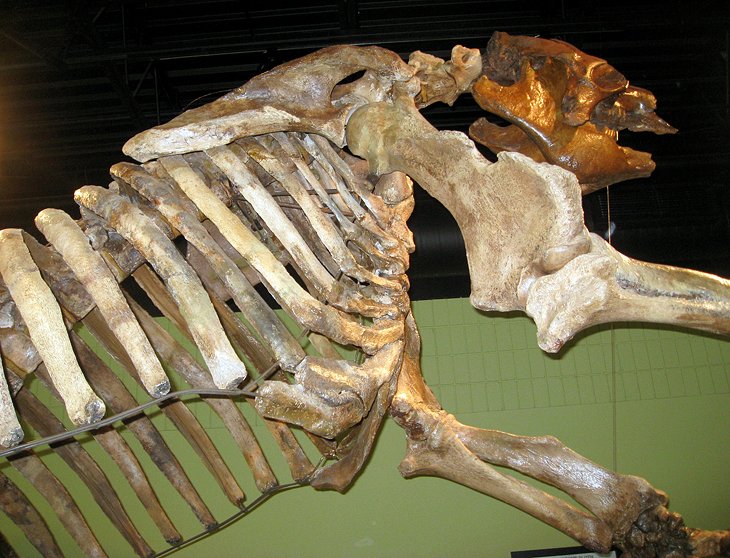 The prestigious Museum of Arts & Sciences (MOAS) has the honor of being a Smithsonian Institution Affiliate and is a fascinating combination of two disciplines that are rarely found in the same building.
Art lovers will find some 30,000 objects, among them one of the finest collections of American art in the Southeast; the Schulte Gallery of Chinese Art; the Gallery of Decorative Arts; the Cuban Foundation Museum; and the Root Family Museum, displaying rare items of Americana.
In the realm of the sciences, there's a Children's Museum filled with interactive experiences for the younger set, and a new state-of-the-art planetarium, which will take you up to the heavens. There's also a nature trail and displays of fossils and bones from the people who originally walked the area a thousand years ago.
12. Tomoka State Park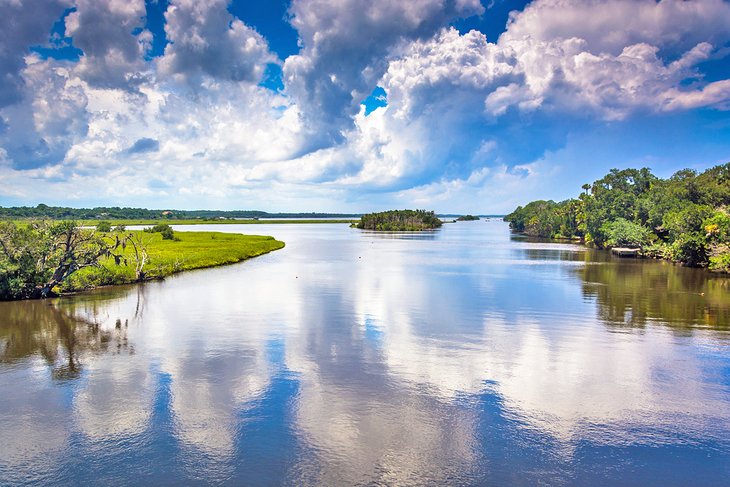 Just an easy 20 minutes drive north along the coast from Daytona and you'll find yourself at one of Florida's most picturesque nature reserves, Tomoka State Park. Covering an unspoiled 2,000 acres, the park occupies an area adjacent to the Tomoka River that was well known among the local native population for the abundance of fish and other food sources in its lagoons.
Established as a park in 1945, it has since become a popular tourist attraction thanks to the many fun things to do here. Topping the list are outdoor adventures, including canoeing and kayaking, along with fishing. Bird-watchers are also drawn here, as the park is known to be home (or a resting spot) to some 160 different species, including a variety of birds of prey such as bald eagles. Other notable wildlife include manatees, deer, alligators, and even bobcats.
13. Heli-Hogs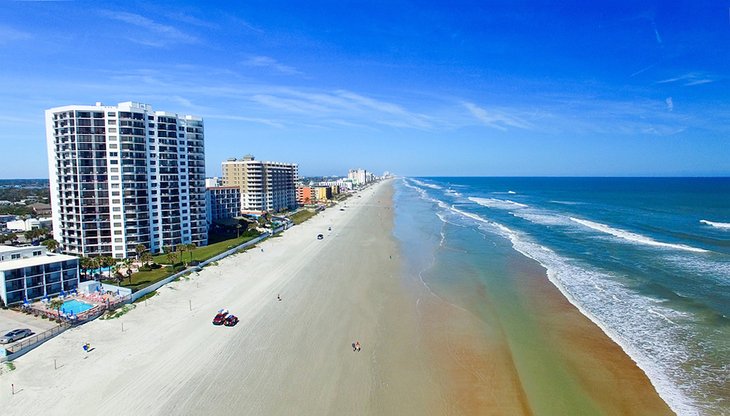 Based in nearby Ormond Beach, Heli-Hogs will take you on a great adventure as you shoot straight up into the skies over east-central Florida. When you do, you'll know exactly what the term "bird's-eye view" means.
You'll fly north along the coast toward Flagler Beach and back, and on the way, you'll pass over small towns, highways, and that magnificent stretch of sand that makes Daytona so famous. The view over the incredibly-hued ocean waters are spectacular, too.
14. Lilian Place Heritage Center
Built in 1884 by Laurence Thompson, one of the area's first settlers, the charming Lilian Place Historic House is the oldest house on the beachside of Daytona Beach.
Erected at a time when only those with a pioneering spirit lived here, the home is a distinctive example not of frontier architecture, but of High Victorian architecture, boasting high ceilings and solid pine floors. Because this area is so tied to the sea, there's a widow's walk, where the wives of sea captains waited for their men to return (or not).
Author Stephen Crane (The Red Badge of Courage) ended up getting here the hard way – by swimming – when his boat sank offshore in 1896. Some local folks swear he's still here, roaming the rooms and the corridors, along with other "eternal" guests such as Lucille, the mystery ghost of Lilian Place.
Where to Stay in Daytona for Sightseeing
When looking for good accommodations in Daytona, be sure to check out the best hotels and resorts located on the oceanfront – or as near as you can get to it. Given its length (it stretches for well over 20 miles), there's no shortage of good options if you travel outside the Boardwalk and downtown areas. To help you decide on the best Daytona hotel for you, be sure to refer to our recommendations of top places to stay that suit your budget.
More Related Articles on PlanetWare.com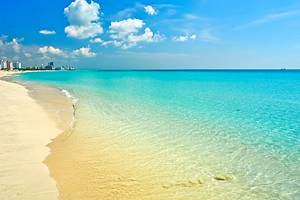 Best Beaches in Florida: When it comes to vacations, Florida features many magnificent beaches to explore. A few of our favorites include Miami Beach, stretching over seven miles, always bustling, and just steps away from the city's top attractions and things to do. Less crowded but no less fun, lovely Clearwater Beach near St. Petersburg is where you'll find the spectacular 1,136-acre Fort DeSoto Park, home to endless stretches of pristine sand on the Gulf side of Florida, and other attractions. Finally, be sure to include the beaches of Fort Lauderdale on your list; you'll enjoy walking (or lounging) on its seven miles of sandy beaches and wide boardwalks and experiencing its many other fun things to do.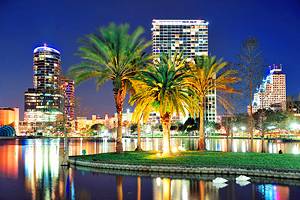 Top Florida Vacation Ideas: Located just an hour's drive south of Daytona, the pleasant destination of Cocoa Beach is a great choice for those seeking a quieter family vacation, and is especially popular for its lovely beaches and nature parks. Another good getaway destination, historic St. Augustine is famous as North America's oldest city and is a delight to explore on foot, especially around the old colonial quarter. The world's theme park capital of Orlando offers a completely different experience, but thanks to it being the home of Disney World and Universal Studios, has no end of fun things to do.