Fishing in St. Augustine: 8 Things to Know
It's no wonder fishing is one of the most popular outdoor activities in St. Augustine, with its vast maze of inlets and waterways. The variety of species inshore, from redfish, drum, and spotted trout to the offshore sport fish like kingfish, tuna, cobia, and barracuda, make St. Augustine a year-round fishing destination.
One of the most convenient ways to fish in St. Augustine is from the shoreline. While it can be intimidating to see experienced local anglers lined up on the beach with their lines precisely positioned in the surf, St. Augustine has many resources for newbies.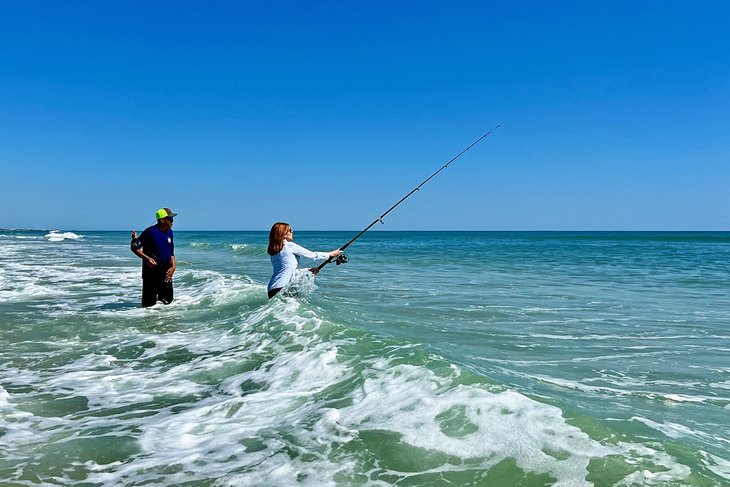 Expert fishing guide Dave Hernandez of St. Augustine Paddle Sports takes me to Crescent Beach to learn how to surf fish. We walk into the water waist deep, making sure to gain the best leverage with the 10- and 12-foot rods that we are using. Technique is everything in the waves to cast the line past the breakers. A full lean back flowing into a long, outward cast, while maintaining balance is easier said than done.
Hernandez shows me the specific gear for surf fishing and the bait for pompano and whiting that we are targeting. For an added advantage, Hernandez lets me in on a little secret in our arsenal about using "fishbites," a bait attractor that carries the scent of local species.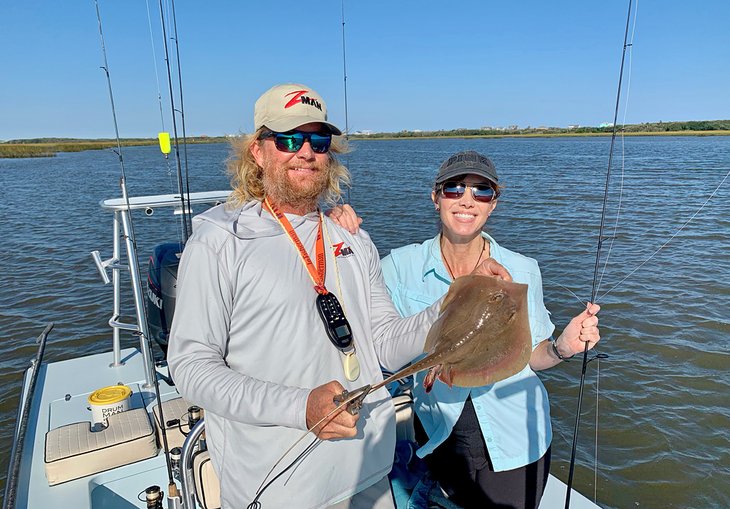 Another great introduction to fishing in St. Augustine is fishing on the Intracoastal Waterway, where there is an abundance of fish species close to the tall spartina grass and mounds of oyster beds, which serve as filters for these pristine waters.
My guide, Captain James of Drum Man Charters, takes me out just past the marina to target redfish and spotted trout in the three to four feet of water. He says to be prepared for just about anything, including the possibility of offshore species that sometimes lose their way and end up in the shallows. The Intracoastal waters are also where these fish are born before they go offshore.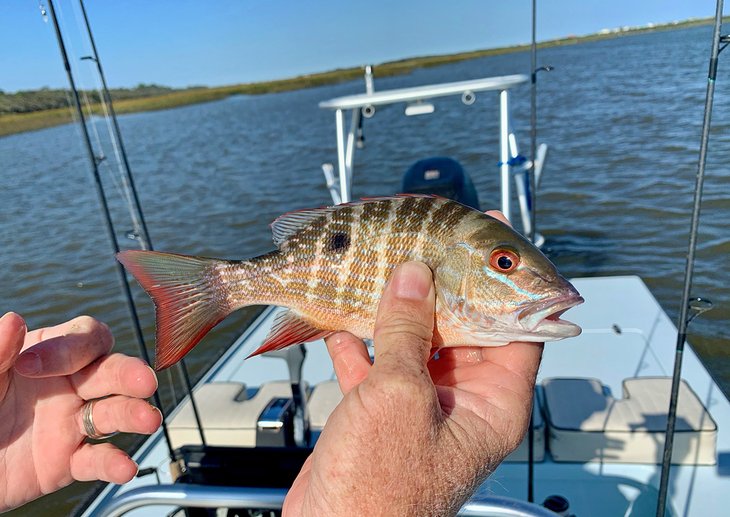 Since there are many different ways to fish in St. Augustine due to the variety of waterways and variation in depth, vegetation, structure, and temperature, booking a fishing charter with an experienced captain offers the best chance of success.
If you are up for a challenge, you can participate in the Florida Fish and Wildlife's Catch a Florida Memory program, which rewards anglers for specific fishing achievements in three different ways: You can join the Saltwater Life List, by catching all 70 species of saltwater fish; the Saltwater Grand Slam, by catching three specific species in a 24-hour period; or the Saltwater Reel Big Fish, by catching 30 large species, including king mackerel, flounder, cobia, permit, bonefish, and a list of others in Florida's saltwater.
You'll find plenty of tips in this list of things to know about fishing in St. Augustine.
1. What to Know Before You Go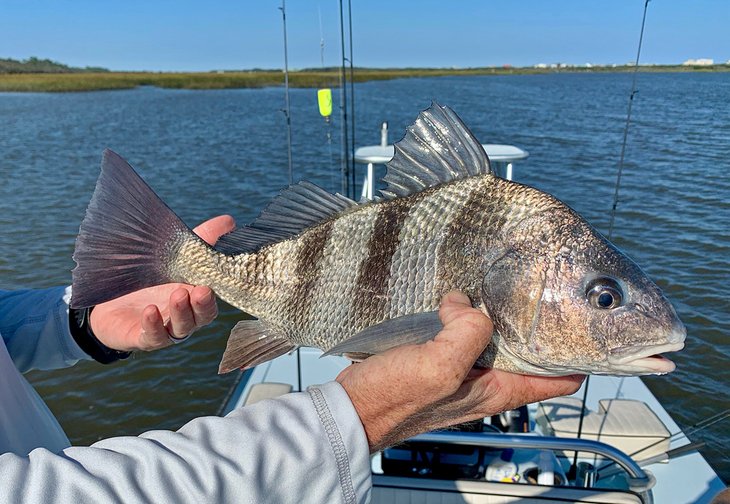 With so many fishing opportunities in St. Augustine, it helps to have an angling game-plan before your trip so that you make the most of your time. First, determine if you plan to do saltwater fishing, freshwater, or both. This will help you narrow down the time of year to visit and when to look for lodging.
Next, research the different types of charters available in St. Augustine to see what guides and companies specialize in the fishing you want to experience. Then, determine if you plan to do fly fishing or use a rod and reel. Last, decide if you will take your own equipment or plan to rent it in St. Augustine.
As the oldest city in the United States, you will want to do a bit of homework to take in some of St. Augustine's top tourist attractions. There is plenty to see and experience in the historic district, or you can plan an Intracoastal Ecology tour with St. Augustine Eco Tours to learn more about the natural elements in the waters where you will be fishing.
2. How to Hire a Fishing Charter or Guide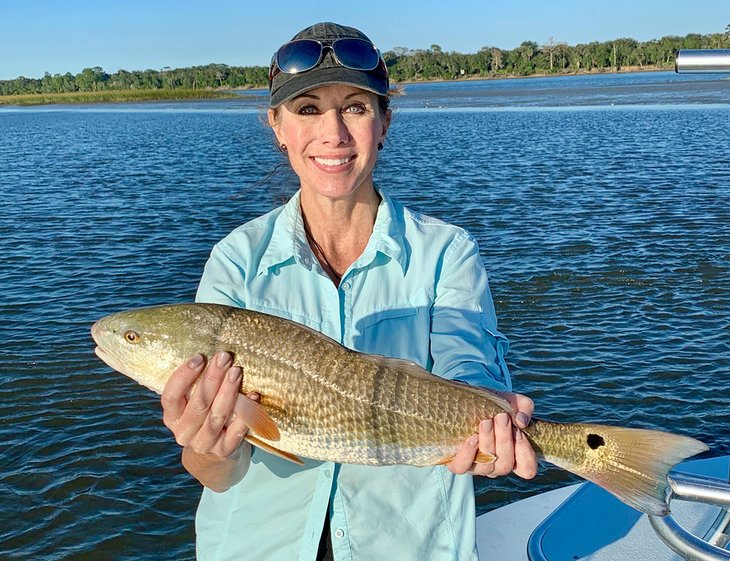 There are almost as many guides and fishing charters available in St. Augustine as there are ways to fish. They are specialized, which helps you get on the fish that you desire to catch during your visit. Most charters offer all-inclusive half-day or full-day fishing outings inshore and offshore.
For deep sea fishing out of St. Augustine, some charters will take anglers as far as 30 miles out into the blue Atlantic, where they can target black sea bass, gag grouper, vermillion snapper, cobia, dolphin fish (mahi-mahi), blackfin tuna, and wahoo. There are other charters that will go farther out for sport fish.
You can hire local charters for inshore and Intracoastal fishing, which is a productive way to catch a variety of species without going too far from land. This is an especially nice option if you want to catch fish and enjoy eating it for dinner at a local hook and cook restaurant.
You can also hire guides for shorter experiences, like kayak fishing in the backwaters and creeks (which comes with the added benefit of getting up close to nature) or surf fishing for a few hours.
3. St. Augustine Fishing Seasons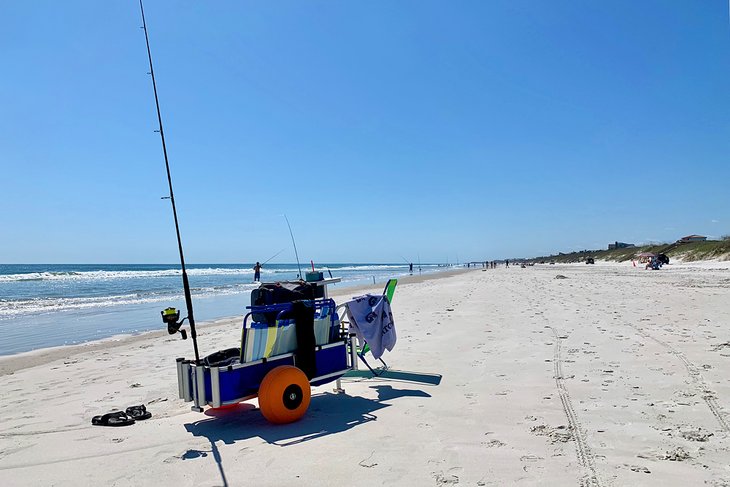 While St. Augustine offers year-round fishing, the spring and summer months are the most productive.
Spring and summer are popular for yellowtail snapper and grouper. Summer is also when red snapper season is in full swing, and you can catch them in nice sizes. The summer season is peak for flounder, redfish, trout, and sharks. Offshore in the spring and summer months, you can catch big game fish like kingfish, tuna, and mahi-mahi.
From June through September, the seaward mouths of Matanzas and St. Augustine inlets offer the opportunity for Tarpon one of fishing's most exciting experiences, which is battling with a large tarpon. Tarpon can range in size from 10 pounds to more than 150 pounds. They are acrobatic fish, leaping high out of the water with their armor-like scales flashing in the sunlight.
The colder fall and winter months from January through March offer great inshore fishing for redfish, flounder, trout, sheepshead, and black drum.
4. Species to Catch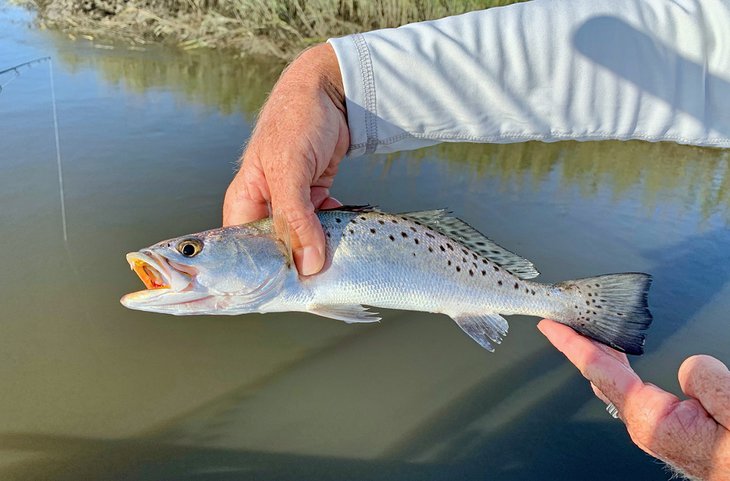 There are so many species of fish to catch in St. Augustine that it is almost easier to discuss what you cannot catch out of the Atlantic waters. Some of the more popular inshore species to catch are redfish, pompano, whiting, speckled trout, flounder, black drum, and tarpon.
When offshore fishing in St. Augustine you can catch kingfish, grouper, cobia, amberjack, shark, and several types of snappers. Barracuda are also great to catch in St. Augustine. Since there are no reefs in the water, the bacteria that is sometimes associated with southern barracuda is not found here.
5. Types of Fishing in St. Augustine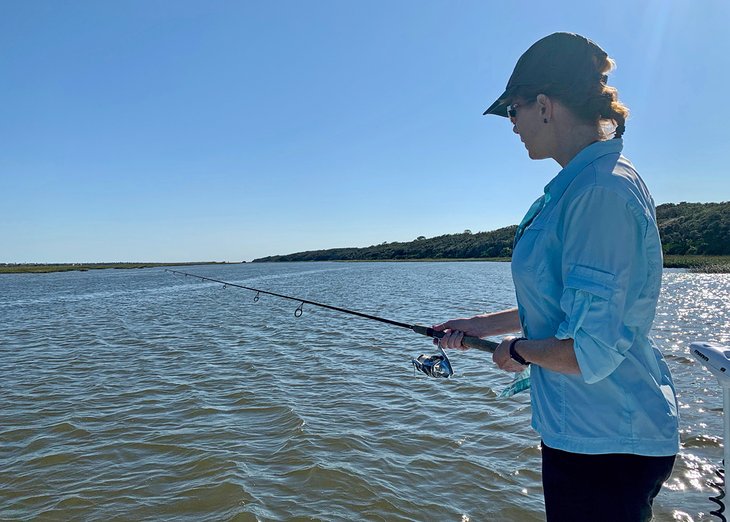 There are so many types of fishing in St. Augustine, this makes it a year-round fishing destination. But any angler who has missed a fishing trip due to unfavorable weather conditions can appreciate the options for backup plans. Due to St. Augustine's geographic location, and the unique eco-system that surrounds it, there is a wide variety of fishing options and species to target.

Offshore Fishing near St. Augustine
Offshore fishing from St. Augustine is exciting, especially for anglers targeting king mackerel. St. Augustine is the headquarters of the Southern Kingfish Association which hosts one of the biggest saltwater tournament series in the United States. Summer deep-sea tournaments are prime fishing opportunities for hardcore anglers, but it is also prime time for visitors to target a bucket list of species. Anglers can also catch wahoo, sailfish, blackfin tuna, and mahi-mahi.
While deep sea fishing out of St. Augustine is an option, it is a bit more challenging than in the waters in southern Florida because the fishing charters must go out farther to get into deeper water. The Gulf Stream is about 50 to 80 miles from the shores of St. Augustine, which means charters can only start to target deep sea fish about nine miles out and oftentimes require going 60 to 80 miles out to sea.
Comparatively, offshore fishing in southern Florida starts within a half mile, as the gulf stream is closer. The waters off St. Augustine can be compared to the Carolinas as far as the style of the marshes and grass inshore, as well as the contour of the ocean floor offshore.
Inshore Fishing in St. Augustine
The 44-mile section of Intracoastal Waterway that runs along St. Augustine's coast is a maze comprised of inlets, creeks, and bays. The Intracoastal Waterway is dissected by numerous inlets that lead to the open Atlantic Ocean. The oyster beds that insulate the food sources for fish like redfish and speckled trout make it a hotbed of angling activity.
A day trip on the Intracoastal Waterway can result in many species, including flounder, black drum, and other species that make their way in from the Atlantic. A great all-around bait to use in this area is mud minnows because they live in the oysters, everything eats them, and they can live for three-to-four months.
Freshwater Fishing in St. Augustine
While much of the fishing in St. Augustine is focused on saltwater, there are freshwater opportunities out of the St. John's River. The streams that come off the river are prime habitats for bluegill, crappie, and bass. Local anglers can also direct you to other creeks and backwaters that are prime for freshwater fishing.
Fishing from Piers in St. Augustine
Fishing from one of the St. Augustine piers is a fun way to experience the angling scene along the Atlantic Coast in northern Florida. The St. Johns County Ocean Pier is one of the more popular piers to fish for sea trout, black drum, flounder, sheepshead, king mackerel, and tarpon. For a small fee that includes a day fishing license, you can try your luck like a local. Vilano Beach Pier offers anglers free access near the Francis and Mary Usina Bridge.
There are several local parks that have smaller fishing piers that are open to fishing, including Treaty Park, Faver-Dykes State Park, and Vaill Point Park. The piers at Lighthouse Park and Rose of Sharon Pier are also open to anglers.
Surf & Beach Fishing in St. Augustine
Surf fishing is one of the most popular forms of fishing for the locals, but with so many oceanfront hotels, it is also easy for vacationers to do. Some of the species you can catch while beach fishing include speckled trout; pompano; kingfish; and jack crevalle, which are especially active in the summer months.
The best timing for surf fishing is on both sides of the tide, with opportunities usually about twice a day. You will need 10- to 12-foot rods, and weights with Sputniks to hold the position tight in the surf until a fish is hooked. As for bait, blue crab, sand fleas, or dead shrimp work well. You can rent tackle and buy bait and a license from a local bait shop.
Kayak Fishing in St. Augustine
Kayak fishing is popular in St. Augustine in part because of the added benefit of the unique ecosystem, so anglers get two activities in one. Anastasia State Park is a great spot to launch your kayak and head out to target redfish and speckled trout. You can rent kayaks at the park or from other outfitters in St. Augustine. For guided trips, St. Augustine Paddle Sports offers Silver Springs kayak fishing, where you can see macaques (descendants of theme park escapees), alligators, and manatees along the way.
6. Fishing Clinics & Lessons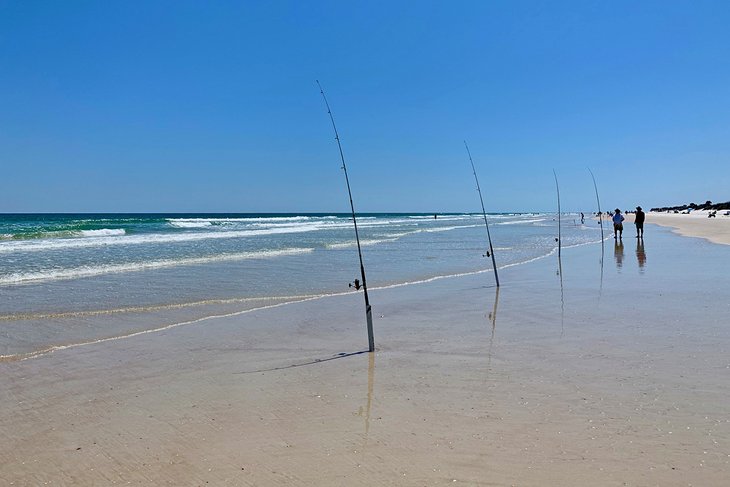 One of the reasons that St. Augustine is so inviting to anglers is because of the resources offered to help even new visitors to the area learn how to fish the variety of waters. The St. John's County Parks and Recreation Department offers "Fishing 101" clinics to residents and visitors.
The two-hour hands-on workshops offered throughout the year cover fishing topics like casting, how to find a good fishing spot, knot tying, surf fishing, how to filet your catch, nets and traps, and rules and regulations. They also offer more specialized clinics for women anglers, veterans, and families.
Another option is to stay at a place like the Guy Harvey Resort on St. Augustine Beach, which has a surf fishing academy. Guests can enjoy a full day of fishing with a professional guide, learning about the tackle and techniques needed for this fun thing to do in St. Augustine. For personalized lessons, you can hire an independent guide.
7. Fishing Tackle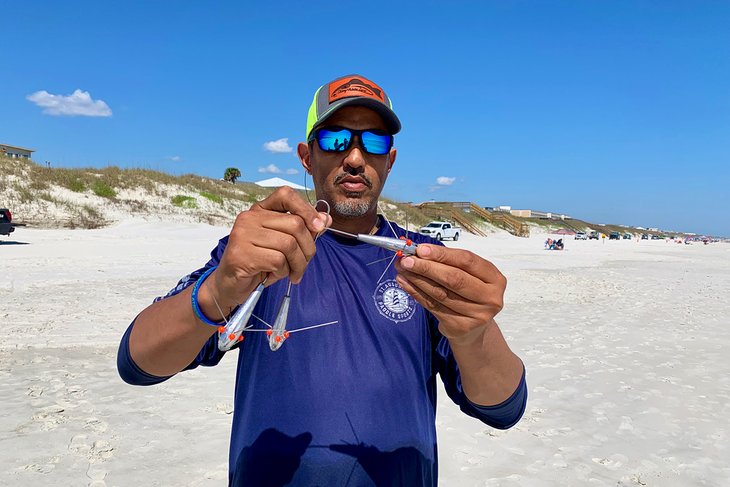 While many hard-core anglers never leave home without a rod and reel, every location and type of fishing requires different tackle, so sometimes it is easier to get the proper gear at the destination.
Rod and reel rentals are available from shops like St. Augustine Paddle Sports. Kayak fishing rentals are also available by the hour or by the day. If you are traveling with several people, you can arrange for kayak transportation to your launch site with four or more rentals.
The St. Augustine Beach Pier has a tackle shop at the entrance that also rents fishing tackle and sells bait. There is a fishing access fee for the pier, but this is a nice option if you just want to drop a line into the water on your own.
8. Hook and Cook Restaurants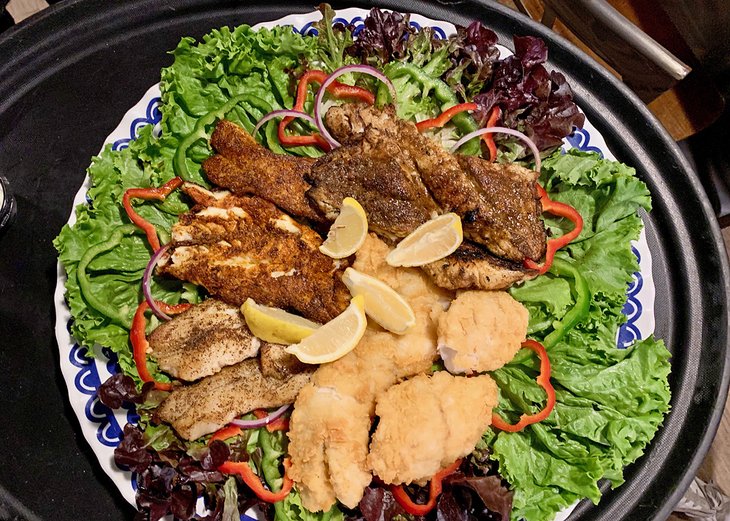 One of the best parts of fishing in St. Augustine is having the full-circle experience of taking your catch to a local hook and cook restaurant that will prepare your catch for a delectable dinner. The Conch House Restaurant and the Kingfish Grill are two local spots that prepare your catch, with a choice of fried, grilled, blackened, or jerk seasonings.
More Related Articles on PlanetWare.com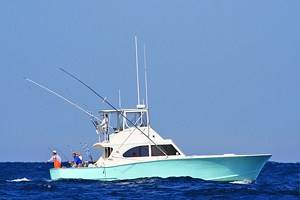 More Fishing Hot Spots: Anglers who enjoy the variety of fishing experiences that St. Augustine offers will enjoy looking into the saltwater vs. freshwater trout fishing in Texas on waterways like Sabine Lake and Galveston Bay.
It is also worth considering the top places for deep sea fishing in North Carolina in places like Hatteras, which has similar ocean dynamics as the fishing from St. Augustine. Anglers who enjoy checking new species off their angling bucket list should try musky fishing at some of the top-rated fishing lakes in Wisconsin.