Fishing in St. Augustine, Florida: 6 Things to Know
It is no wonder fishing is one of the most popular outdoor activities in St. Augustine, Florida, with its vast maze of inlets and waterways, with quick access to the Atlantic Ocean, that were first navigated in this region by Spanish explorers. The variety of species inshore, from redfish, drum, and spotted trout to the offshore sport fish like kingfish, tuna, cobia, and barracuda, make St. Augustine a year-round fishing destination.
While booking a fishing charter with an experienced captain offers the best chance for success, there are many different ways to fish in St. Augustine due to the variety of waterways, depth variations, vegetation and structure, and temperature fluctuations in northern Florida. Local and visiting anglers can also fish from the pier or the shoreline, or head out in a kayak for angling on the small inlet channels.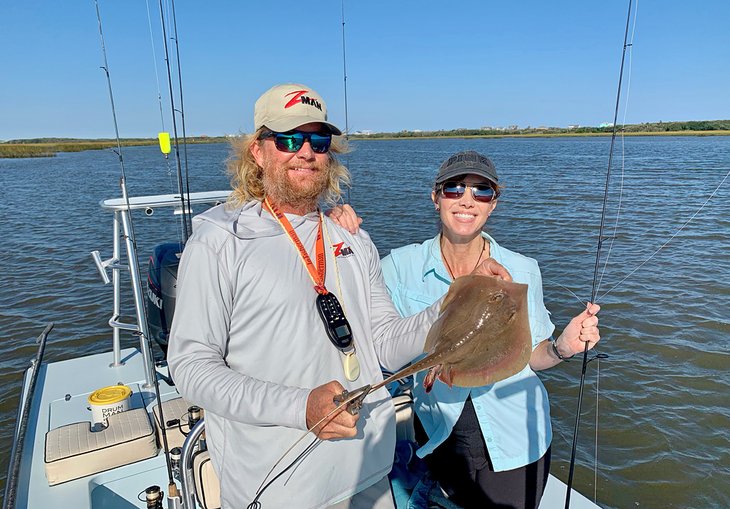 Just a few minutes out of the marina, we stop to fish close to the tall spartina grass and mounds of oyster beds that define these pristine waters. Beyond the tranquil setting that these natural elements create, Captain James shares why they are significant for the abundance of fish species in the Intracoastal Waterway and the quality of the fish.
"The oysters are good for fishing here. They are the number one filter for cleaning the water, and they hold the bait, so the fish come into the Intracoastal waters to feed," says Captain James Dumas of Drum Man Charters.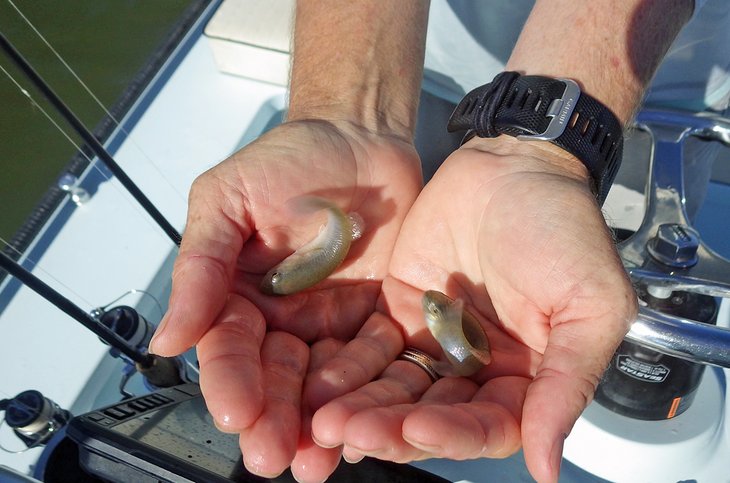 We prep our rods, and the Captain pulls out a live minnow-type bait to use. These are thicker and stubbier in appearance than I have ever seen before.
"These are mud minnows," says Dumas. "They live in the oysters here. It's the best bait I can buy, and they live two to three months. Everything eats a mud minnow."
We anticipate catching redfish and spotted trout in the three to four feet of water below us, but Captain James prepares me for just about anything, including the possibility of offshore species that sometimes lose their way and end up in the shallows. We use a spinning reel, light tackle, and a 10-pound line with a 20-pound leader.
Circular ripples appear in the water not far from the boat, elevating my heart rate and excitement as I fish this area for the first time. Captain James tells me to cast about 15 feet away from the edge of the spartina grass and let the line drift on its own.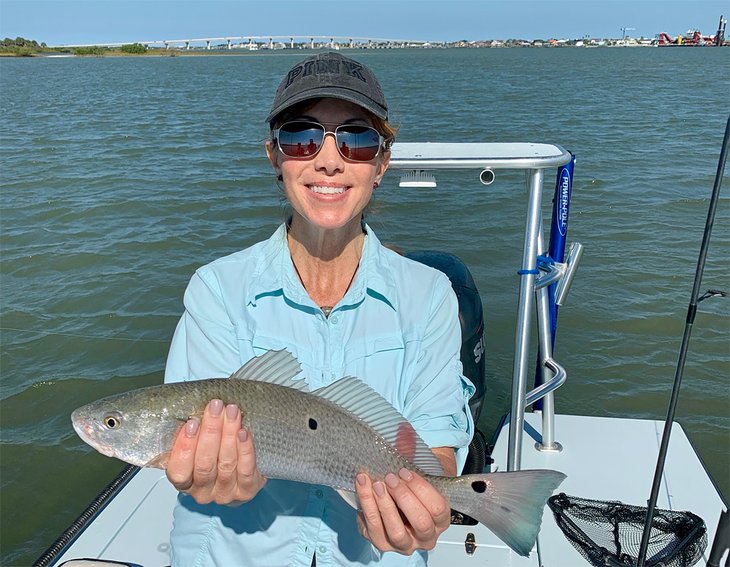 "Reel steady and keep the line tight," Captain James instructs me.
We are using circle hooks, which are safer for the fish but they also make it easier to lose the fish because there is no barb on the hook. Keeping the line taught, and reeling at a steady pace, is the only way to keep the fish hooked. As I get the fish close to the boat, I can see the telltale black dot marking near his tail, indicating a redfish. The catch is keeping size, so we are off to a good start with a species that would make for great eating later at a local hook and cook restaurant.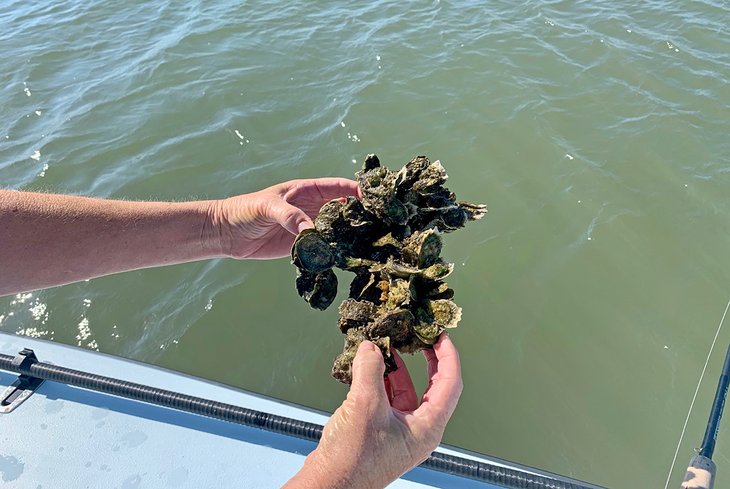 I can hardly wait to get my line back in the water. The mud minnow bait is hanging tough, and this time Captain James instructs me to cast just off an oyster bed, which is where fish generally congregate to feed.
"I saw a hammerhead shark in here a few weeks ago," says Captain James.
As I cast my line towards a massive oyster bed protruding out of the water I can't help but wonder what else is lurking below me if even sharks can disguise themselves in such shallow water. As I find out during our several hours of fishing, just about anything can make its way into the inlets and bays if food is present. The Intracoastal waters are also where fish are born before they go offshore.
My mind drifts off for a moment, wondering what it would be like to observe St. Augustine's Intracoastal waters from underneath and see the variety of species, like one of those glass tunnels at indoor aquariums.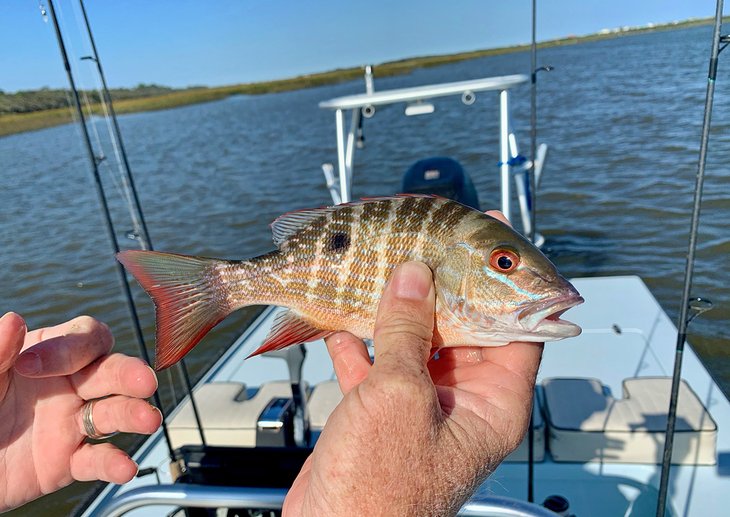 Bite after bite we pull in fish. I start getting excited for dinner and the many ways the catches of the day could be prepared. We rarely pull in the same species twice, demonstrating just what the Captain indicated about the environment and the fish that thrive in this habitat. It's like a grab bag of redfish, French grunt, black drum, speckled trout, mutton snapper, and even a surprise stingray that I was sure was a flounder on the end of my line.
The Intracoastal Waterway is dissected by numerous inlets that lead to the open Atlantic Ocean. While deep sea fishing out of St. Augustine is an option, it is a bit more challenging to do than in the waters in southern Florida because the fishing charters must go out farther to get into deeper water. The Gulf Stream is about 50 to 80 miles from the shores of St. Augustine, which means charters can only start to target deep sea fish about nine miles out and oftentimes require going 60 to 80 miles out to sea.
Comparatively, offshore fishing in southern Florida starts within a half mile, as the gulf stream is closer. The waters off St. Augustine can be compared to the Carolinas as far as the style of the marshes and grass inshore, as well as the contour of the ocean floor offshore.
St. Augustine offers anglers several opportunities to try new fishing techniques and experience different environments while still being productive.
If you are up for a challenge, you can participate in the Florida Fish and Wildlife's Catch a Florida Memory program, which rewards anglers for specific fishing achievements in three different ways: You can join the Saltwater Life List, by catching all 70 species of saltwater fish; the Saltwater Grand Slam, by catching three specific species in a 24-hour period; or the Saltwater Reel Big Fish, by catching 30 large species, including king mackerel, flounder, cobia, permit, bonefish, and a list of others in Florida's saltwater.
Here are some of the things to know before heading to the St. Augustine waters to improve your angling game.
Note: Some businesses may be temporarily closed due to recent global health and safety issues.
1. What to Know Before You Go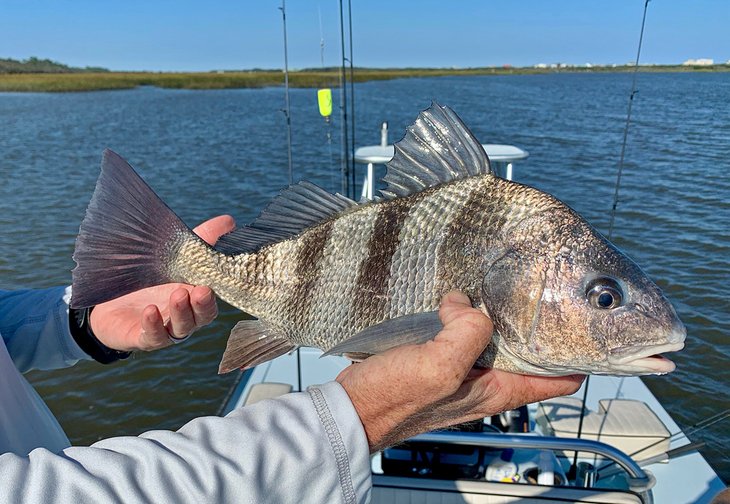 With so many fishing opportunities in St. Augustine, it helps to have an angling game-plan before your trip so that you make the most of your time. First, determine if you plan to do saltwater fishing, freshwater, or both. This will help you narrow down the time of year to visit and when to look for lodging.
Next, research the different types of charters available in St. Augustine to see what guides and companies specialize in the fishing you want to experience.
As the oldest city in the United States, you will want to do a bit of homework to take in some of the other experiences in St. Augustine. There is plenty to see and experience in the historic district, or you can plan an Intracoastal Ecology tour with St. Augustine Ecotours, so you can learn more about the natural elements in the waters where you will be fishing.
2. How to Hire a Fishing Charter
There are almost as many guides and fishing charters available in St. Augustine as there are ways to fish. They are specialized, which helps you get on the fish that you desire to catch during your visit. Most charters offer all-inclusive half-day or full-day fishing outings inshore and offshore.
You can hire local charters for inshore and Intracoastal fishing, which is a productive way to catch a variety of species without going too far from land. This is an especially nice option if you want to catch fish to enjoy having prepared for dinner at a local hook and cook restaurant.
For deep sea fishing out of St. Augustine, some charters will take anglers as far as 30 miles out into the blue Atlantic where they can target black sea bass, gag grouper, vermillion snapper, cobia, dolphin (mahi-mahi), blackfin tuna, and wahoo. There are other charters that will go farther out for sport fish.
3. St. Augustine Fishing Seasons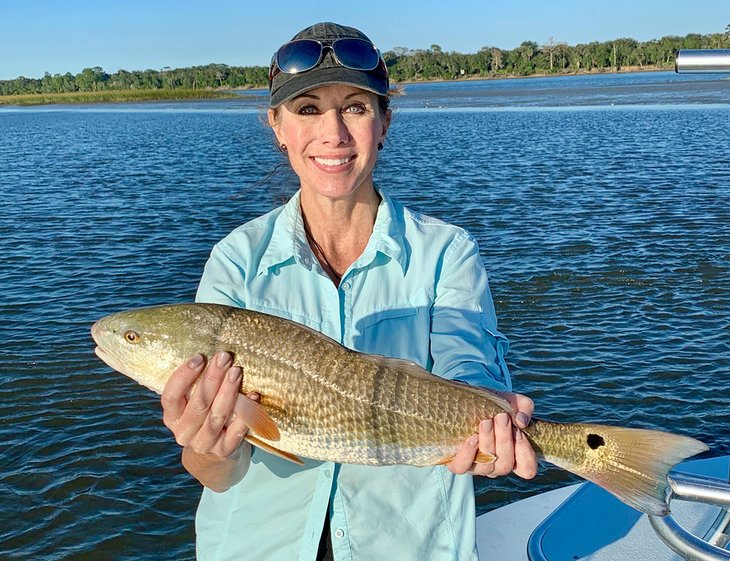 While St. Augustine offers year-round fishing, the spring and summer months are the most productive.
Spring and summer are popular for yellowtail snapper and grouper. Summer is also when red snapper season is in full swing, and you can catch them in nice sizes. The summer season is peak for flounder, redfish, trout, and sharks. Offshore in the spring and summer months, you can catch big game fish like kingfish, tuna, and mahi-mahi.
From June through September, the seaward mouths of Matanzas and St. Augustine inlets offer the opportunity for one of fishing's most exciting experiences, which is battling with a large tarpon. Tarpon can range in size from 10 pounds to more than 150 pounds. They are acrobatic fish, leaping high out of the water with their armor-like scales flashing in the sunlight.
The colder fall and winter months from January through March offer great inshore fishing for redfish, flounder, trout, sheepshead, and black drum.
4. Species to Catch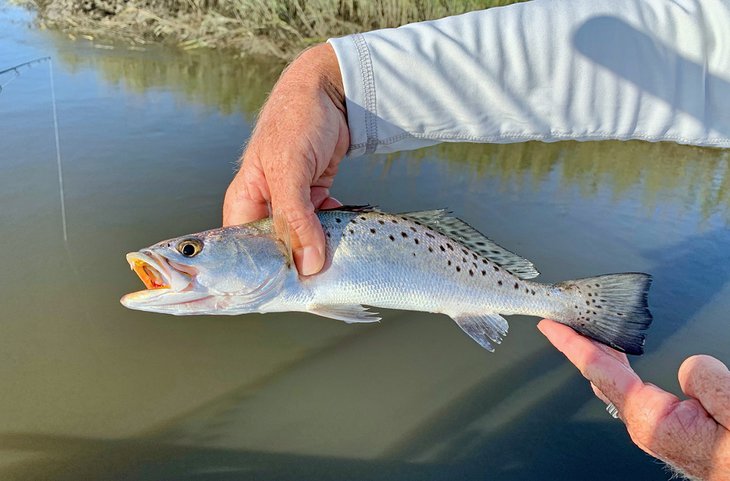 There are so many species of fish to catch in St. Augustine that it is almost easier to discuss what you cannot catch out of the Atlantic waters. Some of the more popular species to catch are redfish, speckled trout, flounder, black drum, and tarpon inshore. Offshore out of St. Augustine, you can catch kingfish, grouper, cobia, amberjack, shark, and several types of snappers. Barracuda are also great to catch in St. Augustine. Since there are no reefs in the water, the bacteria that is sometimes associated with southern barracuda is not found in St. Augustine.
5. Types of Fishing in St. Augustine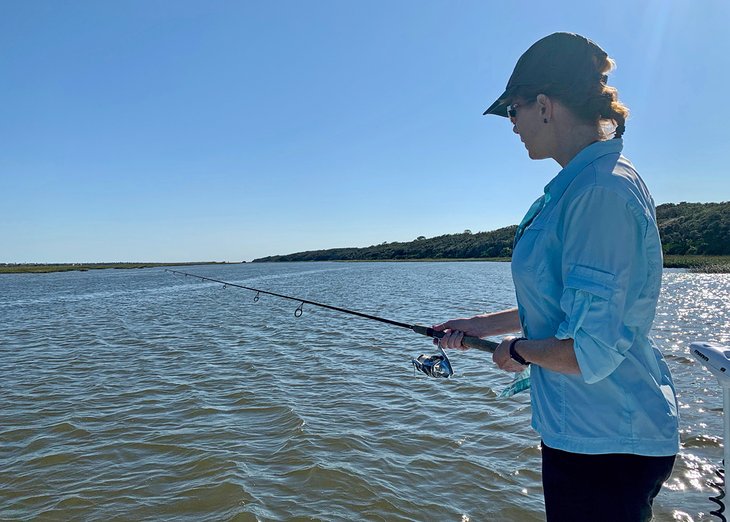 There are so many types of fishing in St. Augustine, which makes it a year-round fishing destination, but for any angler who has experienced a missed fishing trip due to unfavorable weather conditions, you can appreciate the options for built-in backup plans. Due to St. Augustine's geographic location, and the unique eco-system that surrounds it, there is a wide variety of fishing options and species to target.

Offshore
Offshore fishing from St. Augustine is exciting, especially for anglers targeting king mackerel. St. Augustine is the headquarters of the Southern Kingfish Association, which hosts one of the biggest saltwater tournament series in the United States. Summer deep-sea tournaments are prime fishing opportunities for hardcore anglers, but it is also prime time for visitors to target a bucket list of species. Anglers can also target wahoo, sailfish, blackfin tuna, and mahi-mahi.
While deep sea fishing from St. Augustine is productive in the Atlantic Ocean waters, it is more weather dependent because charters must go farther offshore to get into deeper water.
Inshore
The 44-mile section of Intracoastal Waterway that runs along St. Augustine's coast is a maze comprised of inlets, creeks, and bays. The oyster beds that insulate the food sources for fish like redfish and speckled trout make it a hotbed of angling activity. A day trip on the Intracoastal Waterway can result in many species, including flounder, black drum, and other species that make their way in from the Atlantic.
Freshwater
While much of the fishing in St. Augustine is focused on saltwater, there are freshwater opportunities out of the St. John's River. The streams that come off the river are prime habitats for bluegill, crappie, and bass.
Piers
Fishing from one of the St. Augustine piers is a fun way to experience the angling scene along the Atlantic Coast in northern Florida. The St. Johns County Ocean Pier is one of the more popular piers to fish for sea trout, black drum, flounder, sheepshead, king mackerel, and tarpon. For a small fee that includes a day fishing license, you can try your luck like a local. The piers at Lighthouse Park, Vilano Beach Pier, Rose of Sharon Pier, and the Usina Boat Ramp Fishing Pier are also open to anglers. There are several local parks that have smaller fishing piers that are open to fishing, including Treaty Park, Faver-Dykes State Park, and Vaill Point Park.
Surf & Beach
Surf fishing is one of the most popular forms of fishing for the locals, but with so many oceanfront hotels, it is easy for vacationers to do. Some of the species you can catch while beach fishing include speckled trout; pompano; kingfish; and jack crevalle, which are especially active in the summer months. You can rent tackle and buy bait and a license from a local bait shop.
Kayak
Kayak fishing is popular in St. Augustine in part because of the added benefit of the unique ecosystem, so anglers get two activities in one. Anastasia State Park is a great spot to launch your kayak and head out to target redfish and speckled trout. You can rent kayaks at the park or from other outfitters in St. Augustine.
6. Hook and Cook Restaurants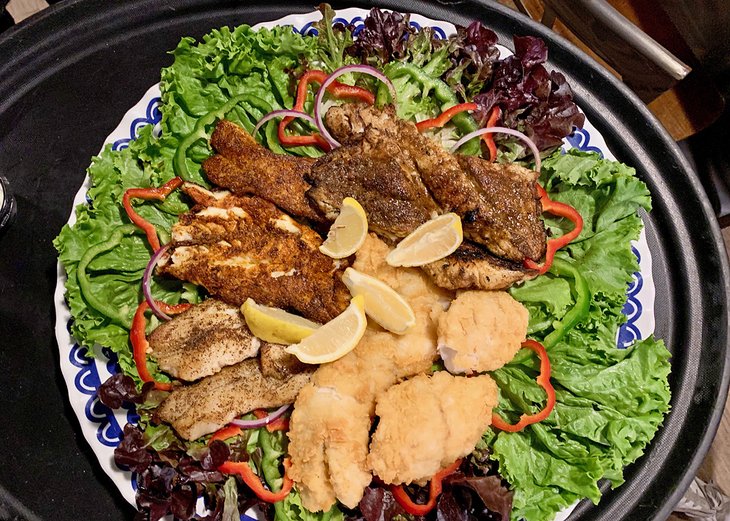 One of the best parts of deep sea and Intracoastal fishing in St. Augustine is the hook and cook restaurants that will prepare your catch for a delectable dinner. After a day on the water, we took our catch to The Conch House Restaurant, which prepared it with a choice of fried, grilled, blackened, or jerk. We had enough redfish, trout, and drum to try a little bit of each.
More Related Articles on PlanetWare.com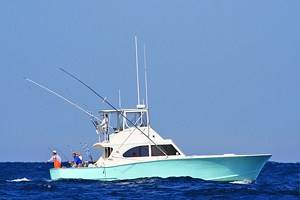 More Fishing Hot Spots: Anglers who enjoy the variety of fishing experiences that St. Augustine offers will enjoy looking into the saltwater vs. freshwater trout fishing in Texas on waterways like Sabine Lake and Galveston Bay.
It is also worth considering the top places for deep sea fishing in North Carolina in places like Hatteras, which has similar ocean dynamics as the fishing from St. Augustine. Anglers who enjoy checking new species off their angling bucket list should try musky fishing at some of the top-rated fishing lakes in Wisconsin.