14 Top-Rated Fishing Lakes in Wisconsin
Author Anietra Hamper is an avid angler and has fished on many of Wisconsin's lakes for a variety of species.
The state of Wisconsin, with its tranquil landscapes and more than 15,000 lakes, is an angler's haven. While Boulder Junction is the self-proclaimed Musky Capital of the World, there are also thousands of hot fishing spots for large and smallmouth bass, crappie, northern pike, and walleye.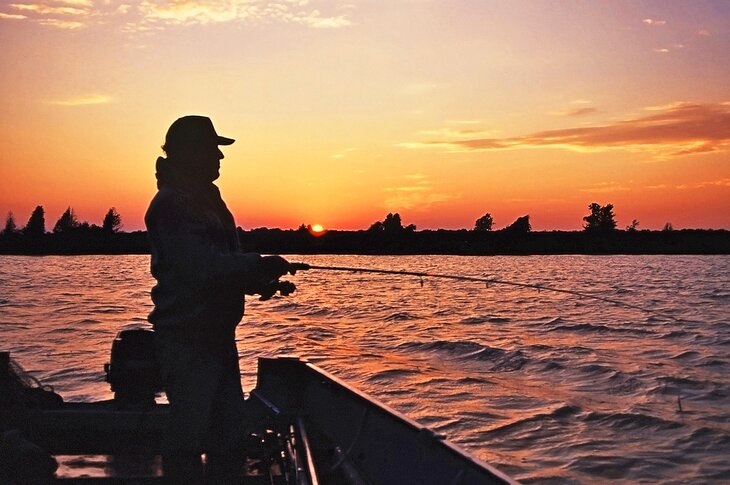 Wisconsin has one of the largest concentrations of natural lakes in the world, even more than Minnesota. Vilas County alone boasts more than 1,300 lakes. Beyond the trophy size fish that flourish in Wisconsin's natural waters, anglers can reconnect with nature as eagles fly overhead, and the only sound on the water is the activity of the fish in sync with the morning sunrise.
Wisconsin has almost as many fishing seasons as it does species of fish, so it is important to research the species and waterways that you plan to visit to ensure that you follow current regulations established by the Wisconsin Department of Natural Resources. Be sure to also obtain and carry a valid fishing license.
Your biggest challenges while fishing in Wisconsin are figuring out what species to target and which lakes to navigate first. Narrow down your options with our list of the top fishing lakes in Wisconsin.
1. Big Saint Germain Lake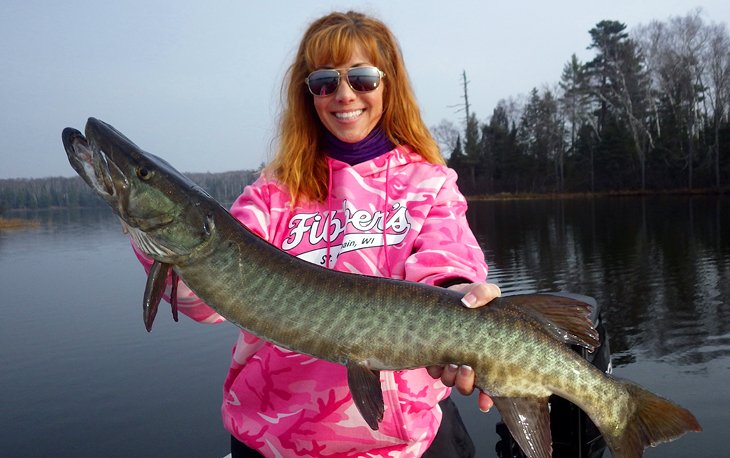 Highlight: Opportunities to catch a trophy-sized musky
The prized fish of Wisconsin is the musky. The musky is called the fish of 10,000 casts because it is not an easy catch, but you can up your chances by hitting waterways like Big St. Germain Lake in northern St. Germain, Wisconsin. The 1,600-acre lake is larger than most in the area, meaning there is more room for muskies to grow to bragging sizes.
"This is a trophy lake. It has big fish in high numbers. The population, food, and habitat are all bigger here," said Rob Manthei, who has been an expert guide in the area for several decades.
Musky season runs from the Saturday of Memorial Day weekend through December 31. The two best times of the year to target trophy musky are mid-August to early September, and October to ice-up on the water. Boat fishing is best on Big St. Germain Lake versus fishing from the shore, as it is mostly surrounded by private property.
Due to the lake's size, hiring a guide for this body of water who knows the topography and depth changes will up your chances of landing the elusive musky. It is easy to stay in a lodge in St. Germain that can also connect you with a reputable guide in the area.
2. Lake Winnebago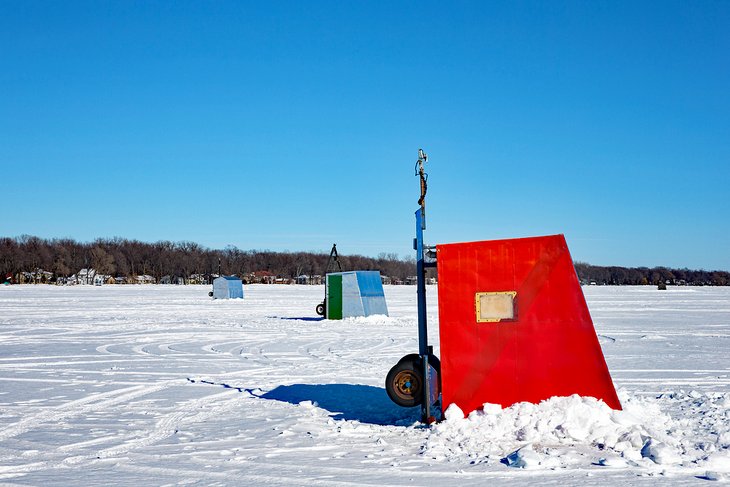 Highlights: The largest inland lake in Wisconsin, one of the only lakes available for sturgeon-spearing in the winter
Lake Winnebago, in East-Central Wisconsin, is the state's largest inland lake. The cities of Appleton, Fond du Lac, and Oshkosh are located directly on the lake for easy boat access or fishing from the shore. For convenience, you will want to stay in one of these cities for quick access to the water in the early morning hours, which are the best times to fish.
Lake Winnebago is known throughout the country for its lake sturgeon-spearing season, which runs for 16 days every February. It is one of only several lakes in the country with regulated sturgeon spearing. License requirements are strict, and licenses must be obtained by October 31 the season prior. Lake Winnebago's self-sustaining lake sturgeon population is rated as one of the finest in North America.
The success rate for landing a sturgeon is only about 13 percent, but those who do might find one weighing more than 200 pounds on the end of their line. Lake Winnebago is also known for its large population of walleye, mostly in the 12-to-23-inch range, as well as northern pike, largemouth bass, perch, and bluegill.
3. Eau Claire Chain of Lakes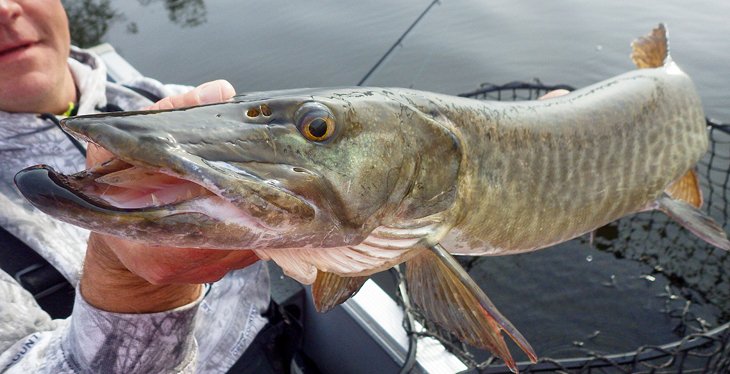 Highlights: Remote chain of waterways in Northern Wisconsin with several trophy-sized species to catch
The Eau Claire Chain of Lakes is a remote chain of waterways in northwest Wisconsin. It consists of 11 connected lakes and streams that span 10,000 acres.
The largest lakes in the chain are Upper Eau Claire, Middle Eau Claire, and Lower Eau Claire, which are the most popular for recreational fishing. The additional smaller lakes are more difficult to find, but some anglers choose to spend a day navigating through the entire chain.
Anglers have the opportunity to land musky, northern pike, walleye, smallmouth bass, largemouth bass, perch, crappie, and bluegill. The deep, clear water in this chain of lakes is one reason many of these species are trophy-sized fish.
Due to the remote nature of these waterways, they are best navigated with a local guide to save you the time an aggravation of getting in the right spot. The towns of Cable and Drummond are your closest towns to find food, lodging, and bait shops.
4. Jute Lake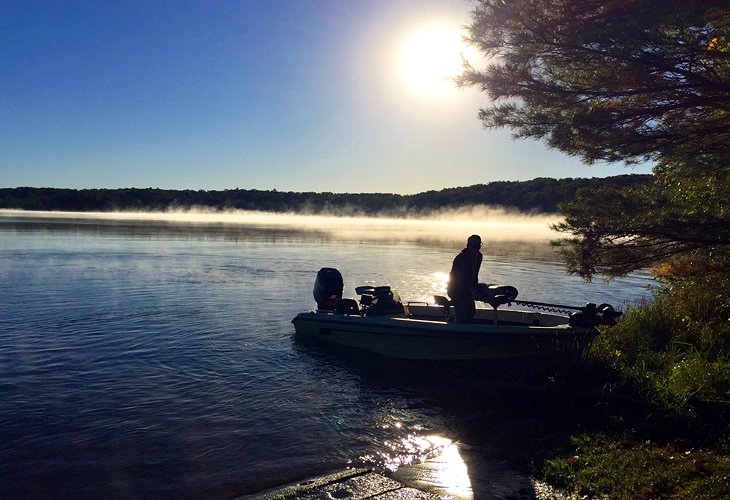 Highlights: Pristine nature surrounding the lake with nesting eagles
Jute Lake, in Boulder Junction in Vilas County, is a quiet 191-acre lake that turns out impressive largemouth and smallmouth bass. The water depth is eight to 23 feet, and the water is mostly clear.
With 194 lakes within a 10-mile radius in this area, Jute Lake is a gem, but it is best navigated with a guide because it is so remote. Other fish found in the lake include musky and various types of panfish.
Professional guide Marty Clauson says, "The smaller lakes have less pressure and very good fishing. Jute Lake is one that I enjoy, as the bass are plentiful and willing to take most baits. The solitude is what the northwoods is all about."
Once you get to Jute Lake, the time of year will determine if bass are lingering around the perimeter or located in the open water around the rock piles. Be sure to look up to the sky when the fog lifts in the early morning as you are likely to see eagles flying overhead.
Vilas County is a more remote region in northern Wisconsin, so you may want to book a private cabin for lodging during your stay to be close to the lake system.
5. Kickapoo River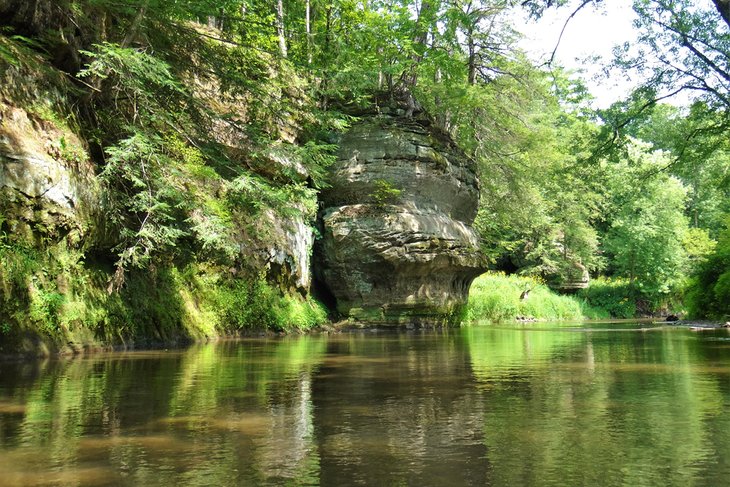 Highlight: One of the top spots for trout fishing in Wisconsin
Trout anglers flock to the Kickapoo River in southwest Wisconsin for one of the best spots for trout fishing in the country. Touted for its world-class fly-fishing, the river and its tributaries are surrounded by hilly countryside, stunning cliffs, Amish farms, orchards, and produce stands.
One of the hallmarks of this waterway is the baseflow of coldwater springs that creates a pristine natural environment for trout. The Kickapoo River West Fork trout fishing location is a 24-mile spring-fed waterway in Wisconsin's unglaciated Coulee Country near La Crosse.
The cold waters sustain natural populations of brook and brown trout and this is the primary location to target. Gays Mills is a town right on the river, but Viroqua, which is 15 miles away, is a good option for lodging and food.
6. Mississippi River Pool 10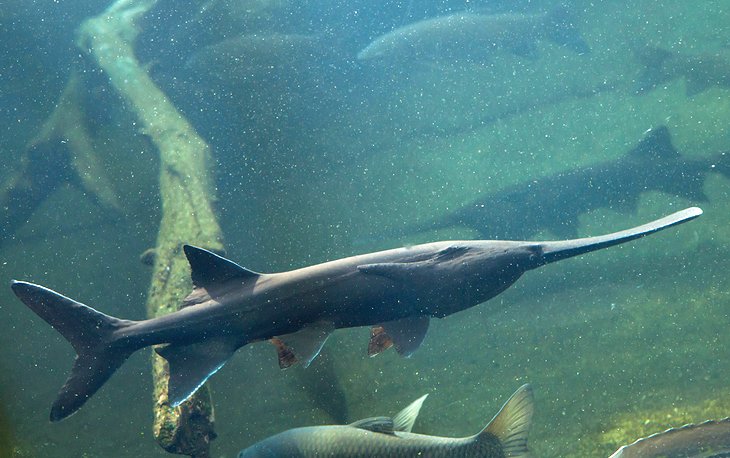 Highlight: More than 100 species of fish along a 32-mile stretch of water
Another hot fishing location in southwest Wisconsin is at the Mississippi River Pool 10, near Prairie du Chien and Lynxville. This stretch of waterway spans 32.8 miles and is home to more than 119 species of fish. There are plenty of islands, backwaters, and side channels alongside limestone bluffs that support a diverse aquatic habitat.
Anglers come here to target walleye, sauger, largemouth bass, smallmouth bass, channel catfish, northern pike, bluegill, and crappie. There are also healthy populations of more unusual species like blue sucker and paddlefish. Since these are listed species, they cannot be taken. Besides the large number of species to target, this location is ideal because you can fish by boat, shoreline, or fishing pier, depending on your exact location and time of year.
7. Black Earth Creek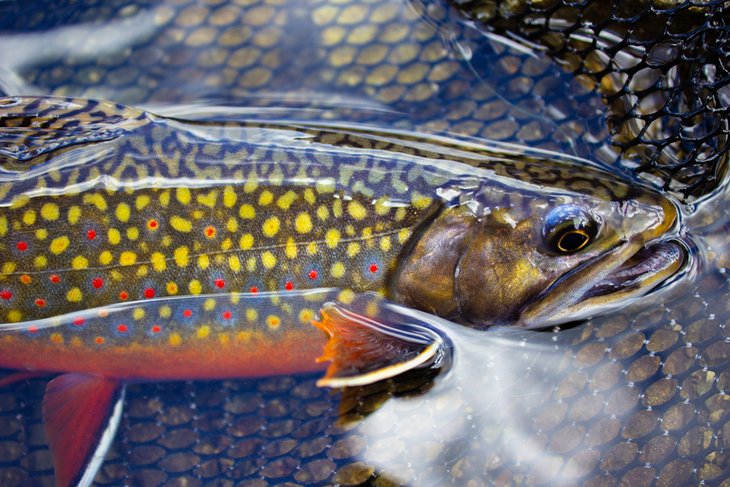 Highlights: A top trout fishery with multiple public access points and parking
Black Earth Creek is a prime waterway to fish because it has been protected from urban sprawl. Conservation groups have worked to maintain a quality habitat, making this a top trout fishing spot.
Located in south-central Wisconsin, the creek is fairly remote. The towns of Cross Plains and Black Earth are directly on the creek, but most anglers prefer to stay in nearby Madison, which is 20 minutes away.
The cool, clean, clear water winds through woods and prairies featuring healthy populations of brown, rainbow, and brook trout. The 27-mile creek, just west of Madison on Highway 14, has entry points that are marked with roadside signage and parking in some areas.
8. Barge Fishing Mississippi River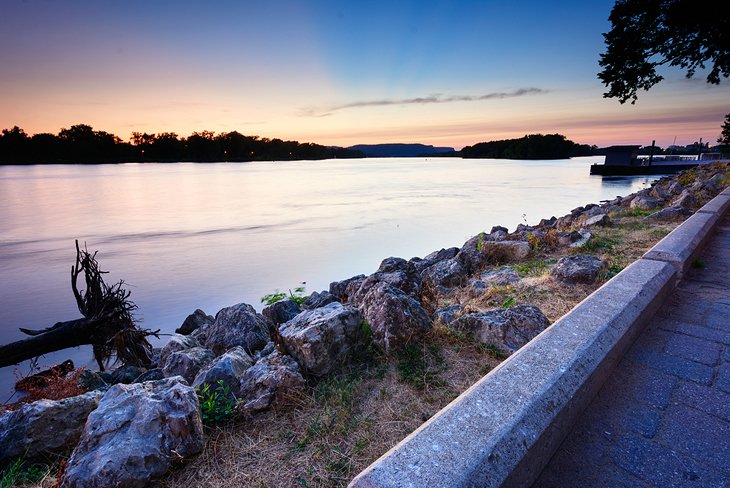 Highlight: Floating fishing platforms get anglers to the best regional spots on the Mississippi River
Some of the best fishing action in the Midwest takes place from Mississippi River fishing barges in west Wisconsin near Alma, La Crosse, and Trempealeau. The floating platforms, also known as fishing floats, are located on some of the best fishing spots on the river. Anglers can expect to catch walleye; bass; pike; sturgeon; bluegill; catfish; perch; and occasionally, sauger.
The barges are stable, making for a safe and easy way for kids to experience fishing on the river. A shuttle service that transports you from the town dock to the barge is included in the float fee.
Several floats are available in different locations along the river, and they offer rod rentals and bait supplies as well as restrooms and food service. The best times of the year to fish from the barges are March through November.
9. Eagle River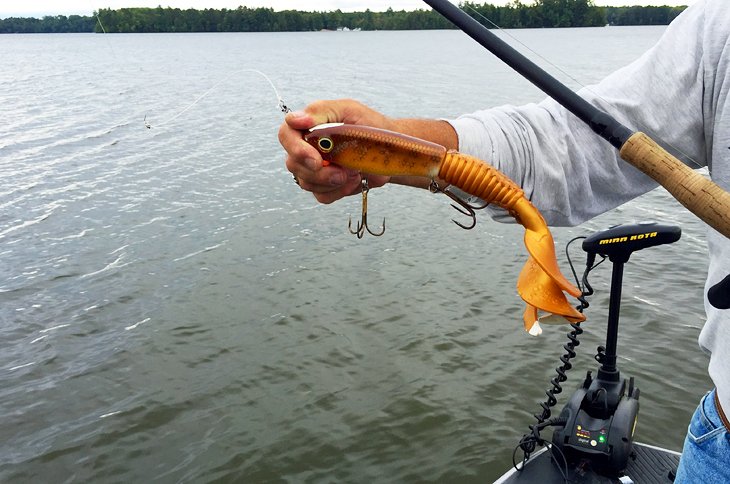 Highlights: Multiple lakes to fish, quiet natural surroundings, great northern pike fishing
Eagle River is a chain of waterways made of up 10 lakes and boasts some of the best musky fishing in Wisconsin. It is also one of the best small towns in Wisconsin to visit for a quiet getaway. Professional guides, like musky tournament champion Bill Jacobs, hit this chain of lakes regularly. The lakes have ideal musky waters that are clear, shallow, and have weed beds.
Jacobs says targeting musky in ideal water conditions like those at Eagle River is important, but you have to combine it with proper technique. To perfect technique, Jacobs suggests practicing your cast, watching behind your bait for the musky that may be chasing it, and keeping your bait moving.
While muskies are the big draw, this chain of lakes produces large northern pike, walleye, bass, bluegill, and crappie. Catfish Lake is the largest on the chain, but many anglers prefer to cruise several lakes in a day since it is easy to navigate between them.
10. Chippewa Flowage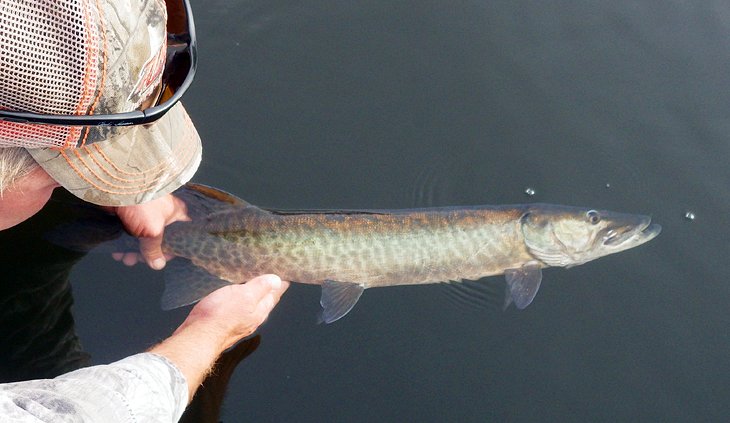 Highlight: Floating bogs enabling anglers to constantly change fishing spots for trophy musky
The northwest Wisconsin waterway of Chippewa Flowage near Hayward is notable for its floating bogs. These bogs range in size from a few acres to larger than 40 acres. The bogs flow freely in the water, so wind and ice continually change their locations.
The bogs are prime fishing spots for anglers, especially those who are after a trophy musky. In October, 1949, the world-record musky was caught from the Chippewa Flowage, weighing in at 69 pounds, 11 ounces, and was 63.5 inches long.
Much of the land that surrounds the Chippewa Flowage is owned by the Wisconsin Department of Natural Resources, so there are many preserved wilderness areas and shorelines, making water access easy for recreational anglers.
11. Lake Wisconsin and the Wisconsin River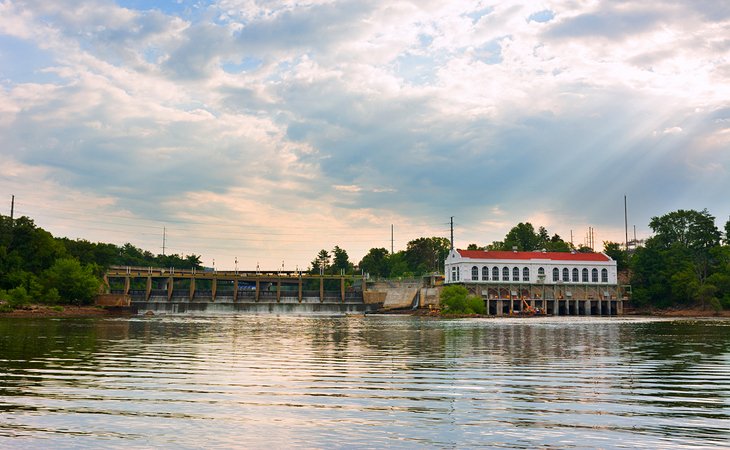 Highlight: Close to lodging, accommodations, and restaurants
Lake Wisconsin and the Wisconsin River are popular with anglers and are convenient fishing locations due to the large number of resorts, campgrounds, and tourist attractions in the south-central areas of Baraboo, Portage, Prairie du Sac, and Sauk City.
Walleye fishing is popular in late winter through early spring and in the late fall, when fish move up the Wisconsin River toward the Wisconsin Dells dam. These are prime waterways for largemouth bass and crappie. Anglers who specifically target white bass have the greatest success in spring, when water temperatures warm to about 55 degrees, and in the late summer.
Lake Wisconsin and the Wisconsin River have convenient fishing options and plenty of nearby accommodations. These are ideal waterways for the weekend angler, who does not want to rely on a guide for fishing. There are plenty of sandbars and islands from which to set up base and plan a weekend around fishing.
12. Pike River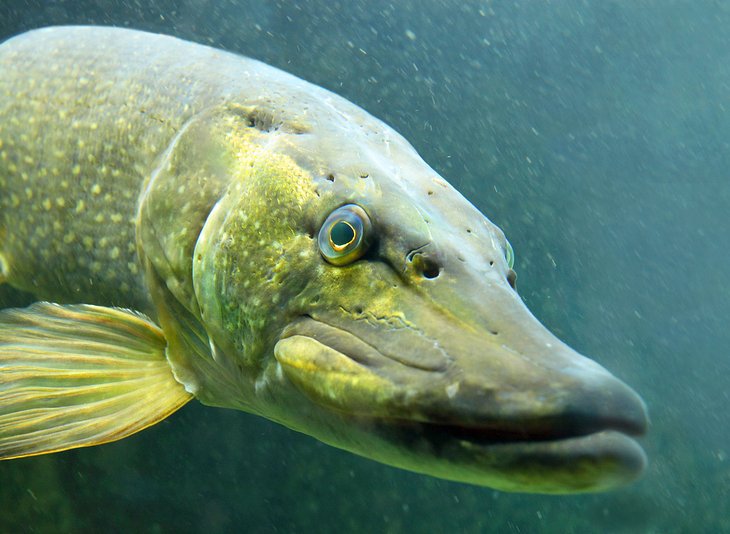 Highlight: One of the only designated Wisconsin Wild Rivers with protected and pristine waterways
The Pike River is one of three designated Wisconsin Wild Rivers and one of the most undisturbed fishing spots in the state. Located in northeast Wisconsin in Marinette County, the waters are ideal for both expert, competitive, and recreational anglers who are looking for a great place to target various species.
Anglers can target northern pike, walleye, bass, brown trout, perch, salmon, whitefish, and lake trout on Pike River. With 30 designated boat entry sites and ample access from the bank, this waterway is suitable for most anglers. Ice fishing on the river is popular, so it is a year-round location that anglers enjoy visiting.
Besides the great fishing, the scenery features some of the best that Wisconsin has to offer, with stretches of whitewater rapids, waterfalls, and forests. The nearest city for food and lodging is Peshtigo.
13. Lake Michigan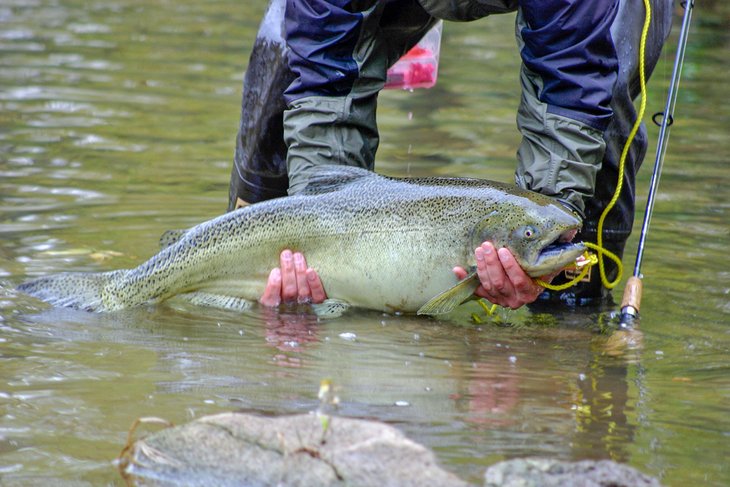 Highlights: Year-round fishing opportunities, salmon in the spring and fall, perch in the summer
While some of the best fishing in Wisconsin is in the inland lakes and streams around the state there is no denying that the waters of Lake Michigan provide some of the best Great Lakes fishing in the state. While most people think of fishing the Great Lakes from a boat only, there are many access points and great fishing opportunities from the banks and the many tributaries.
It is easy to fish Lake Michigan year-round. Springtime waters bring migrating steelhead during their spawning run and coho salmon that you can catch in the tributaries. Summer is when most anglers target perch, and if the waters stay cool, you can catch rainbow and brown trout.
Fall water conditions bring in coho salmon and chinooks, and cold winter water is great for catching steelhead in Lake Michigan.
There is fishing access to Lake Michigan tributaries from a number of locations including Green Bay, the Menomonee River in Milwaukee, and all along the Door County peninsula. Shore fishing is easy to do, with some of the best access points near Milwaukee. There are dozens of Wisconsin Department of Natural Resources recommended spots in Kenosha, Racine, and Sheboygan.
14. Chequamegon Bay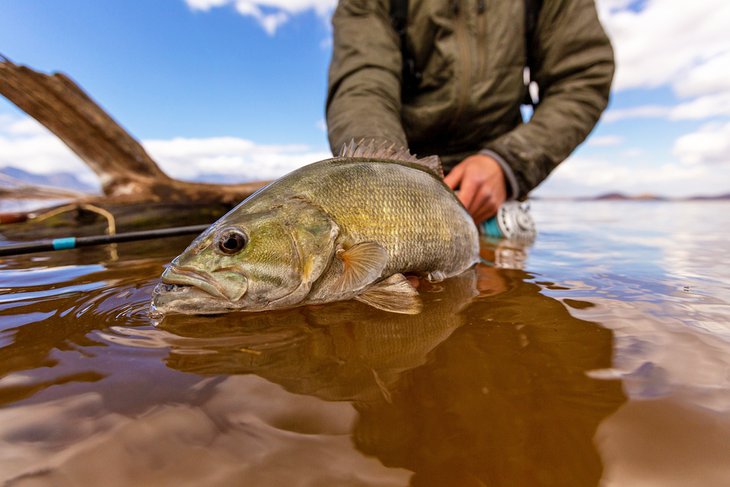 Highlight: A top fishing spot to catch trophy-sized smallmouth bass
The waters flowing into Chequamegon Bay from Lake Superior are known for trophy-sized smallmouth bass. The fishery has an abundance of smallmouths that average 17.5 inches and frequently top 19 inches. This is considered one of the top lakes in Wisconsin for this species, for the size and numbers that it produces.
The best times to target smallmouth bass in the bay are in June, but summer right through to fall are productive times to fish. These fish tend to collect near the eastern side of the bay in the spring to spawn in the shallow water of the Kakagon and Sandcut sloughs. As temperatures rise, they are more dispersed and move offshore. Check current regulations for smallmouth bass, as they are restricted to catch and release a large portion of the year.
Walleye fishing is also popular in Chequamegon Bay, especially in the winter. Anglers can usually find success by targeting the edges of brush in water that is nine to 15 feet deep. You can base yourself in towns like Ashland or Washburn, which sit on prime regions of the bay for fishing.
Map of Fishing Lakes in Wisconsin
Best Time to Visit Fishing Lakes in Wisconsin
The best time to visit Wisconsin for fishing in the state's stunning lakes is in the fall when the bite is great for several species and the fall colors on the leaves are at their peak. The months of September and October are ideal for hitting Wisconsin's inland lakes and the Great Lakes fishing options.
Average daytime temperatures in September are in the high 60s and low 70s Fahrenheit, and hang in the 60s in October while nighttime lows in the fall season can dip into the 30s and 40s. These are perfect temperatures for spending full days on the lakes and a great time of year to target walleye that are on the move, the elusive musky, and even lake sturgeon.
The next-best time to visit Wisconsin for lake fishing is in the late spring during the months of May and June. The inland game fish season starts in early May and average daily temperatures are warming into the high-50s Fahrenheit. This is a good time to catch walleye across the state when they are feeding after spawning. June temperatures climb into the high 60s as bass, northern pike and panfish start to get active. June is also a rainy month, so pack your rain gear for the boat.
If you want to try some of the great ice fishing in Wisconsin, you will want to go during the months of January, February, and March when ice is at its thickest.
More Related Articles on PlanetWare.com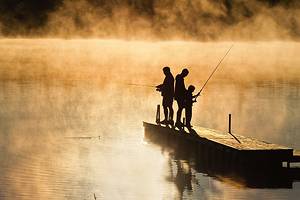 Ohio Fishing: If you enjoy a fishing getaway, you can also plan to target some of the top fishing lakes in Ohio, which include Lake Erie for famous walleye and perch. There are great ice fishing lakes in Ohio as well for targeting winter bass, perch, and crappie.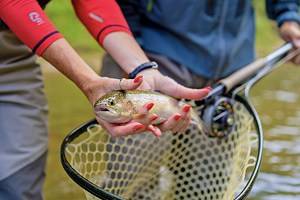 Trout Fishing: If trout and fly fishing are what you are after, then you will want to review some of the top trout fishing lakes and rivers in Missouri and North Carolina.