15 Top-Rated Trout Fishing Lakes & Rivers in Missouri
Author Anietra Hamper is an avid angler who enjoys casting a line in some of the best waterways and hidden-gem fishing holes in the United States.
Missouri can easily lay claim to some of the best trout fishing in the United States. That is quite remarkable given that trout are not native to the state. Intense conservation efforts like creating trout parks, special restriction and permit areas, statewide fish hatcheries, and robust stocking programs have made Missouri a top destination for anglers looking for year-round trout fishing opportunities.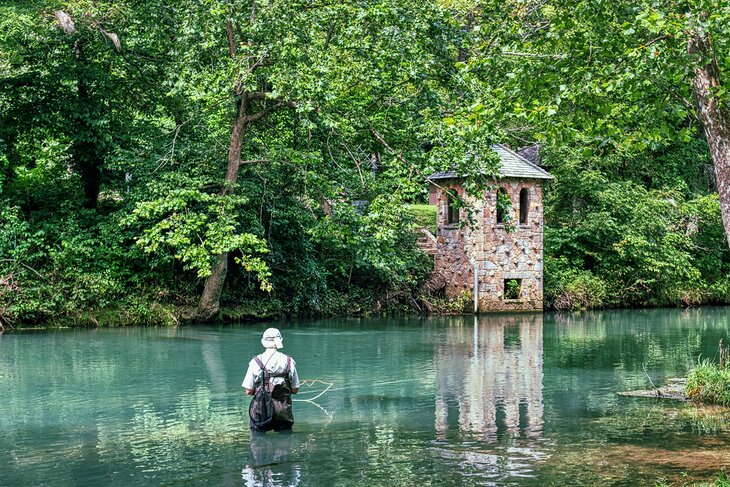 With a vast range of rivers, streams, creeks, lakes, and tributaries, anglers can target rainbow and brown trout in high numbers and even head into the water searching for a lunker (a trout longer than 18 inches).
Fish Stocks: Many waterways are stocked with rainbow and brown trout throughout the year, and some locations are even stocked daily from March through October. Some small streams no longer need stocking and have developed into nice Blue Ribbon trout streams, as the fish reproduction has become self-sustaining, making for good fly fishing opportunities for wild rainbow trout.
Trout parks have impressive fish hatcheries and some of the best trout fishing in Missouri. There are usually special regulations and zones within these parks, with specifications on flies, baits, and lures that can be used, as well as catch limits. The trout parks throughout the state have pamphlets available.
The public trout parks are Bennett Spring, Roaring River, Montauk State Park, and Maramec Spring Park. These parks have high-quality fishing on cold-water springs with specific trout fishing seasons.
While winters can be bitterly cold in Missouri, hard-core anglers can enjoy the winter trout fishing options throughout the state in major cities like Kansas City and St. Louis, where rainbow trout are stocked in designated lakes.
There are many streams and lakes in the state, designated as Red, White, and Blue-Ribbon Trout Areas, making it easy for anglers to identify what they can target and what to expect when heading to the water.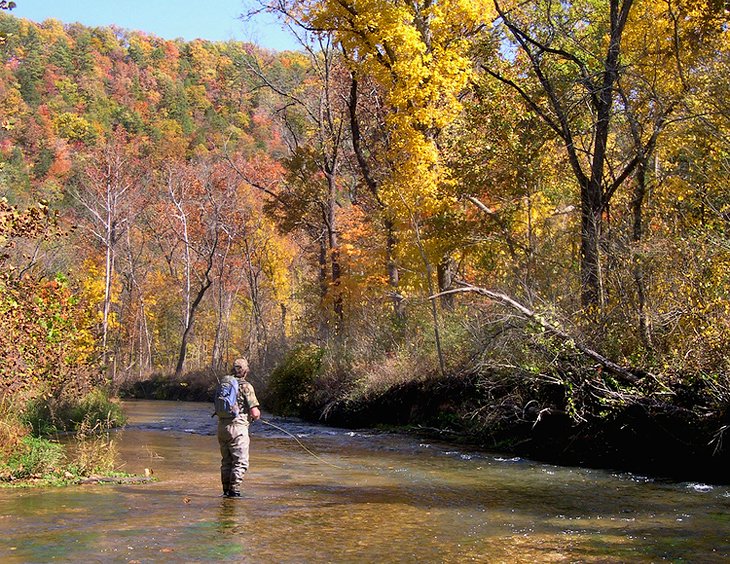 Red means the water is stocked mostly with brown trout, and special regulations apply for use of artificial lures and length limits, but these areas provide excellent habitats for trout, which increase your chances of catching a good size.
Blue Ribbon Areas have excellent waters, with habitats that support trout reproduction and growth. And, White Ribbon Areas are coldwater streams that support trout populations, and areas that get periodic stocking of rainbow and some brown trout.
Trout fishing in public waters outside of public trout parks requires a trout permit if you want to keep the trout you catch, and fish in the upper portion of Lake Taneycomo. The public trout parks require either a daily trout tag or a trout permit depending on the season. For more information and to obtain a fishing license, the Missouri Department of Conservation is your best resource.
Find out more about the state's best waterways with our list of the top trout fishing lakes and rivers in Missouri.
1. Bennett Spring State Park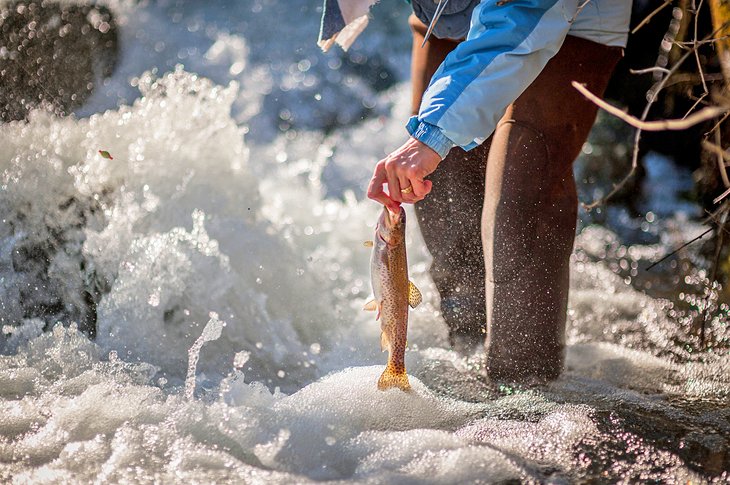 The waterways at Bennett Spring State Park in southwest Missouri, including the Niangua River and Bennett Spring, provide excellent fishing opportunities for rainbow and brown trout. The stream is stocked, the water is clear, and the conditions are generally shallow.
You must have a fishing permit and either a daily trout tag or a trout permit, depending on the season, to fish these waters. It is important to be aware of the three fishing zones, which each have specific regulations. There is daily rainbow trout stocking from March through October, and anglers generally see high numbers of catches.
It is catch-and-release only fishing from November through February, with seasonal regulations for bait (only flies can be used) and trout are stocked throughout the winter. The best access to fishing waters at Bennett Spring State Park is from Highway 65 from I-44 to the park entrance.
Address: 26250 MO-64A, Lebanon, Missouri
2. Lake Taneycomo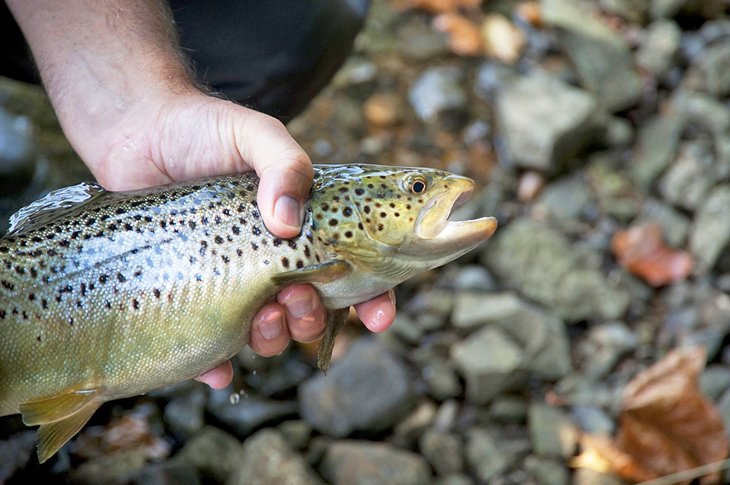 With 40 miles of shoreline, Lake Taneycomo in southern Missouri is renowned for being one of the best trout fishing lakes in all of the United States. The reason is simple: it is stocked annually with 560,000 rainbow trout and 15,000 brown trout, making for great year-round fishing.
The lake has specific fishing regulations that are important to know in order to have the best experience. Trout permits are required to fish upstream of the Highway 65 bridge, permits are required to possess any trout at the lake, and there is no fishing below Table Rock Dam for 760 feet.
Anglers who go just beyond that restricted area by the dam find excellent opportunities for rainbow trout because the dam creates an ideal environment, with bottom waters averaging around 48 degrees. While anglers can wade in the water, fishing by boat is advised in the deeper downstream water. The easiest access to the lake is from the trails near the hatchery, which are also used for hiking.
3. Roubidoux Creek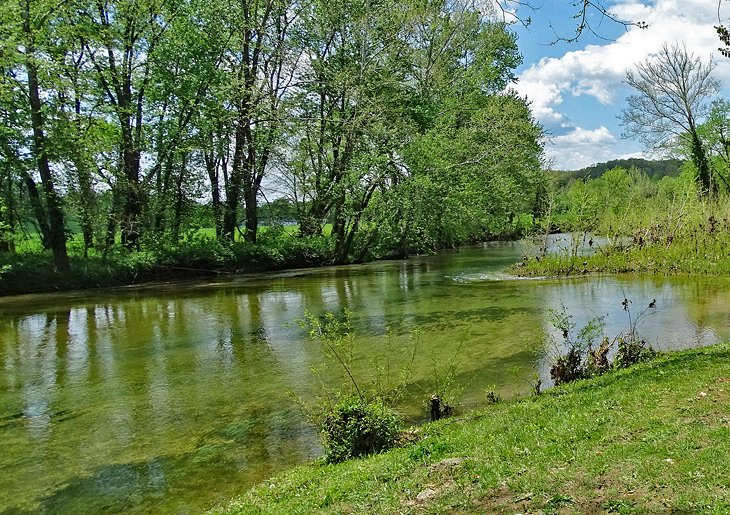 The Roubidoux Creek is an excellent trout stream located along Highway 17 outside of Waynesville, which flows through Central Missouri. While this White Ribbon Trout Area has seen smaller brown trout in recent years, the occasional trophy brown trout does come out of these waters. Rainbow trout in this section are healthy in numbers and are regularly in excess of the 15-inch-length limit.
This is a special regulation area downstream from Roubidoux Spring, 3.1 miles to its junction with the Gasconade River. All lures and baits are allowed, there is no length limit on rainbows, and brown trout length has a minimum length limit of 15 inches. The best rainbow trout fishing is after a trout stocking, which generally happens once a month.
4. Maramec Spring Park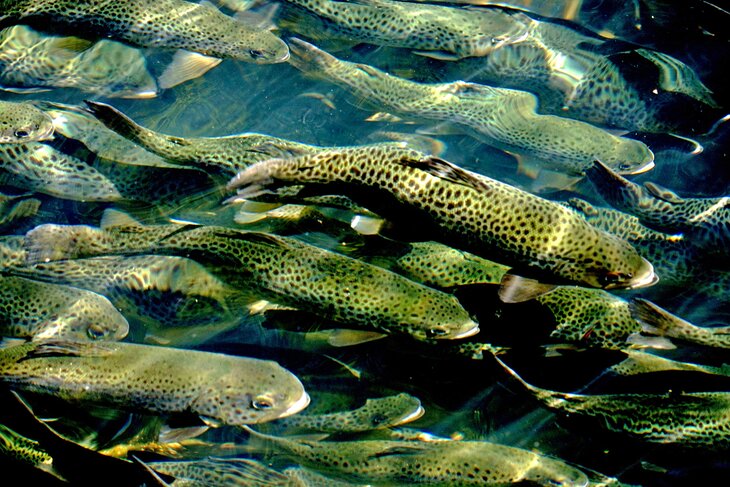 The Maramec Spring Park fishery is a phenomenal trout park for year-round fishing. It is unique because it is the only public trout park in Missouri that is not a state park. Rainbow trout are stocked throughout the spring and daily from March through October.
Anglers especially enjoy this park during the fall spawn when they can target large rainbow trout and brown trout that have migrated up from the Maramec River. If you are lucky enough to land a lunker, you can get involved in Missouri's "I Released a Lunker" program. Earn a Grand Slam patch if you catch and release a lunker in all four public trout parks in the state.
To hedge your bet, hit the Maramec Spring Park waters immediately after the spring stock because there are always a few lunkers deliberately included in the batch. Anglers need a fishing permit and either a daily trout tag or permit depending on the season. Be aware that there are seasonal regulations, like catch-and-release only from November through February.
Address: 2180 Maramec Spring Drive, St. James Township, Missouri
5. Current River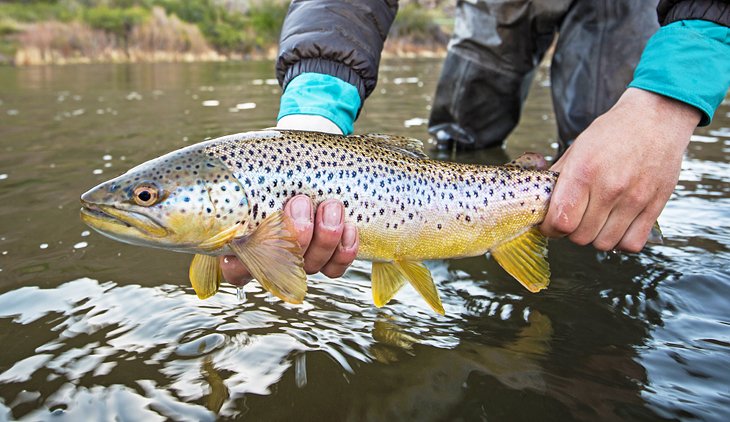 The Current River in southeastern Missouri has some of the most productive waters for trout fishing in the state, especially in the Ozark region. This is an excellent river system with varying conditions, making for enjoyable trout fishing mostly because it is a conservation region.
Brown trout are stocked every spring, and your chances of landing trophy-sized fish are high. Some brown trout in conservation samples ranged upwards of six pounds. There is a Blue Ribbon Trout Area along a nine-mile stretch of the river from Montauk State Park to Cedar Grove Bridge where large brown trout are often spotted. The area has special regulations (only flies and artificial lures are allowed) with size and daily limits.
Anglers targeting rainbow trout should head to a two-mile stretch between Montauk State Park and Baptist Access. Trout are not stocked in the conservation area but they do migrate downstream out of the trout park, where they can easily reach trophy size.
The other area to target is the 7.7-mile White Ribbon Trout Area just downstream from the Cedar Grove Bridge crossing. This area has fewer anglers than the trout park, and the stream section is easily navigated by wading or floating. This section is stocked with rainbow and brown trout, which thrive in cold-water streams.
6. Meramec River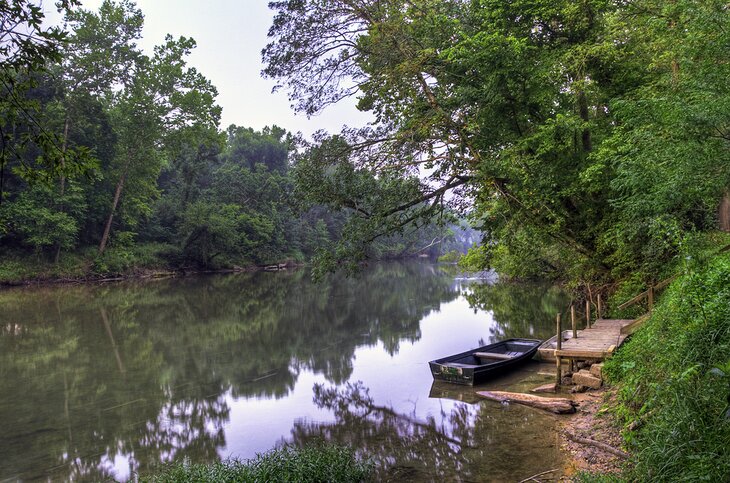 The Meramec River is one of Missouri's Red Ribbon trout fisheries. Anglers have eight miles of water to fish in the sections from the Highway 8 bridge to Scott's Ford and from the cable crossing near Dry Fork Creek to the junction of the Meramec River.
Anglers can catch brown and rainbow trout in the Meramec River, with the greatest trout numbers recorded in the three-mile stretch just below the confluence with Meramec Spring.
This fishery has restrictions for artificial lures and flies only. Anglers can keep a daily limit of two trout per day that are at least 15 inches long. Anglers who prefer to wade can find the easiest walk-in access points in the upper part of the river in the Woodson K. Woods Conservation Area. This is also a popular river for float fishing.
7. Montauk State Park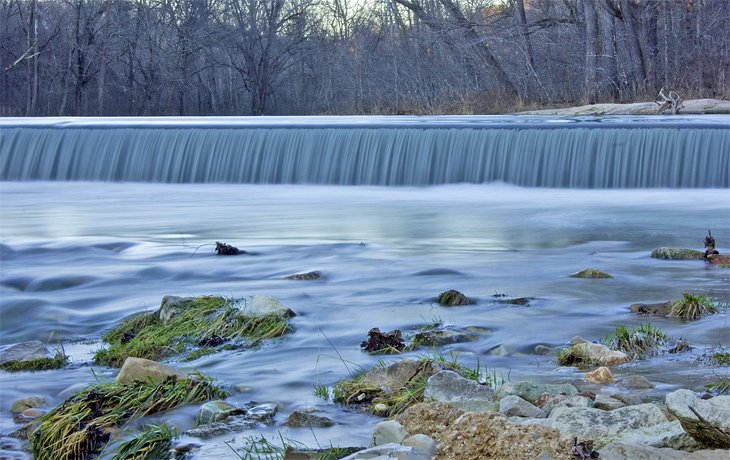 Anglers enjoy the year-round fishing at Montauk State Park at the Montauk Spring branch located near Salem off Highway 119 in southeast Missouri. The waters have healthy populations of brown and rainbow trout and excellent winter fishing with catch-and-release from November through February.
This park is divided into three different zones, which anglers need to know before tossing a line into the water. One zone is catch-and-release and includes Montauk Lake and the section of stream below the lake to the Civilian Conservation Corps (CCC) spillway.
The second zone is a flies-only area that includes the stream from Montauk Springs to the CCC Mill Dam on the main channel. The third zone is the section below the CCC Spillway and the main channel below the CCC Mill Dam to the boundary of the lower park, which is a natural and artificial bait area. Fishing in Montauk State Park requires a fishing permit and either a daily trout tag or trout permit depending on the season.
Location: 9025, 345 County Road 6670, Salem, Missouri
8. Little Piney Creek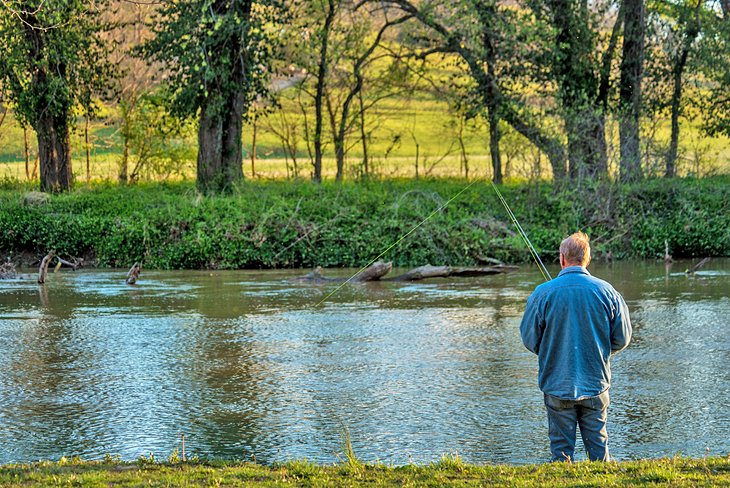 Anglers flock to the Ozark region for prime trout fishing, but since the options are so vast, it is helpful to know about places like Little Piney Creek where healthy populations of wild and stocked rainbow trout thrive. The wild trout are smaller in size, but rainbows over 20 inches do exist in the water.
There are several special regulation areas along Little Piney Creek. There is a 9.9-mile Blue Ribbon Trout Area in several sections from Phelps County line to Milldam Hollow Access. The cold-water White Ribbon Trout area runs downstream from Milldam Hollow Access for 3.7 miles. Access to the creek is easiest from the Lane Springs Recreation Area, with a campground and ample parking, or just above the Highway 63 bridge.
9. Eleven Point River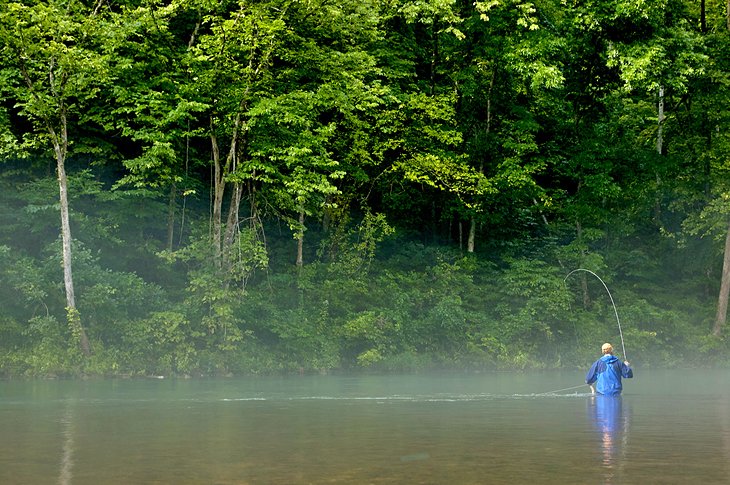 The clear, tranquil water in the Eleven Point River in southeastern Missouri, which flows through the Mark Twain National Forest, is a popular spot for trout anglers. Rainbow trout are stocked throughout the year. Anglers after larger rainbow trout should try the Blue Ribbon Trout Area that runs 5.5 miles from Greer Spring Branch junction to Turner Mill Access.
There are both stocked and wild rainbow trout, with some spotted here in excess of 20 inches in length. The White Ribbon Trout Area is located downstream from Turner Mill Access for a 14.2-mile section of river that is stocked with rainbow trout. Eleven Point River has plenty of public access points.
The best access is from Highway 19 from Winona to the north, Thayer to the south, and another six river access points on Highway 19. You can also access the river from Highway 160 from West Plain to the west and Doniphan to the east. Some access points were impacted by a major flood in 2017. Anglers can check with the U.S. Forest Service for access point status.
10. Barren Fork Creek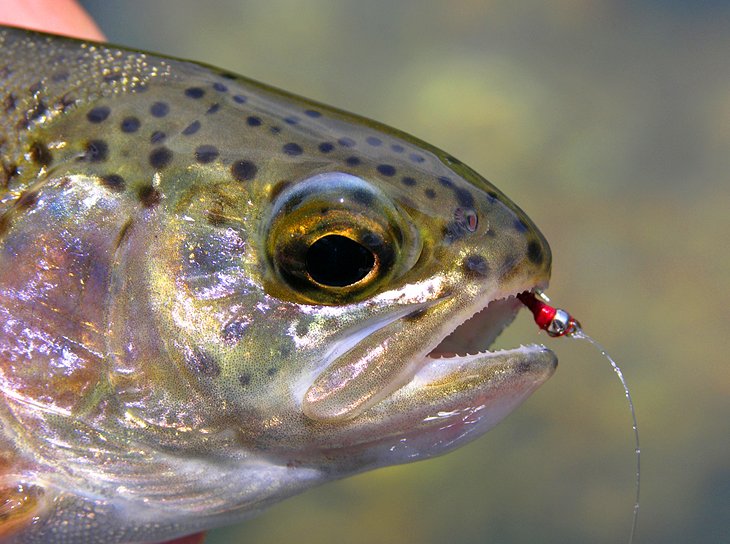 If you are looking for a picturesque environment for a quiet day of trout fishing, you cannot do better than the Barren Fork Creek in South Central Missouri. This is also the water to test your fishing skills as the trout here are known to be relatively challenging to catch.
The fish are smaller in size, but the rewards come by proving your angling skills on this waterway. This is not a stocked waterway, and the natural environment places challenges of brush and narrow areas.
The Blue Ribbon Trout Area is the 3.2-mile section from County Road A-D to Sinking Creek. There are several walk-in access points on Highway A and Highway 250-B, as well as where Barren Fork Creek converges with Sinking Creek.
11. Roaring River State Park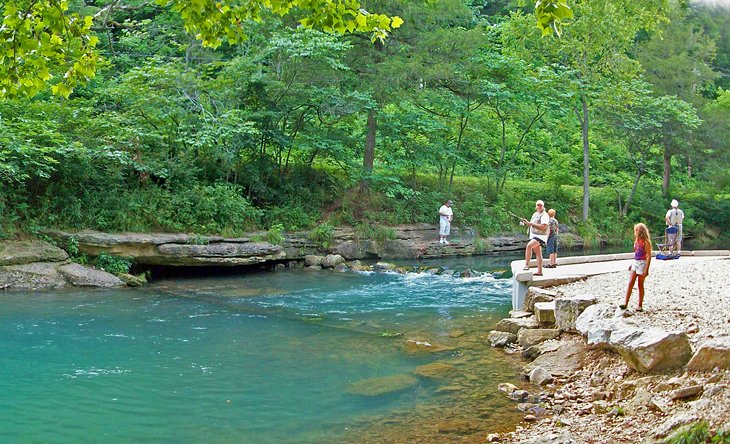 The Roaring River State Park is a trout park with excellent fishing opportunities for brown and rainbow trout. The park is divided into three zones, which each have specific regulations.
This is an ideal trout fishing location for families, kids, and first-timers getting used to the Missouri waterways as there is a visitor center on-site with experts who can offer advice about fishing regulations, water conditions, and tips for landing a catch. Just beyond the state park is a White Ribbon Trout Area on the Roaring River for four miles to Table Rock Lake with rainbows and brown trout and superb opportunities to catch larger trout.
Roaring River State Park requires a fishing permit and either a daily trout tag or a trout permit, depending on the season. The on-site fish hatchery is one of the oldest in the state, established in 1910. It is worth going to the head of the Roaring River near Roaring River Spring to see the large hatchery with 40 raceways to see the various stages of development.
Location: 12716 Farm Road 2239, Cassville, Missouri
12. Crane Creek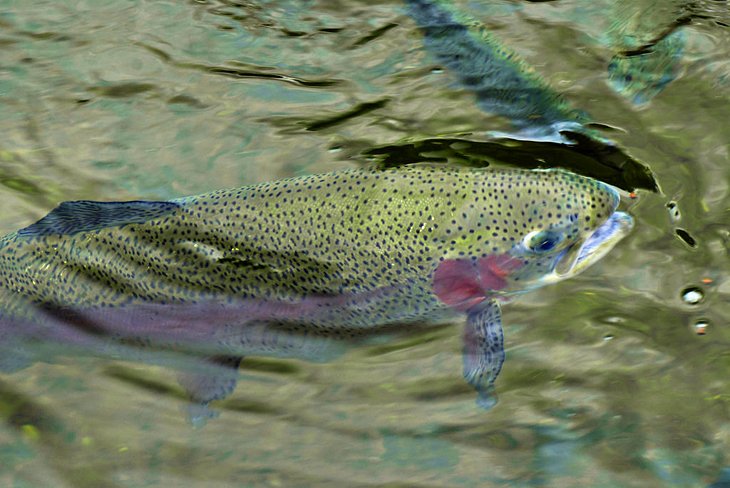 Flowing through southwest Missouri, Crane Creek is a terrific waterway for targeting wild rainbow trout. It was originally stocked in the late 1800s from the McCloud River in California, and the trout populations have sustained reproduction on their own ever since. There are high concentrations of trout ranging from 5-18 inches in the creek. Some trout reach over the minimum length of 18 inches.
The Blue Ribbon Trout Area extends eight miles upstream from Quail Spur Crossing on Stone County Road 13-195. The Blue Ribbon section is excellent trout habitat, with many smaller streams that support wild trout reproduction.
Part of the creek runs through the Wire Road Conservation Area, so anglers should heed the special regulations that are in place. There is public access at the Wire Road Conservation Area and the city park located at Crane Creek.
13. North Fork of the White River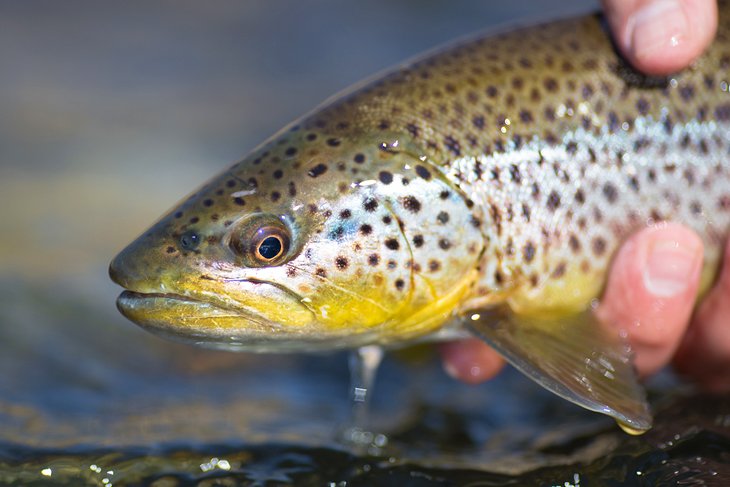 While the North Fork of the White River produces quality brown trout, anglers tend to catch fewer than in previous years. Brown trout is the main target here as they are stocked, but rainbow trout populations also exist.
The best bet for rainbow trout is in the Blue Ribbon Trout Area, which runs from Rainbow Spring to Patrick Bridge for 8.6 miles, where anglers can catch healthy trout greater than 18 inches.
Anglers targeting brown trout should head to the Red Ribbon Trout Area from Patrick Bridge to Norfork Lake for seven miles, where there are stocked trout in the spring and fall. The best access points to this waterway are in Hebron, Blair Bridge, and Patrick Bridge in the Ozark region.
14. Mill Creek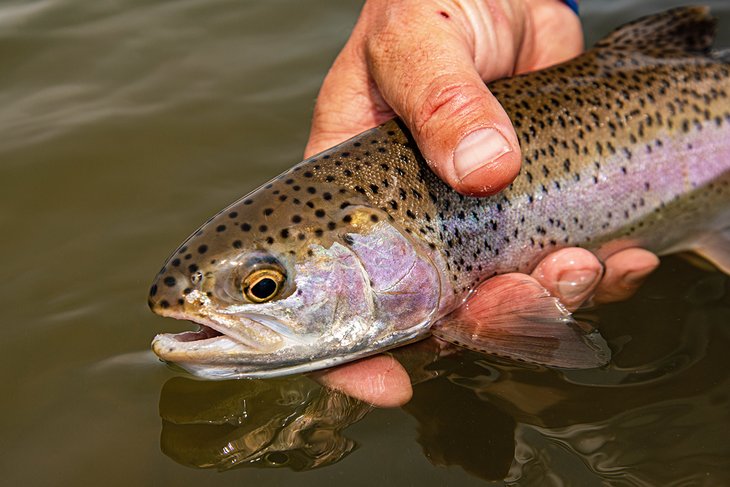 Mill Creek is a Blue Ribbon Trout Area that runs through the Mark Twain National Forest with a nice population of wild rainbow trout. It runs from Yelton Spring to Little Piney Creek. The rainbow trout generally average seven to 10 inches, but larger fish are caught on occasion.
Fishing Mill Creek is a double-edged sword for anglers because both the appeal and the challenge is that it is a small stream. The scenery is ideal for trout fishing, but working the stream requires precise presentation in tight areas, and the treelined banks can easily snag your line.
Mill Creek's tight quarters require stealth movement and strategic casts. Since space is limited for back-casting, roll-casting the fly on a long leader will give you a better presentation and provide the best chances of catching fish.
There are a number of restrictions with this stream, including prohibiting porous-soled waders, a daily limit of one with a maximum length limit of at least 18 inches, and anglers can only use flies and artificial lures.
The easiest access to Mill Creek is from the parking lots at the Bohigian Conservation Area and Mark Twain National Forest. You can also drive to the Wilkins Spring access area and walk to the creek from there.
15. Blue Springs Creek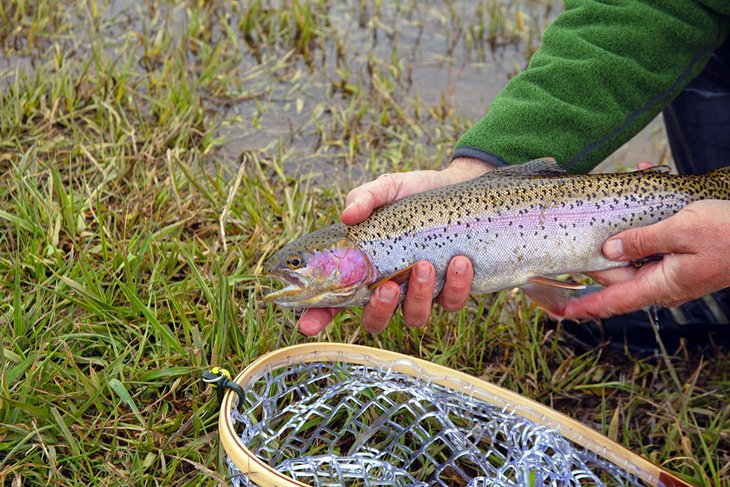 Blue Springs Creek is a small Blue Ribbon Trout Stream that runs from Blue Springs to the Meramec River in east-central Missouri, where anglers can fish for wild rainbow trout. The creek is naturally stunning but it is small and narrow with a lot of brush and overhead branches that can easily snag your line.
The best way to fish Blue Springs Creek is with stealth movement and precise fly presentation. It is best to use a short rod and long leader to traverse the tight quarters. Most of the trout that come out of Blue Springs Creek are in the six- to 12-inch range, but even larger fish have been caught. It is best to try for fish in the deeper holes and riffles with overhead cover, which can be found through the creek. These areas are more likely to produce larger fish.
As with other Blue Ribbon Trout Streams, there are regulations to follow, including the use of artificial lures and flies only and a daily limit of one fish at least 18 inches. Porous-soled waders are also prohibited. Parking lot access to Blue Springs Creek can be found near the Blue Springs Creek Conservation Area on Route N and Blue Springs Road.