9 Best Campgrounds at Lake of the Ozarks
Author Brad Lane enjoyed a reporting trip to Lake of the Ozarks and enjoyed his nights close to the water.
Lake of the Ozarks is an outdoors and camping destination in central Missouri. This massive and sprawling reservoir, created by the impoundment of the Osage River, is also a watery haven for lake lovers. Boating, fishing, and cavern exploring are just a few of the top attractions of Lake of the Ozarks, and the best way to explore them all is to spend a few nights close to the shore.
Awesome places to camp await your arrival at Lake of the Ozarks, spread throughout its serpentine arms and waterways. Campsites range from RV-only spots to primitive camping surrounded by Ozark scenery. And all campsites provide close access to the water.
The greatest concentration of campgrounds branches out from cities like Osage Beach, Lake Ozark, and Camdenton. For a different slice of vacation, these cities are also home to some of the best resorts at Lake of the Ozarks. All around the lake, though, there is a wide array of great campgrounds with other nearby attractions.
Plan your next overnight stay with our list of the best campgrounds in Lake of the Ozarks.
1. Lake of the Ozarks State Park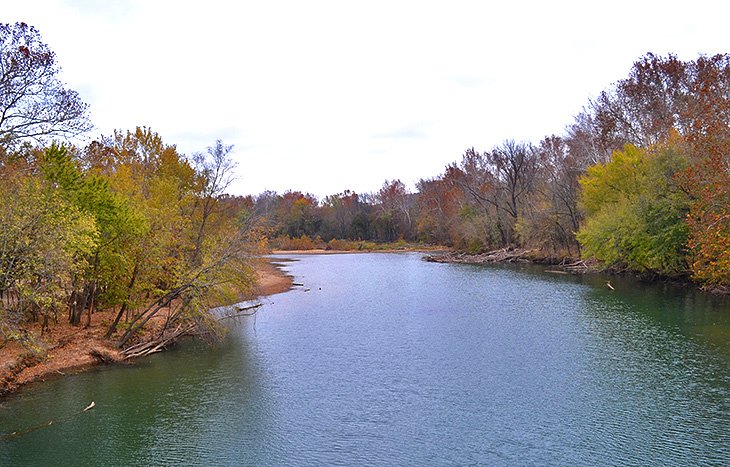 Lake of the Ozarks State Park is Missouri's largest state park. The expansive space surrounds the Glaize Arm of the Lake and encompasses open woodlands and lakeside views.
Patrons have quite a few sites to choose from at Lake of the Ozarks State Park. The state park campground offers nearly 200 campsites split over four different sections, with a majority offering electric utilities and ample parking space. Designated tent-only campsites are near the water.
Section two of the campgrounds is set up with vault toilets, while every other section provides flushing toilets and shower houses. In addition to the standard sites, larger groups can reserve one of four group campgrounds within the state park.
Accessing the water is easy thanks to the two state park marinas, three public-access boating ramps, and two sandy beaches. Other popular activities at the state park include hiking, fishing, and taking a guided tour of the Ozark Caverns.
Address: 403 MO-134, Kaiser, Missouri
2. Lake of the Ozarks/Linn Creek KOA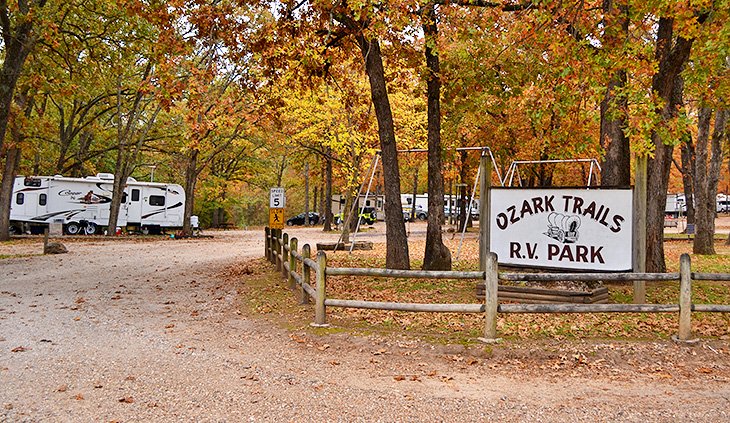 The Lake of the Ozarks KOA is in Linn Creek, between Osage Beach and Camdenton. It's a relatively new KOA, replacing a former RV Park, and the freshly-minted Linn Creek KOA features tent camping, cabin rentals, and 85 RV sites spread out over 38 acres.
Pull-through and pop-up sites are available for RV users at Linn Creek KOA, and all sites have level parking pads, full electric hookups, and high-speed internet service. For non-RV drivers, Ozark Trails also has shaded camping spots and fully furnished cabins available for daily and long-term use.
All overnight users at Linn Creek KOA have access to other features of the campground, including a bathhouse and the campground store for any overnight supplies. The KOA also features a swimming pool and recreational "Gaga Pit" for some family-fun dodgeball.
Address: 4171 US-54, Linn Creek, Missouri
3. Cross Creek RV Park & Campground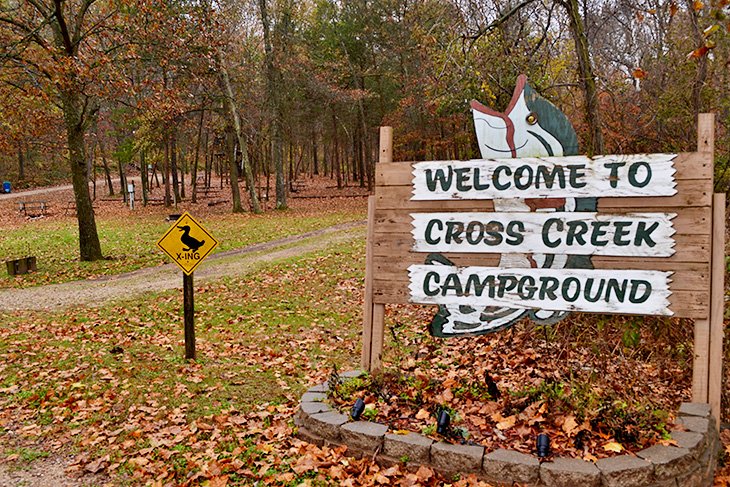 Cross Creek RV Park provides perhaps the most family-friendly campground around, just north of the main body of Lake of the Ozarks in the city of Eldon. Alongside RV spots and tent sites, Cross Creek features amenities like a mini golf course, a well-maintained pool, and tree house cabins.
This campground is under four miles from the Bagnell Dam, slightly tucked away from the usual Lake of the Ozarks traffic, offering a more peaceful setting to get away. RV sites at the campground are full hookups, and several are on the shore of an eight-acre fishing lake. Monthly rates are available.
Tent camping is also available at Cross Creek, and the campground features unique "Survivor Island" campsites that require a bridge to access. Five cabins are also available, including the unique Sycamore Tree House.
Address: 35 Gilliam Road, Eldon, Missouri
4. Osage Beach RV Park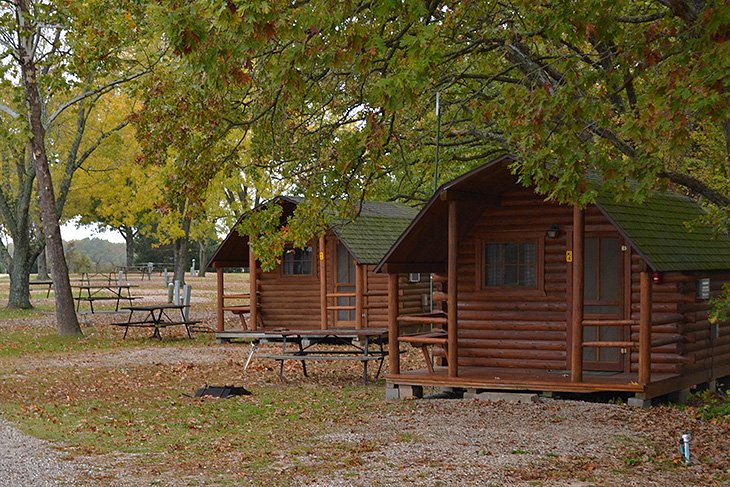 In the northeast area of Osage Beach, with proximity to the city's amenities, Osage Beach RV Park is an RV-exclusive campground with cabins available. This family-owned campground features full-service hookups, hot showers, and a swimming pool throughout the summer.
It's not the cable TV or level parking pads that make reservations recommended at Osage Beach RV Park. It's the stunning scenery and easy access to the city that makes this campground a popular spot to park.
Surrounded by colorful woodlands, Osage Beach RV Park is within walking distance of different shopping and dining options in Osage Beach. The campground is also within easy driving distance of the water and other top attractions of the lake. For those without RVs or recreational units, Osage Beach RV Park also offers five cabins.
Address: 3949 Campground Road, Osage Beach, Missouri
Read More: Top-Rated Beaches in Missouri
5. Majestic Oaks Campground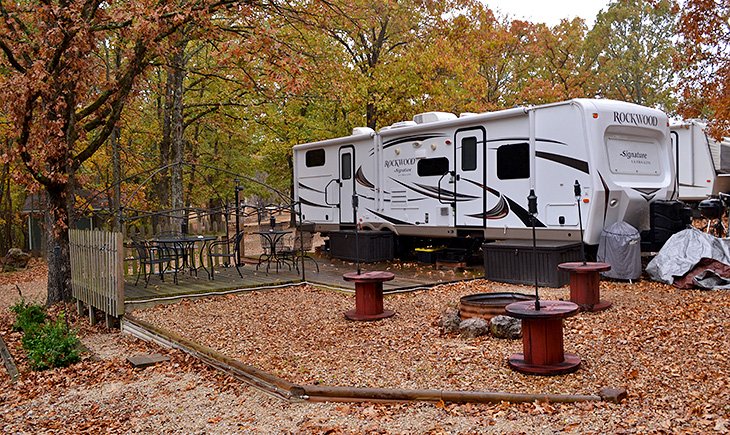 Majestic Oaks Campground is 10 minutes from the city of Lake Ozark and nestled into a lush woodland setting. It's the perfect place for a quiet family getaway spread out over 47 acres. The campground features full-electric RV sites and secluded tenting options near the northern Gravois Arm of the lake.
Popular on-site activities at Majestic Oaks include swimming in the pool and hiking the trail system within the 47-acre facility. Campers are also well known to take part in various lawn activities, such as sand volleyball, horseshoes, and playground equipment.
For overnight options, Majestic Oaks features more than 100 different RV sites with full hook-ups available. Two large deluxe sites at the campground are "Buddy Sites" and are used by RVs traveling together. Majestic Oaks also has nearly a dozen secluded camping pads and an assortment of overnight cabins to choose from.
Address: 8 Majestic Oaks Road, Eldon, Missouri
6. Lazy River RV Resort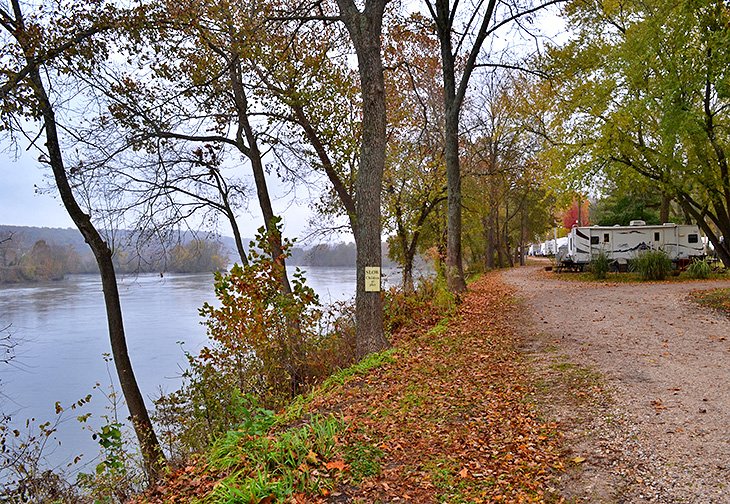 Adjacent to the last stretch of Osage River before it becomes impounded by Bagnell Dam, the Lazy River RV Resort is a great place to relax near the water. Catering exclusively towards recreational vehicles and cabin rentals, Lazy River RV Resort features full hook-ups, pull-through sites, and enough room for the biggest of rigs.
Daily, weekly, and monthly rates are available at Lazy River RV Resort. For anyone looking to invest, individual lots are also available for purchase. With an abundance of forested space and common areas and a great location near the lake, Lazy River RV Resort offers a great home-away-from-home.
Also on-site at the Lazy River is a swimming pool and boat launch to get on the nearby Osage River. For in-town runs and other activities like golf and shopping, the city of Osage Beach is accessible from the campground within a 10-minute drive.
Address: 120 Lazy K Road, Eldon, Missouri
7. Shorewood Landing RV Park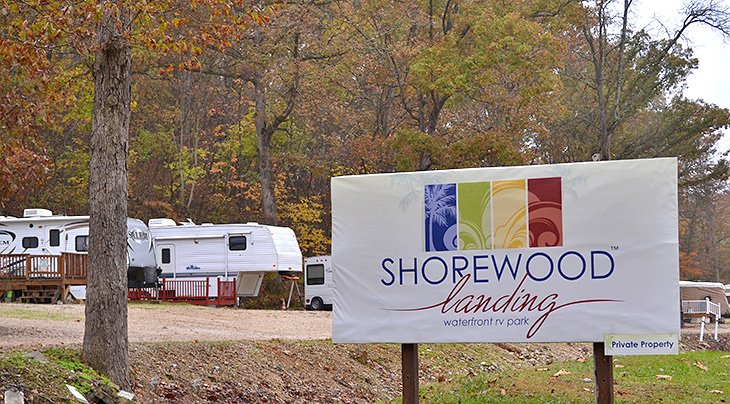 Shorewood Landing is a waterfront RV park less than five miles from the Bagnell Dam via boat or motor vehicle. It's at the end of the no-wake Jobson Hollow Cove, providing very secluded and quiet surroundings.
This campground caters to RVs and overnight stays with more than 60 full-electric sites and deluxe lakeside cabins. No tent camping is available.
Laundry and shower facilities are available to overnight guests at Shorewood Landing RV Park. Several playground areas and an in-ground swimming pool are also available. Adjacent to the resort and lining the cove, boat rentals and sandy beaches are nearby, as well as amenities like restaurants, marinas, and year-round fishing supplies.
Address: 73 Unicorn Road, Eldon, Missouri
8. Ozarks Landing RV Resort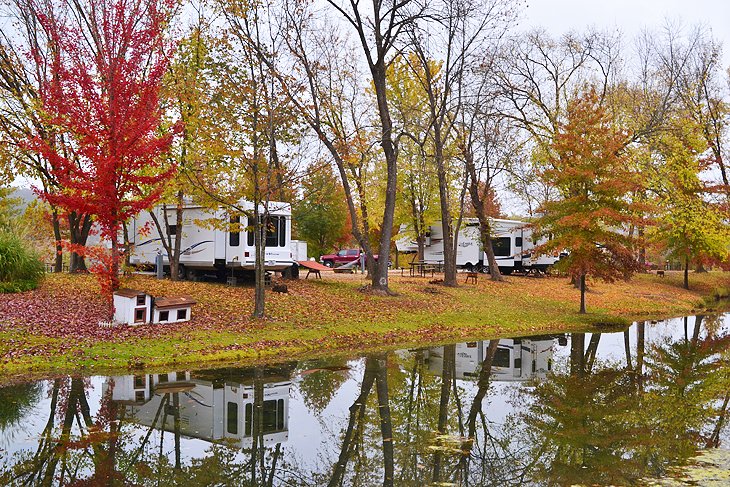 Ozarks Landing RV Resort, formerly the Riverview RV Park & Campground, is near the shore of the Osage River before it hits the Bagnell Dam, with a convenient location close to Highway 54. It has several RV and tent sites nestled in quiet surroundings.
Riverview Park is ideal for homebodies and adventurous families alike, with secluded sites close to nature. All overnight guests at the campground share access to heated shower houses, a stocked fishing pond, and an on-site general store for camping and fishing supplies. All campers also have access to free Wi-Fi.
Reservations are recommended for RV sites during the summer, and weekly and monthly rates are available. The sites all feature full hookups, and some are located on the riverfront. The RV sites are also located near the facility's boat dock and boat ramp.
Address: 398 Wood River Road, Lake Ozark, Missouri
9. Red Oak Resort & RV Park
Red Oak Resort has been a longstanding place to stay on the Osage arm of the lake near Camdenton. This resort offers several lodging options near the water, including condominiums, modular homes, and motel rooms in Camdenton. And, for the last 20 years, the resort has also offered over 160 RV spots.
Each site at Red Oak RV Park has full hookups, including electric, water, and sewer. The RV park also features free Wi-Fi and cable, and access to on-site laundry facilities. No tent camping is allowed. Other on-site amenities for all resort guests include tennis and pickleball courts, playground equipment, and a restaurant, the Ozark Grill.
The Red Oak Resort and RV Park also provides excellent access to the water. Covered boat docks are available to moor a personal vessel. Swimming is also popular off the docks, or as an alternative, in the resort's swimming pool. Fishing is similarly popular off the docks, where visitors are known to pull big catfish out of the water.
Address: 524 Recreation Row, Camdenton, Missouri
Map of Campgrounds at Lake of the Ozarks
More Related Articles on PlanetWare.com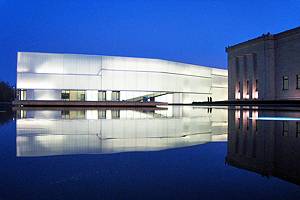 Cities to Explore in Missouri: For other cultural exploration near Lake of the Ozarks, the Live Music Capital of the World, Branson, is only two hours to the north. Another nearby city, the collegiate city of Springfield also offers an abundance of culture to explore. For guides on the biggest cities in Missouri, our articles on St. Louis and Kansas City offer details on the best things to do and the best places to stay.